Quick summary: Even though ING doesn't offer crypto trading (yet), buying crypto using your ING account is very easy.
We recommend using eToro to buy crypto, they've been around for a long time, they're trusted and have over 50 cryptocurrencies to choose from.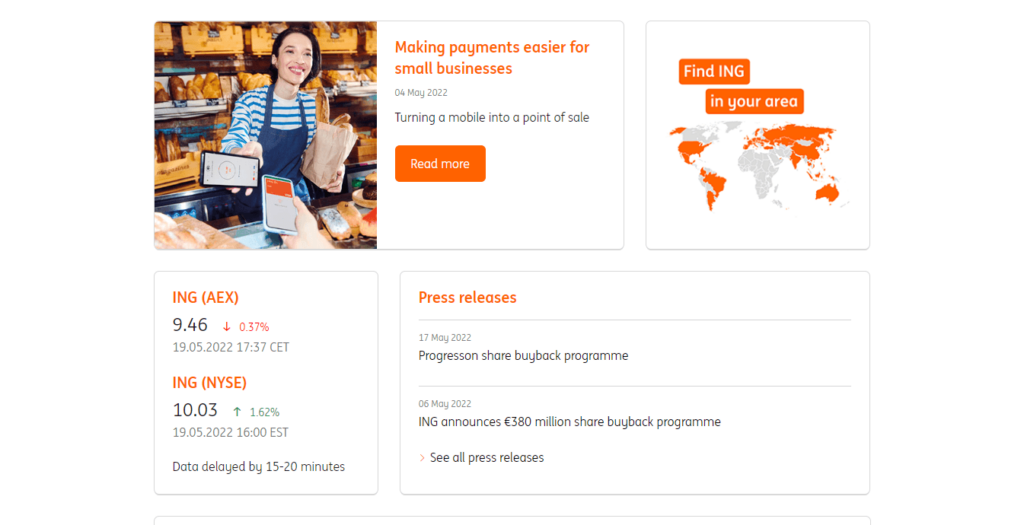 To explain further, the reason ING (and most other banks in Australia) doesn't offer cryptocurrency or bitcoin through its own crypto exchange, is partially because of the extra regulations and requirements that come with setting up a crypto exchange.
Once banks see the potential upside of offering digital assets like crypto, we might see them starting to offer those services.
For now, though, we'll have to do it using third-party crypto exchanges. Luckily for us, Australia has a good amount of trusted and AUSTRAC regulated trading platforms we can use.
How to buy crypto or bitcoin with ING
1. Choose a cryptocurrency trading platform
There are a few good options to choose from when it comes to cryptocurrency exchanges for Australian traders.
As mentioned before, for this guide we'll be using eToro as they have most of the popular cryptocurrencies available, have competitive fees, and offer something called social investing or copy trading, which is quite unique in the space.
This feature enables traders to copy or match the moves of other popular traders on the platforms, it's pretty impressive.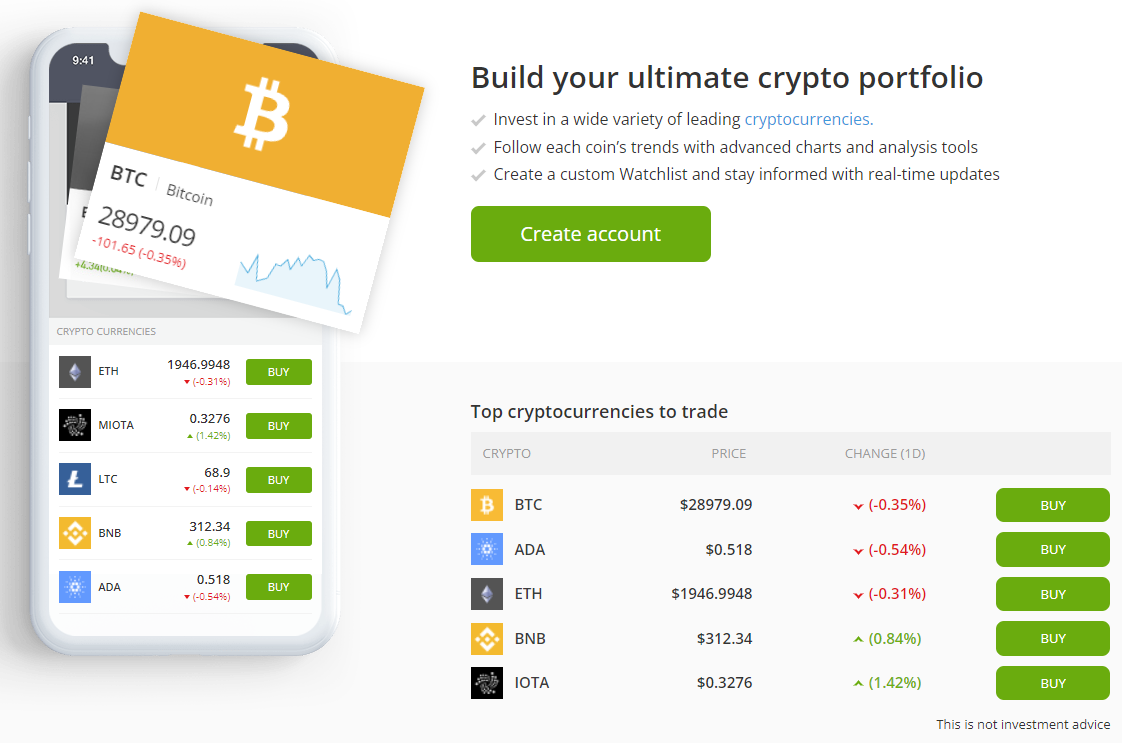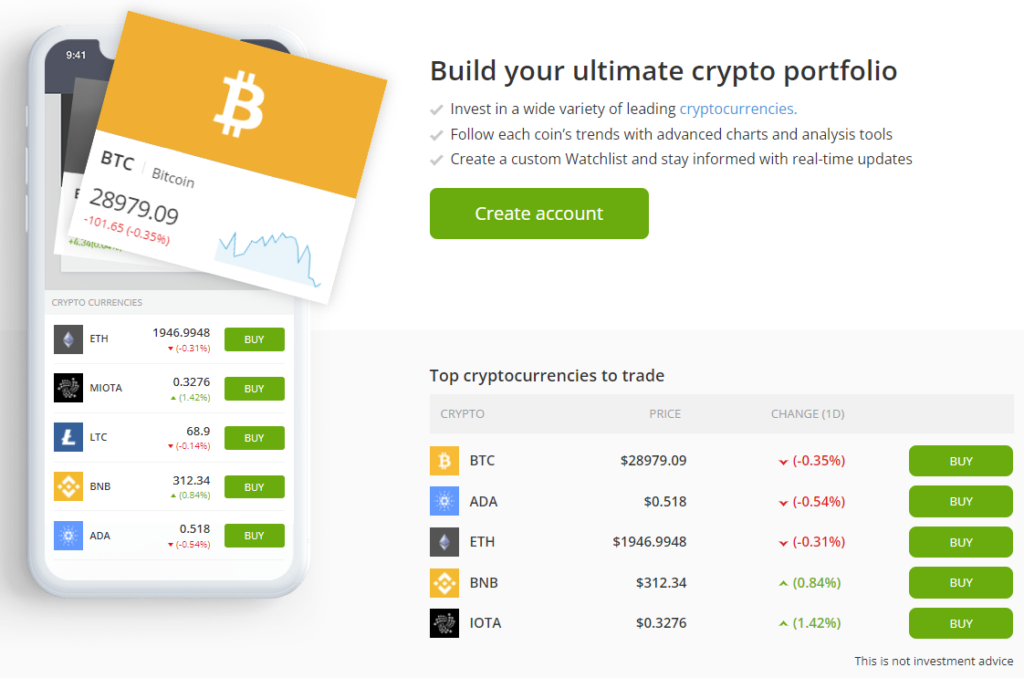 2. Sign up with the cryptocurrency trading platform
Let's start with just signing up with eToro.
The sign-up process is very quick, as is the verification that needs to be completed afterwards so you can get started.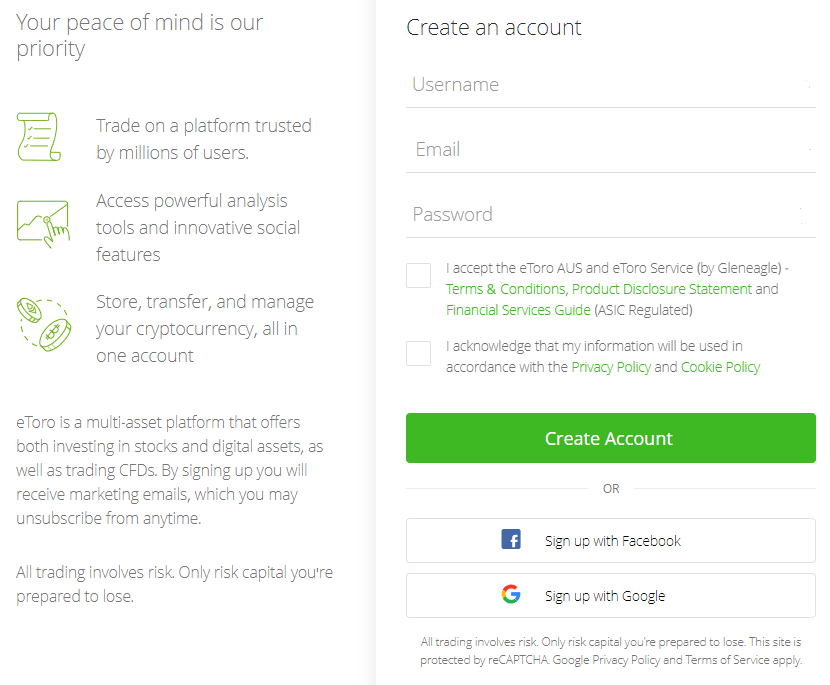 3. Funding your account
Next is funding your account. You have several options when it comes to depositing AUD into your eToro Account. These include a bank transfer, credit card, debit card, PayPal, and more.
Calculate how much you'd need depending on which crypto and how much you're buying, choose a deposit method, and transfer the funds.
4. Buy crypto
Once the funds have landed in your account, it's as simple as going to their Markets section, searching for the cryptocurrency you're looking for, and buying it.
Congratulations, now you know how to buy bitcoin or crypto with ING.
Frequently Asked Questions
Can I buy crypto with my debit card?
Yes, most crypto exchanges in Australia allow you to buy crypto with your debit card.
Where can I buy crypto in Australia?
There are multiple Australian crypto trading platforms where you can buy crypto. While this guide uses eToro, other popular exchanges include Swyftx, Coinspot, and Binance.
How can I buy Bitcoin in Australia?
You can buy Bitcoin using a cryptocurrency exchange like eToro, Swyftx, Binance, or Coinspot. We also have this handy guide on how to purchase bitcoin .
More info about ING
The ING Group, a Dutch multinational financial services and banking corporation, is headquartered in Amsterdam. Its main businesses include retail banking and direct banking as well as commercial banking, investment banking. Wholesale banking, private banking. Asset management. It has total assets of US$1.1 billion and is consistently ranked among the top 30 most important banks worldwide.
ING is the Dutch member of Inter-Alpha Group of Banks. This cooperative consortium of 11 European banks includes 11 major European banks. Since 2012, ING Bank has been a member of the global systemically important bank list.
ING stands for Internationale Nederlanden Groep. "International Netherlands Group" The logo of ING features an orange lion that refers to its Dutch roots.
The roots of ING Group can be traced back to two Dutch insurance companies and the banking services provided by the Dutch government. In 1991 the insurance branch of Nationale-Nederlanden and the banking branch of ""NMB Postbank Groep"" merged. NMB stands for "Nederlandsche Middenstands Bank".
1986 saw the privatization of post office banking services as Postbank N.V. Three years later, it would merge with NMB banks to create NMB Postbank Groep.
In 1991, the banking business of NMB Postbank Groep and the insurance business of Nationale-Nederlanden were merged to create ING Group.
Through the 1990s, ING Group acquired several international businesses including the Belgian bank Banque Bruxelles Lambert in 1998, the US-based insurance company Equitable Of Iowa in 1998 and the commercial bank Furman Selz. In 1999, it also purchased Frankfurt-based BHF-Bank. However, this was disposed of later. With the acquisitions of ReliaStar Financial Services and Aetna, it increased its Latin American and Asia Pacific insurance businesses. It also bought Seguros Comercial America, a Mexican insurance company, and the Polish Bank Slaski.
ING leveraged the direct banking model it developed with NMB Postbank in order to expand its retail banking business abroad. In 1997, Canada was the first to implement this model. It was quickly followed by several other countries, including the USA, UK, Germany and Spain.
ING Australia was founded in 1999. It is based in Sydney and offers banking online and by telephone. Its products include transaction accounts and savings accounts, credit cards, credit card, business account, term deposits, home loan, superannuation, and credit card.
The Australian Prudential Regulation Authority and Australian Securities and Investments Commission are Federal Government regulators that regulate company operations. ING is a division within ING Bank (Australia Limited).
Related:
Disclaimer: Trading, investing, and dealing with digital and cryptocurrencies might involve a lot of risks. Their prices are volatile and performance is unpredictable. Their past performance is no guarantee of future performance.
Affiliate Disclosure: This site is supported by its users. We may receive commissions for purchases made through the links on our site. This does not impact our reviews, guides or comparisons.