Quick summary: Even though NAB doesn't offer cryptocurrency trading (yet), buying crypto using your NAB account is very easy.
We recommend using eToro to buy crypto, they've been around for a long time, they're trusted and have over 50 cryptocurrencies to choose from.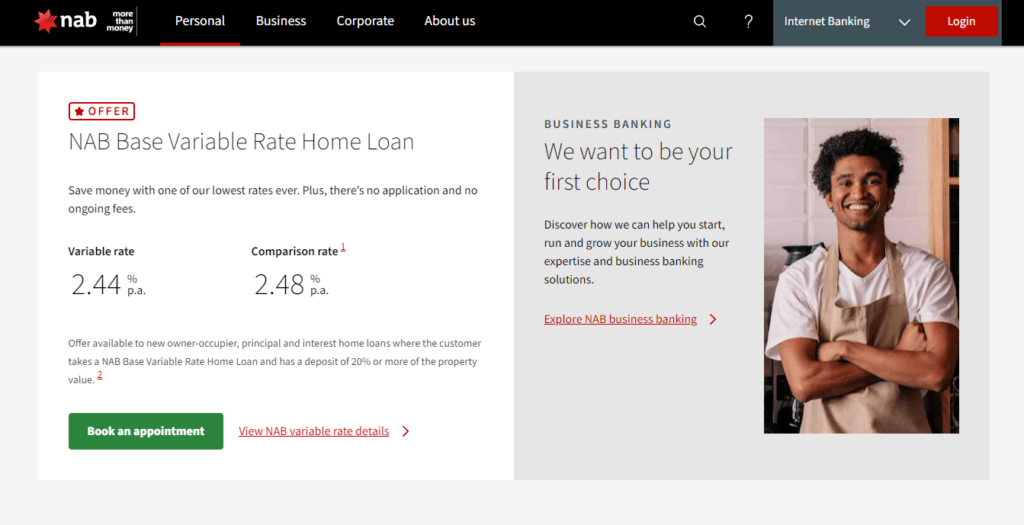 To explain further, the reason NAB (and most other banks in Australia) doesn't offer crypto or bitcoin through its own crypto trading platform, is partially because of the extra regulations and requirements that come with setting up a cryptocurrency trading platform.
Once banks see the potential upside of offering digital assets like crypto, we might see them starting to offer those services.
For now, though, we'll have to do it using third-party cryptocurrency trading platforms. Luckily for us, Australia has a good amount of trusted and AUSTRAC regulated trading platforms we can use.
How to buy crypto or bitcoin with NAB
1. Choose a cryptocurrency trading platform
There are a few good options to choose from when it comes to crypto trading platforms for Australian traders.
As mentioned before, for this guide we'll be using eToro as they have most of the popular cryptocurrencies available, have competitive fees, and offer something called social investing or copy trading, which is quite unique in the space.
This feature enables traders to copy or match the moves of other popular traders on the platforms, it's pretty impressive.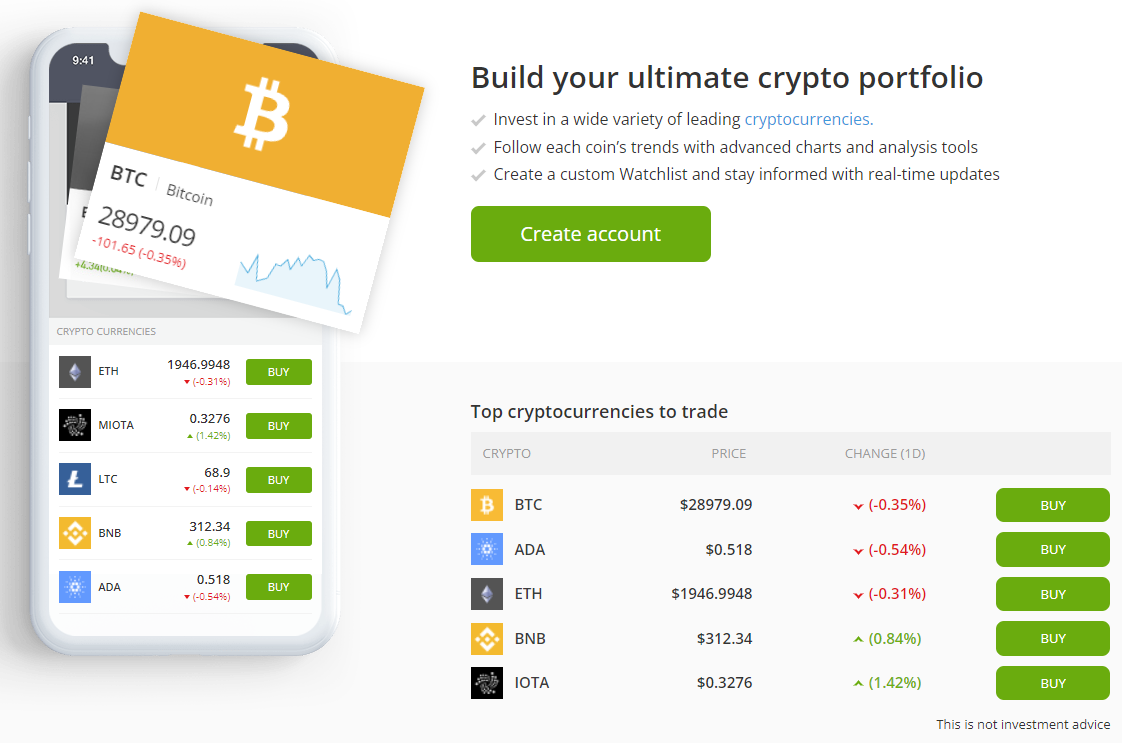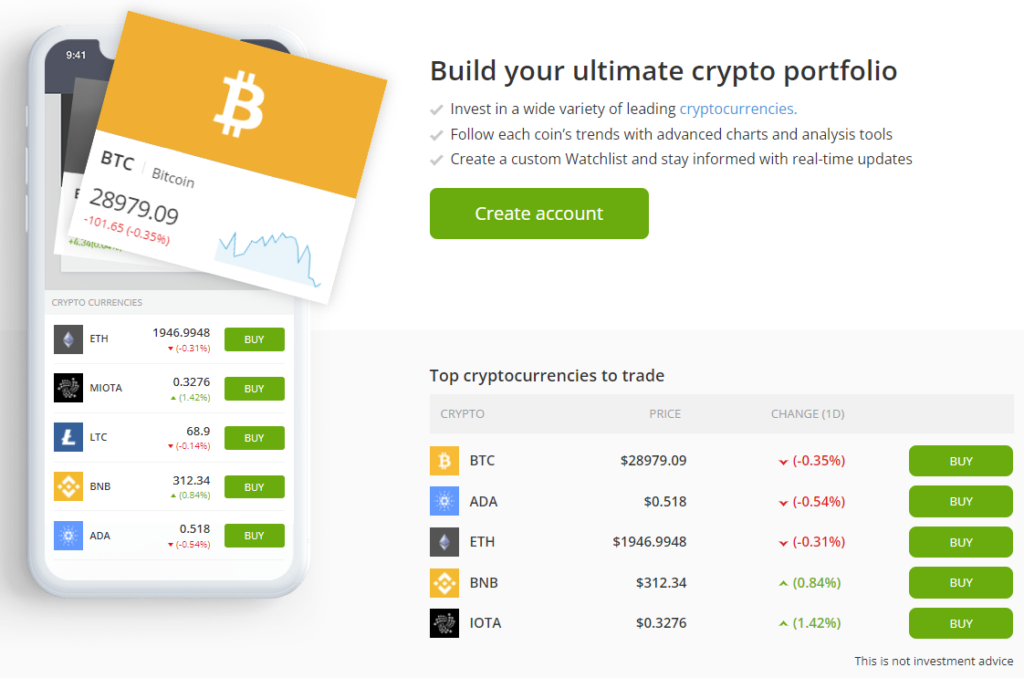 2. Sign up with the cryptocurrency exchange
Let's start with just signing up with eToro.
The sign-up process is very quick and easy, as is the verification that needs to be completed afterwards so you can get started.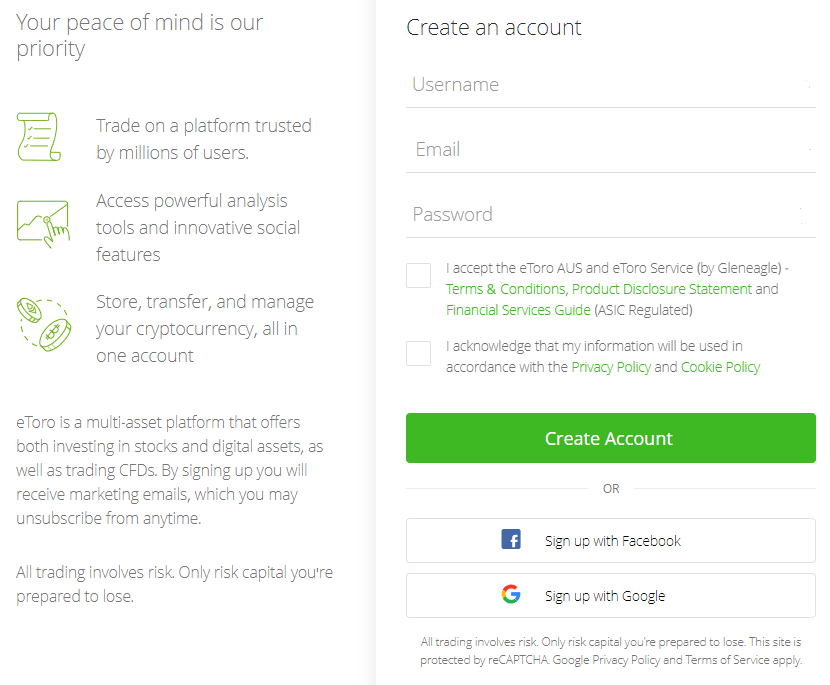 3. Funding your account
Next is funding your account. You have several options when it comes to depositing AUD into your eToro Account. These include a bank transfer, credit card, debit card, PayPal, and more.
Calculate how much you'd need depending on which crypto and how much you're buying, choose a deposit method, and transfer the funds.
4. Buy crypto
Once the funds have landed in your account, it's as simple as going to their Markets section, searching for the cryptocurrency you're looking for, and buying it.
Congratulations, now you know how to buy bitcoin or crypto with NAB.
Frequently Asked Questions
Can I buy crypto with my debit card?
Yes, most cryptocurrency exchanges in Australia allow you to purchase cryptocurrency with your debit card.
Where can I buy crypto in Australia?
There are multiple Australian cryptocurrency exchanges where you can buy crypto. While this guide uses eToro, other popular exchanges include Swyftx, Coinspot, and Binance.
How can I buy Bitcoin in Australia?
You can buy Bitcoin using a cryptocurrency exchange like eToro, Swyftx, Binance, or Coinspot. We also have this guide on how to buy btc .
More info about NAB
NAB (abbreviated NAB) is the name of Australia's largest bank. It is also known as "The Big Four" in terms of market capitalisation and earnings. NAB was the 21st largest bank worldwide, measured by market capitalisation, and 52nd largest bank worldwide as measured by total assets. NAB had 3,500 [email protected] locations, including 7,000+ ATMs in Australia, New Zealand and Asia, as well as 9 million customers.
In 1982, National Bank of Australasia and Commercial Banking Company of Sydney merged to create National Australia Bank. The resultant company was later renamed National Australia Bank Limited.
Over the years, significant offshore expansion was possible due to the increased financial base of the merged entity. Representative offices were opened in Beijing (1982), Chicago (19branch 1982), Dallas (83), Seoul (1983), Seoul (1983), Kuala Lumpur (1884), Athens (1884), Frankfurt (1985), closed 1992), Atlanta (1986), Bangkok (1686), Taipei (1986), upgraded branch 1990), Shanghai (1988), Houston (1989), and New Delhi (1989).
NAB acquired Clydesdale Bank (Scotland), and Northern Bank (Northern Ireland, Republic of Ireland) in 1987 from Midland Bank. NAB changed the logos of both Midland Bank and Northern Bank branches to National Irish Bank in the Republic of Ireland. NAB purchased Yorkshire Bank (England & Wales) in 1990.
Additional acquisitions followed: Bank of New Zealand (in 1992), which had approximately 26% market share in New Zealand, and Michigan National Bank, 1995. NAB had previously rationalized its US operations and closed its San Francisco offices in Atlanta and Chicago in 1991.
The period of rapid expansion by acquisition ended with the 1997 acquisitions of HomeSide Lending (a leading US mortgage originator) and servicer, and, most importantly, the 2000 acquisition of MLC Limited (and related MLC entities), for $4.56bn. This was one of the largest mergers in Australian corporate history.
From 1999 to 2004, Frank Cicutto served as CEO of NAB. After 17 years of economic growth, the Australian economy was stable and productive under his leadership.
Following the dismissal of Cicutto, John Stewart was named CEO of NAB in February 2004. Stewart began a wide-ranging restructuring of the company on regional lines, which led to Ahmed Fahour being appointed as Australia's CEO in September 2004. Fahour was elected to the Principal Board and Group Executive Committee on February 20, 2009.
A new Australian head office was built in Docklands, Melbourne as part of the culture shift program. The building's open-plan layout is what makes it unique and was opened officially in October 2004. The Docklands Building was renamed 500 Bourke Street in 2009 to replace Cameron Clyne as CEO.
NAB reported a record $4.3 billion profit in 2006 and won two Bank of the Year awards. A major overhaul was also undertaken, including the renovation of all branches and the replacement of signage around National buildings and branches. The name of the bank was changed to 'nab.
Related:
Disclaimer: Trading, investing, and dealing with digital and cryptocurrencies might involve a lot of risks. Their prices are volatile and performance is unpredictable. Their past performance is no guarantee of future performance.
Affiliate Disclosure: This site is supported by its users. We may receive commissions for purchases made through the links on our site. This does not impact our reviews, guides or comparisons.