Quick summary: Even though St. George doesn't offer cryptocurrency trading (yet), buying crypto using your St. George account is very straightforward.
We recommend using eToro to buy crypto, they've been around for a long time, they're trusted and have over 50 cryptocurrencies to choose from.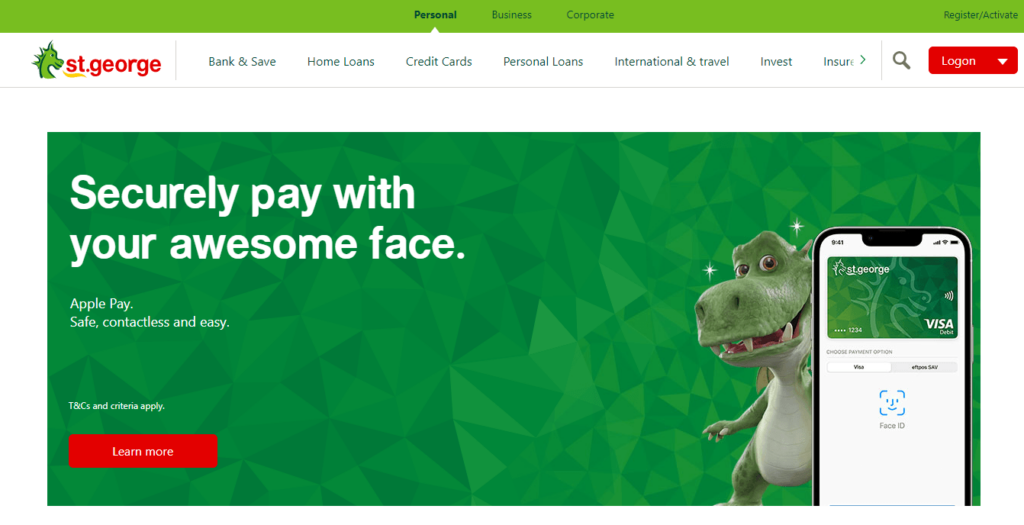 To explain further, the reason St. George (and most other banks in Australia) doesn't offer cryptocurrency or bitcoin through its own crypto trading platform, is partially because of the extra regulations and requirements that come with setting up a crypto exchange.
Once banks see the potential upside of offering digital assets like crypto, we might see them starting to offer those services.
For now, though, we'll have to manage using third-party cryptocurrency trading platforms. Luckily for us, Australia has a good amount of trusted and AUSTRAC regulated trading platforms we can use.
How to buy crypto or bitcoin with St. George
1. Choose a cryptocurrency trading platform
There are a few good options to choose from when it comes to cryptocurrency exchanges for Australian traders.
As mentioned before, for this guide we'll be using eToro as they have most of the popular cryptocurrencies available, have competitive fees, and offer something called social investing or copy trading, which is quite unique in the space.
This feature enables traders to copy or match the moves of other popular traders on the platforms, it's pretty impressive.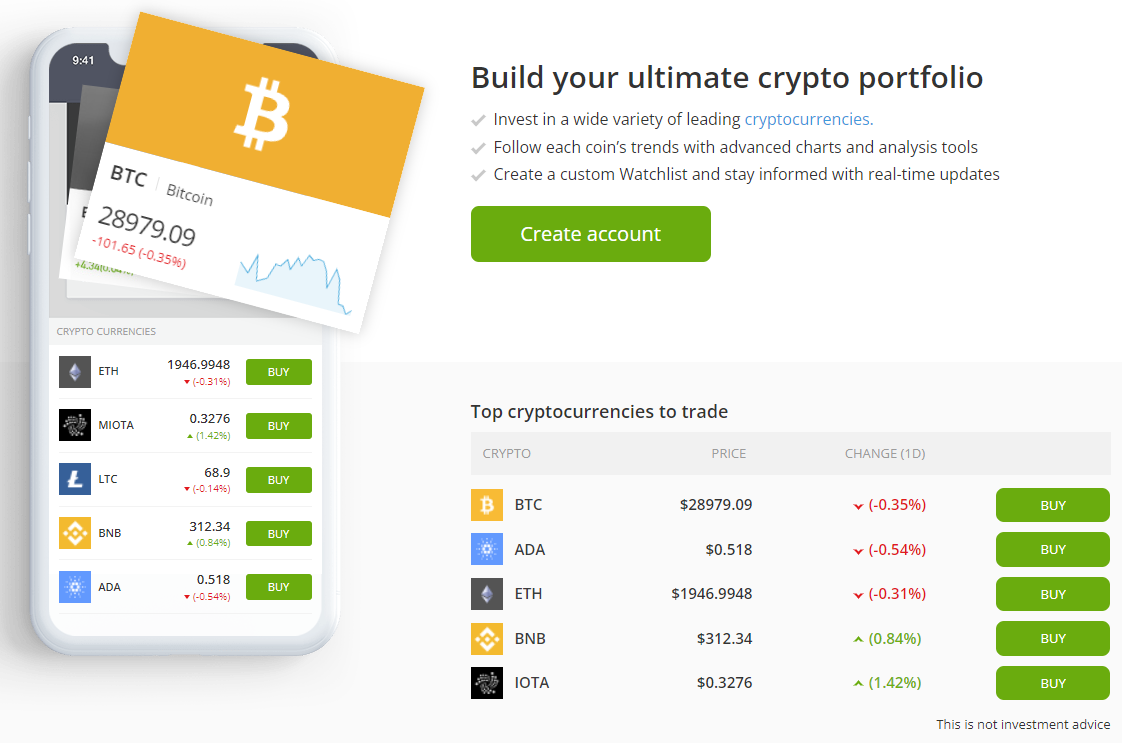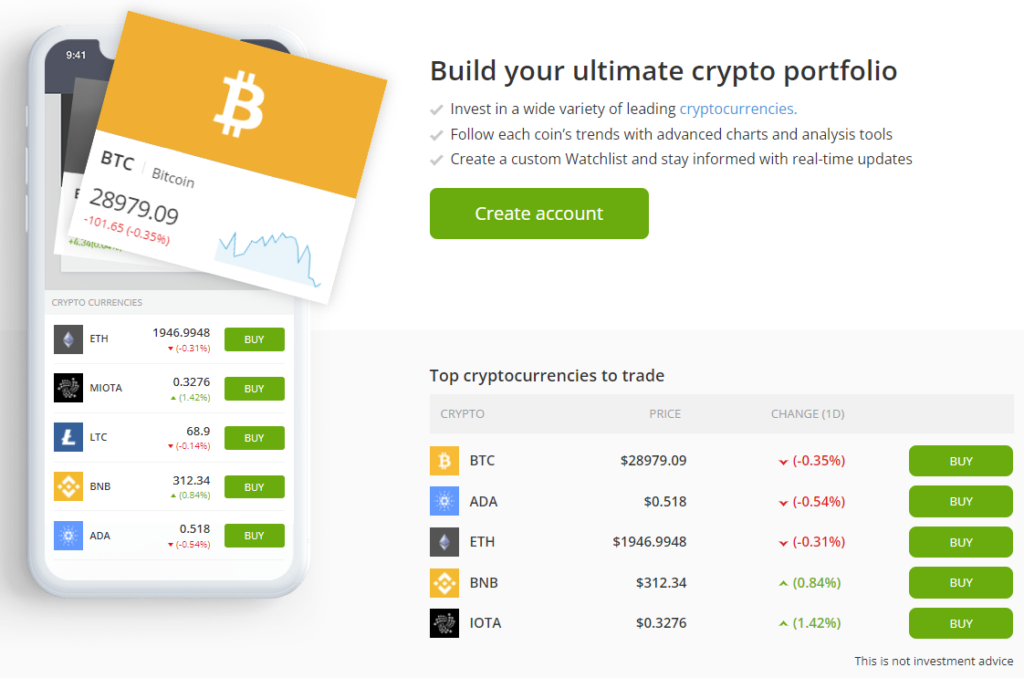 2. Sign up with the crypto exchange
Let's start with just signing up with eToro.
The sign-up process is very easy, as is the verification that needs to be completed afterwards so you can get started.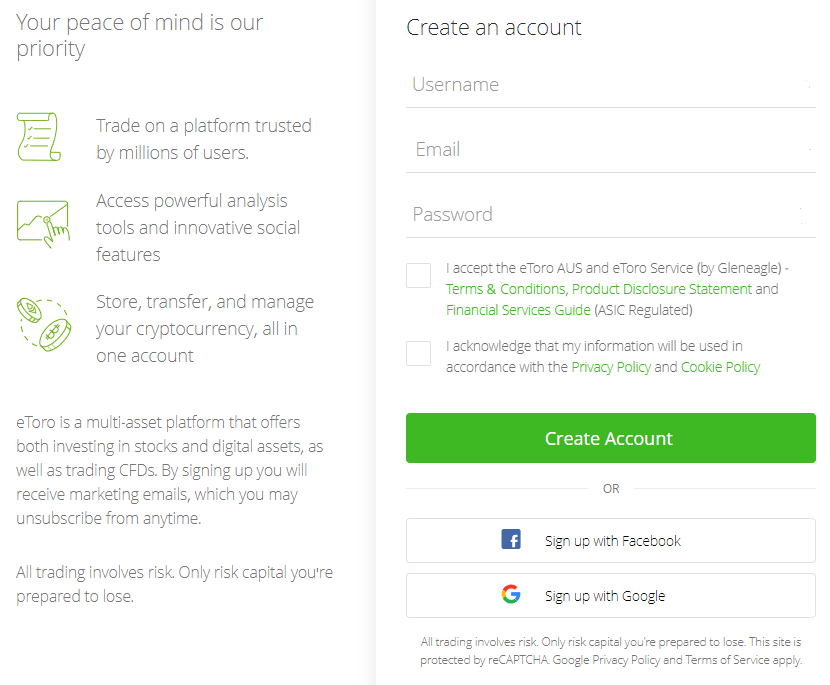 3. Funding your eToro account
Next is funding your account. You have several options when it comes to depositing AUD into your eToro Account. These include a bank transfer, credit card, debit card, PayPal, and more.
Calculate how much you'd need depending on which crypto and how much you're buying, choose a deposit method, and transfer the funds.
4. Buy cryptocurrency
Once the funds have landed in your account, it's as simple as going to their Markets section, searching for the cryptocurrency you're looking for, and buying it.
Congratulations, now you know how to buy bitcoin or crypto with St. George.
Frequently Asked Questions
Can I buy crypto with my debit card?
Yes, most crypto exchanges in Australia allow you to purchase cryptocurrency with your debit card.
Where can I buy crypto in Australia?
There are multiple Australian crypto exchanges where you can buy crypto. While this guide uses eToro, other popular exchanges include Swyftx, Coinspot, and Binance.
How can I buy Bitcoin in Australia?
You can buy Bitcoin using a crypto exchange like eToro, Swyftx, Binance, or Coinspot. We also have this useful guide on how to purchase bitcoin .
More info about St. George
St.George Bank, an Australian bank, has its headquarters in Sydney. The bank is now part of Westpac after a 2008 merger. It was previously an independent legal entity. St.George was deregistered in 2010 and no longer authorised as a deposit-taking institution.
Although the bank is primarily located in New South Wales it has a growing presence in a variety of industries and business segments in Queensland, Western Australia and Victoria. This was before the relaunch of Bank of Melbourne in July 2011, which is also a division of Westpac. St.George has a subsidiary BankSA that operates in South Australia, the Northern Territory and South Australia. There are many ATMs and retail branches across Australia. Some back-office operations are also available in Bangalore, India.
The merger or acquisition of several banks and building societies resulted in the current bank.
In 1939, the NSW Permanent Building & Investment Society (NSWPB&I) was founded. In 1985, the society was incorporated as Advance Bank.
The Savings Bank of South Australia was established in Adelaide in 1848. In rural South Australia, it became the State Bank of South Australia. Both banks were guaranteed by South Australia. In 1984, the two banks merged and were traded under the name of the State Bank of South Australia. The guarantee of the Government remained intact. The bank crashed due to insufficiently secured lending during the 1980s. The guarantee was used to bail out the State Government. The bank was divided into two parts in 1992: the "bad" bank with non-performing loans and the "good" bank.
The Advance Bank purchased the "good bank", which was kept operating under separate names by the Bank of South Australia. It trades as BankSA.
St.George Bank took over Advance Bank and its BankSA subsidiary in 1997.
St.George, like Advance Bank, has maintained BankSA as an independent entity. It has 55 branches in Adelaide metropolitan, 66 in rural South Australia (totalling 121) in total, four in the Northern Territory, and one in Queensland.
St.George typically promotes itself as more friendly and customer-service-oriented than the ""big four"" banks operating nationally in Australia, although it is now a part of the Westpac Group. Although the bank was once recognized in third-party surveys as a leader in customer service, the 2010 CHOICE consumer poll showed that customer satisfaction was not the same as the "big four", and was behind small credit providers.
Although the bank was founded as a building society that specialised in consumer and home lending, it now provides financing to a wide range of market segments, including commercial property development, invoice discounting and interest rate hedging.
Related:
Disclaimer: Trading, investing, and dealing with digital and cryptocurrencies might involve a lot of risks. Their prices are volatile and performance is unpredictable. Their past performance is no guarantee of future performance.
Affiliate Disclosure: This site is supported by its users. We may receive commissions for purchases made through the links on our site. This does not impact our reviews, guides or comparisons.