So you're ready to dip your toes in the world of NFTs! The first thing you need to know if you want own NFTs is how to purchase NFT. While buying one of these isn't super hard, a few of the steps could be considered tricky if this is also the first time you're dealing with crypto in general.
We'll start this guide with a quick overview of the required steps, then unpack every step so it's easy to follow!
There are 4 major steps involved in buying NFT:
Setup a MetaMask wallet
Connect MetaMask to OpenSea (our recommended NFT marketplace)
Fund the wallet with Ethereum (ETH)
Buy the NFT of your choice with your ETH.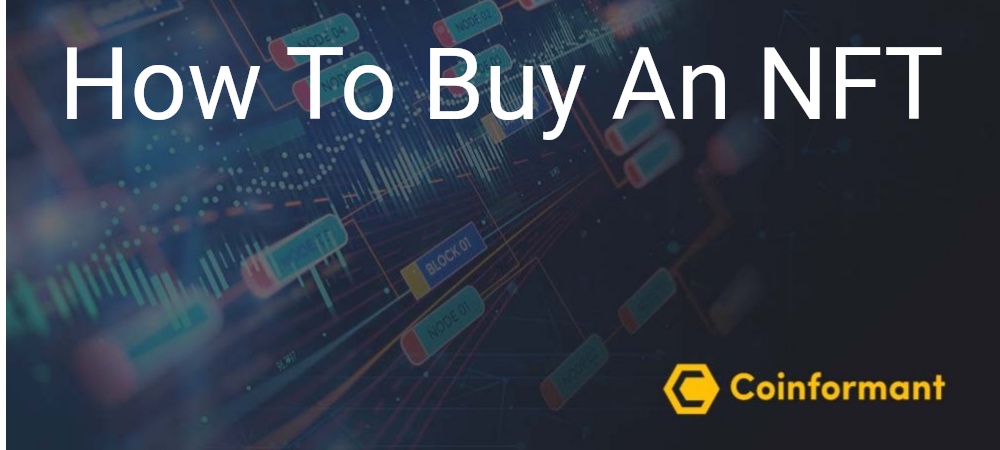 How to buy NFT? First, we set up MetaMask on the browser of your choice (or on your phones), this will give you a new crypto wallet (specifically an Ethereum wallet/address).
Then you go to opensea.io and connect to the site with your wallet (super easy).
Next, you transfer ETH to your new MetaMask wallet (could be from another wallet you already have or could be ETH that you buy just for this purpose).
Finally, now that you have ETH in your MetaMask wallet, you can start buying NFT art. You can use OpenSea to find an NFT you like, and hit buy it with the ETH in your digital wallet.
That's about it, now let's unpack each step-by-step!
What is NFT
An NFT is a nonfungible token, which means that they cannot be easily duplicated. They are also called crypto collectibles because they resemble physical collectibles such as trading cards or coins. It also allow users to trade unique digital assets such as digital collectibles, digital artwork, real estate, etc. However, unlike conventional assets such as stocks, bonds, and commodities in the real world, they cannot be divided into smaller parts. They are also immutable, meaning once they are issued, they cannot be changed. The first NFT was released in 2014 when CryptoKitties were introduced. Since then, other video game-inspired NFTs like Augur REP and Spells of Genesis have been developed. Bored Ape Yacht Club, Beeple, and Cryptopunks are just some of the NFT art that has dominated the NFT market.
1. Create a Web3 Wallet with MetaMask & Connect it to OpenSea
MetaMask is a super handy browser extension and mobile app that enables you to create wallets that can hold crypto and interact with various exchanges, blockchain applications, and marketplaces.
In 2016, MetaMask was created by ConsenSys. ConsenSys is a blockchain software company that focuses on Ethereum based infrastructure and tools.

MetaMask is a wallet for your crypto coins developed for use with the Ethereum-based blockchain. MetaMask gives the user access to their Ethereum wallet. You can access your items from a browser extension or a mobile app. At this point, they can interact with all decentralized applications.
With MetaMask, you can broadcast transactions and receive and send tokens and cryptocurrencies rooted in Ethereum. You can also store and manage account keys.
Not only this, MetaMask allows you to connect securely to dApps through your mobile app's built-in browser or if you have a browser on the internet that's compatible.
To get started, we recommend opening the following links in 2 separate tabs:
MetaMask download page (we recommend using MetaMask with Chrome, but they also support Firefox, Brave, and Edge)
First, download the MetaMask extension. Then click on the extension and then hit "Get Started". Follow the steps until you have it all set up.
Next, go to OpenSea, and in the top right, hover over the profile icon and click on profile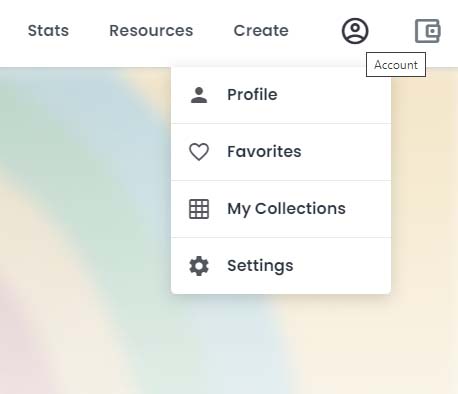 Next, click the "Sign In" button to connect to OpenSea with your MetaMask.
You will continue through several prompts ending off with the connection screen. Once you see the word "Connecting…" you're nearly done.
Your account will then default to "Unnamed". Your wallet address will be displayed below. To set up your account, click the gear icon located on the right side of the screen. There will be an extra security prompt. Choose "Sign" and begin personalizing your profile.
Now, you have the autonomy to personalize your profile, including your email address, bio, and username. You can customize your profile photo and cover banner as well.
The mission is complete! If you ever find that you have difficulty viewing any of your items, make certain that your new cryptocurrency wallet is correctly connected.
Fantastic, now onto the next step, funding your MetaMask with some Ethereum!
2. Buying ETH & Funding Your New Wallet
Most NFT marketplaces will only accept ETH tokens since most NFTs are Ethereum-based tokens. If you happen to own an account with a cryptocurrency exchange, Ethereum should be available to buy.
If you don't have an account with a crypto exchange yet, the best cryptocurrency exchange can be a bit subjective. Your individual goals as an investor will probably be the determining factor. There are numerous exchanges to choose from, and each one has both pros and cons.
To select a quality exchange, take into account the security, locate a crypto exchange, and consider the user interface and the assets offered on the platform.
Depending on your country of residence, these would be our recommendations:
Buying Ethereum is as simple as choosing an exchange, signing up, follow the steps, transfer money into the account, and then buy your ETH.
Transfering ETH to Metamask
Open the MetaMask extension
Place your cursor over the account name at the top of the window, which will eventually display the words "Copy to clipboard".
To copy your address click on the account name.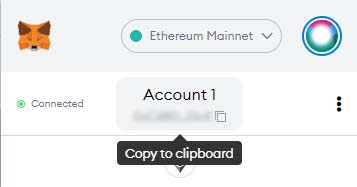 Next, paste your address in the "recipient" field in the application where you are sending your tokens or ETH from (a crypto exchange or another app), or share this information with someone sending you tokens or ETH.
Choose the specified amount that you want to send. Be sure to follow through with any other necessary steps to complete the transaction. You can always send a small amount first to check if you got it right.
When the transaction is complete, your balance in the MetaMask account will update. However, if the balance does not update, check the status of your transaction using a blockchain explorer such as Etherscan.
Then search the transaction hash of the transaction that you just recently submitted.
3. Find an NFT and Buy It
To find NFTs using OpenSea, you can use their search function, or if you have a collection or NFT link from social media or another source, you can use that.
For example (this is a Cool Cat, a very popular NFT collection): https://opensea.io/assets/0x1a92f7381b9f03921564a437210bb9396471050c/4278
NFT asset pages show you all the details ranging from offers, listings price history, artist description, and description of the art. It can also show you special properties depending on the type of NFT, as well as quick links to the collections/digital artists website, twitter, discord, etc.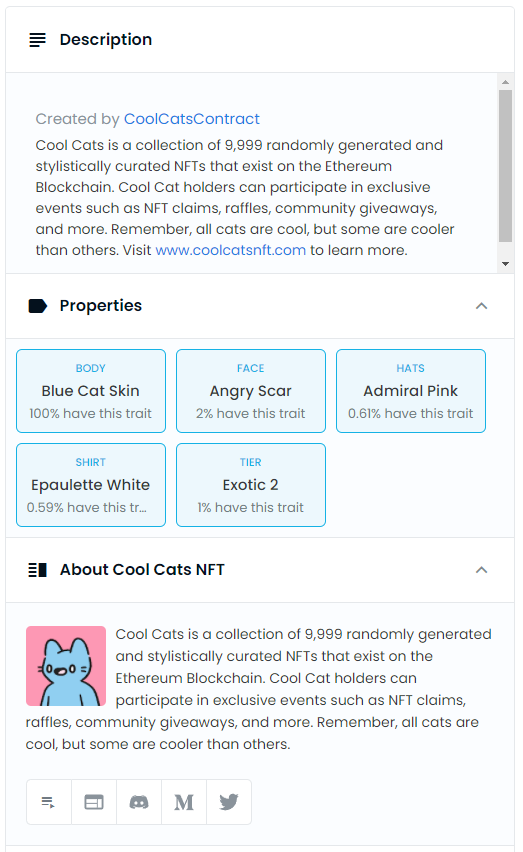 Steps to Buy:
After you have selected a particular NFT, couch the "Buy Now" option. 
Select all the necessary boxes, and click on the "Checkout" tab. Metamask will prompt you to sign for the transaction. To finalize everything and to complete the trade, sign where directed. 
You'll have to wait a few moments until your transaction gets confirmed.
Congrats! You are the proud owner of a new NFT.
If you'd like to view your recent purchase, click the tab that says "Back to all items", or you can just go back to your profile.
To view the ownership rights you've just acquired through the Blockchain, you must go over to the MetaMask browser extension. Once there, you should see three circles by your name. Click these circles.
The option to view Etherscan should be there. You will scroll down the Etherscan page once there. Look for the OpenSea transaction. You will see the encrypted transaction hash that gives you proof of your recent purchase. 
NFT Buy Fixed Price Items
Sellers have a few choices when they're putting their artwork on the market. They can sell NFT at a fixed price, or they may choose to establish an auction. They also have the option to do both. 
Let's start with fixed price purchases:
First, you have to find the NFT that you want by looking around browsing through the marketplace.
Take time to review the information available on the token. There may be some specific information for collectibles or unique and rare NFTs, making them more valuable than others.
Also, take time to check out the price history so that you can see what it's been valued at in case you want to start trading. (Optional)
Click "Buy Now" if you have decided that you want the NFT.
You'll likely get promoted to review the details of the purchase before you finalize everything. This step is crucial because it helps avoid scammers producing similar NFTs that aren't the authentic piece.
You can proceed if everything looks correct. The pop-up will then show you the final price for the NFT, and you'll need to check the box that indicates that you agree with the terms of service for OpenSea's platform. Lastly, click "Checkout".
After you push the button to checkout, you will be taken to a screen that opens your crypto wallet, and you'll see the final cost plus any gas fees. These fees can vary depending on the blockchain you use. After you click confirm again, the NFT is yours.
If you want to view the non-fungible token in your wallet, go back to your profile and click "In Wallet", which is on the left.
Purchasing NFT By Making Offers
Some of the NFTs you want will get put up for auction. That allows the seller to see how much they can get for their digital art. They put a minimum price that the artwork can't go below, letting buyers have at it. 
Here's the process of making an offer for an NFT:
Select the NFT that you want to place a bid on.
Review every current offer to see if you can place your bid. The bid you place has to be five percent higher than the bid before it. That will continue to be the trend until the final bid wins the NFT.
Push the "Make Offer" tab on the page.
You may have to review the details of the art again to ensure that it is original.
Check the currency that you want to use to make your offer. You also incur one-off fees if you select a currency that you haven't previously used.
Type in the amount that you want to offer, as well as the date the offer expires. This date is significant because it permits you to withdraw your offer at that moment.
That also puts pressure on the seller to decide whether they want to accept an offer on auctions that aren't competitive.
You should be able to see every offer that you've proposed by going back to your profile and clicking on the Offers button on the left sidebar.
After you make your offer, you're all done at that time. You'll just wait for the seller to decide if they want to accept. If there's a bidding war going on, you'll need to stay close by your device to continue bidding.
Where to Buy NFT Art Other Than OpenSea
Though OpenSea is seemingly the best NFT marketplace, there are other excellent choices as well. They're easy to use, and they take little effort to get set up. 
There's a nice range of items and collections available on these sites as well. Some NFT marketplaces also accept various payment methods such as credit cards, debit cards, Apple pay, wire transfers, etc. You can get both exclusive and non-exclusive artwork and NFT projects by trying any of the following marketplaces: 
Frequently Asked Questions