Quick summary: Our recommendation is to use the crypto exchange Swyftx to buy Terra USD. They have over 300 cryptocurrencies available, have a fantastic app and great customer support. You also get $20 free BTC once you start trading!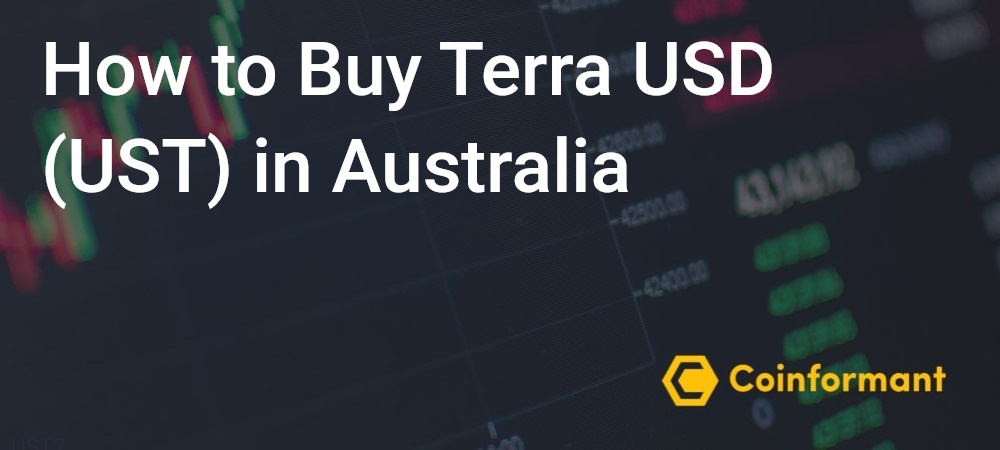 Australia has a decent amount of popular and regulated crypto trading platforms, so it's quite easy finding an exchange that has Terra USD. While each one comes with its own feature-set and fee structure, most crypto exchanges function very similarly when it comes to buying crypto.
Let's get into it!
How to Buy Terra USD in Australia
There are only 4 main steps involved and it's pretty straightforward:
1. Choose a crypto exchange
As mentioned above, we have plenty of options when it comes to Australian crypto exchanges. While that's great, you ideally want to do a bit of research so you can use one that has a decent fee structure and more importantly, has Terra USD in its list of cryptocurrencies.
Personally, we really like Swyftx, they have over 300 cryptocurrencies, a very smooth process for buying crypto, and their support team has been fantastic.
And if you sign up through our site, you'll get 20$ worth of free BTC once you start trading, which is always nice.
So for this guide on buying Terra USD, we'll be using Swyftx as the exchange to go through. Any exchange would work of course, as long as they offer Terra USD.
Or, if you'd like to know more about the exchanges we prefer, read our comparison of the best cryptocurrency trading platforms.
2. Sign up with the crypto exchange
Once you've decided on which exchange to use, it's time to sign up.
Sign up with Swyftx and grab $20 free BTC.
Swyftx has a very streamlined sign-up process in place. The first step is to fill in the sign-up form.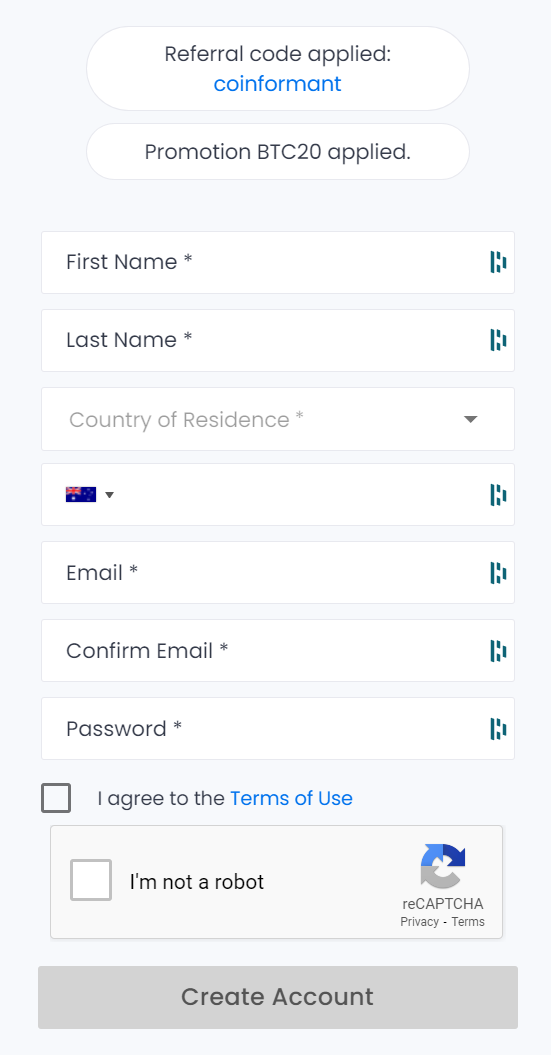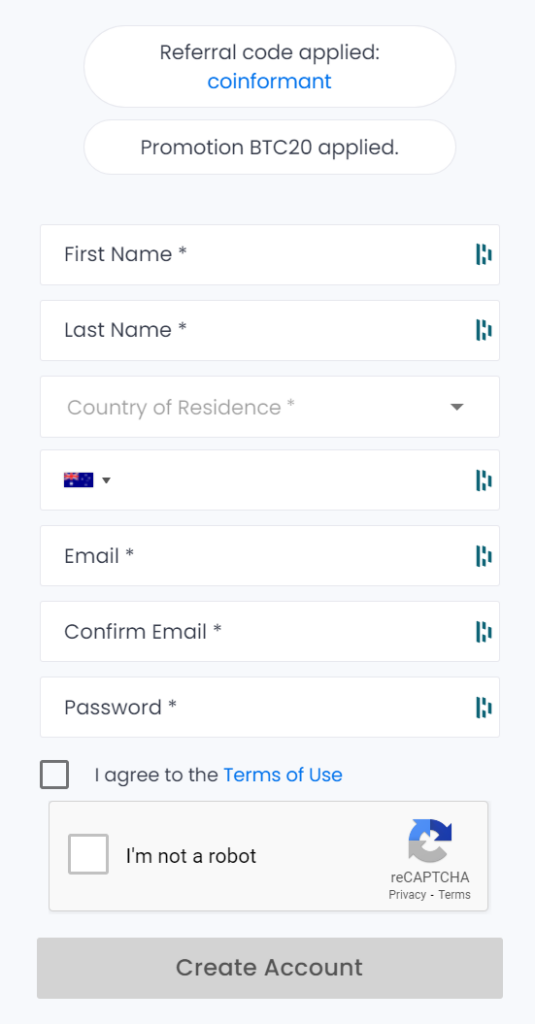 Next up is to go through their basic verification process, called a KYC, which is required by law here in Australia. This should be very quick and easy.
Once done, it's time for the next step.
3. Funding your account with AUD
To buy Terra USD, you first need to transfer AUD to your Swyftx account using one of the many deposit methods available. From bank transfer to PayID, POLi pay and credit cards, plenty of options to choose from.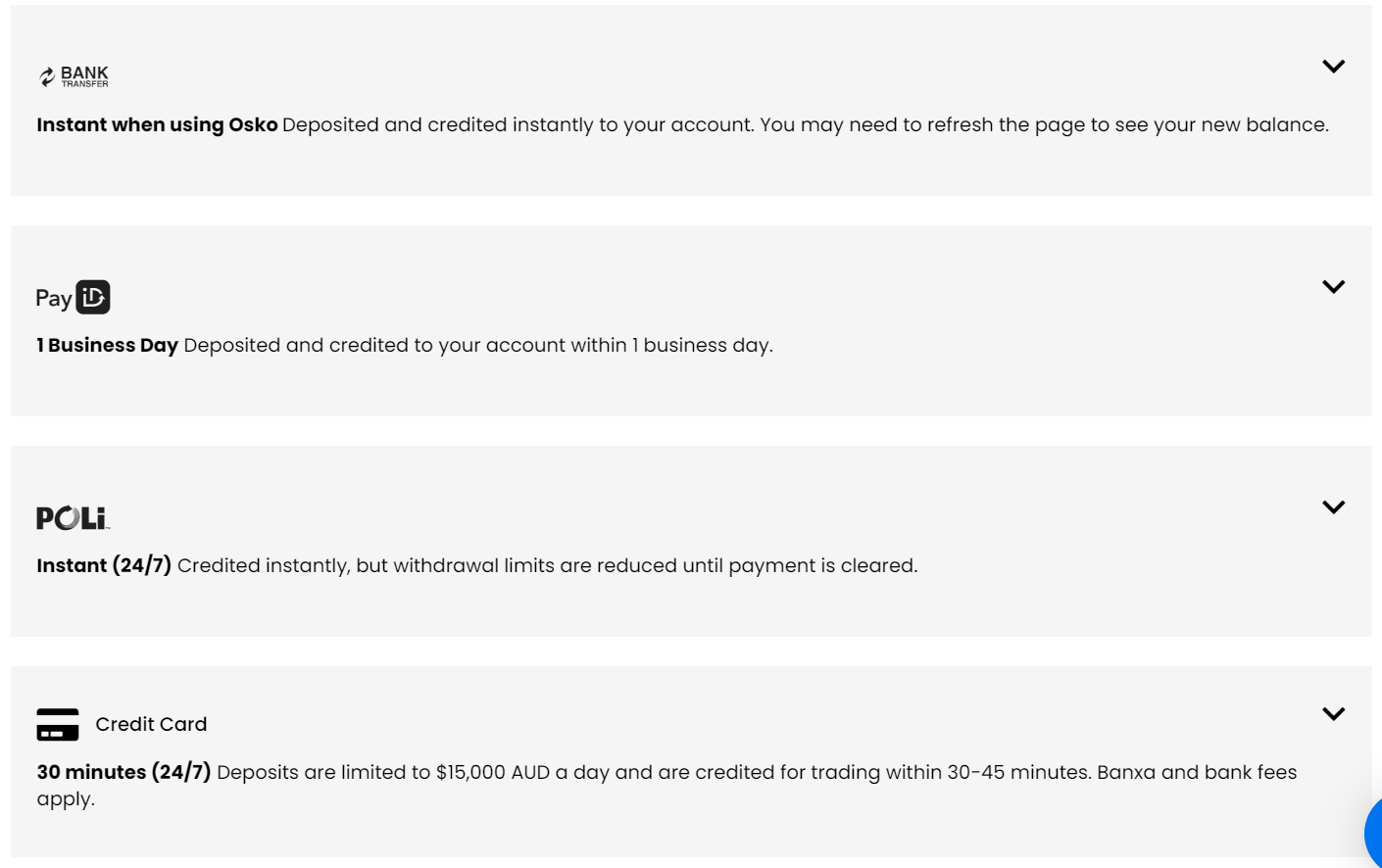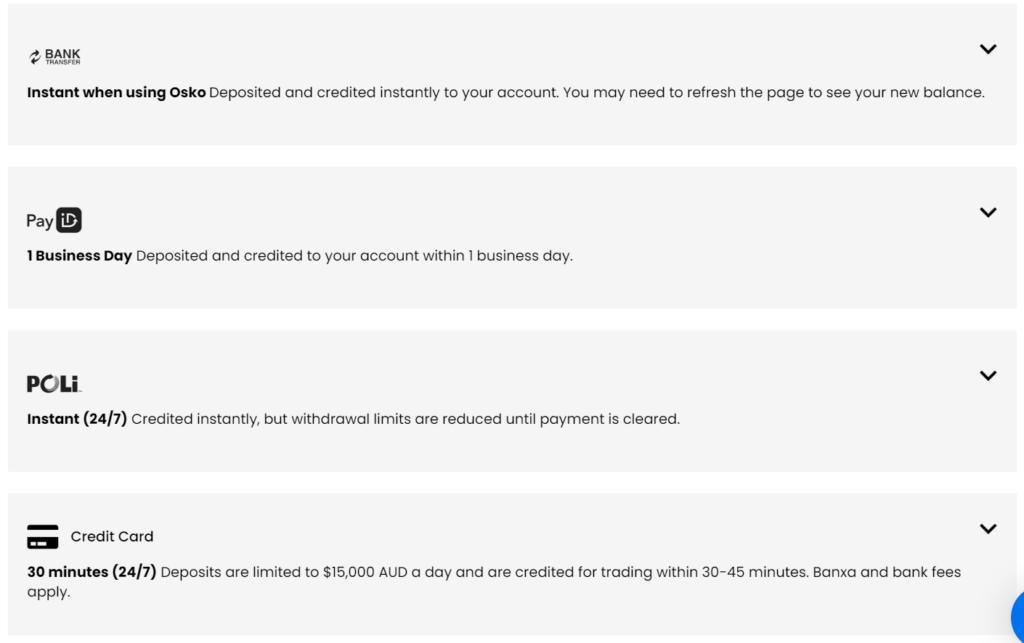 4. Buy Terra USD
The final step is to go to their asset list, find Terra USD, navigate to the buy section, and then trade your AUD for some UST. Once you've bought Terra USD, you can track how much you've gained or lost either in the app (they have a great app), or on desktop on the left-hand side under your cryptocurrency list.
Where to Buy Terra USD (UST)
Disclaimer: Trading, investing, and dealing with digital and cryptocurrencies might involve a lot of risks. Their prices are volatile and performance is unpredictable. Their past performance is no guarantee of future performance.
Affiliate Disclosure: This site is supported by its users. We may receive commissions for purchases made through the links on our site. This does not impact our reviews, guides or comparisons.
How to Sell Terra USD
If you're thinking about selling Terra USD, just follow the steps below.
Sign in to the cryptocurrency exchange (like Swyftx).
Click on Terra USD in your list of cryptocurrencies, or find your trading account if you're using an exchange with different accounts.
FInd the sell section and sell Terra USD for AUD, or trade it for another cryptocurrency.
Frequently Asked Questions
Is buying Terra USD in Australia legal?
Yes, you can legally buy and trade cryptocurrencies in Australia. We do of course recommend only using crypto exchanges regulated by AUSTRAC.
How to buy Terra USD with PayPal?
Unfortunately, most crypto exchanges in Australia don't support PayPal. The only exchange that you could use is eToro, but their cryptocurrency list is quite limited so you might not find Terra USD. Have a look on their site first, you might be lucky.
How to buy Terra USD with a credit card or debit card?
Most top exchanges support buying crypto with a credit or debit card. We would recommend Swyftx to buy Terra USD with your credit/debit card.
About Terra USD
TerraUSD (UST) is the Terra blockchain's decentralized, algorithmic stablecoin. It's a yield-bearing, scalable cryptocurrency that can be valued-pegged to the US Dollar. TerraUSD was created to add value to Terra, and offer a scalable solution for DeFi's scaling issues that plague stablecoin leaders like Dai. TerraUSD promises higher accuracy and scalability in interest rates as well as interchain use.
TerraUSD is a stablecoin that has many advantages. UST can meet the DeFi protocol requirements while maintaining scalability thanks to its minting process. TerraUSD can easily be integrated into crypto wallets by simply integrating UST payment method. TerraUSD's strength can also be seen in DApps. DApps are platforms that monitor real-life asset prices, and mint fungible synth assets. They use UST as their pricing benchmark.
Bittrex Global launched TerraUSD (UST) in September 2020. It is the most stable stablecoin and has earned the reputation for being highly scalable. UST can be used either as a standalone token, or in combination with LUNA (Terra's stablecoin crypto).
TerraUSD Advantages (UST).
TerraUSD is an algorithmic steadycoin with enhanced scaling. It has a face value equal to minted steadycoins. To issue TerraUSD, you will need 1 LUNA reserve assets. TerraUSD's monetary policy is almost infinite, which allows DeFi projects to reach their full potential.
TerraUSD and TerraKRW share total liquidity. You can easily exchange TerraUSD for TerraKRW (their stablecoin pegged to the Korean Won) and pay no fees.
Potential for passive income - TerraUSD's stable rates and Anchor protocol can help users earn passive income. Anchor promises a 20% return for UST saved. Through the PoS chain rewards, you can also make steady income. Inflation and commissions maintain this stability. This will enable you to set a stable interest rate.
Interoperability – TerraUSD can be linked to blockchain ecosystems by using Dropship bridge protocol. Dropship connects TerraUSD with many DeFi and DEX platforms, and transfers assets between chains. TerraUSD's value depends on LUNA supply and demand. Stable UST prices are possible because the Dropship protocol allows for scalability.
TerraUSD (UST), or as it is more commonly known, is the first stablecoin that is decentralized and can provide interest earnings, incredible scalability, simpler interchain movement, and amazing scaling.
Related: