If you have been trading crypto, you must know that keeping your digital assets on an exchange is a very risky business. Fortunately, there are wallet services specifically designed to keep your funds safe from malicious actors on the internet. Trust wallet is one of the most well-known wallets in the industry.
Cashing out your funds is one of the most important steps in the investment process. After all, who wants to keep their valuable profits in their online wallets indefinitely? If you are not sure how to cash out in Trust Wallet, no need to worry! We've prepared a step-by-step guide for you so that you can easily navigate your way around Trust Wallet and learn how to withdraw your funds. For now, here's a simple breakdown on how to take money out of Trust wallet:
Use a crypto exchange. Popular exchanges offer withdrawal directly to your credit card or bank account.
Convert altcoins into another crypto.
Sell your crypto using Binance Spot Trading or Convert Function.
Use a P2P exchange like LocalBitcoins.com and receive fiat as payment.
Convert your coins into stablecoins.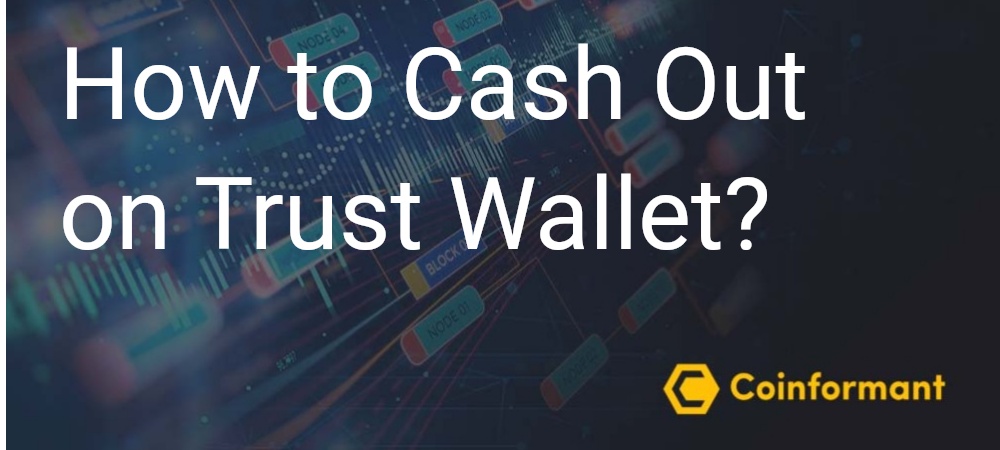 About Trust Wallet
Trust wallet is one of the most reputable software wallets in the cryptocurrency market, thanks to its wide range of supported currencies and user-friendly interface.
This crypto wallet was launched in the early days of Ethereum when the coin was rapidly gaining popularity as the preferred currency of the dark web. Viktor Radchenko, a programmer and developer from the US, thought of creating an Ethereum wallet that could store ERC20 tokens.
Trust Wallet gained the trust of a wide range of crypto investors all around the globe. While it started out with a simple offering, it slowly expanded its currency capacity, supported blockchains, and, consequently, its user base. Today, it's one of the most popular wallets in the industry.
Trust Wallet Features
First of all, Trust Wallet is free to use. It's a mobile wallet that you can download directly from Google Play Store or the Apple Store and you don't need to worry about hidden fees for the services that the platform provides.
Aside from Trust Wallet supports a wide range of coins and blockchains, Trust Wallet lets you connect to the DeFi environment through its dApp browser. It's a fully functioning web browser that is supported only on Android devices. You can use Trust Wallet's dApp Mobile Browser to interact with any dApp on the Ethereum Network, Binance Smart Chain (BSC) or other supported blockchains. The complete list is available on Trust Wallet's assets page.
When it comes to security, Trust Wallet cannot compete with hardware wallets. However, it does employ security measures such as fingerprint scanning and PIN codes. Most importantly, Trust Wallet doesn't store your data on its online servers. Being a non-custodial wallet, it lets you store your private keys and wallet addresses on your own device. This gives you the responsibility of keeping your credentials and keys safe. But don't worry that you'll lose your credentials, as Trust Wallet also lets you keep a recovery phrase that you can use to retrieve your assets.
Another attractive feature that Trust Wallet offers is direct staking on your wallet. You can stake a number of coins right within your wallet and earn interest.
So far so good, but how do you withdraw fiat from Trust Wallet? Here is a walkthrough.


How to Withdraw Money From Trust Wallet?
The first thing first, you can't directly withdraw your funds from Trust Wallet. You need a third-party exchange where sell your cryptocurrency for fiat currency. Then you transfer that money to your bank account.
You can also withdraw your funds by finding someone who is willing to buy your currency in person. In that case, you can directly transfer your currency to them and request they pay you fiat money through traditional ways.
If you are cashing out your assets just to protect them from the volatile crypto market, you can simply exchange them for stablecoins such as Tether (USDT) whose value is tied to USD no matter what happens in the crypto market.
Trust Wallet How To Cash Out via Exchanges
This is the most straightforward and the most easily accessed method. Most centralized cryptocurrency exchanges (CEXs) such as Binance, Coinbase, Kraken, or CoinSpot offer a cash-out option to your bank account or credit/debit card. You might have to check the exchanges' regional services since the cashing out process depends on the regional banking system you are subject to.
For example, Coinbase doesn't support fiat withdrawals in Australia yet (to cash out AUD in Australia, you can check out CoinSpot). It's better to know these facts in order to avoid shuffling your digital assets around exchanges.
The first thing to consider is the exchange service you are going to use. The best fit for you depends on your location and preferred currency type. For example, if you are residing in Australia, using an Australian crypto exchange such as Coinspot or Coinjar would be the easiest way of withdrawing your assets. You can also check out well-known exchanges such as Binance or Coinbase to see if they have a withdrawal option that suits you.
The second thing to consider is the type of currency you are holding. It's not a problem to convert popular cryptocurrency coins such as Binance Coin (BNB), Ethereum (ETH), or Bitcoin (BTC) into fiat money like USD, AUD, or EUR. But suppose you are holding an asset that isn't supported by a mainstream exchange. In that case, you might have to convert it to a mainstream cryptocurrency first, through a decentralized exchange (DEX) such as PancakeSwap using the dApp browser on Trust Wallet.
To cash out your coins on an exchange, let's say Binance, the first thing you need to do is to open a Binance account. If you know someone who already has an account on Binance, you can use a referral link.
Converting Cryptocurrency on PancakeSwap
You can skip this step if the cryptocurrency you want to cash out is a highly liquid coin, such as BNB, ETH, BTC, that is already supported by a mainstream central exchange (CEX). This step is mainly for those who are holding lesser-known altcoins.
The first thing you need to do in order to connect your Trust Wallet account to PancakeSwap is to enable the Trust Wallet dApp browser.
The dApp browser lets you use decentralized applications (dApps) on your mobile phone.
If you have an Android device:
1- Open the Trust Wallet App
2- Select the dApp browser (the four square button that says dApps)
3- Find PancakeSwap on the dApp browser
4- Tap on Connect Wallet
Unfortunately, Apple has removed the Trust Wallet dApp Browser from its supported apps. But you can still connect it to your iOS device with a few extra steps.
If you have an iOS device:
Open PancakeSwap on your mobile browser
Select Wallet Connect
Tap on Connect
Do not select Trust Wallet, select WalletConnect
Select Trust Wallet
Tap on Open in Trust
Tap on Connect
Once you do that, PancakeSwap will be connected to your Trust Wallet account.
You can go to PancakeSwap and convert your tokens by following these steps:
Click on Menu and go to Trade and then Exchange
Ensure your wallet is in Swap mode
Select the coins you want to swap, for example, CAKE/BNB
Tap on Confirm Swap
Tap on Send to send from Trust Wallet
Wait until the transaction is completed
And you are all set. Now you can send your cryptocurrency to Binance to withdraw to your bank account or credit/debit card.
Sending Cryptocurrency From Trust Wallet to Binance
Go to your Fiat and Spot Wallet
Find the cryptocurrency you want to cash out from your Trust Wallet
Click on Deposit
Copy the wallet address of the cryptocurrency
Go to your Trust Wallet app
Tap on the cryptocurrency you want to cash out
Tap on Send
Enter the relevant information such as Recipient Address (that you copied on the 4th step) and Memo (this depends on the coin you are sending)
Enter the amount of the cryptocurrency you want to send (the fiat value of the cryptocurrency you are sending will appear under the field.)
Tap on Next and Confirm your transaction on the confirmation page
Once you have your assets in Binance, you can cash them out from there.
Selling Your Cryptocurrency on Binance
Log in to your Binance account
Move your mouse over Wallet and select Fiat and Spot
Click on Withdraw
Select the Crypto tab and find the coins you want to sell
You need to switch your cryptocurrencies into fiat currency before withdrawing them. For that, there are two options on Binance. You can trade your Bitcoin for fiat currency via Spot Trading, using, BTC/AUD, BNB/AUD, ADA/USD, and other crypto-to-fiat pairings, or you can use the Convert function.
Convert function is a new service on Binance that offers instant conversions with no exchange fees. However, if you pay close attention, you'll see that the price spread is wider. That means the buying price is higher than the market price, while the selling price is lower than the market price.
You can compare and contrast to see which option suits you best. One advantage of the Convert function is that it's pretty user-friendly and straightforward, but it's generally more expensive.
Once you switch your cryptocurrency into fiat, go back to Fiat and Spot Wallet
Click on Withdraw
Select the currency you want to withdraw and your preferred withdrawal method. Binance supports bank transfers, credit cards, debit cards, and local currency wallets. But keep in mind that the available payment methods might differ based on your region.
Enter the amount you want to withdraw and fill the relevant fields. You'll be required to link your bank account or credit/debit card if this is the first time you are withdrawing from Binance.
Confirm the withdrawal and enter the verification code
Cash Out Your Assets via a Peer-to-Peer Exchange
If you know someone who is willing to buy your crypto assets with fiat money, you can try selling your cryptocurrency without using a centralized exchange platform. You can avoid transaction fees by cashing out your assets peer to peer. But most exchange fees are not very high, so this shouldn't be your primary motivation unless you are cashing out a massive amount of cryptocurrency.
You can use a peer-to-peer exchange like LocalBitcoins to find a buyer for your crypto assets.
Convert to a Stable Coin
Stablecoins are crypto-assets pegged to fiat currencies to minimize price volatility. Tether (USDT) and Binance USD (BUSD) are popular stablecoins.
If you are cashing out your cryptocurrency because you want to keep it safe from the highly volatile cryptocurrency market, you can just convert it into a stablecoin. Although this is not a cash-out option, it may come in handy if you're looking for a safe and relatively risk-free way of keeping digital assets.
A Few Words Before You Go…
Trust Wallet is one of the most well-rounded cryptocurrency wallets out there, and it offers excellent functionalities when it comes to withdrawing digital currency to fiat money. Now that you have read this article, you know exactly what you need to do to cash out your funds on the Trust Wallet.