Although there are hundreds of crypto exchange platforms on the market, not all of them are very trustworthy. That's why it's best to stick with popular exchange platforms with huge trading volumes and market capitalization. For instance, crypto beginners usually go for some of the top-rated centralized exchanges, such as Coinbase, Kraken, Binance, or Gemini. However, if you're looking to purchase a less popular or even totally new crypto token, you won't be able to find it on these centralized exchanges.
In these cases, you'll probably need to go to a decentralized exchange platform like PancakeSwap, the most popular DEX on the Binance Smart Chain (BSC), which offers hundreds of low cap altcoins. Using PancakeSwap is quite simple, but many users have initial problems when connecting their MetaMask wallet to PancakeSwap since MetaMask is more oriented towards the Ethereum (ETH) blockchain.
In our article today, we'll check out some of the basics behind MetaMask and PancakeSwap and provide you with a simple guide on how to connect the two platforms.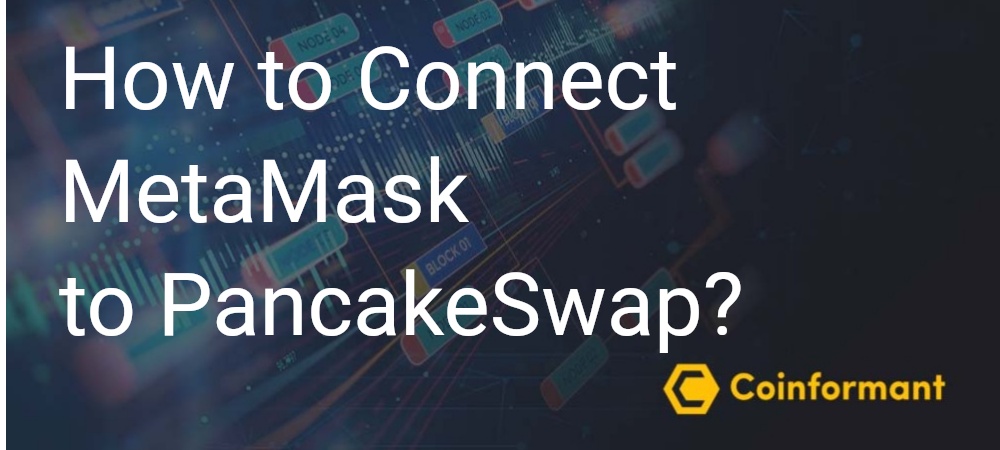 MetaMask Crypto Wallet
MetaMask is one of the most popular crypto wallets on the market. It's a favourite among crypto beginners and advanced users alike, thanks to its easy-to-navigate, user-friendly interface. Unlike some other popular crypto wallets that come in the form of a desktop program or mobile app, MetaMask works as a browser extension, usually used with Google Chrome. For mobile users, MetaMask has an intuitive app that's compatible with both iOS and Android mobile devices.
You can primarily use the wallet to store ETH and ERC20 tokens. This means that the wallet can store thousands of different tokens since the Ethereum blockchain is one of the most popular networks for launching new coins and cryptocurrency projects.
MetaMask doesn't officially support other blockchains, so interacting with cryptos launched on the Binance Smart Chain or Avalanche might seem impossible at first. However, the developer team behind MetaMask has enabled users to add additional networks to their MetaMask wallet, which enables the app to store assets launched on blockchains other than Ethereum. You can also use MetaMask for browsing and accessing dApps, DeFi platforms and NFTs.
As far as security goes, MetaMask is often criticised by crypto security experts because it's essentially a browser extension that stores the private keys on your browser's data store. On the other hand, there's nothing to worry about if you avoid shady links that might contain malware. Since MetaMask doesn't store the private keys on the company servers, even in the event that someone hacks the company servers, they wouldn't be able to steal any user credentials or private keys.
PancakeSwap
PancakeSwap is one of the most popular decentralized crypto exchanges for those who want to interact with the Binance Smart Chain and buy tokens with Binance Coins (BNB). The platform supports hundreds of more or less popular BEP20 tokens built on the BSC network. As soon as a new BEP20 token is launched on the Binance Smart Chain, the platform seems to have it added to its list. Using it for trading is super simple; you just need to copy the token's contract address into PancakeSwap and commence the trade.


On the other hand, the extensive token support also means that you can find a bunch of scam tokens launched by malicious individuals and developer teams who just want to make some quick cash from the fast pump and dump token projects. That's why it's advised to be extremely careful with newly hyped BEP20 tokens.
Suspicious tokens aside, PancakeSwap is a great DEX platform with an extremely simple user interface. Once you connect your wallet to the platform, all you need to do is select the tokens you wish to exchange and initiate a transaction.
PancakeSwap also provides various crypto staking and liquidity pool features with nice staking rewards for providing platform liquidity.
Connecting Your MetaMask Wallet to PancakeSwap
PancakeSwap is compatible with various popular crypto wallets such as Trust Wallet and MetaMask. In case you're using MetaMask, you just need to follow these few simple steps to connect your wallet to the platform and start trading assets:
Make sure your MetaMask extension is up and running.
Go to Pancakeswap.finance and click the Connect Wallet button in the upper right corner of the screen.
A pop-up window should appear with a list of wallets supported by the platform, including MetaMask.
After clicking on MetaMask, your wallet will initiate a pop-up window with a list of all your MetaMask wallet addresses. Choose the wallet you wish to connect to PancakeSwap.
Click on Next, and you'll be taken to the Connect Account window.
Now allow the PancakeSwap website to view your permitted account addresses by checking the box in the pop-up window.
Select the Connect button and then allow MetaMask to add the Binance Smart Chain as a network compatible with your wallet.
Select Approve and allow MetaMask to switch the active network to Binance Smart Chain. You can later switch back to another network in your Settings if you wish to do so.
A Few Ending Words…
Using PancakeSwap to buy BEP20 tokens is one of the easiest ways to get your hands on nearly any crypto built on the Binance Smart Chain. Surely, you can use another wallet that's already compatible with the BSC network, but in case you want to use your MetaMask, you can easily connect it to PancakeSwap by following the steps described in this guide.