The time when the Bitcoin (BTC) blockchain was the only relevant cryptocurrency blockchain network is long gone. Today, there are numerous popular blockchains such as Ethereum (ETH), Avalanche (AVAX), Binance Smart Chain (BSC), Polygon (MATIC), Tron (TRX), and other networks that allow developer teams to create and launch their own crypto tokens on them.
These blockchains use very different token standards and rules. That's why a crypto wallet that is focused on the Ethereum network can't support AVAX or BSC-based digital assets. For this reason, advanced multi-currency crypto wallets with cross-chain support were invented. Such wallets can support digital currencies from various different blockchains, which enables users to store their entire portfolio of cryptos in a single wallet. The Trust Wallet is a great example of a highly versatile multi-currency wallet, used for storing assets that are based on various popular blockchains.
In this guide, we are going to take a look at how you can use Trust Wallet to connect your Ethereum based MetaMask wallet and store assets tied to the highly popular Binance Smart Chain, all in one app.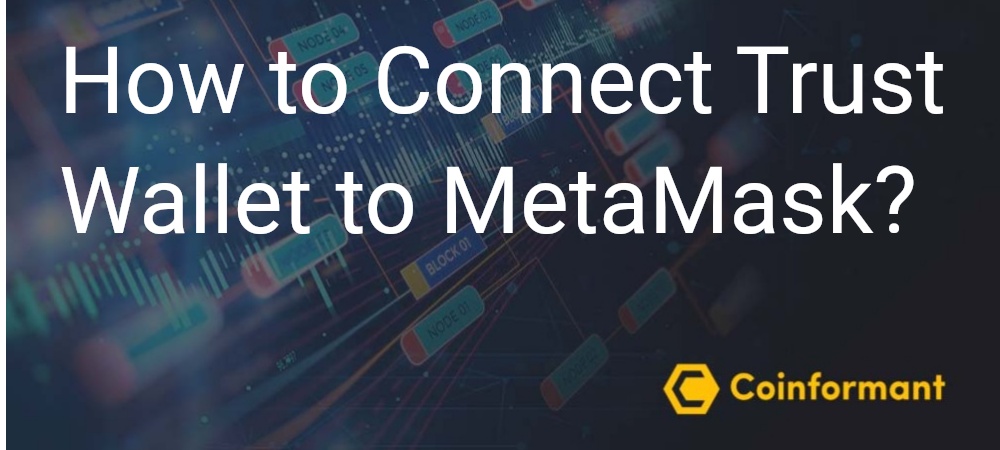 Binance Smart Chain
The reason why we're taking the Binance Smart Chain as an example is because it's one of the most popular and fastest-growing blockchains on the crypto market. The network is created by Binance, the largest crypto exchange platform on the market, and all transactions are powered by their native currency, the Binance Coin (BNB).
Any developer team with enough programming knowledge can create and launch their own token on the Binance Smart Chain. The token standard used on the Binance Smart Chain is called BEP20. When a new BEP20 token is launched, it has a long way to go before it gets listed on Binance. Only the best BEP20 tokens that manage to attract a considerable market cap are listed on the Binance exchange platform. It's far easier to get a new BEP20 token to get listed on a decentralized exchange platform that's focused on the Binance Smart Chain, like PancakeSwap.
In order to buy a BEP20 token on PancakeSwap or any similar DEX, you need to have some other BEP20 token to exchange for the asset you desire. The easiest way is to buy some BNB and then exchange it for the desired token on PancakeSwap. To do this, you must connect your wallet to the DEX.
If you're a MetaMask user, it's easier to integrate your wallet into a Trust Wallet account, which will enable you to convert ETH-based assets to BEP20 tokens and then trade on PancakeSwap.
We'll get to the details of the MetaMask and Trust Wallet connection a bit later in this guide.
MetaMask
MetaMask is an Ethereum blockchain-based cryptocurrency wallet that works as a Google Chrome browser extension, and it's also available as an Android and iOS compatible mobile app. You can store Ethereum and any ERC20 tokens on it. The wallet is primarily meant for users focused on Ethereum-based assets.
All of your private keys are stored on the device you're using to access MetaMask. The fact that MetaMask is a browser wallet means that it might be less secure than other non-custodial wallets which come in the form of separate apps. This is a good reason to connect your MetaMask with a safer wallet such as Trust Wallet because you'll get increased asset safety along with additional functionalities.
In case you're already using a MetaMask wallet and decide to branch out into other blockchains such as the Binance Smart Chain, it's possible to add support for other blockchains on MetaMask, but it's quite complex. A faster and easier solution is to connect your MetaMask to Trust Wallet.
Trust Wallet
Trust Wallet is one of the most popular mobile crypto wallets on the market. Your private keys are always stored on your mobile phone and they are protected by a 24-word seed phrase, passcode, and 2FA (two-factor authentication).
The wallet supports a broad range of blockchains including Ethereum, Polygon, Avalanche, Binance Smart Chain, and other popular crypto networks. You can literally import any asset based on the supported blockchains by copying the contract address of the token you wish to add. Just don't forget to select the appropriate network for the token you're adding. For example, if you want to add a BEP20 token, you need to select Binance Smart Chain as the network, because if you don't choose the right network, the wallet won't be able to recognize the token contract.


There's a very handy built-in crypto exchange feature in the Trust Wallet app, enabling users to exchange numerous digital currencies without the need to transfer their coins to a crypto exchange platform. Also, you can purchase various cryptos directly with fiat money, by connecting a payment card to your Trust Wallet account.
Besides storing, buying, and exchanging assets, Trust Wallet also allows users to browse and use thousands of DApps (decentralized applications), through the built-in DApp browser. You can access all sorts of decentralized exchanges, DeFi platforms, staking pools and other apps. In case you're an NFT trader, the Trust Wallet also supports the storage of NFT's and it can be connected with the biggest NFT markets such as OpenSea.
Connecting MetaMask Wallet to Trust Wallet
One of the most advanced features of Trust Wallet is the fact you can integrate it with third-party crypto wallets by importing a whole wallet directly into your Trust Wallet account. You can create separate wallets within your Trust Wallet at any moment. This is a very useful feature if you want to connect your MetaMask with Trust Wallet, which will enable you to easily trade ETH-based assets for BSC tokens without any unnecessary complications.
Follow this simple tutorial to connect your Trust Wallet to MetaMask:
Find the Ethereum address of your MetaMask account. You can find the address by clicking Add funds and then copying the address to a text file.
Now find your MetaMask recovery phrase and also copy it to a text file. You'll need these two pieces of information to import your MetaMask account into Trust Wallet. You can find the recovery phrase under Settings – Security & Privacy – Reveal Secret Recovery Phrase.
Now open your Trust Wallet and go to the Settings section. Select Wallets, click on the + sign, and click I already have a wallet.
In the dropdown menu, select Ethereum wallet as the wallet type.
On the screen, fill in your MetaMask wallet recovery phrase and click Import.
Once the process is finished, your MetaMask wallet will be imported into your Trust Wallet and easily accessible through the Wallets tab.
Now, you can easily utilize the Trust Wallet to exchange your ERC20 tokens for BEP20 tokens and buy other BEP20 tokens on Binance Smart Chain compatible exchanges such as PancakeSwap. For instance, you can convert ERC20 tokens to Ethereum through MetaMask and then convert that Ether into BNB coins on Trust Wallet. Also, now you can store all of your different cryptos in a single app.
A Few Ending Words…
Connecting your MetaMask wallet with Trust Wallet is a secure way to add versatility to your ETH-based portfolios because you can easily exchange and transfer assets from the ETH blockchain to a bunch of other popular networks in a matter of seconds. On top of that, you're integrating MetaMask with one of the most secure software wallets on the market, which is definitely something you want to do to stay safe from potential cyber attackers and scams.