While Bitcoin (BTC) and Ethereum (ETH) are definitely the most popular cryptocurrencies with the largest market cap, they are far from being the only relevant digital currencies on the market. If you take a look at websites like Coinmarketcap or Coingecko, you can find dozens of high-quality crypto projects in the top 100 cryptocurrencies.
One such project is Ripple (XRP), a cryptocurrency designed for fast payments and transactions, ideal for all sorts of businesses, whether they are average retailers or large-scale investors who wish to facilitate multi-million dollar transactions. Ripple has much to offer as an agile payment medium with a blockchain network that can simultaneously process huge amounts of transactions. Just like any other cryptocurrency, when using Ripple, you need to have an XRP-compatible crypto wallet to store your coins in.
Given the fact that there are hundreds of more or less popular crypto wallets on the market, it can be quite difficult to decide which ones are trustworthy and how to create a Ripple wallet account within a crypto wallet app.
Let's take a closer look at the Ripple project to find out which popular crypto wallets support this asset and how to use them.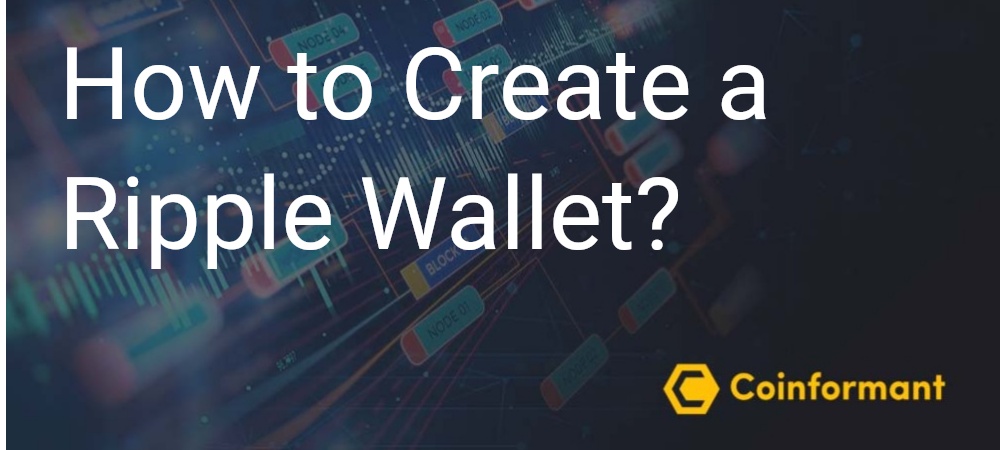 The Story Behind the Ripple Cryptocurrency
Ripple is a veteran cryptocurrency, launched back in 2012 during the early days of crypto. The project was launched by crypto enthusiasts Jed McCaleb, David Schwartz and Arthur Britto. The digital network was built on the XRP Ledger blockchain, which is a bit different from classic decentralised blockchains like ETH or BTC.
While traditional blockchains enable anyone to become a network node, approve transactions and be an active network participant, Ripple's blockchain has a more centralised approach because anyone can download the XRP blockchain validation programme, but only a select few network nodes get to be unique nodes, approved by the Ripple developer team.
Users can choose the node they want to process their transactions. Ripple is known for its huge processing power, and 35 approved validators can handle the whole network. The usual processing volume of the Ripple blockchain is around 1,500 transactions per second, but the developing team claims that the network can actually handle as much as 50,000 transfers in a single second, a greater transaction throughput than that of popular payment providers such as Visa and MasterCard. The XRP transaction fees are also very low.
This huge processing capacity is what makes Ripple an ideal currency for international payment services. Ripple is great crypto for evading official financial institutions and slow and complicated international bank transfers that require extensive paperwork and multiple intermediary banks. Such transactions can take days or sometimes even more than a week to complete. Ripple makes cross-border payments far more practical since you can facilitate a multi-million dollar transfer in a matter of seconds.
Additionally, the Ripple network has built-in currency exchange features that enable users to send XRP and automatically convert the coins to the native currency of the receiver when facilitating a transaction. This is possible because the XRP blockchain pulls information from various fiat currency exchanges and finds the best possible exchange rate for your transfer.
Best Ripple Wallets
Ripple was never a cryptocurrency with high value per coin, but that's exactly what makes it practical for all kinds of payments because you don't need to spend several tens of thousands of USD for a single coin like BTC. With Ripple, you can get precise, round numbers without a lot of decimals.
Since XRP has been in the top 20 cryptocurrencies by market cap and trading volume for quite some time, it's only natural that all of the most popular crypto wallets support XRP coins. Let's take a look at a careful selection of top-quality crypto wallets that can be used to store XRP.
Software Based XRP Wallets


Software-based crypto wallets are the most popular solution for storing crypto assets. They come in the form of desktop wallets, mobile wallets and browser wallets. You just need to install a wallet app, and it's ready for use. Many software wallets have security flaws and aren't very reliable, so here's a selection of the most reliable software wallets that are compatible with XRP.
Trust Wallet
Trust Wallet is much more than just a cryptocurrency mobile wallet. Basically, it's a multi-chain crypto wallet that can store thousands of different cryptocurrencies. It supports numerous popular blockchains such as BTC, ETH, XRP, Avalanche (AVAX), Polygon (MATIC), Binance Smart Chain (BSC), and other trending networks. This means that all cryptos that are built on blockchains supported by Trust Wallet can be stored in the wallet.
Apart from crypto storage, Trust Wallet also has built-in crypto exchange features, and it enables users to directly purchase a wide range of assets with a credit card or debit card. One of the assets you can purchase is Ripple.
To enable your XRP wallet within Trust Wallet, you just need to go to the search bar in the upper right corner of the wallet interface, find Ripple, and toggle the blue button to enable it. Now you can buy XRP and store it in your Trust Wallet. Additionally, you can even store NFTs and browse all sorts of decentralised apps through the Trust Wallet browser.
Atomic Wallet
Another great choice for storing XRP is Atomic Wallet. This is a crypto wallet that comes both in desktop and mobile form. You can install it on your PC or laptop with Windows or macOS, and you can also install it on your Android or iOS compatible smartphone. The wallet supports more than 300 different coins and tokens, including XRP. Unlike many popular software wallets, Atomic Wallet is based on open-source technology.
The user interface is very simple. It's designed for beginners and average crypto users who simply want a handy app to safely store their digital currency. You don't need to enable XRP or any of the other supported cryptos. When you receive some XRP, they're automatically displayed along with the other cryptocurrencies. Atomic Wallet enables users to buy numerous cryptocurrencies in exchange for fiat money through payment cards.
Exodus Wallet
Exodus Wallet is one of the best software wallets on the market. It's also both a desktop wallet and a mobile wallet, compatible with the most popular operating systems. You don't need to go through any extra steps to enable your XRP wallet within Exodus. The Exodus app supports more than 150 cryptocurrencies and comes with a very smooth exchange platform integration, through which you can exchange a bunch of coins and tokens, including XRP.
Direct crypto purchases with fiat money are also an integral feature of Exodus.
All three of these wallets are considered top security software wallets that store your private keys on your device and not on company servers. They have password protection and recovery seed security to make sure you can recover your XRP and any other stored digital currencies.
Ripple Hardware Crypto Wallets
Hardware wallets, or cold wallets, are the next level of crypto storage. These wallets don't have a constant internet connection, which means that there's no way a cyber attacker can hack your wallet and steal your XRP tokens. Hardware wallets always store all of your private keys offline, out of the reach of hackers.
Ledger Nano S and Ledger Nano X
The Ledger Nano S and Ledger Nano X are among the best-rated hardware crypto wallets on the market. Ledger, the manufacturer of these wallets, is a company that is focused on blockchain based asset security. Both models of Ledger wallets support Ripple and hundreds of other crypto coins and tokens.
Your private keys are protected by PIN codes, a 24-word recovery seed phrase, passphrase and a secure element microchip that's approved by the French cybersecurity agency ANSSI. The microchip includes efficient countermeasures against most known cyber-attack methods and it is constantly updated through Ledger firmware updates.
The device is managed through the user-friendly Ledger Live app, which can be installed on a computer and mobile device. While the Nano S model requires a USB cable connection to your computer, the Nano X comes with Bluetooth connectivity that enables a secure wireless connection. In order to store your XRP on a Ledger device, you need to find and install the Ripple app through the Ledger Live interface. After installing the app, you'll be able to send, receive and store XRP tokens on your Ledger device. Also, Ledger has a wonderful support team that's always ready to help users with any issues.
Trezor Model One and Trezor Model T
Trezor hardware wallets are another great choice of hardware wallets for storing your XRP. The Trezor One model was actually the first hardware wallet ever launched on the crypto market, back in 2014. Trezor introduced the revolutionary concept of specialized USB devices for securely storing your cryptocurrency out of the reach of cyber attackers.
Both the Trezor One and the more advanced Trezor Model T are multi-currency wallets that support more than 1,000 different coins and tokens. The stored digital assets are managed through the Trezor firmware app via a computer or smartphone. Unlike Ledger devices, which require a user to install a specific app for each type of cryptocurrency, Trezor wallets don't require any app installations. You just need to be sure that the firmware supports the token you want to store, and that's that. Just transfer your XRP to your Trezor device, and they will automatically be displayed through the Trezor app.
Ripple Paper Wallets
Paper wallets are an old-school form of cold storage that was very popular among crypto enthusiasts before hardware wallets were invented. Basically, you generate your private keys and public address online, print the keys in alphanumeric and QR code format on a piece of paper and that's it. You just need to make sure your paper wallet is safely stored out of reach of any malicious individual. Additionally, be careful not to spill any liquid over your XRP paper wallet or get it torn.
Ripple XRP Paper Wallet
XRP Paper Wallet is a popular platform for generating Ripple paper wallets. Just click on the Generate Paper Wallet button, and you'll be provided with a randomly generated private key and public wallet address ready for printing.
Bithomp XRP Paper Wallet
Bithomp XRP Paper Wallet is another trustworthy paper wallet platform that deals with XRP tokens. Go to the platform website and click on Generate New. You'll be provided with a brand new XRP paper wallet private key and public key, along with matching QR codes. Select Print, and you're ready to print out your Ripple paper wallet.
A Few Ending Words…
Ripple is a cryptocurrency that brings solutions to real-world problems such as slow bank transfers and crypto scalability. With its huge processing capability, XRP is a crypto that can truly be used to conduct everyday cash transactions and digital payments without unnecessary delays. As you can see, there are numerous options for safely storing your XRP coins. Whichever option you choose from this guide, you won't be wrong because these are some of the best-rated crypto wallets for storing Ripple tokens.