Cryptocurrencies are far more than just decentralized digital cash like the market-leading crypto asset, Bitcoin (BTC). In fact, a huge number of crypto projects aim to solve different issues in a variety of industries, from production and finance all the way to entertainment and marketing.
The Basic Attention Token (BAT) is one of these popular projects with real-world utility. BAT tokens and the innovative crypto-friendly Brave browser are a revolutionary combination that's transforming the advertising industry by rewarding users for watching ads and web content they really care about and like to watch.
Let's take a detailed look at Brave and the BAT tokens and learn how to earn some BAT in your spare time without being hassled by unwanted pop-up ads that follow you across various websites.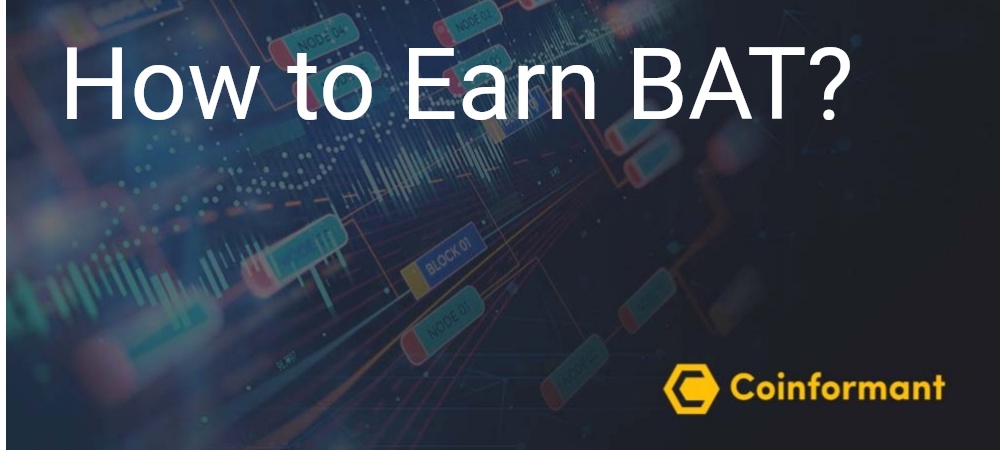 The Brave Browser
When using conventional web browsers such as Google Chrome, Opera and Mozilla Firefox, users are targeted by tons of unwanted ads. These ads seem to follow your every move by popping up on the websites you're visiting, thanks to website cookies and online trackers that are designed to follow users through multiple web locations. All of this wouldn't be possible without big data companies monetising your online habits by selling information to advertising companies.
The Brave browser is the solution to this problem. The browser simply cuts off any third parties trying to monitor, follow or monetize your browsing habits. Brave is a privacy-focused web browser that automatically blocks all unauthorised pop-up ads. Browsers such as Google Chrome require multiple browser extensions in order to efficiently block ads and, even then, your digital footprint is still visible to third parties. On the other hand, Brave provides both security and freedom to browse the websites and content that you wish, without annoying ads for products and services that don't interest you.
A great thing about Brave is that you can select the types of ads and commercial content that you prefer and even select the number of ads allowed to appear per hour. Not only do you choose which ads to watch, but you also get rewarded in cryptocurrency for your attention.
What's more, you can even add your old bookmarks from the browser you were using previously. Brave is compatible with both Windows, macOS and Linux operating systems.
Basic Attention Token
The Basic Attention Token is the cryptocurrency used by Brave to reward both users and content creators for their participation in this innovative advertising ecosystem. BAT was launched back in 2017 by crypto developer Brendan Eich and Brave Software with the aim to curb invasive advertising practices on the internet. The team behind BAT wanted to create a cryptocurrency that can be used together with a privacy-focused web browser that helps both creators, advertisers and users.
Content publishers, usually referred to as creators can earn BAT tokens by publishing high-quality content on Brave. The amount of BAT tokens offered to creators depends on the advertisers, who base their decision on the amount of attention a certain product, service or other content type has attracted on Brave. More attention means more ad revenue. The attention is measured by the number of Brave users that watched a creator's content and the time they spent watching it. Users are, of course, awarded with BAT tokens for their attention. This way, every participant in the ecosystem is in a winning position.
The BAT ecosystem is especially useful for honest advertisers who really care about reaching their target groups and not just stacking up useless view numbers, while publishers have a chance to directly reach the people who are interested in their content.
Basic Attention Token had a very successful ICO back in 2017. The project accumulated 35 million USD worth of funds in just 30 seconds. The BAT circulating supply is 1.5 billion tokens.


In terms of storage, many popular multi-currency crypto wallets support BAT since it's essentially an ERC20 token based on the Ethereum blockchain. If your wallet supports Ethereum (ETH) assets, you can also use it to store BAT. Additionally, every Brave user automatically gets access to a personal wallet integrated into the browser. This wallet can store BAT, but it is also compatible with various other cryptocurrencies.
Brave Rewards
Brave rewards are the core concept of the BAT-fueled Brave ecosystem. If you've enabled Brave rewards in the browser, you can immediately start earning BAT just by watching various types of content. You can fully customise what type of content and how often you want to watch it. If one or two ads per hour are enough for you, there's no need to watch more, and the browser won't hassle you with constant ad notifications.
The BAT tokens you earn from Brave rewards are stored in your Brave wallet, and it's up to you to decide what you want to do with those tokens. You can accumulate tokens and then cash them out through a fiat-friendly cryptocurrency exchange like Coinbase or Binance or through the Uphold wallet. You can also keep them in your Brave wallet and tip your favourite content creators. This is a great feature for content creators, because it motivates them to publish top-quality content in order to get support from the Brave user community through occasional tips.
How to Earn BAT Tokens as a User
Setting up Brave rewards and earning BAT tokens as a browser user is quite easy.
After you download Brave and install it on your computer or Android smartphone (iOS doesn't support Brave rewards), Brave will take you through a welcome tour of the browser. You'll be asked whether you want to enable Brave rewards for future browsing. Approve this feature, and you're all set to go.
In case you didn't approve Brave rewards right after installing the browser, you can do it manually:
Click on the Brave Main Menu and select Brave Rewards.
Click on the triangular rewards icon and select Rewards Settings.
Here you can easily toggle Brave rewards on and off, as well as ads.
If you wish to donate a portion of your Brave rewards to publishers whose work you support, you can either tip them manually or set up the Auto-Contribute function in the Rewards Settings menu. You can add sites that you wish to automatically support on a monthly basis and specify the amount of BAT tokens you wish to donate. Keep in mind that in order for the auto-contribute option to work, you need to generate BAT tokens regularly by viewing ads, or there won't be any BAT tokens left in your balance to use as tips.
How Content Creators Earn BAT Tokens
Using Brave is a great way to earn income, thanks to people who really want to engage with your content. In order to earn BAT as a content creator, you just need to sign up as a publisher on Brave:
Go to creators.brave.com and sign up as a content creator if you have a website, YouTube channel, Twitch account, online publication or any other interesting form of content.
Add your online channel through Brave rewards, and you're good to go.
All of your tips and awards can be managed through the Creators dashboard, which you'll have access to once you register as a creator.
How to Withdraw BAT Tokens
Brave rewards are paid out regularly, on a monthly basis, and sent to your in-browser Brave wallet. In case you wish to withdraw the tokens to a third-party blockchain address and cash them out into fiat or convert the tokens to another cryptocurrency, the easiest thing to do is use Uphold.
All you need to do is connect your Uphold account with your Brave browser through the settings menu. Your Brave rewards balance will automatically be visible within your Uphold account. From Uphold, you can either facilitate a blockchain transaction to another wallet or crypto exchange platform or directly cash out the coins to your bank account.
In order to cash out your BAT rewards through Uphold, you'll just need to add your bank account as a cash-out method and go through the KYC protocol that requires you to provide personal information in order to prevent any money laundering activities.
A Few Ending Words…
The Brave browser is a clear example of an innovative, blockchain-powered project that aims to solve some real-world problems such as invasive, inefficient digital advertising while protecting personal data and user browsing information.
As you can see, earning Brave rewards is such an easy and straightforward process for both viewers and creators. If you ever decide to give it a try, just follow the few simple steps described in this guide.