As you might know, new cryptocurrencies enter circulation once the miners manage to solve a complex mathematical problem on the blockchain. The miner who first solves the problem adds a new block of crypto transactions to the digital ledger and updates its data.
This is a simple explanation of what the cryptocurrency mining process represents. In order to mine cryptocurrencies, you need to have good mining hardware equipment, also known as a mining rig, such as ASIC (Application Specific Integrated Circuit) miners, GPU (Graphics Processing Unit), or  CPU (Central Processing Unit) miners.
Unfortunately, with time, mining digital assets on your own (especially the most popular ones) has become very expensive, which is why crypto enthusiasts usually join mining pools. How do I join a bitcoin mining pool? After selecting a crypto mining pool you want to join, you have to get the stratum address, connect your wallet where you want to receive the mining reward, and finally, configure your software.
Keep reading this article to learn all about mining pools and a detailed guide on how to join Bitcoin mining pool.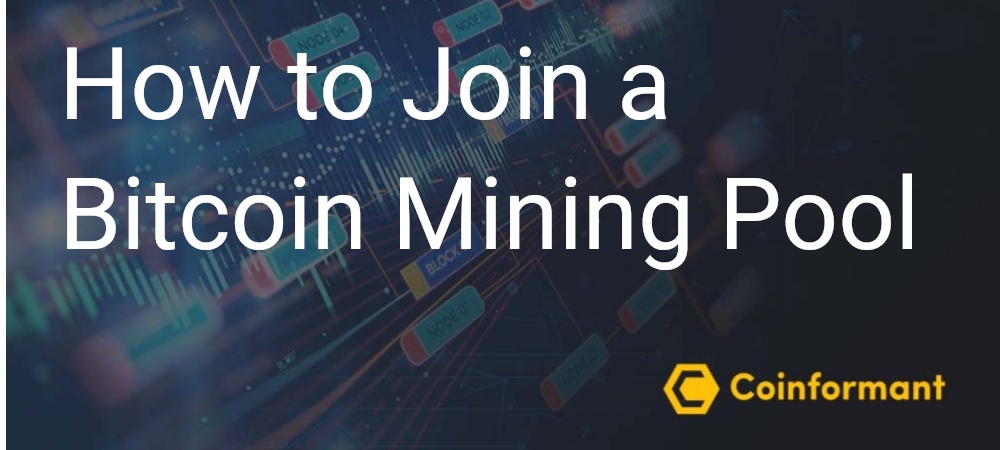 What Is a Bitcoin Mining Pool and How Does It Work?
Joining a mining pool is similar to buying lottery tickets together with a couple of friends, with a mutual agreement to share the prize if one of you wins. This way, there is a bigger chance to win than if you buy a ticket on your own.
Similarly, a Bitcoin mining pool consists of a group of miners who join their mining resources in order to generate more computing power, i.e. hash power or pool hash rate. Higher computing power equals a greater chance of generating a block on the blockchain and getting the mining block reward. The reward is divided between the pool members proportionally to the amount of computing power they contributed with.
Usually, the owner of the mining pool charges you a pool fee for using the pool. The service fees and payment methods vary from pool to pool.
How to Select Mining Pool
On the crypto market, you can find various different Bitcoin mining pools and they all have different features that can enhance your mining. So, how to choose the right mining pool for you? Here are some things that deserve your attention:
The size of the mining pool. The upside of larger mining pools is that their payments are more regular. On the other hand, small mining pools distribute larger reward portions but they have lower chances of winning the reward in the first place.
Transaction fees. Most Bitcoin mining pools charge fees that can be as little as 0%, or as high as 4%.
Secure and reliable. You need to stay away from scam mining pools that would only steal your assets or pools that lack sufficient security infrastructure. One way to do this is to choose an already established BTC mining pool and read user reviews before you get started.
Payout policy. Every mining pool has a different payout policy; some offer daily payouts, while others pay you when the block is solved.
Calculating the individual miners' share seems to be quite complex. In order to find out the fairest method and take precautions so that someone doesn't trick the miners, numerous different calculation schemes have been created.


Before we continue to explain some of the most common calculation schemes, you need to be familiar with the term shares. Basically, shares define how much computing power a miner is contributing to the mining pool. A higher number of accepted shares indicated a substantial contribution from the miner in question.
Here are the most popular calculation methods:
The Pay-per-Share method provides the Bitcoin miners with prompt and guaranteed payouts for each share they solve. This is due to the fact that the shares are paid out from the already existing balance of the mining pools. Moreover, with this method, the miners are able to withdraw their payments immediately. The Pay-per-Share method provides little deviation in the payouts of the miners, while a substantial part of the risk is shifted to the mining pool operator.
According to this reward method, the value that the miner is going to receive for every share will be equivalent to the block reward divided by the total number of shares that were submitted by all the miners.
Pay Per Last N Shares (PPLN).
The Pay Per Last N Shares method is very similar to the PROP method. The main difference is that instead of summing up the number of shares in a round, here only the last N shares are taken into consideration, disregarding the round length and difficulty. 
Double Geometric Method (DGM).
The Double Geometric method is a payment method that allows the pool operators to minimize some of the variance risks. Pool operators receive a portion of the block reward on short rounds and return it on longer rounds in order to normalize the reward payouts.
How to Join a Mining Pool?
When it comes to Bitcoin mining pools, they allow their users to start mining with any type of mining hardware equipment. Mining pools can be used both by miners who use weaker mining hardware and don't make much profit and miners who use a few large miners simultaneously in order to make a serious gain.
The process of joining a BTC mining pool requires programming the mining software in order to direct its aims to a specific mining pool. You can join a BTC mining pool in five simple steps:
First, you have to buy a suitable Bitcoin mining rig;
Next, select the Bitcoin mining pool you want to join;
Find its stratum address (an address secured by a Stratum V2 protocol – the most popular mining protocol) and link it with your mining software;
Add the Bitcoin wallet address where you want to receive your reward;
Finally, configure the mining software for the selected BTC mining pool.
The data that you'll need in order to finish this process will be obtained by the Bitcoin mining pool itself.
Best BTC Mining Pools
If you're wondering how to choose best mining pool, we've listed five of the most popular cryptocurrency mining pools with their advantages and disadvantages to help you.
Antpool
Antpool is the largest BTC mining pool and it provides constant monitoring of the hash rate on a minute, hourly, and daily basis. It offers mail, application, WeChat alert, and SMS service for better and easier communication between the miners. Plus, you can easily check out your profit on the dashboard at any time. The Antpool mining pool is under the control of the ASIC miner manufacturer Bitmain, a company that has the biggest distribution of miners in the whole world.
Advantages:
Real-time hash rate control;
Offers various earning modes;
It has really low transaction fees.
Disadvantages:
It has high fees and minimal payouts.
Transaction fees: 1%.
F2pool
F2pool, also known as the "Discus Fish mining pool", is one of the most popular BTC mining pools that you can use to mine BTC blocks and share your computing power with the rest of the group. Apart from Bitcoin, this pool supports various different altcoins such as Ethereum (ETH), Litecoin (LTC), Zcash (ZEC), Monero (XMR), etc. F2pool offers mobile versions for iOS and Android.
Advantages:
Offers over 40 different cryptocurrencies;
24/7 live chat customer support;
As a smaller pool, it can hinder DDoS attacks.
Disadvantages:
The fees for mining crypto assets are pretty high.
Transaction fees: 2.50%.
SlushPool
SlushPool is considered one of the biggest and safest mining pools for Bitcoin and Zcash. It has a feature that you can use to check whether the block rewards that you've received are in line with the statistical proof. SlushPool offers a set of security tools and keeps your personal details securely stored on the cloud. In case the pool detects any issues, you'll be promptly notified. There are versions for both Android and iOS.
Advantages:
The mining process can be done from a smartphone;
You have 24/7 customer support;
It lowers the losses that are a result of link issues or hardware crashes;
SlashPool offers VIP solutions for big mining operations.
Disadvantages:
Doesn't support a variety of cryptocurrencies;
The fees are pretty high for mining cryptocurrencies.
Transaction fees: 2%.
Poolin
Poolin is a large mining pool that allows you to invest in various different cryptocurrencies such as Ethereum, Bitcoin, Litecoin, Bitcoin Cash, etc.
Advantages:
Offers access from all around the world;
Gives you 24/7 customer support;
It has a hash rate alarm;
Disadvantages:
The fees are pretty high for mining cryptocurrencies.
Transaction fees: 2.50%.
BTC.com
PoolBTC is a large mining pool that can be used only for mining Bitcoin and Bitcoin Cash, but it gives you an opportunity to earn revenue with minor effort. This mining pool is available in over ten different languages.
Advantages:
Pool BTC provides suitable cryptocurrency management;
You can register an account using only a phone number or an email ;
It enables you to buy BTC directly from the BTC wallet;
It charges reasonable transaction fees.
Disadvantages:
Doesn't support a variety of cryptocurrencies;
Doesn't offer live chat support.
Transaction fees: 1.50%.
Frequently Asked Questions
A Few Words Before You Go…
We hope that this article awakens a little bit of interest in you about mining Bitcoin using Bitcoin mining pools. As you can see, mining with a group of miners it's significantly more cost-effective than solo mining, in any aspect you can think of, and it comes with just a small learning curve. Now that you have all the necessary information and know how to join mining pool, you are ready to mine digital currencies. Simply choose the most suitable Bitcoin mining pool and get to work.