Ethereum is the world's second-biggest cryptocurrency by market capitalization, bested only by the world's first and biggest cryptocurrency, Bitcoin.
The Ethereum blockchain is the home of many decentralized apps, all powered by the Ethereum platform's native currency Ether (ETH). As such, Ether is one of the most important cryptocurrencies in the world, as people need to use the digital asset to be able to take part in all things Ethereum-based. Naturally, that makes Ether a huge market that keeps growing.
Since it is such a popular asset, buying and selling Ether is generally quite easy, as you can always find a market for it wherever you are, including Australia. Ethereum can be sold for Australian Dollars (AUD) and other fiat currencies, but also for other cryptocurrencies, such as Bitcoin (BTC), Litecoin (LTC), Ripple (XRP), and many other altcoins. In this article, we will talk about how you can sell Ether for Australian Dollars in a myriad of ways.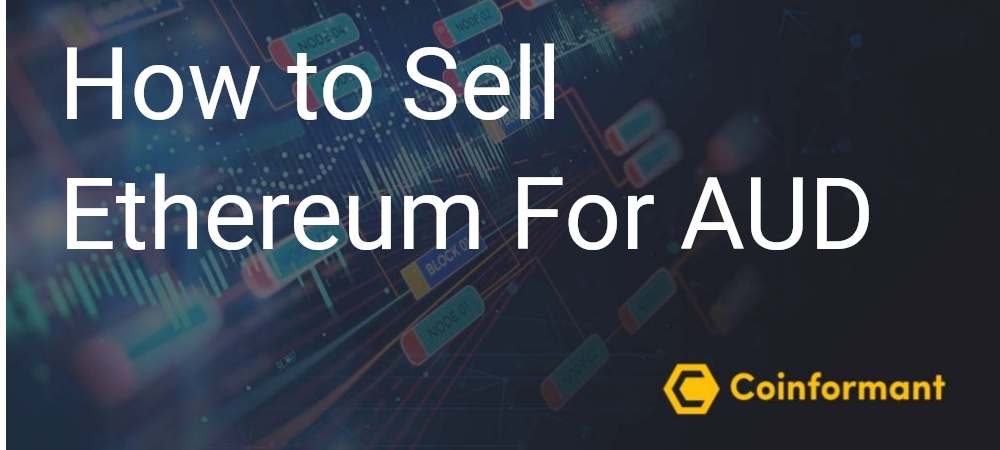 What Is Ethereum?
Ethereum is immensely popular because it is a truly innovative take on blockchain technology, the foundation behind most cryptocurrencies. Unlike Bitcoin and other digital currencies, the Ethereum blockchain is not just a ledger for keeping financial data. Ethereum is a programmable blockchain that can execute automatic transactions when the right conditions are fulfilled through a feature known as smart contracts. Smart contracts allow people to enter into binding agreements without needing a mediator.
Ethereum blockchain functions as a base for various applications to run on. These applications are also known as decentralized applications, or dApps for short, and they are powered by the Ethereum blockchain and its network.
How to Buy Ethereum (ETH) in Australia?
Whether you want to buy or sell cryptocurrencies, one of the easiest and most convenient ways of doing so is through cryptocurrency exchanges. You can easily buy and sell Ether and various other altcoins through cryptocurrency trading platforms.
These platforms allow people to both purchase and sell Ethereum with/for fiat currencies such as Australian Dollars, as well as in exchange for other digital assets, such as Bitcoin or Litecoin. In order to sell Ethereum for AUD, you need to find an exchange that has an ETH-AUD trading pair. Most Australian crypto exchanges have this feature, as well as some of the international platforms.
If you want to sell ETH for Australian Dollars, the first thing you need to look for is an exchange that lets you withdraw AUD from the platform. But even then, you will have plenty of options to choose from, as there are many platforms that serve Australian customers. So, how do you pick the best exchange for you?
How to Pick a Cryptocurrency Exchange?
If you want to get paid in fiat currency like AUD, you need to pick a centralized exchange like Binance, CoinJar, CoinSpot, or Swyftx. You can also pick a decentralized exchange to sell Ether on, but you won't be able to withdraw AUD or any other fiat currency from these platforms as per Anti-Money Laundering (AML) regulations.
Different cryptocurrency exchanges have different strengths and weaknesses. Of course, the most important factor should be whether the exchange is a trustworthy platform with robust security infrastructure in place, as you don't want your digital assets to be lost to hackers or thieves.
Another important factor is trading fees. Every cryptocurrency exchange has its own fee schedule and trading fee system, and the transaction fees you pay vary depending on the platform.
It is also a good idea to pick a crypto exchange that offers a payment method that is suitable to your needs. Most exchanges support bank transfers (including SWIFT, PayID, and OSKO), debit card, and credit card purchases.
Finally, customer support is an important metric as well, as dealing with technology can be frustrating at times, especially in an industry where unscheduled downtimes are known to occur frequently.
How to Sell Ethereum (ETH) for AUD on a Cryptocurrency Exchange?
In order to be able buy or sell Ether (ETH) on a trading platform, you need to first open an account at your chosen crypto exchange. Once you sign up for an exchange that offers ETH-AUD transactions, you can buy or deposit your Ethereum to your exchange wallet. Afterwards, just place a sell order for the price you wish to sell your assets for. Once your ETH is sold, you can withdraw the money to your bank account.


Now let's go over each step in more detail so that you know exactly what you need to do in order to sell your ETH for Australian Dollars.
Open an Account on a Crypto Exchange
If you already have an account on a cryptocurrency exchange that offers the ETH/AUD trading pair, you can skip this step.
Opening an account on a cryptocurrency exchange is pretty simple and straightforward. You need an email address and a password to set up your account. Most centralized exchanges require identity verification before you are allowed to make transactions and withdraw fiat currency from the platform, as per AML (Anti-Money Laundering) and KYC (Know Your Customer) regulations.
So, once you sign up, make sure you complete the necessary steps to verify your account. ID verification is usually a simple process that takes very little time. You may be required to provide an official photo ID, such as a driver's license or passport, as well as other personal details that may include your address, phone number, or a utility bill in your name.
Deposit Ethereum
Once you create an account, you need to deposit Ethereum into your exchange wallet. You can buy Ether on the exchange if you don't own the asset already. In case you do own some ETH, send your coins to the exchange's wallet. You can find your exchange wallet address on the deposit section of the platform.
Sell Ethereum
Once you have your Ether in your exchange wallet, all you need to do is place a sell order. Placing a sell order is usually easy; you just have to know how much ETH you want to sell and what price you want to offer for your digital currency.
Next, go to the spot trading page of the cryptocurrency exchange dashboard and choose the ETH/AUD trading pair. Once you select the amount you wish to sell and add your asking price, you can easily place your order.
Withdraw Fiat Money (AUD)
Once your order has been processed and fulfilled by a buyer, you will receive fiat currency in your exchange account. You can withdraw your fiat currency from the platform by linking your bank account to your exchange account. Some crypto exchanges charge extra for withdrawals, so make sure you research their trading fees before you commit to an exchange.
A Few Words Before You Go…
Ethereum's native currency Ether (ETH) is a massively popular asset that you can easily buy and sell through many different cryptocurrency exchanges. In order to sell your Ether for Australian Dollars, or any other fiat currency such as USD, CAD, or GBP, you need to open an account at a centralized cryptocurrency exchange.
Once you open an account and verify your identity on a crypto exchange, you can easily sell your Ethereum and receive fiat currency in your account. Afterward, you can use your newly received fiat currency to buy more cryptocurrency on the trading platform or withdraw your earnings from the crypto exchange to enjoy your profits. Just make sure you pick a reliable platform that includes the ETH/AUD pairing and charges low trading fees to make the best of your transactions.