When dealing with cryptocurrencies you have to take into account the issue of keeping your funds safe and at the same time available for further use. Given the fact that crypto assets like Bitcoin (BTC), Bitcoin Cash (BCH), Litecoin (LTC), Ethereum (ETH), and other popular altcoins don't exist physically and are confined to transfers using their respective blockchain systems, you need to store your funds using a crypto wallet.
When deciding on which type of crypto wallet you want to use, you should carefully consider what you are going to use your funds for. If you need to have low amounts available for everyday expenses, a digital wallet is sufficient. 
However, if you are looking to store large amounts of assets like Bitcoin, it is a far better solution to use some sort of cold storage like a hardware wallet or a paper wallet. The best way to store Bitcoin is to combine an offline hardware wallet, like Ledger Nano and Trezor, or a paper wallet with a web wallet app. How to transfer bitcoin from paper wallet? To send BTC, you can scan the QR code of your private key or type it manually. However, we recommend scanning QR to avoid any mistakes.
Let's take a look at both the key benefits and drawbacks of using a paper wallet, how these wallets work, and how to transfer BTC if you decide to use a paper wallet yourself.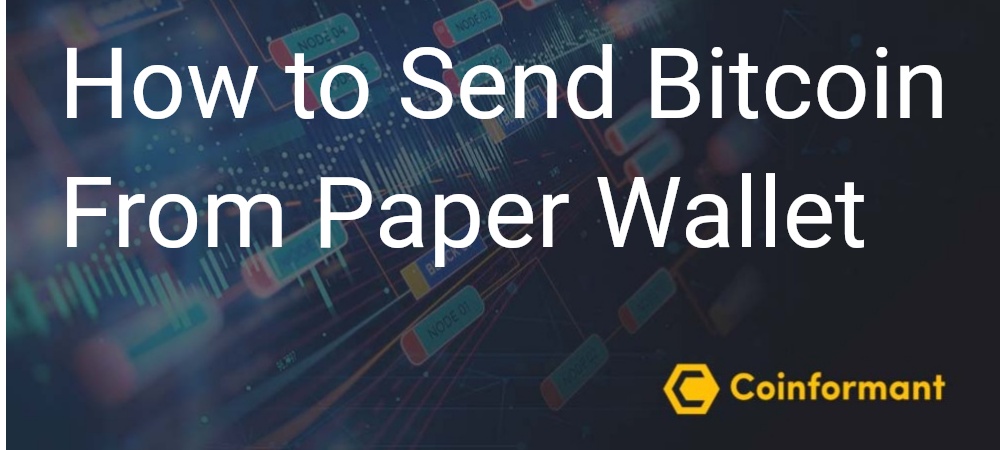 The Advantages and Disadvantages of Keeping Cryptocurrency in a Paper Wallet
A paper wallet is basically a piece of paper with printed private and public keys. These keys give you access to your Bitcoin wallet address. The public key allows others to send BTC to you, while the private key is used to sign the transactions you make. Paper wallets also have QR code versions of the keys so you can easily scan the codes with your Android or iOS smartphone and directly access the funds by importing the key into a software wallet app.
Paper wallets provide top-notch security for your assets since they aren't connected to the internet and no one can access your private keys without the wallet itself. There aren't any risks of hackers or malware obtaining your keys and compromising your cryptos. Even when you connect your paper wallet to a web wallet to facilitate a transfer of funds, your Bitcoin address is safe because the private keys aren't stored on the web wallet's server or app, which means that your paper wallet is the main layer of security for protecting the private keys.
When using a paper wallet, the principal risks are related to how and where you store the wallet. Be sure to keep it in a secure place that only you are aware of, because if someone else finds or steals your wallet physically, then the funds are in danger because that individual now has access both to your public address and paper wallet's private key. The other risks are related to the paper material that the wallet is made of. You need to be extra careful not to rip or tear the paper, and especially not to spill any liquid over it. You should be careful not to expose the wallet to too much sunlight because it can make the printed QR codes fade away, thus rendering them useless.
If you can manage these couple of risks efficiently and store your paper wallet safely, then this is a really secure method for you to keep large amounts of Bitcoin.
How to Use Paper Wallet?
A BTC paper wallet works smoothly with web and desktop wallets since you just have to use the public address and provide it to other parties in order for them to send you funds through the blockchain, and you have your private key for transfers when you are sending funds to someone else. In other words, you have the public address to receive BTC, and the private key to send BTC.
Any hot wallet app that has an "import private key" option will accept the key from your paper wallet without any further steps. The thing is that not all web wallets have this type of option, so you need to be sure that the wallet app you are using is compatible with cold storage options and particularly paper wallets. This will allow you to import your private key when transferring funds.
For instance, you cannot directly use your paper wallet for transfer with Coinbase. Some of the most popular wallet software programs that are easy to use with smartphones, and provide the option to sweep paper wallets, are Mycelium, Blockchain wallet, and Bread wallet. If you use some of these apps and want to send your funds to an exchange platform, you can do it right away.
Also, paper wallets come with the BIP38 encryption that adds an extra layer of protection to your private keys and not many BTC wallets can directly import private keys with this type of encryption. To avoid any unpleasant delays, you should just use the "Validate" option on the Bitcoin paper wallet generator you used to create a new wallet like Bitaddress.org in order to extract the private key in the Wallet Import Format (WIF). When done, you can use the private key freely to sweep the wallet.
How to Transfer Bitcoins from Paper Wallet
Now, we are going to take a look at what the process of transferring BTC from your paper wallet to a third-party address looks like.

You need to have your paper wallet by your side in order to scan the QR codes on it. You have your private key and public address on the wallet. How to send BTC from paper wallet? When sending funds, you need the private key.
You essentially have two methods of transferring your BTC from your paper wallet address to your chosen web wallet app. Either scan the provided QR codes or type in the private key manually. It is easier if you just scan the QR codes, since the private key is really long and you can easily make a mistake while typing the key with all the random letters and numbers.
It's a good thing that many wallet apps provide integrated QR code scanning and displaying options. In case your wallet app doesn't have the option to scan a QR code, you should just download a QR scanner app which automatically stores the code in your device's clipboard, making it easy to paste it into your wallet application.
Frequently Asked Questions
A Few Words Before You Go…
Some consider paper wallets as a rather old school method for storing Bitcoin, but no one can deny that it is a highly secure way of storing funds. Especially when connected to a trusted web wallet, paper wallets are definitely worth the try.