Ethereum (ETH) is an open-source computing platform, a blockchain-based system, and a cryptocurrency. The Ethereum system is based on the use of tokens that can be bought, sold, traded, or used in the process of building decentralized applications and smart contracts.
ERC20 tokens are a group of tokens created on the Ethereum network. Advanced Ethereum users can create their own ERC20 tokens. They follow a list of standards and can be exchanged for other tokens, used in transactions, or transferred to a crypto wallet. Now, the question is: how to store ERC20 tokens on Trezor? To put it shortly, you will need a Trezor Beta Wallet and a third-party wallet.
Keep reading because we're going to explain what ERC20 tokens are in more depth and give you a list of the top five hardware wallets where you can store them. Next, we'll focus on Trezor in particular and provide a step-by-step guide on how to store ERC20 tokens in this wallet.
Let's get started!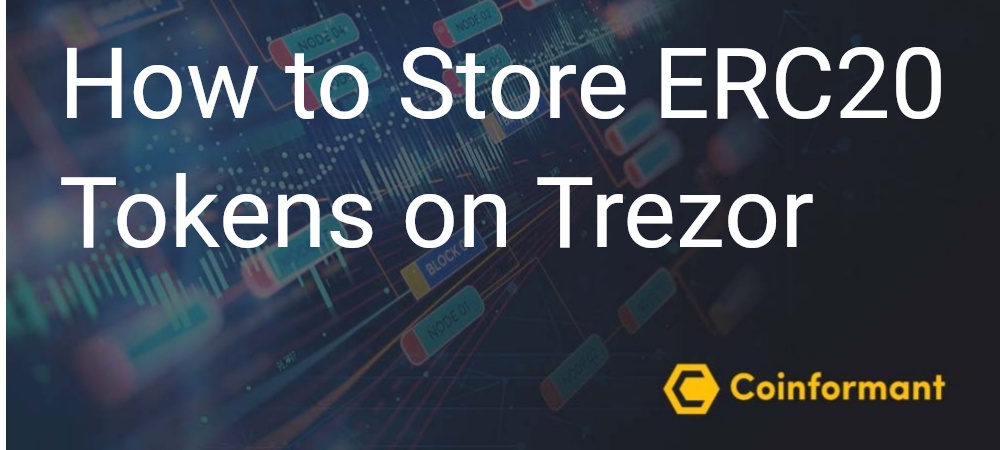 What Are ERC20 Tokens?
ERC20 tokens are assets based on a blockchain with much the same functionality as Ether, Bitcoin, and Bitcoin Cash. Like them, ERC20 tokens keep their value and can be received and sent via blockchain transactions. The focal dissimilarity between ERS20 tokens and other digital assets is that ERC20 tokens don't run on their own blockchain but are hosted and issued on the Ethereum blockchain instead.
An ERC20 token is created on the basis of the ERC20 technical standard. This is an official protocol for suggesting upgrades to the ETH network. The abbreviation ERC is used for "Ethereum Request for Comment" and 20 is the identification number for the suggestion. ERC20 is a universal standard for developing tokens on the Ethereum blockchain.
ERC20 tokens can be sent and stored using a transaction and an Ethereum address. In order to send or store the ERC20 token, you have to pay a transaction fee. These digital assets are stored on crypto wallets, i.e. Ethereum wallets.
There are four kinds of wallets that you can use to store ERC20 tokens: mobile wallets (eg. MyEtherWallet), desktop wallets (eg. Atomic), web wallets (eg. MetaMask), and hardware wallets (eg. Ledger, Trezor).
How Do Hardware Wallets Work?
First, we'll explain what a hardware wallet is. Hardware wallets are generally small, digital devices that look like USB thumb drives, but with buttons on them. They're used to store the private keys of the crypto wallets, protected by a PIN and an optional passphrase. Hardware wallets are considered the safest practical way to store a crypto outside of a paper wallet. They're highly recommended if you have a lot of cryptocurrency.
To use a hardware wallet, you plug it into a software wallet on the computer using a USB port. This way, you keep the keys off of the computer and the internet and avoid the dangers of phishing or malware attacks.
These wallets are a key component of the blockchain ecosystem. They're the ones that provide security and utility when interacting with blockchains. Hardware wallets keep your assets safe even when the computer you're using isn't safe. They provide an extra layer of protection against cyber attacks, malware, and phishing sites.

When using a hardware wallet, you don't use the keys on your computer to sign a crypto transaction. Instead, the software sends the transaction to the hardware wallet, and you can verify if it's correct or not before you sign it. Then, you can send the transaction back to the software wallet via USB.
Trezor and Ledger are some of the best hardware wallets and they are highly recommended if you hold a significant amount of cryptocurrency. The Ledger wallet is presented with two flagship wallets – Ledger Nano S and Ledger Nano X. We'll explain more about the Trezor wallets in the following section.
What Is Trezor?
Trezor is a small device that connects to your computer with a USB cable and works as a hardware wallet. The Trezor wallet is among the first cryptocurrency hardware wallets that were released. It was developed in 2014 by a company called SatoshiLabs. One of the most popular SatoshiLabs Trezor devices are Trezor One and Trezor Model T.
Trezor allows you to safely store, send, and receive a wide range of cryptocurrencies, such as Bitcoin (BTC), Ethereum (ETH), Ethereum Classic (ETC), etc. Does Trezor support erc20 tokens?
Yes. Although the Trezor hardware wallet supports tokens built on the Ethereum platform, such as ERC20 tokens, Binance Coin, Golem, etc. have to be sent to Trezor via third-party wallets.
Trezor has its own mobile app called Trezor Wallet that is compatible with Android and iOS devices and can also be integrated with other apps like Multibit HD and Mycelium. Trezor sets up the best conditions for the transactions to be signed up offline. By doing this, the risk of exposing the private key it stores is reduced to a minimum.
Every Trezor wallet has its own PIN code, and this PIN code always stays in the wallet. This characteristic of the Trezor wallet ensures that if the device that you use is compromised, the PIN code of your Trezor wallet can't be stolen. There's a built-in system that stops any attempts of attacks. After every wrong guess, the PIN system raises the waiting time before you can enter the PIN again.
When you set up a Trezor wallet, you are required to generate 24 words that provide a backup for your wallet. Random Number Generator (RNG) is used to generate the original 24-word seed. This is done offline and the seed is shown on the wallet's display, which makes sure that the seed isn't on a device that is connected to the internet. If you misplace your Trezor wallet or if it's stolen, you can use a passphrase and the 24-word recovery seed to recover your funds.
How to Add ERC20 Tokens to Trezor
Every ERC20 token can be stored using a Trezor device. Even though Trezor firmware supports ERC20 tokens, they're currently not integrated into the Trezor Wallet itself. How can Trezor add ERC20 token? In order to use them safely, you'll need a Trezor Beta Wallet and a third-party wallet, with the seed and private keys fully protected by the Trezor device. MyEtherWallet (MEW), MetaMask, or MyCrypto are some of the few third-party wallets you can use.
Before you store ERC20 tokens in Trezor, first of all, you need to set up your Trezor wallet. You can do that by following these nine steps:
Connect Trezor to your computer via USB cable.
Go to trezor.io/start.
Install the Trezor wallet.
Install the latest firmware.
Reconnect Trezor.
Give the Trezor device a name.
Set up a PIN.
Write down the recovery seed from your display.
Go to wallet.TREZOR.io and enter the PIN to access the Trezor wallet.
We've already said that if you want to store ERC20 tokens on Trezor, you'll have to use a third-party wallet. We'll use MyEtherWallet to explain the process step-by-step:
Plug in the Trezor device into your computer and enter your PIN.
Open the MyEtherWallet.com website and select "Send Ether and Tokens" found in the top mini-bar. After that, select Trezor under 'How do you like to access your wallet?'
A pop-up screen will appear asking you to Export your public key by clicking on "Export".
Then, you'll need to enter the HD derivation path (a piece of code that derives keys from the seed phrase) and select an address to interact with.
Select the wallet address you would like to use and click on "Unlock your wallet". By doing this, you'll have access to your MEW wallet.
After we've explained the two basic features that you need in order to store ERC20 tokens on Trezor, let's see how to finish the process:
First, you go to myetherwallet.com.
Look at the upper-right corner and make sure you are using ERC20 tokens.
Then select "Send Ether & Tokens" or "View Wallet Info".
After that, select Trezor and then "Connect Trezor".
Now you have to unlock Trezor with your PIN (and passphrase if you have it).
You'll see a list of addresses on the screen. Those are your ETH addresses and ERC20 token address Trezor manages. Use these as the destination address when you want to transfer your ERC20 tokens from other wallets/exchanges.
Pros and Cons of Using Trezor to Store ERC20 Tokens
Pros
We already said that Trezor offers very high security: this is the most significant advantage of Trezor. Other than that, Trezor supports over 1,600 cryptocurrencies and comes with regular firmware upgrades. Trezor's screen offers extra protection and verification, and they have a portable design (because they're practically USBs).
Cons
The fact that you have to buy Trezor is the main disadvantage of this wallet, as it exposes you to an additional cost. The second disadvantage is that the Trezor wallet requires the usage of additional third-party wallets to send some tokens, such as the ERC20 tokens.
Frequently Asked Questions
A Few Words Before You Go…
As we can see, with Trezor ERC20 tokens can be a little complicated because they can't be integrated into the wallet straight away but need to go through a third-party wallet. However, Trezor is highly recommendable and significantly safer if you own a bigger amount of ERC20 tokens. In the end, it's up to you to decide if storing ERC20 tokens on Trezor suits you or not.