Cryptocurrencies, such as Bitcoin (BTC), Ethereum (ETH), Litecoin (LTC), Bitcoin Cash (BCH), and Ripple (XRP) are the future of the financial world. The adoption of this type of currency is rising rapidly every day as more and more investors are showing interest in it.
However, unlike fiat currencies, which we use in everyday money transfers, trading cryptocurrency is a little bit more complex. Cryptocurrencies aren't regulated by a central authority, so we cannot use banks for trading cryptocurrencies yet.
The easiest way of buying, selling or trading cryptocurrencies today is via cryptocurrency exchanges. Similar to banks, crypto exchanges incur commission and trading fees for their services. But do all crypto platforms charge trading fees? Is there a way to trade cryptocurrency without fees? Keep reading our article to find out.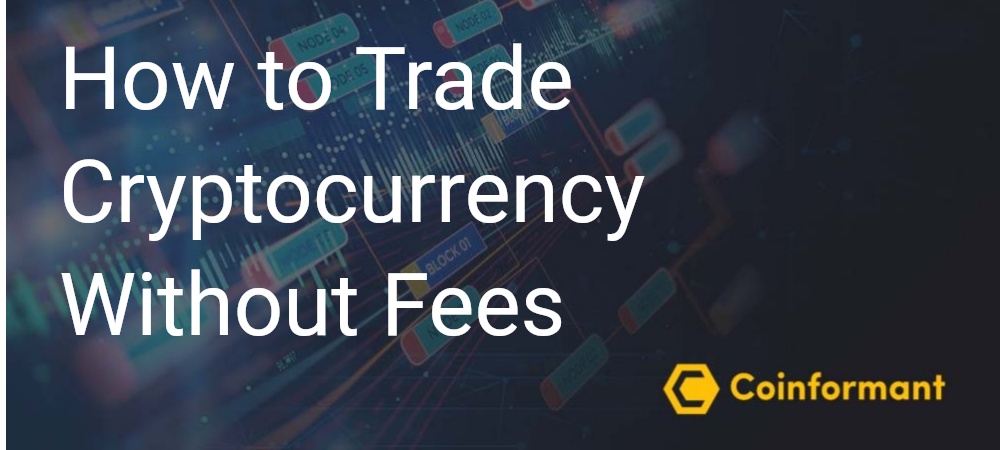 What Is a Cryptocurrency Exchange?
A cryptocurrency exchange is a digital platform that facilitates buying, selling, or trading digital currencies for other funds, including cryptocurrencies and fiat currencies. Simply put, these trading platforms act like a middleman – a brokerage company – between the cryptocurrency traders.
Besides cryptocurrency trading, users can use the exchanges to convert their digital assets back into fiat currencies, and in order to withdraw the wanted amount of crypto, traders have to pay a withdrawal fee to the exchange. Every cryptocurrency exchange offers different features, for example, different payment methods, support for crypto/crypto trading pairs like BTC/ETH only, or support for crypto/crypto pairs and crypto/fiat pairs like BTC/USD.
There are three main types of cryptocurrency exchanges:
Centralized cryptocurrency exchange (CEX). An exchange that's governed by a company or central organization. Some of the most popular CEXs are Coinbase, Binance, and Gemini;
Decentralized cryptocurrency exchange (DEX). A cryptocurrency platform without a single entity or server that has control over the assets of their clients. The most popular DEXs are Uniswap, Sushiswap, and Raydium;
Using these cryptocurrency trading platforms is rather simple. Crypto traders first have to find a suitable crypto exchange and then open an account on that exchange. Some of the platforms offer traders a cryptocurrency wallet as well once they open an account. The last thing is to transfer the assets which the trader wants to exchange and they are good to go.
Types of Cryptocurrency Trading Fees
In basics, cryptocurrency fees are divided into three categories: trading fees, deposit and withdrawal fees, and interest/borrowing/liquidation fees.
Some cryptocurrency exchanges charge fees when the users want to deposit or withdraw assets from their accounts. Deposit fees aren't fixed; they depend on the type of deposit and are not very common in comparison to the withdrawal fees because the trading platforms want to incentivize users to transfer assets into their accounts. When it comes to crypto withdrawals, some crypto trading platforms might have additional withdrawal fees based on the user's country or the type of withdrawal.


Some cryptocurrency exchanges such as Kraken, provide cryptocurrency margin trading: the ability to borrow additional assets in order for the user to increase their position and make leverage. This type of trading incurs yet another fee based on the number of assets that have been borrowed on margin and the interest rate.
Trading fees can be divided into three types: transaction fees, maker fees, and taker fees.
Transaction Fees
Transaction fees are the usual fees that the crypto traders have to pay to the cryptocurrency exchange for every transfer of cryptocurrencies, meaning traders pay when they buy or sell cryptocurrencies through the platform. Different digital currency trading platforms offer different fee percentages.
Maker Fees
If the order adds liquidity to an order book until it's pulled out by another crypto trader, it assists with "making the market". For example, a limited order placed for trading on a crypto exchange is often not filed instantly. This order will be executed once the value of the asset like BTC, ETH, or LTC increases or falls below a particular limit.
These crypto traders add liquidity to the market, and they're called makers. For this service, makers pay a fee to the crypto exchange known as a maker fee. Makers usually pay low fees, or, on some exchanges like Coinbase Pro (GDAX), there is a zero maker fee to incentivize traders who add volume to the crypto exchange.
Taker Fees
When the crypto trader places an order that has to be filled instantly, such as a shop or market order, this trader is called a taker, and for this service, the trader has to pay a taker fee to the crypto exchange. Traders take advantage of the price that's available at that particular moment, usually by purchasing or selling limited orders from the books, which is why they usually pay higher fees.
Not all cryptocurrency exchanges use this maker/taker fee structure, however, the most popular ones, such as Coinbase or Kraken, do.
Best Cryptocurrency Exchanges to Trade Without Fees
As we mentioned before, some of the most popular cryptocurrency trading platforms are Coinbase, Binance, Kraken, Coinmama, and eToro. However, all of these crypto exchanges charge trading fees. Luckily, we managed to make a list of reliable zero-free crypto platforms that allow you to sell, buy, and trade Bitcoin and other altcoins without paying any fees or commissions.
Before we present to you the zero-fee crypto exchanges, it's good to mention that some of these exchanges require the users to own cryptocurrency hardware wallets like Trezor or Ledger.
Phemex
Phemex is a crypto exchange platform that offers derivatives, simulated, and spot trading on one unified platform. This crypto exchange allows its premium users to trade cryptocurrencies without any fees on its spot exchange for the most popular digital assets like Bitcoin, Ethereum, and XRP.
Phemex offers the following features:
Trading cryptocurrencies with zero fees, but only for its premium users;
Advanced types of orders, so you can easily manage the risk;
Cold cryptocurrency wallet to keep your assets safe;
Responsive and quick trading application for your smartphone.
If you create an account on Phemex you'll get seven days of free access to the Premium membership, but you can extend this trial period to 30 days if you recommend this exchange to a friend. When the trial period ends, you can buy the Premium Membership for 0.19 USD per day and continue trading cryptos without any additional fees. This might seem a lot to you but if you trade large amounts of Bitcoin or other altcoins this is a small price to pay for fee-free crypto trading.
Crypto.com
Crypto.com is a cryptocurrency trading exchange that offers numerous digital currency services and products. This is a very popular exchange that gives a powerful alternative to traditional financial services, and makes buying, selling, and trading of digital currencies much easier.
Crypto.com continuously develops new cryptocurrency products and services for its users in order to accelerate the process of adopting blockchain technology. This trading platform offers the following features:
90 days trial period for new users to trade without fees;
Up to 50% discount on trading fees for existing users;
Sending crypto to Crypto.com mobile users at no charge;
Buying Bitcoin without paying credit card fees.
Kucoin
Kucoin is a digital currency trading platform that was developed to cater to users worldwide, be they beginners or experienced traders. This exchange provides innovative cryptocurrency products and services, such as futures market, spot exchange, margin trading, and the option to buy digital assets using debit cards or credit cards.
Kucoin has presented an "Instant Exchange" that will provide users access to the best available cryptocurrency exchange rates on the cryptocurrency market. Its users can buy digital currencies like Bitcoin, Ethereum, Ripple, and Litecoin without commissions or fees.
The Instant Exchange on the Kucoin platform was co-created by Kucoin and a trading firm on Wall Street. The integration on the exchange provides faster trading of the supported digital currencies without transaction fees, at the best available cryptocurrency prices.
Digitex
Digitex Futures Exchange (DFE) is a peer-to-peer trading platform that offers users to trade cryptocurrencies without transaction fees. This crypto exchange has been built on Ethereum's blockchain technology in order to operate as a cutting-edge cryptocurrency futures platform that incurs zero fees.
Digitex requires users to own the platform's native coin in their balance known as DGTX token in order to be suitable for zero-fee trading. Every user who is going to put a trade increases the demand for the native token.
This trading platform offers BTC trading without fees by selling DGTX tokens in order to gain some profit, which allows users to freely trade cryptocurrencies with high frequency with zero fees.
Amplify
Amplify is a digital currency exchange that allows crypto traders worldwide to trade, buy or sell Bitcoin or other digital assets with zero trading fees, meaning there are no additional fees except for spot cryptocurrency pricing.
Amplify exchange platform supports a decent number of cryptocurrencies including Bitcoin, Ethereum, Litecoin, Ripple, or Bitcoin Cash. Users can exchange every crypto coin for fiat currency, such as US dollars, Euro, or GBP, or another crypto, including the native token of the platform, the AMPX token, without any trading commissions or fees.
Shapeshift
Shapeshift provides quick swaps among cryptocurrencies in a secure, safe, and seamless environment. Trading Bitcoin or another altcoin for cryptocurrency is almost instantaneous.
In order to use this platform with zero trading fees, zero spreads, or commission fees, users have to hold Shapeshift's native FOX token. With every new open account, users receive 100 FOX tokens as a deposit.
This trading platform offers you the following:
A new crypto wallet with hardware wallet integration;
Customizable portfolio with powerful dashboard;
The option to trade cryptocurrency almost instantly with no extra costs;
The option to buy cryptocurrency using your bank account;
Robinhood
Robinhood is a cryptocurrency trading platform that allows commission-free stock, options, and ETF trading, a streamlined exchange platform, and zero fees. There is no minimum limit on the account so you can deposit as much as you like of your asset.
Robinhood broker supports selling, buying, trading, and real-time market data for some of the most popular cryptocurrencies, such as BTC, BCH, LTC, and ETH. This broker is available as a mobile app for Android and iOS users, so you can use it on any smartphone.
A Few Words Before You Go…
As you could see from the article above, most of the well-established cryptocurrency exchanges available worldwide charge hefty trading fees on all kinds of orders, including deposits and withdrawals. However, there are still many small-scale but trustworthy crypto platforms – like the ones on our list above – that allow you to trade the most lucrative digital assets fee-free. Check out their options in more detail and choose the one you like best.