In recent years, Blockchain.com has grown to be one of the most popular and trusted crypto companies on the market. It's both a Bitcoin (BTC) blockchain explorer, a cryptocurrency exchange platform, and the creator of the famous Blockchain Wallet with more than 65 million users worldwide. It's no surprise that newcomers to the world of digital assets often choose Blockchain as the platform to satisfy all their crypto-related needs.
The Blockchain Wallet is easy to use, provides handy features such as in-wallet exchange of crypto assets, and is very secure thanks to its state-of-the-art software security measures. This means you don't have to worry about someone hacking or compromising your funds.
Having your digital currency stored in your crypto wallet allows you to use it as a payment method on countless web locations without the need to withdraw your money to your bank account and convert the funds to fiat money.
However, if you deal with cryptocurrency on a day-to-day basis, you probably have the need to withdraw some of your funds to your bank account once in a while. Or, let's say you want to go shopping. You still can't pay for groceries in the local supermarket or buy clothes at the mall with bitcoins, so you need to convert them to fiat currency first.
How to withdraw money from blockchain wallet to bank account? Essentially there are two options. If you're linked bank account is crypto-friendly, then you can directly withdraw money from blockchain to bank account. If not, then you need to use a trustworthy cryptocurrency exchange like Kraken or Coinbase.
Read more to find out how the exchange from cryptocurrency to fiat money works and the possible ways for you to transfer blockchain to bank account if you're using Blockchain.com.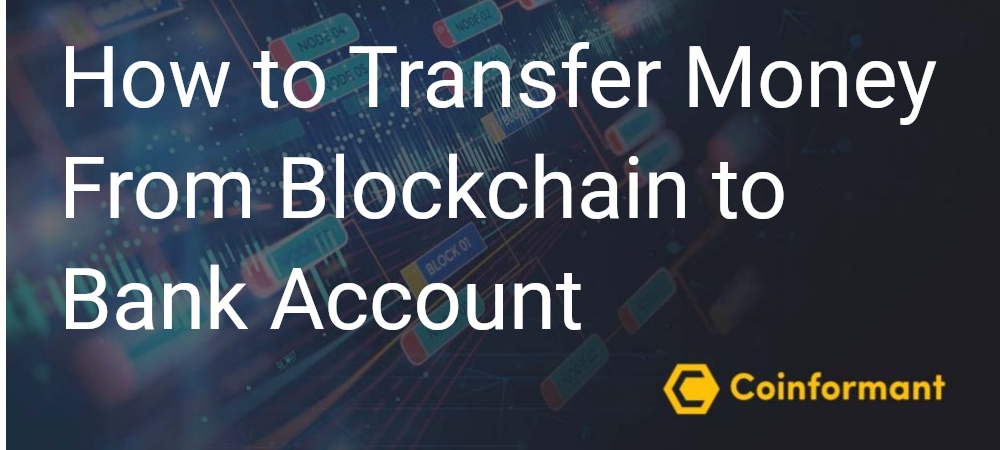 How to Send Money from Blockchain to Bank Account
If you want to exchange your bitcoins for US Dollars, EUR, or GBP and send the funds to your bank account, you need to select a trusted crypto exchange platform to facilitate the exchange.
Websites such as Coinbase, Kraken, or Bitstamp are professional crypto exchanges that carry very little risk for your transfers. These are platforms specifically designed to help you exchange different digital assets like Ethereum (ETH) or sell your crypto in order to cash out fiat money.
Such platforms naturally charge a transaction fee when exchanging assets and also charge withdrawal fees when you want to withdraw money from blockchain to your bank account. The transaction fees depend on the amount you are transferring, but in turn, you get a fast and secure service.
Of course, some financial institutions support direct Bitcoin transactions and do the exchange for you, but this is rarely the case. The number of banks that accept cryptocurrency is growing, but the best way to be sure about the position of your bank is to ask your local bank manager about the company policy towards crypto-asset transfers. If your bank is crypto-friendly, a direct transfer of BTC to your bank account can save you the expenses of a crypto exchange platform conversion fee, and you will only pay the standard bank transfer fee.
Once you have your crypto converted to fiat and reflected in your bank account balance, you can use these funds with your credit card, debit card, a payment service such as Paypal or Visa, or with any other fintech solution.
How to Transfer Bitcoin From Blockchain to Cryptocurrency Exchanges
If you don't have an account in a crypto-friendly bank, then you will have to use a trusted Bitcoin exchange platform to sell your bitcoins in exchange for fiat money that can afterward be transferred to your bank with a standard wire transfer.
Standard Blockchain.com users have to use a crypto exchange platform in order to exchange their bitcoins for fiat money. It's very important, especially if you want to cash out large amounts of BTC, to choose a trustworthy exchange like Coinbase or Bitstamp.
Transferring BTC via Blockchain Wallet
The transfer process from Blockchain to one of these platforms is relatively simple, and we will show you how to do it step by step.
Sign in to your Blockchain Exchange account and go to the Total Account Value section of the window in the lower right corner.
Select the Withdraw option.
You will see a pop-up menu with a range of different cryptocurrencies. Select Bitcoin.
If you have a connected Blockchain Wallet account and wish to move your funds there first, then you just have to select Blockchain Wallet as the destination address.
Now, all you have to do is enter the exact amount of BTC you want to transfer to your crypto wallet and the Two-Factor Authentication Code of your account to confirm that it's really you.
After you withdraw the funds to your Blockchain Wallet, you can simply exchange them on Coinbase or Bitstamp for the fiat currency you desire and send the money to your bank account.


Transferring BTC From Blockchain to an Exchange Directly
In case you are sending your BTC directly from your Blockchain Exchange account to an exchange platform, then just follow these steps:
After selecting the digital currency and amount, you wish to withdraw from Blockchain, log in to your Coinbase or Bitstamp account.
Retrieve the destination address from your account. For Coinbase, the destination address can be generated under the Account tab, when you select the Receive button. For Bitstamp, you can generate the destination address under the Bitcoin Deposit Page of your account.
Once you have the address, go back to your Blockchain account and paste it into the Destination Address field.
Your BTC is ready for transfer. Now you can use the exchange platform to sell Bitcoin and transfer the money to your bank account.
How to Transfer from Blockchain to Bank Account
There are two options for direct transfers from your Blockchain account to the bank.
Direct transfer to a crypto-friendly bank is an excellent option if you manage to find such a bank in your vicinity. It's always convenient to make the transfer process simpler and faster without sacrificing security, and banks are companies that value security above all. So it would be great if you could find such a bank, but it really is hard to find one since banks are only just entering the crypto market. This will probably become more available in the following years for withdrawing your money from Blockchain.
Blockchain has different levels of membership and some of them like Gold or Platinum allow users to directly convert their BTC to a selected currency such as EUR, USD, or GBP and transfer the funds to their bank account. The thing is that this option is reserved for users who have a higher cash flow of cryptocurrency on the platform. For instance, just to become a Platinum user, you need to have at least 50.000 USD worth of crypto on your account. Also, to upgrade your user level, you need to provide extensive information about your background, business, and expected cash flow. This can be an issue if you desire to keep this information private.
Transferring Money as a Gold or Platinum Blockchain User
Go to the Total Account Value section of your Blockchain account and select the Withdraw option.
Select the fiat currency you desire in the pop-up menu.
In the Destination Address field, you just enter the bank account data. If this bank account wasn't previously connected with your Blockchain account and this is the first time you are transferring funds to it, you will need to make a deposit from the bank account to Blockchain first.
Select the amount of money you wish to bank transfer and initiate the transaction with your Two-Factor Authentication.
The bank transfer is initiated, and all you have to do is wait for a couple of business days for the money to get deposited into your bank account.
Frequently Asked Questions
A Few Words Before You Go…
Blockchain is truly a top-tier cryptocurrency platform, and if you are dealing mostly with bitcoins, it's hardly replaceable. These are the methods you can use when transferring your bitcoin to fiat currency and withdrawing money to your bank account. The channel you choose will depend on whether you are a modest crypto user or a big-time spender who wants to cash out large amounts of BTC.