As cryptocurrencies are becoming increasingly popular and the total market cap is constantly jumping, it's safe to say that cryptos have gradually entered the mainstream. For one thing, you can hardly find someone who hasn't at least heard about Bitcoin (BTC) by now. Then there are the developer teams launching dozens of projects on a daily basis, with a focus on real-world utilities and use cases. Today, you have interactive gaming platforms, decentralised finance apps, and loads of useful online services that rely on crypto and blockchain technology.
The Brave.com web browser is one of numerous popular platforms that bring cryptocurrencies closer to the average user, making browsing through the internet more fun because users can earn money with Brave just by visiting websites and watching ads.
Now, after collecting a good amount of BAT earnings, you might wonder how to withdraw BAT from Brave browser? Its very simple. Sign up with Uphold wallet (complete KYC), then you can go to Brave, withdraw BAT and even convert it into your desired fiat currency.
Let's take a detailed look at the Brave browser, BAT tokens, and how to withdraw brave rewards.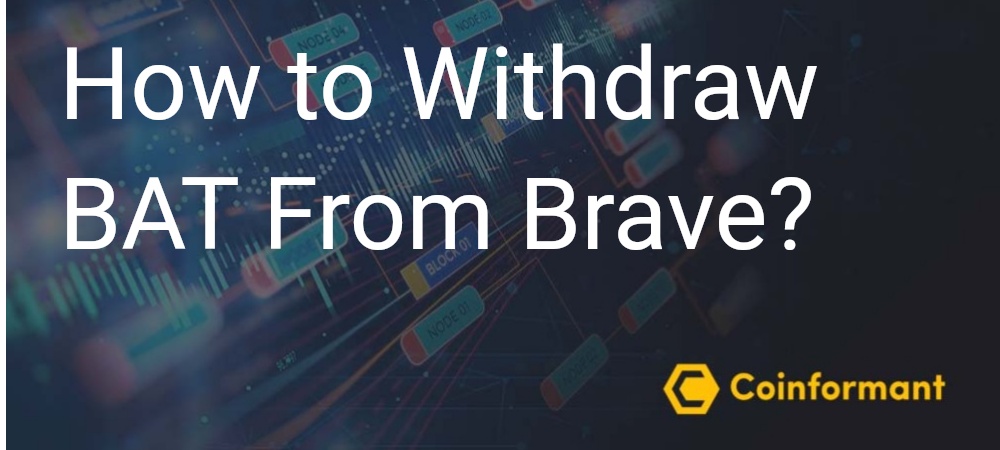 The Brave Browser
The most popular search engines such as Google Chrome, YouTube, Safari and Firefox, are all products of centralised, big data companies that gather, store and distribute huge amounts of user data based on your browsing activities. These browsers use extensive data gathering mechanisms that are made to offer Brave users content, services and products that might interest them, based on their earlier searches and browsing choices.
The thing is that the gathered data can easily be abused by third parties that could attempt to bombard you with their product ads or even try to steal your email and e-banking credentials through fake offers. Whatever you're doing on the web through a standard browser, you're constantly being targeted by big tech companies and hackers that want to take advantage of you.
This is why the developing team behind Brave came up with the idea of creating a web browser that is focused on privacy. Brave doesn't allow any third party to gather information about your browsing habits, doesn't store passwords or log-in credentials, and prevents anyone from following your browsing activities online. Many big data companies literally follow your browser activity in order to understand what product or service you need and then sell that information to third parties that provide those products or services. That's how Google Ads or Facebook Ads are able to efficiently target the people who are interested in buying new sneakers or want to book a travel arrangement because they are following your every move online.
With Brave, you won't see any ads popping up by default, especially no ads following you across multiple platforms. The best thing is that when you begin using Brave, you can easily import all of your browsing data and bookmarks from another browser like Google Chrome in just a few clicks. You can create a customised news feed that will show you news and articles exclusively from the websites you choose to add, which means you won't be seeing any unwanted pages from unauthorised websites in your news feed.
Privacy Focused Web Browsing
Currently, there's no other web browser on the market that offers the scope of browsing privacy like Brave. All invasive ads are blocked at all times. You don't need to download an ad blocker browser extension for Brave. Cross-site trackers are also detected as malicious third-party apps that are trying to invade your privacy. These trackers are immediately blocked from following you through the web.
You're probably used to loads of websites asking you permission to store cookies on your device. Well, cookies can often be used against you, and big data companies do exactly this by using cookies to monitor and classify your web browsing activities. Brave doesn't allow any cookies, and you'll never encounter a website asking you to approve their use. There are also web trackers that don't require you to accept cookies. These are called cookie-less trackers, and even they are blocked by Brave.


One of the most common cyber-attack risks while browsing through the web is from so-called phishing attacks that aim to gain access to your email or bank card credentials. Brave has advanced anti-malware and anti-phishing software measures, which make browsing totally safe since the potential malware doesn't even reach you, so you can't make the mistake of giving your data to a cyber attacker.
Finally, Brave doesn't ever store your IP address, and it's fully compatible with the TOR private browser services, which enable you to safely browse the web without leaving any digital footprint.
Crypto Wallet Integration
Apart from being focused on privacy, Brave is a great browser for crypto enthusiasts because it comes with a top-quality integrated crypto wallet, the Brave wallet. You don't need to download and enable any sort of browser extension in order to install the wallet, like in the case of MetaMask. The Brave wallet is automatically included in your browser once you install it.
The fact that the wallet doesn't require any browser extension or installation means that it doesn't use any extra power, besides the power required to run your Brave browser. The wallet supports multiple blockchains and the storage of various cryptocurrencies. Also, you can swap and exchange digital currency directly from your Brave wallet and send funds to third-party wallets and exchange platform accounts like Gemini.
Brave Rewards
Brave rewards is an innovative integration of cryptocurrency functionalities with web browsing. Simply put, users get rewarded with an amount of BAT tokens based on their browsing and viewing habits. The browser measures the amount of attention you're dedicating to various websites, businesses, and content creators. Users can manually select websites they don't want to support and choose to give tips to platforms they support. The ads and websites you choose to view are fully customisable, which means you won't even be shown something you haven't approved of before. Every time you view some of these ads, you earn Basic Attention Tokens. When a user view ads, the creator of the ads also gets BAT rewards.
Your Brave rewards are safely stored on Brave, and once a month, there's a payout to your Brave wallet, from which you can send them to a third-party wallet or exchange platform. A great thing with Brave ads is that you can customise how often you want to see ad offers and whether you want to get a pop-up notification for new ads. The pop-ups are very discreet status bars that notify you of a new ad, which you can choose to either view or close, and that's it. There aren't any invasive pop-up windows that appear in the middle of your browser window or follow you through multiple websites.
About Basic Attention Token
Basic Attention Tokens (BAT) were invented by crypto enthusiast Brendan Eich and Brave Software as a cryptocurrency whose main utility is to provide users with a fraudeless online advertising experience. BAT tokens are designed to enable ad creators to reach exclusively those people who are interested in what they have to offer while simultaneously creating a safe advertising experience for users browsing the internet. BAT's core value is helping users and business owners create a cost-efficient advertising environment that doesn't invade anyone's online privacy.
The token is based on the Ethereum (ETH) blockchain as an ERC20 token. The technology is totally open-source and based on the Ethereum Virtual Machine, just like many ETH decentralised apps and crypto tokens.
Basic Attention Tokens are recognized as the integrated cryptocurrency of the Brave browser, but actually, BAT can be used with any open-source browser platform, since it isn't exclusively tied to Brave. The use case of BAT as a reward currency for Brave users and ad creators is a good example of how cryptocurrencies can be integrated with web browsers.
What is BAT in Brave Browser?
Let's take a look at how exactly BAT works and how it is beneficial for users, publishers, and advertisers. When content creators and publishers come up with a product or service they want to advertise through Brave, apart from attracting customers, they always have the BAT rewards program in mind, which can be quite considerable, given the fact that the BAT market cap is over 1 billion USD.
Advertisers are the ones that give content creators an advertising offer on Brave, based on the attention their website gets on Brave. The more attention they are able to attract, the higher the BAT amount they will get from advertisers.
The browser users are, in turn, awarded BAT tokens for their participation in the ecosystem by giving their attention to websites and ads. This is how both users and content creators benefit from BAT tokens. Users can spend their tokens on the Brave browser by tipping websites, or they can transfer the rewards to a third-party crypto wallet and exchange them for other cryptos and fiat currency.
Brave offers a more personalised and privacy-focused advertising experience facilitated by the BAT utility tokens thanks to the triangular relationship between content creators, advertisers, and users.
The BAT Token ICO
BAT tokens had an initial coin offering back in 2017, and it was a major success, raising over 35 million USD in a very short amount of time. Also, the project received subsequent funding of over 7 million US dollars from various investors interested in the utility of the tokens. In total, some 1.5 billion BAT tokens were distributed during the ICO.
How to Withdraw BAT Tokens from Brave Browser – Uphold
Even though Brave has its integrated cryptocurrency wallet, the browser has an official partnership with the Uphold.com wallet, a very popular and highly secure software wallet. With Uphold, users can purchase and store many digital currencies. It's a non-custodial wallet that keeps your private keys on the device you're using to access the wallet.
Brave has a smooth integration with Uphold in order to easily shift BAT tokens from Brave rewards to the wallet. The main reason why you should use Uphold with Brave rewards is the fact that you can easily turn your rewards into fiat money through Uphold. The Brave wallet isn't fiat-friendly, and you can't cash out your BAT tokens.
How to Withdraw BAT from Uphold
In order to withdraw BAT from brave using Uphold and cash them out, you just need to follow these few simple steps:
Enter your Brave browser on PC or mobile (it's available on both Android and iOS).
Connect your Uphold wallet with Brave. This can be done once you install Uphold and select the option to connect with your Brave browser.
Before you can access your Brave rewards balance on Uphold, you need to go through the Uphold account KYC protocol to verify your identity. You'll need to provide your full name, address, mobile phone number, email address and a photo of a government-issued personal documents such as passport, ID card or driver's license. All of this information is confidential, and Uphold doesn't share it with any third parties.
After you've verified Uphold, you can directly transfer BAT to Brave wallet to Uphold, and the best thing is that the process is automated.
Once your BAT tokens are in your Uphold wallet, you can withdraw funds, sell the tokens and cash out into your US or EU bank account by ACH transfer for US customers and SEPA transfer for European residents.
Can You Withdraw BAT from Brave Without Uphold?
Definitely! Brave has partnered with Gemini to integrate the Gemini Wallet in Brave so you can store the BAT you earned. Your BAT reward balance will reflect the same balance in your Gemini account, including BAT you purchased using Gemini. Afterward, you can withdraw or exchange it to an external Ethereum address.
Frequently Asked Questions
A Few Ending Words…
The Brave browser is one of many examples of how cryptocurrencies and blockchain technology can be used to improve existing industries to the benefit of all participants. In this case, both browser users and content creators are rewarded with BAT tokens for utilizing the Brave ecosystem's privacy features and digital advertising services. Hopefully, we've successfully answered your query on how to withdraw Bat tokens from Brave browser.