Quick Summary: Huobi is a premium crypto exchange where you can get all-in-one features for your crypto journey. They support over 300+ cryptocurrencies, a simple but seamless mobile app, and a very competitive fee of just 0.2%.
Huobi also offers crypto staking, bot trading, P2P market, crypto loans and borrowing, premium customer support, and a whole lot more. But what you'll surely love about the exchange is they have integrated a rewards system to their platform so you can earn more on the side.
There's a little more to discuss about this amazing crypto platform, so stay tuned!
But if this intro is more than enough to convince you, tap the button below and go straight to their website!
Huobi was founded in 2013 by Leon Li in Beijing, China, though soon after China passed a law that forbade crypto and ICOs altogether and the platform was forced to relocate. It currently resides in the Seychelles and Singapore.

Huobi supports a selection of 700 tokens and derivatives and is regularly featured among the top cryptocurrency exchanges when it comes to trading volumes. The platform offers advanced trading features, such as margin and futures trading, swaps on both coin-margined as well as USDT-margined currencies, a dedicated OTC desk, and exchange apps such as the Huobi Wallet and the Huobi Chat, which make the life of a trader a whole lot easier.
Their security measures are nothing to scoff at either, as Huobi has a BTC Security Reserve Fund with 20,000 BTC at hand and keeps all user funds in cold wallet storage.
If you're looking for other reliable cryptocurrency exchanges based in Australia, you can read more here.
Huobi at A Glance
Website: www.huobi.com/en-us
Country: Seychelles
Mobile App: Available
Deposit Methods: Free
Fiat Currencies: USD, EUR, GBP, RUB, UAH, KZT, etc.
Cryptocurrencies: BTC, ETH, SOL, DOT, DOGE, SHIB & 300+ more
List of Features
Available for PC, Android and iOS Users
The cost is only 0.2 percent trading costs for both takers and makers
Multiple trading options for trading such as spot trading and derivatives trading
Rewards system that is integrated
A user-friendly platform that allows for easy and speedy purchase and sell
Credit and crypto loans
Exchanges that are reliable and fast, as well as swaps
Over 300+ different cryptocurrencies available
Premium customer support
P2P purchasing and selling
Bot trading introduced
Information and guides
Over 800+ trading pairs
There is an opportunity to stake for a few cryptos
Pros
A user-friendly platform and mobile application
Over 300+ cryptocurrencies supported
Live Chat Support
Competitive taker fees and maker fees
Fiat or crypto-based deposits as well as withdrawals are possible
Staking, rewards, and promotions
Cons
It is not accessible in USA They could use the HBUS option instead.
There is no fiat market for trading
Uncertain fee for withdrawal
About the Exchange
Huobi has managed to grow into one of the biggest and most prominent crypto exchange platforms by supporting ICO tokens and a slew of digital assets and cryptocurrencies. At the same time, it's making serious strides in the advancement of blockchain technology.
With over 3 million registered accounts, Huobi not only survived the Chinese ban on ICOs and crypto trading, but thrived on top of it, as it expanded its infrastructure to the USA, South Korea, and Japan. So, the crypto ban in China and Huobi's expulsion from the nation could not prevent the exchange from growing operations, and Huobi presently has over 3 million active Huobi account holders.

Huobi Pro is Huobi's flagship extension that houses over 100 of the most popular cryptocurrencies, where Huobi Global users are able to choose any pair and swiftly engage in multiple trades, enjoy the high liquidity pool, and engage in advanced trading features, such as margin trading and stop order trading.
Huobi cleared $4 billion in its first three months and a staggering $247 billion by 2016. Traders have chosen the platform time and again largely due to its easy-to-use interface that is seamless to navigate. Users have everything sorted out for them: all the features and data they need are just a tap away. The platform's HADAX exchange extension offers a selection of more obscure tokens and altcoins but still runs on Huobi's API and intuitive interface.
Features
Huobi is accessible from all major operating systems, such as Mac, iOS, Windows, and Android. It offers margin and futures trading for Bitcoin (BTC) as well as Litecoin (LTC) and Ethereum (ETH), with up to 5x leverage as well as features such as limit order, market order and stop limit order that come at a 0.1% fee during the initial 24 hours.
The Flash Trade function features a comprehensive market chart, as well as an order book and a chart index. Here, users can preview trading volumes in real time, as they're coming in. If you happen to be familiar with Binance's SAFU trust fund, then you will easily wrap your head around Huobi's user protection fund that covers users, their assets, and their wallets in case of a breach, hack, or any other unfortunate event.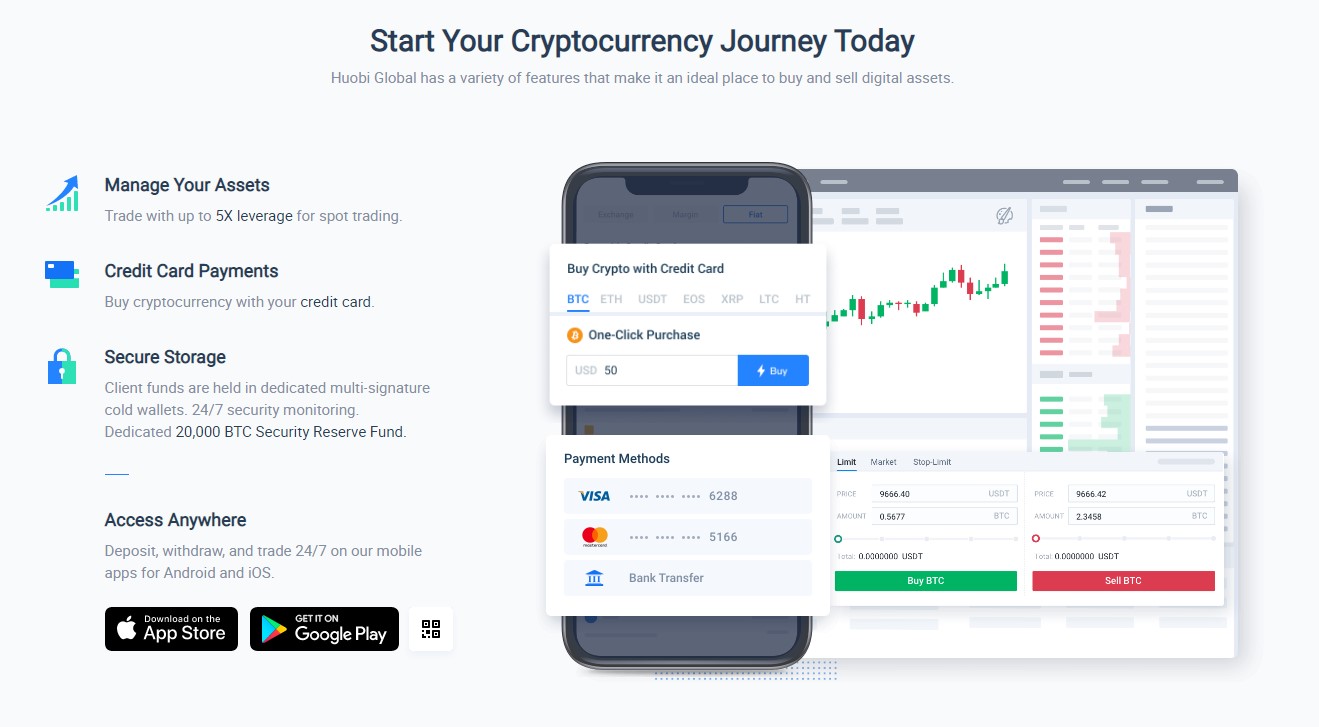 From the very beginning, Huobi had its sights on moving forward, so it comes as no surprise that the trading platform offers swaps, C2C, and margin and futures trading markets. The platform also features an OTC (over-the-counter) desk along with dark pool trading, which is geared towards institutional investors. The Smart-Chain analysis feature offers users valuable insight into over 50 trade indicators. If all that wasn't enough, Huobi also provides users with the option to code trading bots via Huobi API keys and REST API.to, an application programming interface that interacts with and integrates web services.
Security: Is Huobi Legit?
Huobi offers the latest technological advancements in security. It offers 2-factor authentication in the form of SMS messages as well as authenticator apps.
The platform has an advanced security infrastructure that keeps 98% of client assets in cold storage wallets, offline. In order to access the funds, users have to go through the multi-signature protocol. Huobi has never been breached or implicated in a cybersecurity scam in the whole of its existence.
Fee Structure: Huobi Fees, Limits & Payment Methods
| Level | 30-day trading volume (BTC) | Base fee rate | HT holdings | Fee Rate (in HT) | Effective Discount |
| --- | --- | --- | --- | --- | --- |
| 1 | < 1000 BTC | 0.2000% | ≥10HT | 0.1800% | 10% |
| 2 | < 1000 BTC | 0.2000% | ≥100HT | 0.1600% | 20% |
| 3 | < 1000 BTC | 0.2000% | ≥500HT | 0.1200% | 40% |
| 4 | < 1000 BTC | 0.2000% | ≥1,000HT | 0.0900% | 55% |
| 5 | < 1000 BTC | 0.2000% | ≥2,000HT | 0.0800% | 60% |
| 6 | < 1000 BTC | 0.2000% | ≥5,000HT | 0.0700% | 65% |
Huobi is constantly shoulder-to-shoulder with some of the biggest and most well-known crypto exchanges such as Bibox, KuCoin, and Binance. Huobi users can choose a preferred deposit method including credit card transfers, debit card transfers, bank transfers, or instant swap providers such as Osko and PayID.
The platform accepts deposits in the form of cryptocurrency, namely Bitcoin (BTC), Ripple (XRP), Litecoin (LTC), and their native Huobi Token (HT), as well as fiat currencies such as US Dollar (USD) and Chinese Yuan (CNY) currencies. The Huobi cryptocurrency trading fees are very competitive and they are the same for both makers and takers. The platform administers a flat 0.2% trading fee that can go down to 0.1% for customers dealing in larger trading volumes. The withdrawal fees come in the form of mining fees. The trading platform can be used without KYC tests, however, this does restrict withdrawals to a 0.1 BTC per day.
The HT token is powered by the Ethereum blockchain and is not given as an ICO, rather a loyalty scheme. The HADAX platform allows users to voice their opinions regarding new tokens and their employment. When users are in possession of Huobi tokens and place orders dealing in Huobi's native digital asset, then they are in for big discounts on trading fees. The trading platform also offers VIP memberships which can further reduce trading fees up to 65%.
Customer Support
Huobi provides swift solutions and is known to respond to user questions in less than an hour. This is very impressive as the platform has a vast and diverse clientele on a global scale.

The support team can help you in both English and Mandarin and can be reached by email, telephone, or online chat. Users can also file for a ticket for their quarry or resort to Huobi's social media pages and messaging apps.
A Few Words Before You Go…
In this Huobi exchange review, we learned that Huobi is one of the quickest rising and expanding exchange platforms in the crypto industry. It has dealt with every obstacle that has come its way and has only managed to grow and further establish itself in the process. They even have their own native coin, a VIP membership, and a User Protection Fund. The platform offers different affiliates and extensions based on user location and their customer support is up to par with their offering. If it isn't already, Huobi should definitely be on everyone's short list of favourite best crypto exchanges.
Frequently Asked Questions
Is Huobi Safe?
Yes, the exchange platform has never experienced a breach or fallen prey to a scam. Plus, it stores almost all customer funds in cold storage. Huobi's security infrastructure plays a big role in why the platform has been able to grow as quickly as it has and why it's regarded as one of the most trustworthy crypto exchanges on the market.
Does Huobi Have a Mobile App?
Yes. The platform offers Huobi exchange app that is compatible with both iOS and Android. The app mirrors the desktop interface and offers users all the regular bells and whistles.
Furthermore, new users and beginners are able to register an account and go through all the verification steps directly from their mobile phone app - not a computer mouse in sight.
How Many Users Does Huobi Have?
Today, Huobi Global claims to serve tens of millions of users in 100+ countries.
Can I Buy Bitcoin From Huobi?
You can buy, trade, and hold Bitcoin in Huobi Global Australia safely and compliantly.
Who Founded Huobi?
Huobi was founded by Leon Li and Du Jun.
Is Huobi Better Than Binance?
Binance is slightly ahead of Huobi when it comes to the overall score, mostly due to its lower costs and also a higher amount of analytical and educational information.
Is Huobi a Good Wallet?
Huobi Wallet is a safe as well as professional-looking Defi wallet. It utilizes advanced technology to guarantee safe security and asset management. The users are in charge of their private keys which the business cannot access. There are several alternatives to protect against the loss or theft of your keys.
Which Country Owns Huobi?
Huobi (Chinese: Huo Bi Wang and pinyin: Huobiwang) is a Seychelles-based digital currency exchange. It was founded in China and now is headquartered with offices in Hong Kong, South Korea, Japan and the United States. In August of 2018, it became a publicly traded Hong Kong company.
Is Huobi a Trusted Exchange?
Huobi is a fairly safe platform that offers a variety of security features for its users. In addition, the platform offers reserves to protect the losses of traders in case of an incident of security or other dangers. However, traders must take into account how unregulated on the platform before deciding to use it to trade in crypto.
Is It Safe to Buy USDT on Huobi?
You can purchase, trade, and store USDT with huobi global safe and in compliance. You can purchase or trade and then hold USDT at huobi global securely and in compliance.
Can I Make Money From Huobi?
Huobi Earn offers you the possibility of earning interest on a variety of digital assets you don't want to trade. As we continue to expand our services as we expand our offerings, more and more tokens will be available to users of Huobi Earn for you to transfer into interest-earning accounts.
What Countries Can Use Huobi?
Huobi Global has planted offices in Singapore and in the United States, Japan, Korea, Hong Kong, and is present in more than 130 countries around the world. Huobi Global is a subsidiary of Huobi Group, Huobi Global is a world-leading online exchange for crypto assets.
Do You Need KYC for Huobi?
Huobi Global is another top cryptocurrency-only exchange that doesn't need KYC. To withdraw larger quantities of cryptocurrency, users must verify their identity.