IDEX Crypto Review for 2023
Quick Summary: IDEX is an advanced and comprehensive crypto trading platform and considered the world's most advanced crypto exchange by many crypto enthusiasts. This exchange is authentic, high-speed, and provides solid security to their users.
What makes IDEX special is that it offers centralized exchange with security features of decentralized trading for crypto traders and investors. Aside from its advanced features, IDEX also offers staking so you can earn on the side. And if you're having issues with your account, their customer support got your back.
In today's fast-changing world of digital money and technology, IDEX is among the most secure and safest platforms for crypto trading.
Even though IDEX isn't one of the pioneering crypto exchange platforms in the industry and hasn't been a part of the crypto world for a long time, it has still managed to amass quite a following from every corner of the globe. The secret? Utilising the best of both worlds.

IDEX functions as a decentralized and centralized exchange platform. The crypto trading platform enables users to make the best of the Ethereum blockchain network and swap ERC20 tokens in the blink of an eye. Too good to be true? Well, the fact that IDEX is ETH oriented comes at the expense of their BTC offering, or the lack thereof.
Nevertheless, the platform has managed to successfully thread the needle and balance out its shortcomings with plenty of exceptional features and offerings. Let's take a closer look at our IDEX exchange review.
IDEX at A Glance
Website: https://idex.io/
Country: Global
Mobile App: Available
Deposit Methods: Credit Card and Debit Card
Fiat Currencies: Does not directly support fiat
Cryptocurrencies: ERC20 tokens and BNB
List of Features
High security
Idex staking
Confirmation before processing the deposit
Peer-to-peer (P2P) trading
Ethereum and Binance Chain support
Responsive customer support
14 trading pairs, including ETH/USDC, IDEX/ETH, MATIC/USDC, etc.
Pros 
Beneficial reward system
Quick transactions
Plenty of tutorials and responsive customer support
Integrated with Metamask and Nano S
Encrypted and secure trading
Intuitive website structure
Cons
Only ERC-20 token trading
No Bitcoin transactions
What Is Idex Crypto?
Unlike most of its competition, IDEX is just a facet of a bigger company that goes by the name of Aurora. Aurora is a banking finance company that specialises in the development and programing of Ethereum-based protocols and applications. Based in the Republic of Panama, Aurora Labs S.A. is the mothership that houses both Aurora, IDEX, and its affiliates.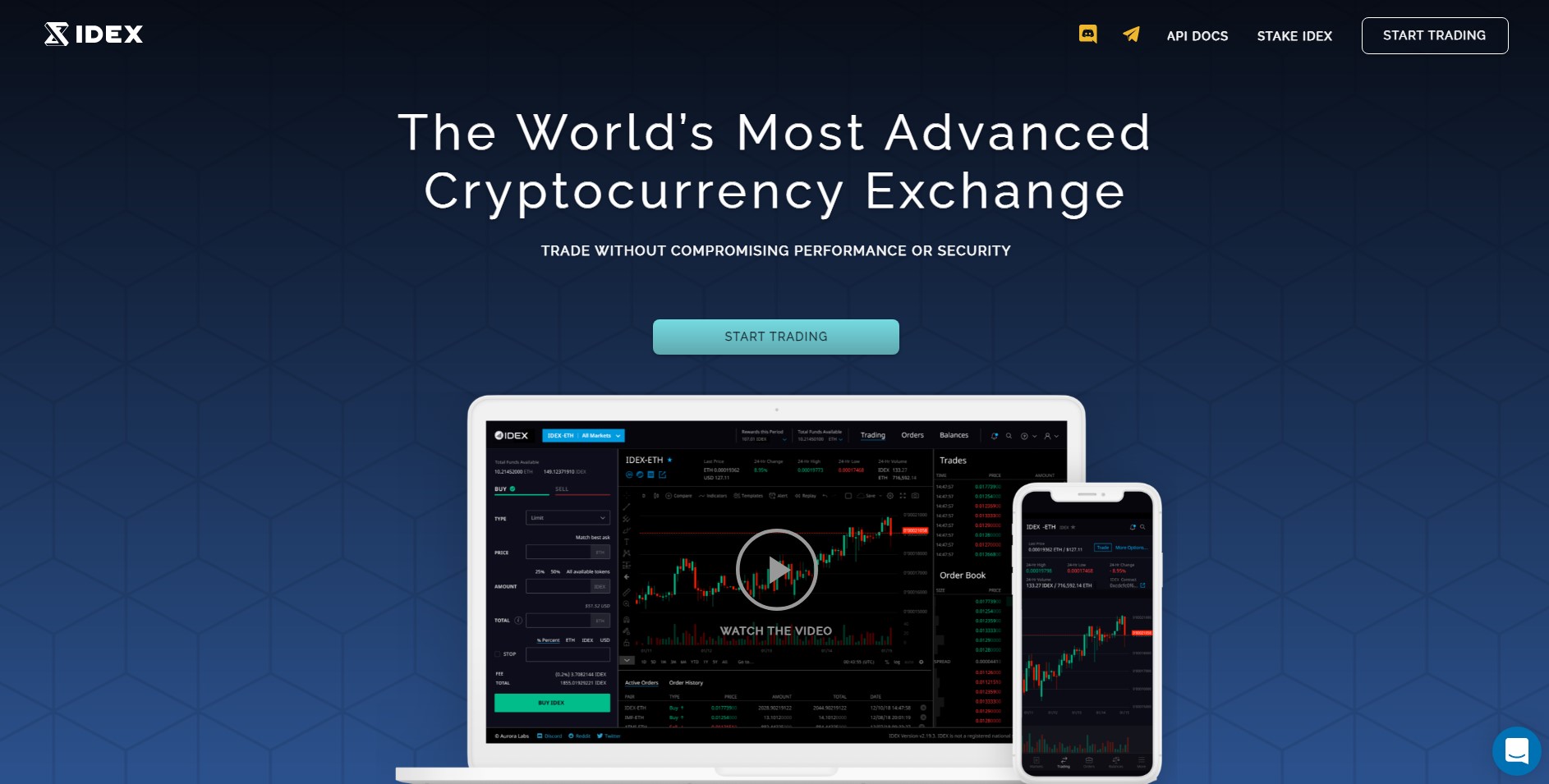 How Does IDEX Work?
The way in which IDEX manages to pull off double duty and mirror both decentralized and centralized crypto trading platforms is by employing Automated Market Making (AMM), as well as a traditional order book and trading infrastructure. The trading platform supports an enhanced mapping feature that automatically converts AMM data to separate open order positions listed on a traditional trade order book.
When a trader opens an order position, the AMM trading engine scours the web for the best possible limit orders at the best possible liquidity and executes the trade at the closest possible fee. By employing both a traditional order book as well as an AMM, IDEX offers traders the option to do business as instant swap conversions or take the traditional approach for those that cannot do without an order book UI. Let's take a look under the hood.
Features
Even though almost all DEXs on the crypto market employ AMMs, the combination of AMMs with traditional order books that match orders is not something that we see on a daily basis. In fact, there aren't any established exchanges that have found a good balance between the two.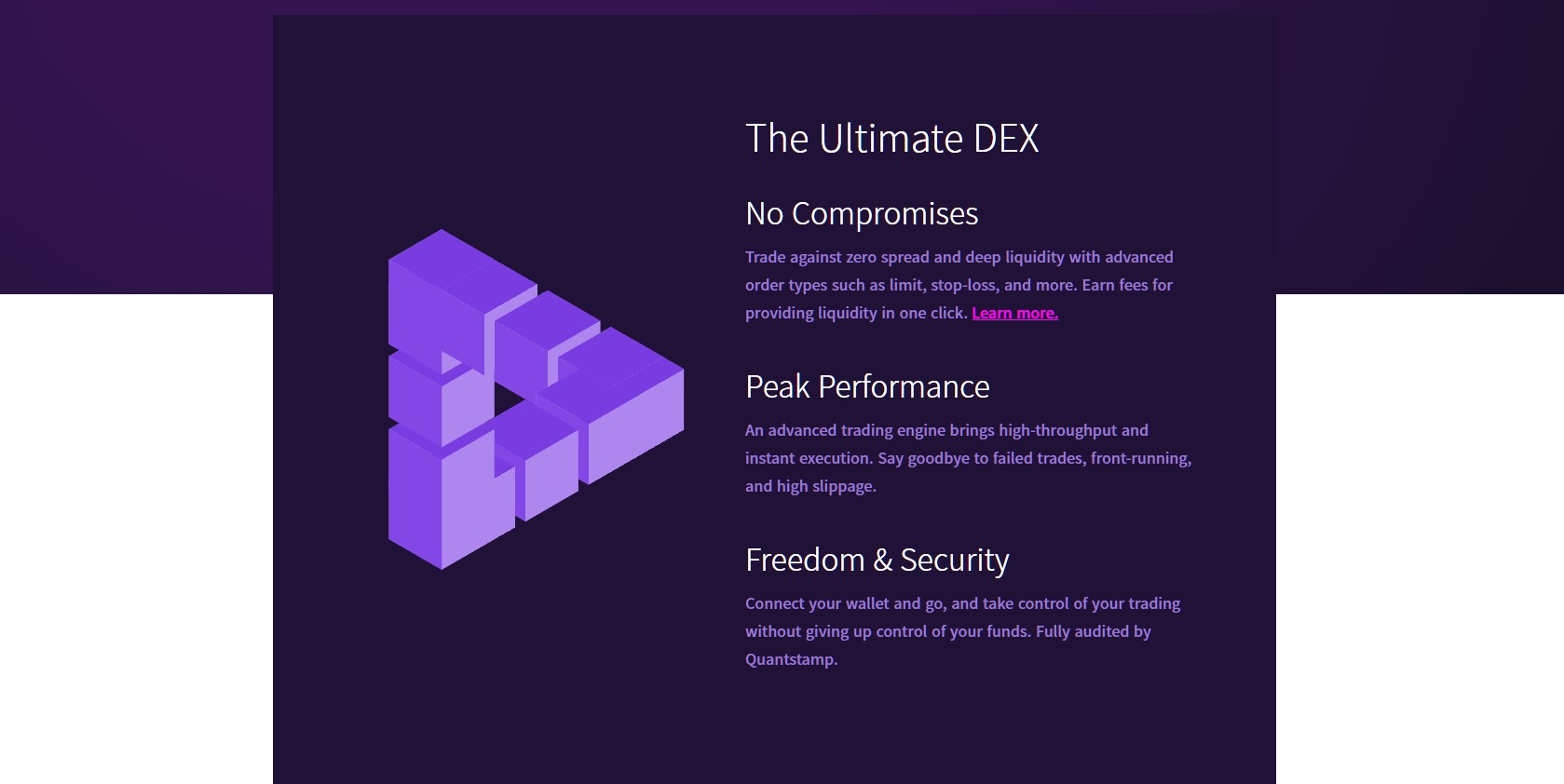 So, why or how has IDEX managed to succeed where so many others have failed? Well, to conduct buy and sell orders, most DEX systems use automated market maker models, but IDEXs' order books feature a centralized protocol that matches trade orders and processes transactions. However, the digital assets involved in these transfers are locked up in smart contracts, which are a trait of decentralized crypto trading platforms.
With an option to update their own balances via smart contract, IDEX traders enjoy more control over their assets while providing the backbone of a centralized trading platform infrastructure. Furthermore, the main knock on decentralized crypto exchanges is that they aren't very user-friendly. In IDEX, traders will find a centralized interface that can handle staking on its own merit. Quite the feat!
IDEX v3
The upcoming third iteration of the IDEX interface, known as IDEX v3, will provide users with a new feature that will combine Hybrid Liquidity (IDEX HL) with the trading platform's order books. This way, traders will be able to make the best out of the employed automated market makers across different liquidity pools.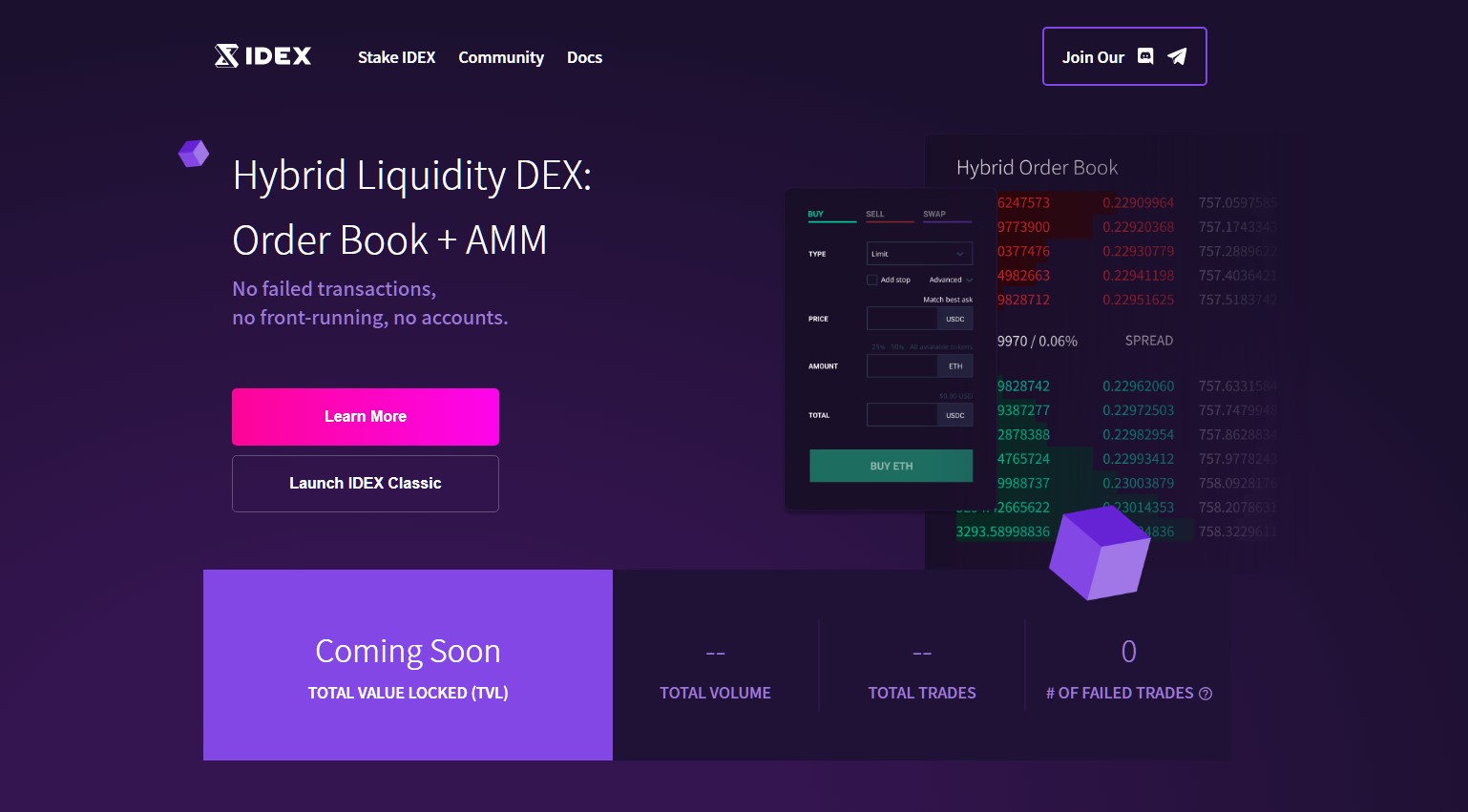 In a sense, by employing this new feature, IDEX only raises the bar when a situation asks for it. The platform draws liquidity from IDEX HL liquidity providers when needed, and then re-distributes the liquidity again, once the transaction is completed. Users get to enjoy all the perks of decentralized crypto trading and don't have to give up the option of stop loss and limit orders.
Supported Cryptocurrencies
IDEX runs on Ethereum and as such, it is only compatible with digital goods that can be found on the Ethereum blockchain. In turn, the main focus falls on ETH and ERC20 tokens. Although the fact that the platform doesn't support Bitcoin trading pairs can be a real deal-breaker, traders still have a wide choice of tokens like Quant (QNT), Lition (LIT), Celsius (CEL), Unibright (UBT) at their disposal. Of course, users should always have in mind that almost all recent additions on the Ethereum network will be featured and available for business on IDEX in no time.
Finally, there's the AURA token or IDEXs' native platform token offering. Stakers and holders of the token are privy to a number of benefits, such as earning a piece of the platform's trading fee pie.
IDEX Fees and Transfer Limits
| Trade Type | Maker | Taker | Pool Earnings | Protocol Earnings |
| --- | --- | --- | --- | --- |
| Limit | 0% | 0.25% | N/A | 0.25% |
| Pool | 0% | 0.25% | 20% | 0.05% |
IDEX does not employ any deposit fees or withdrawal fees. Trading fees with included gas fees come at 0.25% for takers and 0.10% for makers. Minimum deposit orders start at 0.05 ETH for takers and 0.15 ETH for makers, while the low threshold on withdrawals is cemented at 0.04 ETH. AURA token holders and traders who employ their assets to validate transactions and provide liquidity are able to make use of their native tokens and receive a generous discount of up to 50% on transaction fees.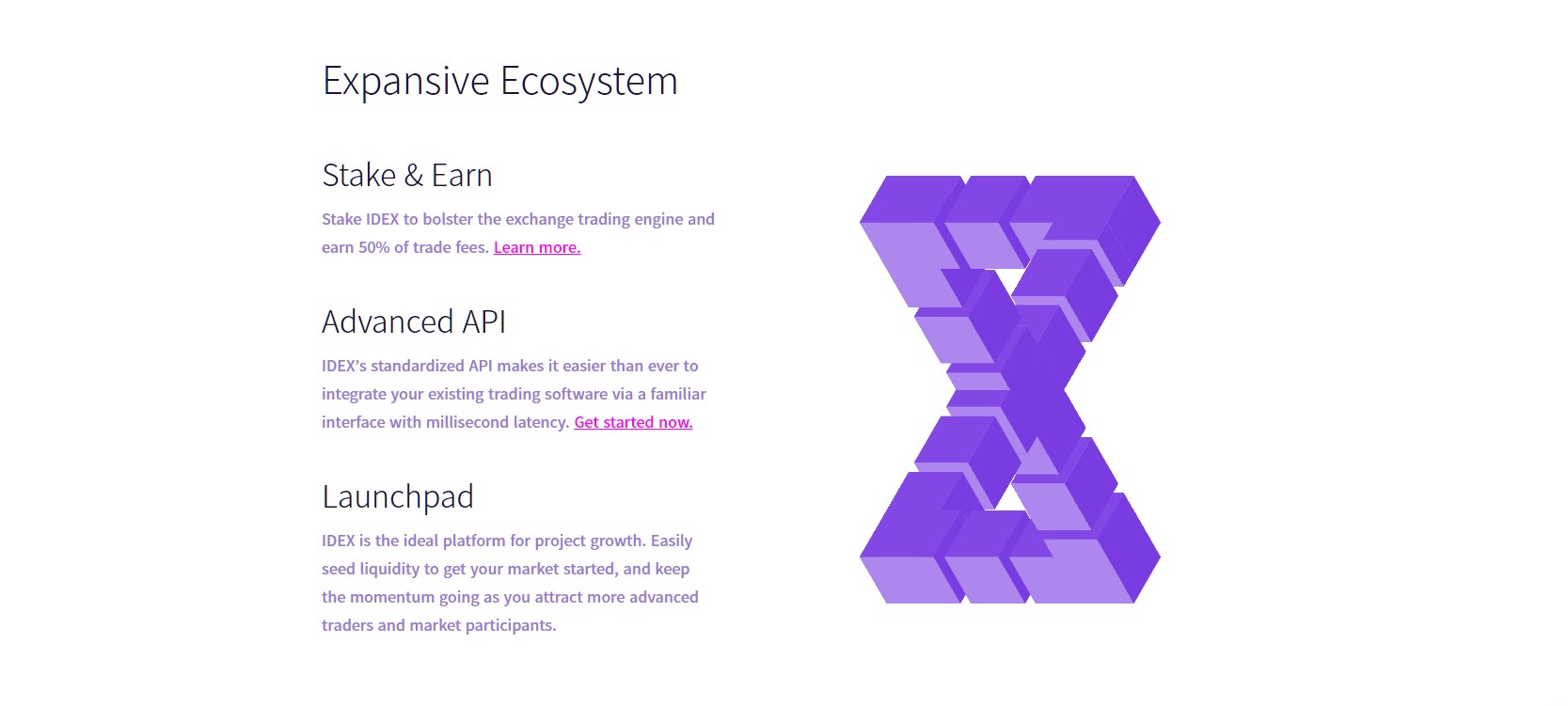 Security: Is Idex Legit?
IDEX is one of the safest crypto platform's because it essentially runs as a decentralized exchange. As such, the trading platform has no custody over user funds and even if breached, has nothing to offer in terms of finances and digital goods. The digital assets that exchange hands through it on the Ethereum blockchain network are locked in smart contracts that are only visible when the corresponding private security key is deployed.
Traders are able to access their crypto wallets through the platform's IDEX app. This means that the window for anything to go wrong is very narrow. Upon transferring funds executing a trade or command the private keys are immediately deleted from the server's memory.
Customer Support
Traders are able to get in touch with IDEX and its support team by reaching out via the platform's official social media accounts or striking up conversations in the official Telegram group. IDEX also offers a vast knowledge library that can be found under the FAQ tab. Here traders are able to find resolve on the most relevant issues and entanglements, as well as use the search option in order to educate themselves on more secluded crypto matters.

Frequently Asked Questions
How Can You Integrate a Crypto Wallet with IDEX?
Users are able to connect crypto wallets such as the popular Ledger Nano S and Metamask. Hardware wallets stand as the most secure method of storing funds since all assets and private keys that are stored on them are kept offline at all times.
Does IDEX Accept Fiat Deposits?
Unfortunately, because IDEX functions as a decentralized crypto trading platform, fiat currencies are not supported. Traders will either have to deposit cryptocurrencies and tokens or employ a third party in order to convert their fiat assets to digital goods and then deposit them to IDEX.
What Are the Minimum Trade Orders?
Minimum orders for takers and makers are set at 1 ETH and 0.5 ETH retrospectively. Because IDEX supports automated matching on trading pains, users can rest assured that they are getting the absolute best offers on orders at every given moment. This, however, does not include the gas that makes the trade itself possible.
Does IDEX Require KYC?
KYC tests aren't mandatory on the IDEX Exchange; however, traders who choose to forgo the KYC have to make do with a $5,000 limit on transactions. For sums that surpass $5,000, users have to provide further documentation on themselves, together with a selfie image.
What Is IDEX Used For?
IDEX allows for rapid transactions and immediate execution of trades. It also provides users with an exciting combination of decentralized and centralized elements. You can bet on IDEX and reap the rewards of trading fees since the Nodes are awarded for their contributions to the network.
Who Is Owner of IDEX?
The CEO and co-founder of IDEX is Alex Wearn.
How Do I Withdraw From IDEX?
Go on"My Balances" on "My Balances" page by clicking "Balances" - "Full Balances." Select the asset you wish to withdraw, and click on the "Withdraw" button.
How Old Is IDEX Coin?
IDEX was first launched in the year 2017 and its 2.0 version coming out in autumn 2020 following the closing of a $2.5 million in seed funding which was led by G1 Ventures and Borderless Capital with Collider Ventures, and Gnosis.