Independent Reserve Australia Review for 2023
Quick Summary: Independent Reserve has grown to serve global customers and has built a world-class OTC Service Desk and order book exchange. Moreover, it is trusted by more than 8000+ Self-Managed Super Funds. 
Independent Reserve is perfect for advanced high-volume crypto traders, with the exchange's VIP service desk for large over-the-counter trades and discount on huge volumes trades. Aside from that, other features of Independent Reserve include FastTrack, which allows users to sign up and start trading in minutes, very competitive trading fees, registered with AUSTRAC, and insured crypto assets for premium accounts.
If you're an Aussie trader, Independent Reserve is a must try!
Independent Reserve Exchange at a Glance

Website: www.independentreserve.com
Country:Sydney, Australia
Mobile app: Yes
Deposit Methods: Bank transfer, SWIFT, OSKO, POLi, PayID, credit card/debit card payments.
Trading Fees: 0.02% – 0.50%
Fiat Currencies: AUD, NZD, SGD, or USD
Cryptocurrencies: Around 30
List of Features
Gold-certified member of Blockchain Australia
Supported in 40+ countries worldwide
Library of best trading strategies you can copy using AutoTrader
Insured funds for Premium Users
iOS and Android-supported mobile app
Integrated with TradeView charting
Accommodates various order types
OTC trading available
24/7 customer support 
Trading Fees
Your brokerage cost could be reduced based on your previous 30-day trading volume.
The trading volume is calculated every four hours. Fees for market orders are calculated at the time that the order is made. The open orders already in place are not reduced when the trade volume is calculated.
| AUD volume | Fees |
| --- | --- |
| 0 | 0.50% |
| 50,000 | 0.48% |
| 100,000 | 0.46% |
| 200,000 | 0.44% |
| 300,000 | 0.42% |
| 400,000 | 0.40% |
| 500,000 | 0.38% |
| 600,000 | 0.36% |
| 800,000 | 0.34% |
| 1,000,000 | 0.32% |
| 1,200,000 | 0.30% |
| 3,000,000 | 0.18% |
| 3,500,000 | 0.16% |
| 4,000,000 | 0.14% |
| 4,500,000 | 0.12% |
| 5,000,000 | 0.10% |
| 10,000,000 | 0.08% |
| 15,000,000 | 0.07% |
| 30,000,000 | 0.06% |
| 50,000,000 | 0.05% |
| 100,000,000 | 0.04% |
| 150,000,000 | 0.03% |
| 200,000,000 | 0.02% |
| 1,400,000 | 0.28% |
| 1,600,000 | 0.26% |
| 1,800,000 | 0.24% |
| 2,000,000 | 0.22% |
| 2,500,000 | 0.20% |
Pros
One of the safest and most secure trading platforms out there;
Apart from the local fiat currencies (AUD, SGD, and NZD), the exchange also supports USD trading pairs;
A highly regulated exchange;
97% of customer assets are stored in cold storage;
The platform's system can recover the funds lost as a result of a force majeure or unpreventable events.
Cons
There's a handful of supported digital assets;
No passive earning features;
Only high-volume traders get to benefit from the lower trading fees.
What Is Independent Reserve?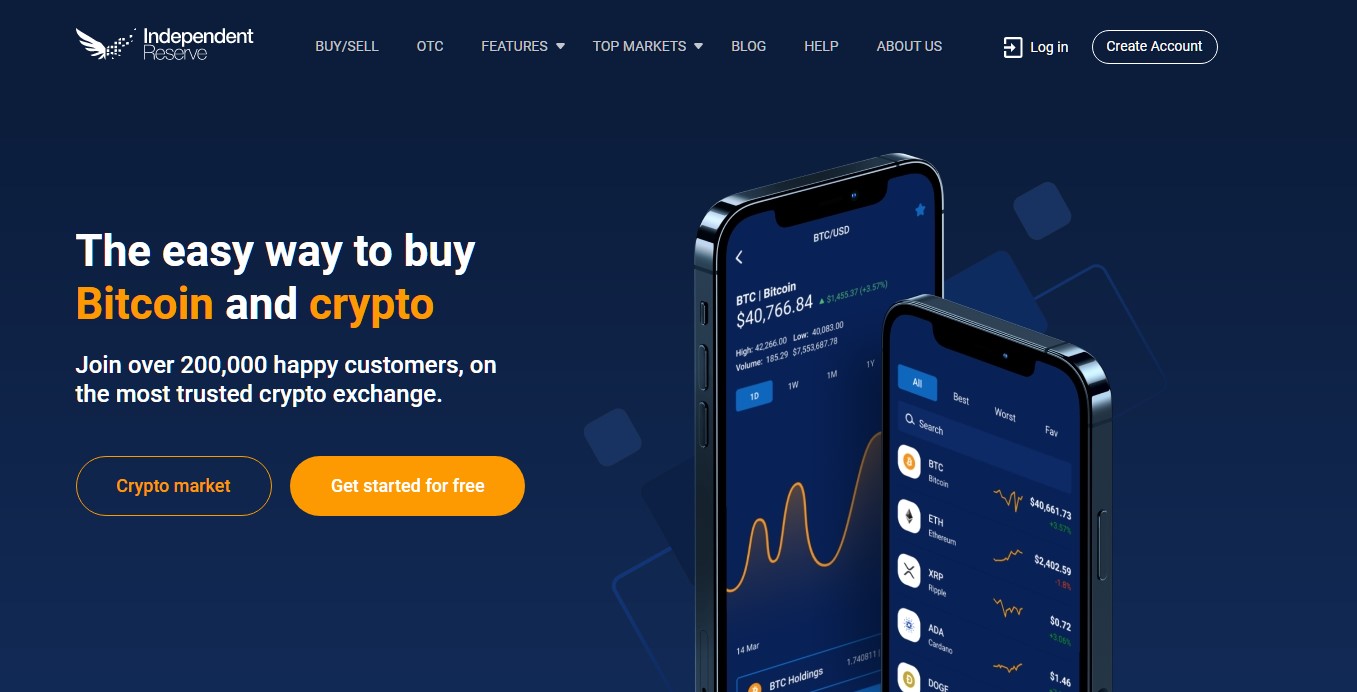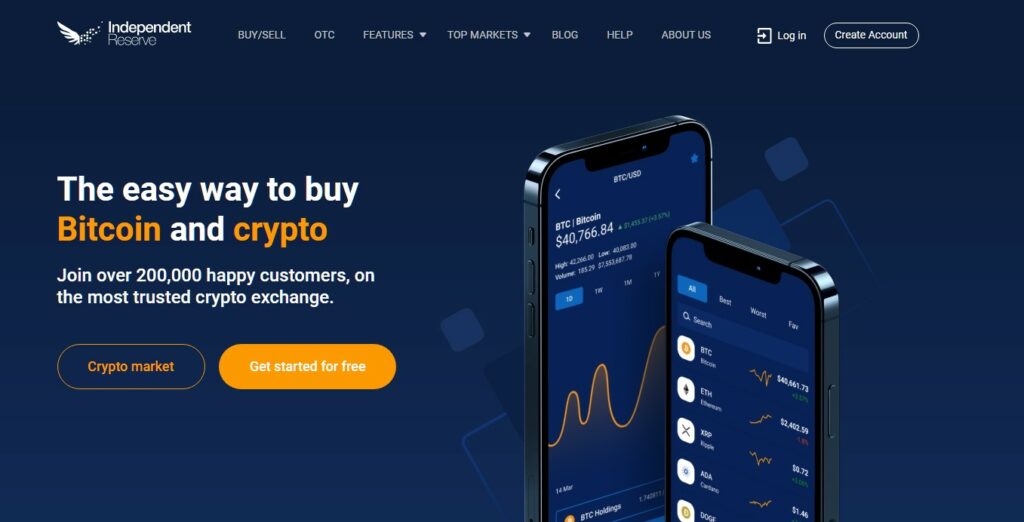 Independent Reserve, a centralised cryptocurrency initiative launched in 2013, is based on the AirmarshalTM platform designed by the exchange's developers, Adam Tepper and Adrian Przelozny.
The end goal of these two fintech architects was to establish a marketplace for the crypto investors in Australia and New Zealand that is trusted above all others, being at the same time the safest place possible to purchase Bitcoin and many other altcoins.
Incorporating distributed ledger technology into a safe, reliable, and tightly controlled blockchain network that offers world crypto banking services was yet another aspiration of Tepper and Przelozny during the development of the Independent Reserve project.
Let's see how much of these ideas have been realised and what Independent Reserve has to offer to crypto investors.
Which Fiat and Cryptocurrencies Are Supported?
Independent Reserve allows you to trade about 30 of the most liquid coins, including Bitcoin (BTC), Ethereum (ETH), Bitcoin Cash (BCH), Cardano (ADA), Polkadot (DOT), Ripple (XRP), Eos (EOS), and Tether (USDT), amongst others.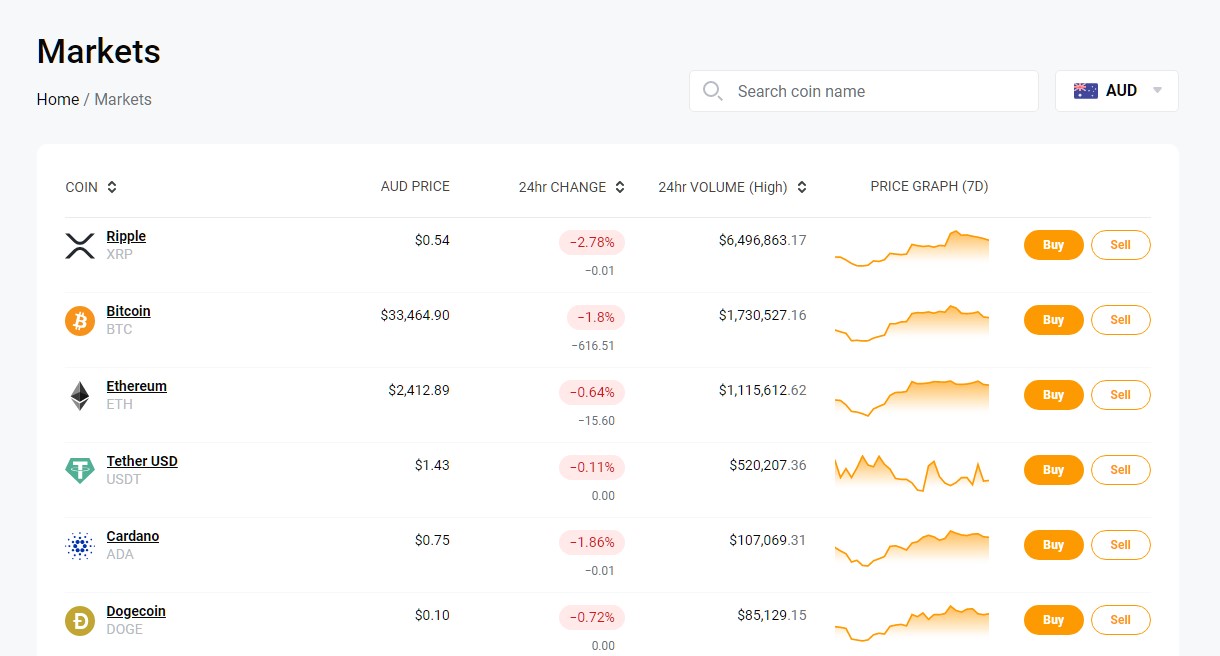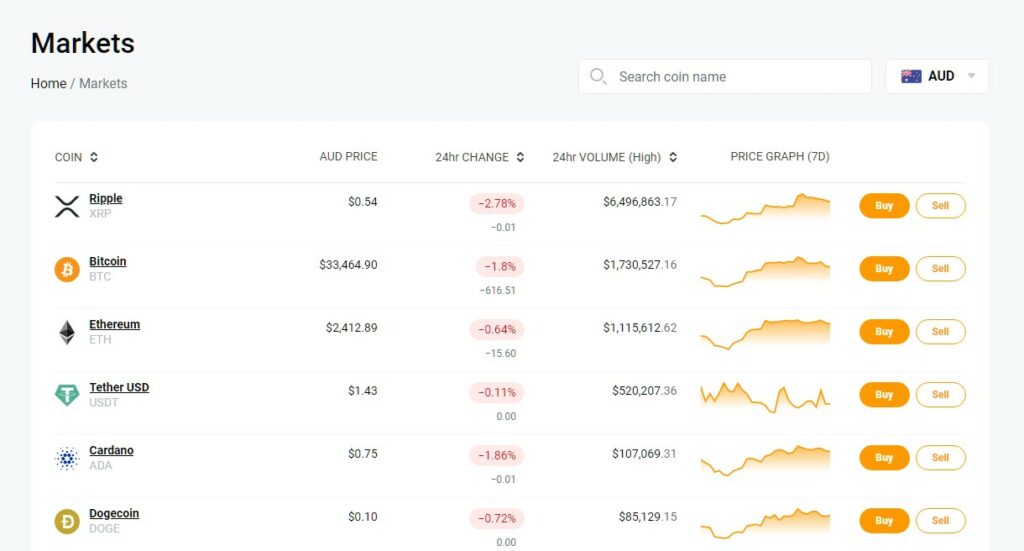 You can also trade your coins for AUD, NZD, SGD, or USD fiat currency on this Australian exchange. If you ask me, this is a handy feature, given that most native Australian exchanges support only the local Australian currency out of all other fiat currencies.
How Many Coins Does Independent Reserve Have?
While its headquarters are in Australia and Singapore, Independent Reserve serves customers worldwide. The exchange can instantly authenticate consumers from roughly 40 countries, including the United Kingdom, Switzerland, Luxembourg, Belgium, Australia, New Zealand, and Hong Kong. Speaking of Singapore, if you're based in the country, then don't forget to use our Independent Reserve Singapore referral code using this link.
However, due to the financial regulations of this marketplace, some countries will necessitate a more time-consuming user verification process.
Key Features & Advantages of Independent Reserve Australia
Throughout my extensive research into the Australian cryptocurrency market, I have found Independent Reserve to have some of the tightest and most reliable online safeguards available. To our good fortune, this exchange has much more to offer us, crypto marketers. Let me give you my two cents on the best parts of this discussion.
AutoTrader
One of the features I find to be a significant selling aspect of this platform is the AutoTrader. With this tool, you can copy and use any automated cryptocurrency trading method from the Independent Reserve's portfolio of trading strategies and concepts.
For example, you can borrow three basic strategies for your crypto venture: the AutoBuy, AutoBasket, and the AutoSchedule strategy. Let's see how each of these automated trading techniques functions.
Using the AutoBuy method, you can automatically invest in one of the endorsed coins whenever you add funds to your trading account. Select the amount you wish to withdraw from your account, and the automated trading protocol will process your order. You can place a hard limit on your purchase request to control the highest amount you are willing to spend.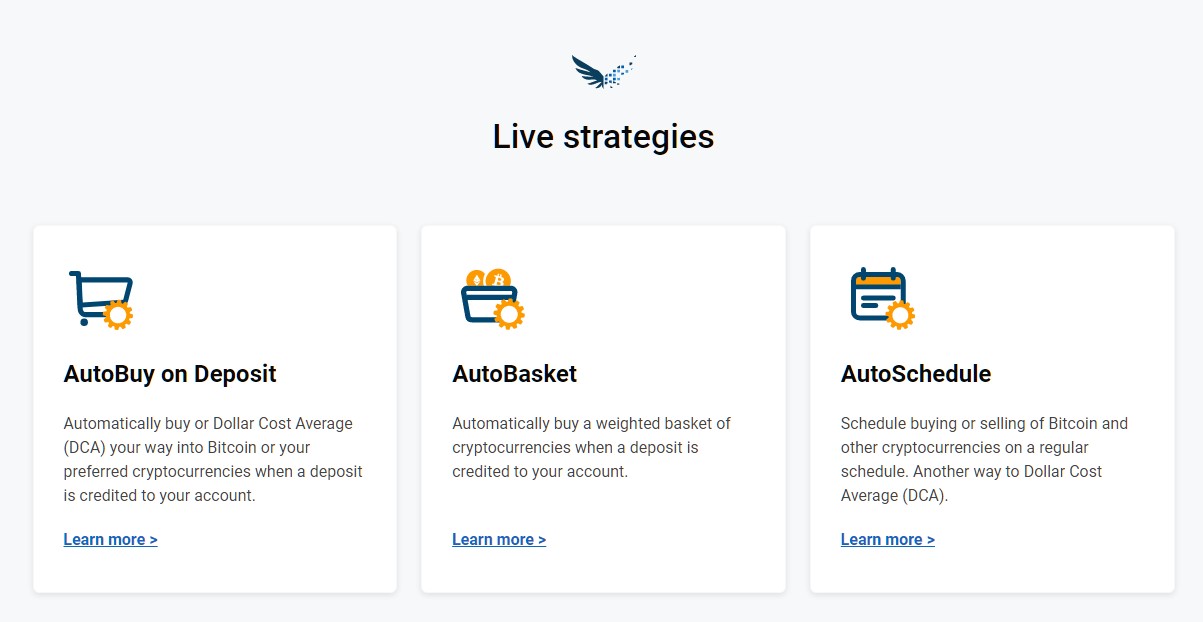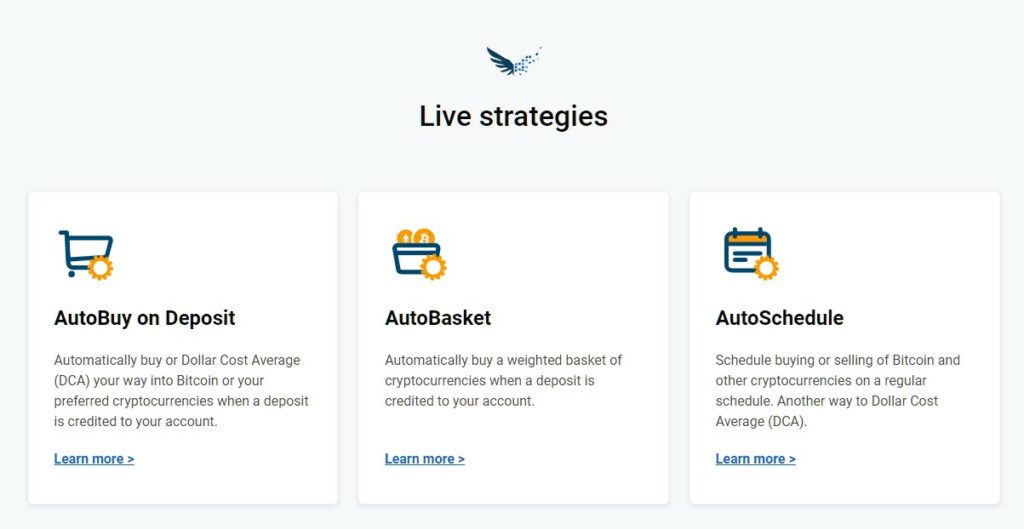 Now, let's go to the AutoBasket. An AutoBasket strategy is a form of automated trading analogous to the more commonly used AutoBuy method. AutoBasket is a currency-buying approach that, rather than getting a single currency, will buy a basket of currencies and then assess their relative prices. You must fund your trading account with fiat currencies to implement this trading method.
Finally, there's the AutoSchedule strategy. The AutoSchedule technique enables you to automatically buy or sell any of the Independent Reserve-supported digital currencies on a predetermined timetable. If you choose this trading method, you'll have access to the balance in your crypto wallet while making cryptocurrency purchases or sales.
Independent Reserve Trading Fees
Trading on this platform could cost you as little as 0.1%, making it one of the most attractive options. However, you'll need to ramp up your 30-day trading volume to qualify for the low fee category. (More on this in the Trading Fees section of this article.)
Premium Accounts With Crypto Insurance
Now, this is the kind of thing you'd expect to find in a high-end service. When you join up for a premium account with Independent Reserve, you have the option of purchasing insurance for your crypto holdings. In exchange for an annual charge (beginning at $300 per year), you will have access to your assets insurance that covers all damages in case of an unforeseen event. In addition to the insurance, you will also receive premium phone support services with the purchase of this package.
Cryptocurrency Wallet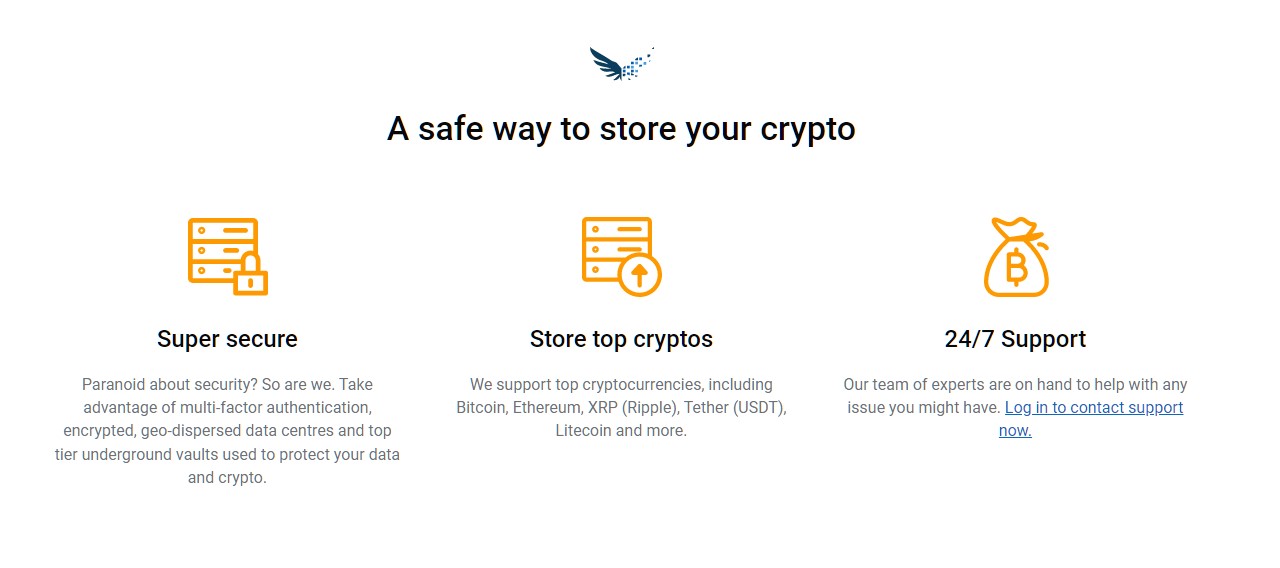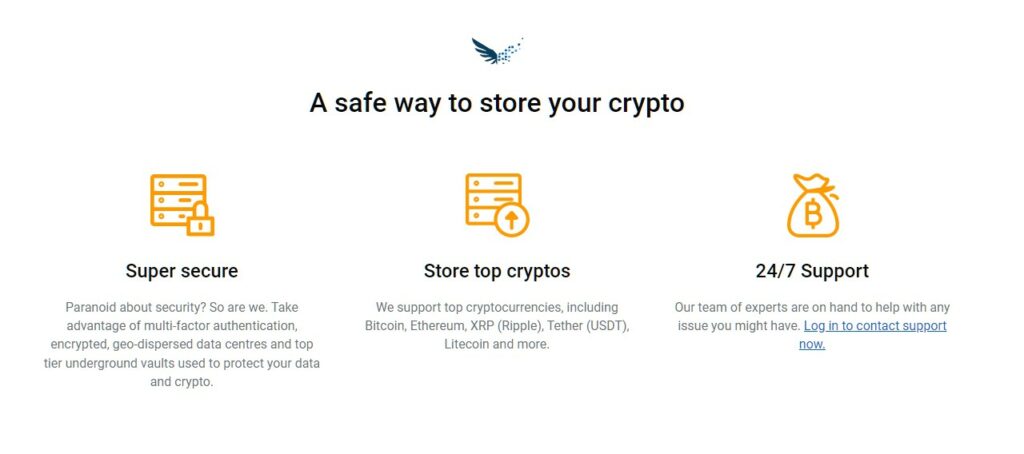 The cryptocurrencies you have purchased or placed into your Independent Reserve account are stored safely and securely in a multi-currency wallet managed by Independent Reserve.
The AutoBuy deposit option is one of the reasons why I like this crypto wallet. Users wishing to boost their portfolio activities will find this feature super helpful. As long as you have sufficient funds in your account, AutoBuy will buy any cryptocurrency you choose at the pre-set time, amount, and value. Pretty neat, isn't it?
Independent Reserve Mobile App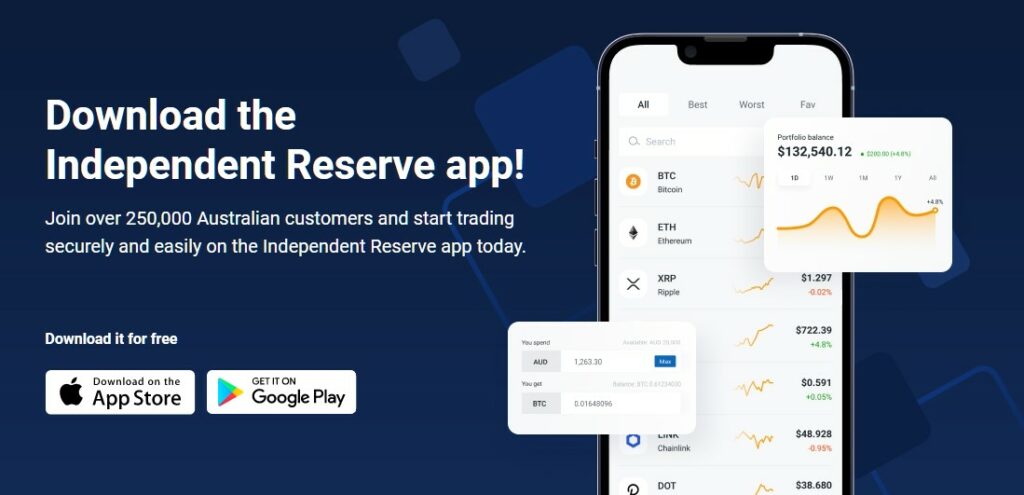 Independent Reserve provides a smartphone trading app that works with both Apple and Google operating systems. Using this software, you can effortlessly buy, sell, and keep your coins secure, as well as monitor their portfolios and market movements.
Independent Reserve TradingView
TradingView stock charting and analysis software is one of the many powerful tools available to you through Independent Reserve. This instrument will allow you to monitor market swings before making financial commitments.
Trading Platform
Independent Reserve puts forward a suite of trading instruments that are accessible to seasoned investors who bring high liquidity to the platform and for beginners with limited capital. FastTrack, an in-built order book exchange, advanced TradingView charting, an OTC trading service, and a crypto tax calculator are just a few of the platform's highlights that attracted my attention to this crypto exchange from Down Under.
Order Types
Independent Reserve's order book supports many currencies, and it may automatically convert clients' requests into the currency of their preference, a feature I find highly convenient for traders.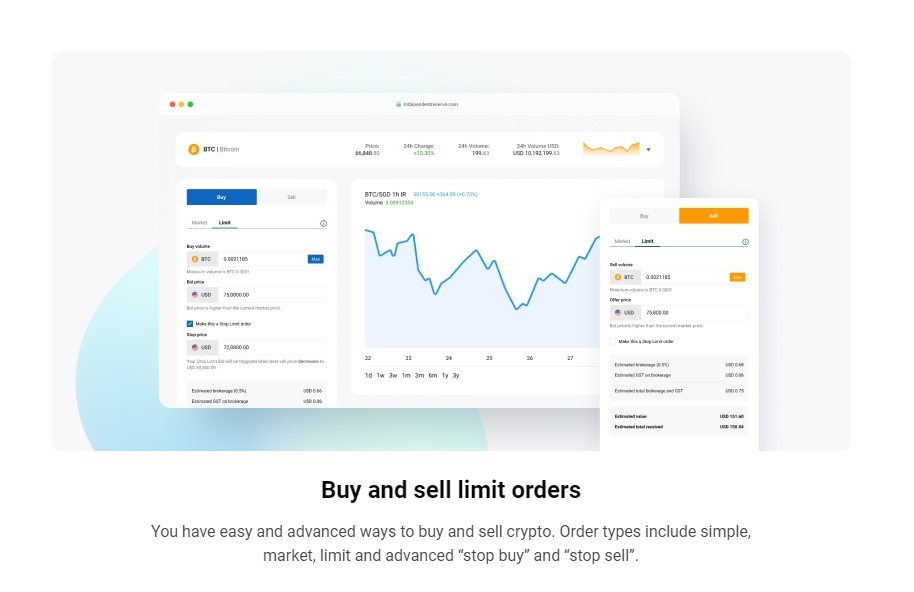 Here's the deal. Independent Reserve's order book supports many currencies, and it may automatically convert clients' requests into the currency of their preference. In a nutshell, this feature enables you to use the entire pool of the exchange's trading orders independent of the underlying fiat currency.
In turn, the underpinning algorithm allows you to acquire the lowest price for investing in crypto. As a result, the Independent Reserve's trading platform can accommodate various orders, including limit buy, limit sell, market buy, market sell, stop limit buy, and stop limit sell orders.
OTC Trading Desk (IR Wealth)
Independent Reserve's OTC (over-the-counter) Bitcoin and cryptocurrency trading desk caters to SMSFs, institutional clients, and savvy HNWIs, a.k.a. high net worth individuals.
Traders and investors can take advantage of the exchange's fast transactions and high global liquidity, as well as the experienced staff and flexible working hours (generally Monday through Friday, during local business hours).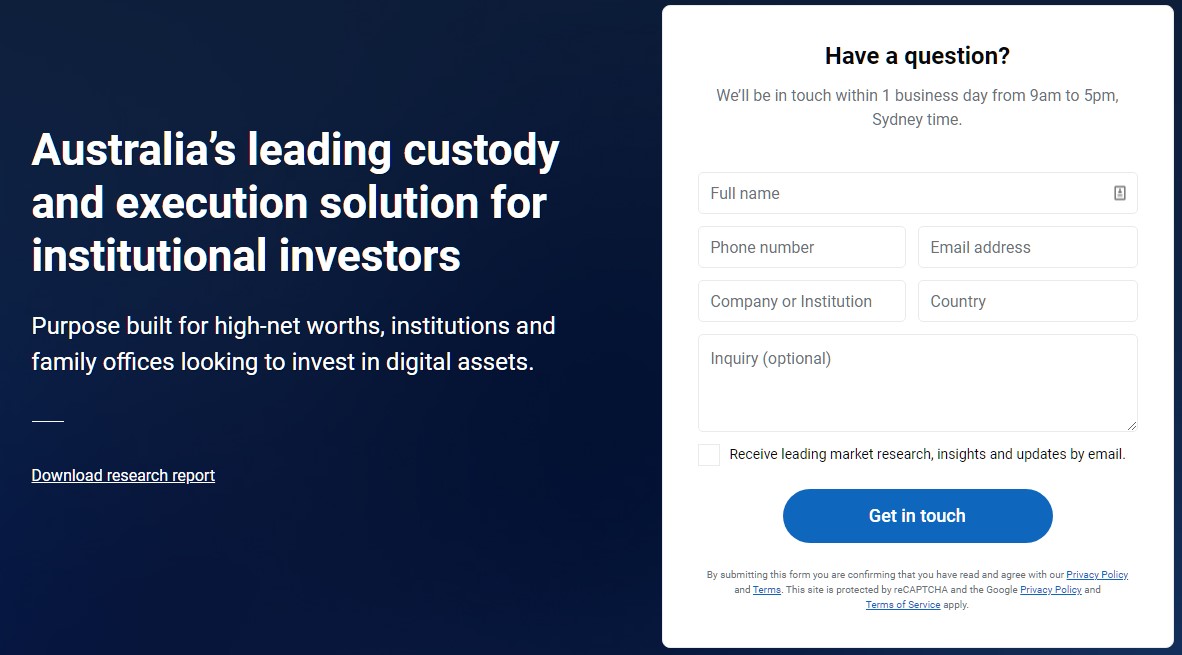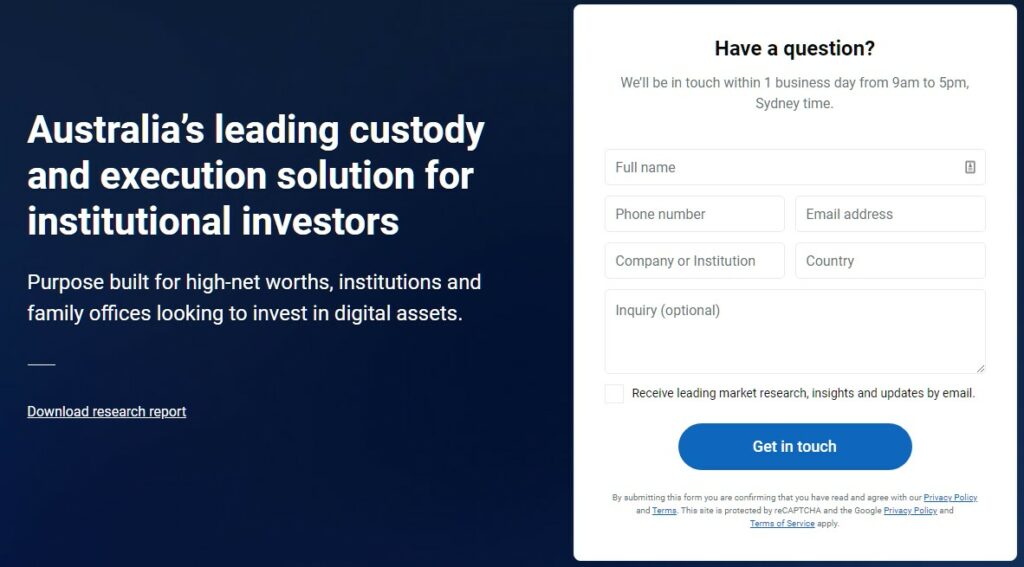 I have no doubt that using the Independent Reserve OTC service, or IR Wealth, comes with several advantages, one of the most significant being a reduction in pricing slippage.
You see, when trading through an OTC desk, slippage costs tend to decrease as transaction volume increases. In turn, this price effect motivates traders to invest in the platform's liquidity even more.
Cryptocurrency Tax Estimator
Given the ATO's strong focus on crypto, you must comprehend the monetary implications of investing in or merely holding cryptocurrency. Whether you made a profit or a loss from the purchase/sale of cryptocurrency or accrued interest on your digital coins during the past fiscal cycle (from 1 July to 30 June), you must include the total amount in your balance in your Etax Return for that fiscal year.
For this particular reason, Independent Reserve's crypto tax calculator is a standout feature. Built by KPMG, the tax estimator can be connected to the platform's user interface to provide you with tax estimates about your buying and selling endeavours. You have to admit that this is a highly useful tool for keeping your peace of mind while engaging in potentially profitable crypto trades.
Independent Reserve Fee?
When deciding on the best platform, I imagine that trading costs rank high on your list of priorities. But, I can assure you – with a bit of planning, you don't have to worry about going overboard with your spending with Independent Reserve. For your convenience, the costs of using this platform and their respective subcategories are shown below.
Deposit Fees & Withdrawal Fees
This particular exchange doesn't charge any costs for crypto deposits made by Aussie traders, but there's a limit up to which you can enjoy this benefit if you're an international trader. As things currently stand, you will be required to pay a fee of 15 NZD/USD each time you make a deposit smaller than 5,000 NZD/USD into your Independent Reserve account.
However, some payment providers charge processing fees if you choose their services to fund your trading account. For instance, ETF deposits above 100 AUD can be transferred to your account without transferring fees. Any deposits below this threshold will be charged 0.99 AUD in processing fees.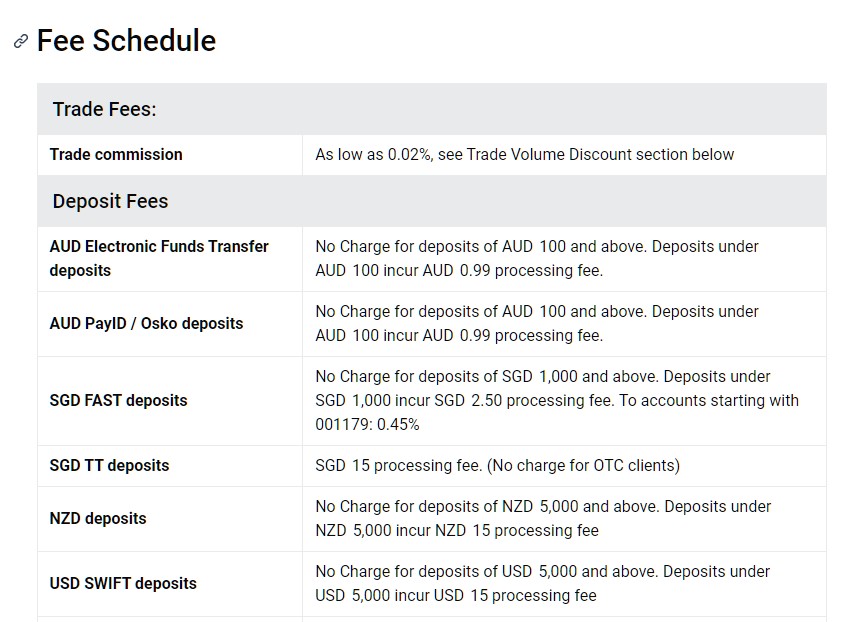 With Osko, there are also no Independant Reserve fees for deposits above 100 AUD. However, if you deposit less, you'll be charged a processing fee of 0.99 AUD.
On the other hand, if you want to move your crypto from the platform to an Australian financial institution, this action will result in a modest withdrawal fee. At this point, I'd like to caution you that you could also be charged 20 NZD per transaction, provided you plan on withdrawing your coins in NZD.
Last but not least, the withdrawals of AUD to Australian bank accounts are completed the following business day at no cost to you as their client.
Trading Fees
Independent Reserve imposes its trading costs according to your 30-day trading volume. These fees begin at 0.50% and can drop to as low as 0.02%, depending on your trading volume.
Security Features
There is no question that Independent Reserve takes the safety of its users and the platform very seriously. Within seconds after running a Google search on the Independent Reserve website, I slammed into a security wall.


Namely, all information on Independent Reserve's homepage is locked unless you prove you are a real visitor and not a spam bot. The security procedure just needs you to choose Independent Reserve photos of the item it's looking for, and you'll be allowed to access this service immediately.
In addition, the security framework of the exchange includes the two-factor authentication (2FA) protocol, which can be enabled using tools like Independent Reserve Google Authenticator or a text message. Conveniently enough, this protocol will notify you through email whenever there is an attempted login from an unauthenticated source.
Whitelisting of browsers and crypto addresses are also available. Every time you try to log in from a new IP address, the system will ask you for further security details. For the KYC checks, only the authorised controllers of the platform have access to the necessary documentation.
If there are disruptions to the secret information associated with your account, this protocol will halt any cryptocurrency and real-time withdrawal from the platform for 72 hours.
Finally, all of the data stored in Independent Reserve is encrypted and digitally signed using keys deployed across several databases worldwide.
The exchange also uses offline cold storage to keep 97% of the funds safe at all times.
But regardless of all these exceptional security features, you should always still vigilant for sites that imitate the exchange with Independent reserve logo. Such sites might be phishing sites, so always check that the domain is the right one.
24/7 Customer Support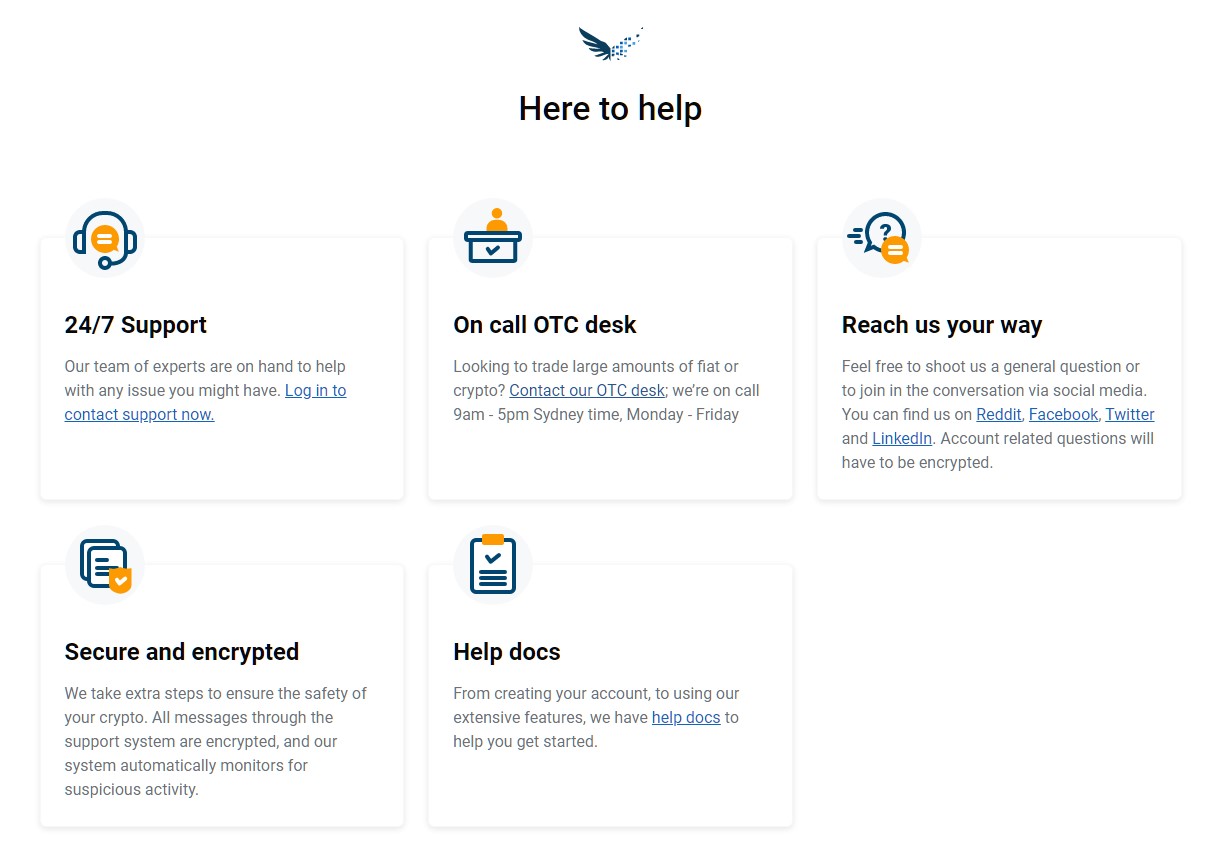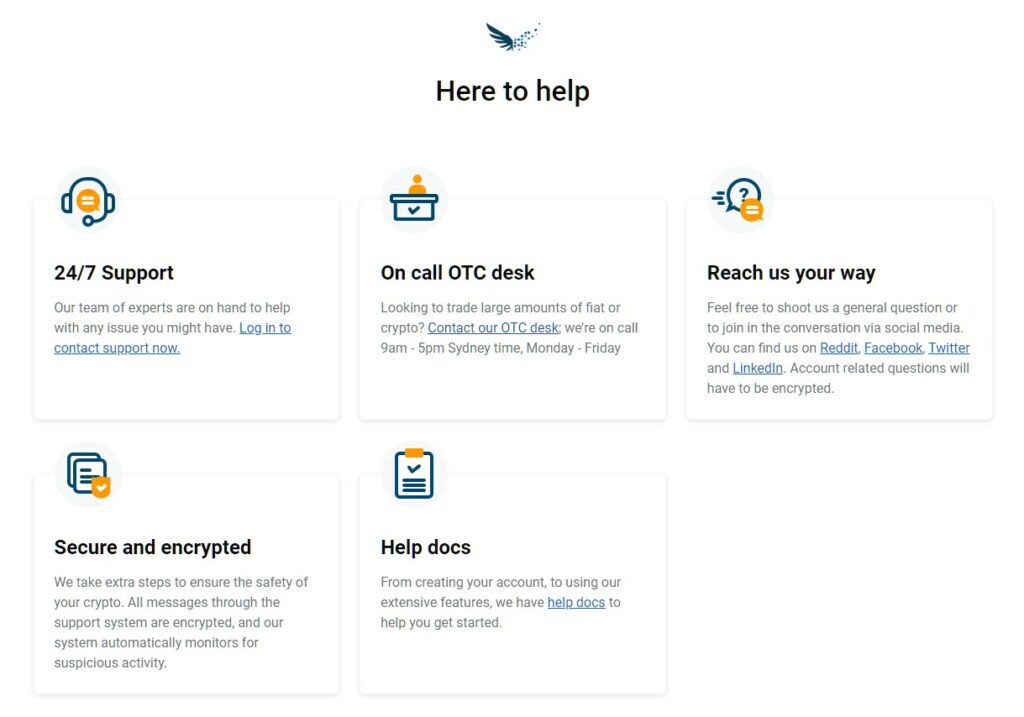 With Independent Reserve, you won't have to worry about ending up with your back against the wall. 24/7 customer support service is provided for all traders on the platform. Based on my personal experience, I'd say it's a pretty responsive and friendly support team of experts with the right information for you when you need it most.
The exchange also features a comprehensive knowledge base, help centre, frequently asked questions section, and a blog page where you can read up on the latest developments in the blockchain industry, better understand various crypto concepts, and potentially solve your trading problems.
Social Media Platforms
Independent Reserve maintains a sizable presence across a variety of social media platforms. If you'd rather use a social networking site like Twitter, Facebook, Reddit, or LinkedIn to get in touch with a company, the exchange has you covered there as well.
Which Payment Methods Are Accepted?
You have a variety of payment methods available to you for financing your Independent Reserve account. Some deposit options include bank transfer, POLi payments, PayPal, EFT, instant deposits facilitated by Osko, credit card/debit card transfers enabled by Simplex, SWIFT payments (exclusively for USD or SGD transactions) and PayID. Speaking of PayID, beware of PayID scam marketplace. You can find more about it on Reddit.
What I think is really great about this exchange is that converting one currency into another is quite simple, so you can easily calculate the value of your holdings against other currencies.
Creating an Account with Independent Reserve
In my experience, I didn't have to run in circles to get started with Independent Reserve. To be perfectly frank, launching your trading account is a breeze on this platform. Allow me to walk you through this procedure.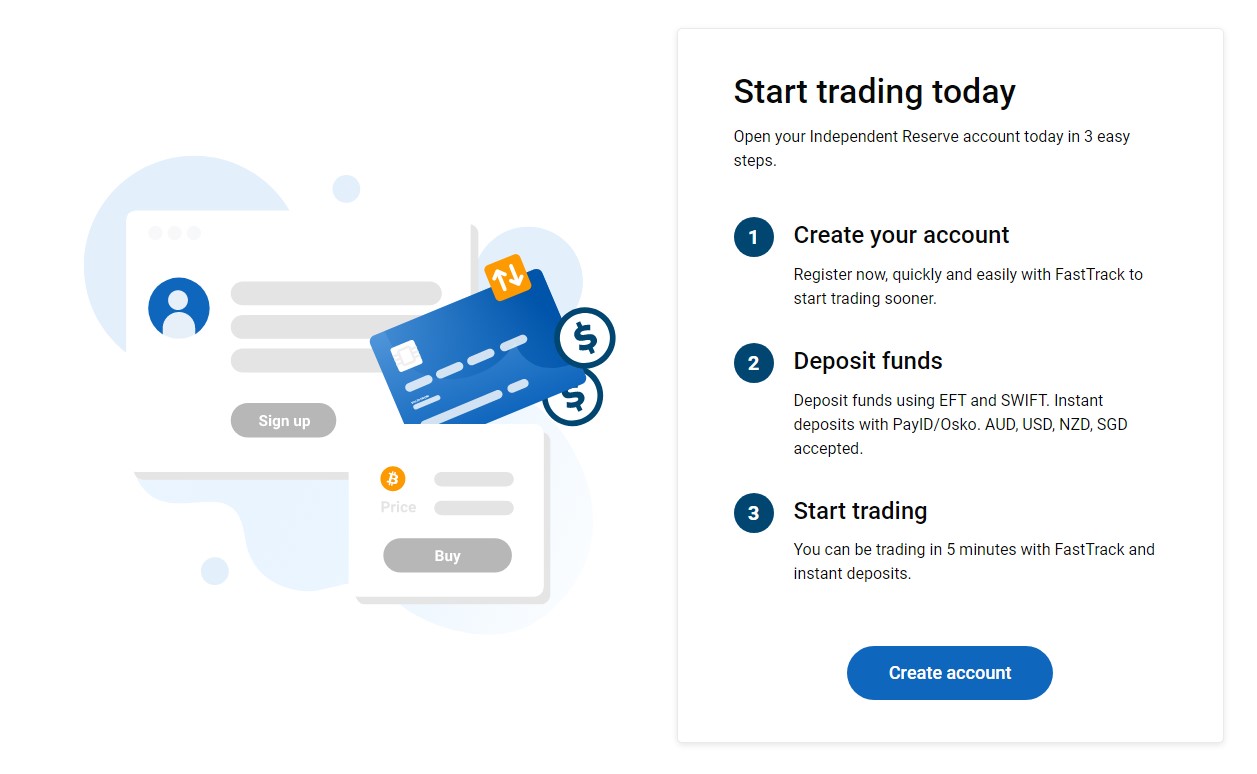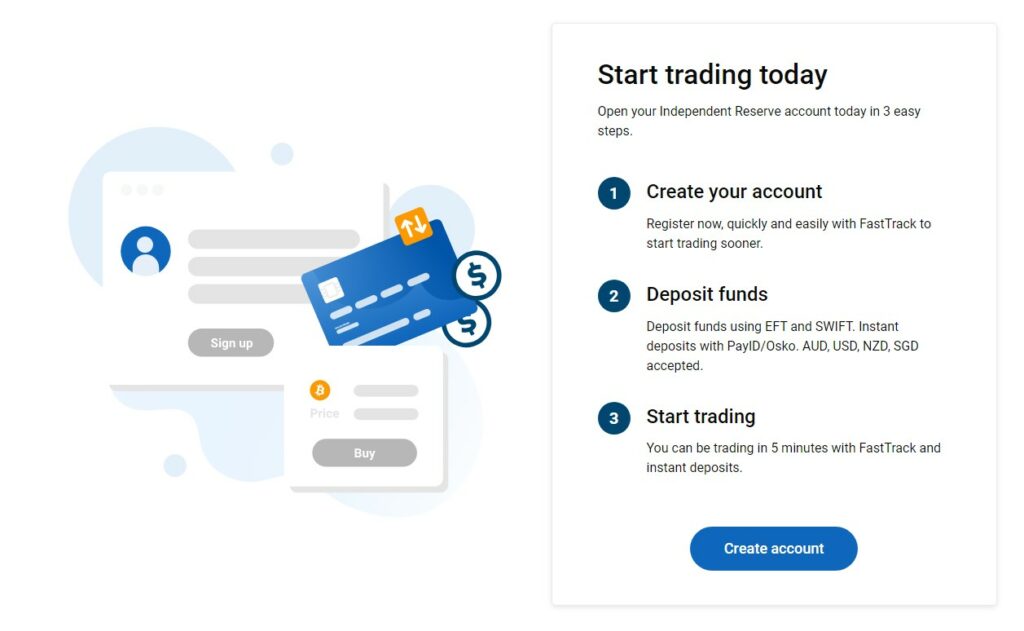 Create an Account
With a single tap on the Create Account tab in the upper right dashboard corner and a subsequent entry of your preferred login information, you're just a step away from having a fully functional account with this trading platform.
Provided you live in Australia and want to activate an individual trading account, you could be able to get a FastTrack login that lets you start trading and deposit money immediately. If you are an international citizen, though, please read on as I have some more information for you.
Account Verification
Independent Reserve is a regulated exchange, and as such, some security requirements must be met for a company, SMSF, or trust account to be verified as legitimate and to prevent money laundering. The same goes for international members who'd like to begin trading on Independent Reserve. If you fall in this category, you'll first need to verify your identity. Yes, I'm talking about the KYC procedure.
There will be a lengthy list of questions designed to ensure your identification. The information required varies from person to person based on the individual's citizenship. The exchange will compare the information you provide with the records in your home country to ensure its accuracy. This data will also be cross-referenced with AML and CTF databases to root out any potential illegal activity.
If all of your credentials are valid, your Independent Reserve trading account will be approved, and you'll be able to start making trades right away.
Enter Personal Details
By law, you must provide the exchange with your full legal name, birth date, and mailing address. Once this is complete, you'll be prompted to verify your primary and secondary contact numbers and email addresses.
During this account setup step, the exchange will prompt you to secure your trading profile by enabling the 2FA protocol and a strong password.
In this regard, I found the possibility of setting a duress password for the trading account to be a brilliant addition to a trader's security on Independent Reserve. If you feel unsafe typing in your usual username and password, you can input the duress password instead. As a result, the platform's security system will be alerted to suspend your account, thus preventing any unauthorised access to your account.
Funding your Account
If you are an Australian resident, you can use Electronic Fund Transfers, PaidID/OSKO, or SWIFT deposits to add Australian Dollars to your newly opened account.


Deposits made via EFT typically clear within two business days. After your account has been approved, you will be given a special deposit reference to use when creating your future EFTs. After the deposit is processed, you'll get an email to inform you that the money has landed in your account, and you can start trading.
Any Osko deposits up to $20,000 placed in a 24-hour time frame will be reflected immediately in your trading account. In the case of larger deposits, the processing time is increased to one business day.
As a non-Australian resident, you can send funds to the Independent Reserve bank account in the United States or New Zealand employing the SWIFT money transfer system. To avoid confusion, it is recommended that the name of the account providing the money is the same as the name on the profile of the Independent Reserve account.
My piece of advice is to double-check everything because funds transferred to the wrong account number won't end up deposited into your account. Also, get ready for the waiting game, as it usually takes two to three business days for SWIFT transactions to clear.
Competitors vs Independent Reserve
Swyftx vs Independent Reserve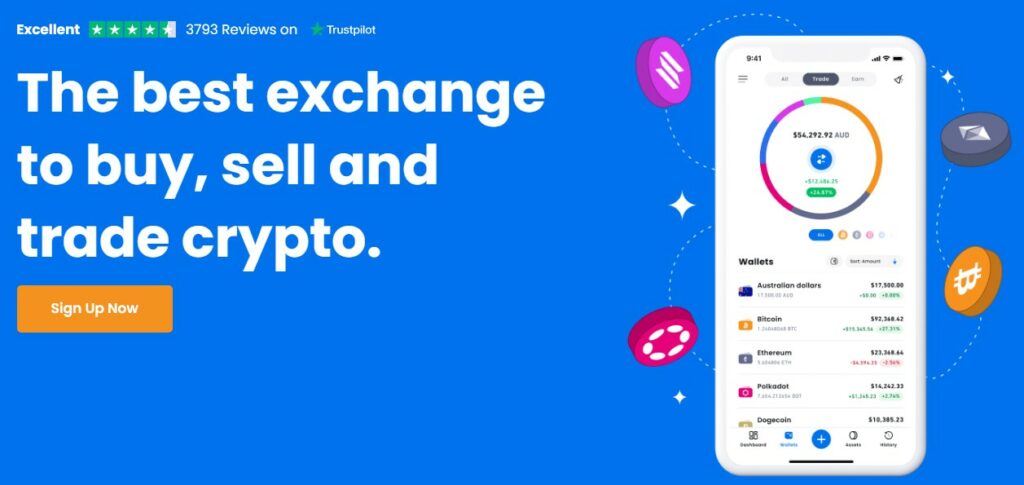 Fees, the number of assets available for trading, and deposit options are where Swyftx and Independent Reserve diverge most from one another. Swyftx outperforms Independent Reserve in several ways, including the costs aspect, the number of tradable assets, and the number of deposit options.
Binance Australia vs Independent Reserve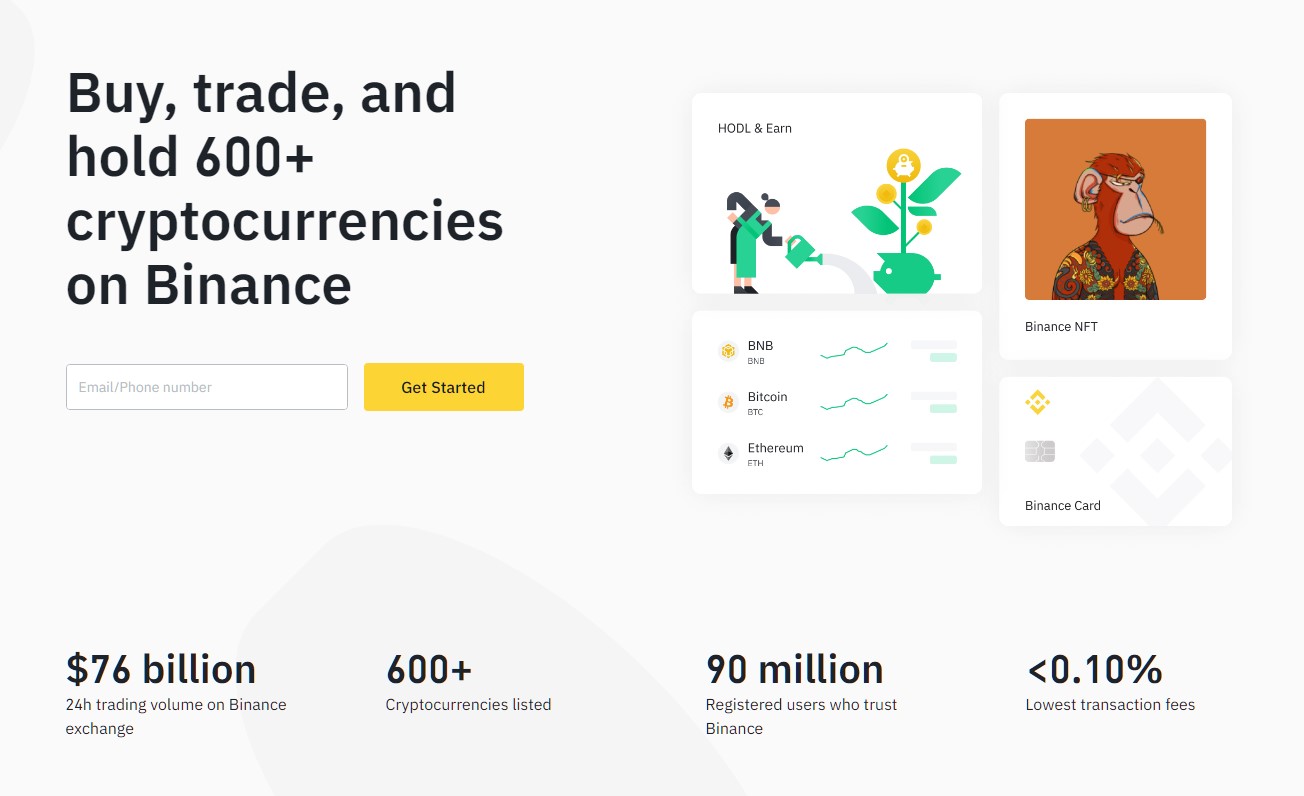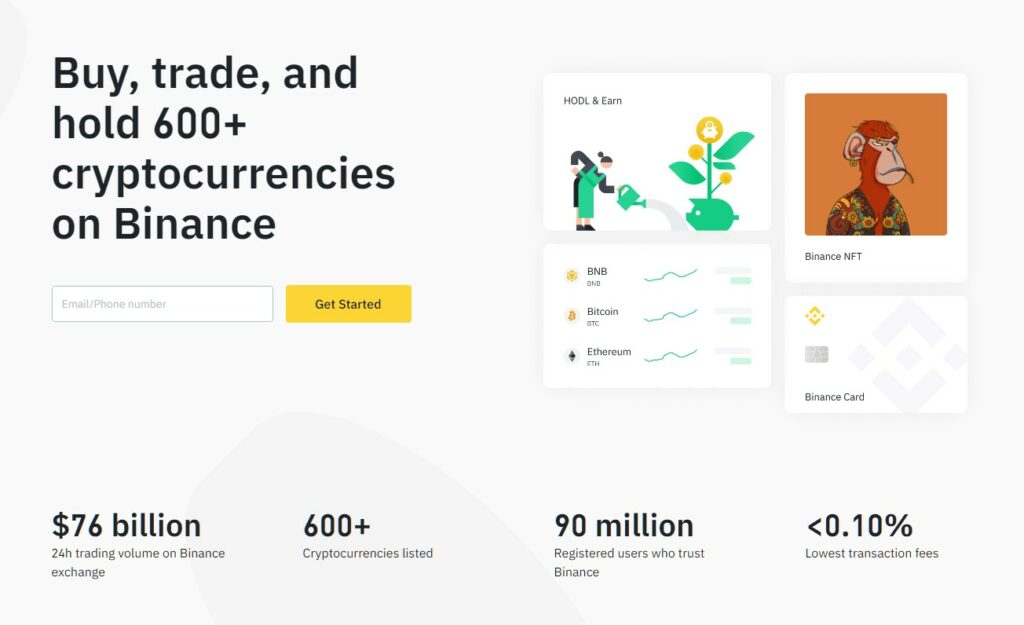 When comparing fees, currencies, features, deposits, and withdrawals in Australian Dollars, Binance is superior to Independent Reserve. Independent Reserve, on the other hand, is not only the more user-friendly exchange, but I also consider it the safer platform, being regulated and not having experienced any security breach.
Coinbase vs Independent Reserve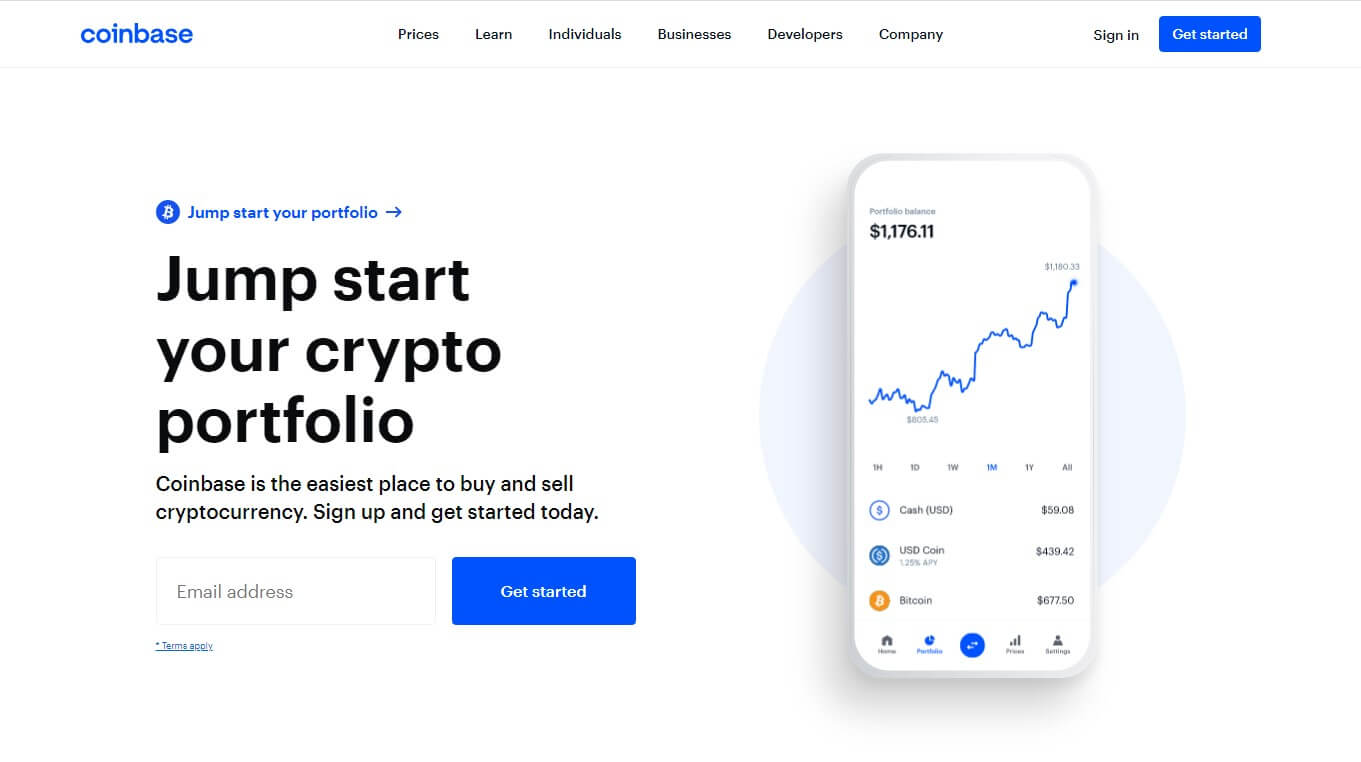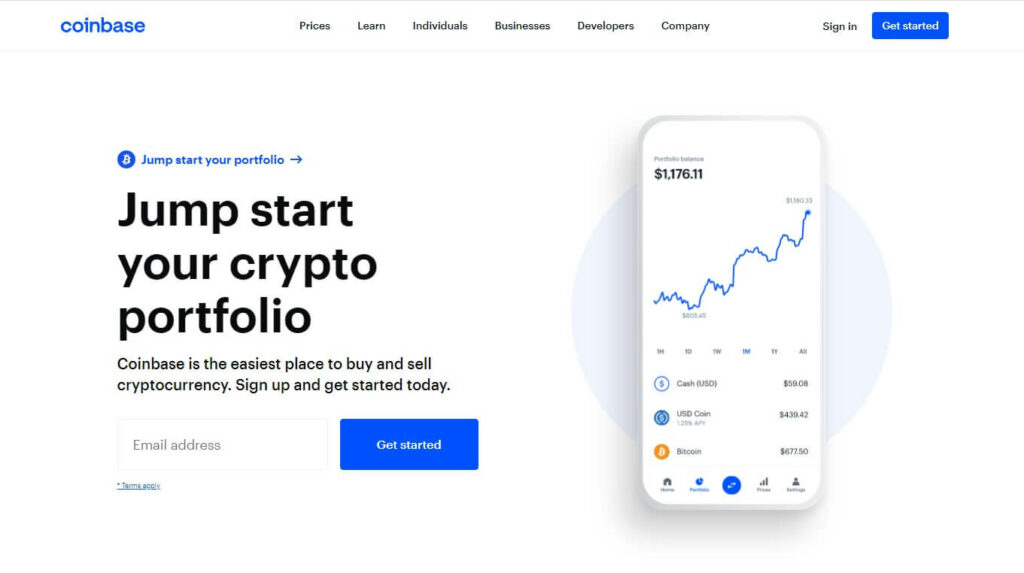 Independent Reserve wins this exchange comparison because it has premium 24/7 customer service and lower trading fees than Coinbase. These two exchanges operate in a manner that is quite comparable to one another in all other respects, especially considering the ease of use of their platforms.
CoinSpot vs Independent Reserve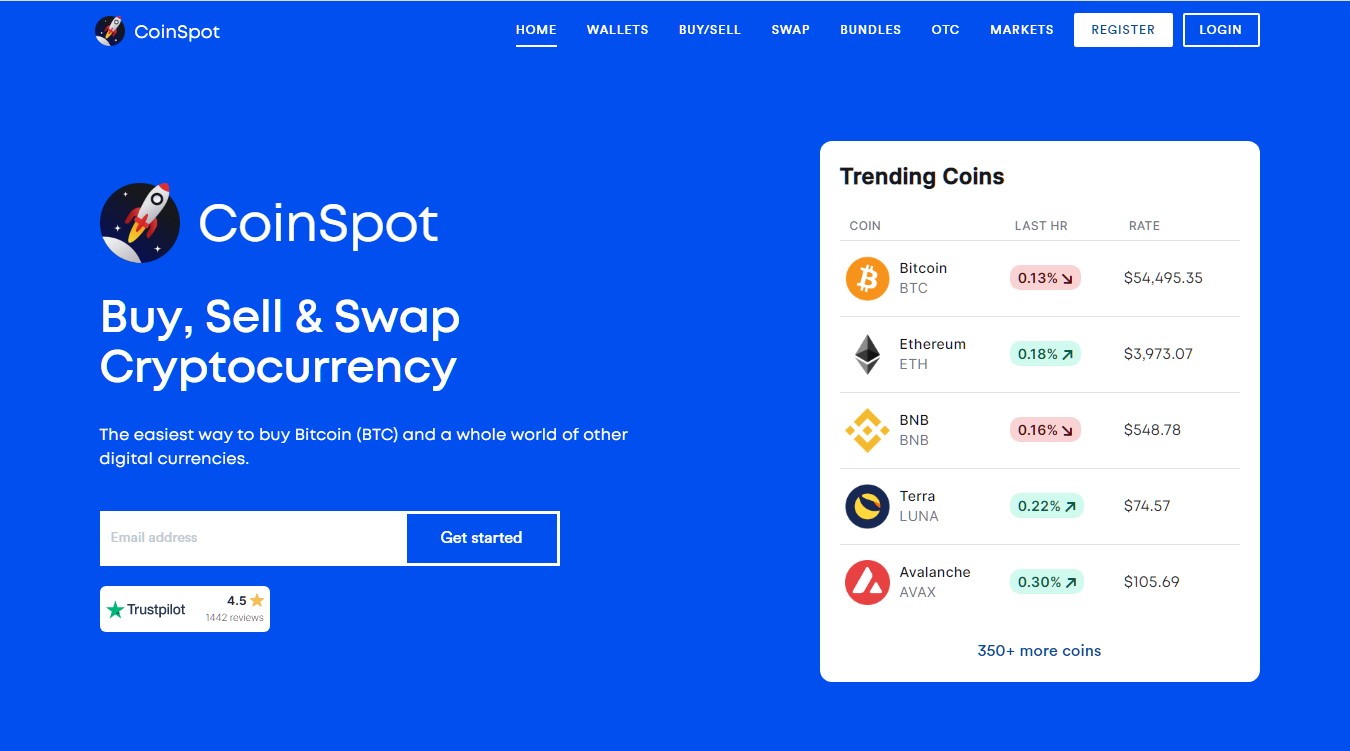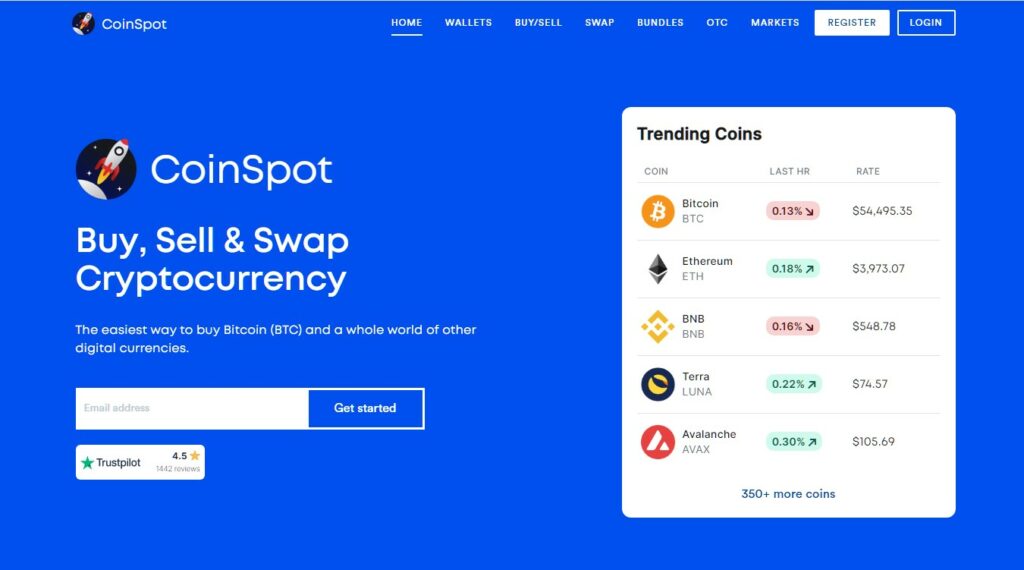 Independent reserve is similar to CoinSpot in practically every respect, except that it has somewhat reduced trading costs. These two platforms, in particular, are among the safest, most trustworthy, and most dependable Australian exchanges, and they have rightfully earned their positions at the very pinnacle of their field. There are really no CoinSpot problems when we tried the platform, so if you think Independent Reserve is not for you, you should definitely check out CoinSpot.
Conclusion
After exploring all aspects of trading through the exchange in this IndependentReserve review, I can safely say that Independent Reserve offers a seemingly invincible platform impregnable to hacking, counterfeiting, and scam.
The platform even includes crypto insurance to protect you from losses in the case of a natural disaster, which only confirms my assertion.
The fact that you may use fiat currency to finance your Independent Reserve account is a major plus in my book. However, I must admit that the platform does have a low currency supply and lacks some more volatile products like margin trading.
Nevertheless, once you factor in access to a plethora of trading products and services and the assurance provided by the exchange's protective measures and standards, it becomes clear that Independent Reserve deserves all the accolades it has received for being one of the best Australian cryptocurrency exchanges.
Sign Up with Independent Reserve
Frequently Asked Questions
What is a Cryptocurrency Exchange?
A cryptocurrency exchange is a service that changes digital currencies, including Bitcoin, Litecoin, Ethereum, and more, for other digital currencies or fiat currencies. Fiat currencies are the paper currencies of your country, such as dollars, pounds, or Euros. Coinmama's platform allows you to exchange your fiat currency via credit or debit card or bank wire transfer for several cryptocurrencies. You may trade your cryptocurrency for fiat currency through a cryptocurrency exchange.
Who Owns Independent Reserve?
Independent Reserve is a publicly listed business in Australia with a tax identification number of 46 164 257 069. Mike Tilley, Merrill Lynch Australia and Challenger Limited's former CEO, presides over Independent Reserve's seasoned advisory board.
How Do I Withdraw from Independent Reserve?
When you request a withdrawal from your USD account to your AUD bank account, the funds will first be converted to AUD by the exchange. From the Accounts tab, you can request a withdrawal of your AUD, NZD, USD, or SGD funds.
Transfers to bank accounts in allowed jurisdictions can be made in AUD, NZD, USD, or SGD, as long as the username on the account matches the identity on your Independent Reserve account.
All cryptocurrency withdrawals on Independent Reserve commence in the Accounts section, where you must select the relevant cryptocurrency. After entering the cryptocurrency address and desired payment amount, the system will create a pending transaction, and the specified funds will no longer be accessible for your immediate use.
Can I Buy Bitcoin From Independent Reserve?
Yes. After signing up for an account and passing the verification procedure, you'll have quick access to buying Bitcoin and other cryptocurrencies on the platform.
Buying Bitcoin on Independent Reserve is very simple and only requires you to fund your trading account, select Bitcoin as the cryptocurrency you wish to buy, enter the amount you want to spend, and select the 'Buy' option. This transaction is expected to take no more than a few moments, after which your bitcoins will be instantly available in your crypto wallet.
Is Independent Reserve Regulated?
Yes. Since it is physically located in Australia, Independent Reserve is bound to abide by the same financial market legislation and rules as the rest of the Australian economy.
To add to its distinction, Independent Reserve is the first cryptocurrency exchange governed by Australia's Transaction Reports and Analysis Centre (AUSTRAC). This organisation's principal focus is ensuring that Australia's financial companies adhere to the country's Counter-Terrorism Financing and Know Your Customer legislation.
What Countries Can Use Independent Reserve?
Australia, Austria, Belgium, Canada, Czech Republic, Denmark, Finland, and France. 
When Did Independent Reserve Start?
Does Independent Reserve Offer Staking?
Unfortunately, Independent Reserve is yet to offer cryptocurrency staking on its platform. 
Is Independent Reserve Legit?
They are the most trustworthy exchanges in Australia for trading in consumer goods and institutional investment as well as offering an excellent open order book, which is different from the majority of Australia exchanges.
How Long Does It Take To Withdraw From Independent Reserve?
SWIFT transfers generally take between 2 and 3 business days to make funds at your disposal. You should allow at least three business days prior to making an inquiry regarding funds that are that are not yet showing up in your account.
Is Independent Reserve Insured?
Independent Reserve is an audited and Gold Certified member of Blockchain Australia that represents the industry of Cryptocurrency in Australia. Independent Reserve is also the first Australian crypto exchange that offers insurance for their crypto-assets.
How Do I Deposit Money to the Independent Reserve?
Log into the account you have created with your Independent Reserve account. Click on Accounts. Under the heading Account Balance locate the SGD row, and then click deposit. A deposit Funds into an SGD account screen pop up with the bank information of the bank where you have to deposit the money.
How Do I Deposit Aud to the Independent Reserve?
Customers from Australia can make immediate Australian dollars (AUD) deposits to their accounts using Osko. Osko system. Log in to Your Independent Reserve account. Choose from the menu at the top. Then, in the Account Balance table aligned with AUD, click Deposit.
Independent Reserves Alternatives
How we review crypto exchanges.
We test, review and rate exchanges by looking at their ease-of-use, trading features, customer support, and fees. Analyzing user reviews helps us assess the overall sentiment and finalise our opinion and review.