Quick Summary: Kraken is one of the longest-running crypto exchange platforms worldwide, operating in the USA since 2011. In fact, Kraken is not just one of the oldest crypto exchanges out there but among the largest. Its popularity is mainly due to its outstanding regulations and safety measures, ease of use, and low fees.
With support of more than 185+ crypto assets, 7 fiat currencies, and extra features such as OTC desk, futures trading, margin trading, and staking, we're confident that Kraken is perfect for anyone, whether you're an institutional client, a seasoned day trader, or a beginner!
Sign up now using the button below, and read on!
The increased popularity of cryptocurrency trading and crypto purchases in recent years is responsible for the incredible and rapid boom of digital marketplaces. From Bitcoin exchanges to crypto brokerages and trading platforms, the Internet is full of platforms competing for the traders' attention.
In order to discover which ones are respectable among experienced traders, one can simply browse through online user reviews. However, their experience might be subjective as it largely depends on their needs, investments, and trading strategies. This is why we recommend reading our detailed guides on the most popular cryptocurrency exchanges instead, as we cover both the good and the bad sides.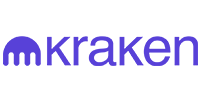 Today, we'll be looking at Kraken in this Kraken Review, an advanced trading platform based in the United States, famous for the variety of crypto and fiat currency pairs, unparalleled security, and its dedicated team of experts.
Kraken at A Glance
Website: https://www.kraken.com/
Country: San Francisco, USA
Mobile App: Available
Payment Methods for Deposit: Bank Transfer (ACH) SEPA, Debit/Credit cards (not available to US residents) OSKO/Bank transfer, FPS/BACS CHAPS, SIC, Fedwire, SWIFT, Wire transfer, Apple Pay, Google Pay, Cryptocurrency
Fiat Currencies: USD, EUR, GBP, JPY, CAD, CHF, AUD
Cryptocurrencies: BTC, ETH, XRP, BCH, EOS, LTC, ADA & 185+ more
List of Features
Purchase crypto directly using fiat currency.
Forex trading
Trustworthy, safe and reliable cryptocurrency exchange
Kraken Terminal Advanced charts and tools perfect for advanced traders
Low trade fees beginning at 0.16 percent or 0.26 percent (maker/taker)
Live Chat support 24/7
Kraken API to automatically trade cryptocurrencies on Kraken using code
High Kraken staking rates
Futures trading and margin trading
OTC desk with personal service for big trades
Over 185+ different cryptocurrencies available
Market crypto for trading or buy/sell immediately
Mobile applications are available for iOS and Android
You can invest in crypto and fiat in order for interest to increase your investments
Pros
Live Chat support is available with an actual person 24 hours a day, 7 days a week
Secure, well-established and trusted cryptocurrency exchange since 2011.
A simple interface for novices
Advanced features that are not available on other platforms that are user-friendly for example: margin trading, futures trading forex trading, OTC desk
More than 185 cryptocurrencies as well as 7 fiat currencies are supported
Cons
It does not provide as many cryptocurrencies more popular exchanges.
Dynamic withdrawal fees
About Kraken
Kraken is one of the top US-based cryptocurrency exchanges that have managed to stand the test of time. Although built and launched in 2011, Kraken's trading platform was put into function two years later. The reason for this could be that Kraken's founder and current CEO, Jesse Powell, was busy helping out Mt. Gox – one of the first popular crypto exchanges – rise back from the ashes after a terrible security breach.
Prior to Kraken, Powell founded Lewt, Inc., a company for in-game virtual currencies, the ones used for creating accounts or unlocking additional features in online video games. It was only later on that he became interested in launching a digital currency exchange himself.
What Country Is Kraken Based In? 
So, where is Kraken headquarters? The company's main office is located in San Francisco, California, but its services are available to an international clientele – for example, there's a Kraken Singapore office.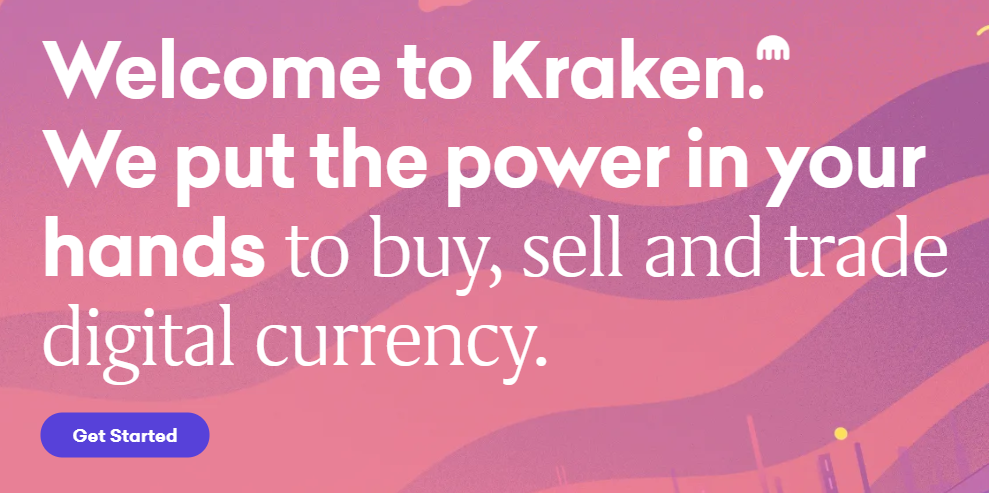 Kraken is respected for its transparency and continual effort to prove that crypto platforms are far from high-risk marketplaces that one should avoid. A major part of this process is educating not only the mainstream audience but also the big players (governments, financial institutions, and regulators) on the potential of the blockchain ecosystem. In 2020, Powell was added to the list of "Most Influential People for 2020" by CoinDesk, a leading online crypto magazine.
What Crypto Can I Buy on Kraken – How Many Crypto Does Kraken Have?
Kraken is an altcoin exchange, meaning it supports a range of cryptocurrencies such as Polkadot, Solana, and XLM, not only the most popular regular cryptocurrencies but also stablecoins, DeFi tokens, and other newly-developed assets. This also means that Kraken offers hundreds of trading pairs (against crypto and fiat currencies) and keeps increasing their number as its services expand across new markets.
For instance, Kraken has recently added 26 trading pairs, so that over 14 new assets are now available to Australian and UK traders, against Australian Dollars (AUD) and Pound Sterling (GBP) respectively.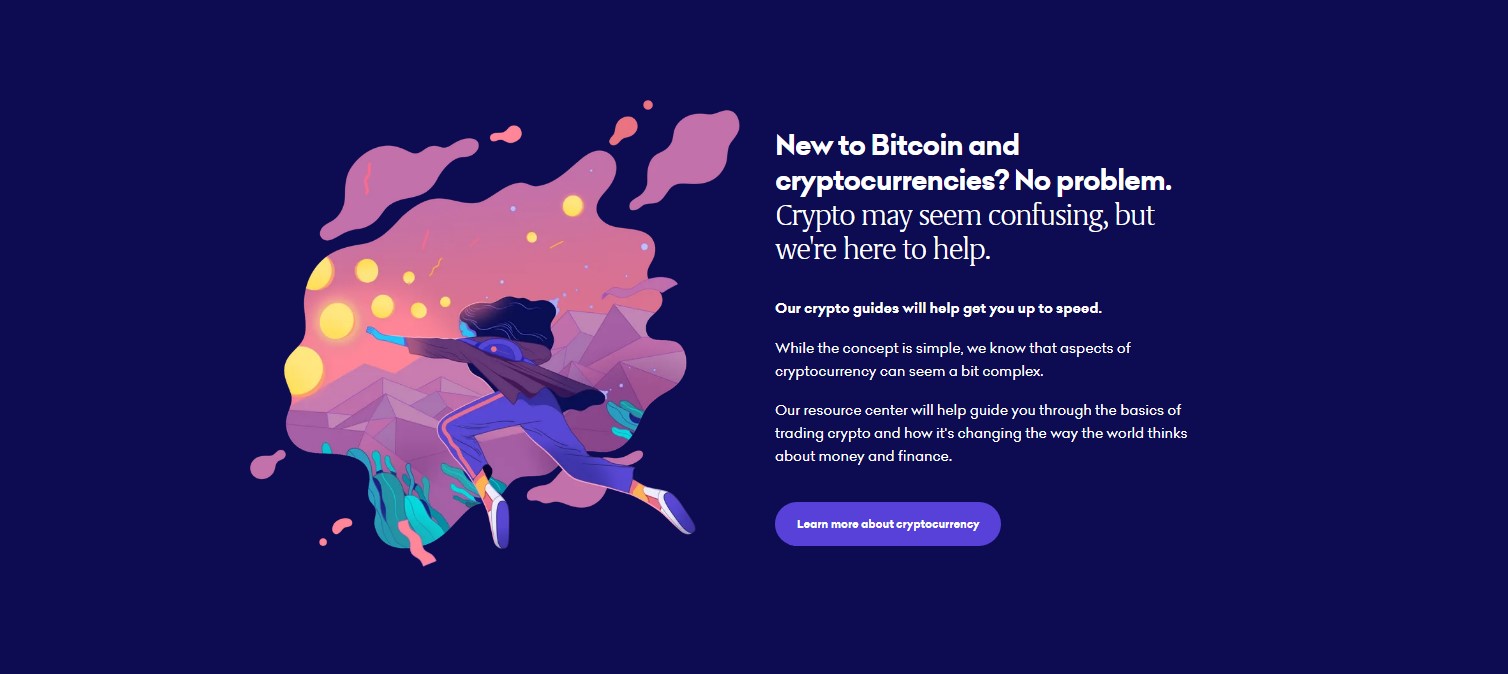 As a fiat gateway, Kraken lets you purchase crypto with fiat currencies. If you want to pay in USD, you can deposit funds via Fedwire or wire transfer, SWIFT, Etana Custody, or via Silvergate Exchange Network (SEN). These transfers take between 1-5 business days. You can deposit Euro and CAD via SEPA bank transfer, wire transfer, or Etana Custody.
If you want to buy crypto instantly, you can do that via your credit or debit card (provided it's a Visa or MasterCard). Every purchase incurs a 3.75% fee + 0.25 EUR. The minimum amount is 10 EUR, while the maximum amount is 4,000 EUR per week.
What Are Kraken Fees?
Like Binance, Coinbase, and many other crypto exchanges, Kraken mainly uses a maker and taker fee model. Basically, this means users get a lower fee rate if they add liquidity to the market rather than taking it away.
Maker fees are applied when crypto investors put in trade orders that are not immediately matched with orders already on the books. Maker fees make demand for more cryptocurrency, hence the term "maker."
On the other hand, Kraken taker fee is applied when the investors' orders are matched with orders already on the books. It is called a "taker fee" because it takes an already existing coin off the market, thus reducing liquidity.
Kraken uses a maker and taker trading fee schedule based on its users' 30-day trading volume. Here's an overview of the schedule: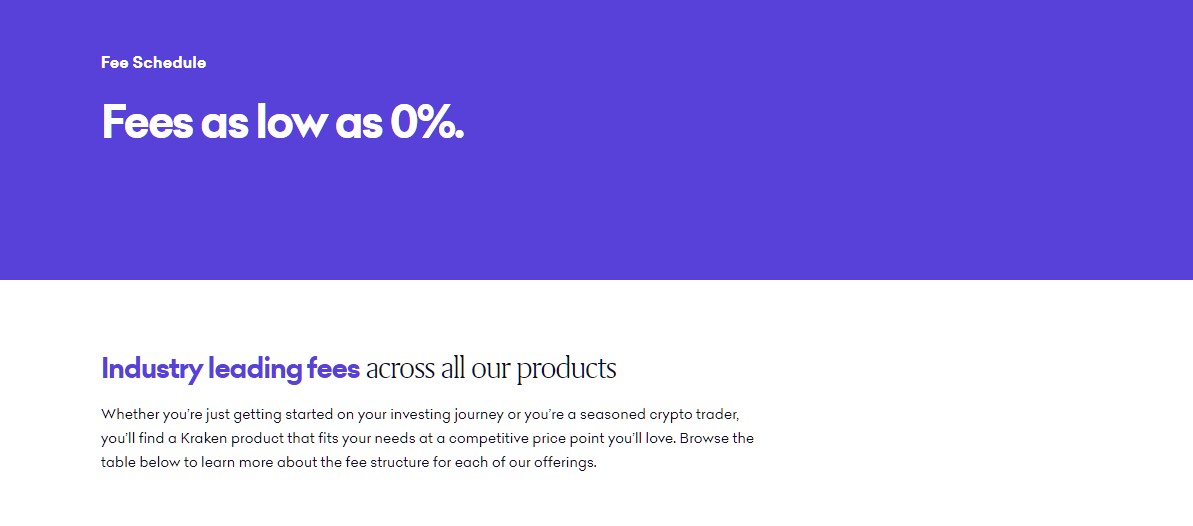 Instant Buy
Trading Fees
Online Banking/ACH Processing Fee
Digital Wallet Payments Processing Fee
Payment Card Processing Fee

0.9% fee for any stablecoins**
1.5% fee for any other crypto or FX pair

0.5%***

3.75% + 0.25c***

3.75% + 0.25c***
Kraken Pro
| 30- Day Volume (USD) | Taker | Maker |
| --- | --- | --- |
| $0 – $50,000 | 0.26% | 0.16% |
| $50,001 – $100,000 | 0.14% | 0.24% |
| $100,001 – $250,000 | 0.12% | 0.22% |
| $250,001 – $500,000 | 0.10% | 0.20% |
| $500,001 – $1,000,000 | 0.08% | 0.18% |
| $1,000,001 – $2,500,000 | 0.06% | 0.16% |
| $2,500,001 – $5,000,000 | 0.04% | 0.14% |
| $5,000,001 – $10,000,000 | 0.02% | 0.12% |
| $10,000,000+ | 0.00% | 0.10% |
As far as deposit fees go, FedWire, Etana Custody, SWIFT, and SEN deposits are free. For most deposit methods the minimum amount is 1 USD although if you pay through Silvergate, the fees and limits are higher. Kraken offers an extensive list of trading options so it's always best to consult their official website. You can see Kraken fees in more detail here.
Kraken's fees become more attractive when you use its more advanced features. Also, trades placed through Kraken's instant buy option come with extra processing fees and don't count toward users' 30-day volume.
Trading Features
Margin Trading
Kraken is probably best-known as a margin trading platform. This trading feature allows traders to trade cryptocurrencies with borrowed funds. Based on your initial investment (your margin), you're eligible for a certain ratio (or leverage). Kraken, for instance, allows up to 5x leverage on both long and short positions.
The list of available cryptocurrencies for margin trading includes Bitcoin (BTC), Ethereum (ETH), Ripple (XRP), Tether (USDT), Litecoin (LTC), Ethereum Classic (ETC), Monero (XMR), Augur (REP), Tezos (XTZ), Cardano (ADA), DASH, LINK, EOS, TRN, and USDC.
Although Kraken has relatively low fees for margin trading, it also charges for keeping your position open. Every four hours the platform incurs a small rollover fee (maximum 0.2%) on top of the existing fee for creating the order.
Futures Trading
Experienced traders might be interested in futures trading as well. This option lets you buy or sell crypto assets on a given date in the future for a fixed price. This way, you can lock in your profits even when trading on a volatile market such as the crypto one.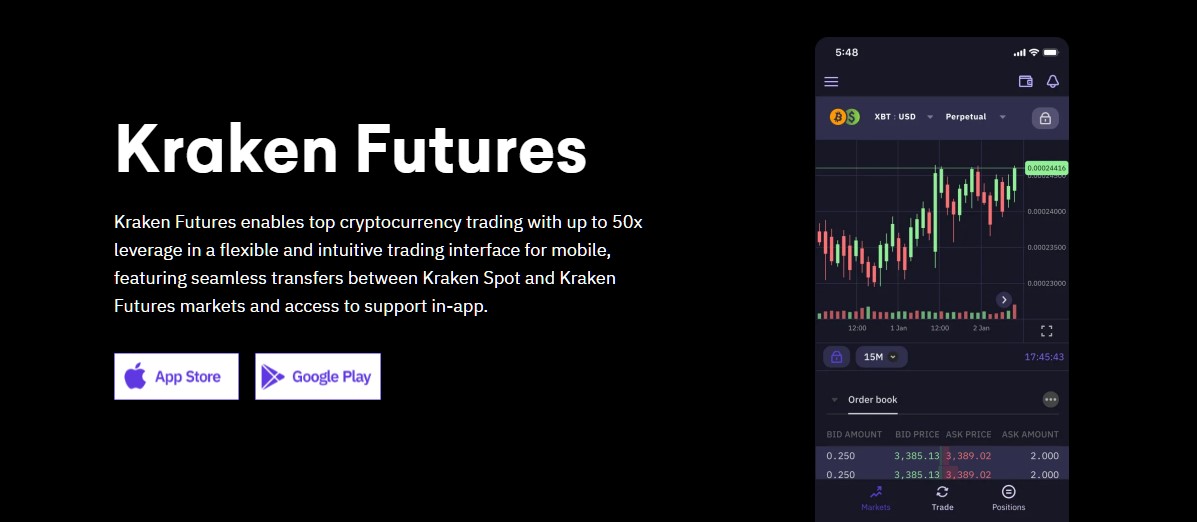 Futures trading looks attractive to someone who likes speculating on asset prices and profiting from their predictions. However, traders who decide to try this feature should be extra careful with the risks they take.
OTC Desk
Kraken offers over-the-counter (OTC) trading on a separate platform built for high net-worth individuals and institutions who need deep liquidity to place large orders that would otherwise disturb the market if placed as a regular order on a regular exchange. On top of that, Kraken makes sure that such large sums are traded in a most secure manner. The OTC services come together with 1-on-1 consultation with Kraken's experts and are open 24/7.
Kraken Customer Service
Another thing that Kraken exchange crypto excels at is customer support despite (or maybe because of) the fact that the platform has experienced a 6x surge of new users in the last couple of months.
Apart from the support ticket system whereby customers send their queries via email and wait for one of their customer agents to reach back and solve their problem – Kraken website claims that its team has resolved over 3 million tickets so far – users can turn to the 24/7 live chat to talk to Kraken's team of experts for a quick fix.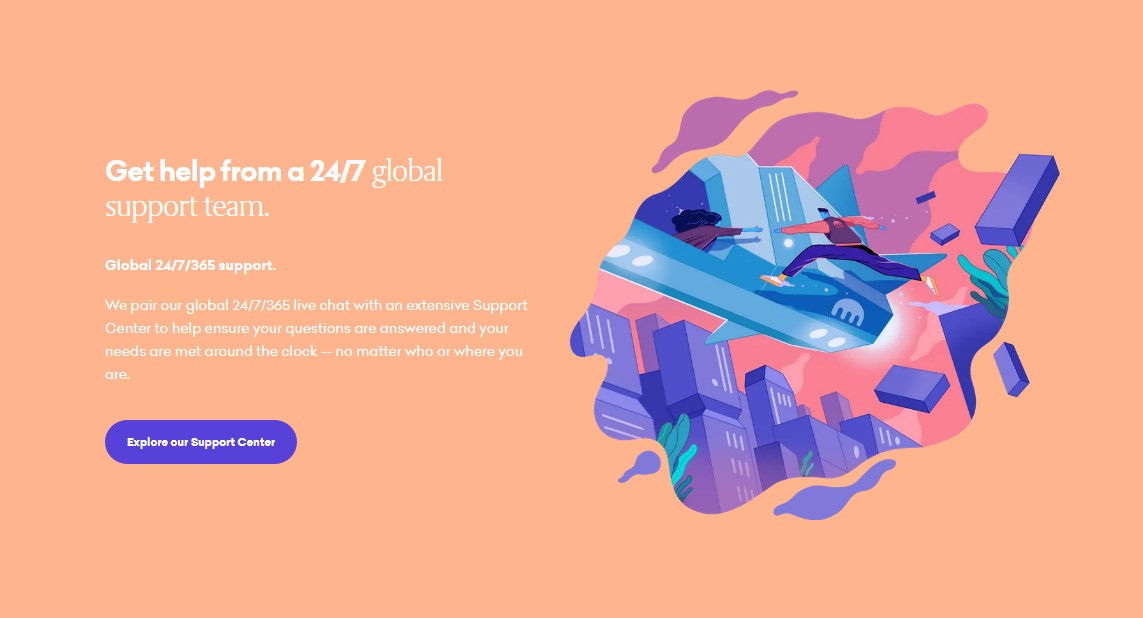 In addition, Kraken has a special group of employees called Client Engagement Specialists, all of them experts in the crypto industry who marvel at providing financial advice with personalized solutions.
Finally, customers are more than welcome to visit Kraken's website Help Center and browse through their FAQ section, educational guides, and the robust Support Library, with data based on client interaction.
Kraken Regulation: Is Kraken a Safe Exchange?
One of the most frequently asked questions asked by individuals who want to try the platform is whether Kraken regulated or not. Kraken is one of the most trusted crypto marketplaces with an unmatched security policy. It's registered as a Money Services Business (MSB) with FinCEN (USA) and FINTRAC (Canada). It's also regulated in the UK by the Financial Conduct Authority (FCA), and by ASIC in Australia.
As a fully-compliant business, Kracken crypto exchange adheres to these regulators' AML and KYC policies. In order to access higher tiers and additional funding options, customers are required to verify their identity and provide a legitimate photo ID.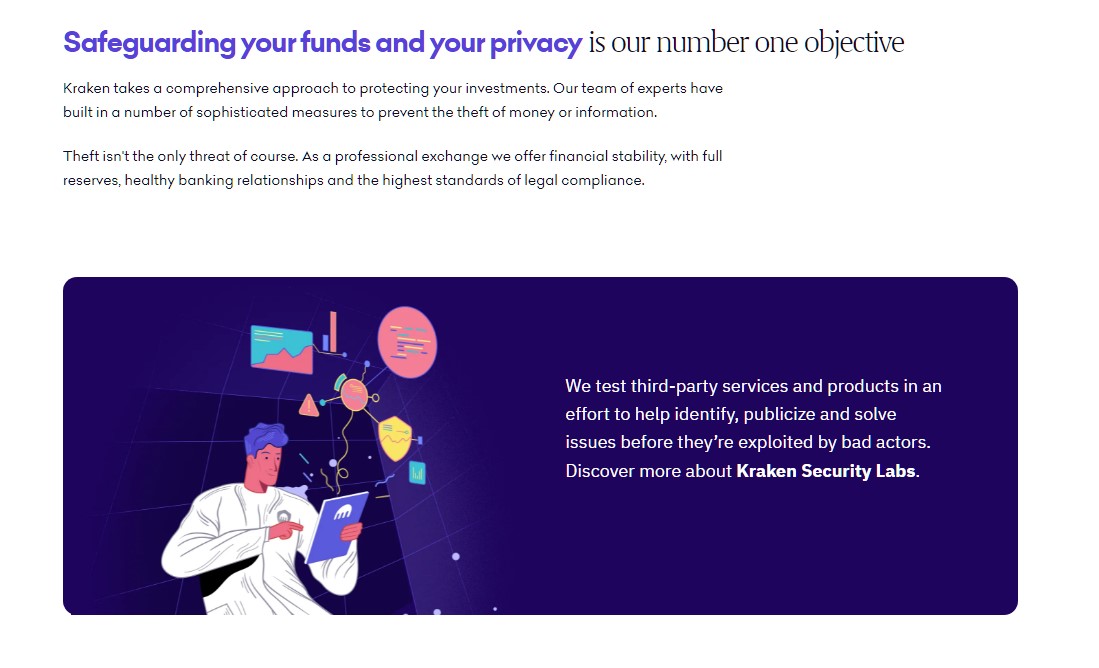 Kraken encrypts all its data and performs frequent security audits. It stores 95% of user deposits in offline, cold storage. Accounts are secured with two-factor authentication (2FA) through Authenticator App or Yubikey, with a Global Settings Lock (GSL) which lets you lock your account for a certain period of time and prevent others from making changes and compromising it, and a Master Key that helps you regain access to your account if your email was compromised.
Another indicator of the platform's dedication to security is the fact that Kraken excange has become the first cryptocurrency exchange to charter an SPDI bank in the US which will be very digitally asset-focused.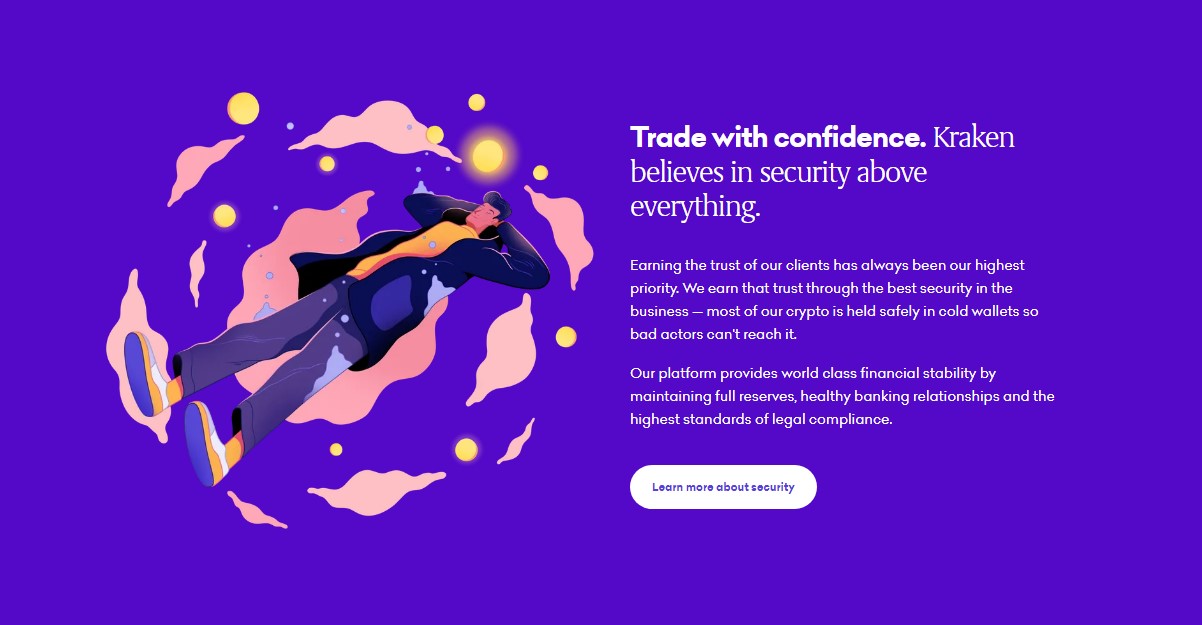 This step has allowed Kraken to avoid a state-by-state regulatory approach but earn a regulatory passport instead. By becoming a bank and getting Kraken license, Kraken is also able to get direct access to federal payments infrastructure and be able to integrate banking and funding options for its customers in a more seamless manner.
Summing It Up
So, what distinguishes Kraken from other popular trading platforms?
Apart from the range of trading features, cryptocurrencies, and payment methods, what sets Kraken apart is its different approach towards promoting and simplifying crypto trading.
Kraken manages to popularize digital assets among retail crypto traders and lawmakers alike, among both crypto-enthusiasts and those who were once staunch nay-sayers.
By prioritizing security, performance, and cost-effectiveness, Kraken demonstrates that the fintech industry is the future, and makes a clear statement about the crucial role cryptocurrency exchanges play on the market.
Related:
Frequently Asked Questions
Is Kraken Better Than Coinbase?
Both Kraken and Coinbase offer over-the-counter (OTC) services for institutions and strict know-your-customer (KYC) protocols to act in accordance with regulatory authorities. Moreover, these two are US-based cryptocurrency exchanges that offer a secure method to purchase Bitcoin as well as other crypto assets.
Here are some main differences between these two:
Coinbase offers insurance on their hot wallet. But Kraken does not.
Kraken offers margin trading to crypto investors in the US with more than $10M in investable assets.
Coinbase offers the ability to earn cryptocurrency bonuses. They also offer built-in user learning resources.
Kraken is available in over 200 countries. Meanwhile, Coinbase is only available in 100+ countries.
Both Kraken and Coinbase offer the ability to earn through staking your cryptocurrency at differing interest rates. But generally, Kraken gives higher rates and allows staking for users with a larger number of coins.
What Countries Does Kraken Support?
Kraken is an international cryptocurrency exchange, which means it can be accessed by users all across the globe unless sanctioned by local regulatory frameworks.
The list of countries where Kraken is currently unavailable includes Afghanistan, Congo-Brazzaville, Congo-Kinshasa, Cuba, Iran, Iraq, Libya, North Korea, Syria, and Tajikistan.
If you live in the Central African Republic, Mali, Eritrea, Guinea-Bissau, Namibia, Lebanon, Somalia, South Sudan, Sudan, and Yemen you can trade digital currencies but can't make deposits to fund your account. Unfortunately, Kraken is off-limits for Washington State and New York citizens as well.
What Payment Methods Does Kraken Support?
Kraken supports a variety of payment methods based on where you live. If you're from the States, you can choose to link your bank account and make fiat deposits via Fedwire, SWIFT, Etana Custody, SEN, or SEPA.
International customers can make wire transfers, use Etana Custody, SEN, POSconnect Interfin Transfer (in Canada), or FPS, CHAPS, and BACS (in the UK) in US Dollars, EUR, CAD, JPY, AUD, etc. You can also make card payments in certain locations. Please note that different payment options incur different fees.
Does Kraken Have a Mobile App?
Yes, Kraken has three different mobile apps. The first one, Kraken Pro, is available on Google Play for Android 7.0 and up and on Apple Store for iOS 11 and up. This app lets you use your Kraken Account to access the trading interface and place advanced order types on the go.
Recently, Kraken has launched a new more beginner-friendly Kraken app, available in all countries except for Crimea, Cuba, Iran, Japan, North Korea, Syria, and the US. The app lets you buy and sell cryptocurrencies, using different payment methods (debit and credit cards included).
You can access real-time price data and review your trading history. Finally, there's the Kraken Futures app for trading futures.
Does Kraken Provide a Cryptocurrency Wallet?
No, Kraken is not a custodial exchange and doesn't provide any digital wallet services. When you deposit funds to your account, those funds are moved to Kraken's cold storage and hot wallets.
The withdrawals are also handled from these wallets. Kraken advises its users to invest in a hardware wallet if they plan on storing their cryptocurrencies for a longer period of time as this seems like the most secure alternative.
Does Kraken Have a Dark Pool?
At this moment, Kraken's Dark Pool feature is unavailable.
Where Is Kraken Registered?
Kraken is registered in San Francisco, California, United States.
How Long Has Kraken Been Around?
It was founded in 2011. So as of writing this (2022), Kraken has been around for more than 12 years.
Is Kraken Exchange Australia FDIC Insured?
Who Owns Kraken Exchange?
It is owned by Payward Inc. and is headed by CEO and co-founder Jesse Powell.
How Good Is Kraken Crypto Australia? Is Kraken Good or Bad?
The high-quality security of Kraken's, as well as its low fees for trading and a wide selection of cryptos make it a great choice for those just beginning to experiment with crypto as well as experienced traders.
How to Buy Crypto With Kraken?
Choose a currency pair first - you'll need to identify the assets you wish to exchange, such as purchasing Bitcoin using USD and trading Ethereum (ETH) to euros. Once you've identified the pairs you'll trade you can choose them using the ticker/quote bar in the top left corner when browsing the Trade tab.
Complete the order form after choosing your trading pair then go onto the New Order page and select the Simple form.
Submit order - after having selected if you're looking for a limit and limit orders, choose your option using the buttons right of the field Total.
In the meantime, wait for the order to be executed If a market order is chosen it will be executed instantaneously as well as your account balance be changed. The funds can be taken out or used to trade immediately. You can see the successful execution of (closed) Market orders in the Orders tab.
Can You Lose Money on Kraken?
There is a chance of losing money with Kraken. When you trade through this platform, one could lose as much as the deposit in your accounts for trading, in the event that your trade is impacted by a competitor. But, you are not able to lose more than the amount.
Has Kraken Been Hacked?
Kraken hasn't had any major hacking incidents.
Do I Need a Wallet With Kraken?
Kraken is not equipped with its own cryptocurrency wallet. They permit you to transfer your crypto from the exchange and into the cold storage they have in their system to provide greater security against hacks. If you wish the use of a bank account in order to transfer your crypto it is necessary to create one with a different company.
How Much Can I Withdraw From Kraken?
The daily and monthly withdrawal limit is $9,000. There is no limit for life on withdrawals. For Off-chain Staking, you'll need to be verified with an intermediate level account.
Which Is Better Kraken or Binance?
Binance is probably the best crypto trading platform Australia compared to Kraken. It is the best option in terms of cost and cost, which is a major worry for many cryptocurrency traders. However, Kraken users shouldn't be far from the competition. The prices are in line with the other platforms, plus Kraken has an advantage due to the variety of cryptocurrency options and the superior customer service .
How Do I Withdraw Money From Kraken?
Log into your Kraken account, then go to the tab for Funding.
Select Withdraw and then utilize the Search bar to locate the currency you prefer.
Make a bank account new.
Click on Continue.
Enter the details of your bank account (all fields are required) and then click Add your bank account.
Request an withdrawal.
Make sure that the details are correct, then confirm the withdrawal.
Is Staking on Kraken Safe?
One of the most frequently asked questions we get about Kraken is "is Kraken staking safe?" The short answer is definitely, yes! As one of the most regulated crypto exchanges in the industry, staking on Kraken is very safe and secure.
Is Kraken Available In Australia?
Yes, Kraken is available in Australia!
How we review crypto exchanges.
We test, review and rate exchanges by looking at their ease-of-use, trading features, customer support, and fees. Analyzing user reviews helps us assess the overall sentiment and finalise our opinion and review.