Kraken vs Gemini for 2023
Our quick summary: The main difference between Kraken and Gemini is that the former has more listed cryptocurrencies, low-cost fees, high-security standards, and has user-friendly interface.
Gemini supports only the world's leading cryptocurrencies and charges higher trading fees. If you're only planning to trade or invest in Bitcoin, then Gemini may be the right pick for you.
But overall, the better choice between these two is definitely Kraken.
The world of finance has been rapidly moving towards innovative and digitized systems such as cryptocurrency trading. More and more people are encouraged to invest in digital assets, and the number of coins traded exceeds billions on a daily basis.
The idea of designing a digital currency has been present among a limited number of enthusiasts since the 1980s. However, it was Bitcoin that revolutionized the financial market in 2009. Two years after the first Bitcoin transaction, new cryptocurrencies started to appear and their number continues to grow to this day.
Having settled the grounds for a promising business, the next step was creating a suitable platform for Bitcoin/cryptocurrency exchange. As a result of the favorable outcome, a lot of software developers saw huge potential in building such crypto exchanges. As a result, many investors nowadays have a hard time deciding which exchange platform to use.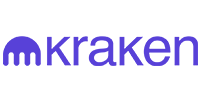 VS


In this article, we'll compare two popular exchanges: Kraken vs Gemini. You'll learn about their individual features and their advantages and disadvantages, and hopefully, find the exchange platform that fits you best.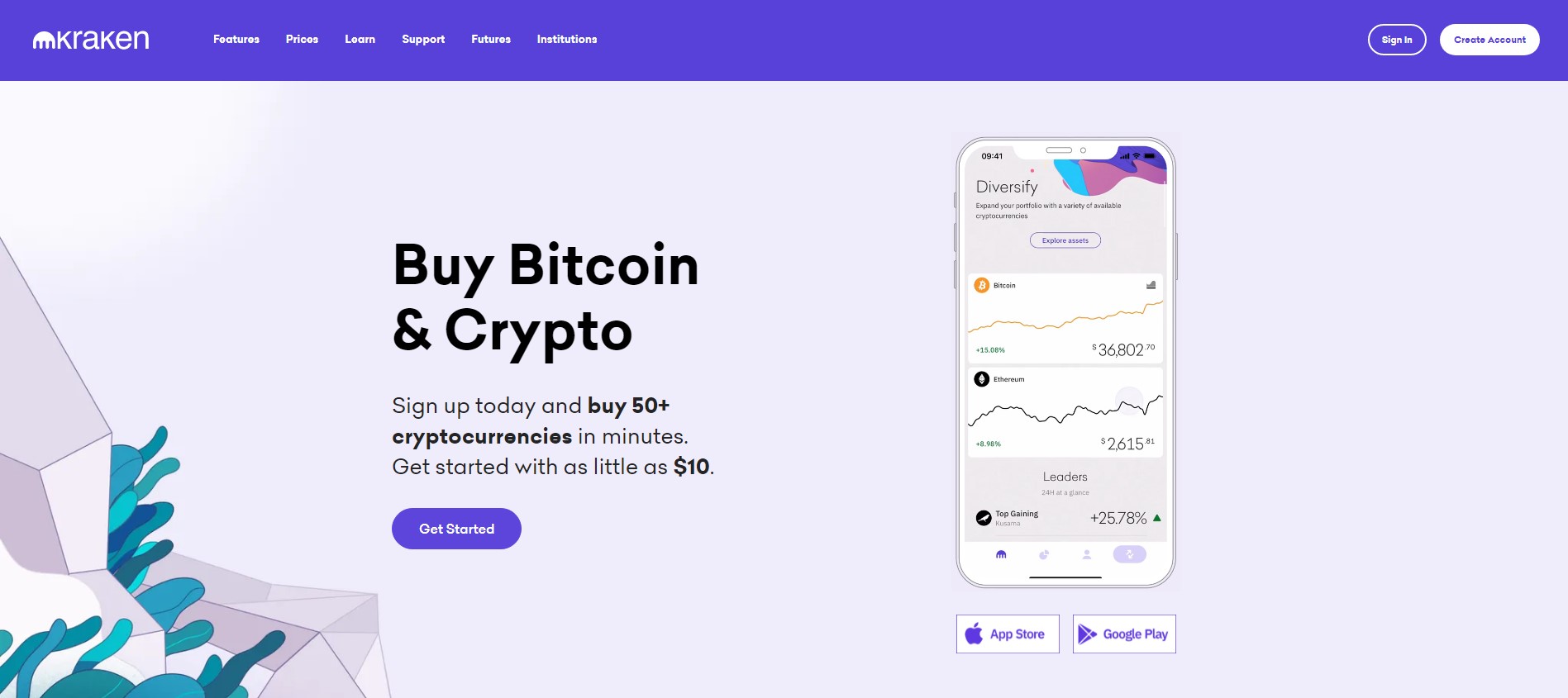 Pros:
Low trading fees
Supports a wide range of digital currencies
Accepts fiat deposits and withdrawals via Automated clearing house (ACH) for US customers and Single Euro Payments Area (SEPA) for EU customers
Fiat deposits are insured by the FDIC (up to $250,000)
High security levels
Two-factor authentication, a Master Key, and a Global Settings Lock
Customer digital assets are stored in both hot and cold wallets
Cons:
Fiat deposits take 1-5 days to be transferred to your Kraken account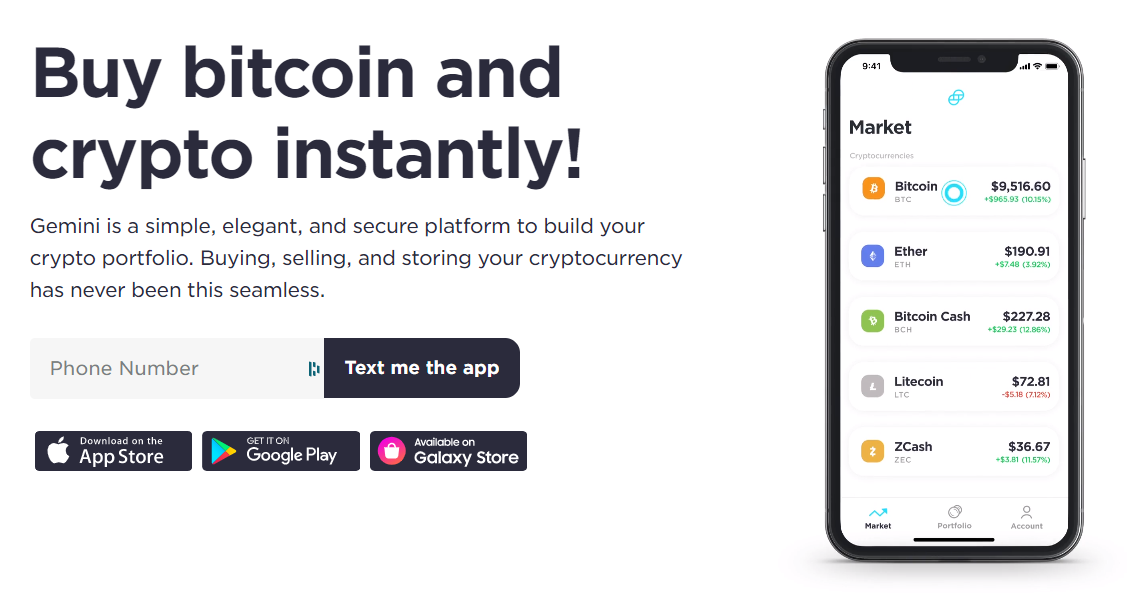 Pros:
Regulated by the New York State Department of Financial Services
The first 30 monthly withdrawals are free of charge
Two-factor authentication and cold storage
Amazon Web Services clouding
Prompt at resolving user complaints (24-72 hours for a support ticket)
Its mobile application is available for both iOS and Android users
Cons:
Supports only the leading cryptocurrencies (BTC, ETH, LTC)
Accepts only USD
Has slightly higher trading fees
Digital currencies can be bought only via bank transfers
The interface is not suitable for newcomers
Kraken vs Gemini – How It All Started
Kraken
Kraken started the trading platform operations in 2013, although it was launched two years prior, in San Francisco, California, by Payward, Inc. Jesse Powell, its founder, had a clear vision of what his platform was going to look like due to his previous experience in the crypto business.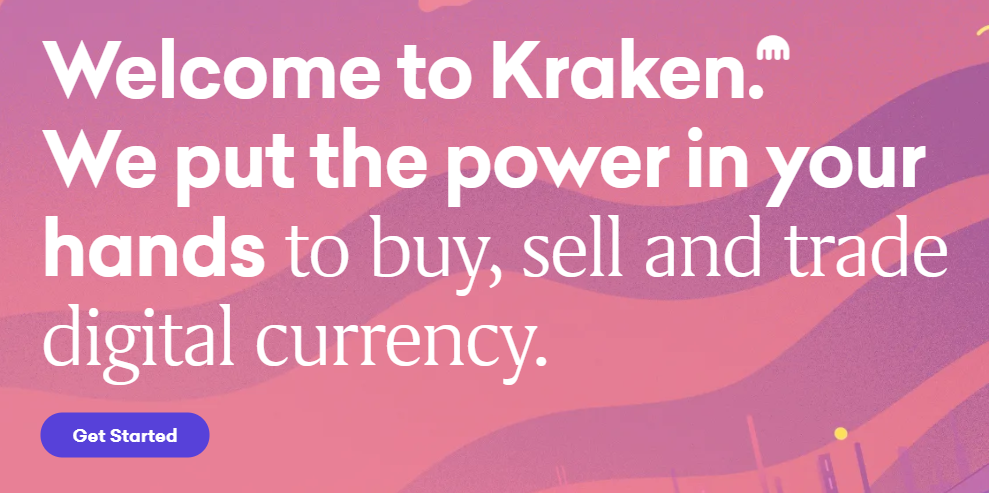 In 2011, after one of the crypto platform leaders at the time, Mt. Gox, was hacked for the first time, Powell was asked to help them restore their high rating. The company's image was seriously damaged by a successful hackers' attack, which resulted in the company losing an enormous amount of Bitcoins. Powell was also the founder of Lewt, Inc., one of the pioneers in setting up accounts and supplying digital currencies to online game players.
The expertise Powell developed there turned out to be of utmost importance for his further operations regarding cryptocurrencies. He knew that setting a new exchange platform was impossible without gaining trust from users in terms of security and protection. The company put much effort and resources into preventing malicious attacks by hackers and became one of the dominant exchange platforms, primarily in the Bitcoin-Euro transfer.
Gemini
Gemini is a digital platform established in 2015 by the Winklevoss brothers and located in New York City. It's an exchange platform that supports buying, storing, and selling cryptocurrencies or trading them with fiat. The Winklevoss brothers, Cameron and Tyler, are actually twins, which is how the company got its name.
They are actually the famous twins who sued Mark Zuckerberg in 2008 for stealing their idea of a social network resembling Facebook. The brothers invested part of the $65 million settlement they won in the notorious lawsuit against Zukerberg into Bitcoin.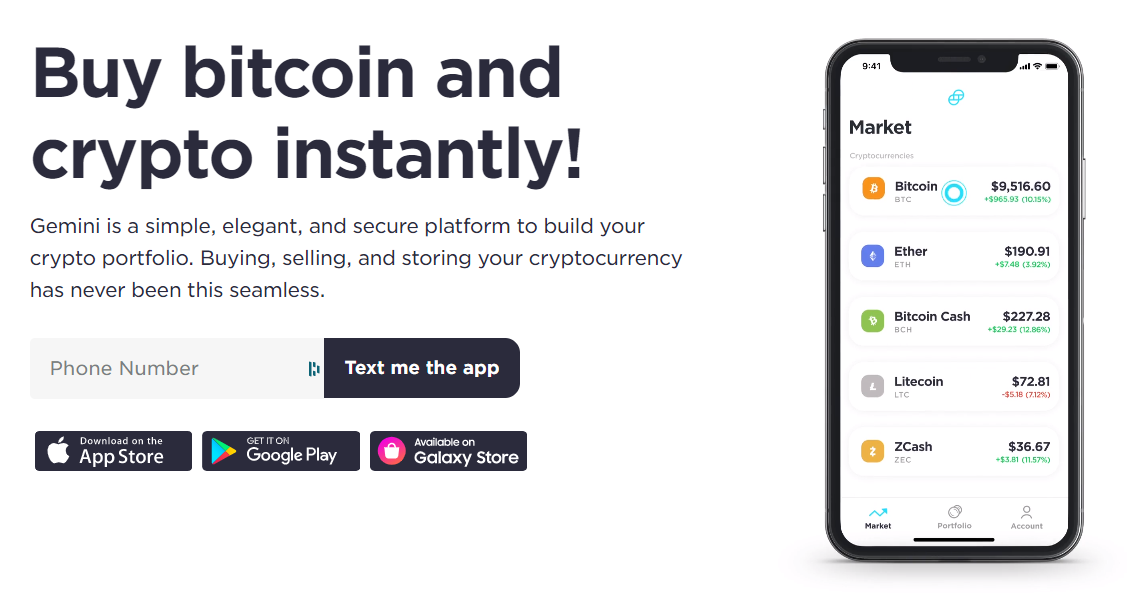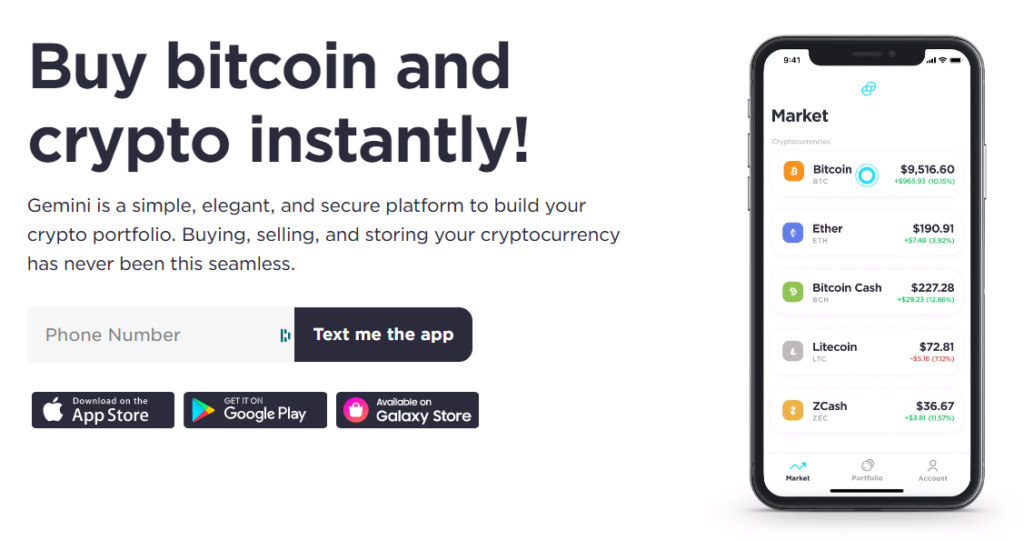 Unlike the unfortunate outcome with their social network, this business idea turned out to be the real deal, given that the recent value of their investment exceeds $1 billion. Encouraged by this success, they launched their own exchange platform. Not long after its launch, Gemini managed to earn a high reputation among Bitcoin traders and has since reached immense daily traffic rates.
Being located within the territory of the United States, Gemini operates pursuant to the legislation of the New York State Department of Financial Services and complies with their well-established anti-money laundering and customer protection rules.
Gemini vs Kraken: The Comparison
Gemini vs Kraken: Supported Cryptocurrencies
It's important to note that both Gemini and Kraken are "fiat gateways", meaning they offer you an option to trade your crypto coins in exchange for fiat currencies.
Bitcoin
When it comes to buying Bitcoin, Gemini is undoubtedly the right choice. This exchange platform supports only well-recognized coins such as Bitcoin (BTC), Bitcoin Cash (BCH), Zcash (ZCASH), Litecoin (LTC), XRP, and Ethereum (ETH). Payments are made in USD and the trading is accepted across the UK, the USA, Canada, Hong Kong, Singapore, and South Korea.
Altcoins
Kraken is the preferred solution for those who are interested in altcoins. Kraken accepts over 20 different cryptocurrencies including Bitcoin (BTC), Bitcoin Cash (BCH), Ethereum (ETH), Ethereum Classic (ECH), Augur (REP), Stellar Lumens (XLM), Ripple (XRP), Monero (XMR), Dash (DASH), Tether (USDT), Dogecoin (DOGE), Gnosis (GNO), etc.
It's available in an exceptionally wide range of countries where crypto trading is supported. The trading can be made with the following fiat currencies: Euros (EUR), US Dollars (USD), and Canadian Dollars (CAD). Not long ago, Japanese Jen (JPY) was an alternative before it was canceled due to unsettled bank regulations.
Gemini vs Kraken: Security
There have been no security drawbacks associated with either Kraken or Gemini since they both follow high standards and regulations for safe operations within their platforms. Their financial principles are based on separating customers' from companies' funds in order to avoid any kind of undesirable violation of assets.
What's more important, they keep a greater part of their assets offline, not directly affected by the Internet. Furthermore, their users' accounts are protected with two-factor authentication, which means that in order to access your account, you need to both provide the correct password and verify your identity from your mobile device or a computer.
Among Kraken's latest security achievements, we should mention their so-called "Master Key", which asks users to provide an additional code to access some of the restricted account actions.
Gemini vs Kraken: Trading Fees
Kraken provides a standard fee plan based on the users' position as makers (users who buy) or takers (users who sell) and their trading volume over a 30-day time span. Makers' fees are lower to some degree.
As an illustration, if the trading volume doesn't go beyond the limit of $50,000, you will pay 0.16% per trade as a maker against the 0.26% taker fee. Once you exceed the amount of $50,000 in trading over the last 30 days, Kraken lowers the charging rate to 0.14% for makers and 0.24% for takers.
The fees for fiat payment through wire transfer are as follows: extra €5 for international transfers or $5 for domestic transfers, whereas SWIFT international transfers will cost you $10. For CAD, only debit card and credit card deposits are accepted. In case of withdrawal, you will be charged more.
Gemini has higher trading fees than Kraken although it doesn't charge for deposits and the first 30 monthly withdrawals are charge-free. It applies the same scaling "maker and taker" fee plan ranking the amount of Bitcoin and Ether from light to huge. The fees start from 1.00% decreasing to 0.10% – 0.00% as the trading volume expands.
Gemini vs Kraken: Ease of Use
If you feel comfortable with crypto trading, you won't face any difficulties with either Kraken or Gemini.
Gemini's website setup may look rather repellent for beginners, as charts and crypto jargons prevail. However, more experienced traders value this to a great extent as the charts are placed next to the order enabling them to do analysis while they buy or sell coins.
Another distinctive feature of Gemini is the opportunity to order coins in an auction format, which is also not recommended for new traders.
Many traders find Kraken's website more user-friendly, lively, and illustrative. At the beginning of your crypto journey, there's an option on the dashboard where you can learn everything you need to know about the exchange platform and how it works.
Kraken's website first checks your eligibility to open an account because there are countries like Japan, Iran, Iraq, Cuba, North Korea, Afghanistan, and Tajikistan where Bitcoin exchange is restricted due to incompatible regulations. Afterward, you'll need to verify your account by email and choose between a Simple or Advanced interface.
If you're a beginner, choose the Simple one. Once you progress in crypto trading, you'll be able to enjoy the perks of the more advanced features.
Gemini vs Kraken: Customer Support
Both exchange platforms have a separate "Support" page where you can fill in your request and find the FAQ section. The customer support Kraken provides is based on written communication with their tech team. There is a 24/7 live chatbox you can rely on for your potential issues.
Gemini's users can either send an email or make a direct phone call (free of charge in the USA) to the Customer Support Team in case they have any concerns about their accounts.
Gemini vs Kraken: Mobile Trading
Both Kraken and Gemini offer mobile apps, available for free on Apple and Google Play Store.
Kraken and Gemini vs Other Exchanges
We'll list two more popular platforms to see how they compare to Kraken and Gemini.
Coinbase was founded in San Francisco, California. It's considered one of the most popular cryptocurrency exchanges based on sheer volume. Coinbase is focused only on the leading cryptocurrencies, which makes it more similar to Gemini. Unlike Gemini, it also supports three additional cryptocurrencies, DASH, EOS, and ETC, and has a much simpler and cheaper fee system.
Binance is an alt trading platform founded and developed in China. It's one of the most dominant exchanges on the market nowadays, with a large volume and the lowest fees to buy Bitcoin and other cryptocurrencies. It's more similar to Kraken as they both offer margin trading with a wide range of cryptocurrencies and other advanced options.
Conclusion
Let's hear the verdict, which one is a better solution, Kraken or Gemini?
It's clear that Kraken provides the best of what exchange platforms can offer. In a few words, what you get is over 20 cryptocurrencies and trading with fiat for low-cost fees. Furthermore, you'll enjoy high-security standards supported with a master key and a global lock. The interface is user-friendly, designed to adapt according to your progress and expertise in cryptocurrency trading.
Gemini charges higher trading fees and supports only the world's leading cryptocurrencies. However, if you plan to engage in crypto trading with lower capacity, and focus only on Bitcoin, Gemini may be the right choice for you. You won't have any concerns about the security either, as the company's legacy speaks for itself.
Or
Related Articles:
Top Crypto Exchanges Compared