Quick Summary: If you're looking for a simple and safe crypto exchange with a wide range of crypto assets, then surely KuCoin is for you! Dubbed as 'The People's Exchange,' KuCoin has certainly made a huge impact in the crypto space, growing its user base to more than 11M in just five years.
KuCoin has low trading fees and supports over 700+ cryptocurrencies. What's interesting is that if you pay using KCS coins, you'll be able to receive a 20% discount (and even more if you're a high volume trader!). KuCoin also offers staking, lending, bot trading, P2P, margin trading, and more.
Really, you couldn't ask for more. Sign-up with KuCoin exchange today!
Finding a cryptocurrency exchange can be a taxing ordeal because there are so many platforms available. Whether you're an experienced crypto trader or someone who's starting, you should always seek a reliable crypto exchange with a fair amount of supported cryptocurrencies, excellent security measures, low trading fees, and responsive customer support.


Your natural inclination may be to choose a crypto exchange platform with deep roots and plenty of experience. It is possible, however, for newer platforms to hit most of the necessary markers.
Today, we will examine KuCoin. Though it's one of the newest cryptocurrency exchanges, it has a strong reputation and low trading fees.
Continue reading our KuCoin exchange review for Australia below to see how it stacks up against the competition.
Related:
KuCoin at A Glance
Website: www.kucoin.com
Country: Singapore
Mobile App: Available
Deposit methods: SEPA, Skrill, PayPal, Apple Pay, Credit card, debit card, Cryptocurrency
Fiat Currencies: USD, EUR, GBP, RUB, CNY, AUD & 40+ more
Cryptocurrencies: BTC, DOT, ADA, ETH & 700+ more
List of Features
Asset security at the bank
Only one KYC verification is needed
Directly purchase crypto using fiat currency
Borrowing and crypto-lending
Mobile app for iOS and Android
KuCoin bonus sign up – earn KCS coins daily
Trading options for margin and Futures
KuCoin trading bot
P2P marketplace allows you to buy and trade crypto with ZERO charges
The trade fee is extremely low at 0.1 percent, and discounts when you pay with KCS
Over 700+ different cryptocurrencies available
Pros
Over 700+ cryptocurrencies available
Mobile app is available to download for iOS and Android
Very low costs of 0.1 percent and a further 20% discount when you pay using KCS
Large cryptocurrency exchange with more than 11 million users around the world
Additional features include trading bots, crypto lending with low interest rate, futures trading, margin trading, and margin trading.
Low fees and high liquidity
A lot of cryptocurrencies on offer
No KYC is required to start
Cons
Customer service is poor – no live KuCoin support chat customer support
You cannot withdraw fiat currencies
The cost of buying crypto using fiat (3%-5 percent)
About KuCoin Platform
KuCoin is a global third-party cryptocurrency exchange for various digital assets and cryptocurrencies. Through the exchange, customers can sell, trade, and buy different digital assets with ease. They deal solely with cryptocurrency assets and do not offer fiat trading pairs.
The exchange was launched in May 2017 by a team of skilled business specialists with blockchain and cryptocurrency experience. They decided in 2011 to begin developing a safe, simplified exchange for people throughout the world to trade digital coins. By 2013, the team had developed the technical architecture that would become the KuCoin exchange we know today.

Though its roots are in Hong Kong, today, KuCoin's headquarters is in Seychelles. They have facilities in India, Vietnam, Japan, Spain, South Korea, and other regions and employ over 300 individuals worldwide. KuCoin boasts that one of every four crypto holders globally is with their exchange.
Supported Cryptocurrencies
Currently, the KuCoin crypto exchange supports over 700 types of cryptocurrencies including stablecoin, over 300 different trading pairs, and more than 400 markets. They regularly add to their list of crypto assets that Kucoin users can sell, buy, and trade.
Some of the popular coins KuCoin features on their trading platform include Ethereum (ETH), Bitcoin Cash (BCH), Litecoin (LTC), and Bitcoin (BTC). They also host less popular options like Lympo and VeChain.

Though KuCoin supports well-known cryptocurrencies, it also supports digital assets that recently completed their initial coin offering or ICO. Their support of new cryptocurrencies is ideal for anyone who wants to purchase coins as soon as they hit the market.
KuCoin Shares
In 2017, KuCoin developed its native cryptocurrency called KuCoin Shares (KCS). These tokens assisted in funding the exchange's creation. Overall, the company gave out 200,000,000 KuCoin Token to its founders and private and regular investors.
Anyone holding KuCoin Shares will receive trading discounts, low withdrawal fees, and a daily 50% share of cryptocurrency dividends. KCS also comes with a trading fee discount where a holder can get a 1% discount per 1000 KCS, maxing out at 30% for 30,000 KCS. Another benefit of holding KCS is access to more trading pairs, including EOS, BTC, USDT, GO, ETH, and XRP.
Users can earn KCS through the KuCoin referral program. Whenever an invited user completes a purchase, the referrer can receive a referral bonus of up to 20%.
Payment Methods
Initially, KuCoin only accepted cryptocurrency payments. Thanks to the company's partnerships with Banxa, Simplex, and PayMIR, it is now possible to pay for cryptocurrencies with fiat. You can use your bank card to make purchases instead of only using cryptocurrencies.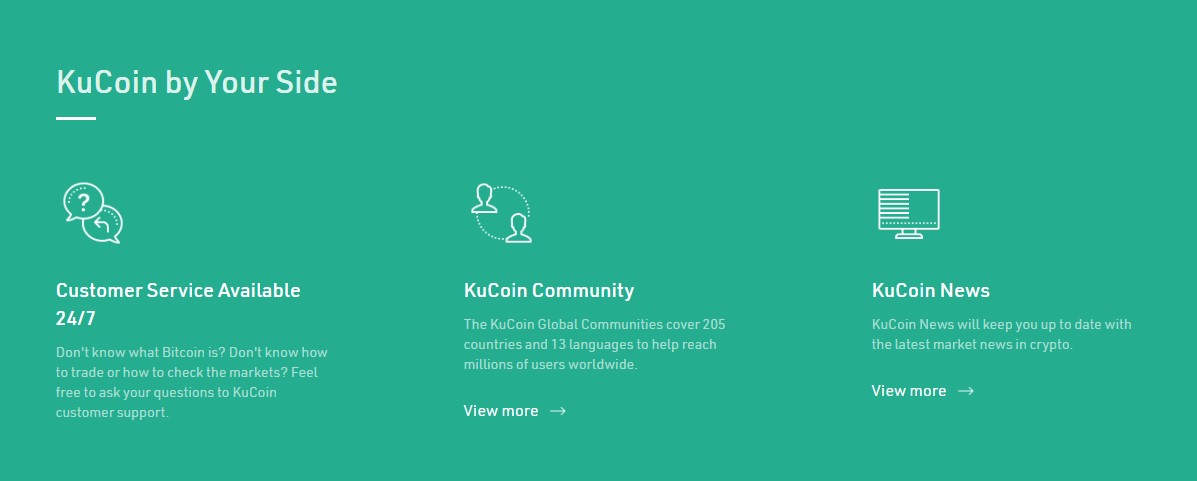 These transactions have fees, but the amounts vary depending on the type of payment method you choose. The fee percentage typically ranges between 5% to 7%. For instance, using Banxa to buy KuCoin cryptocurrencies can result in a 4% to 6% transaction fee on top of the total purchase amount.
KuCoin recently added PayPal, Interac e-Transfer, and wire transfer as additional payment methods for Peer-to-Peer (P2P) fiat trading. Though wire transfers can take up to two business days to go through, PayPal and Interac e-Transfer completes their transactions almost instantaneously. The e-transfer can take up to 30 minutes.
KuCoin doesn't charge for deposits, but they do have some withdrawal fees on top of KuCoin third party fiat transaction fees. Most withdrawals will hit the user's digital wallet within three hours, but large amounts can take up to eight hours.
KuCoin Australia Fees and Limits
KuCoin crypto exchange offers some of the lowest fees among other exchanges.
Trading Fees
Every transaction for KuCoin spot trading will have a 0.1% fee for the maker and the taker. This rate is on par with Binance, one of the top crypto exchanges made famous for its low trading fees. Typically, trading costs with KuCoin will decrease based on a user's 30-day trading volume.
For instance, if a user's 30-day trade volume in BTC is less than or equal to 500, their maker/taker fee changes to 0.05% and 0.08%, respectively.
KuCoin Shares holders are entitled to additional trading discounts, so KuCoin fees will be under 0.1% if they use their KCS tokens to cover their expenses.
KuCoin 24 Hour Withdrawal Limit
KuCoin withdrawal limits tie directly into the type of account a person has with the platform. Though the exchange offers one account type across the board, there are several verification levels, and each one has different limitations.
KuCoin unverified limits include unverified accounts that have a withdrawal limit of 2 BTC within 24 hours. This limit is higher than some other crypto exchanges allow for their unverified accounts. This limit may be acceptable for small volume traders.
A standard verified account has a withdrawal maximum of 100 BTC within 24 hours. Verified KuCoin institutional account can withdraw up to 500 BTC every 24 hours.
Verifying a personal account isn't mandatory, but KuCoin strongly recommends it. Not only will it prevent issues in the future, but it will also allow customers to use fiat-to-crypto trading once the platform approves it.
If you choose to verify your account, you'd need to submit a scan of your identification and proof of your country of residence. A passport is an acceptable way to prove your identity and residence. The immediate benefit of taking this extra step is an increased withdrawal limit.
Kucoin Trading Fee Table
| Trading Fee Level | Min KCS Holding Last 30-Day | Spot Trading Volume Last 30 Days (BTC) | Futures Trading Volume Last 30 Days (BTC) | Maker/Taker | 24h Withdrawal Limit |
| --- | --- | --- | --- | --- | --- |
| LV0 | 0 | <50 | <200 | 0.1%/0.1% | 200 |
| LV1 | 1000 | >=50 | >=200 | 0.09%/0.1% | 200 |
| LV2 | 10000 | >=200 | >=400 | 0.07%/0.09% | 200 |
| LV3 | 20000 | >=500 | >=1000 | 0.05%/0.08% | 200 |
| LV4 | 30000 | >=1000 | >=2000 | 0.03%/0.07% | 200 |
| LV5 | 40000 | >=2000 | >=3000 | 0%/0.07% | 500 |
| LV6 | 50000 | >=4000 | >=6000 | 0%/0.06% | 500 |
| LV7 | 60000 | >=8000 | >=12000 | 0%/0.05% | 1000 |
| LV8 | 70000 | >=15000 | >=20000 | -0.005%/0.045% | 1000 |
| LV9 | 80000 | >=25000 | >=40000 | -0.005%/0.04% | 2000 |
| LV10 | 90000 | >=40000 | >=80000 | -0.005%/0.035% | 2000 |
| LV11 | 100000 | >=60000 | >=120000 | -0.005%/0.03% | 3000 |
| LV12 | 150000 | >=80000 | >=160000 | -0.005%/0.025% | 3000 |
Customer Support
KuCoin has excellent customer service, which is available 24/7. Users can reach out to the exchange's support team via the company's website, email, social media, ticketing system, phone number, and other methods. The staff appears to be well-trained and will respond quickly and accurately to customer inquiries.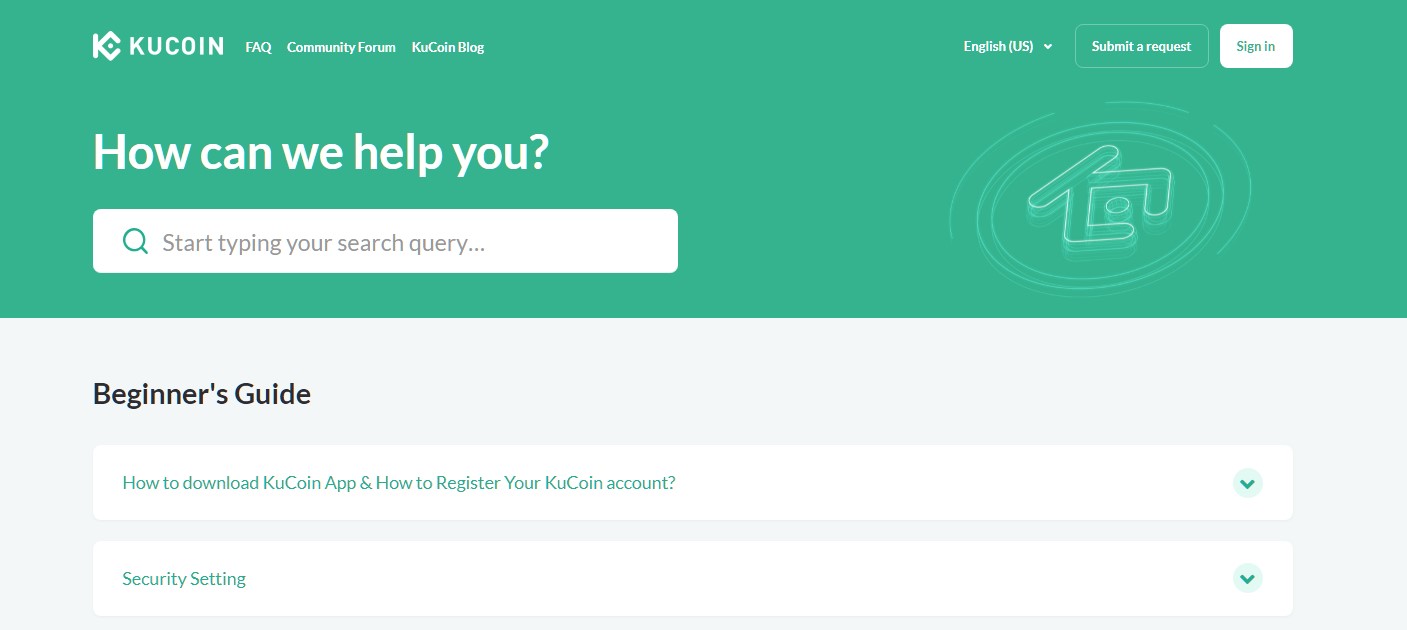 One of the KuCoin customer service department's best aspects is that it assists users in multiple languages. KuCoin prides itself on being an easy-to-use global exchange, and that mission is reflected in its customer service diversity and effectiveness.
In addition to a 24/7 hotline chat service, users can receive support from KuCoin's informative Help Center and FAQ Center. If they prefer to speak to a representative, they can expect a response within a few hours, which is significantly better than most other cryptocurrency exchange platforms. Representatives appear friendly, professional, and knowledgeable.
Safety Features: How Reliable Is Kucoin? Is Kucoin Safe In Australia?
KuCoin may be one of the newer exchanges to hit the market, but their safety measures appear effective. As of this Kucoin exchange review, they have not had any KuCoin hack or breaches that put their clients' personal information or digital assets at risk.
To keep their platform secure, KuCoin uses a mix of system and operational security measures. The exchange's creators followed the financial industry's standards during the platform's development. Using these standards as a foundation for security gave the platform bank-level security and data encryption.
In terms of operation, KuCoin has several risk control departments that enforce strict data usage rules for the platform. They also have a partnership with a Singapore-based crypto service provider to care for KuCoin's assets. The strategic partnership between both companies makes it significantly harder for hackers to infiltrate the platform and steal valuable assets.
KuCoin solidifies its security with user account security features. These measures include two-factor authentication, email notifications, a login safety phrase, security questions, and phone verification. Most of these features are not mandatory, but they significantly reduce the risk of unauthorized account use when used together.
Summing It Up
Based on our KuCoin Australia review, we concluded that this crypto exchange platform is one of the best to use. As a global platform, it boasts a beginner-friendly and user-friendly interface with features experienced traders and advanced traders can appreciate.
In addition to the 700-plus cryptocurrencies the platform supports, it also has its own cryptocurrency, KuCoin Shares. Holders for KuCoin Shares can use the token's benefits to reduce the already low trading fees further. At 0.1%, this exchange platform's trading fee is on par with the more widely known Binance exchange.
One drawback to KuCoin is its lack of fiat trading, though it is possible to use fiat to purchase cryptocurrency. We are confident the company will address this issue as it continues to grow.
Related:
Frequently Asked Questions
Is KuCoin Available in Australia?
Absolutely, yes! As one of the most popular crypto exchanges out there along with Binance and Coinbase, KuCoin is available in Australia.
Is Kucoin Scam? Is KuCoin Australia Legit?
Definitely not!
KuCoin is one of the most-established cryptocurrency in the crypto space, making it a legit exchange.
How to Use the Kucoin App?
Using KuCoin app is pretty simple. All you need to do is download it from Google Playstore or App Store, and use it for whatever transactions you need to do. It pretty much works like in the desktop version.
How to Withdraw From Kucoin to PayPal?
You can withdraw from KuCoin to PayPal via their P2P fiat marketplace. Just convert your existing bitcoin or altcoins into USDT or BUSD and sell it on the P2P market and make sure that your receiving wallet is set to PayPal.
How to Use KuCoin in Australia?
Using KuCoin is actually pretty simple with the following steps below:
Sign Up for KuCoin Account
Secure Your KuCoin Account
Verify Your Identity
Connect Your Account to Funds Fund Your Account
Start Trading on KuCoin
How to Deposit to Kucoin?
Step 1: Go to KuCoin.comand click the Asset icon at the upper right corner of the header. 
Step 2: Click Deposit, select the coin, then the network. 
Step 3: Copy your deposit address and paste it into the withdrawal platform, then deposit the coins to the relevant KuCoin account.
How to Buy Strong on Kucoin?
Sign Up for KuCoin Account. 
Secure Your KuCoin Account. 
Verify Your Identity.
Connect Your Account to Funds Fund Your Account.
Buy USDT or BUSD and trade it to Strong Coin.
How to Buy Movr on Kucoin?
Start a KuCoin Account.
Add Crypto Funds to Your Trading Account.
Use Existing Crypto to Buy MOVR on KuCoin.
Trade MOVR/USDT on KuCoin Spot Trading.
Receive and Store MOVR Securely.
How to Withdraw to Bank Kucoin?
Open KuCoin and scroll down to find the log-in button.
On the platform, click Assets. On the mobile app, this tab can be found at the very bottom of the interface.
Choose Withdraw. This option will be located on the upper portion of the mobile app interface. Make sure that you've linked your bank account.
How Long Will My Order Take Via Banxa KuCoin?
Orders are closed without fail or exception 48-72 hours after opening if payment is not received. The expectation is that at order issuance, payment will be initiated within 12 hours unless there are exceptional circumstances. If Banxa not working on KuCoin, you should contact support immediately.
How Old Do You Have to Be to Use Kucoin?
You must meet certain eligibility criteria to use KuCoin Futures's services. You must be at least 18 years of age and there are certain locations from which you may not be able to use some or all of KuCoin Futures's services. Other eligibility criteria may also apply.
How to Purchase XRP on Kucoin?
Start a KuCoin Account.
Add Crypto Funds to Your Trading Account.
Use Existing Crypto to Buy XRP on KuCoin.
Trade XRP/USDT on KuCoin Spot Trading.
Receive and Store XRP Securely.
Does KuCoin Have a Mobile App?
Yes. If you prefer to engage in crypto trading without using the KuCoin website, they offer a convenient app. The app is available for download for both Android and iOS devices.
The app provides users with a smooth interface that includes the website's essential features. Users can view their charts, trade cryptocurrencies, and review their trade history.
Is KuCoin Regulated?
KuCoin originates from Hong Kong. While the region is home to plenty of crypto exchanges, no legislation is available to provide regulations for these exchanges.
The lack of official legislative oversight does not mean the company is unreliable. KuCoin has proven itself to be a reliable cryptocurrency exchange with an outstanding reputation.
Before its inception, KuCoin CEO and founder, Michael Gam, was an employee at Ant Financial, the world's most valuable Fintech company. He and the other founders only launched KuCoin in 2017 after refining and testing its software and technical aspects. KuCoin strives to maintain its KuCoin reliability, with or without legislative regulations.
Can I Buy Crypto on KuCoin? How to Purchase Coins on KuCoin?
KuCoin's interface allows for simple functions across the board, including cryptocurrency purchases. To buy coins, add money to your account. Next, select "Markets" near the top of your account's dashboard.
Once you open up the Market tab, use the search box to type in the name of the coin you want to buy. KuCoin will display all the available trading pairs. Make your selection from the trading screen, enter the number of coins you want, and finish your trade by clicking the "Buy" button.
Is Banxa Safe On KuCoin?
Definitely, yes! Banxa is partnered with many reputable wallets and crypto exchanges, including KuCoin and Binance, suggesting it is safe, trustworthy, and reliable.
Is There Such as KuCoin Tax Australia?
Yes there is. People who trade any cryptocurrency are subject to capital gains tax.
How we review crypto exchanges.
We test, review and rate exchanges by looking at their ease-of-use, trading features, customer support, and fees. Analyzing user reviews helps us assess the overall sentiment and finalise our opinion and review.