KuCoin vs Swyftx for 2023
Our quick summary: The main difference between KuCoin and Swyftx is that Swyftx is more favourabl for Australian crypto traders as it supports AUD deposits and withdrawals.
While KuCoin comes with more features, supports more payment processors, and has more cryptocurrencies, the exchange's buy fees are unreasonably high.
So, if you're searching for a reliable and user-friendly crypto exchange in Australia, Swyftx is for you.
One of the most important aspects of crypto investing is choosing a high-quality crypto exchange to conduct your crypto trading operations.
It's highly recommended for beginners to choose a top-ranked platform because these trading platforms typically have a lot of positive reviews, high market capitalisation, and solid liquidity levels.
However, there are dozens of high-quality exchanges, including industry giants like Digital Surge, Kraken, or CoinSpot, and it can be quite difficult for users to make a decision.


VS

Today, we've prepared a comparative review of two such popular crypto exchange platforms, KuCoin and Swyftx. Both platforms are accessible by Australian crypto traders and support AUD, which is a key decision factor for Aussies, who want to be able to quickly invest fiat currency in crypto without complicated crypto conversion procedures.
Just to be clear, both of these platforms provide top-quality services, and it's not like you'll make a mistake by choosing any of them, but certain differences showcase the aspects in which each platform is better than the other.
By the end of this guide, we'll reach a verdict about the winner between KuCoin and Swyftx.
Comparison Table
| Features | KuCoin | Swyftx |
| --- | --- | --- |
| Supported Cryptos | 500+ coins | 270+ coins |
| Trading Fees | 0.1% | 0.6% |
| Deposit Fees | No deposit options; you need to purchase crypto directly. | Free |
| Withdrawal Fees | Free | Free |
| Average Spread | Fluctuates between 0.5% and 4% | 0.4% |
| Regulatory Status | Not regulated by AUSTRAC | AUSTRAC regulated |
| Customer Support | Support ticket and live chat | Email, support ticket, and live chat |
| Payment Methods | WeChat, AliPay, Apple Pay, Google Pay, PayPal, credit cards, debit cards. Bank transfers are only supported in P2P trading. | OSKO, PayID, POLi, bank transfers, credit cards, and debit cards |

KuCoin is a very popular crypto exchange platform primarily geared towards users in Southeast Asia. The platform was launched in 2017, but the development of the exchange actually began in 2013.
It took several years for the company to develop the KuCoin ecosystem before its final launch, which was facilitated by an initial coin offering (ICO) of KuCoin Shares (KCS) tokens.
KuCoin isn't licensed to operate in the US, which is the main reason why the platform isn't popular in North America. Instead, most of KuCoin's traffic comes from Asian countries like India, Indonesia, China, Vietnam, the Philippines, and Australia.
The platform is especially popular in these countries because it supports local fiat currencies, payment services and deposit methods.
Pros
More than 500 different cryptocurrencies.
Crypto staking features.
Support for numerous fiat currencies.
A broad range of trading tools, from basic order types and price charts to advanced trading orders and technical analysis features.
Affordable fees.
Cons
Unavailable in the US.
Not regulated by AUSTRAC.
A rather complex user interface, not fit for beginners.
Has been subject to a massive platform hack.
Customer support is often unresponsive.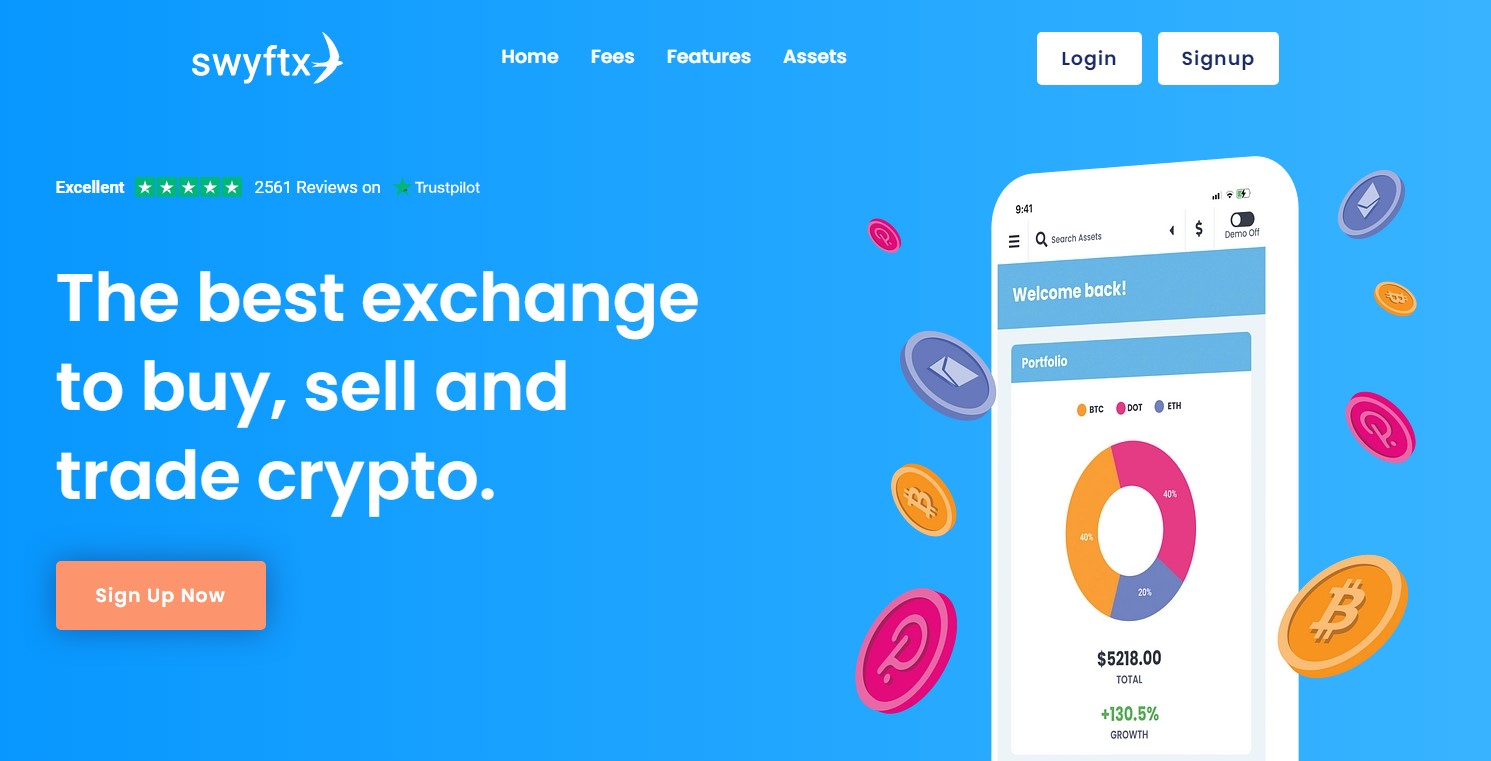 Swyftx is a beginner-friendly Australian crypto exchange launched in 2018, with its New Zealand subsidiary launched in 2021. Local crypto enthusiasts and financial experts launched the platform with the aim of providing Aussie crypto traders with an efficient, reliable, and high liquidity exchange platform that can satisfy all of their crypto needs.
One of the main concerns of Australian crypto brokers is whether a crypto exchange is legally regulated or not. Well, Swyftx is regulated by AUSTRAC and adheres to Australian tax policies, and customer protection regulations, which is a huge plus over many crypto exchanges that aren't regulated at all and offer no protection or insurance against scams to customers.
When registering on Swyftx, you need to go through the KYC verification process in order to verify your identity for scam prevention purposes.
Pros
Very low market spreads.
More than 270 available crypto assets with solid liquidity levels.
Very responsive and helpful customer support team.
Users can easily file crypto taxes through Swyftx.
User-friendly interface, fit for beginners.
Cons
No margin trading options or classic order book.
No advanced order types or technical analysis tools.
KuCoin vs Swyftx: Supported Cryptocurrencies
The digital currency selection is one of the most important aspects of every crypto exchange platform, right next to the fee policy and security measures. While many popular crypto exchanges offer less than 100 crypto coins and tokens, both KuCoin and Swyftx have a much larger selection of available digital assets.
KuCoin supports more than 500 crypto assets, which is one of the largest selections of assets among popular exchange platforms.
Supported cryptos include all of the top trending coins such as Bitcoin (BTC), Terra (LUNA), Avalanche (AVAX), Ethereum (ETH), Bitcoin Cash (BCH), Binance Coin (BNB), Ripple (XRP), Dogecoin (DOGE), Cardano (ADA), Litecoin (LTC), Polygon (MATIC), etc.
You can also find a lot of low cap altcoins on KuCoin, but the thing is that many of these coins have very low liquidity, which often leads to high spreads and high prices. Plus, only a portion of these cryptos is trending cryptocurrencies. KuCoin supports many tokens just because they were launched through its initial token offering feature.
Swyftx supports more than 270 cryptocurrencies, including all of the top coins supported by KuCoin, and a careful selection of low cap altcoins. The difference is that Swyftx offers solid liquidity for all supported coins, along with low spreads and realistic prices, which considerably improves the quality and availability of supported coins.
Cryptocurrencies Winner: Swyftx
Despite the fact that it supports a much smaller range of cryptos, Swyftx is still our winner because it offers high liquidity for all of the supported assets.
KuCoin vs Swyftx: Platform Fees
Platform fees are another key element users always take into account when deciding whether to use a certain crypto exchange.
However, you should be careful when you run into trading platforms that offer super low trading fees because many of these platforms are low-quality exchanges with poor security measures, and they're just trying to lure customers in by offering low fees.
Sometimes the extra fees are worth the service you get. For example, Coinbase is known as one of the most expensive crypto exchanges in terms of fees, but you always get top quality services, insurance on your account, and great security.
In the case of KuCoin and Swyftx, the fees are really affordable and in line with the provided services.
KuCoin vs Swyftx: Trading Fees
KuCoin uses a standard market maker and taker fee model with 12 fee tiers. Market takers get charged higher fees because they take advantage of the dominant market price, which means they take liquidity from the platform every time they conduct a trade.
On the other hand, market makers place their orders at prices that differ from the dominant market price. In other words, they influence the market and provide liquidity to the platform. That's why makers are rewarded with lower trading fees.
The KuCoin trading fees start at 0.1% for takers and 0.09% for makers with a monthly trading volume of less than 50 BTC, which are fairly low fees. Depending on your 30-day trading volume, the fees gradually drop down as you rise in trading tiers, down to 0.025% for takers and 0.005% for makers with an enormously high monthly trading volume of at least 160,000 BTC.
Swyftx uses a very different fee model compared to KuCoin. Since the platform doesn't have a classic trading interface with technical analysis tools, order books and complex trading tools, it can't really implement the maker/taker fee model.
Swyftx is more geared towards the average crypto traders who want to be able to quickly buy, sell, or swap crypto, without spending too much time on the platform and analysing technical data or using advanced trading strategies. The Swyftx trading fee is a straightforward 0.6% for all trades.
Deposit and Withdrawal Fees
As far as crypto withdrawal fees, KuCoin applies standard blockchain transaction fees depending on the crypto in question. Fiat currency crypto purchases are free of charge, but they can be subject to fees by the selected payment service providers.
On Swyftx, you can deposit and withdraw AUD free of charge, but your bank or payment gateway may charge you a service fee independently of Swyftx. Crypto deposits and withdrawals are also free of charge, except for the standard blockchain transfer fee, which varies depending on the crypto in question.
Fees Winner: Swyftx
On first look, KuCoin offers competitive fees that are way lower than the ones on Swyftx. This can be misleading for users since many cryptocurrencies on KuCoin have very low liquidity, which leads to high market spreads that add major additional expenses to trading deals.
On the other hand, Swyftx has a fixed fee and guaranteed low spreads on all assets, often making Swyftx fees lower than those on KuCoin for specific cryptos.
KuCoin vs Swyftx: Platform Market Spread
The market spread is the difference between the buy and sell prices for specific cryptos and trading pairs on an exchange platform. The spread is very important because it shows the relation between the supply and demand of a certain asset on a given platform. As a metric, it contributes to the profitability of a trading deal.
For example, if the average buy price for Ethereum (ETH) is 3,000 USD per coin on a certain platform, and the average sell price is 3,500 USD, it means that the spread is 500 USD. This tells you that it probably isn't the best decision to buy some ETH at the moment because you'll have a hard time selling it for profits.
Spreads are usually bigger for assets with low liquidity and trading volumes. Platforms with high liquidity usually have smaller spreads, which makes it easier for users to gain quick profits from buying low and selling high.
KuCoin's market spreads are pretty solid for some of the popular cryptos and can go as low as 0.05%. However, once you start browsing through their list of coins, you'll come across hundreds of tokens with very low trading volumes and extremely high market spreads.
When you combine a 2-3% market spread with the average 0.1% fee on KuCoin, you quickly realise how expensive it can be to trade low cap altcoins on the platform.
Swyftx may support a far smaller number of cryptocurrencies, but it makes sure there's sufficient liquidity for them. Solid liquidity means smaller market spreads, which is one of the reasons why Swyftx's trading fees are a bit higher compared to KuCoin, but the market spreads are a lot more stable and lower (generally around 0.4%).
Market Spread Winner: Swyftx
Swyftx is our winner in the market spread category because, unlike KuCoin where spreads fluctuate dramatically, Swyftx offers relatively stable, low spreads that make it easier for investors to conduct profitable trading deals.
KuCoin vs Swyftx: Customer Support
Users don't usually pay a lot of attention to customer support services before they have a problem, and with low-quality crypto exchanges, these situations often lead to unpleasant surprises, such as long customer support response times.
That's why you should always find out the details about the exchange's support team because if you do have any platform issues, the support team will probably be your only hope of solving them.
Unlike many popular trading platforms, KuCoin doesn't offer direct email support. However, there is a live chat support option, but the answers are usually given by chatbots unless they can't answer your enquiries, in which case a KuCoin customer support representative takes over the communication.
Users can also file a support ticket directly on the KuCoin website.
Swyftx supports multiple customer support channels. Users can contact the support team through email, on-site support ticket, and live chat with a real person from the Swyftx support team.
The response time is usually just a couple of minutes, and the team members really do their best to solve all of your platform issues. Support team members are crypto experts with extensive knowledge about the Swyftx platform and they are very efficient in providing help to users.
Customer Support Winner: Swyftx
In terms of customer support, Swyftx is the undisputed winner. It's simply unacceptable for a reputable crypto exchange to have poor quality or unresponsive customer support team. This is definitely a serious red flag for KuCoin and a huge win for Swyftx.
KuCoin vs Swyftx: Platform Mobile Apps
Both beginners and experienced traders want to be able to trade while on the move, regardless of their location, which is much easier with a smartphone than with a laptop computer.
That's why popular crypto exchanges invest serious funds in developing user-friendly mobile app versions of their platforms, compatible with Android and iOS mobile devices.
KuCoin has a very well designed mobile app. You can use it to buy, sell, and exchange assets and engage in complex trading operations, such as issuing advanced market order types like stop-loss and margin trading.
All of the advanced features of the KuCoin platform are available on the mobile app, including asset staking, instant buy/sell features, KuCoin futures trading, and crypto leverage trading.
The app really contains a ton of functionalities, which is something rarely seen in crypto exchange mobile apps because most exchanges just implement basic platform features in their mobile apps.
The Swyftx mobile app is another user-friendly app with all the features provided by the browser version of the platform. You can easily engage in trading crypto, place standard spot trading orders, recurring orders, and trigger orders.
Your crypto portfolio is easily manageable through the Swyftx platform wallets, which keep your private keys safe, along with all the details about your assets.
Mobile App Winner: KuCoin
The winner for the mobile app section is KuCoin because their app provides much more trading features, order types, and extra functionalities than the Swyftx app.
However, this is largely because Swyftx is a crypto exchange made for quick and easy crypto investments and not for advanced trading operations. It remains questionable whether KuCoin would win in this category in case Swyftx introduced similar advanced trading features, which it currently lacks.
KuCoin vs Swyftx: Deposit Methods
The choice of deposit methods is a key convenience factor because most users prefer to conduct direct cash deposits of fiat money in order to purchase crypto on an exchange platform, instead of transferring crypto from their private wallets.
A huge minus for the KuCoin platform is the fact that you can't deposit fiat money to your KuCoin account and spend that cash on crypto as you wish. There simply isn't an option to deposit fiat currency.
However, users have a really broad range of payment methods for direct crypto purchases with fiat money at their disposal. KuCoin supports WeChat, AliPay, PayPal, Apple Pay, and Google Pay.
Users can buy crypto on KuCoin with most credit cards and debit cards, but bank transfers are only supported if you're conducting a peer-to-peer crypto purchase on KuCoin. All of these payment methods are subject to varying fees imposed by the payment service providers. Crypto deposits are also always an option.
Unlike KuCoin, Swyftx supports NZD and AUD deposits. It doesn't support EUR, USD, or GBP, but this shouldn't be an issue for Aussie traders. Users can deposit their fiat cash to Swyftx and spend it afterwards, which is a huge convenience for users.
All of the popular Australian payment methods are supported by the platform, such as credit cards, debit cards, bank account transfers, OSKO, POLi, PayID, and direct deposits of crypto.
Deposit Methods Winner: Swyftx
Our winner is Swyftx. For a start, Swyftx supports fiat money deposits, along with all of the popular Australian payment methods, making it really easy for users to invest money in crypto.
Ease-of-use is a very important characteristic for crypto exchanges, and by lacking fiat money deposit options, KuCoin is creating a serious entry barrier for many crypto users.
KuCoin vs Swyftx: Platform Security
Platform security is everything because it doesn't matter whether the platform has a great crypto selection and affordable fees or not if their security features are poor. Crypto exchanges are always a prime target for hackers, and that's why you should only use exchange platforms with clear cyber security records.
This is the most critical category for KuCoin because the platform was a victim of one of the largest crypto exchange hacks in history. Approximately 281 million USD worth of crypto was stolen from the platform in 2021.
Fortunately, most of the crypto was later recovered and reimbursed to platform users, but this is a serious failure for the platform and a real dealbreaker for many potential users. Since then, KuCoin has really stepped up its security measures, but it's questionable whether it will succeed in restoring the trust of its users.
Swyftx is known as one of the most secure crypto Australian crypto exchanges. The platform has never been hacked, which is a huge plus. The exchange goes through regular cyber security penetration tests, and its security measures are audited by professional cyber security firms on an annual basis.
Users have two-factor authentication and password protection at their disposal, so every operation needs to be approved either by mobile phone or through a security email.
Platform Security Winner: Swyftx
Swyftx is the winner when it comes to security because it's never been hacked, unlike the almost 300 million USD crypto hack suffered by KuCoin.
The Final Verdict
Both platforms offer great service in general, but several factors clearly show that KuCoin lacks some quality, which is why we declare Swyftx as the winner. The platform offers various fiat money deposit options, it hasn't been hacked, the spreads are much more favourable compared to KuCoin, and the customer support team is much more helpful. This is why we clearly recommend Swyftx.
OR
Related Articles:
Top Crypto Exchanges Compared