Kyber Network Exchange Review for 2023
Quick Summary: Kyber Network is a decentralized cryptocurrency exchange that offers a number of services perfect for crypto traders and investors as well as for developers and institutions. 
Aside from trading crypto, users can stake their coins for passive income liquidity provision rewards, pool resources, or farm tokens. With a simplistic platform and low fees, Kyber Network is an excellent DEX option. 
If you prefer a non-custodial crypto exchange that has anonymous structure, Kyber Network is surely worth a try.
In many ways, decentralised finance can be viewed as a branch of finance that is always evolving. Centralised crypto exchanges did rock the boat when they came about, and there has been no shortage of them over the years – we might be looking at a video-killed-the-radio-star scenario here.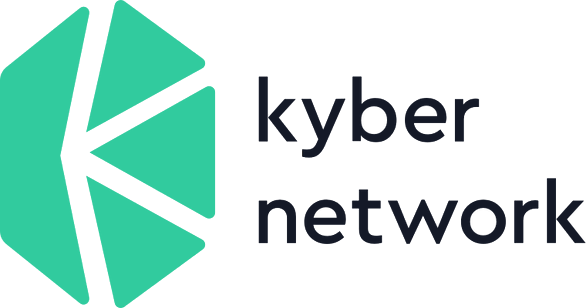 Even though decentralised crypto exchanges were built on the shoulders of centralised ones, using the blockchain networks that were originally coded and developed by and for CEXs, the incoming wave of DEXs seem to have evolved straight past these platforms introducing a different type of finance.
Will it bend the rules to the point of no return? Or is the next overture right around the corner? If anything, Kyber Network is looking to push decentralised finance over the brink, and so far, it looks like there is no one and nothing to stop it.
Kyber Network at A Glance
Website: https://kyber.network/
Country: Singapore
Mobile App: Available
Deposit Methods: Credit card
Fiat Currencies: USD, EUR, or GBP
Cryptocurrencies: 1,500+
List of Features
Anybody can offer token liquidity using a variety of methods that are adapted to their needs and provide liquidity to anyone willing to take it (e.g. Dapps and Aggregators, wallets or Users who are not end-users).
In acquiring liquidity from various methods of liquidity, Kyber guarantees that aggregators get the most competitive pricing.
In allowing any application or wallet to incorporate instant token exchange to their logic Kyber provides a variety of decentralised usage cases.
The blockchain is a place where transactions are transparent and traceable.
The Kyber system works by utilization of pools of cryptocurrency funds referred to "reserves."
Kyber allows easy integration of blockchain-related applications to its diverse protocols, which saves time and energy.
Pros
Good liquidity
Seizing opportunities
Non-custodian
Variety of services in crypto
1,500+ cryptos supported
Decentralised
Cons
Doesn't directly support fiat.
About the DeFi Crypto Platform
The Kyber Network was established in early 2017 and saw its online debut in August 2017. It was established by co-founders Loi Luu, Yaron Velner, and Victor Tran and now resides in Singapore. The platform wasted no time introducing its ICO offering and managed to sign off on over 200,000 ETH, or an estimated $60 million in a span of twenty-four hours.

Since then, the Kyber Network has constantly been on the rise. With no long processing times, zero fees on conversions, and no data and asset storage, it seems like the platform has everything figured out for the time being. The Kyber Network has managed to develop at such high speed mostly because it keeps its cards close to its heart – all operations are performed directly on the Ethereum blockchain.
At the forefront, the exchange pushes for compatibility and transparency. The Kyber Network was designed to be compatible with as many systems as possible. Technically, the platform supports every digital asset out there. Yes, even the ones that haven't been released or announced yet. How does it manage to sustain such an offering? Let's take a closer look.
Features
There are three main ingredients integral to the DeFi platform's protocol operations: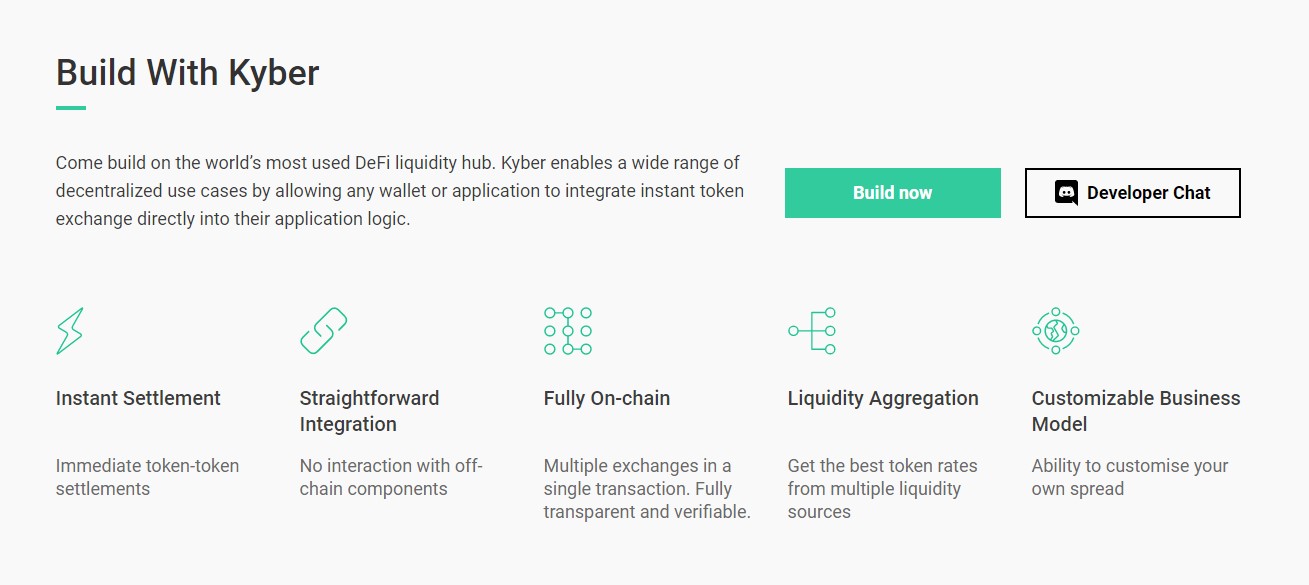 The Kyber Swap feature provides traders with the option to engage in crypto trades without the need to wrap their digital assets, register for order books or place deposits.
The platform's Kyber Reserve feature serves as the platform's main liquidity provider through which users or third parties are able to stack digital assets and tokens to the platform's shared pool, which can be tapped into from a plethora of different exchanges.
The Kyber Developer feature makes it possible for all sorts of digital services, dApps, exchanges and crypto wallets to be brought to life by providing developers with an arsenal of tools to help them fit and integrate their decentralised creation into the Kyber Network liquidity pool.
Kyber Network Crystal (KNC)
The Kyber Network Crystal (KNC) is the trading platform's native token that allows users to become liquidity providers at a drop of a dime or utilise their position in any way they see fit. The token itself has different blockchain network fees depending on its use, and it keeps the conversion process between digital goods as seamless as possible.
The KNC token serves as a bridge between the Kyber Network and every other entity that comes in contact with the network, such as crypto wallets, other crypto exchanges, as well numerous other dApps. The trading platform has a referral program by which users that are responsible for bringing new traders to the fold get rewarded with KNC tokens.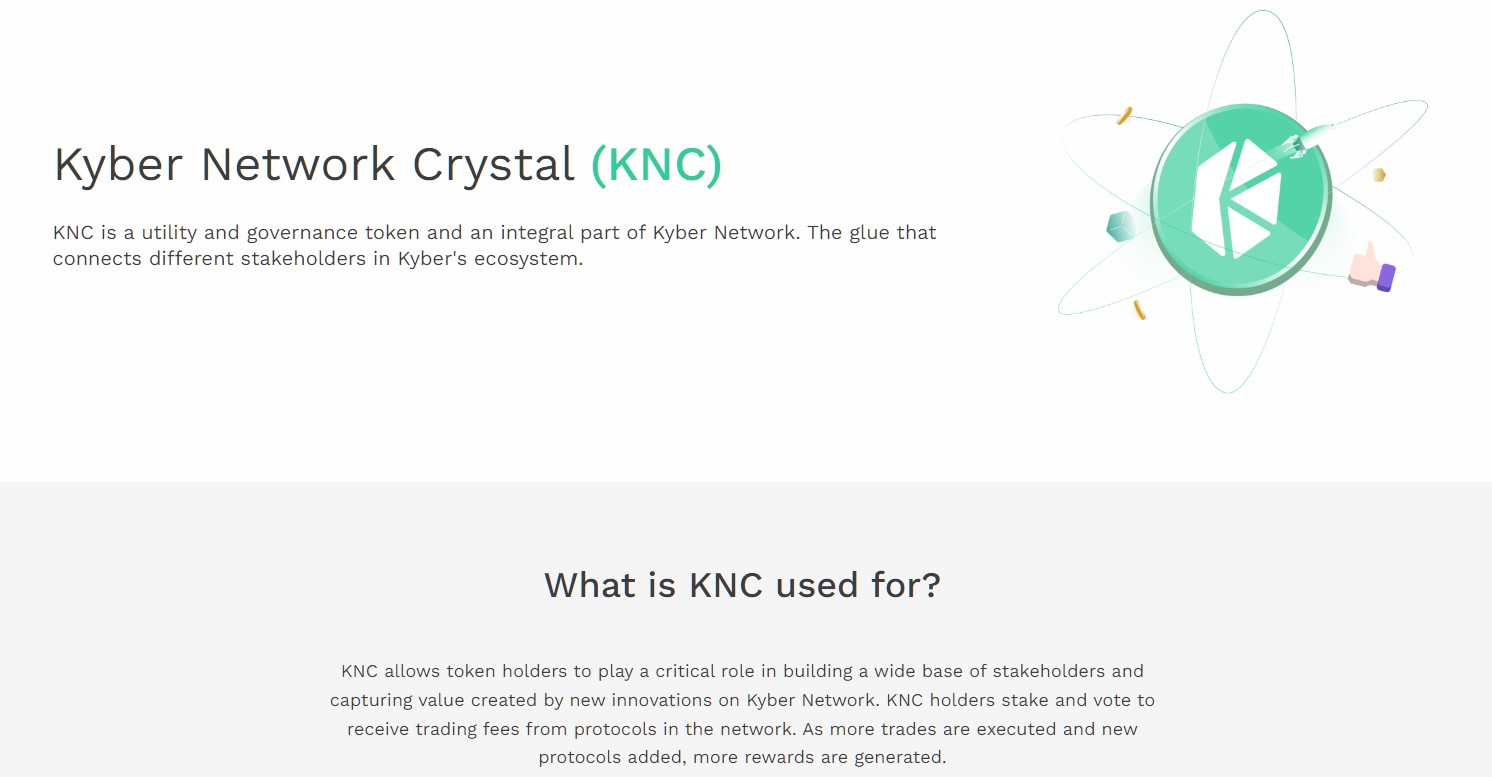 Traders are also able to stake their KNC tokens as a means of earning passive income and vote with their tokens on the future direction and development of the network.
When the Kyber Network Crystal (KNC) token was first introduced to the crypto world, it came at $1 apiece. Once the ICO exceeded 226,000,000 and the KNC project was officially a go, the remaining tokens, about 40% at the time, were split down the middle between the network's owners and its founders. These assets were locked up for a duration of twelve months.
The Kyber Network has an excess of over 180 million digital assets deployed in the crypto verse. After its official launch, the platform was on pace and burned its millionth token. But get a hold of this, the second million came in just over three months. The Kyber Network's trading volumes have been going through the roof, sometimes crossing the threshold of $30 million on a per-day basis.
Users can purchase BTC/KNC trading pairs directly from popular crypto exchanges like Binance or Coinbase.
How to Store KNC Tokens?
The KNC token doesn't depend on the exchanges' liquidity pools for its own liquidity. This way users can rest assured that their trading spreads are never in jeopardy. Because the KNC token is an ERC20 token by nature, traders need to be on the lookout for crypto wallets that support and are compatible with ERC20 tokens. Some of the most popular choices include MetaMask, MyEtherWallet, and Ledger Nano S. Users can even employ the network's native KyberSwap Android mobile app to store KNC tokens.
KyberDAO
Stakers and developers can take a more active role in the Kyber community with the latest Kyber Katalyst Upgrade. The platform will promote stakers to reserve managers, develop dApps through which takers will be able to directly connect with the Kyber KNC holders and offer benefits and rebates to platform liquidity providers and market miners.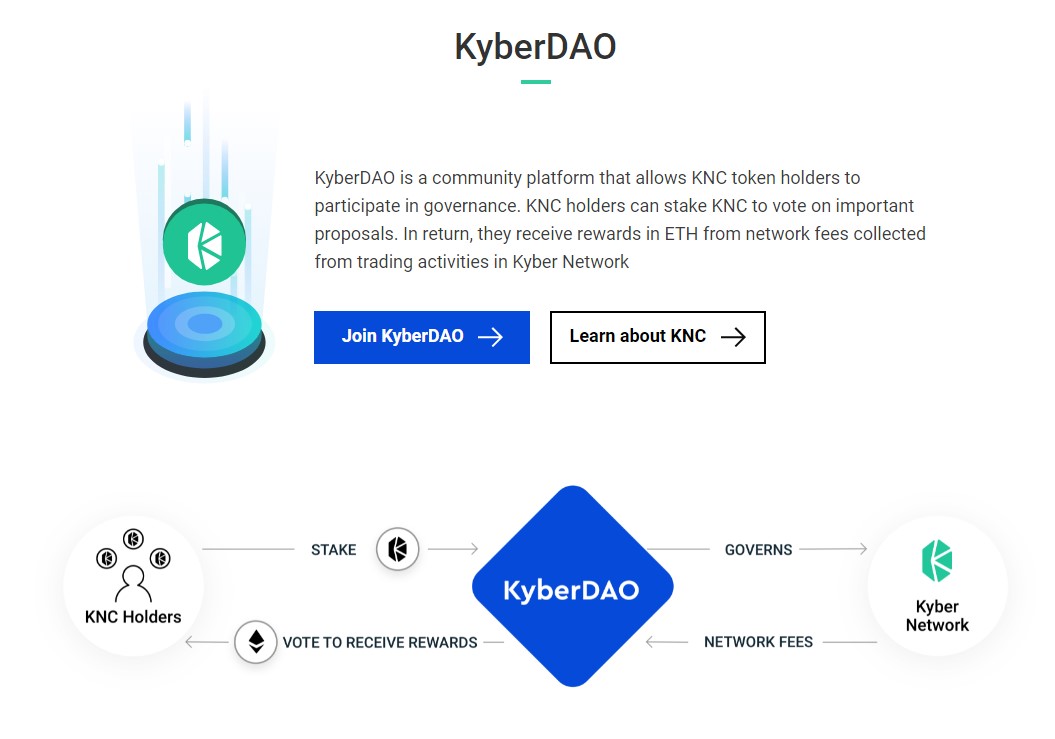 As part of the KyberDAO, KNC holders can implement the Katalyst protocol as KNC token holders. The KyberDAO serves as a decentralised autonomous organisation that allows all of the involved parties to come together and move forward on decisions as a unit. So, the Kyber team, the KNC holders, as well as the market participants will all have a set at the same table. This way, the governance of the platform and its developing projects will be fully transparent, and KNC holders will be incentivised to double their efforts. Why? Well, the greater the number of reserves they have in the bank, the greater the voting rights they'll enjoy. Everything is laid out in order to align personal with network growth.
By voting on fees and protocols, holders will be able to determine and create the value of the assets on the KyberDAO, burn KNC tokens, and reward network reserve managers. This would only result in a more stable platform for all participants in the long run. Moreover, dApp operators will receive full control on spreads, which in turn will create a fee system that will be tailored to every scenario. KNC holders, on the other hand, will receive part of the network fees as a reward for incentivising the KyberDAO.
KNC Epochs
The Kyber team doesn't plan to turn over the keys to the ship on the first whistle. However, as users and holders become more and more integrated into the fabric of operations and the crux of things, the team plans to slowly move towards a maximum transparency state. By allowing this, all the data, as well as the processes that will be executed on the network, will be on-chain and immutable. In isolated cases, the platform plans to rely on a set of predetermined parameters that will be designed to handle these types of scenarios.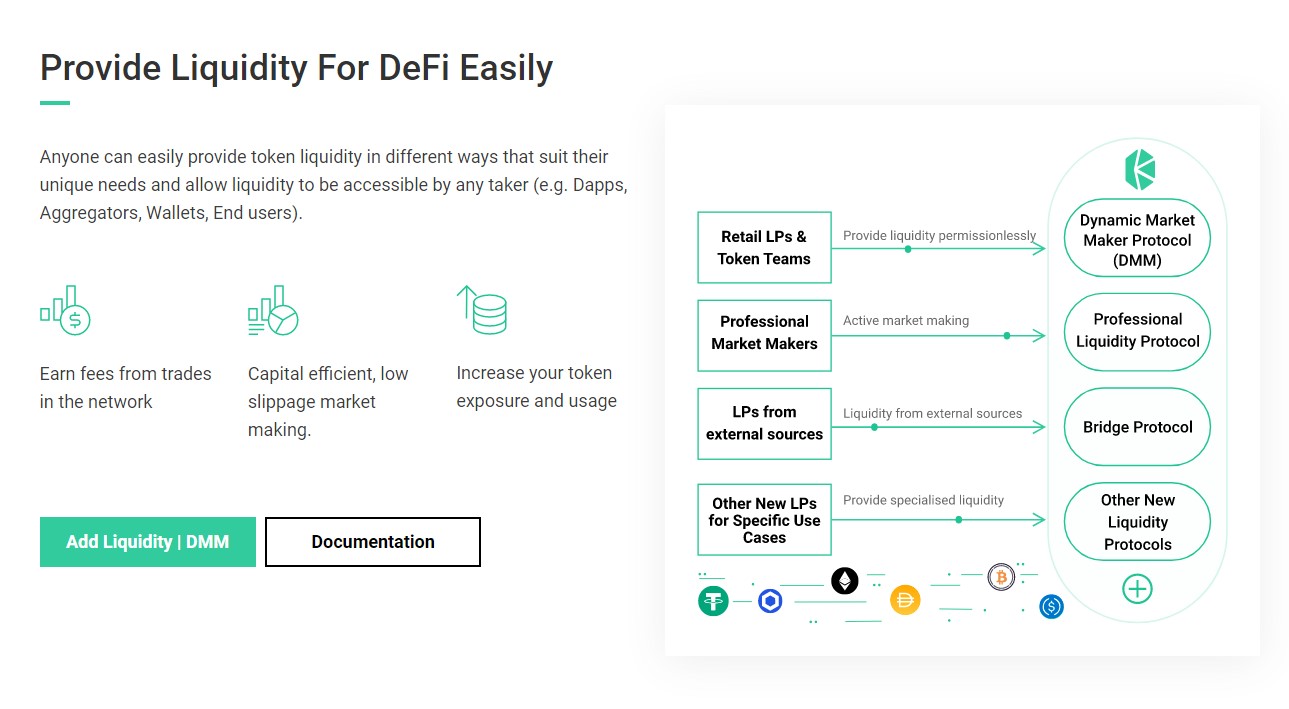 The KNC staking and delegation will be measured in epochs. The epochs will be counted based on the Ethereum block time, which means there would be a new epoch every two weeks. The biweekly turnaround makes for active KNC stakeholder participation, which is exactly what the Kyber Network team is going for. Delegation processes will be pre-programmed into the platform's protocols, making it possible for holders and stakers to allocate their voting power to outside pools. This way, pools will segregate when needed in order to suit the liquidity needed at any given moment in time.
KyberDMM
KyberDMM just might be the future of Automated Market Makers. The platform's coding is designed to provide maximum efficiency and follow the market trends by continuously morphing in order to provide the lowest possible spreads and the highest possible liquidity. This is definitely a step up from AMMs as we know them because traditional ones lack the flexibility to react to market changes. KyberDMM relies on its amplified liquidity pools and dynamic fee distribution to make this possible.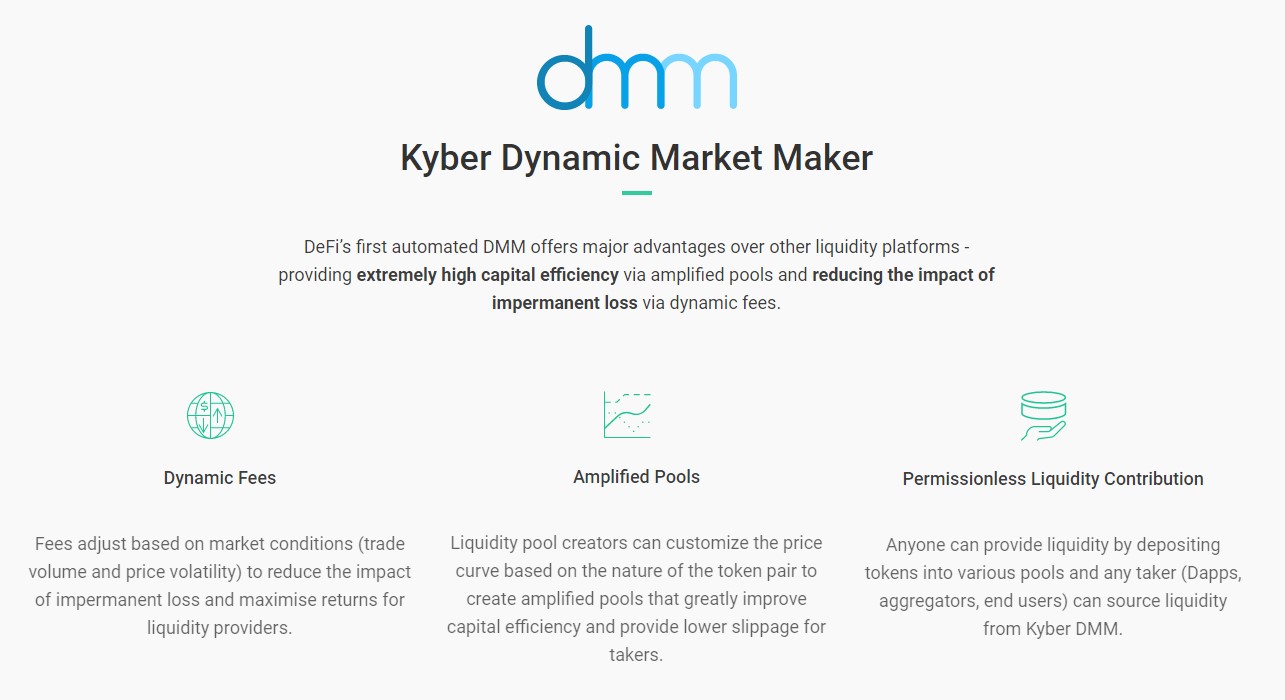 The Kyber Network employs a fixed trading fee that comes at 0.10%, along with the network transaction fees that depend entirely on the Ethereum network. The platform does not administer any fees on withdrawals.
| Trading Fees | Deposit Fees | Withdrawal Fees |
| --- | --- | --- |
| Flat fee of 0.1% | Not applicable | Not applicable |
Customer Support
Even though the Kyber Network doesn't feature a customer support service in the traditional sense of the word, the platform has managed to build up quite a following on its social media platforms. Users can always turn to one of their colleagues for advice or become a participant in discussions on the platform's Kyber Network sub-Reddit, Kyber Reddit, which counts over eight thousand followers. Apart from the most popular social media platforms such as Facebook and Twitter, the platform is also very active on the Kyber Telegram group.
Frequently Asked Questions
Is the Kyber Network Safe?
Because the Kyber Network works as a non-custodial decentralized crypto exchange, the platform does not store, hold or come across any personal data, user funds or digital assets. Also, traders that do business through the Kyber Network do not need to register for an account. So, with no assets or data to speak of, even if someone were to breach in and log in to one of the trading platform's savers, they won't be able to extract anything of value.
How to Start Staking Assets On the Kyber Network?
In order to get started and stake assets on the Kyber Network, traders are required to have an Ethereum crypto wallet. That's basically all there is to it. Once users connect their wallets to the exchange, they are able to get a hold of some KNC tokens immediately.
How Does Kyber Network Work?
Kyber Network is a decentralized blockchain-based protocol that combines liquidity and permits an exchange between tokens, without an intermediary. Kyber Network can be integrated into decentralized applications (dApps) as well as cryptocurrency wallets, and also Decentralized Finance (DeFi) systems.
Who Owns Kyber?
Loi Luu along with Victor Tran are co-founders of KyberNetwork which is a decentralized platform for cryptocurrency that has generated $52 million through its token sale in September. Luu has an PhD in computer science from the National University of Singapore, where he was a researcher on blockchain-based securities.
Where Is KNC Used?
KNC can also be employed to provide greater value to LPs in addition to the commissions they earn from trading. Furthermore, KNC can be used as collateral for loans or margin trading on DeFi platforms like Aave. Other applications for KNC include the facilitation of crypto payments via platforms such as Monolith wallet and Pundi X.
What Blockchain Is Kyber Network On?
Kyber Network is a decentralized protocol that is built on Ethereum. It's available across several Ethereum Virtual Machine (EVM) compatible chains, including Polygon, BNB Chain, and Avalanche. It was founded by Loi Luu and Victor Tran, Kyber Network is a hub for liquidity and aims to help make DeFi transactions more reliable and efficient.
What Type of Coin Is KNC?
It is the Kyber Network Crystal (KNC) token acts as a token of utility that serves as it's ""glue that connects different stakeholders in Kyber's ecosystem."" KNC holders can put their tokens on the KyberDAO to assist in the governance of the platform and make important initiatives and also receive staking rewards with Ethereum (ETH) that result from the trading fees.
How to Buy Kyber Network in Australia?
Register to Swyftx. Sign-up for a Swyftx account here & verify in minutes.
Deposit & buy. Deposit AUD into your Swyftx account & enter the amount of AUD you want to trade for KNC and tap "Buy".
Done! You now own some KNC ! You can tap "Go to KNC Wallet" to see your Kyber.