Luno Review for Australia 2022
The Luno project doubles as a crypto brokerage and an exchange platform. The company that houses the trading platform was initially launched as BitX back in 2013 in South Africa before it rebranded as Luno in the wake of 2017.
Luno has enjoyed moderate success in its short existence. The platform has over 3 million traders accounts and has a trading volume of over $8 billion in crypto and digital assets. The crypto exchange has outstanding support globally, as it can be reached from more than 45 countries across three continents. Luno even began offering a native cryptocurrency wallet when they expanded and went after the European cryptocurrency market in 2017. The downside? The crypto platform is yet to be made available in the USA.


What's more, Luno provides a secure space, as it's taken part in the FCA Sandbox tests, which run extensive financial and administrative regulatory supervision on all of its clients.
The trading platform keeps a tight circle when it comes to crypto support and only deals in the most relevant and sought-after cryptocurrencies such as Bitcoin (BTC), Bitcoin Cash (BTH), Ethereum (ETH), and Ripple (XRP). The platform's user interface is simple, clean and concise. Users can choose to employ any of its seven supported languages in their preferences and dive right into the trading platform's competitive fee offering after they verify their accounts. Luno closely follows regulations as it is a registered with the Central Bank of Malaysia.
If you're looking for more options, check out our detailed reviews of the best Australia-based cryptocurrency exchanges here.
Features
Luno's platform is well-built from the ground up. The interface features a clean, user-friendly, sophisticated look and is very easy to navigate. In order for users to trade digital goods at Luno, they have to register for an account at the trading platform. This is pretty straightforward and can be done by providing Luno with an active email address and a unique password. Upon submitting the request for an account, new users are able to verify their accounts for three different tiers, each of which requires more elaborate information about their identity and their whereabouts.

Account Tiers
Naturally, each of the tiers has different deposit and withdrawal limits, fees, and features. Level 1 is the base option. Users only need to verify their phone number along with their credentials. Level 2 takes things up a notch and asks traders to provide a selfie of themselves along with a government-issued national ID card or passport. Finally, Level 3 access is achieved by providing proof of residence.
Supported Currencies and Services
Once the verification process is complete, users are able to deploy funds in any of the platform's supported fiat currencies that include euro (EUR), Singapore dollar (SGD), Uganda shilling (UGX) and Zambian kwacha (ZMW). When it comes to cryptocurrency support, Luno only covers the most sought-after coins.
Holding and staking assets is a feature that is available to all users, regardless of their tier level. Luno used to offer OTC trading services as well but that feature is no longer active. Luno does have an affiliate program that rewards existing users that bring in new traders to the platform. If a referral is successful and someone uses your link to register for an account at Luno, both sides are in for a reward equivalent to 15 Euros in BTC.

The trading platform also offers a store, where traders are able to pick up various apps that are specifically designed to improve their experience and aid them when doing business on the platform. The Luno API is open to developers and can be utilized for fresh builds on customized apps.
Deposit Funds and Methods
Deposits by credit and debit card are available only throughout the UK. UK traders are able to connect their credit or debit card by navigating to the Wallet tab, then selecting Deposit and tapping the Add credit/debit card button. Once they fill in their card info, all they have to do is punch in the amount they want to deposit and confirm the order.
For the rest of the world and users who want to deploy funds by bank account, the process of connecting a bank account is pretty much the same. Once users open the Wallet tab, and select Deposit, they just need to tap the Bank Transfer button instead of the Add credit/debit card one. If the connection is successful, they will be asked to choose the currency that they wish to deposit and scan a QR code to confirm the order.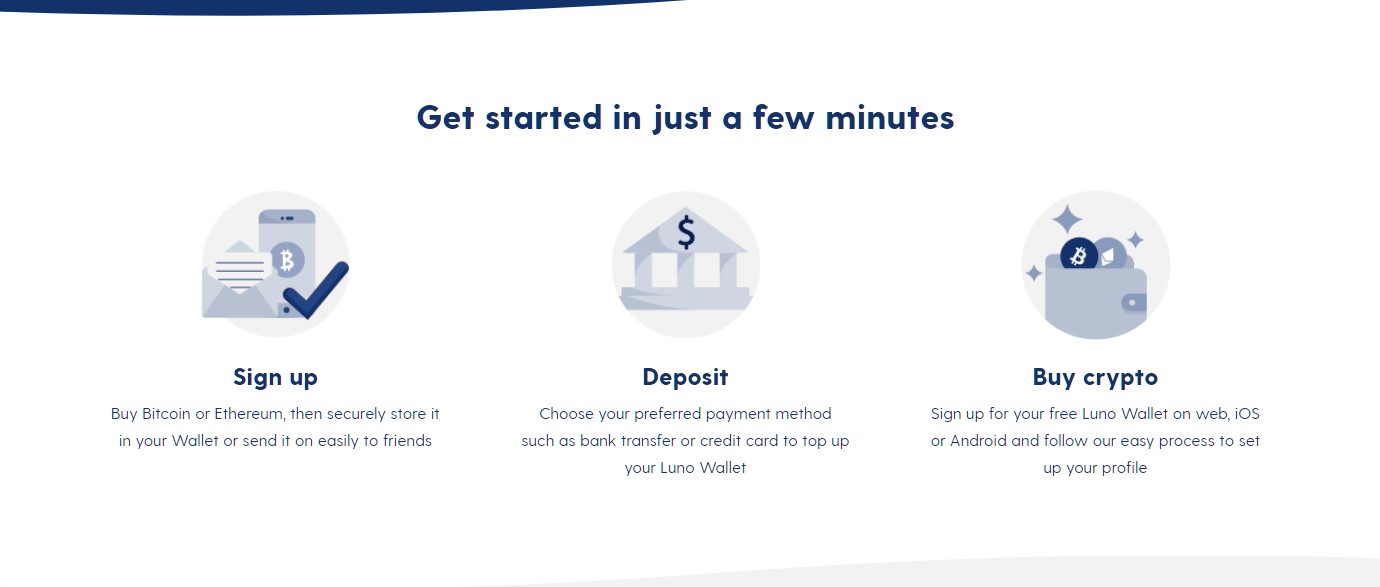 Luno users can buy Bitcoin directly through the Luno wallet. Once they have made a fiat deposit and have assets in their balance, the Luno Wallet makes it a breeze to convert the deposited fiat currency into any of the supported cryptocurrencies, Traders just need to select the crypto that they want to buy and choose how much of it they want to purchase. That's it, it's as simple as that.
Withdrawal Funds and Methods
In order to withdraw funds from their Luno accounts, users need to navigate to their wallets and select the Withdraw tab. From here, they can select the currency and the amount that they want to withdraw, select the destination or bank account that the funds should be transferred to, and confirm the order by punching in the Luno app PIN. The withdrawal will appear on their balance sheet within the next 48 hours. This largely depends on the processing time of the bank itself. Luno supports crypto-to-crypto as well as crypto-to-fiat pairings. Traders are able to choose and deal in any of the 29 supported pairs on the crypto exchange.
Supported Payment Methods and Trading Fees
When it comes to deposit methods at Luno, users have to keep in mind that: one, they have to have a verified account with the platform in order to make a deposit; and two, that the bank account that they are making the deposit from has to be the same bank account that is linked to their Luno wallet. There is also the question of where the funds are being deployed from, as different locations support different payment providers, For example, residents of Europe are able to make deposits by SEPA transfers, as well as credit or debit cards, however, traders outside of the EU are able to make their deposits through Interbank GIRO, Xfers transfer, EFT, and regular bank transfers.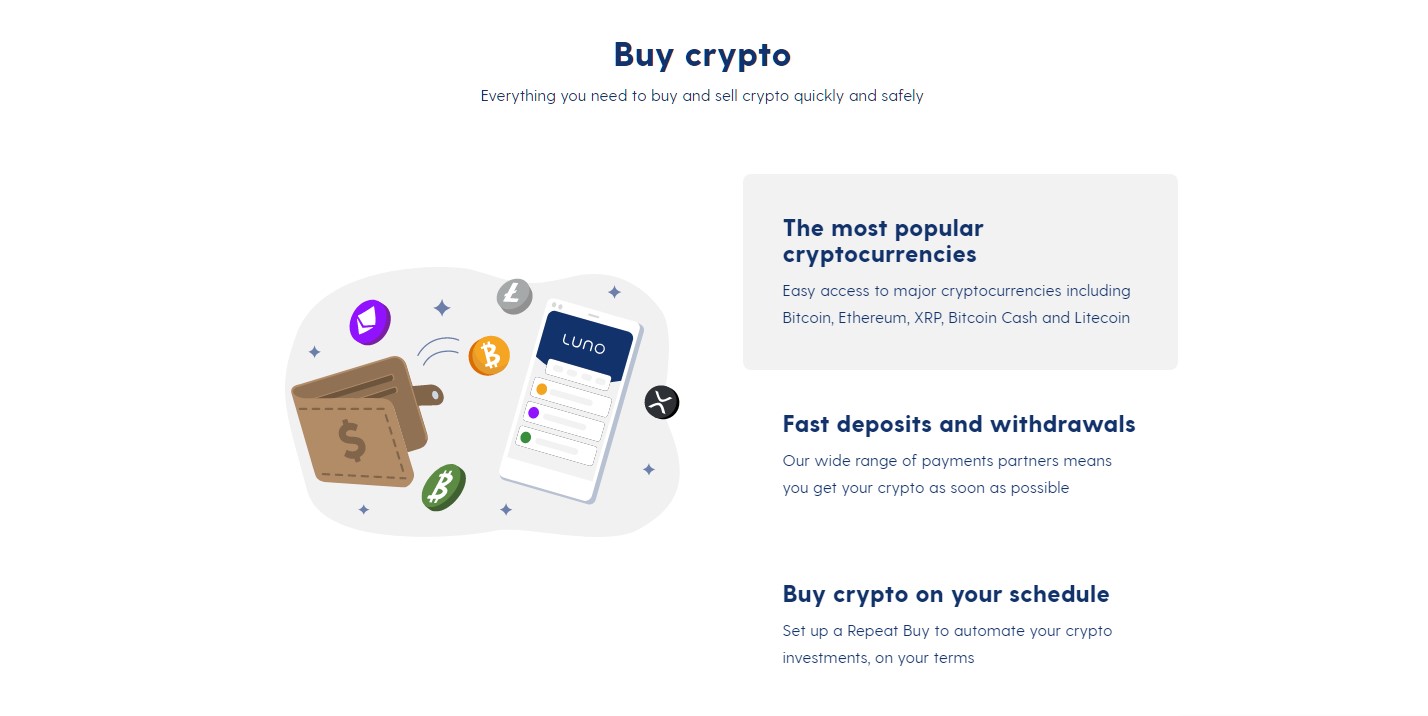 Deposit & Withdrawal Fees
Deposit fees at Luno are tightly connected to the employed method of transfer and the currency of choice. Deposits in Euros (EUR), Ugandan Shilling (UGX), Malaysian Ringgit (MYR), Singapore Dollar (SGD), and Zambian Kwacha (ZMW) aren't subject to any fees, while deposits in Indonesian Rupiah (IDR), Nigerian Naira (NGN), and South African Rand (ZAR) differ in regards to the deposit methods. All cryptocurrency deposits are free of charge at Luno.
The trading platform employs minimal withdrawal fees on every currency. Euro withdrawals via SEPA instant transfers will set you back 0.3 EUR on a per-withdrawal basis. IDR withdrawals come at 6,500 IDR on a per-withdrawal basis, the fee on MYR withdrawals is 0.1 MYR, and so on.
Processing times of deposits at Luno also vary depending on the currency in question. Deposits in IDR, NGN, and MYR, have a 24-hour processing window, while deposits in EUR, ZAR, and ZMW take around 48 hours on business days. SGD deposits are almost instant and usually don't take more than 5 minutes to process. Bitcoin and cryptocurrency deposit times are entirely dependent on the blockchain network traffic.
Cryptocurrency withdrawal fees also come in all shapes and sizes. Bitcoin, Bitcoin Cash, and Ethereum do not have set fees on withdrawals and largely depend on the blockchain network traffic, while Ripple has a fixed 0.03% fee.
Supported Countries
Luno is a trading platform that, for the most part, is more focused on markets that big-name crypto exchanges tend to omit from their lists of supported regions. The platform includes countries such as Indonesia, Malaysia, Singapore, Uganda, Nigeria, and Zambia. However, they also include a lot of regions across Europe.
Limits and Liquidity
The highest tier at the Luno trading exchange doesn't have limits or a cap when it comes to trading amounts and purchases, however, it does employ limits on instant buy/sell transactions that are tied in with the provider as well as the territory from which the deal is executed. In this way, the crypto exchange protects itself from experiencing low liquidity.
The trading platform employs both maker and taker fees that are in place to keep the liquidity pools high. Maker fees are usually just small transaction fees that go towards a particular currency's blockchain network, while taker fees come at a fixed 0.25%.
The platform's help center is always on hand to give traders valuable information and provide assistance on verification or queries.
Security
Luno hasn't had any breaches or hacks, nor has it fallen prey to scams in the whole of its existence. The trading platform keeps funds locked up in cold storage wallets that are kept offline. The platform offers a detailed guide that educates its users on phishing scams, malware attacks, as well as SMS and email scams in the help section. Here, users can learn everything they need to know in order to dodge suspicious requests and stay far away from scams.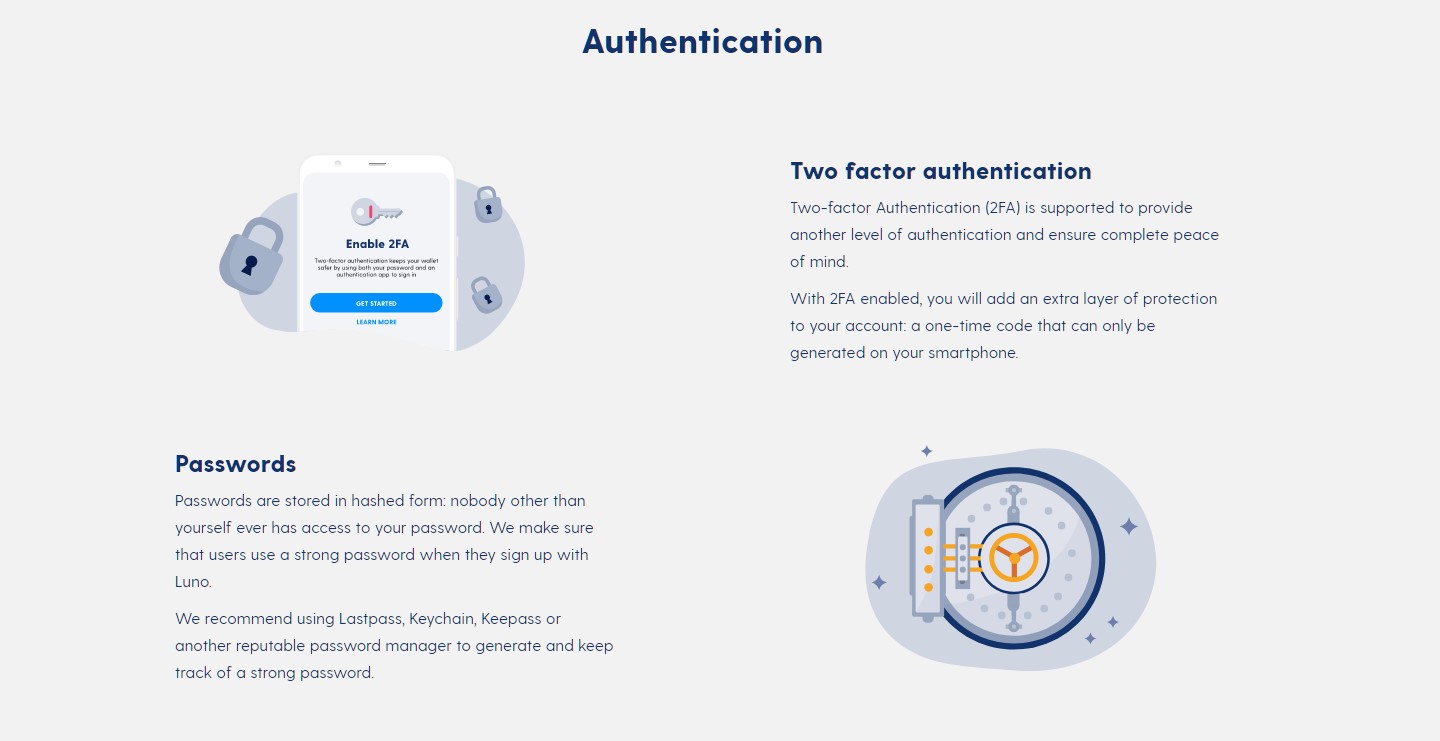 Traders are urged to activate the 2FA feature as an added security layer that notifies them of every login or withdrawal attempt. Users are able to choose between Authy and the Google Authenticator apps, as their preferred notification provider. A clever feature on Luno's part is adding a feature through which traders can disable the withdrawal option on their Luno Wallet. This way, funds can only be taken out or sent upon personal confirmation.
Luno is not a fully regulated crypto exchange and isn't FDIC insured, however, the platform isn't averse to regulatory frameworks, as it is registered with the Central Bank of Malaysia and it does perform Know Your Customer (KYC) tests on its users. Because KYC tests are part of the trading platform's authentication process, Luno does store personal information on its users. Everything that takes place on its premises, as well as third-party data from linked bank accounts and credit cards are stored on the trading platform's servers.
Luno is Anti-Money Laundering (AML) compliant as well. The crypto exchange tracks account behavior and are alerted upon suspicious activity, users aren't able to participate in or execute trades without going through the imposed KYC and AML regulations. Unverified users are welcome to stroll around the platform and familiarize themselves with the features and offerings, however, they are not permitted to participate in any trades.
Customer Support
Luno offers professional and attentive support to its traders. Traders are able to reach out to the platform support center regarding any difficulty or problem that they might be faced with. The trading platform also has a vast knowledge library in the form of an FAQ section that users can take advantage of and educate themselves on topics like deposits and withdrawals of funds, buying/selling cryptocurrencies, account verification, and security protocols.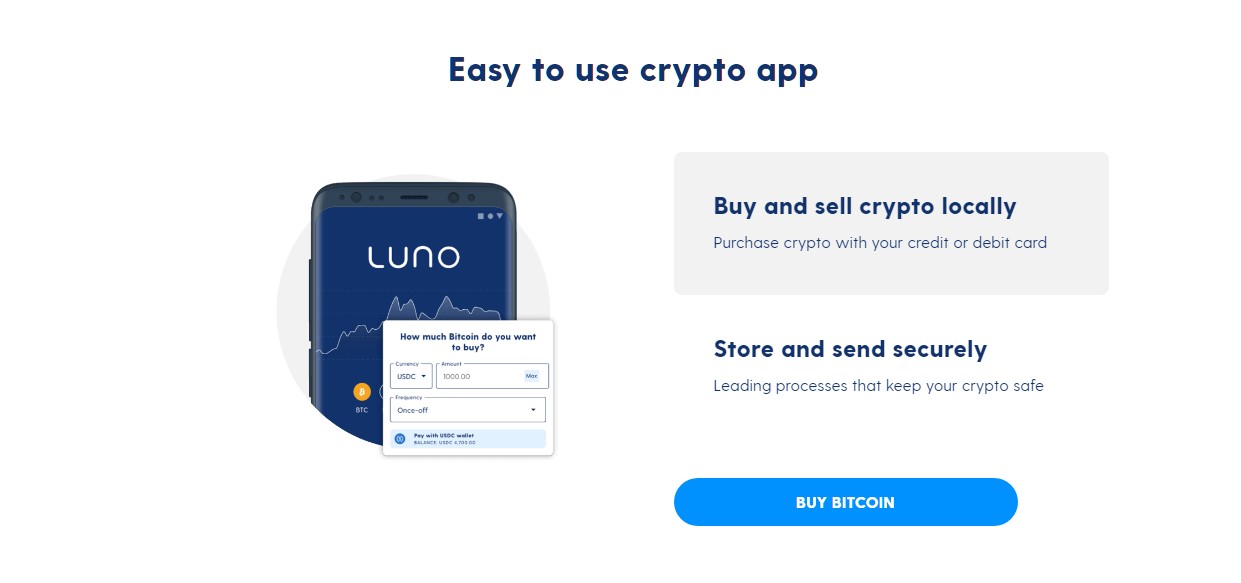 The exchange platform's support center can be contacted by filing for a ticket and waiting for your turn. Crypto traders are able to find a ticketing link at the bottom of every page on the platform at luno.com or reach out to any of the platform's official social media accounts.
Pros:
User-friendly
Can quickly switch between crypto and fiat currencies
Option to share free fiat and crypto email payments
Offers business accounts help organizations easily set up their proceedings
Supports credit cards and bank transfers
Cons:
Unregulated
Limited crypto choices
Does not support advanced trading tools
No margin trading
Liquidity is low
Frequently Asked Questions
Is Luno safe or FDIC insured?
By all accounts, Luno is a secure and safe exchange through which millions of users do business on a daily basis. Unfortunately, Luno is a trading platform that does not employ FDIC insurance.
How to make withdrawals at Luno?
Crypt traders are able to withdraw funds at Luno by connecting their account to their bank account and transferring funds directly to their bank account or go for an alternative and transfer funds by transferring them to a different crypto wallet anywhere.
How long does it take to withdraw funds from Luno?
Withdrawals at Luno occur at set times, twice a day. Luno itself is quick to process and fund, however, the full processing times largely depend on the blockchain network and the traffic that it's dealing with at a given moment. Furthermore, there is also the bank's processing speed to take into account and differs from one bank to another.
Is Luno legit?
Even though the trading platform is not fully regulated, it still does employ a lot of the standardized measures and features that ensure that all the users on its premises are legitimate individuals. That being said, the crypto exchange is not regulated by a legislative entity.