Margex Review for Australia 2022
Margex is a novel cryptocurrency derivatives exchange that aims to provide advanced trading features that can be navigated by less experienced users. The trading platform is still warm from the oven, as it was launched in 2020. By providing a sleek and simple interface and supporting margin trades with up to 100x leverage, it quickly caught the attention of many of the beginner crypto traders that were itching to go pro but weren't sure if they'd be able to sustain the impact.


The exchange platform took note of this and offered a referral program on top of the already low fee structure. How low you ask? Well, 0.110% might be the highest number that you'll ever see on Margex. And that only goes for taker fees on certain pairs such as LTC/USD. The most coveted ones like BTC/USD, ETH/USD, and EOS/USD all have a zero following the decimal. Mind you, these are the taker fees we're talking about.
Margex certainly turned some heads on entry but let's take a closer look and see whether it has what it takes to hang with the best cryptocurrency exchange platforms in Australia.
About the Margex Exchange
Margex was founded in 2020 and resides on the coast of Seychelles. The exchange provides cryptocurrency leverage trading around the globe with the exception of the United States of America, the Republic of Seychelles, Cuba, Syria, North Korea, Crimea, Sevastopol, Bermuda, Iran, Sudan, and Afghanistan.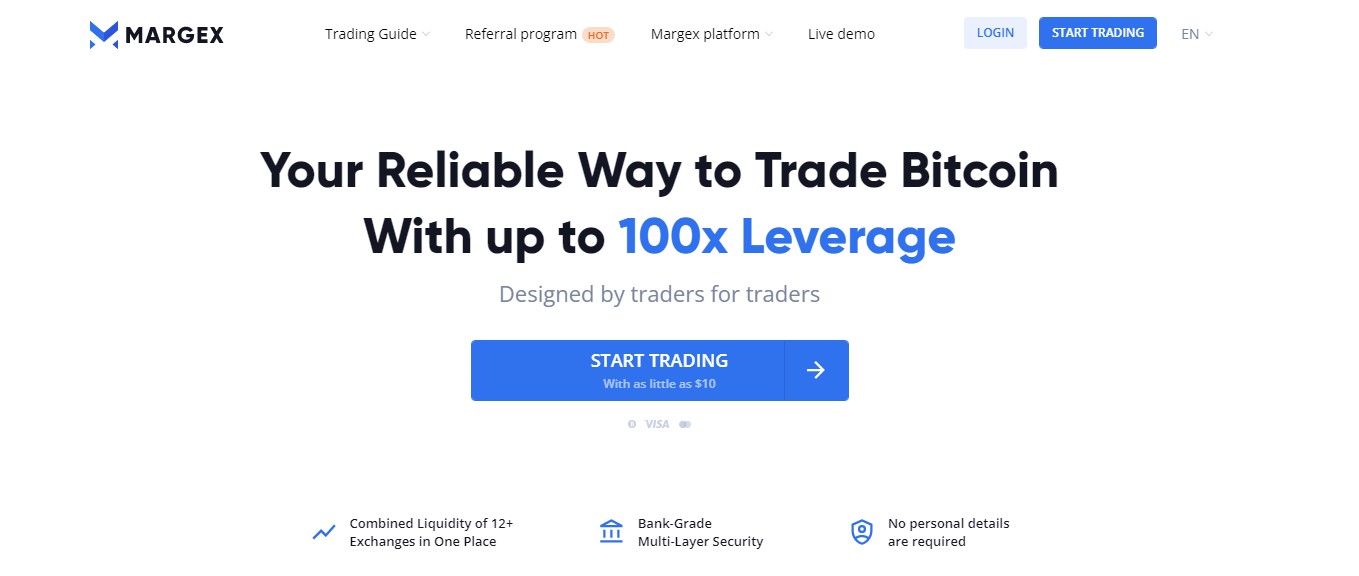 The trading platform does not comply with any outside third-party regulations and does business only on territories where there is no need for a license when it comes to Bitcoin trading. The exchange doesn't perform KYC tests on its customers and as a result, offers a great deal of privacy and anonymity. There is no hierarchy in terms of different levels or tiers on fees, deposit methods, or limits.
Features
Because Margex figures as a derivatives trading platform, it only supports asset derivatives, not the actual assets themselves. The exchange allows for maximum risk trading on deals with up to 100x on leverage and administers a whopping 40% on fees and commissions on all referees. This might not seem as much at face value, but 40% is still a lot considering that every time when someone makes a move you get 40% on that.

The trading platform stores 100% of digital assets in cold storage. This provides for super-tight security and only a small possible window for infiltration. As a result, Margex withdrawals are limited to one per day. Users might be shocked that the platform only supports six trading pairs, however, this is a conscious decision. Margex is carving itself a niche.
The high liquidity on the supported pairs is virtually locked in place so that there are no movements on prices. This way traders can plan ahead within reason. The crypto exchange does not administer Know Your Customer tests so that users can hold on to their sensitive data and not fear the worst. In order to get started on Margex, users only need to provide a valid email address, punch in their credentials and make a deposit.
Margex Trading
Once you provide the exchange with the required credentials, you'll need to verify that you're using Margex from a country that is on the trading platform's whitelist. From there on, you're welcome to make your first deposit.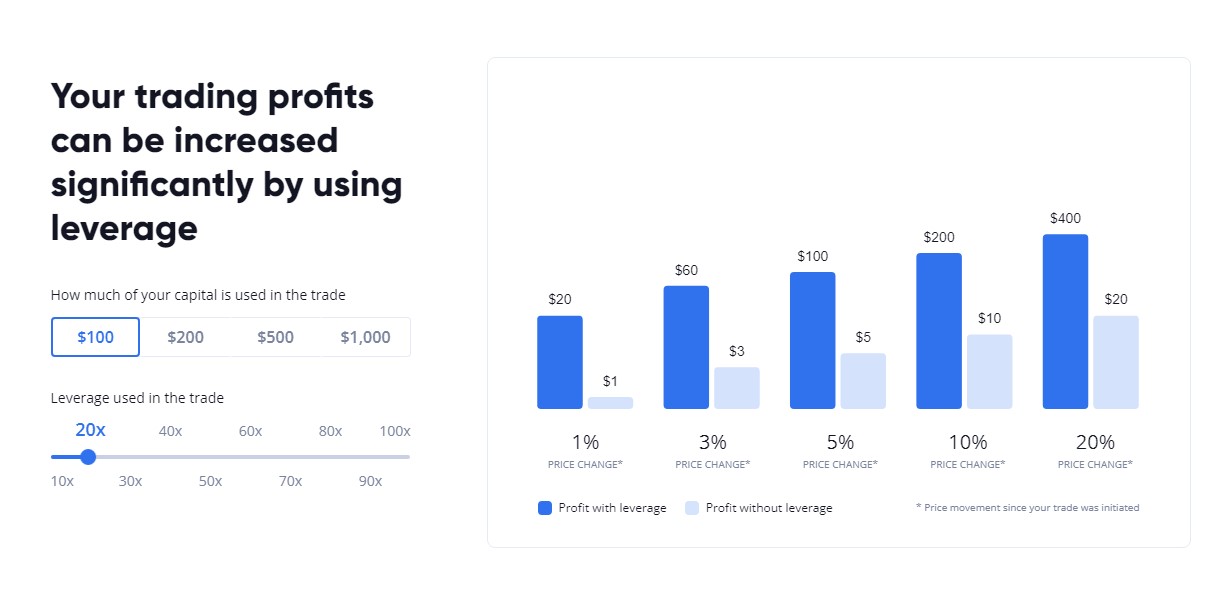 The leverage trade setup is not nearly as complicated as other trading platforms make it seem. Margex successfully retracts all extra information and unnecessary graphs that can make your head swirl. If you're thinking that might blindside you while taking a position, rest assured the market movements and historical data are still there at arms reach.
Perpetual futures come with the same features as leverage trades. Users can execute profit orders, maximum leverage, as well as stop-loss orders. The positions are isolated, so if things don't go your way on a certain trade, your losses will stop at what you have put in and not spill into your total balance sheet. Users are able to open multiple positions on one trading pair at different leverage settings.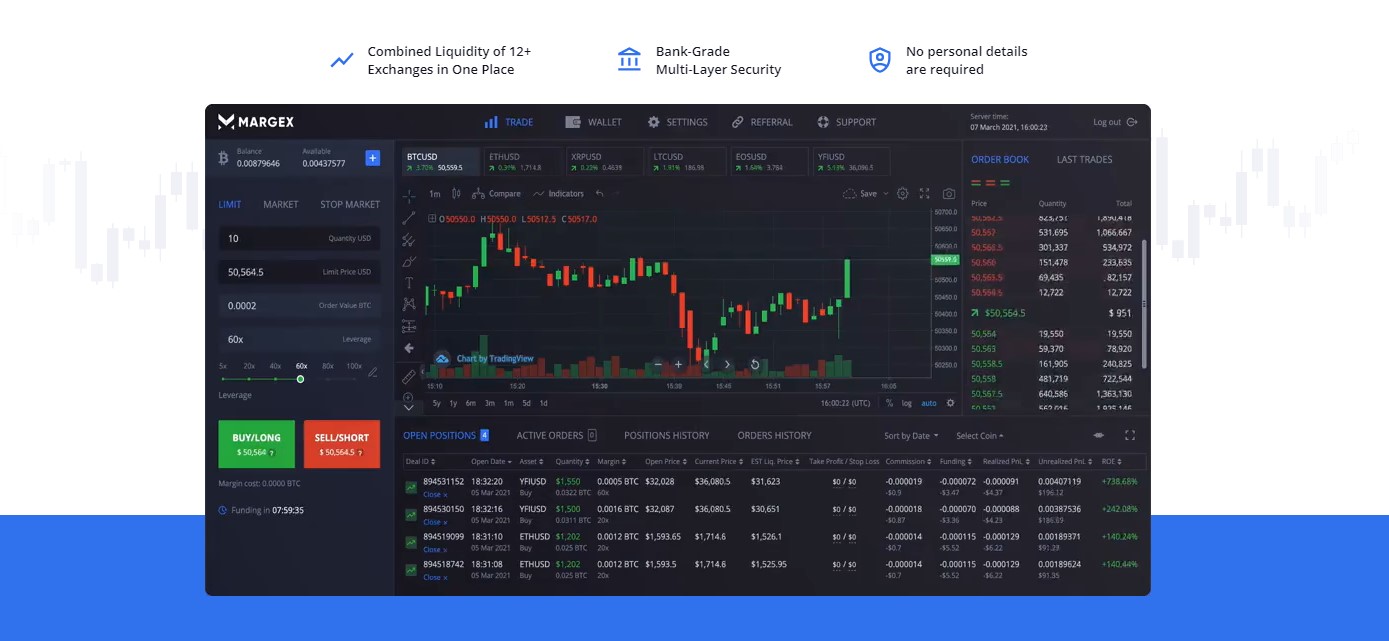 Order Types
Users are able to take advantage of three types of orders at Margex. These can be found under the Order Placement tab and are as follows:
Market orders are instant orders that are executed on the spot, immediately upon placement. The platform locks the best available price of the asset on the order book and runs it through the blockchain. Market orders come at small transaction fees on a per-trade basis.
On limit orders, users are able to set threshold parameters that get triggered when a certain asset floats in between the lines. The thresholds are placed above and below the momentary asking price. Users who set limit orders are acting as market makers, as they are the ones incentivizing the trade and adding liquidity to the liquidity pool. Limit orders lie dormant until the light or low thresholds are activated.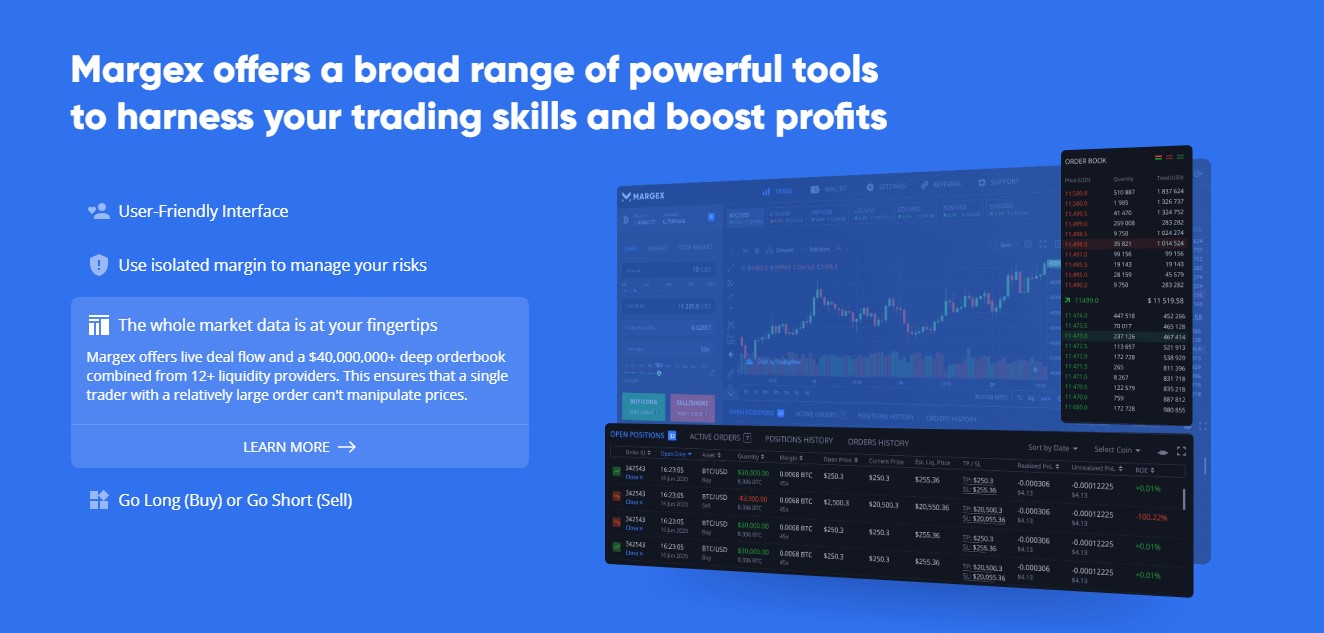 Conditional orders are much like limit orders but immediately execute trades on open positions. As soon as the price of a certain asset enters the threshold parameters, the trade falls through. Users are also able to automatize the take-profit, as well as the stop-loss feature before order execution if and as they see fit.
Withdrawal and Deposit Methods
For depositing funds on the trading platform users are able to utilize their credit cards or go through a third-party exchange. In order to deposit their assets on the platform, traders have to add the BTC address to the wallet from which they are making the deposit or scan the provided QR code. Because BTC deposits at Margex do not require multiple blocks of confirmation, the whole process moves faster and is more expeditious.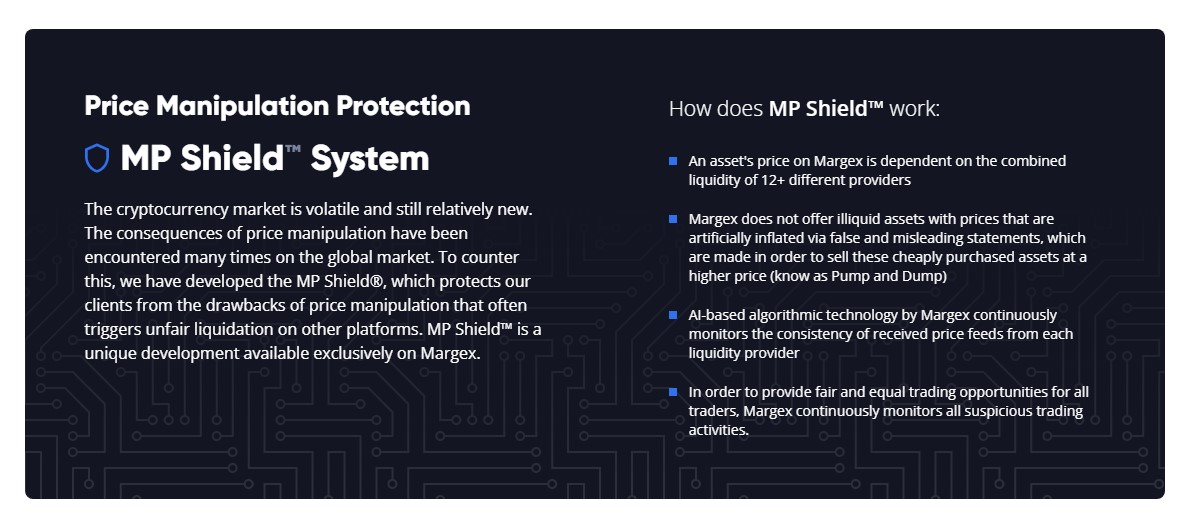 Margex only supports Bitcoin (BTC) withdrawals. Traders will need to provide the trading platform with an address to which they wish to withdraw their acquired assets, along with their 2FA code and, of course, the sum that they wish to withdraw. Margex only processes withdrawals once a day, at 13 UTC. Don't expect your funds to appear on your balance sheet immediately. It usually takes a while before they do.
Trading Fees
Mergex can hold its own in the fee department. Even when compared to some of the most recognized crypto trading exchanges, such as Bybit, Bitmex, Binance, and Changelly.
The exchange employs a maker fee of 0.019% and a taker fee of 0.060% on all six of its supported pairs. It doesn't get much lower than that.
| | | |
| --- | --- | --- |
| Pair | Maker | Taker |
| BTC/USD | 0.019% | 0.060% |
| ETH/USD | 0.019% | 0.060% |
| EOS/USD | 0.019% | 0.060% |
| LTC/USD | 0.019% | 0.060% |
| XRP/USD | 0.019% | 0.060% |
| YFI/USD | 0.019% | 0.060% |
It's noteworthy to mention that the platform employs a funding fee, which is a fee that is commissioned in instances when a user is holding a position open for a period longer than 24 hours.
Security
The trading platform's MP Shield AI programming and encryption is something that you won't find anywhere else because it's a system that the Margex software development team has programmed from scratch. The infrastructure has been built from the ground up to offer protection from unwanted price tinkering and false liquidation.
The platform employs a number of security levels that are performing audits on all data before the withdrawal window opens and funds go out of the platform and into the wallets of the traders.
Margex is one of the rare cryptocurrency exchanges that stores 100% of digital assets in multi-sig cold storage wallets. The platform is equipped with real-time navigation and is on top of all asset movements at all times. Users are urged to further protect their assets by activating the two-factor authentication process, through which they will receive a unique code, by SMS or via the Google Authenticator app, every time they log into their account. Furthermore, all user data is under an additional layer of encryption, and users are notified of all changes and activities by email.
Customer Support
The platform has a great support team that is standing by to resolve any issues that you might come across or simply act as a chaperone and walk you through any difficulties that you might encounter. They are available around the clock, night and day, and can be contacted by live chat or through the exchange platform's official email address.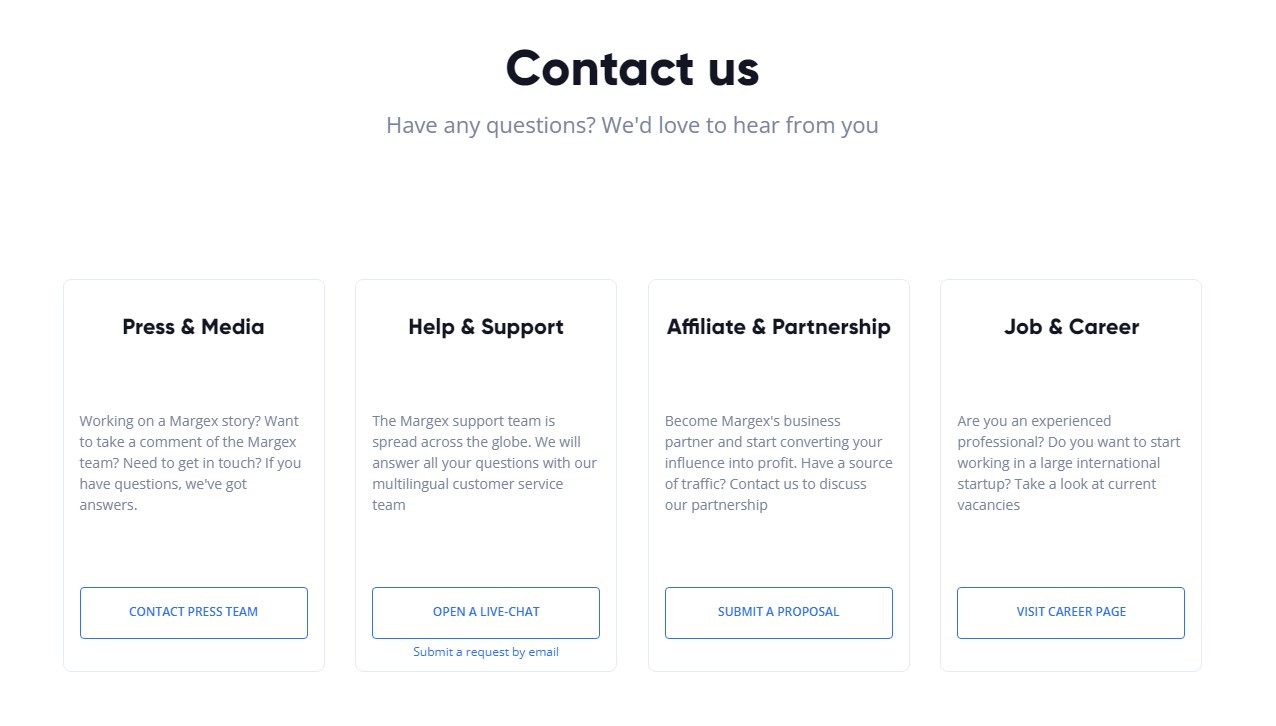 Pros:
High leverage trading (100x)
High liquidity trading pairs
Good customer support
Cons:
Single withdrawal of crypto funds per day
Withdrawals on the trading platform are credited only in Bitcoin
Frequently Asked Questions
Does Margex have a mobile app?
Unfortunately, Margex does not offer a mobile app. However, users are still able to use the desktop trading platform on their mobile devices.
Does Margex support isolated margin trading?
The platform also offers its customers the option for isolated margin trading, so that on high leverage trades, they are able to have segregated data on a certain asset's liquidation price and make an informed decision whether they would like to proceed or back off.