Margex Exchange Review for 2023
Quick Summary: Margex is a revolutionary and modern crypto exchange platform that makes it possible for individuals from around the world to invest their money and trade in the blockchain industry. Margex was particularly designed by traders for traders, and mainly specializes in margin trading.
With Margex's bank-level multilayered and highly scalable infrastructure security, you don't need to worry about your crypto holdings. This makes Margex a very good pick for those users who want peace of mind when trading and investing.
Get started today with Margex!
Margex is a novel cryptocurrency derivatives exchange that aims to provide advanced trading features that can be navigated by less experienced users. The trading platform is still warm from the oven, as it was launched in 2020. By providing a sleek and simple interface and supporting margin trades with up to 100x leverage, it quickly caught the attention of many of the beginner crypto traders that were itching to go pro but weren't sure if they'd be able to sustain the impact.

The exchange platform took note of this and offered a referral program on top of the already low fee structure. How low you ask? Well, 0.110% might be the highest number that you'll ever see on Margex. And that only goes for taker fees on certain crypto pairs such as LTC/USD. The most coveted ones like BTC/USD, ETH/USD, and EOS/USD all have a zero following the decimal. Mind you, these are the taker fees we're talking about.
Margex certainly turned some heads on entry but let's take a closer look and see whether it has what it takes to hang with the top cryptocurrency exchange platforms in Australia. Let's delve deeper into this Margex review.
Margex Platform at A Glance
Website: www.margex.com
Country: Seychelles
Margex Mobile App: Not available
Deposit Methods: Visa/Mastercard, Cryptocurrency
Fiat Currencies: USD, AUD, CAD, EUR, GBP
Cryptocurrencies: Bitcoin, USDT, XRP BTC, USDT, ETH, DAI, TRX, LINK, XRP and some more
List of Features
It is easy to purchase cryptocurrency
Apps for mobile devices are available for Android and iOS
Great customer support
A secure and safe trading environment
Sign up quickly and sign-up without need for verification
Platform for beginners
Margin trading
Rapid, efficient, and modern trading interface
40% referral commission
Popular crypto assets for trading and purchase
The guide to trading is broad and includes tutorial videos
Margex Pros and Cons
Pros
Quick and simple crypto transactions
Excellent customer support and excellent guides
No ID verification is necessary for the use of Margex app
Margin trading that can be as high as 100x leverage
Professional trading interface
Margex offers live deal flow and a $40 million plus deep orderbook combined from over 12 liquidity providers
Cons
There is no diversity in the trading markets
Very few cryptocurrencies
What Is Margex Exchange App?
Margex was founded in 2020 and resides on the coast of Seychelles. The exchange provides cryptocurrency leverage trading around the globe with the exception of the United States of America, the Republic of Seychelles, Cuba, Syria, North Korea, Crimea, Sevastopol, Bermuda, Iran, Sudan, and Afghanistan.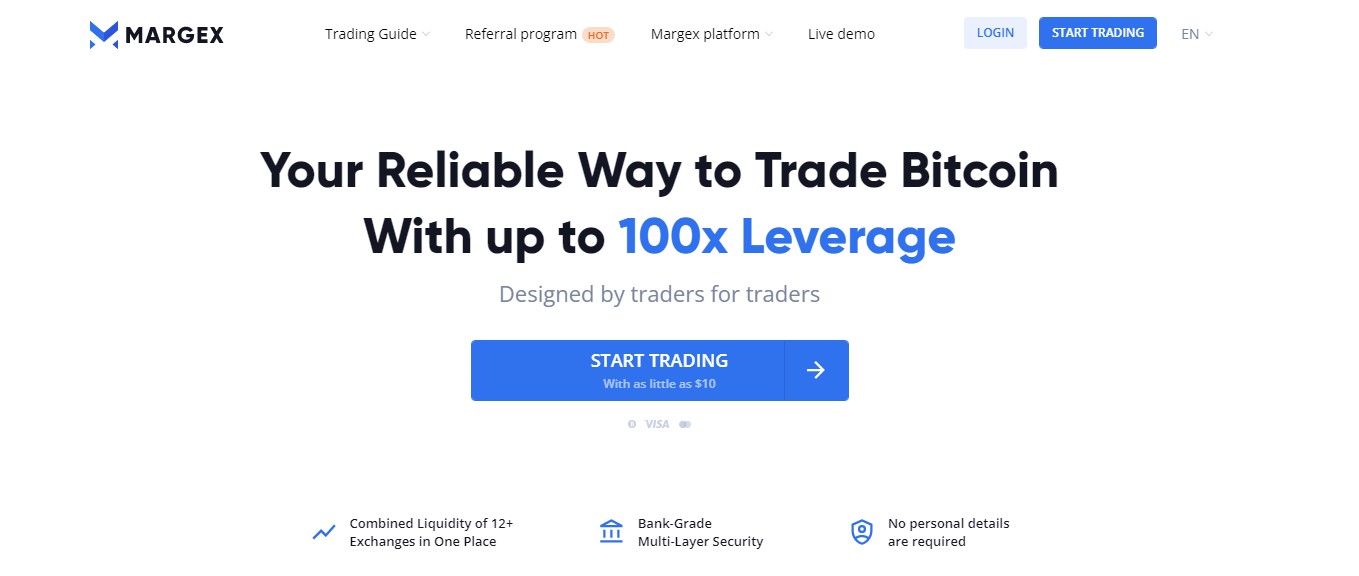 The trading platform does not comply with any outside third-party regulations and does business only on territories where there is no need for a license when it comes to Bitcoin trading. The exchange doesn't perform KYC tests on its customers and as a result, offers a great deal of privacy and anonymity. There is no hierarchy in terms of different levels or tiers on margex fees, deposit methods, or limits.
Features
Because Margex figures as a derivatives trading platform, it only supports asset derivatives, not the actual assets themselves. The exchange allows for maximum risk trading on deals with up to 100x on leverage and administers a whopping 40% on fees and commissions on all referees. This might not seem as much at face value, but 40% is still a lot considering that every time when someone makes a move you get 40% on that.

The trading platform stores 100% of digital assets in cold storage. This provides for super-tight security and only a small possible window for infiltration. As a result, Margex withdrawals are limited to one per day. Users might be shocked that the platform only supports six trading pairs, however, this is a conscious decision. Margex is carving itself a niche.
The high liquidity on the supported pairs is virtually locked in place so that there are no movements on prices or price manipulations. This way traders can plan ahead within reason. The crypto exchange does not administer Know Your Customer tests so that users can hold on to their sensitive data and not fear the worst. In order to get started on Margex, users only need to provide a valid email address, punch in their credentials and make a deposit.
Margex Trading
Once you provide the exchange with the required credentials, you'll need to verify that you're using Margex crypto exchange from a country that is on the trading platform's whitelist. From there on, you're welcome to make your first deposit.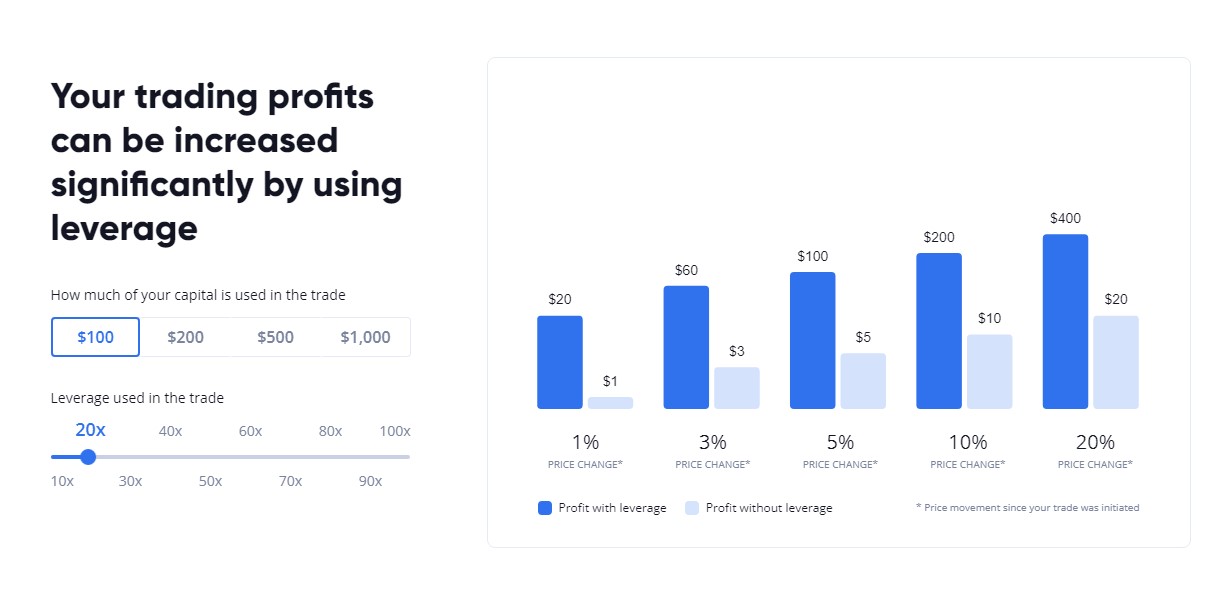 The leverage trade setup is not nearly as complicated as other trading platforms make it seem. Margex.com app successfully retracts all extra information and unnecessary graphs that can make your head swirl. If you're thinking that might blindside you while taking a position, rest assured the market movements and historical data are still there at arms reach.
Perpetual futures come with the same features as leverage trades. Users can execute profit orders, maximum leverage, as well as stop-loss orders. The positions are isolated, so if things don't go your way on a certain trade, your losses will stop at what you have put in and not spill into your total balance sheet. Users are able to open multiple positions on one trading pair at different leverage settings.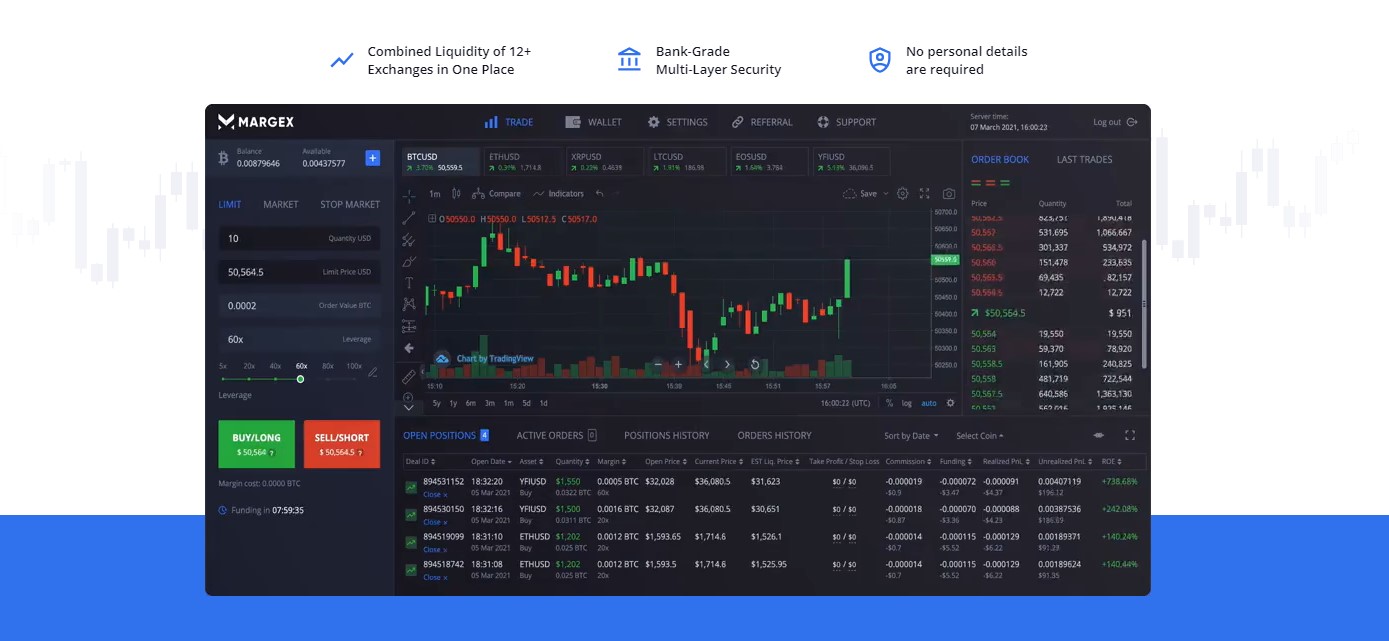 Order Types
Users are able to take advantage of three types of orders at Margex. These can be found under the Order Placement tab and are as follows:
Market orders are instant orders that are executed on the spot, immediately upon placement. The platform locks the best available price of the asset on the order book and runs it through the blockchain. Market orders come at small transaction fees on a per-trade basis.
On limit orders, users are able to set threshold parameters that get triggered when a certain asset floats in between the lines. The thresholds are placed above and below the momentary asking price. Users who set limit orders are acting as market makers, as they are the ones incentivizing the trade and adding liquidity to the liquidity pool. Limit orders lie dormant until the light or low thresholds are activated.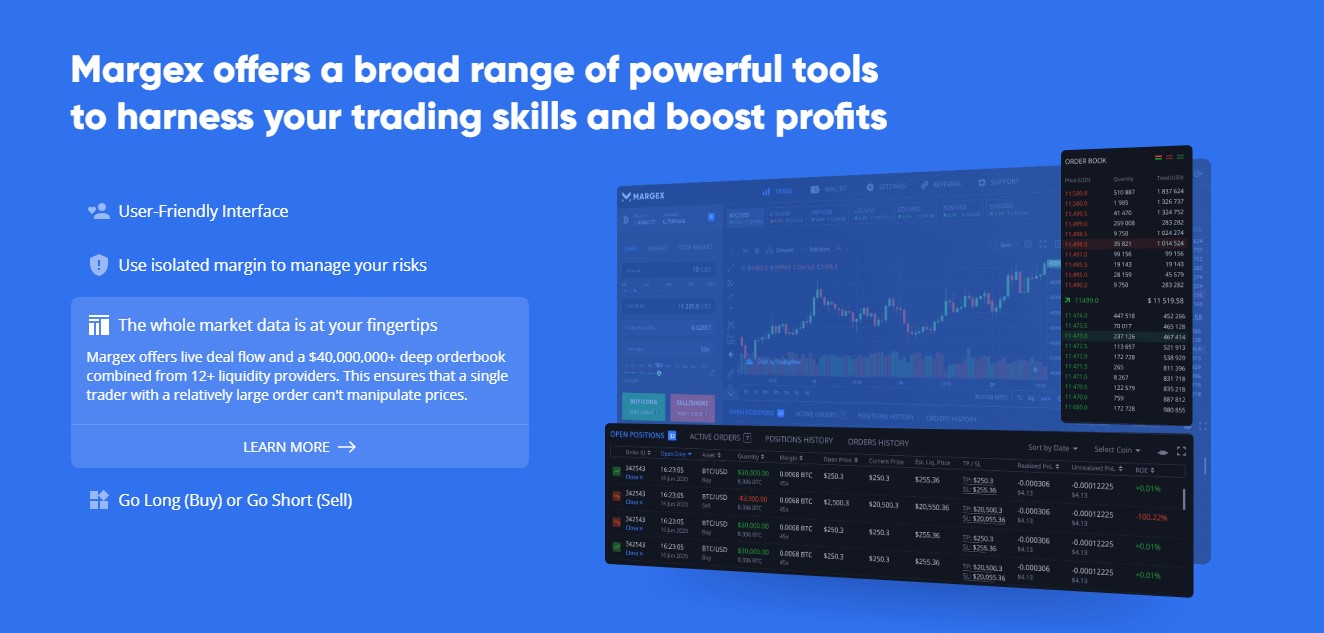 Conditional orders are much like limit orders but immediately execute trades on open positions. As soon as the price of a certain asset enters the threshold parameters, the trade falls through. Users are also able to automatize the take-profit, as well as the stop-loss feature before order execution if and as they see fit.
Withdrawal and Deposit Methods
For depositing funds on the trading platform users are able to utilize their credit cards or go through a third-party exchange or Margex line of credit. In order to deposit their assets on the platform, traders have to add the BTC address to the wallet from which they are making the deposit or scan the provided QR code. Because BTC deposits at Margex do not require multiple blocks of confirmation, the whole process moves faster and is more expeditious. And also, speaking of deposits, take note that there's Margex minimum deposit for specific crypto.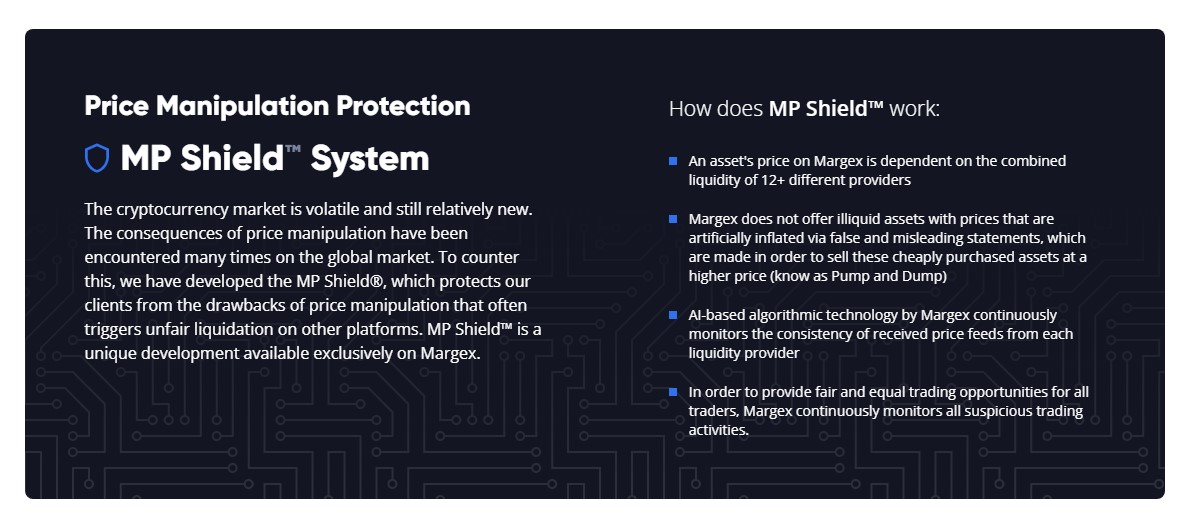 Margex only supports Bitcoin (BTC) withdrawals. Traders will need to provide the trading platform with an address to which they wish to withdraw their acquired assets, along with their 2FA code and, of course, the sum that they wish to withdraw. Margex only processes withdrawals once a day, at 13 UTC. Don't expect your funds to appear on your balance sheet immediately due Margex withdrawal time. It usually takes a while before they do. 
Margex Trading Fees
Deposit Fees
Trading Fees
Fiat Withdrawal Fee
Crypto Withdrawal Fee

$0 on the platform
3rd-party payment processors: Vary

Makers pay 0.019%
Takers pay 0.060%

Does not support fiat withdrawals
Does not support fiat deposits
Mergex can hold its own in the fee department. Even when compared to some of the most recognized crypto trading exchanges, such as Bybit, Bitmex, Binance, and Changelly.
The exchange employs a maker fee of 0.019% and a taker fee of 0.060% on all six of its supported pairs. It doesn't get much lower than that.
| | | |
| --- | --- | --- |
| Pair | Maker | Taker |
| BTC/USD | 0.019% | 0.060% |
| ETH/USD | 0.019% | 0.060% |
| EOS/USD | 0.019% | 0.060% |
| LTC/USD | 0.019% | 0.060% |
| XRP/USD | 0.019% | 0.060% |
| YFI/USD | 0.019% | 0.060% |
It's noteworthy to mention that the platform employs a funding fee, which is a Margex fee that is commissioned in instances when a user is holding a position open for a period longer than 24 hours. Apart from trading fees, there are also Margex withdrawal fees and deposit fees.
Security: Is Margex Legit?
The trading platform's MP Shield AI programming and encryption is something that you won't find anywhere else because it's a system that the Margex software development team has programmed from scratch. The infrastructure has been built from the ground up to offer protection from unwanted price tinkering and false liquidation.
The platform employs a number of security levels that are performing audits on all data before the withdrawal window opens and funds go out of the platform and into the wallets of the traders.
Margex is one of the rare cryptocurrency exchanges that stores 100% of digital assets in multi-sig cold storage wallets. The platform is equipped with real-time navigation and is on top of all asset movements at all times. Users are urged to further protect their assets by activating the two-factor authentication process, through which they will receive a unique code, by SMS or via the Google Authenticator app, every time they log into their account. Furthermore, all user data is under an additional layer of encryption, and users are notified of all changes and activities by email.
Customer Support
The platform has a great support team that is standing by to resolve any issues that you might come across or simply act as a chaperone and walk you through any difficulties that you might encounter. They are available around the clock, night and day, and can be contacted by live chat or through the exchange platform's official email address.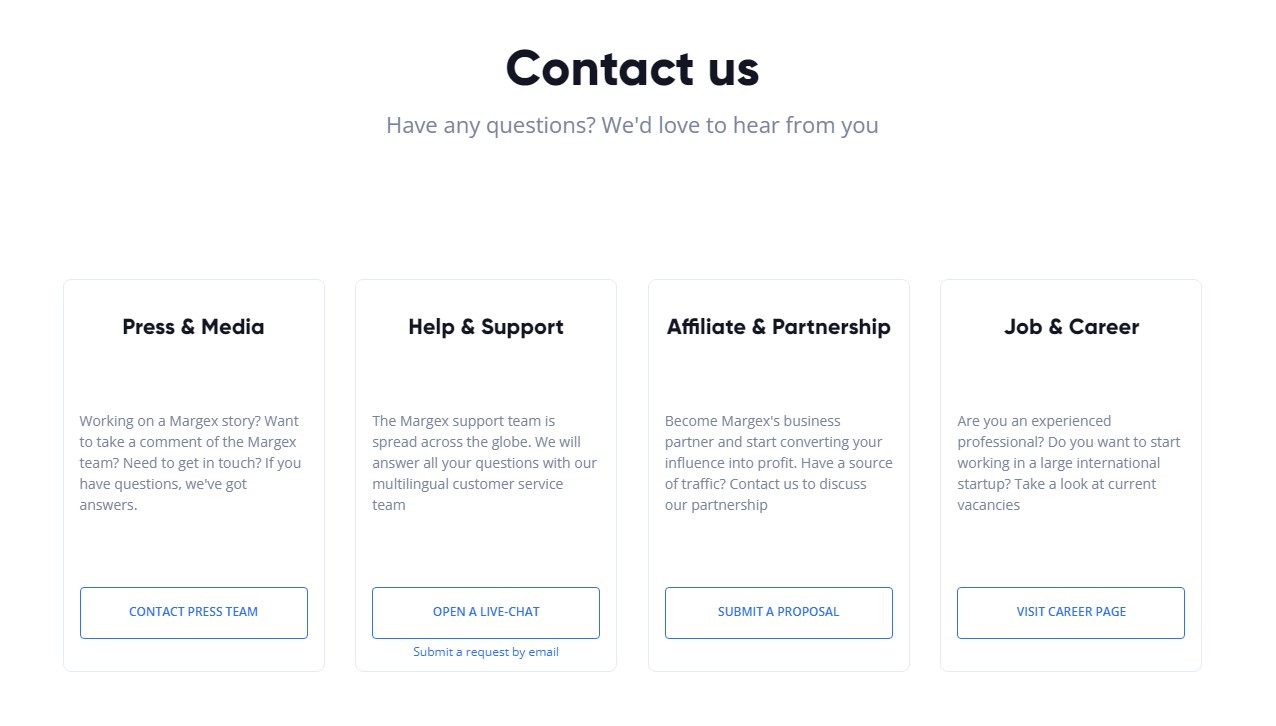 Frequently Asked Questions
Does Margex Have a Mobile App?
Unfortunately, Margex does not offer a mobile app. However, users are still able to use the desktop trading platform on their mobile devices.
Does Margex Support Isolated Margin Trading?
The platform also offers its customers the option for isolated margin trading, so that on high leverage trades, they are able to have segregated data on a certain asset's liquidation price and make an informed decision whether they would like to proceed or back off due to the market's volatility.
What Coins Are on Margex?
Bitcoin (BTC), Ripple (XRP), Ethereum (ETH), DAI, TRON (TRX), Chainlink (LINK), Litecoin (LTC), stablecoins such as Tether (USDT), and many more.
How to Trade Cryptocurrency On Margex?
Create an account on cryptocurrency exchange Margex to deposit funds and then visit the trade section and select the trading pair. Then, you can choose to either short (buy) or a short (sell). Pick your leverage. The platform lets you choose an initial 5x or more to 100x. You can also set an order for a stop loss, or take a profit orders, and then start your trade.
Is Margex a Good Exchange?
Margex is a refreshing innovation in the field of crypto derivatives. Margex offers low costs with high leverage, as well as security standards. Margex is an excellent platform for novice traders who want to master trading using leverage. There aren't any complicated functions or distractions.
How Long Does Margex Take To Withdraw?
To protect itself, Margex keeps the bulk of its funds in cold wallets while keeping some funds on its hot wallet. Any withdrawals made prior to 12:00 UTC are processed that same day.
Can You Demo Trade On Margex?
Once you've registered and have made the deposit and start trading. Margex offers a tutorial that guides users through the various features on the platform. Although there are demo accounts available, we suggest taking the time to read the tutorial.
How Do You Use Margex Bonus?
Bonuses are used automatically to pay for trade fees and the cost of funding for positions. After closing an open position, all costs for trades and funds incurred during the trade will be refunded from the Bonus balance, and then credited to your wallet in identical currency.
Is Margex Regulated?
Margex itself isn't regulated since they're part of the Seychelles in a country in which no license or regulation of bitcoin-based trading is required. This means that Margex is able to remain extremely private, which means it doesn't require KYC.
What Is Funding on Margex?
The term "financing" (financing) can be incurred at any time that an account is carried into an 8-hour funding period that is between at least 00:00, 08:00 or 16:00 UTC. A position that is shut prior to the next rollover is not assessed.
What Is Funding on Margex?
Leverage refers to the amount of personal money required to open a trade as compared to the size the trade i.e 1:10, 1:150, 1:100 and so on. In the example above when a trader is looking to make a trade using BTC with 1:10 leverage the only one BTC in personal cash (i.e. Margin) is required to open a position worth 10 BTC.
Is Margex Scam?
Definitely not! As one of the most popular crypto exchanges in the industry, rest assured that Margex is not a scam. Though you should be aware of fake websites that use Margex logo and pretend to be the actual exchange. Also, you should do your own research and not take any financial advice easily to avoid getting scammed.
Is there Such Thing As Margex Coin?
No, Margex doesn't have its own native coin.