NDAX Review for Australia 2022
With so many options to choose from, finding the right cryptocurrency platform can be a burdensome task for crypto traders.
You need to look for a reliable exchange with a decent choice of supported cryptocurrencies and payment methods (preferably in your native currency to avoid conversion fees), average trading fees, top-notch security methods, and a responsive support team.

Next, you should also pay attention to the platform's trading features as more experienced traders will look for advanced order types, tools, and charts. Novices, on the other hand, opt for beginner-friendly platforms with basic trading features.
In our guide today, we'll introduce you to a recently-launched Canadian exchange called NDAX whose focus is on small-scale and institutional traders alike. By the end of the text, you'll know whether NDAX is the right fit for you or not.
If you're looking for Australian exchanges, check out our best Australian crypto exchange comparison.
Canadian Cryptocurrency Exchange: NDAX.io
National Digital Asset Exchange, or NDAX for short, is a relatively new and promising Canadian cryptocurrency exchange founded in 2018 by Bilal and Hussein Hammoud. The company is headquartered in Calgary, Alberta, and its services are limited to the Canadian market.
NDAX managed to earn the trust of thousands of Canadians in record time by being fully compliant with local financial regulations right from the start. The company is registered as a Money Service Business (MSB) and adheres to the Proceeds of Crime (Money Laundering) and Terrorist Financing Act (PCMLTFA). On top of that, NDAX closely follows the regulatory framework set by the Financial Transactions and Reports and Analysis Centre of Canada (FINTRAC).

When NDAX was launched, the Canadian crypto market was still mainly a niche market. The goal of NDAX has been to promote cryptocurrency trading among retail and institutional clients and tailor its crypto services to the needs and limitations of both groups. They've also partnered with a major Canadian bank to provide their users with seamless trading and banking services.
Supported Cryptocurrencies
At the moment, NDAX supports only the most popular and sought-after cryptocurrencies: Bitcoin (BTC), Ethereum (ETH), Ripple (XRP), Litecoin (LTC), EOS, Stellar (XLM), Dogecoin (DOGE), and Cardano (ADA). The platform is open to users' suggestions in regards to new asset listings. High trading volume and large demand remain the main assessment criteria.
For instance, this year we've seen an increased interest in both stablecoins and decentralized finance tokens. To address these market demands, NDAX recently listed Tether (USDT), a popular stablecoin pegged to the US Dollar, and became the first Canadian platform to list Chainlink (LINK), a DeFi token used for building smart contracts.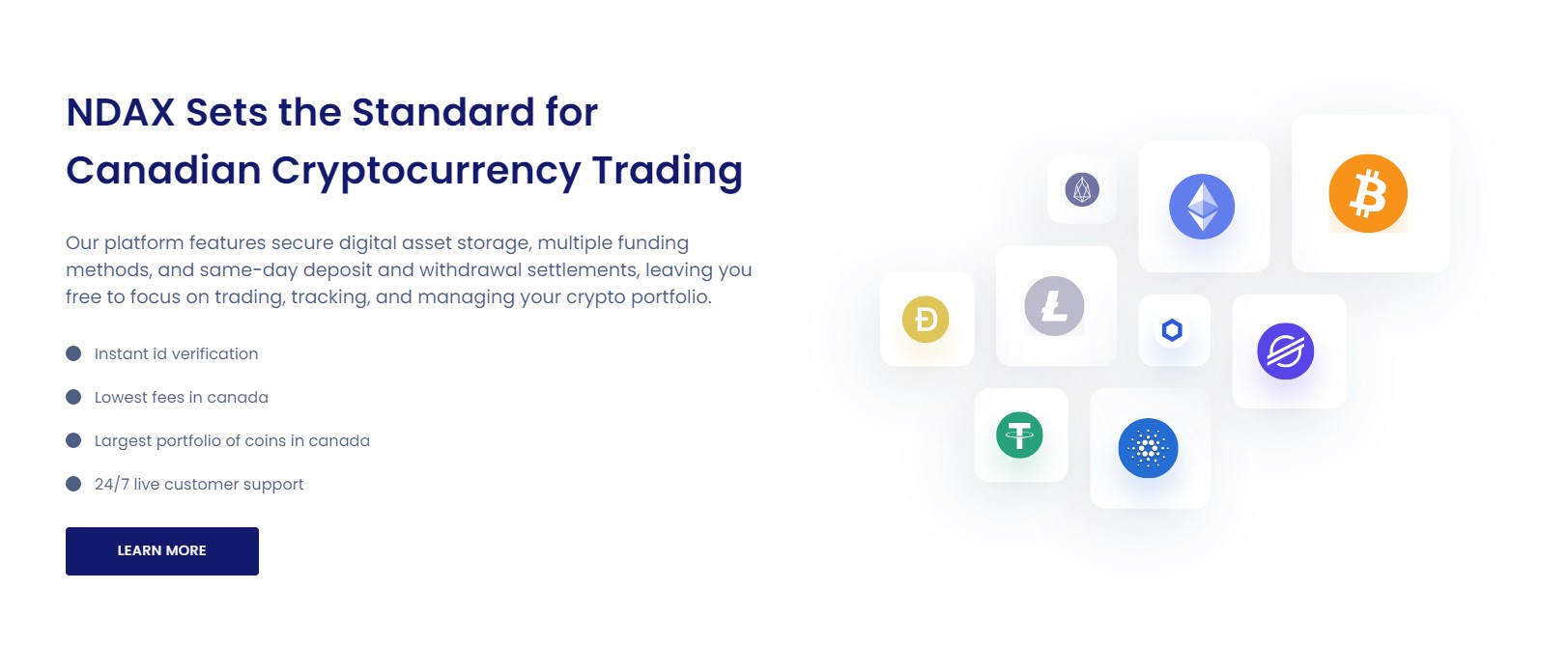 You can easily purchase these assets with Canadian Dollars (CAD) using one of the following payment methods: Interac e-transfer, wire transfer, or bank draft/certified cheque. You can withdraw funds via crypto transfers, direct bank deposits (EFT), or wire transfers. This means you can easily link your bank account and use your credit or debit card.
NDAX allows customers to trade cryptocurrencies that aren't on their list if you're using their OTC (Over the Counter) trading desk. However, you should meet the minimum order size limit of $40,000.
Trading Fees and Limits
NDAX charges competitive fees, starting from its fixed 0.20% trading fee for market takers.
Deposits made via Interac are free and have a maximum size limit of $10,000. They're completed within a three-hour timeframe. Bank drafts and wire transfers are also free and have no minimum or maximum order limits. They depend upon bank business hours but usually take no more than a day.

When it comes to withdrawing funds, fiat currency withdrawals or CAD withdrawals via direct bank deposit incur a $25 fee while wire transfers cost $50. You should have the funds in your account balance within two business days. Crypto withdrawals are instantaneous but the fees are subjected to price fluctuations.
Trading Features
NDAX is famous for its order type choice, various trading tools, technical indicators, and charts, as well as a detailed order book.
Order Types
NDAX offers a range of advanced order types for more experienced traders such as market, limit, stop, fill or kill, stop limit, and trailing orders. Let's take a closer look at the most popular orders.
A market order allows the trader to place a buying or selling order for the best average market price. A buying/selling limit order gets executed when a predetermined price is met. Similarly, a specified price can trigger the stop order but the difference here is there's no guarantee that by the time the platform places your order, the price will remain the same.
OTC Desk
Another feature that sets NDAX apart from other Canadian crypto platforms is its sophisticated OTC desk. In September 2020, the trading platform celebrated a milestone of $200 million in institutional trading. To mark this event, NDAX expanded and rebranded its OTC desk as NDAX Wealth.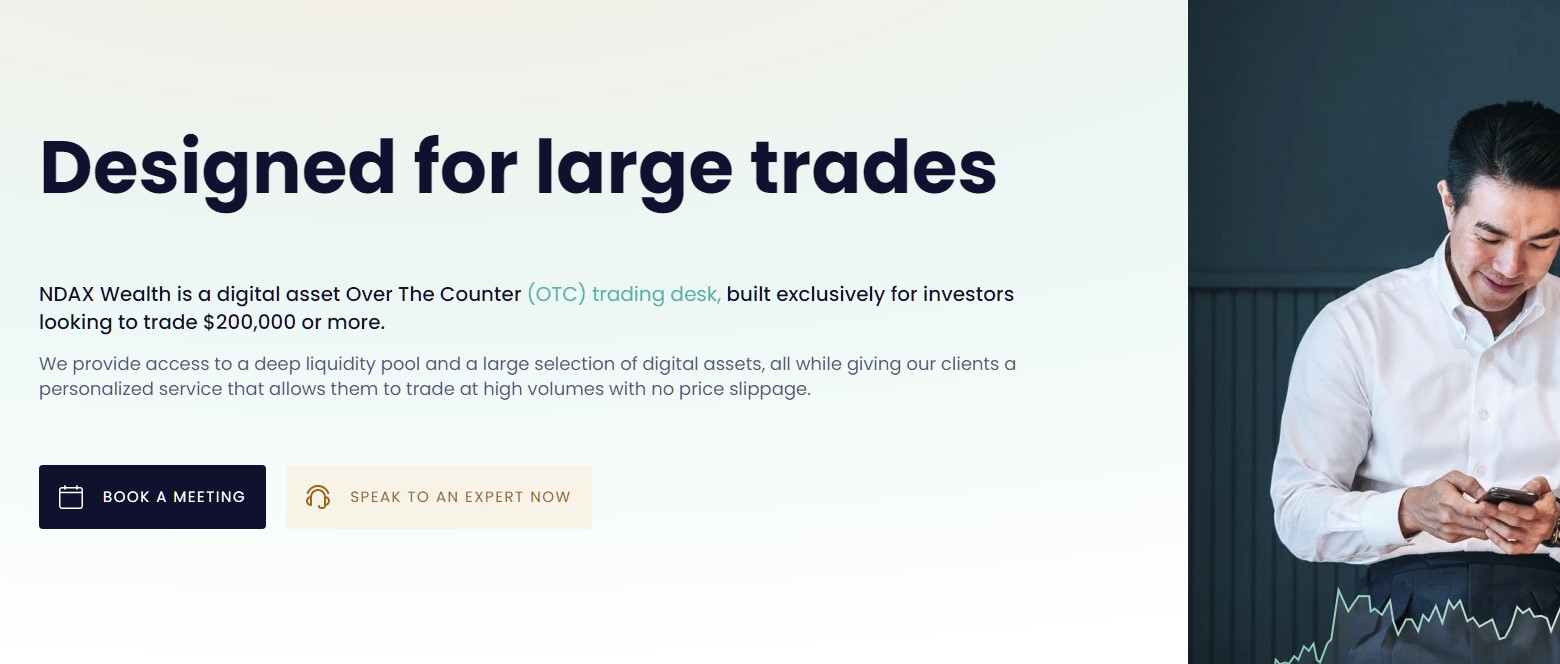 This OTC trading desk caters to the needs of institutional investors who're looking for ways to trade over $50,000 without disrupting the market and losing money on slippage. The NDAX's deep liquidity pool allows traders to execute high-volume orders with zero deposit and withdrawal fees, no price slippage, state-of-the-art security, and same-day settlements against both crypto and fiat (CAD, USD, EUR, AUD).
Customer Support
You can't truly vouch for any platform until you assess their customer support and level of responsiveness. Similar to other online platforms, NDAX users can submit support tickets via email at support@ndax.io. The typical wait time is 24-72 hours.
When you visit their website, a live chat window pops up on the corner of the page. This allows you to shoot your most urgent queries and get an immediate answer. On top of that, you can contact their team by calling their phone number too.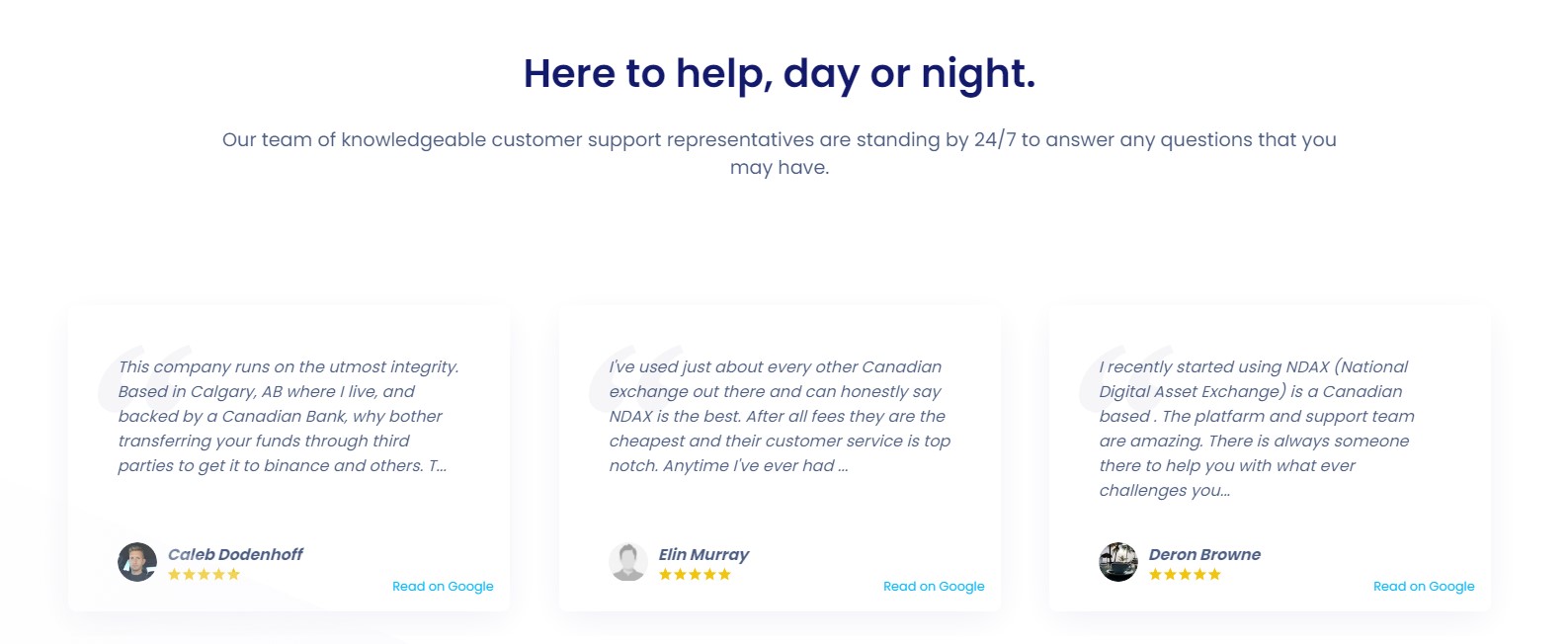 If you like the idea of community support, you can access the NDAX Reddit page and use it to post your doubts and questions, and wait for members of the NDAX network to jump right in. Finally, NDAX features a detailed FAQ section in their help center.
Is NDAX Safe to Use?
As a licensed and regulated cryptocurrency exchange, NDAX is already one step ahead of its competitors as far as customer security is concerned. The platform has partnered with Ledger Vault, a leading crypto security solution provider. Thanks to Ledger Vault, NDAX has developed a multi-authorization governance asset-management infrastructure.
Moreover, NDAX relies on BitGo to separate online trading from its cold storage or cold wallets. Users can rest assured their funds are located in secure vaults, disconnected from the Internet. They're kept in a federally insured Canadian bank and they aren't mixed together with company funds. This storage method significantly reduces the risk of hacking attacks.

When it comes to account security, NDAX made it mandatory for customers to activate two-factor authentication to add another layer of security to their order requests and withdrawals. You can use Google Authenticator to generate unique one-time codes. On top of that, users are required to perform a KYC check upon registration and provide a legitimate ID to verify their identity.
NDAX vs Bitbuy vs CoinSquare
So, how does NDAX compare to other Canadian crypto exchanges such as Bitbuy and Coinsquare? In terms of cryptocurrency choice, all of them offer a limited selection with no support for altcoin trading. However, NDAX and Bitbuy both have their own deep-liquidity OTC desks and advanced trading features for experienced traders and institutional investors. On the other hand, Coinsquare has the lowest trading fees out of the three.
Pros:
Includes some of the most popular cryptocurrencies and altcoins
Quick verification process that allows you to trade instantly
Competitive trading fees for buying and selling cryptocurrencies
Deposits are free when depositing funds from a Canadian bank account
Customer support is available 24/7 (via email and live chat)
Cons:
Steep withdrawal fee (CAD $25)
Limited choice of digital assets to trade
Lacks support for staking
Available only to Canadians
Frequently Asked Questions
Is Bitcoin legal in Canada?
Yes, it's perfectly legal to buy, sell, or trade Bitcoin in Canada, or any other cryptocurrency for that matter. Having said that, Bitcoin isn't legal tender in the country as the only government-backed currency is the Canadian Dollar. As a result, Bitcoin transactions lack the same user protection as fiat ones.
What countries does NDAX support?
At the moment, NDAX is only available to Canadian-based crypto traders.
Does NDAX have a mobile app?
Yes, NDAX has a mobile app available for both Android and iOS users. The downloadable app has almost the same features as the web-based platform. It's really straightforward and easy to use, perfect for those of you who want to trade on the go.
Does NDAX provide a cryptocurrency wallet?
Yes, NDAX lets users store their funds using an online wallet provided by the platform. However, if you want to store your digital currencies long term, we recommend purchasing a hardware wallet as they're much safer than online ones.