Quick Summary: Nexo is one of the world's leading financial service providers that mainly focuses on currencies and digital assets. They serve as a medium for users to buy cryptocurrencies, earn by staking them, trade crypto in real-time, and many more.
With over 300,000 community members and many strategic affiliates, Nexo is certainly one of the most reliable crypto platforms out there.
The best part is you can claim FREE Bitcoin worth $25 if you sign up here or via the button below!
One of the newest trends among crypto investors is the cryptocurrency interest account or savings account. As soon as they purchase crypto assets, these individuals place them in their savings account, similar to traditional banking, and sit back as their funds multiply thanks to interest.

While we know that this seems too tempting not to try for yourself, bear in mind that in order to avoid potential losses and have the option to change your mind and move your funds back and forth, you need a crypto interest platform that offers these features and protects your funds by lending them to reliable borrowers.
One such platform that our team was quite impressed by is Nexo.io, a pioneering crypto exchange and interest platform with both Earn and Borrow programs.
Nexo Exchange Australia at A Glance
Website: www.nexo.io
Country: London
Mobile App: Available
Deposit methods: Cryptocurrency Credit/Debit card, Bank Transfer
Fiat Currencies: USD, EUR, GBP, and more
Cryptocurrency: BTC, ETH, XRP, USDT, USDC, DAI, BCH, LTC and more than 30 others
List of Features
Registered and licensed with the highest security
Fast and easy borrowing
30+ cryptocurrencies
Nexo Australia crypto card
Instantly buy and sell cryptocurrency
Platform that is suitable for beginners
NEXO token benefits
Nexo custodial wallet
Swap between more than 300 market pairs
Nexo sign up bonus of free $25 Bitcoin if you sign up via this link
Ledger Vault's solution is implemented which increases Nexo's insurance.
up to 16% APY for digital assets
Mobile app
Loyalty tier
Trade with aggregated liquidity on Nexo Pro
A massive community, blog and media center
Pros
Get up to 16% in APY from certain assets
Nexo offers crypto-backed loans where your digital assets act as collateral
Swap between more than 300 market pairs
Instant buying and selling of cryptocurrency assets
Benefits can be claimed through holding NEXO tokens
Allows investors to earn more crypto through an interest savings account
Interest is paid daily
High Nexo Bitcoin interest rate
Unlock cash without having to sell assets via the unlock fixed term Nexo feature
Earn compound interest while trading assets
Cons
Verification process that is strict
There is no live chat support
What Is Nexo.io Australia?
If you're new to the world of crypto lending, Nexo  Australia exchange might be the best crypto starting point for you. Antoni Trenchev, Georgi Shulev, and Kosta Kantchev are the Nexo co-founders employees of Credissimo, a veteran company from Europe that primarily focuses on lending funds.
For years, Credissimo has been providing state-of-the-art fintech solutions such as installment loans and instantaneous short-term loans. It became popular with crypto traders as it was the first platform to offer Bitcoin loan repayments and an automated lending chatbot. Once it recognized the potential of the crypto market, Credissimo decided to branch out and create a separate platform targeting that same market.

In 2018, the co-founding trio launched Nexo, the first fintech platform in the world to offer instant loans backed by cryptocurrency and crypto interest accounts. Their trust in the digital asset industry and their vision for automated crypto products have been the driving force behind their progress since day one.
According to the official website, Nexo already serves 1 million customers in over 200 jurisdictions around the world and manages more than $4 billion in assets.
Bitcoin and Other Supported Cryptocurrencies
On Nexo, you can instantly buy the following crypto assets, DeFi tokens, and stablecoins: Bitcoin (BTC), Ethereum (ETH), Litecoin (LTC), DAI, Tether (USDT), USDC, EOS, Bitcoin Cash (BCH), Stellar (XLM), Cardano (ADA), DogeCoin (DOGE), Paxos Gold (PAXG), Chainlink (LINK), Tron (TRX), Polkadot (DOT), and of course its native token, NEXO Token.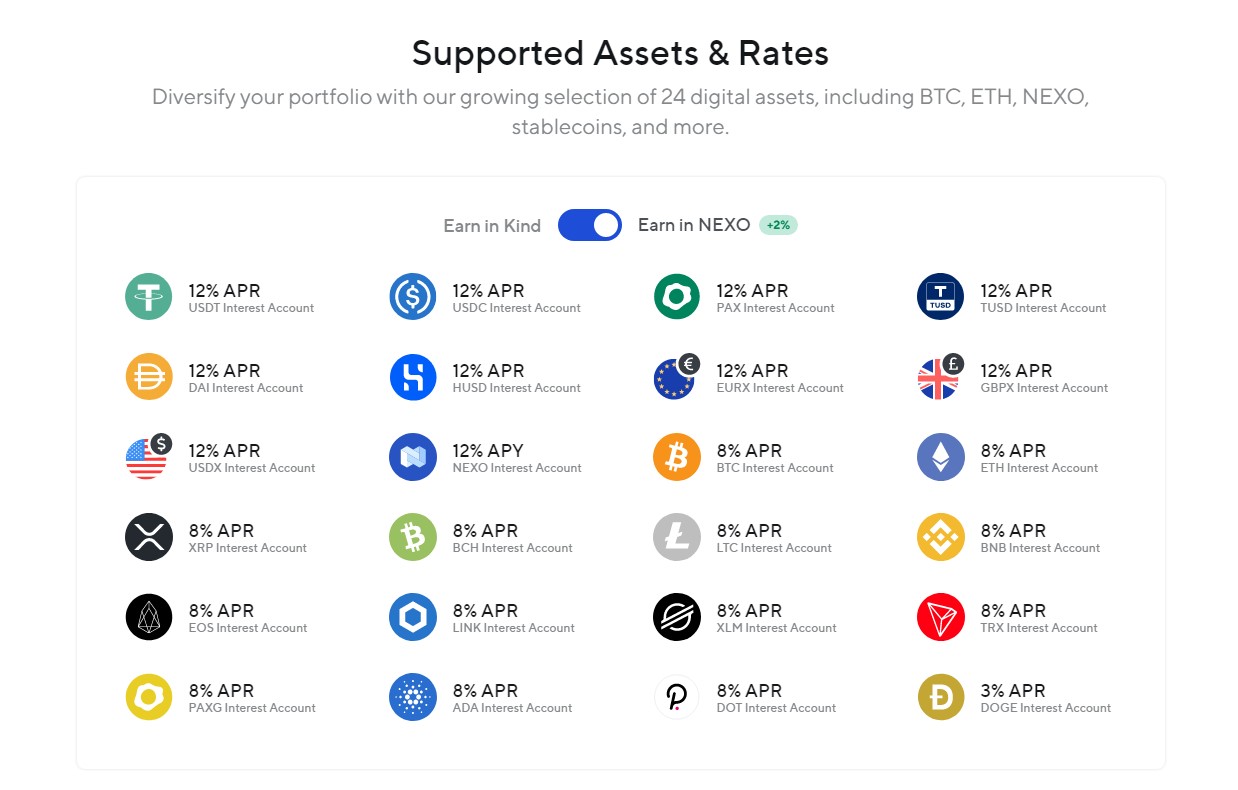 All of them can be purchased with USD, EUR, or GBP via bank transfers, with more payment options coming soon. Once bought, your funds take between 1 and 3 days to arrive at your Nexo wallet.
Moreover, the company has a separate trading platform called platform.Nexo Exchange where you can trade over 100 cryptocurrencies for both crypto and fiat.
How to Earn Interest on Nexo – When Is Interest Paid?
Nexo crypto Australia's interest account makes it possible to earn passive income on your cryptocurrency or fiat holdings with a daily payout. Apart from the supported cryptocurrencies mentioned above, you can also deposit XRP, BNB, and fiat coins: USDx, EURx, and GBPx.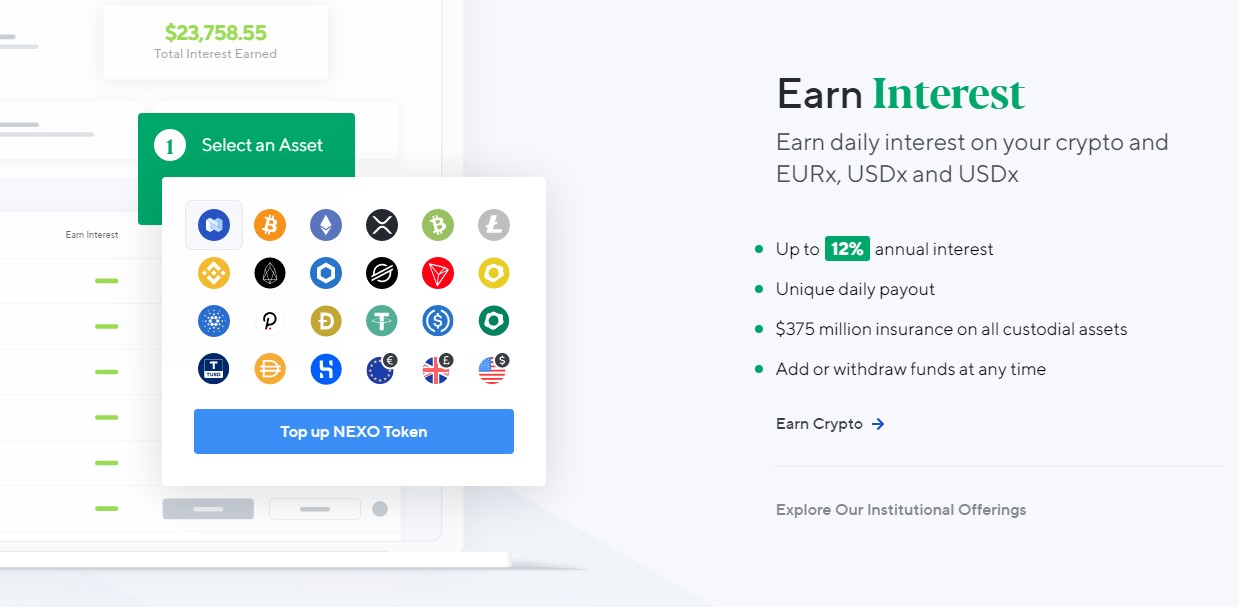 Nexo Top Up
The only thing you need to do is deposit your funds from your third-party wallet (e.g. a crypto exchange account) or purchase them directly on Nexo. Take note that there's no Nexo maximum deposit. Next, select the currency and the top-up amount you would lend to the platform. The assets will be automatically transferred from your regular Nexo account to your newly-created Savings Wallet Account.
Before you begin, you can try Nexo's calculator to see the compounding interest you would earn based on the deposited amount.
Nexo Crypto Rates: How Does Nexo Pay Interest?
With Nexo, you earn a 6% annual interest rate (APY) on cryptocurrency deposits and 10% APY on stablecoins and fiat currencies.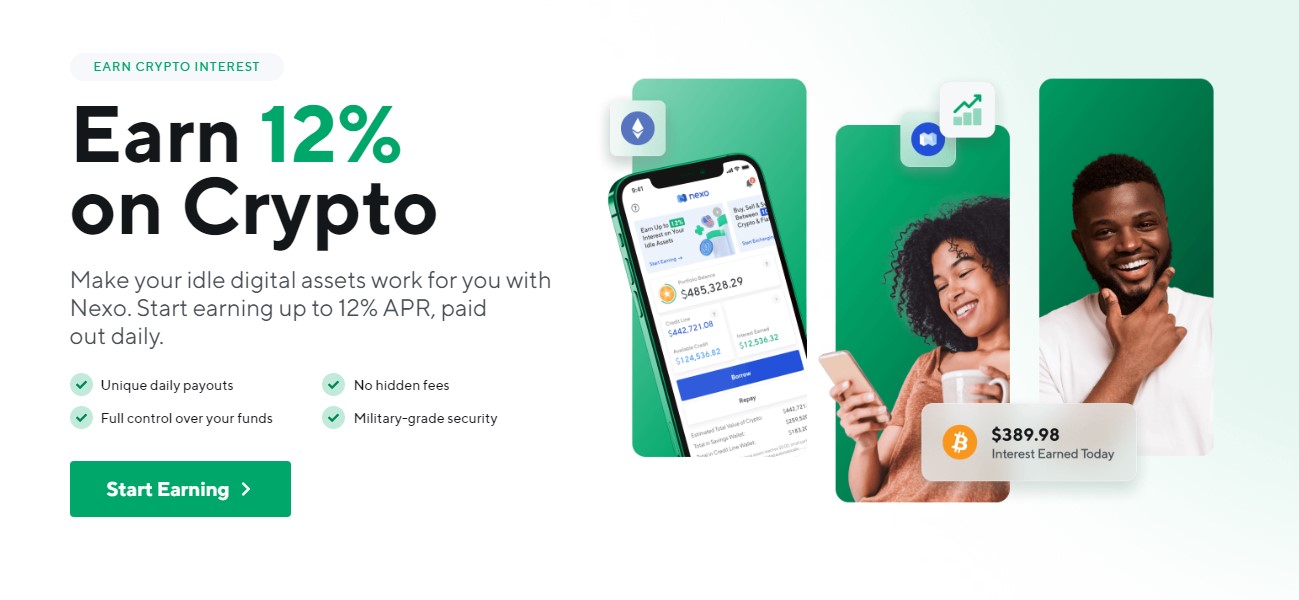 When you create your interest account, Nexo asks you to choose whether you want to Earn in Kind (get paid in the underlying currency you've deposited) or Earn in NEXO (get paid in NEXO tokens). If you choose the second option, you'll be eligible for higher interest rates (+2%). Plus, the platform has the policy to award NEXO token holders 30% of their profits as dividends and 5 free withdrawals.
Fees and Limits
Nexo doesn't impose a Nexo minimum exchange limit or maximum limit on your interest account. You can add or withdraw funds to and from your account whenever you want, unlike some other platforms where you're asked to lend your funds for a fixed period of time.
The platform itself incurs no transfer fees, but your bank might charge you a small sum for the transfers.
Spot Trading Fees
| Pricing Tier | Taker Fees | Maker Fees |
| --- | --- | --- |
| $0 to $10K | 0.20% | 0.20% |
| $10K to $50K | 0.18% | 0.18% |
| $50K to $100K | 0.16% | 0.14% |
| $100K to $1M | 0.14% | 0.12% |
| $1M – $10M | 0.12% | 0.10% |
| $10M – $100M | 0.10% | 0.08% |
| $100M – $200M | 0.09% | 0.06% |
| $200M – $500M | 0.08% | 0.05% |
| $500M+ | 0.07% | 0.04% |
Instant Crypto Credit Lines: How Do Nexo Loans Work?
Sometimes, a crypto investor who suddenly happens to be short on cash but has already invested a lot of money in cryptocurrency decides to sell their assets as a last resort. However, knowing the volatile nature of cryptocurrency, they might miss out on an unexpected price rally right after selling them.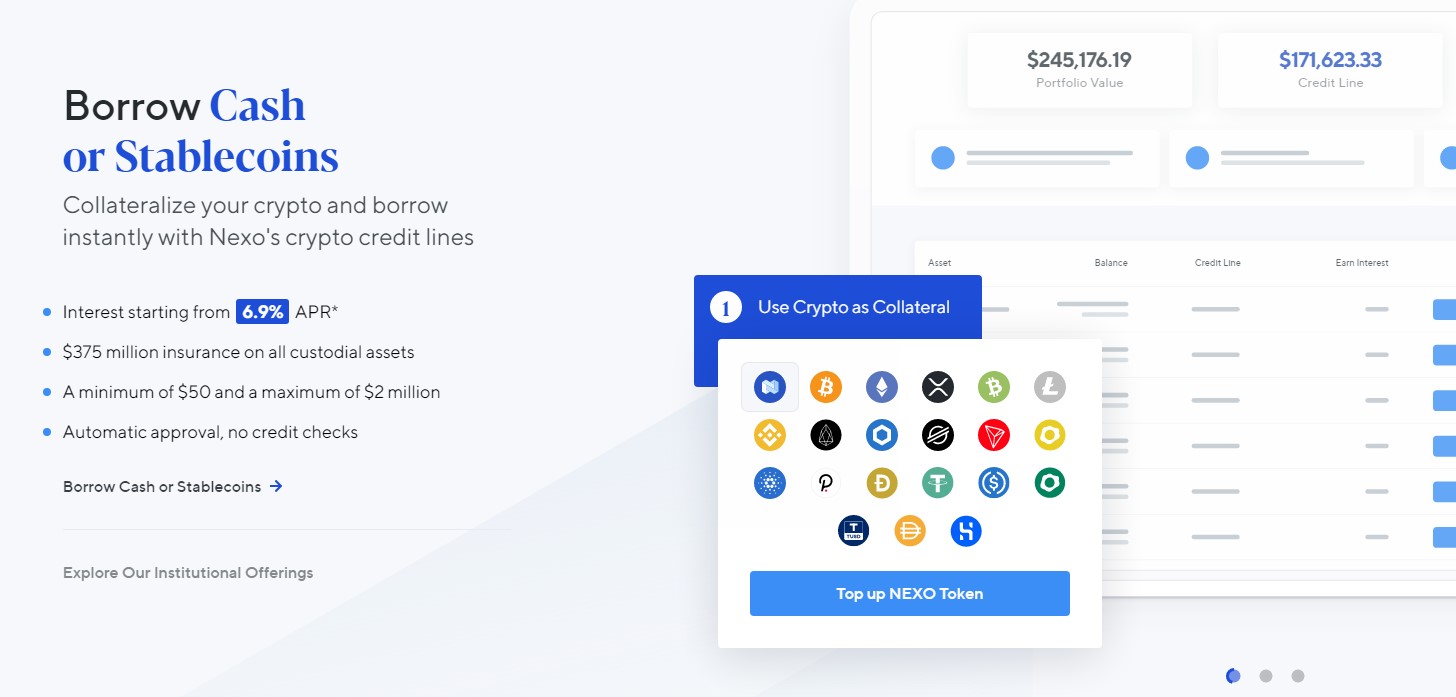 Luckily, Nexo has thought up an alternative. The Nexo Crypto Credit line loan gives you the opportunity to deposit your crypto assets as collateral instead of selling them and borrow fiat cash or stablecoins in return. The amount you can borrow ranges from only $50 all the way to $2 million.
Another upside of the crypto loan as opposed to giving your crypto assets away is that as long as they're safely stored as collateral, you don't need to pay capital gains tax on them. The rates range between 6.9% and 13.9% (rounded up at 30 days), but there's no fixed payment schedule, so it's easy to repay the sum at your own pace.
Nexo Card Australia
You can order the Nexo Card from the Nexo wallet app on your device and use it to spend your crypto assets on in-store purchases at over 40 million locations around the world that accept MasterCards. Every time you buy something, you earn up to 2% cashback, transferred to your account in NEXO or BTC. There are no hidden fees on transactions and maintenance. 
For the Nexo card countries that are eligible include EU and the UK, etc.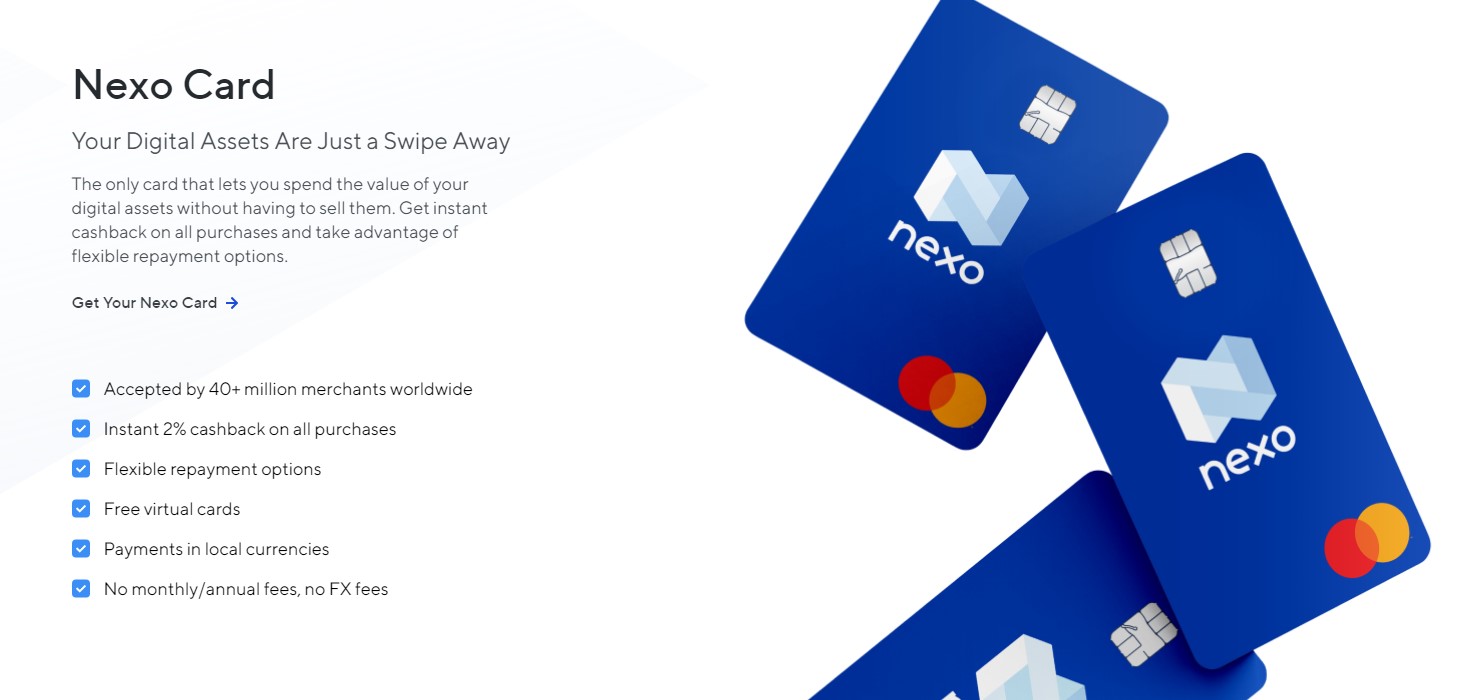 How Safe Is Nexo? Is Nexo Crypto Scam?
Nexo is compliant with financial regulators and works hard to obtain licenses for conducting money transfers and providing money services from local authorities. Therefore, Nexo has been registered with FinCEN and has licenses from several US states. In Australia, Nexo has been authorized by ASIC as a foreign company.
Moreover, Nexo has partnered with BitGo, an institutional platform that specializes in multi-signature encryption software, and the hardware wallet company Ledger to ensure your assets are safely stored in their Nexo cold storage or bank-grade Class III vaults to be more precise. This dual partnership grants a $375 million insurance policy on Nexo's user funds and is very similar to how its component BlockFi relies on the trustworthy crypto exchange, Gemini.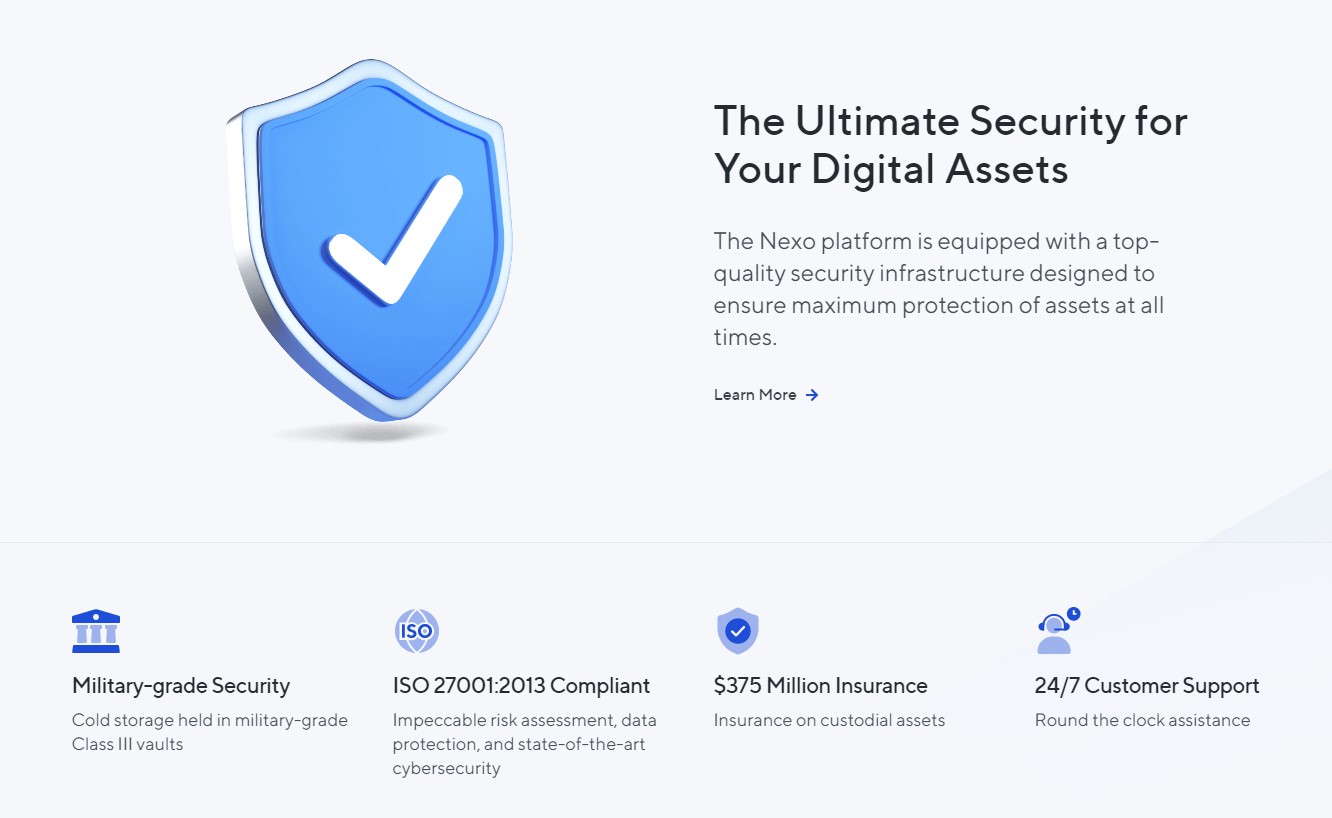 Although the company encourages its clients to verify their identity and perform a KYC check, the Basic verification tier allows them to use most of Nexo's crypto-related services and withdraw up to $20,000 per day only with a verified email address. However, Nexo fiat deposits are limited to fully verified users.
The exchange recommends two-factor authentication to lower the chances of hacking attacks. If the Nexo two-factor authentication not working, make sure to contact their customer suppor team. Or if the entire Nexo exchange not working on your end, you might have some problems with your internet connects.
It's also worth mentioning that Nexo passes real-time reserves audit conducted by Armanino.
And lastly, if you really want to know how reliable and safe Nexo is, check Nexo Glassdoor reviews.
Customer Support
The Nexo support team is available through their social media platforms like Facebook and Twitter, but they're most responsive on their Telegram channel. They also have a blog where they post about the latest trends and solutions in the industry as well as their own products and updates. Nexo also has a help centre and a support ticket system for urgent queries.
Frequently Asked Questions
What Is USDX Nexo?
It is a new crypto stablecoin by Nexo just like USDT and USDC.
How Does Nexo Make Money?
Nexo makes money by selling their services and products. A large portion of their revenue comes from providing loans.
How to Fund Nexo Account?
Log into your Nexo wallet or account.
Complete Identity Verification, if you haven't already done it. ...
Scroll down to the lower part of the page and all supported cryptocurrency are listed.
Click the 'Transfer' button next to the currency you wish to deposit, then choose "Top Up in the drop-down menu.
Does Nexo Have a Mobile App?
Yes, Nexo's mobile app and wallet are available for both Android and iOS devices and have all the functionality of the original platform. What's more, the wallet makes it easier to integrate the Nexo debit card.
What Countries Does Nexo Support - Is Nexo Available in Australia?
Nexo is a global platform that has expanded its services on international markets. And yes, Nexo supported countries include Australia. The only blacklisted territories are most of the countries in Asia and Africa, as well as Estonia and Bulgaria.
How Does Nexo Fare Against the DeFi Lending Platform Crypto.com - Is Nexo Defi?
Nexo is not DeFi. Although both Nexo and Crypto.com are popular crypto interest lender platforms, Nexo really outshines Crypto.com with its zero withdrawal fees and daily interest payouts.
How Does Nexo Work?
Nexo lets you borrow either in stablecoins or cash without having to pass a credit check. The rates begin at 5.9 percent, and you don't even have to trade your cryptocurrency.
How to Buy Nexo Australia Exchange Tokens?
From the Dashboard On the Dashboard, select"Add Funds" from the Dashboard. Tap on "Add Funds" option and choose "Credit/Debit Card". Select NEXO as the type of asset you wish to purchase. Then specify the amount you'd want to pay. Enter your credit or debit card details. You can confirm your purchase, then you're all set! Take note that Nexo debit card countries doesn't include Bulgaria, The Central African Republic, Cuba, Estonia, Iran, Alaska, New York, Vermont, North Korea, Syria, The Russian Federation, Donetsk, Kherson, Luhansk, Zaporizhzhia, and Crimea.
How to Buy Bitcoin on Nexo?
Select Payment Option. Choose"Add Funds" from the "Add Funds" option on your Dashboard and then tap "Credit/Debit Card".
Enter Your Details. Choose Bitcoin and then enter your debit or credit card information.
Complete the Purchase. Review the transaction details and then confirm the purchase.
How to Sell Nexo Tokens?
Be sure to run the most recent version of the Nexo Wallet App.
Start the Nexo Wallet App or on the web and then go to Exchange. Click on the Exchange tab.
Choose the currencies you want to convert and convert them to stablecoins such USDT or BUSD.
You can now sell USDT or BUSD to fiat currencies, and then cash it out to your bank account that you have registered.
How Long Does Deposit Take On Nexo?
The processing times are as follows: Local transfer next business day or the same day. International transfers time: 2-5 business days. USDT (Tether) and USDC (USD Coin) generally is just 30 minutes before you get your money into Your Nexo account.
How to Withdraw Money From Nexo to a Bank Account?
Log into your Wallet and then click the Withdraw button.
Choose your Nexo account in the "Withdraw from" field.
Choose the withdrawal address, or create an additional withdrawal address. ...
Select the quantity of Nexo you want to withdraw.
Click Review remove button.
An confirmation window will appear.
How to Use Nexo - Can You Use Nexo in Australia?
Absolutely yes, you can use Nexo in Australia.
Launch to the Nexo platform or use the Nexo app.
Verify your identity.
Transfer or buy crypto into your account.
It's all done! You're now earning interest daily in your online assets.
How Does Nexo Earn or Make Money?
NEXO was launched during the first coin sale and was distributed to the team as well as early adopters. The company shares 30 percent of its earnings together with NEXO holders. The NEXO token is the foundation of the deposit and loan ecosystem. The token grants buyers 30% of profits from the company, similar to dividends.
When Will Nexo Card Be Available?
Left swipe and then tap the "Order Nexo Card Then, swipe left and tap on the 'Order Nexo Card' icon. Follow the instructions on screen and take up to 2 weeks for the card to be delivered.
How Does Nexo Wallet Work?
Nexo operates on smart contract technology and Oracles which are part of the Ethereum network blockchain. Just like Binance, it is among the first platforms to provide instant cryptocurrency loans. After a person deposits money in the Nexo wallet the oracle will display the terms of the loan. The funds are transferred directly to the customer.
How to Transfer Crypto From Coinbase to Nexo?
Log in to your account, select the cryptocurrency you wish to transfer, then click send , copy the address for your wallet from Nexo and then click on send , then you will receive confirmation.
Who Owns Nexo?
Nexo's founding father is Kosta Kantchev.
What Is Loan-to-Value (LTV)?
LTV is an indicator that represents the size of a loan compared to the value of the digital assets securing the loan.