PancakeSwap Review for Australia 2022
DEXs (decentralized exchanges) have experienced a steep rise in the last couple of years. The decentralized DeFi exchange market has gotten crowded in a very short period because evidently, traders love automation, especially when it's paired with high liquidity, competitive prices, and innovation.

The best decentralized crypto exchanges have managed to provide crypto traders with both tight security and the much-needed privacy of sensitive data. One such DEX is PancakeSwap, a decentralized crypto exchange platform that runs entirely on the Binance Smart Chain (BSC). The Binance Smart Chain is a smart contract blockchain that executes orders on the Binance Chain. PancakeSwap is among the best and most frequently visited liquidity providers as far as BEP20 tokens are concerned.
DEX aggregators have risen to prominence because they have been able to connect all protocols and make them accessible through a single tab. The automated market makers or AMMs, make it possible for holders of digital goods to engage and execute trades in their sleep. Literally, in their sleep. Instead of employing the buy and sell route, AMMs automatically do everything that traders have set them up (programmed them) to do while providing liquidity at the same time.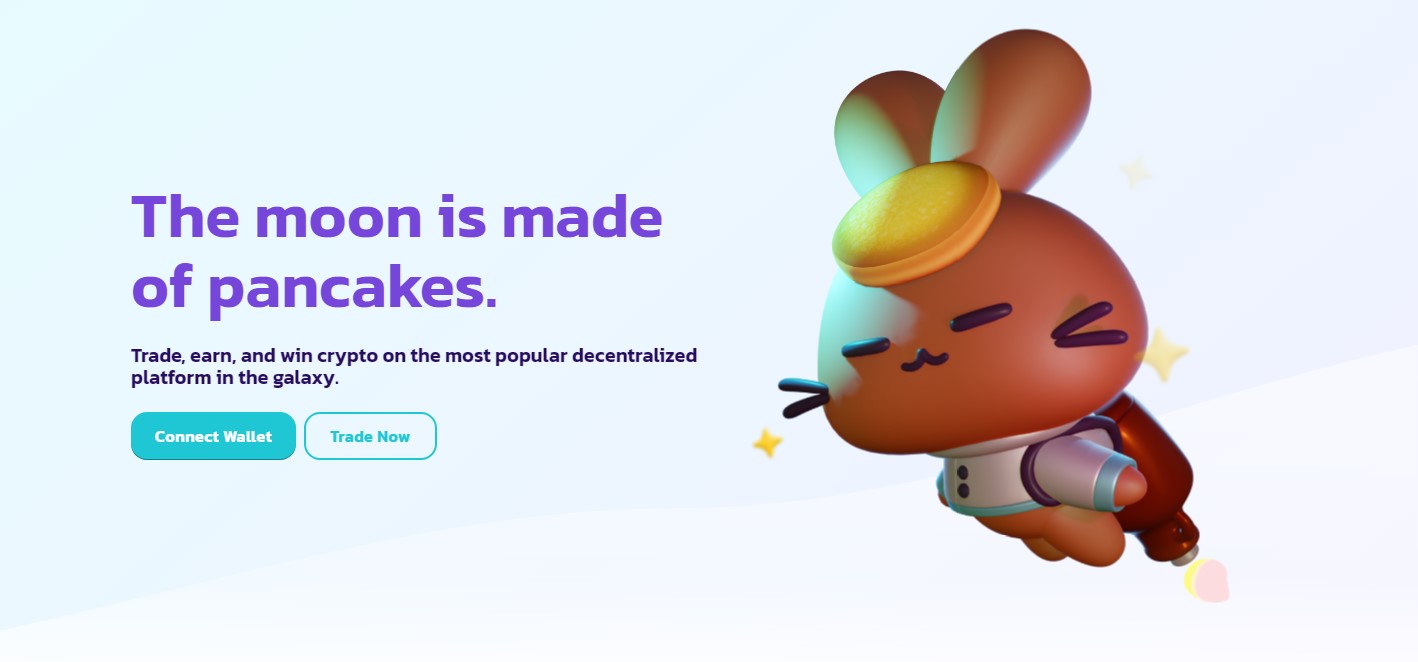 The open-source nature of AMMs makes it possible for individuals that already have some experience and ERC-20 tokens in their pockets to become world-class traders and liquidity providers. But can it really be this easy? Let's find out.
Sidenote: You can also check out our comparison of the best Australian cryptocurrency exchanges for easier research.
About the Trading Platform
PancakeSwap is one of the new kids on the block, but it hasn't taken long to show great promise. As an automated market maker, the platform was built with innovation and ease of use in mind from the ground up. Introduced to the public in September of 2020, it didn't take long before PancakeSwap was in full swing, running entirely on nodes and algorithms. The platform decided to join in on the wave of the food token craze and now stands tall between SushiSwap and BakerySwap. What a time to be alive?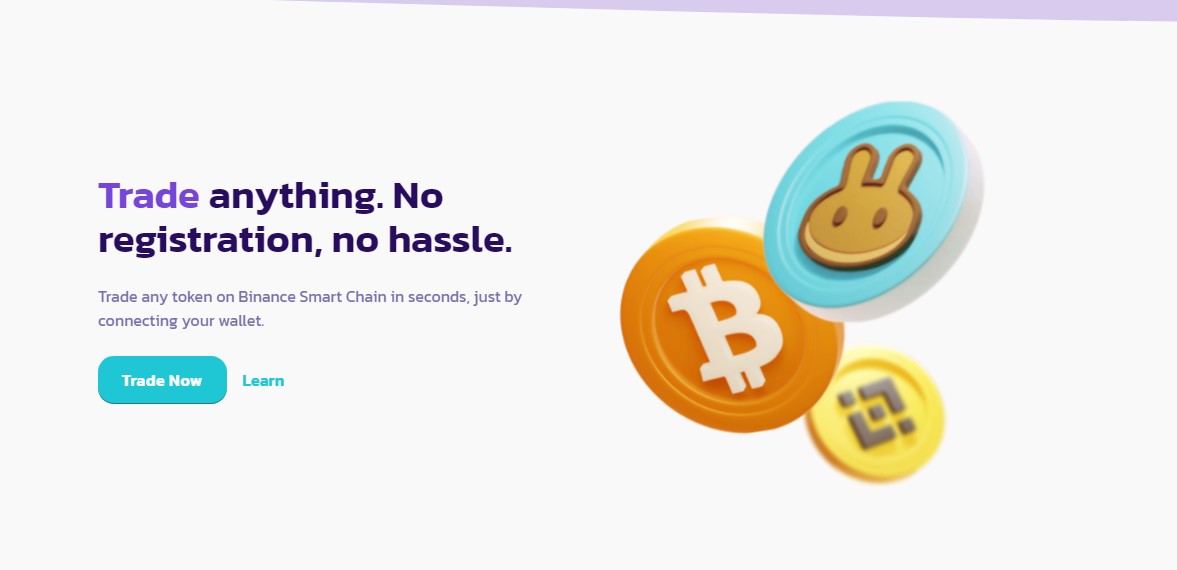 It should come as no surprise that the actual native token at PancakeSwap bears the name CAKE, and functions as a BEP-20 token. When it comes to liquidity pools, the SYRUP pools reign supreme at PancakeSwap. PancakeSwap has given Ethereum-based DeFi exchanges a run for their money, as it offers greater speed and lower fees.
How Does PancakeSwap Work?
PancakeSwap is a global DEX platform that can be accessed from every corner of the world and offers over 100 BEP-20 tokens to choose from, Traders are even able to switch and transfer tokens between the Ethereum and Binance Smart Chain networks from mostly every region except for the United States.
AMM crypto exchanges are quite straightforward. Instead of browsing order books to find the perfect match or pairing, crypto traders at AMM exchanges just deploy their funds directly into the trading platform's liquidity pool. The decentralized crypto exchange then rewards them by giving them liquidity tokens, which can be put towards a multitude of things (invested) or put towards nothing at all (set aside in order to accumulate interest rates) and still make you a profit. So far, so good, right? Crypto traders can choose to stake their liquidity tokens to further the platform's liquidity and earn interest on every trade that goes down.

Without getting too deep into it, it's important to note that PancakeSwap and this latest wave of AMM crypto exchanges all run on the Binance Smart Chain, which employs proof of stake algorithms, governed by the Proof of Staked Authority (PoSA) validators. Not only does this make the platform's protocols far superior to the Proof of Work or PoW Etereum blockchain that expends a ton of energy and contributes to climate change, but it also makes the BNB Initial Coin Offering (ICO) more versatile and available for DEX trades, liquidity pools, DeFi, and NFT payments.
Features
PancakeSwap's native CAKE token can be acquired in a multitude of ways, however, its most popular use and acquiring method is staking. By staking the already acquired CAKE token to the SYRUP pools, PancakeSwap crypto traders are able to increase and multiply their assets. And if we're not mistaken, that's what we're all here for, right?
Unlike Ethereum-based protocols, where the transaction fees add on and build up over time, resulting in steep charges, the BSC pool works on completely different principles that allow for low transaction fees throughout. In Ethereum network blockchain protocols, users are subjected to fees for every blockchain action, and to make matters worse, these processes also slow down the whole network.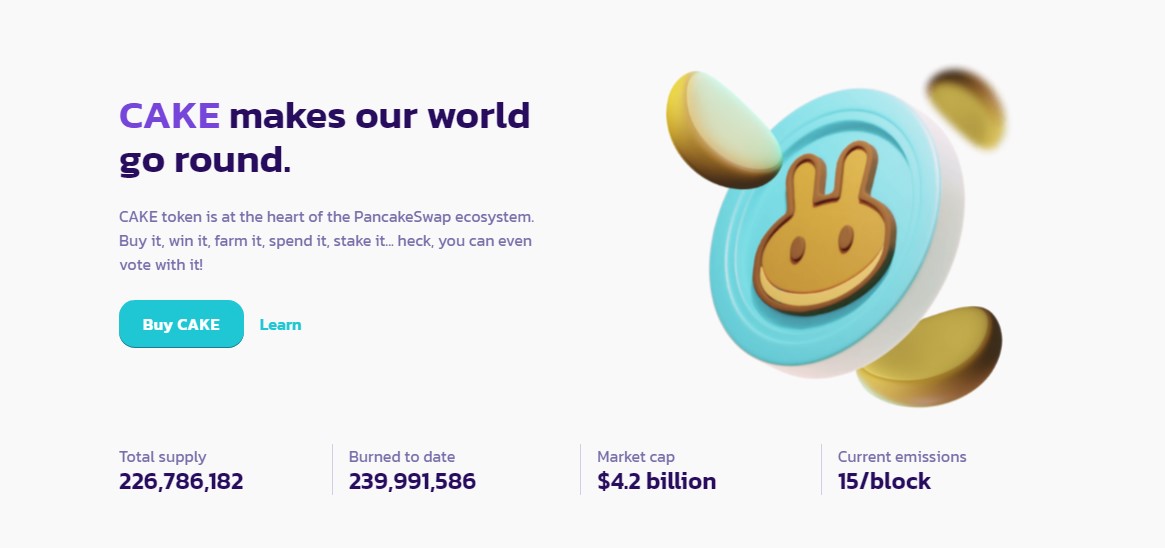 BEP-20 tokens bypass all of that and provide greater speeds at lower fees. The average fees at PancakeSwap come at $0.04 or $0.20 per trade. That's quite the leap considering that Ethereum fees can go up to $20 on a per-transaction basis.
Another perk is that PancakeSwap doesn't require users to go through tedious Know Your Customer (KYC) and Anti-Money laundering (AML) processes. At Pancake, users are able to retain full control over their personal and sensitive data and don't have to worry if someone compromises the trading platform's security firewalls.
Decentralized crypto exchanges, PancakeSwap included, employ their own version of verification through security systems built on their own platforms.
Yield Farming
Yield farming is a way of bypassing the manual labor that is required in order to select the token that a user wants to provide liquidity for and jump directly to the most profitable pools that fit the bill.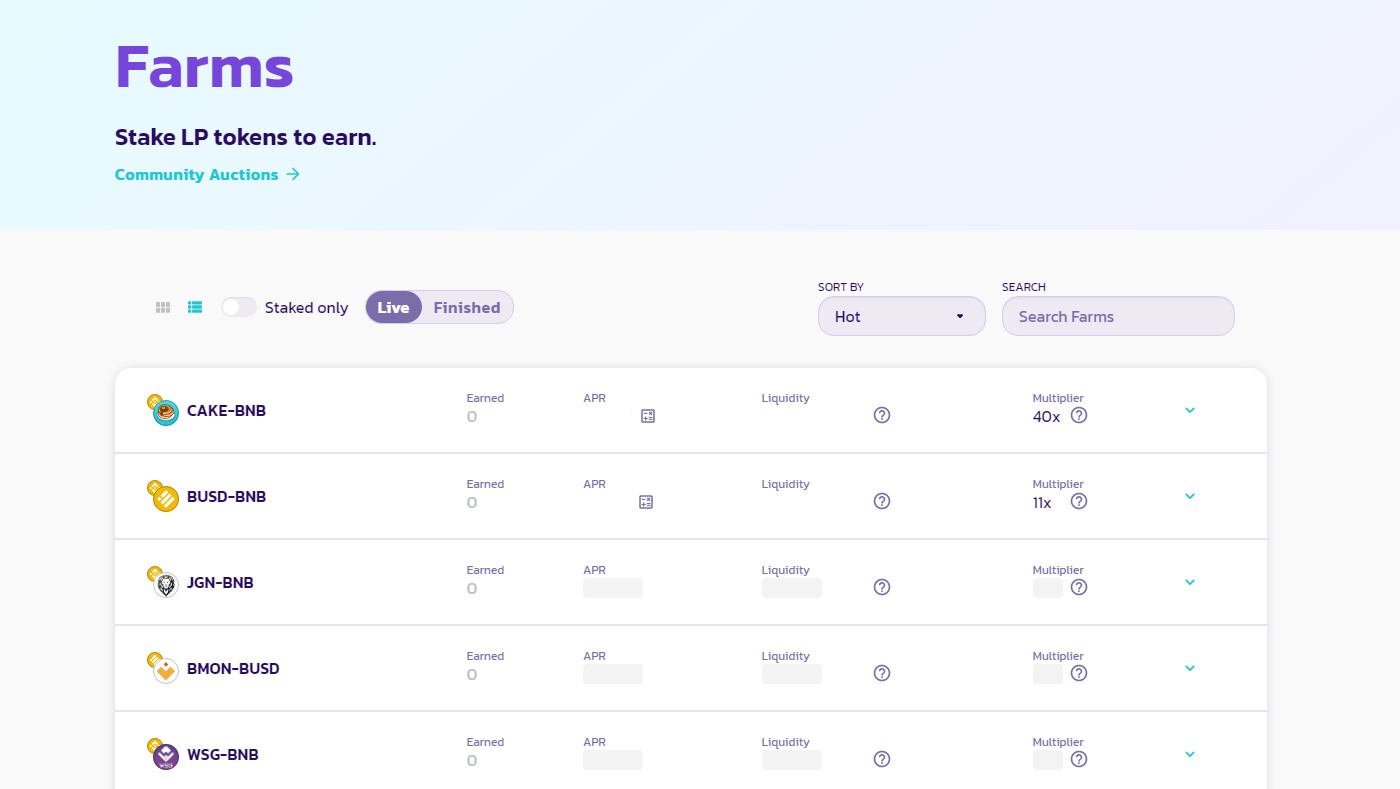 When users select the farming service, they are instantly in the game, as all the required information is added by robots, providing the best possible fit. Once you select a farm, it takes you straight to the page that allows you to add liquidity, filling in all the information for you automatically.
Syrup Pools
The platform's Syrup Pools were built in conjunction with the Binance Smart Chain and PancakeSwap's native CAKE token. The symbiotic relationship that the Binance Smart Chain and the PancakeSwap CAKE token have with each other allows for the Syrup Pool to be split up into two different sections. There is the Core section, where projects are selected on behalf of PancakeSwap, and the Community section, where projects are selected and voted on by PancakeSwap users and community members.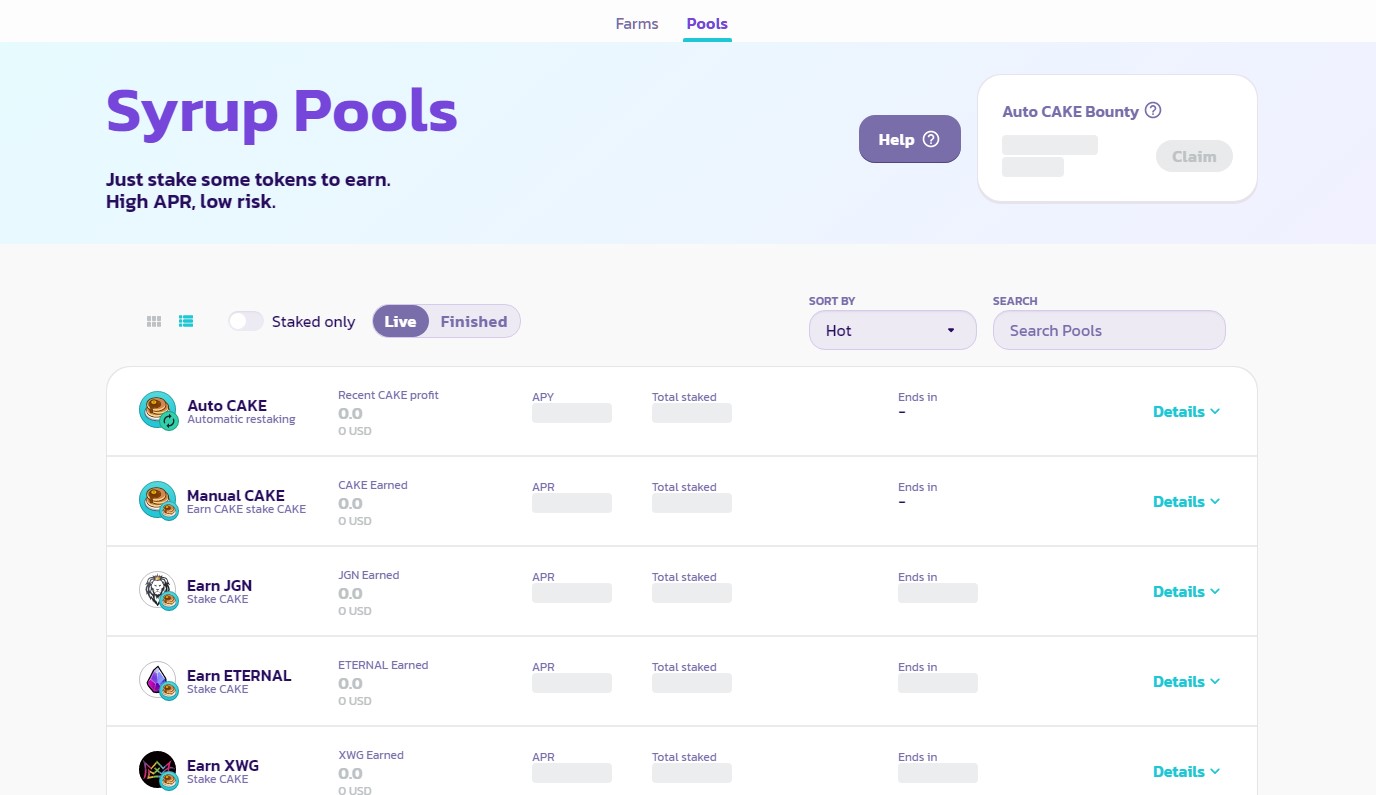 Deposit and Withdrawal Methods
Traders that wish to make fiat deposits have to bring in a third-party CEX exchange to the fold, as Pancake does not support fiat purchases. Asset deposits are made through the Binance Smart Chain and selecting a wallet that serves as the final destination. Users have a plethora of choices that they can go with. The most popular one seems to be MetaMask.
Withdrawals are straightforward as well and can be made directly to a Binance Smart Chain address.
Lottery
The PancakeSwap lottery feature is a somewhat unique offering on the platform's behalf. Users are able to get themselves lottery tickets by swapping them for CAKE tokens.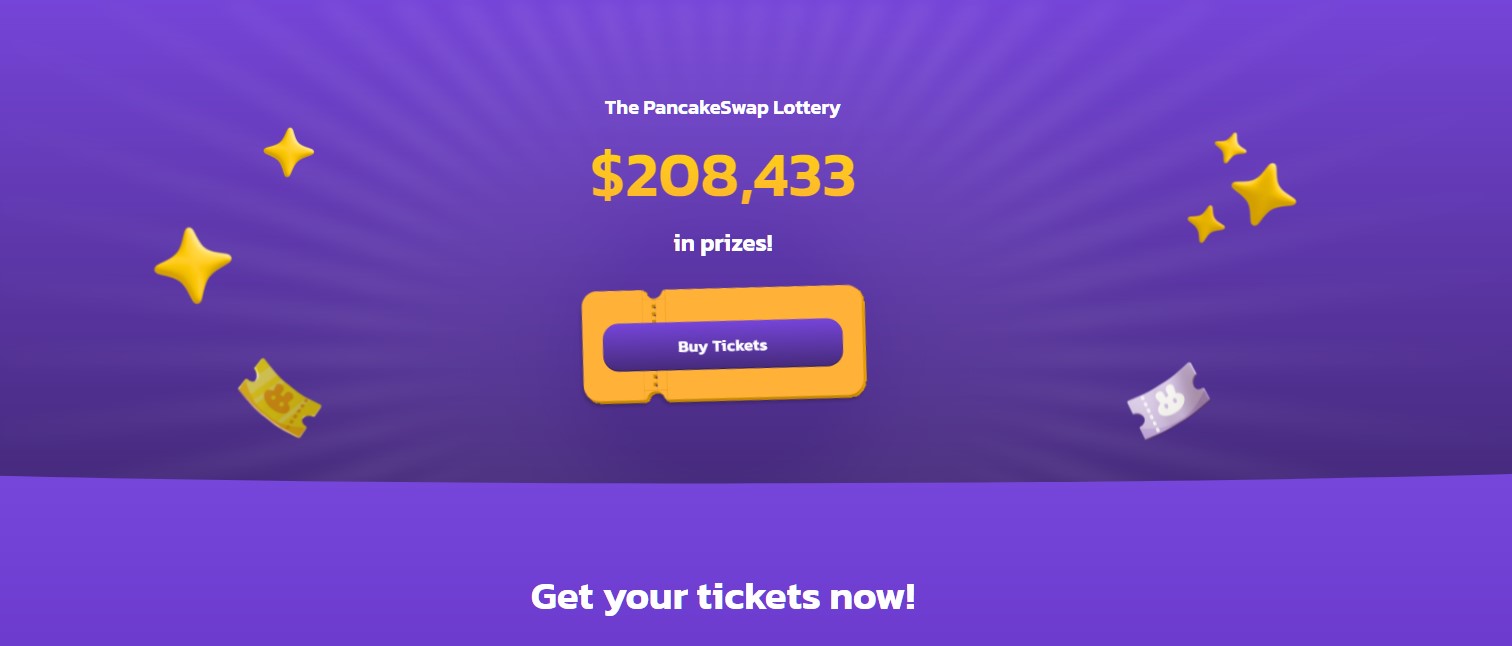 Once users accumulate over 10 CAKE tokens they are eligible to enter the lottery and receive a unique 4 digit ticket. In order for a user to win the lottery, their numbers have to match the numbers that are given out by the platform in the exact same sequence. The user that has the winning combination gets to take home 50% of the entirety of the platform's pool assets.
Users that don't get the grand prize are in for a reward as well if their ticket combination matches at least two of the winning numbers.
Trading Fees
As we mentioned above, PancakeSwap's trading fees are 0.2% on a per-transaction basis for makers and takers alike. The way that the transaction fees are distributed is that from every 0.2%, 0.17% are directly submitted to the platform's liquidity providers, while a miniscule 0.03% goes into the PancakeSwap Treasury.
PancakeSwap doesn't employ any withdrawal fees whatsoever for users that are utilizing BNB on withdrawals made from their Binance Smart Chain wallets, though you may wish to pair that with a separate hardware wallet for better security.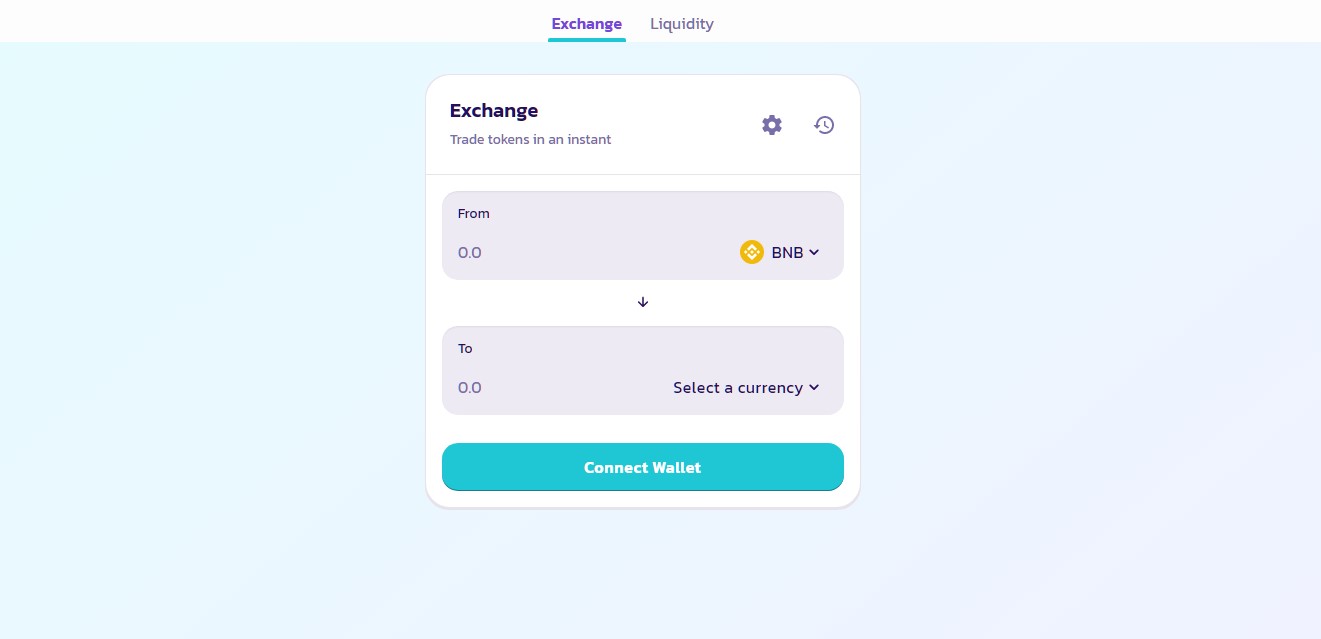 The Trading View window gives traders an insight into price histories, analytics of the exchange, the total platform liquidity, as well as token information. The crypto platform's swap interface is sleek and works like a charm. Users simply need to select their desired currency and confirm their action.
Crypto traders that work towards adding liquidity to the trading platform are rewarded FLIP tokens in proportion to their overall pool token value. Anyone can and is wellcome to add liquidity to the platform. This can be done by simply selecting the Liquidity tab and choosing the tokens that you want to liquify. The funds and assets that are added to the liquidity pool can be withdrawn at any moment in time, no questions asked.
Security
PancakeSwap is a new platform and hasn't had to deal with any significant problems when it comes to security. The fact that the platform is decentralized automatically makes it safer to use.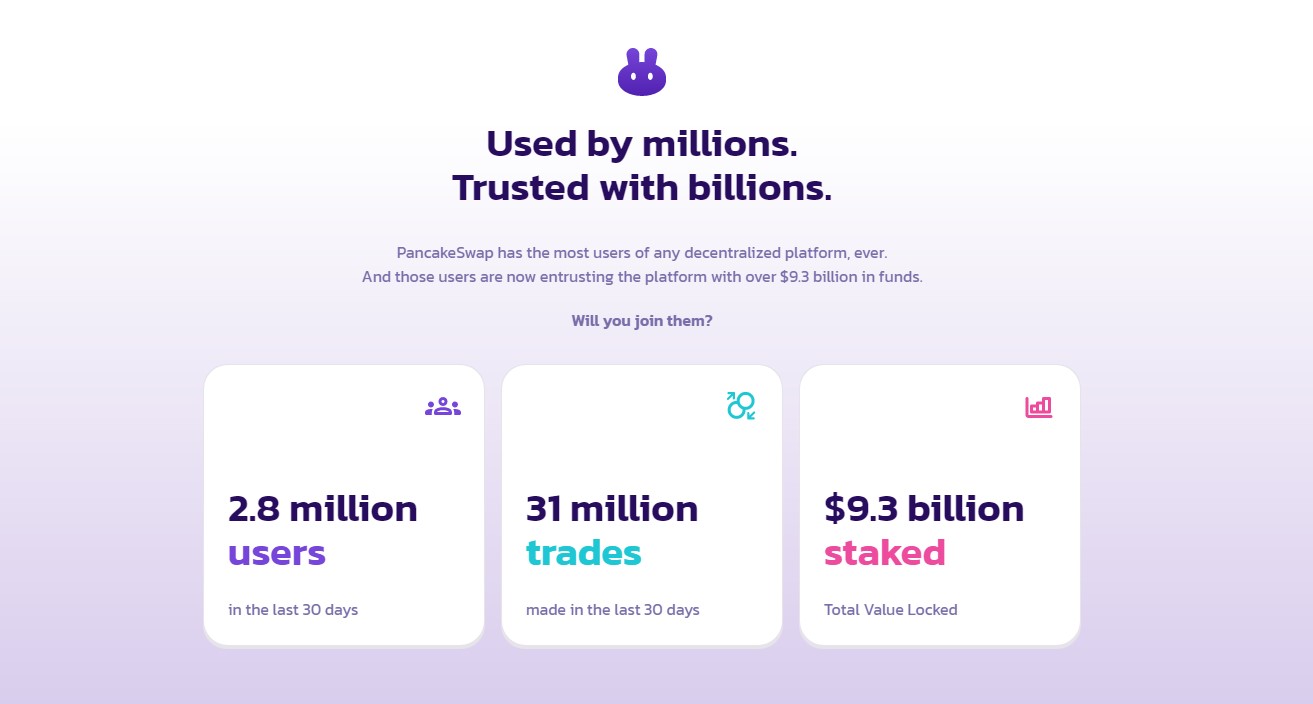 Decentralized crypto platforms are non-custodial by nature, which means that they do not store or come across users' funds or data at any point in time. So, even if someone were to break in, they won't find any user data or funds on the trading platform's servers.
The platform employed CertiK, a major cybersecurity firm in the business, to run a full audit on all fronts. By partnering with CertiK, PancakeSwap significantly upgraded its security infrastructure that now features Security Oracle, CertiK Shield, DeepSEA, as well as the CertiK Virtual Machine.
Customer Support
No, it has nothing to do with PancakeSwap, almost all DEX crypto exchanges do not have a dedicated support team. This isn't as serious as it seems though. Even though an official email address or a live chat bubble would come in handy, users can solve any problem that they come across simply by reaching out to the exchange's official social media panels, or turning to Reddit and Quora for answers. The crypto exchange does provide troubleshooting support should something go wrong with the software.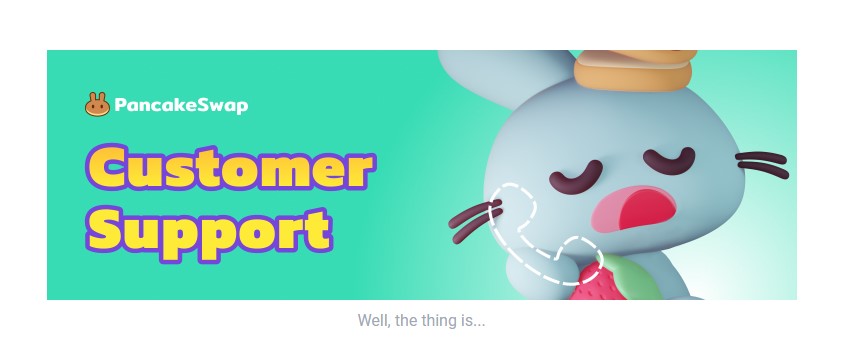 Pros:
Low fees
Supports the exchange of several BEP20 tokens
Offers entry into a variety of lotteries
Users can win a variety of NTFs
Offers users the ability to launch their own projects in the BSC community
Cons:
Complicated staking process
Not beginner-friendly
Frequently Asked Questions
Do I need KYC to start trading cryptocurrency on PancakeSwap?
Because PancakeSwap is built as an open-source market, there is no governing body and no one to perform an AML or KYC verification process on its users. The trading platform is just the playground where the users can explore different DeFi options.
What crypto wallets does PancakeSwap support?
PancakeSwap offers a lot of options when it comes to wallet support. The exchange can be connected with some of the most popular crypto wallets, such as MathWallet, WalletConnect, TokenPocket, WalletConnect, Trust Wallet, and MetaMask. However, before selecting a wallet, users should always double check if their preferred crypto destination supports BEP-20 tokens or is limited to Ethereum-based ERC-20 tokens.
Does PancakeSwap provide a mobile phone app?
Unfortunately, PancakeSwap does not provide a dedicated mobile app. However, users can make the most of mobile trading by turning to the Trust Wallet app that is available on both Android and iOS. Through Trust Wallet, traders can select PancakeSwap as their default Dapp and engage in trades on the go.