Today, it would be almost impossible to find someone who doesn't know a thing or two about Bitcoin. Even tech-illiterate people have heard about the world's first and most popular cryptocurrency because, by now, it has entered mainstream consciousness.
However, you won't get the same results if you ask people whether they know what penny cryptocurrencies are. It's not that they aren't worth investing in or aren't popular enough. They're just less popular than Bitcoin.
That's why this guide puts a spotlight on these cryptocurrencies! We'll start with the terminology, then talk about what makes them a valuable asset, give you a list of the most prominent penny cryptos out there, and tell you where to buy them.
Let's begin!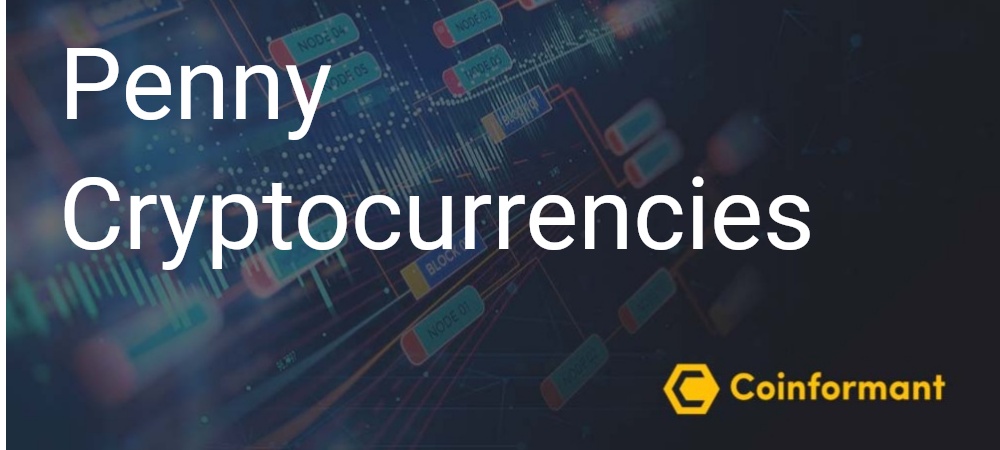 What Are Penny Cryptocurrencies?
As the name suggests, penny cryptocurrencies are digital assets that are worth less than $1. If you analyze the crypto market, you'll quickly realize that most of the cryptocurrencies available for purchase are penny cryptos.
The interesting thing is that people rarely question why these coins retain such low prices. Somehow, we've become accustomed that coins like Bitcoin, Ethereum, and Litecoin are to be viewed as the big players in the industry, deeming all other coins as minor ones.
In reality, Bitcoin has built such a solid reputation because it was the first decentralized digital currency based on cryptographic proof. Since then, it has become a household name, while all other cryptocurrencies are put under the umbrella term of "altcoins", meaning Bitcoin's alternatives.
This "putting every altcoin in the same basket" approach is detrimental for these coins because it doesn't allow their uniqueness to shine through. Among the many penny cryptocurrencies, there are stablecoins, utility tokens, security tokens, new ones, stagnant ones, etc.
It's important to distinguish one penny crypto from another because their features will affect your investment strategy.
Why Invest in Penny Cryptocurrencies?
Here are the main reasons why you should invest in penny cryptocurrencies:
The potential for high returns
A lot of times, newly-released cryptocurrencies are priced very low to attract investors. It seems logical to start low, and then, if the coin looks promising and useful, both its demand and price will go up.
That's why you should keep an eye on new penny cryptocurrencies, read their white paper, the media coverage, and think about its potential use cases. Buying the asset when it's still a penny cryptocurrency will help you stay at an advantage to other traders.
Investment portfolio diversification
If you want to make sure you have constant returns from your investments, you need to step up your game and diversify your cryptocurrency portfolio.
Don't make the common beginner mistake of investing everything into one popular cryptocurrency, thinking you're playing it safe. Traders who've done this end up losing everything because they underestimate the volatility of the crypto market.
Passive income opportunities
You can purchase some of the most profitable dividend cryptocurrencies for less than 1$! The way it works is similar to stock dividends, meaning that you earn money by holding onto penny cryptocurrencies over a period of time.
How to Select The Best Penny Cryptocurrencies
When looking for the best penny cryptocurrencies, here's a list of criteria to take into account:
The cryptocurrency supply should be above 10 million coins and at least 25% of the whole supply limit should have been mined already.
Two very important metrics: market capitalization and liquidity. The former should be over $20 million, the latter should bring over $1 million in daily trading volume.
The penny crypto should be listed on popular cryptocurrency exchanges.
Check the coin's metrics on popular crypto sites like CoinMarketCap. For example, the percentage gain should be higher than 50% for the past seven days.
The penny crypto should be present on social media and report on its development with transparency.
The Top 5 Penny Cryptocurrencies to Buy in 2020
Ripple (XRP)
Ripple (XRP) is definitely the most well-known penny cryptocurrency on the crypto market. The cryptocurrency and platform were launched in 2012, under the name OpenCoin, as a joint project of developers Ryan Fugger and Jed McCaleb, and angel investor Chris Larsen.
Ripple was created as part of a payment network that allows faster and cost-effective cross-border payments. To mine the coin, the XRP ledger uses a different protocol called the XRP Ledger Consensus Protocol, where instead of miners, there are validators in charge of verifying transactions and generating new "ledger versions" similar to Bitcoin's "blocks".
Ripple remains a popular penny cryptocurrency because it outperforms Bitcoin in terms of transaction throughput, processing up to 1,500 transactions per second, speed, and scalability. On top of that, it's accepted by many authoritative financial institutions around the world, something that's extremely rare among cryptocurrencies.
Stellar Lumens (XLM)
Stellar Lumens, or XLM for short, is one of the most lucrative cryptocurrencies with over $531 million in daily trading volume.
It was actually co-founded by Jed McCaleb, one of the developers that worked on Ripple and left the company in 2014 to start his own crypto project. Stellar also focuses on reducing the required time and costs for international money transfers.
XLM has found its supporters thanks to its amazing transaction throughput with up to 1,000 transactions per second, and only 3 to 5 seconds to confirm a transaction. This processing power comes from Stellar Lumens' complex algorithm called the Federated Byzantine Agreement (FBA).
These features have made XML an appealing asset in the eyes of popular cryptocurrency exchanges like Kraken, Bittrex, and Binance, which is why all three have added the token to their list of supported cryptocurrencies.
Basic Attention Token (BAT)
Basic Attention Token (BAT) is another penny cryptocurrency and a utility ERC20 token built on top of Ethereum's blockchain. It's used by the BAT decentralized blockchain-based exchange for digital advertising.
This exchange wants to revolutionize the advertising industry by focusing on the three most affected groups: users, publishers, and advertisers. To address their needs, the exchange promises privacy and security, a chance to make some profit, and the reassurance that users will only see relevant ads.
The BAT tokens are primarily used by advertisers to pay the publishers for the ads based on user attention. Moreover, when watching ads, users are also rewarded with BATs. They can spend these coins on the services offered by the platform or support the publishers by donating the coins.
Cardano (ADA)
Cardano (ADA) is an ambitious crypto project and a third-generation blockchain coming from the co-founder of Ethereum, Charles Hoskinson. This penny cryptocurrency got its name from Ada Lovelace, an extraordinary 19th-century programmer.
Cardano works on addressing the following challenges faced by cryptocurrencies: scalability, interoperability, and sustainability.
For example, to solve the scalability problem, Cardano uses proof of stake consensus mechanism (PoS) called Ouroboros, instead of using Bitcoin's proof of work mechanism that spends an enormous amount of electricity.
In PoS, the validators are chosen randomly and transparently. One of the prerequisites is to own some ADA tokens and put them at stake as an incentive to stay unbiased when validating transactions.
This penny crypto has a lot of room to grow, and many traders decide to invest in it believing it represents the future of cryptocurrencies.
Qlink (QLC)
Qlink (QLC) has caught the audience's attention by promising to build the first decentralized mobile network in order to improve the shortcomings of the telecommunication industry. These challenges include cyber-security threats, wider coverage, and ensuring high returns for the company.
The Qlink's ICO lasted one month, during which the company managed to raise over $19 million! As a result, the startup was able to materialize its vision for a mobile network where users can register and digitalize telecom assets, and share those assets with other users via smart contracts.
Qlink provides other services through the Qlink app such as sharing WiFi, mobile data, and SMS. The QLC tokens are NEO-5 tokens, built on the NEO blockchain, and used as service coins to pay for the platform's services. If users watch some sponsored content they earn some tokens as well.
Where Can I Buy Penny Cryptocurrencies?
In general, traders buy, sell, and trade popular cryptos like Bitcoin and Ethereum using cryptocurrency exchanges. The process is completely the same for penny cryptocurrencies.
It doesn't matter whether these platforms are centralized or decentralized, or if they only offer fiat-to-crypto exchanges or crypto-to-crypto ones. The choice is yours to make based on your investment strategy.
However, what you need to pay close attention to is the variety of altcoins supported by this platform. It might be quite challenging to find both a reliable exchange and one that supports even the most obscure tokens, as these exchanges accept coins that show high demand and promise them profit.
Our advice is to check out Binance and Bittrex, as they not only offer a great choice of penny cryptocurrencies but high-level security measures as well.