Phemex Review Australia for 2023
Quick Summary: Phemex provides crypto investors and traders a wide range of opportunities and benefits that can be quite difficult to find in a single platform anywhere else. The crypto exchange has established a solid hold on the crypto market by highlighting its main advantages: the ability to make sub-accounts, a very fast transaction time, and a user-friendly interface.
While these features make Phemex stand out from the competition, there are other factors of the Phemex that users will surely love, which you'll learn below.
Overall, Phemex is an exceptional choice if you want to experience a seamless and professional trading experience with additional features that can grow your investments.
Phemex has wasted no time in establishing itself and rising through the ranks in the crypto market. The cryptocurrency exchange provider might be one of the new kids on the block but it certainly has gained a lot of attention by being deemed the quickest cryptocurrency derivatives exchange you'll ever find.

Whether this is entirely true or not is still up for debate, as it will take a detailed run audited by third parties on every cylinder of multiple derivatives trading platforms in order to come up with a final verdict. In any case, Phemex has entered the stage guns ablazing and ready to take on anyone or anything who's willing to challenge it. What's not to love?
At this early stage, users have been very satisfied with the offerings and customer support, however, many remain unsure whether the cryptocurrency trading platform is able to keep up with the best of them when it comes to security protocols and safety. We're about to find out whether their suspicions hold ground or not.
Phemex Platform at A Glance
Website: www.phemex.com
Country: Singapore
Mobile App: Available
Deposit Methods: Visa Card, Mastercard, Bank Transfers, Cryptocurrency
Fiat Currencies: USD EUR, GBPand AUD JPY, ARS, and many more
Cryptocurrencies: Bitcoin, ETH, SOL BTC, ETH, LUNA, DOT, CHZ, SOL, FTM, ATOM and more than 220
List of Features
Mobile apps that are user-friendly and professional
Fully-fledged experience in trading with sophisticated charts
Earning passive income by Phemex staking
The sign-up process is quick and easy
Excellent referral program
Phemex's Flexible Savings account
Instant buying of cryptocurrencies
230 popular crypto assets
Welcome bonus of up to $6,050
Massive portal for learning with guides
Customer support is fast and efficient. team
A variety of promotions
Markets for spot and contract trading
Security features that are premium
Pros
Earnings from staking or promotional campaigns
230 popular cryptocurrencies
Advanced trading using leverage
Contract and spot trading
Suitable for both beginners and experienced traders
Help and support for customers with premium customer service center
High leverage trading functionality up to (100x)
Users can create sub accounts
No need to for KYC to start spot trading
Platform is community focused
Allows users to trade with many advanced types of orders
Cons
OTC trading may not be offered in a lot of European and Asian Phemex allowed countries, in particular Phemex restricted countries.
The lack of variety in cryptocurrency assets
What Is Phemex?
Phemex was launched at the very end of 2019, rooted in Singapore but residing on the coast of the British Virgin Islands. Led by Jack Tao and Yang Du at the helm, the platform is registered under the name Phemex Financial Pte. Ltd. From the get go, Phemex has made user experience and transaction processing speed their priorities.

The Phemex trading platform managed to draw numbers in a relatively short time and broke into CoinMarketCap's top 10 derivative exchanges, with over 50,000 users and $700 million in daily trading volumes. Did we mention that Phemex doesn't employ KYC tests and offers up to 100x on leverage trades? Let's dig a little deeper.
Trading Features and User Interface
Phemex's user interface is easy to navigate and get around thanks to the bright white background. Other than that, it is clear cut and intuitive thanks to their user-oriented API. The platform is customizable and available in five different languages. Users can choose to have their trading tools and trading charts on display or hide them under tabs for a sleeker experience.
The trading platform's demo-trading feature offers an insight into how things are done at Phemex by keeping your crypto wallet shut. There are two main cores to the platform's design. These are the CrossEngine and the TradingEngine. The CrossEngine is capable of processing up to 300,000 TPS, under a single millisecond. This comes particularly handy in high leverage trades where the trade crypto processing can get pretty taxing on the platform. The TradingEngine is in charge of computing all order costs, as well as the position costs, the margin full requirements, prices of liquidation and bankruptcy, as well as all of the data on each separate trading account.

Users can enjoy support on:
Market orders – where their order is executed at the best prices on the market;
Limit orders – which offer them to customize their parameters and set an upper and lower ceiling on GoodTillCancelled (GTC), ImmediateOrCancel (IOC), as well as FillOrKill (FOK) orders.
Conditional orders – which serve as a more sophisticated next-level type of limit orders.
At Phemex, users are able to create and take advantage of the Sub–Accounts feature that enables them to engage in trades on both short and long positions at the same time. These Phemex accounts have segregated funds and can be assigned separate trading strategies. Users are able to assign trading bots to transfer their funds from and to their main and sub-account balances. Phemex has stated that it will make L3 market data available to all of its traders so that they have complete insight into what they're doing.
Leverage Trading
As we mentioned above, the exchange allows for an unprecedented 100x on leverage trades over seven trading pairs. These include BTC/USD, ETH/USD, XRP/USD, LINK/USD, XTZ/USD, LTC/USD, and GOLD/USD.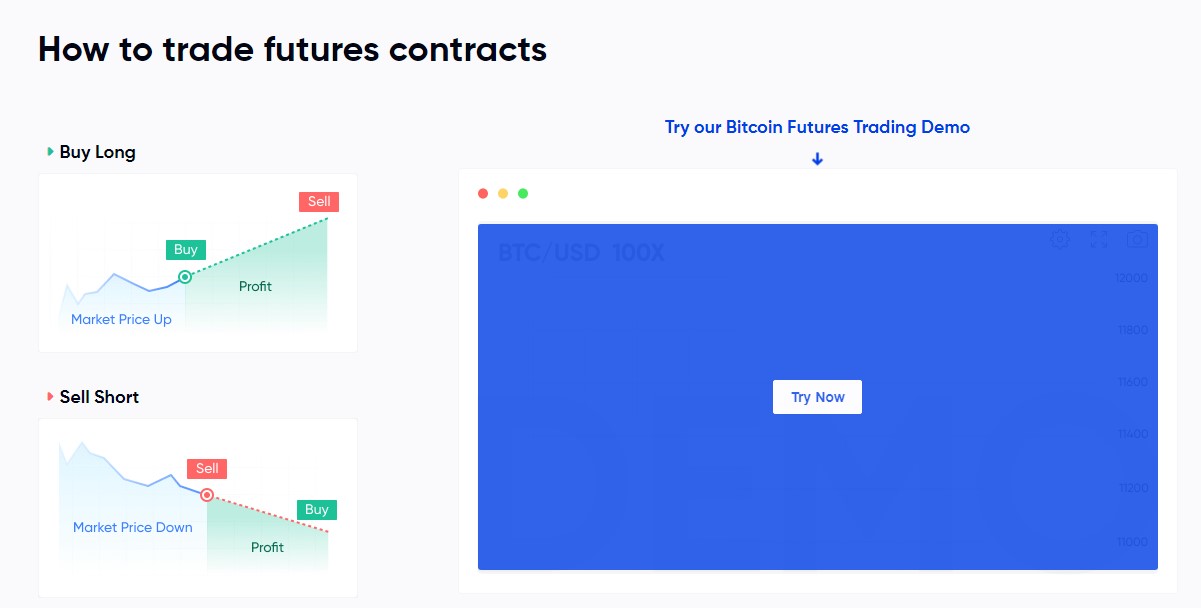 Phemex's perpetual contracts are on par with the ones offered by competitors like BitMEX and Bybit. High leverages are a double-edged sword as they can serve as a quick means of making a profit but they can also make for substantial losses in very short timeframes.
Supported Cryptocurrencies
Phemex's list of supported assets isn't extensive for the time being but it does offer support for the most coveted crypto assets on the market such as Ripple (XRP), Bitcoin (BTC), Litecoin (LTC), Solana (SOL), Cardano (ADA), Binance Coin (BNB), Ethereum (ETH), as well as Chainlink (LINK), all of which can be paired with Tether (USDT).
Phemex Fees
| User level | Last 30d spot trading vol. (USD) | Condition | Last 1d avg hourly balance (USD) | Maker Fees | Taker Fees |
| --- | --- | --- | --- | --- | --- |
| VIP0 | <1000000 | and | ≥0 | 0.1000% | 0.1000% |
| VIP1 | ≥1000000 | and | ≥0 | 0.0700% | 0.0900% |
| VIP2 | ≥4000000 | and | ≥0 | 0.0600% | 0.0800% |
| VIP3 | ≥10000000 | and | ≥42000 | 0.0500% | 0.0700% |
| VIP4 | ≥20000000 | and | ≥75000 | 0.0300% | 0.0600% |
| VIP5 | ≥50000000 | and | ≥100000 | 0.0200% | 0.0500% |
| VIP6 | ≥100000000 | and | ≥130000 | 0.0000% | 0.0500% |
| VIP7 | ≥150000000 | and | ≥180000 | 0.0000% | 0.0400% |
When it comes to Phemex maker taker fee, Phemex mirrors the market and offers a reasonable 0.025% on maker fees and 0.075% on taker fees.

Deposit and Withdrawal Methods
Phemex lacks support for fiat deposits. The trading platform is exclusive to both BTC deposits and withdrawals, which allows it to remain unregulated and deal in crypto derivatives without the need for regulations that would imply tedious KYC tests. In order to start trading at Pheemx, users need to sit on or buy Bitcoin and exchange that Bitcoin for some USDT contracts.
When it comes to withdrawals, all that traders need to do is provide the exchange with a crypto wallet address and select the amount of Bitcoin that they wish to withdraw. The trading platform features a 2FA protection on withdrawals for additional security.
Disclaimer: Withdrawals at Phemex are not instant and are executed during set times of the day (at 8 am, 4 pm and 12 am UTC). As for Phemex deposit time, it could take within 1 hour.
Phemex Deposit & Withdrawal Fees
The crypto trading platform doesn't administer any fees on deposits, however, withdrawals do come at 0.0005 BTC per trade, with a low Phemex withdrawal minimum threshold set to 0.002 BTC. When traders transfer funds between their sub-accounts, both deposits and withdrawals are completely fee-free.
Zero-Fee Cryptocurrency Spot Trading
In order to get the lowest trading fees that the platform has to offer, users need to log into their Pheemex trading account, and head over to the Products tab. From there on, they'll need to select Spot Trading and choose the currency that they would like to deal in. They can either buy currencies such as Bitcoin and Ethereum or simply peg them to USDT. When they have everything in place, they can proceed by tapping the Buy or Sell buttons so that the order is activated. Standard blockchain network traffic fees still apply.
Users can also take advantage of GOLD/USD trading contracts and venture out of the crypto world by doing their business in interest rates, FOREX, S&P 500 stocks, stock indexes, commodities, energy and even metals.
Security
You might think that this is a point of concern when it comes to Phemex. After all, they're still a very new platform with no track record to fall back on. While all of that is still true, the trading platform is equipped with a team of experts that have been in and around the crypto sphere since its very beginning. Many of them, including former Morgan Stanley executives, are well versed in high-frequency technology.
Phemex employs an HD Cold Wallet System when it comes to funding security. This means that all digital assets are being stored in one multi-signature wallet mothership. The trading platform has partnered with and relies on Amazon's Web Service (AWS) Cloud, as it does not have one of its own. Needless to say, Amazon's cloud-based security is at the helm of what's available at any given time in regards to safety and security.

Phemex's internal network is segregated from the trading zones by firewalls that are SSL encrypted. The platform also runs frequent PCI scans.
Phemex ensures that users get 99.99% availability on funds to which no other crypto exchange (like Coinbase) even comes close. However, because this is borderline arrogant, it might be a transitional offering that will be revised once the eventual scam, hack and breach attempts start gunning for it.
Customer Support
The Phemex customer support team can be reached in a multitude of ways. Users can send an email, make use of the live chat feature, or become part of the trading platform's Telegram community. Even the platform's CEOs are in the Telegram group and can be contacted through Twitter. Whether they actually get back to it, it's a whole different story. However, it is a nice gesture at the very least.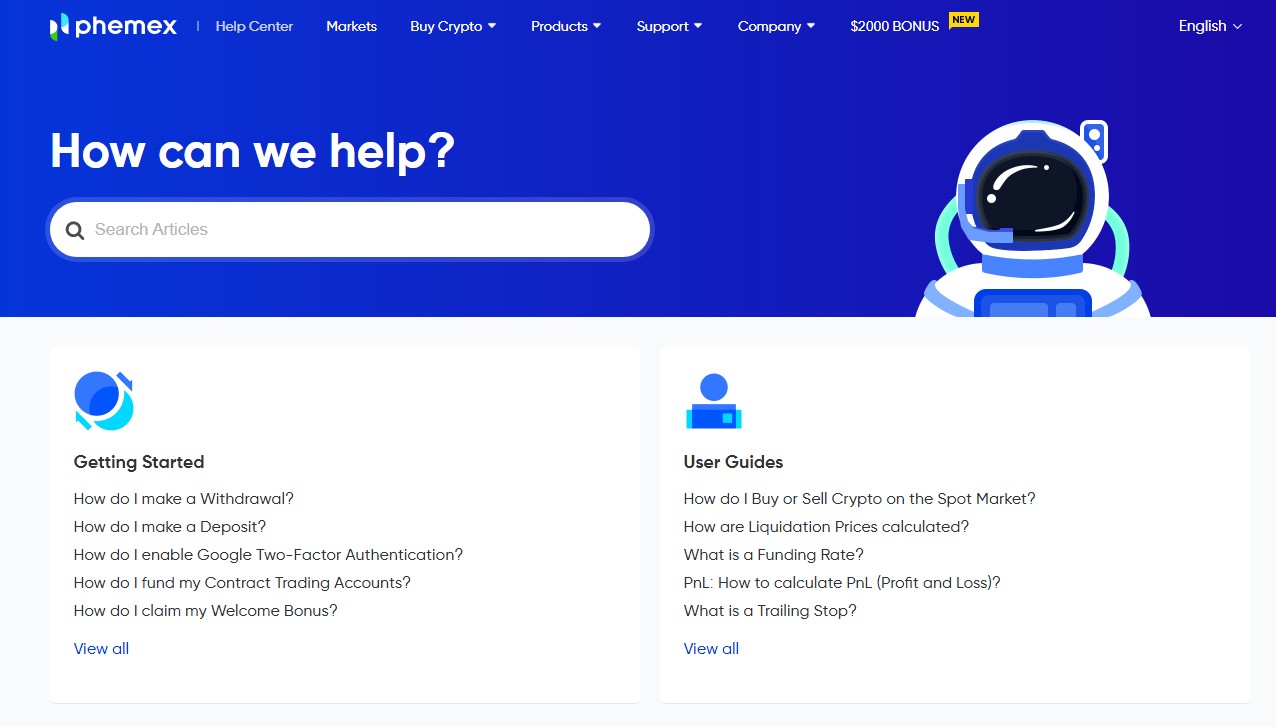 For those who want to educate themselves and learn more about the ins and outs, Phemex provides traders with a Help Center where they can and will find a ton of educational and helpful articles and blog posts. The dedicated FAQ section is there for anybody that is tangled up or has a query that they can't seem to navigate out of by themselves.
Frequently Asked Questions
Is the Phemex Exchange Regulated?
Phemex is not regulated, which allows it to process orders and funds at lightning speed but it also limits its versatility in terms of currency offerings. The trading platform has applied for regulation at SEBA and the Monetary Authority of Singapore (MAS) and is pending approval.
Can You Use Phemex Without KYC?
Is Phemex Available Worldwide?
Even though Phemex is a global platform and is available from most corners of the globe, the exchange is currently offline in Sevastopol, Singapore, USA, Quebec, Cuba, North Korea, Iran, Sudan, and Syria.
Are Phemex Australia Users Subject to KYC Checks? Is Phemex KYC Necessary?
Phemex does employ a KYC process, however, users do not have to go through one if they are able to do their business within the platform's limits for unverified users. Nevertheless, the platform does recommend that all of its users go through a KYC process in order to create a safer trading environment for everyone on board. Users that verify their accounts by going through a KYC check are able to enjoy the platform's full offering without any limitations whatsoever.
Does Phemex Have a Mobile App - What Is Phemex App?
Yes, Phemex supports a mobile app for both Android and iOS devices through which traders are able to buy, trade and sell crypto or derivatives. The app is suitable for new users and mirrors the desktop version that can be found at phemex.com.
How to Withdraw Money From Phemex?
The first step is to sign-up or log in to first. Sign in or register for your Phemex account. Click on Assets, then click on Withdraw.
Select the cryptocurrency you wish to withdraw. Make sure that you have chosen the same currency on the platform you deposit funds the withdrawal. Then you will be able to see the first one with a sufficient balance in. Be sure to select the one you have enough money in to take out.
After that, you must select the network.Please ensure that you select one that is compatible with both the platform as well as Phemex. Make sure that Phemex has your money and can then process your withdraw.
If you choose to use crypto currencies like XRP, LUNC, EOS and others... They may require a tag or a memo. So, for the coins that require a tag or memo, make sure you included the correct tag or memorandum for your withdrawal.
There are two ways you can use to enter an address for withdrawal: i.You could just paste the address that you copied. ii.You can select the icon to the right in the box for input and then choose a method of the options from Address Management.
After that, you must input the amount for withdrawal that you wish to withdraw. Be aware that the amount you want to withdraw is minimum as well as the transaction fee as well as the balance that is available as well as the amount remaining. After verifying all of this you have checked, click Withdraw to continue.
The next step is to confirm the transaction. Enter Your Google Authenticator code to verify. This step is essential to ensure your assets are safe.
You will receive an email with confirmation of the withdrawal. Make sure to check for your confirmation email no later than 30 mins as the link expires after the 30 minutes have passed. If you do not follow after 30 minutes your withdrawal will be invalidated.
It is possible to double-check the details of the withdrawal via your confirmation emails. If everything is in order Click Confirm to continue.
When you've completed the steps to withdraw After you have completed the withdrawal process, you can view the history of your withdrawal by clicking Assets and then clicking on withdrawal. It is here that you can see the information which is located on near the top of the page.
If the status of withdrawal is in the process, select Cancel to make the withdrawal null and void.
It's that easy! Congratulations! You are able to withdraw funds via Phemex.
How to Spot Trade On Phemex?
Log into Phemex.com and click the Spot Trading button located in the middle of the header. This will take you towards the Spot Trading Page.
Click on the symbol you want to use or buy a coin. Select Market in the top left corner of the page.
On the Order Module located on the left on the left side, choose Limit.
Set your desired Limit Price.
In the drop-down menu that is below The Limit Price choose either USDT to input the amount you want to spend, or choose your Symbol/Coin and input the amount you would like to receive.
In the bottom of the module choose either GoodTillCancel, ImmediateOrCancel, or FillOrKill according to your requirements.
Click Buy to show the confirmation window.
Click Confirm to complete your purchase.
To sell, follow the same steps like a buy order however, you must click the Sell button instead of Buy.
How to Short on Phemex?
On Phemex.com on Phemex.com, to sell or short is placing a sell order for a set amount of Perpetual Contracts at a predetermined price. If the value of the asset you are trading and you are able to sell it, you can sell these contracts at the original Entry Price. The difference between the Entry Price and the final Price at the time you take your position on the market is the same as your profit less any fees or expenses.
How to Buy or Transfer Crypto on Phemex?
Select "Buy Crypto" and choose "Buy Crypto with Credit Card or Debit Card"
Log in or register for your Phemex Account
Enter the quantity or amount and choose the cryptocurrency you'd like to buy In this instance, Bitcoin. Then, you can select from the Phemex Fiat partners: Simplex, Banxa, Mercuryo, Moonpay, Coinify. People from different regions or Phemex supported countries might have different options.
Once you've completed reading and accepted the disclaimer, you can be able to quit the Phemex website. Then, you can go through the checkout process on the one or our Fiat partner websites. We'll be using MoonPay to illustrate this.
To pay using MoonPay to pay with MoonPay, you'll need to supply your wallet's address and complete your Phemex registration.
Once your transaction has been completed after which you will be able to receive your Bitcoin within 2-10 minutes.
Which One of These Is Not a Type of Spot Order Available on Phemex?
How to Leverage Trade On Phemex?
On Phemex.com You can trade Perpetual Contracts with up to 100x leverage. The first step is to allocate an amount of margin or a portion of your funds to start an account. You then select how much leverage want to utilize. The Liquidation Price is adjusted according to your amount of leverage. The higher the leverage you employ more, the lower the gap between the Entry price and the Liquidation Price. Leverage offers the possibility to earn substantial profits with the lowest cost, but it also increases the likelihood to see your portfolio closed when market moves are less in the incorrect direction.
Why Is a Blockchain Secure Phemex?
Every time you buy or spend and transfer Bitcoin to someoneelse, the transaction is secured and recorded in this ledger. Participants in networks all over the globe are able to access a copy of the ledger. This ledger distributed with the most advanced cryptography techniques makes this system highly secure.
How to Transfer Bitcoin From Phemex to Another Wallet?
Log in to your Phemex account and then click the corner icon in the bottom of the screen, which is the Wallet icon.
Then, you need to find the address for your deposit that you would like to transfer money to. The deposit account could be belonging to you, but it is an alternative wallet or be belonging to someone else completely. After you've decided on the deposit account, tap the "Withdraw" in the top blue area of the application.
When you click the button to withdraw, a range of coins will be displayed. Select the currency you wish to withdraw from the list, or search for it. Check that the currency you choose has sufficient balance to allow withdrawal.
Then, choose the network you want to join. Be sure that the one you've chosen is compatible with the platform you are using as well as Phemex.
There are three methods to enter the address for withdrawal such as Address Management Copy and Paste Address and Scan QR Code.
If you choose to purchase a cryptocurrency like XRP, LUNC, EOS etc They may require tags or memos. For coins that require tags or memos be sure that you've entered the correct data to make your withdrawal.
If you input the amount of your withdrawal you will be able to view the Phemex minimum deposit, the transaction cost, balance, and limit that remains today. Be sure to go through them before you click Withdrawal to continue.
It will display all the details again, so will allow you to confirm the transaction.
You need to get an Google Authenticator code to make authentication to protect your assets.
You will receive an email confirmation of the cancellation. You must confirm the withdrawal in that email by 30 mins as the email expires after the time. If you don't confirm after 30 minutes your withdrawal will be void.
You can confirm your withdrawal information again by sending this confirmation email, and then click Confirm to continue.
After you've completed the steps for withdrawing and have completed the withdrawal process, you can review the history of your withdrawal by clicking Wallet then Withdrawal and then clicking the icon located in the upper right-hand corner. For Phemex pending review withdrawals, contact support. It is here that users can access the information that are available on lower left of page.If the status of your withdrawal is still in the process and you want to cancel it, choose to cancel the withdrawal.
That's it! You're now able to be able to move Bitcoin out of Phemex onto a new wallet. For pending transfer Phemex, you should contact support immediately.
Who Owns Phemex?
The CEO and founder of Phemex is Jack Tao.
How Do I Not Get Scammed on Phemex?
Be sure to follow Phemex's official social media accounts.
Be alert for suspicious websites, especially those with Phemex logo. 
Don't engage with users who are posing as Phemex customer service.
What Is a Withdrawal Address Phemex?
Withdrawal address is the address you will send your crypto withdrawals.