Plus500 Review Australia for 2023
Quick Summary: Plus500 has established itself as one of the best CFD providers in indices, options, ETFs, forex, and shares. Plus500 is a CFD provider that provides its massive customer a platform that is ideal for advanced and seasoned traders to speculate on the most popular crypto assets.
Plus500 doesn't work like a traditional crypto exchange platform. It's a global CFD provider that serves to innovate the adoption and use of crypto worldwide in a secure and reliable trading environment.
With zero deposit fees, great charting interface, and different traditional assets to trade, Plus500 is certainly a must try.
Plus500 is an online trading platform that has a lot of things going for it. It's a platform that offers a vast array of tools that are easy to use and navigate. It's not aimed at novice users, however, experienced users will find it a breeze to operate.

The Israeli platform is listed under the London Stock Exchange as a CFD broker that was launched back in 2008. Moreover, the platform is highly transparent and regulated by some of the most reputable international financial agencies such as the Financial Conduct Authority (FCA). In Australia, the Plus500AU Pty Ltd subsidiary is regulated by the Australian Securities and Investments Commission (ASIC).
When it comes to day trading, Plus500 bans users that are in for quick runarounds in the form of 2-minute limit orders, but it gives you the opportunity to execute stop-loss orders instead. The easy-to-use interface, the fifty-plus currency pairs, and the fully operational mobile app make this platform even more convenient, although users who expect to find more than brokerage services and CFDs might find the platform a bit too limited.
But don't worry. You can research other crypto exchanges available out there anytime.
Plus500 at A Glance
Website: https://www.plus500.com/
Country: Israel
Mobile App: Available
Deposit Methods: Credit/ debit card PayPal, Bank Transfer, Skrill or BPAY
Foreign Currency: GBP EUR, AUD, and many more
Cryptocurrencies: 9
List of Features
A range of CFDs available on shares, cryptocurrencies as well as Forex (FX) ETFs, commodities, options and indexes
A user-friendly interface is perfect for investors with experience. Traders who are just learning to trade can benefit from demo mode. Demo mode.
Full demo mode for practicing trading
The leading provider of CFD's around the world
It is supported in more than 50 countries across the globe with strict regulatory oversight
Pros
Market news and information to inspire you
Trading platforms that are user-friendly for the desktop, web and mobile
Accounts for trading that are commission-free
Accounts for practice trading
Variety of fund-raising options
Excellent customer support 24/7
The largest selection of 2,000+ trading instruments
Guides to trading that help educate novice traders.
Innovative products are offered
There are no deposit or withdrawal charges.
Cons
There are no MetaTrader platforms
Inactivity charges if you don't make enough transactions
No fixed spread accounts
About the Plus500 Trading Platform
Plus500 was launched back in 2008 as part of the London Stock Exchange's Main Market. Today, the platform is owned by JP Morgan, Odey Asset Management, and Sparta24 Ltd.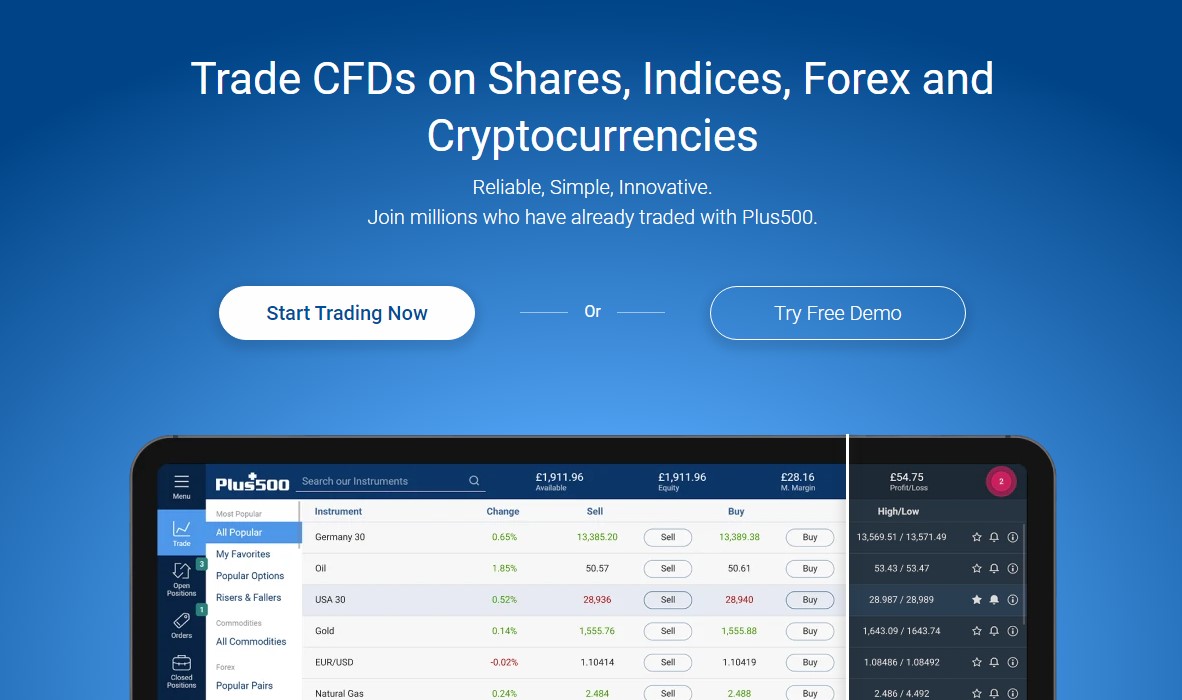 Plus500 is a user-friendly platform that provides a stellar user experience that specializes in CFD trading. CFDs or Contracts for Differences are a popular trading feature that usually covers services such as futures trading, forex, indices, stocks, etc. As Bitcoin rose to prominence around 2013, Plus500 was among the pioneers that offered Bitcoin CFDs.
By dealing in CFDs, traders who aren't knowledgeable about cryptocurrency and how it functions can still go about their business without missing a beat. Besides, when dealing with CFDs, traders can gain assets and leverage even if the price of Bitcoin goes down.
How Does CFD Trading work?
How does trading CFDs work? In a CFD, you have two parties, a buying and a selling party, who strike a deal about a certain asset that they will exchange on a certain date in the future. The catch? Regardless of what the price of the asset in question will be at the point when the actual trade goes down, they will execute the trade on the terms they initially agreed upon.
However, if you made a CFD deal but have reasons to believe that Bitcoin's value would go higher up than the price you agreed to buy it at, you should try to sell the contract, strike while the iron is hot, and capitalize on your investment.
Leverage and margin trades are utilized in order to put the agreed-upon CFDs on steroids and create a whole new currency system based on the spreads. This works much like buying actual cryptocurrency, except that there is no cryptocurrency in sight. Users are not buying the asset, rather the value of the asset in question. The value becomes the currency. CFD trading is also known as derivatives trading, as the contracts derive their value from the position of the underlying asset.
Payment Methods and Plus 500 Crypto Fees
Plus500 doesn't administer deposit fees and offers a plethora of deposit and withdrawal methods through bank transfers, wire transfers, credit and debit card purchases (Visa and MasterCard), as well as e-wallets transfers through instant payment providers like PayPal and Skrill.
The bank transfer method is usually processed in a time span of a couple of days. Users who wish to have their deposits processed on the spot should opt for a credit card, debit card, or electronic wallet payments. Deposits aren't possible from third-party bank accounts.
Plus 500 charges no fees on the first five withdrawals per month. Every next withdrawal will cost you an additional $10. The minimum amount you can withdraw is $50 with PayPal or $100 with bank transfers and cards.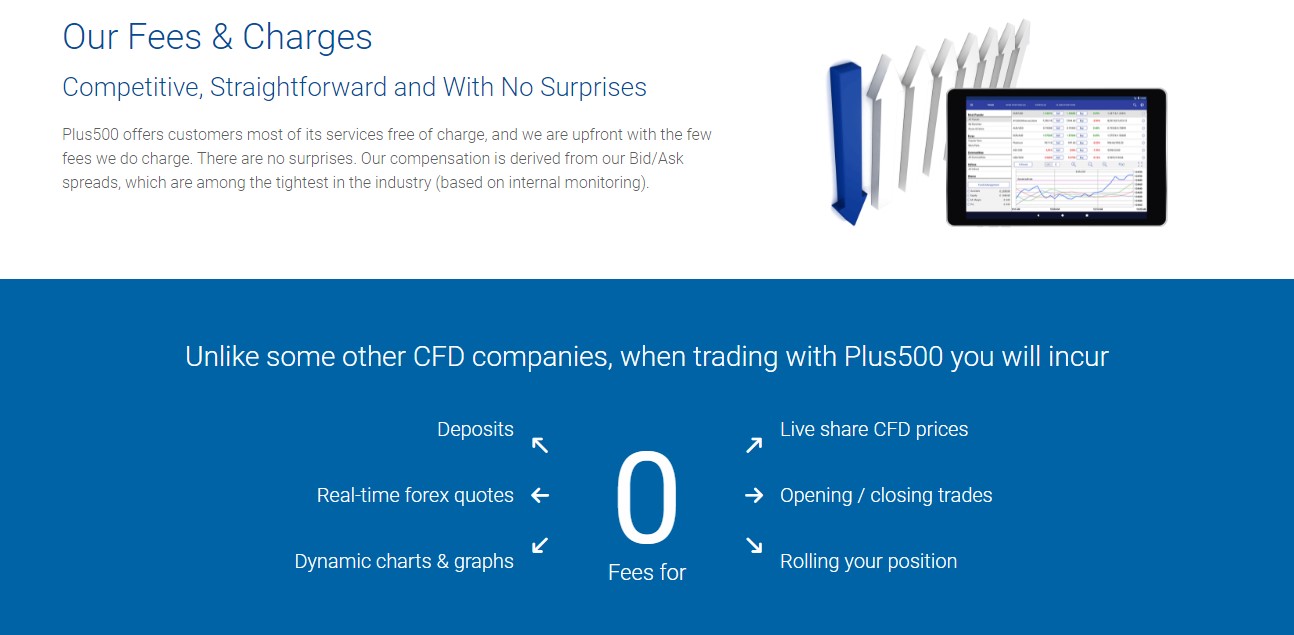 Plus500 supports both retail and professional accounts. However, the latter is hard to come by as users can only apply for this type of account after being consistently active for more than a year and completing over €500,000 in trades.
At Plus500 users can deal in some of the most utilized fiat currencies such as USD, CAD, TRY, HUF, CZK, GBP, AUD, JPY, SEK, EUR, CHF, NOK, PLN, and SGD. Users have to reach out to customer support if they want a different base currency than the one that's tied to their location.
If your currency is not supported by the platform, Plus500 employs a 0.7% fee on conversions.
Trading Fees
| Trading Fees | Inactivity fee | Withdrawal Fees |
| --- | --- | --- |
| 0.6 pips | Up to USD 10 per month | N/A |
As the name suggests, the trading fees are executed on forex, stock index, or CFD trades in the form of conversion fees, commissions, financing rates, and spreads.

The platform deals in forex currencies that include EURCHF, EURUSD, AUDUSD, EURGBP, GBPUSD, etc; stock index CFDs, such as EUSTX50 and SPX, and traditional stock CFDs such as Apple and T-Mobile. When forex brokers buy in leverage, they usually hold on to the asset for a certain period of time and then sell it back for a profit. When dealing with CFDs, all you need to watch out for are the spreads. The platform supports staggering maximum leverage of x300.
Even though Plus500 doesn't charge users on withdrawal and deposit fees, they do charge a non-trading fee, in the form of an inactivity fee that comes at $10 for every 3 months of absence. Users need to log on to their user accounts in a span of three months in order to bypass the inactivity fee.
Features & Supported Cryptocurrencies
Plus500 offers an intuitive and sleek interface and features. The platform's search bar allows you to find anything you might need in just a couple of seconds.

When it comes to orders, users can place trailing stop, market, guaranteed stop, limit stop, as well as Good 'till Canceled (GTC) orders. The platform notifies traders about any and every change on their account via SMS or email so that they can go over every change and be on top of things at all times.
Moreover, the platform offers full transparency through its portfolio, where users get insight into overnight fees via the nine provided charts in the WebTrader charting tab. Plus500 is limited to CFD trading, so don't expect to find traditional stocks or ETFs.
Navigation and Educational Content
The trading platform also features demo account trading where users can hone their skills before diving into the real market. The platform offers a library full of educational videos and articles to get new users up and running.
Through these videos and trader's guide articles, rookie traders will learn about the different digital assets that the platform supports, the trading tools and financial instruments that will help them navigate the platform, the market, risk management, as well as their real-time balances and technical analysis for their strategies. The platform also features a free downloadable eBook and an extensive FAQ section.

Once the leverage trade levels are set, there is no way of adjusting them, so users should be very mindful of what they are getting into when CFD trading. The platform also offers a Traders' Sentiment feature that illustrates the activity of buyers and sellers for the supported assets, as well as a Live Statistics feature that displays the trajectory of any given asset in a span of minutes or days.
Plus500 is a global platform that operates worldwide, however, there are some big markets that aren't included in its coverage, such as the US and Canada, as well as territories where online currency trading is banned altogether, like Syria, Cuba, and Iran.
Customer Support
Plus500 provides outstanding customer support. Their support team is available around the clock and can be reached via live chat, as well as WhatsApp and email. The response times are also very impressive. It usually doesn't take more than an hour for the operator to answer your queries or fix an issue.
Is Plus500 Safe – Is It a Legitimate Company??
The platform is under the watchful eye of some of the best financial regulation firms in the business, such as the Financial Markets Authority (FMA) of New Zealand, the Cyprus Securities and Exchange Commission (CySEC), the Monetary Authority of Singapore (MAS) the Financial Conduct Authority (FCA), the Australian Securities and Investments Commission (ASIC), the Israel Securities Authority (ISA), the Financial Sector Conduct Authority (FSCA) of South Africa, as well as the Seychelles Financial Services Authority (FSA).

The platform also supports negative balance protection on CFD trades and two-factor authentication (2FA) that can be activated via SMS or a Google authenticator app.
A Few Words Before You Go…
Plus500 isn't without its faults and shortages, especially in an era where cryptocurrency platforms offer just about everything but doing your dishes. Traders who are after a solid trading platform without a ton of bells and whistles will find Plus500 quite useful because of its competitive spreads, the Plus500 WebTrader feature, and its extensive regulation protocols. If you aren't after a crypto trading platform, then Plus500 is one of the best choices when it comes to CFD trading and should be a serious contender for your preferred online broker.
Frequently Asked Questions
Is PLUS500 Good for Beginners?
Yes, definitely. Plus500 is one of the most beginner-friendly trading platforms out there. It is easy to navigate and understand, and it provides new users with little or no trading experience with tons of educational content and a demo account feature, where they can get the lay of the land.
Which Is Better PLUS500 or Etoro?
eToro is more suited for advanced traders who want to exchange ideas and earn reward While Plus500 is a popular choice for CFD traders. In addition, eToro has a wide choice of investment options including CFDs, Forex, stocks and ETFs, whereas Plus500 concentrates specifically on CFD instruments.
Even with no commission fees, eToro does charge fees. In contrast Plus500's charges aren't as high. The other strengths of eToro are their Popular Trader Program and its copy trading platform. Plus500 stands out due to its low costs and contemporary customer support.
Does PLUS500 Use Real Money?
You trade on real-time market conditions, equally in both the Demo and Real Money accounts. The only difference between them one being that on the Demo account, you don't utilize real money.
What Is the Minimum Deposit for PLUS500?
At Plus500 the minimum amount you can deposit is $100. This means that you must to deposit at minimum $100 before you can begin trading.
What Percentage Does PLUS500 Take?
Plus500 is a zero-commission trading platform since it is compensated only by its bid-ask spread. There are additional charges that can be charged such as the $10 fee for inactivity, 0.5% currency conversion fee, overnight funding and a stop order guarantee fee.
How Long Does It Take To Get Money From PLUS500?
The funds must be in your account in 7 to 7 business days after the date you authorize the withdrawal. The withdrawal of funds from a bank account could be subject to additional delays, dependent on the institution and the state in which it is located.
How Does PLUS500 Make Money?
Plus500 has a specialization in contracts for differences (CFDs) and financial derivatives that are similar to spread bets because they permit investors to bet on changes in the value of a currency, share or other asset, without having the actual asset, and with just a small portion of the price at which they started.
How Do You Earn on PLUS500?
It is possible to start with Plus500 by opening sell or buy options on instruments. You can open an open purchase (long) position in the event that you think the asset will appreciate in value, or buy (short) position in case you believe it could fall. The trading of securities is risky and requires expertise to trade.
Is PLUS500 Commission Free?
In contrast to other brokers, Plus500 does not charge any dealing commission fees for each trade. A zero commission on dealing is that they don't be charged for the execution of your sell or buy orders.