Poloniex Cryptocurrency Exchange Review for 2023
Quick Summary: Poloniex is a long-running crypto exchange platform that has been a favorite for altcoin traders and investors. The exchange has introduced a variety of products since its inception in 2014 such as lending services, futures, and margin trading.
With a modern and intuitive interface, Poloniex is an improved crypto platform that is perfect for all kinds of traders. One unique feature of Poloniex is their Troll Box. This feature enables traders on the exchange to participate in a community to share strategies, thoughts, and ideas.
Poloniex has more to offer, so make sure to check them out!
As one of the oldest cryptocurrency exchanges in existence, Poloniex is sometimes regarded as a market leader with some of the lowest fees for trades and withdrawals. It remains highly popular among users since they can perform trades without divulging too much personal information or going through complicated verification steps; it's possible to initiate small transactions with just a valid email address. For this reason Poloniex is one of the leading crypto exchanges in the US.

As part of a highly competitive market, Poloniex continues to have a reasonably wide range of cryptocurrencies available and is noted for its relatively low commissions. This Poloniex review explores the history of one of the earliest adopters of cryptocurrencies and evaluates its endurance.
Poloniex at A Glance
Website: www.poloniex.com
Poloniex Exchange Country: Boston, Massachusetts
Mobile App: Available
Deposit Methods: Bank Transfer, VISA/Mastercard, Apple Pay, Cryptocurrency
Fiat Currencies: USD, EUR, AED, ZAR, RUB & more
Cryptocurrencies: BTC, ETH, TRX, WIN, XRP, LTC & 200+ more
List of Features
Trading on margin and spot available
Platform for beginners
Over 200+ cryptocurrencies listed
Multilingual support team
Professionally designed trading charts for professional traders with features
Poloniex no KYC needed
Futures trading can be done with different levels of leverage
Purchases and sales of cryptos are easy and simple.
The lending of cryptocurrency to earn interest
Mobile apps available for iOS as well as Android devices
Leadership boards, promotions, and awards
Pros
Customer support in multiple languages
There is a crypto lending option
Interface for beginners
Competitive Poloniex BTC withdrawal fee
Professionally designed trading charts
Over 200+ cryptocurrencies supported
Cons
Not available for USA residents
High fiat deposits and fees for withdrawal
US Crypto Exchange: Poloniex
First launched in 2014 by Tristan D'Agosta, Poloniex was an early pioneer in the world of cryptocurrency. However, Poloniex was off to a rocky start when it suffered a high-profile security breach in March 2014. The exchange lost 97 bitcoins, a value of approximately USD 50,000 at the time.
In a nod toward transparency, the exchange offered full reimbursement of the stolen bitcoins, a gesture that was widely praised for its openness. In 2016, the company once more gained attention as the first exchange to list Ethereum (ETH) for sale or trade.

While it was initially envisioned as the U.S.'s first fully regulated crypto exchange, there were significant hurdles to overcome, such as adhering to KYC (Know Your Customer) regulations. Since then, the company has undergone several leadership changes and is currently headquartered in Seychelles. Most significant, it no longer requires the KYC restrictions and does not adhere to AML (anti-money laundering) laws, so as of 2019, it is not considered a fully regulated exchange.
In 2016, Poloniex made headlines when it decided to stop offering Bitcoins for sale, instead preferring to highlight its position as a global payment provider. The exchange does still allow the trade of Bitcoins. While Poloniex initially started purely as a crypto-to-crypto exchange, it has since branched out into crypto margin trading and lending.
Supported Cryptocurrencies
The Poloniex exchange supports the most popular cryptocurrencies, including the following:
Bitcoin
Ethereum
Litecoin
XRP
Tron
Ripple
Monero
Tether
Neo
Dogecoin
It's important to note that while the platform no longer sells Bitcoins, it still supports this asset's trading. The platform currently offers over 60 cryptocurrency pairs, and in terms of daily turnover, it is 55th among all exchanges.
Payment Methods
Once users sign up for an account on the Poloniex exchange, they can fund their account via debit or credit card, cryptocurrencies, or bank transfer. The exchange is universally praised for its simple dashboard with an easy to navigate layout, a plus for those new to the cryptocurrency world.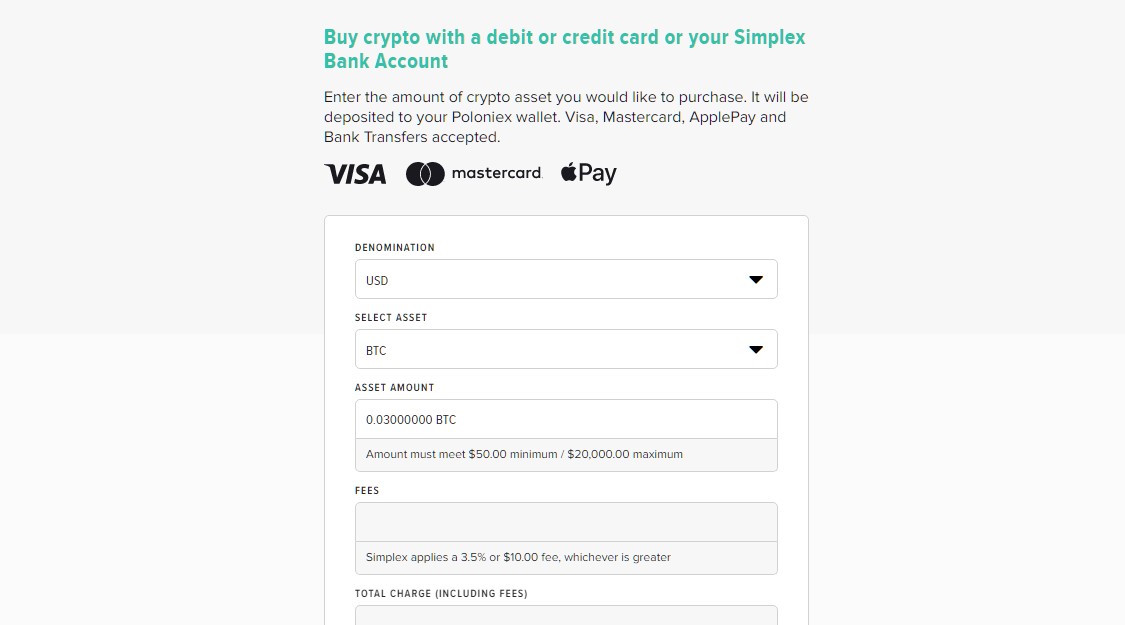 Poloniex Fees: What Are the Fees on Poloniex?
The fee structure for Poloniex is relatively straightforward and depends on whether you're buying and selling and on your 30-day trading volume. Also taken into account is whether or not you're a verified customer. If you are, expect to pay as little as 0.07% per trade depending on the currency. Unverified users can pay between 0.1% to 0.2%, depending on the coins being used.
While you can make the argument that it's pricey to preserve your privacy, Poloniex is the least costly option for those users reluctant to release personal information.
For the more experienced users, there is the option to join the Poloniex Market Maker Program. To qualify, traders must have a minimum 30-day trading volume of USD 10,000,000 and have at least 12 trading pairs.
Completing trades and purchases is a relatively quick process, with the majority done in real-time. Poloniex withdrawal time is also fast, with most transactions being finalized within 24 hours. If a transaction happens to be frozen, usually it's an issue of suspected fraudulent activity. The customer support is generally quick to respond and reach a resolution.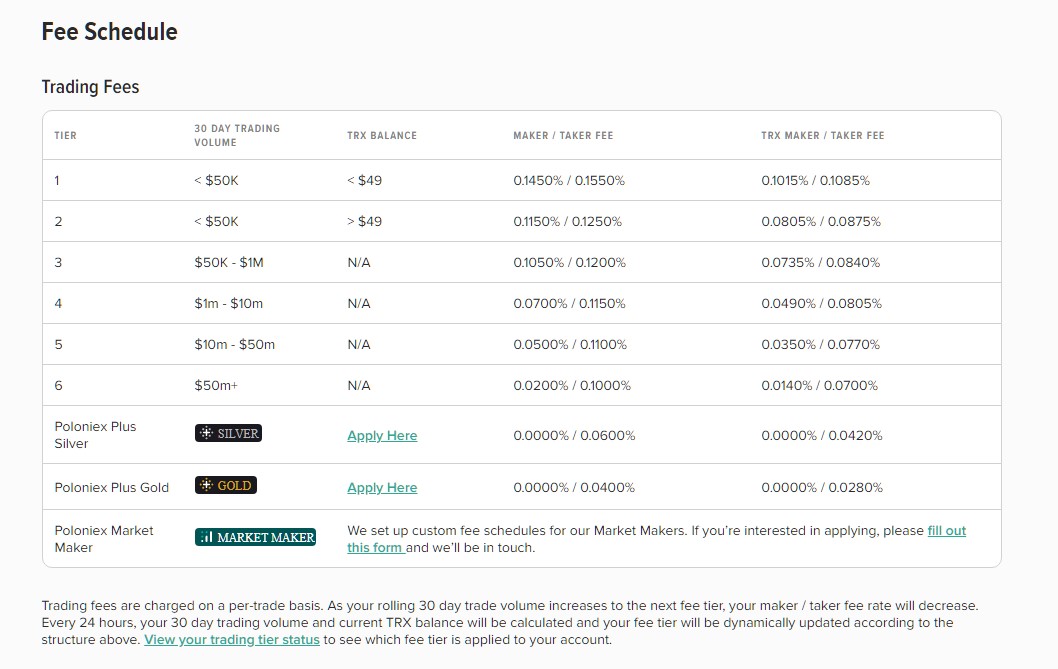 The exchange is widely praised for its easy interface, and new users will find it relatively easy to set up and fund an account with just a few clicks. Experienced traders will enjoy the range of options, such as detailed reports, and the option to create several profiles based on different trading strategies.
This Poloniex review finds that an outstanding feature of the exchange is the margin lending and borrowing feature, where users can create a passive income stream based on their cyber assets. Known as Poloniex lending, members can borrow money from each other at a fixed interest rate set by the lender. The lender, in turn, pays Poloniex a part of the interest earned.
Across the board, users seem highly satisfied with the Poloniex exchange. Whether a beginner or a more experienced user, most report high satisfaction with the low fees and the up-front fee schedule.
Fee Schedule
| Volume Tier | 30 DAY TRADING VOLUME | TRX BALANCE | MAKER / TAKER FEE | TRX MAKER / TAKER FEE |
| --- | --- | --- | --- | --- |
| 1 | < $50K | < $49 | 0.1450%/0.1550% | 0.1015%/0.1085% |
| 2 | < $50K | < $49 | 0.1150%/0.1250% | 0.0805%/0.0875% |
| 3 | $50K – $1M | N/A | 0.1050%/0.1200% | 0.0735%/0.0840% |
| 4 | $1M – $10M | N/A | 0.0700%/0.1150% | 0.0490%/0.0805% |
| 5 | $10M – $50M | N/A | 0.0500%/0.1100% | 0.0350%/0.0770% |
| 6 | $50M+ | N/A | 0.0200%/0.1000% | 0.0140%/0.0700% |
| Poloniex Plus Silver | SILVER | | 0.0000% / 0.0600% | 0.0000% / 0.0420% |
| Poloniex Plus Gold | GOLD | | 0.0000% / 0.0400% | 0.0000% / 0.0280% |
| Poloniex Market Maker | MARKET MAKTER | | | |
Limits
There are no fees for making deposits on the Poloniex exchange, regardless of the currency or amount. Unverified users are limited to withdrawals of USD 2,000 per day. For verified users, there are also no  Poloniex minimum deposit or for withdrawal. When making trades or withdrawals, users can expect a small per-transaction fee, which depends on the cryptocurrency in use. For example, a Bitcoin withdrawal currently costs 0.0005 BTC, which ranks among the lowest rates available across cryptocurrency exchanges.
Poloniex Trading Services
The exchange boasts a daily trading volume of more than $100 million, the first cryptocurrency exchange to do so. A significant source of income for Poloniex is trading fees, paid by both buyers and sellers for trades made through the platform. There are currently two tiers of accounts offered to individuals.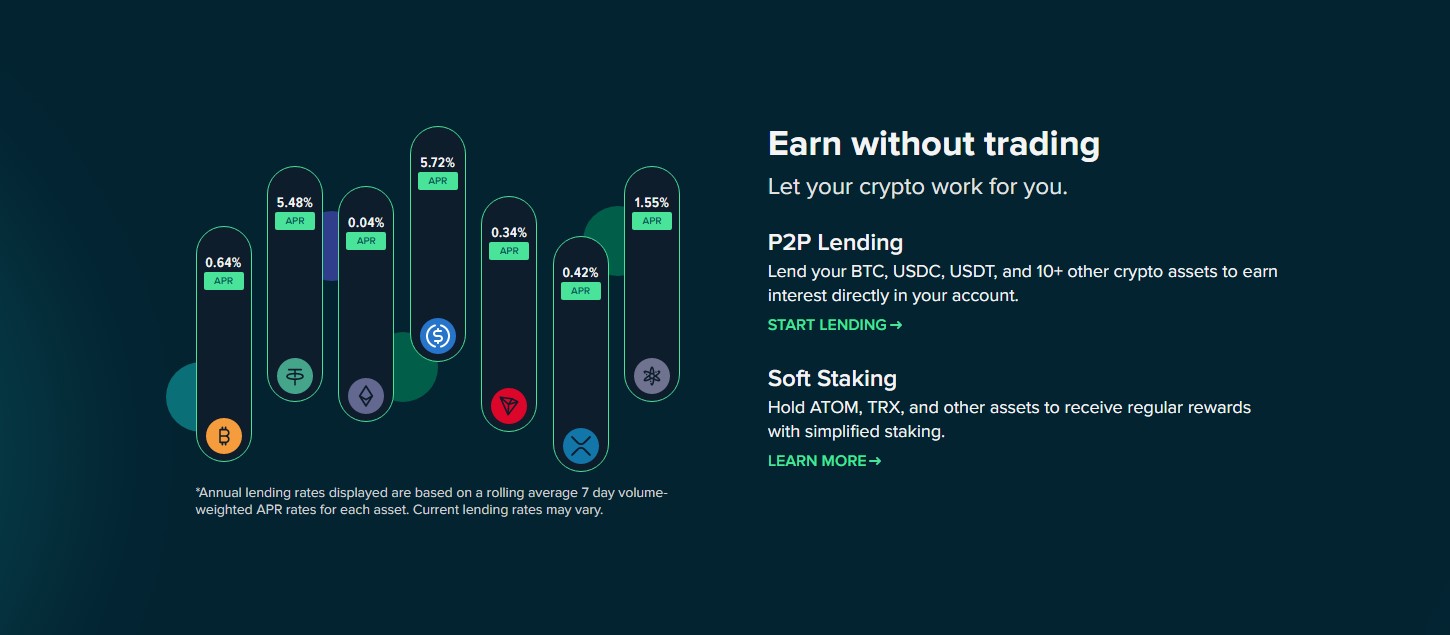 Level 1: allows for unlimited spot trading and has a USD 20,000 daily withdrawal limit. All users are automatically registered on this tier once they open an account and only need to supply a valid email address to initiate transactions. This option is a massive plus for those users concerned about privacy issues since there's no need to disclose personal information. It also serves as a good entry point for those new to the exchange.
Level 2: accounts users enjoy all Level 1 services, plus have access to margin trading and can withdraw up to USD 750,000 per day. Users will need to submit documentation verifying their identity to unlock these features, including proof of address, contact information, and valid photo identification.
In addition to Level 1 and 2 accounts, Poloniex Plus Silver, Gold, and Market Maker accounts are available to large-volume traders and institutions. These accounts feature lower trading fees, dedicated account managers, and higher daily withdrawal limits.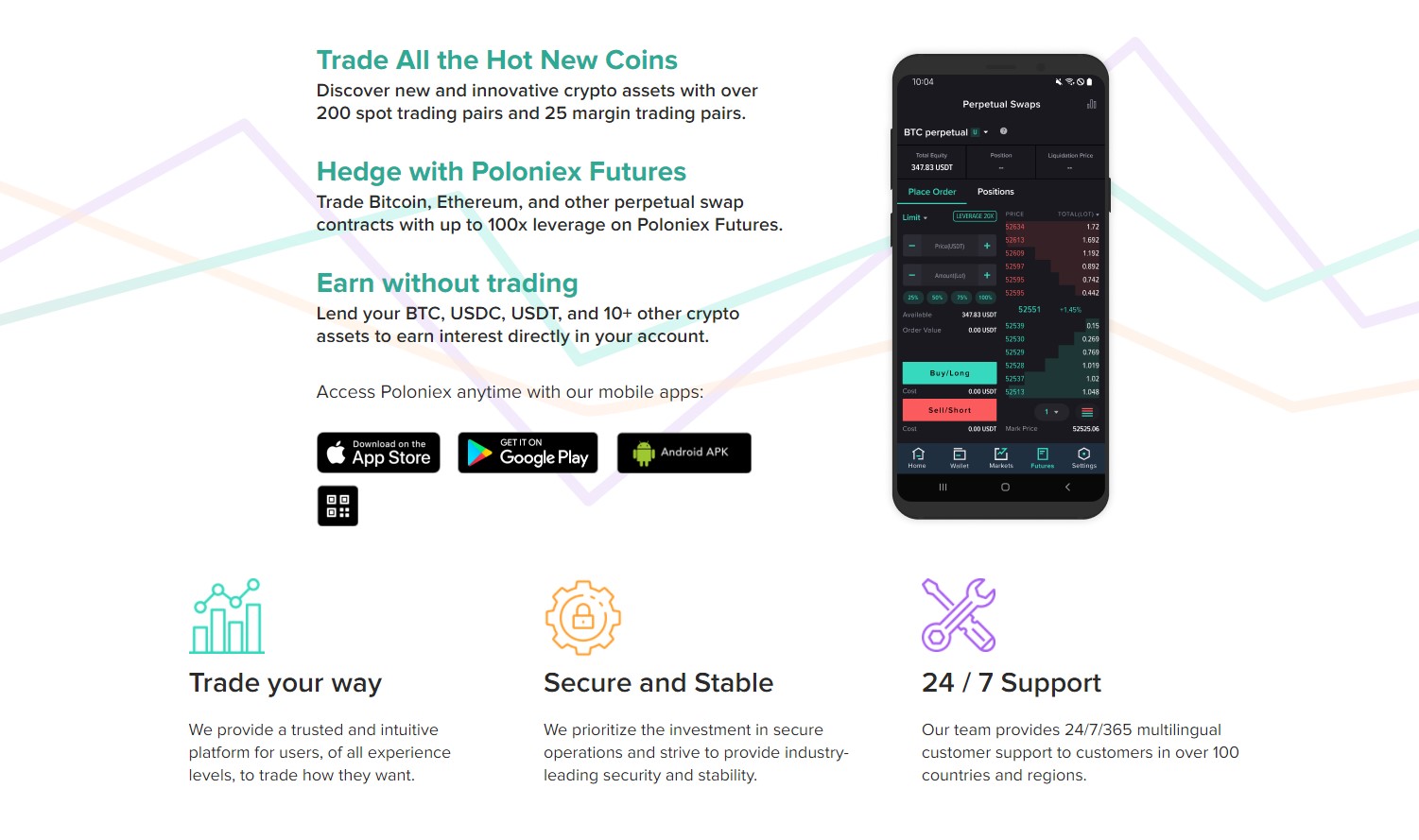 New users can quickly navigate the dashboard, and there is plenty of online help available from the chat boards and forums. A robot-friendly API (Application Program Interact) is available for the more experienced users, allowing users to automate specific commands for buying and selling. Users program their parameters, and once a particular price is met or other conditions are reached, the API responds with the specified action.
Poloniex offers several automated programs, or users can customize their own based on personal approach. Although this is targeted toward the more proficient users, those new to the exchange will still find it fairly easy to implement since a built-in Poloniex tutorial is available.
Customer Support
A significant criticism of the Poloniex exchange has been the glaring lack of customer support in the past. Early users of the exchange complained of waiting months for a response when submitting a question or reporting an issue. This issue led to thousands of Poloniex users abandoning the exchange in its infancy.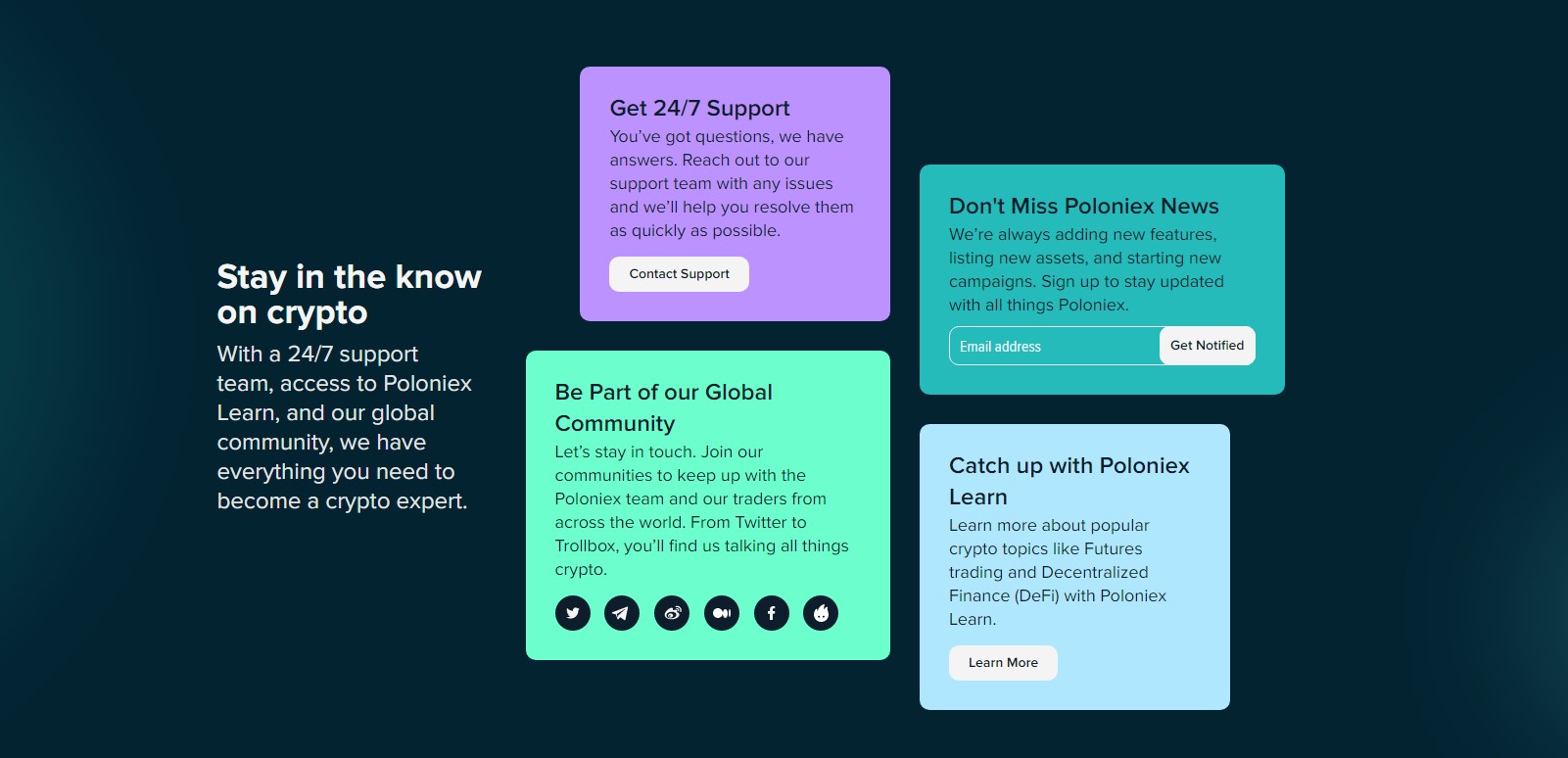 However, the current interface is highly responsive to users, with a support team that operates round the clock. Customers who wish to report an issue or have questions have a range of available options such as email and live chat. The website is frequently updated, and users can opt-in to a newsletter or follow the exchange on several social media accounts.
There is also a healthy online community forum where users can swap information and compare trading strategies.
Safety Features
Since being hacked during the first few years of operations, Poloniex takes security very seriously. It was an early adapter of multi-factor authentication and continually reviews security protocols to prevent user information loss or unauthorized access. Also, Poloniex uses a combination of the following measures:
Log of individual session activity
Email verification and IP lockouts
Registry lock to prevent cyberattacks
Poloniex places a high priority on security and stores the majority of wallets offline in cold storage. To minimize risk, it maintains only enough funds online to facilitate trading. This guideline diminishes risk in the unlikely case of hacking and protects users' cyber assets.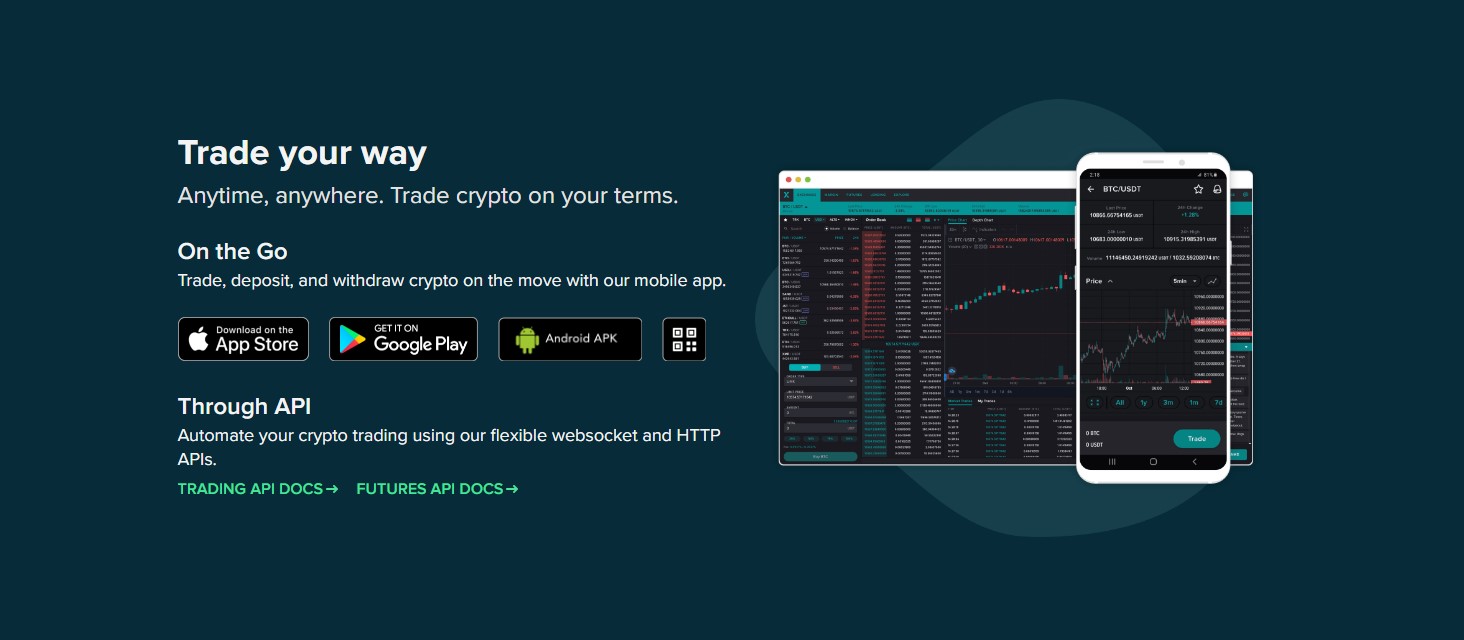 It has security audits in place that work round the clock to monitor all transactions and red-flag any suspicious activity. The Poloniex exchange has won high praise for its stringent security measures, mainly in response to increased international pressure on cryptocurrency exchanges to cut down on money laundering and terrorism financing.
Another huge plus is the lack of stored user data. Since the Poloniex exchange does not follow KYC (Know Your Customer) or AML (Anti-Money Laundering) restrictions, it does not need to collect any personal information to verify identities.
Summing It Up: Is Poloniex a Good Exchange?
Yes, it is definitely a good crypto exchange. Although Poloniex experienced a major stumbling block early on with a highly publicized hack, it has made great strides in recovering its standing. It actively seeks to widen its customer base with low trading fees and a friendly interface. While it remains user-friendly and very accessible to beginners, it continues to be a favorite of experienced traders for its transparency and lack of KYC measures.
Frequently Asked Questions
Here are a few of the most frequently asked questions about the Poloniex cryptocurrency exchange.
Does Poloniex Have a Mobile App?
As an early embracer of technology, Poloniex was one of the first exchanges to develop an app. Available for Android or iOS mobile devices, the app does not yet offer users access to the full functionality of the exchange. Users can't yet use the app for margin trading or buying cryptocurrency. Still, they can check balances and create trade alerts.
Does Poloniex Provide a Cryptocurrency Wallet?
Yes. Like most exchanges, Poloniex offers the option of a web wallet. However, users are strongly urged to store their assets away from the exchange in either a paper, mobile, or hardware wallet for the highest level of security.
Is Poloniex Safe and Legit?
Poloniex is among the longest-running and reliable cryptocurrency exchanges available!
What Country Is Poloniex From?
Poloniex country of origin is in US. It was founded in 2104 Poloniex is an exchange of cryptocurrency created by an individual named Tristan D'Agosta. Based in San Francisco, California. Poloniex is primarily a service for U.S traders who are based in the U.S.
How Do I Get My Money Out of Poloniex?
Tap on the Wallet > Withdraw. Select the asset that you would like to withdraw. Input the total amount that you want to withdraw. Select the network you would like to withdraw funds from. Enter the address of your destination, or a different payment ID. Password for your account to verify.
Who Owns Poloniex Now?
The present Poloniex exchange is controlled by the company Polo Digital Assets, Ltd. that is backed by an Asian investment firm.
What Countries Can Use Poloniex?
Poloniex customers from the following countries will be able purchase crypto through the Simplex accounts: Andorra, Australia, Austria, Belgium, Bulgaria, Canada, Croatia, Cyprus, Czech Republic, Denmark, Estonia, Finland, France, Germany, Greece, Hungary, Iceland, Ireland, Israel, Italy, Latvia, Lithuania, Luxembourg.
Can I Trade On Poloniex Without Verification?
For security reasons the company requires users check their logins prior to when we are able to assist them in gaining access to accounts. This is to ensure that your funds remain safe through Poloniex.
Is Poloniex Centralized or Decentralized?
Poloniex is a central cryptocurrency exchange designed for novice and experienced cryptocurrency traders.
What Is Limit on Poloniex?
Level 1 accounts are able to withdraw as much as $10,000 per day. This is by default. If you own an account with a Level 1 level and have enabled 2FA, your withdrawal limit will automatically be increased up to $50k per day. Level 2 accounts can make withdrawals of maximum $500,000 dollars per day , by default.
Was Poloniex Hacked Before?
Yes, it did during its first few years.
Binance vs Poloniex: Which Is Better?
As one of the most popular crypto exchange all over the world, with features for both advanced and newbie traders, Binance is definitely better than Poloniex.
Does Poloniex Require KYC?
Previously yes, but now the crypto exchange doesn't require KYC process.
Why Is It Called Poloniex?
The official website of Poloniex didn't share why it is called Poloniex. Take note that due to its unique name, sometimes it is misspelled as polynex or polinix.