Quick Summary: Primebit is one of a kind P2P trading platform that enables traders to speculate on Bitcoin, Litecoin, and Ethereum with higher leverage options compared to other crypto exchanges that offer leverage (up to 200x in fact!).
Primebit is a beginner-friendly crypto exchange and first platform of its kind to integrate with MetaTrader 5. This integration of MetaTrader 5 is an excellent feature that will suit both institutional and retail clients.
So, if you're looking for a safe and secure platform where you can trade with up to 200x leverage, Primebit is a great choice!
When the PrimeBit team envisioned a modern marketplace, they must have had a clear picture of where the global crypto market is headed. PrimeBit stepped ahead with a uniquely structured crypto exchange that facilitates spot trading orders with Bitcoin (BTC), Ethereum (ETH), Litecoin (LTC), and Tether (USDT), perpetual contracts for six supported pairs and 200x leverage for margin trading (the highest capital enhancement registered on the overall market).

That's PrimeBit in one sentence. The other major points we'll underline are the PrimeBit integration with MetaTrader 5, their sophisticated WebTrader interface, the competitive fees, and the extensive library of educational tutorials. The trading concept of PrimeBit is revolutionary in many aspects but not as far-fetched as it may appear to inexperienced traders at first glance. As a matter of fact, the main objective of PrimeBit is to bring futures contracts closer to a wide audience.
The exchange was established in 2019 and it's currently headquartered in Saint Vincent and the Grenadines. The fact that they don't reveal any details about their CEO and management structure does question the company's legitimacy to a certain extent, but the team is active on social media with regular updates and offers.
PrimeBit at A Glance
Website: https://primebit.com/
Country: Saint Vincent and the Grenadines
Mobile App: Available
Payment Methods: Bitcoin only
Fiat Currencies: Not supported
Cryptocurrencies: Bitcoin only
List of Features
MT5 Platform
API feature
No Primebit KYC
High leverage (200x)
ADL Risk Management
Available as a mobile app
Leverage trading
Pros
Demo mode functionality for trading with no money
A variety of trading pairs to pick from
Up to 200x Primebit leverage on trading assets
Permanent contracts are available that cover Bitcoin, Ethereum and Litecoin
An intuitive user interface and charting program that includes TradingView
Fees for trading that are competitive and reasonable
It is quick and simple to set up an account
Cons
There are a limited amount of coins to trade
How to Get Started with PrimeBit?
Setting Up a PrimeBit Account
Setting an account on PrimeBit is pretty simple — no KYC or any other form of time-consuming ID verification. All you have to do is provide a valid email address and verify your trading account through the confirmation link sent by email. You can sign up even faster using your existing Facebook or Google account.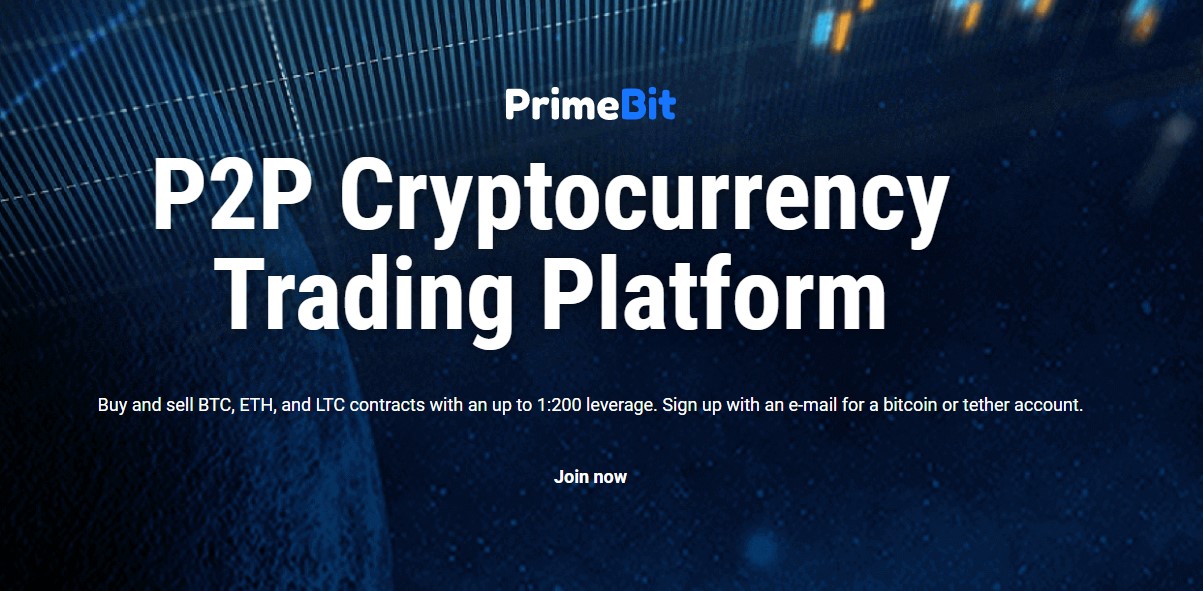 Once you get onboarded on the homepage, you can immediately deposit some Bitcoin (more about deposits in the Payment Options section below).
To test the ground, you can open a Primebit demo account before investing some real money. This account echoes the behaviour of a regular account as it allows you to practice "real-life" trading strategies. For this purpose, you'll be able to open as many demo accounts as you need.
Trading Platforms
PrimeBit has its own WebTrader — app.primebit.com. The desktop and mobile versions of the browser-based platform are identical, so there's no need to download anything. The PrimeBit WebTrader features a sophisticated design with insightful trading tools and customizable market indicators but, at the same time, it's intuitive enough to be easily understood and navigated by newcomers.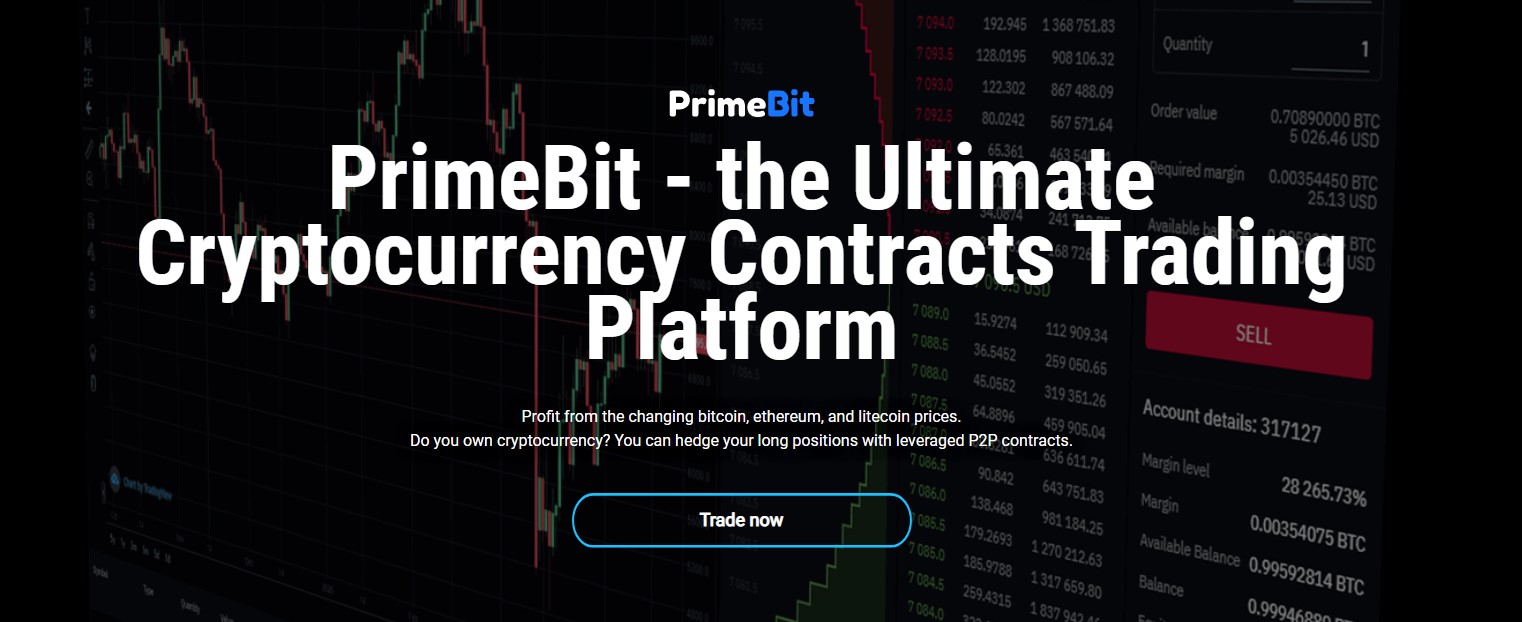 Initially, PrimeBit was run on the MetaTrader 5 (MT5) platform. MT5 is a familiar name in the investment world used for trading forex, CFD commodities, and indices. You can still integrate PrimeBit in MT5 for free, either on your desktop (Windows and macOS) or mobile (iOS and Android) device. All you have to do is download the trading app and select PrimeBit as your broker.
PrimeBit Trading Features
P2P exchanges have been a common marketplace for crypto trading over the past years and the derivatives crypto market has seen rapid development as well. PrimeBit is the first crypto service that combines them both in a win-win manner, together with high leverage, fair price marking and a favourable affiliate program.
Perpetual Contracts
More particularly, the cryptocurrency trading platform allows you to trade with six types of perpetual contracts (a type of futures contracts without expiry date): BTCUSD, BTCUSDT, LTCUSD, LTCUSDT, ETHUSD, and ETHUSDT.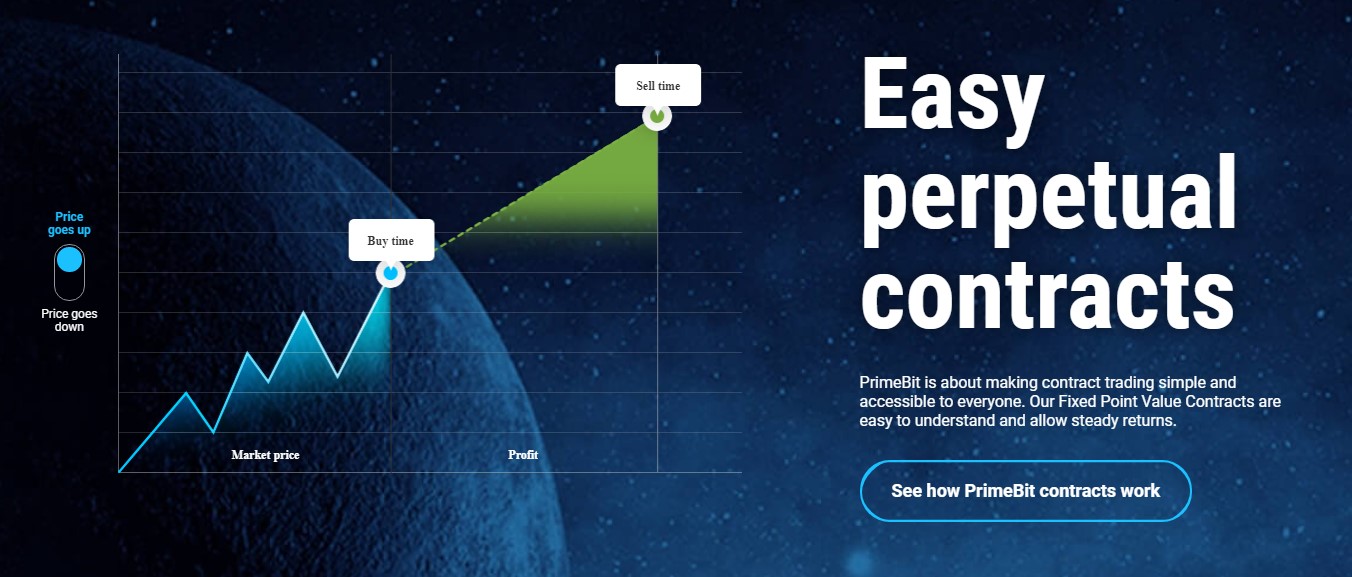 This trading practice doesn't involve a direct and immediate purchase of the underlying asset. Instead, users speculate on the coin's price and if their prediction turns out to be wrong, it goes in favour of the exchange and vice versa. Operating on a P2P model, PrimeBit quits the intermediary role once it pairs two matching orders in the order book and doesn't have control over the payment execution afterwards. Thereby, PrimeBit can't profit from your loss.
Note that perpetual contracts are quoted in USD but the settlement is made in BTC at a fixed rate based on each contract and the funding fees. Also, PrimeBit has a unique feature that calculates spot indices based on the price of four highly liquid exchanges – Coinbase, Bitstamp, Kraken, and Gemini.
Margin Trading
PrimeBit allows the following leverage adjustments to all supported contracts: 1x, 2x, 5x, 10x, 25x, 50x, 100x, 150x, and 200x.

The available margin is determined by the trading pair and the user's position. For instance, for a BTCUSD pair with a 100 size, you can use the top 200x leverage.
Types of Orders
PrimeBit order books are exceptionally transparent as the Market Depth option allows you full insight into the orders that your peer crypto traders place in real-time. Here, you'll find two main order types to choose from when purchasing or selling a crypto asset: market order (the best available rate) and limit order (buying/selling at a specified rate).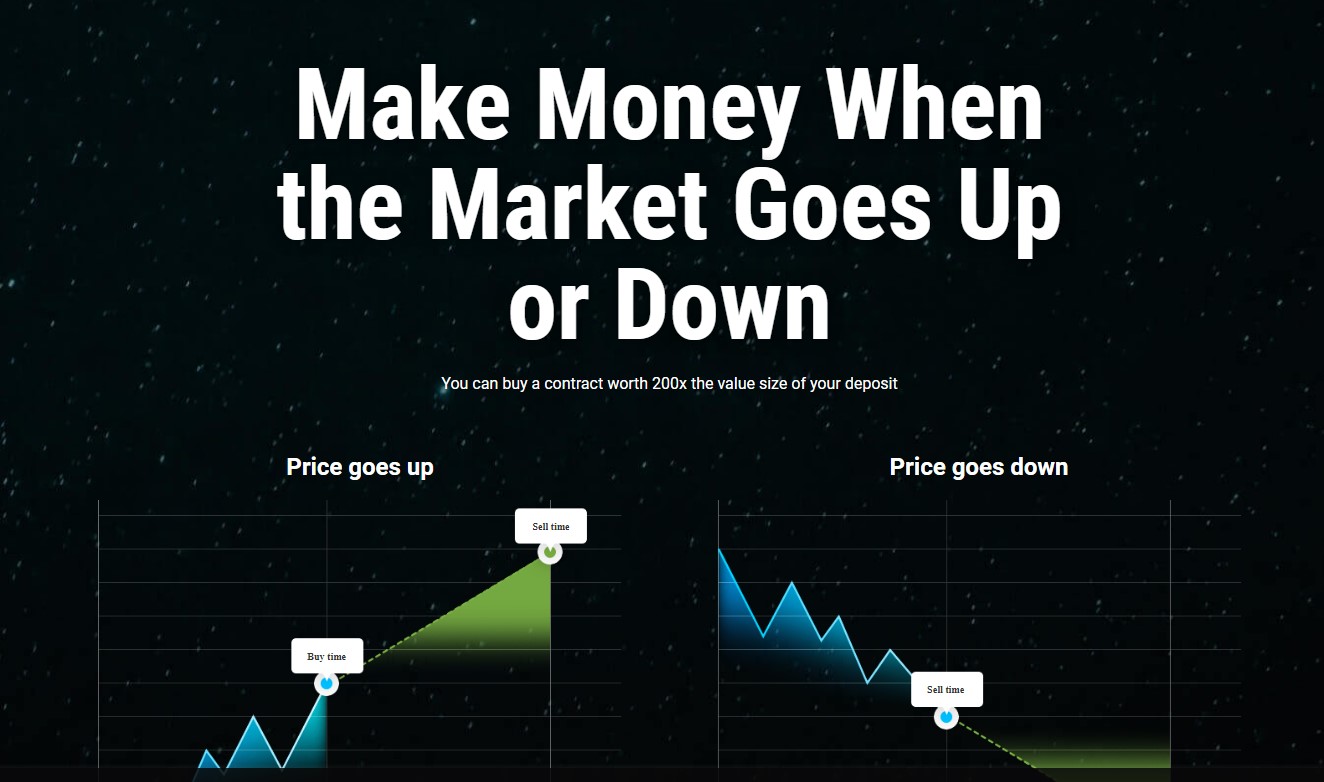 PrimeBit provides tools for risk management that set limits to potential trade losses such as take-profit and stop-loss orders, which aren't mutually exclusive. Moreover, the exchange applies NLP (Negative Balance Protection) that protects investors against a financial loss that is larger than the deposited funds, as well as Auto-Deleveraging (ADL) to alert you each time when the margin can't support all your open positions any longer.
Payment Options
PrimeBit supports Bitcoin deposits exclusively and there are three ways to do so. The first alternative for funding your PrimeBit account is to transfer BTC from your third-party hardware wallet or another exchange's account.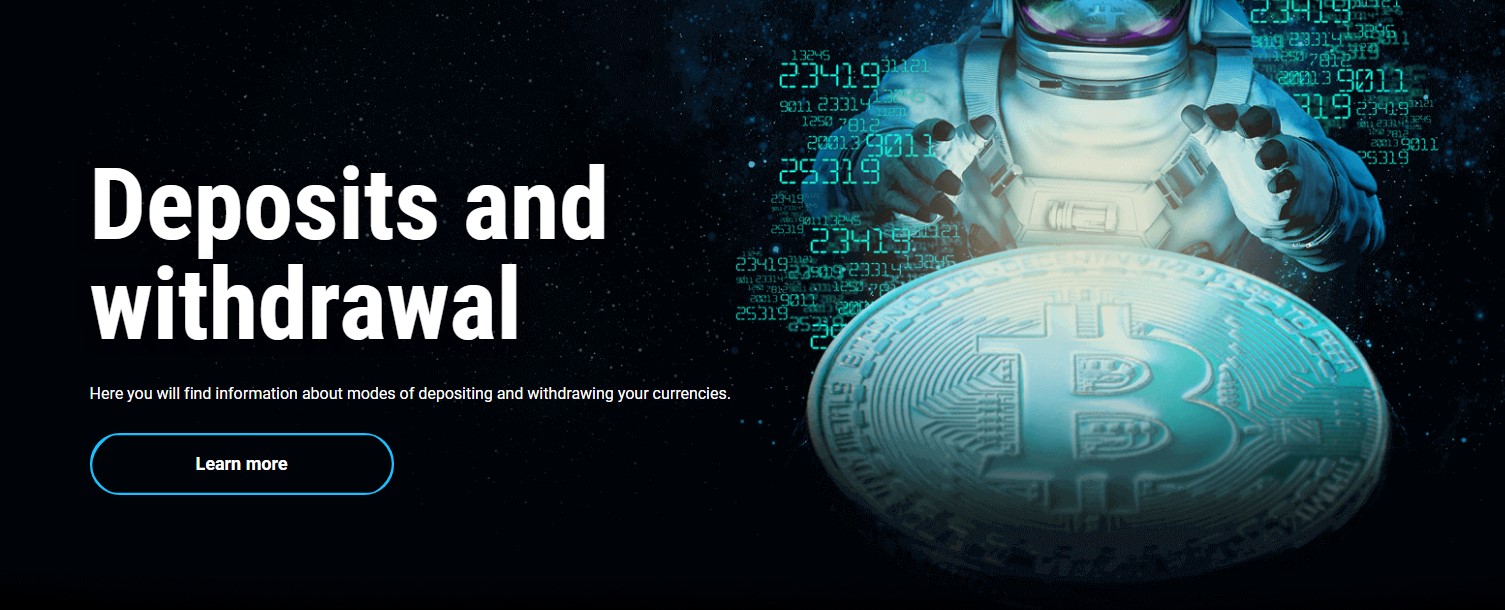 PrimeBit provides no direct fiat option like debit card but you can buy BTC through a USD bank transfer powered by the universal fiat provider Match2Pay, which also supports a dozen of top crypto brands like Coinbase, Bitmex, Kraken, and Gemini.
Finally, you can make a double transfer by purchasing BTC from an entry-level crypto brokerage service and then sending them to your PrimeBit account. The most important part is that PrimeBit doesn't set any minimum deposit limits.
PrimeBit Fees
| Deposit Fees | Transaction Fees | Withdrawal Fees |
| --- | --- | --- |
| $0 | 0.075% (taker) and -0.025% (maker) | $0 |
PrimeBit applies a maker fee / taker fee system with trading fees ranging between -0.025%-0.075%. Don't get confused by the negative numbers — they indicate the amount of rebate you'll get on your trades if you reach a certain threshold with your 30-day trading volume and refers only to those who place limit orders and deduce the market liquidity, i.e takers.

There are no deposit fees on PrimBit except for the costs that arise from initial Bitcoin purchases in cases where you don't pre-own some crypto to fund your account. The PrimeBit exchange doesn't incur any withdrawal fees as well, but there are certain transaction fees set by the blockchain network.
On the other hand, margin trading is notoriously pricey. You'll have to be aware of funding rates — PrimeBit incurs handsome commissions when you have an open leveraged position and their exchange rate is updated every 8 hours depending on the current market status.
Is PrimeBit Safe?
PrimeBit doesn't operate under any regulatory body even though it's a legally registered business under Saint Vincent and Grenadines governance.
The lack of a normative framework doesn't mean that PrimeBit doesn't employ the highest security measures to protect user accounts and funds. PrimeBit uses Amazon Web Services (AWS) as a server host, which is one of the most trustworthy cloud companies on a global level. However, 99% of users' assets are stored offline, not on a cloud server. This means that all deposit addresses given to users are cold wallet addresses. Even in the case of a cyber-attack, hackers won't be able to reach the wallets' private keys and swipe the funds.
PrimeBit gives an increased focus on withdrawal security. Users can cash out their crypto assets manually after a detailed verification. If you use MT5, you must enable two-factor authentication (2FA) to activate a withdrawal.
Customer Support
For a relatively new cryptocurrency exchange, you won't find many users' reviews and forum discussions about the quality of PrimeBit's customer support.
The first support-related thing that caught our eye on their official website is the extensive library of tutorials and the FAQ section organized by categories.
In case you need direct assistance, you won't find a help desk to explain your issue. Yet, you can address an email query to the PrimeBit support centre (support@primebit.com) and wait for a written response within several days.
PrimeBit users find its social media channels a great source of news and updates. As we mentioned in the introduction, PrimeBit is actively present on Facebook, Reddit, and Twitter, so you can try to contact their tech team via direct messaging.
Frequently Asked Questions
Does PrimeBit Have a Mobile App?
If you opt for the MetaTrader platform, there is a highly functional mobile app you can download for free on AppStore or PlayStore. On the other hand, WebTrader is designed as a web-based platform, identically adjusted for both desktop and mobile browsers so there is no need to download a separate app.
Do I Need to Complete a KYC Verification to Start Trading On PrimeBit?
No, KYC is not necessary for creating a PrimeBit account.
What Countries Does PrimeBit Support?
The PrimeBit platform covers the majority of territories worldwide. However, there are some countries where its services are forbidden due to local regulations related to security, information protection, derivatives trading, or other restrictions on crypto trading. The list of unsupported countries includes the USA, Japan, Canada, Cuba, Yemen, Pakistan, etc.
Is Primebit Legit?
Is, Primebit is definitely a legit company. However, when it comes to regulation, it is not. Because it is not a regulated exchange, you should keep an eye on Primebit scam.
How Do I Withdraw From Primebit?
To withdraw your money to withdraw your funds, simply click on the hamburger symbol.
Then , click "Wallets".
Transfer money directly from your trading account into the wallet via 'Internal transfer'.
Then, click the 'Withdraw' button , and make sure you enable 2FA, if you haven't done it yet.
Where Is Primebit Located?
PrimeBit has its headquarters within Kingstown, Cumbria, United Kingdom.