Quadency
Crypto Exchange Review 2022

For the longest time now, the worst kept secret in the whole of the crypto industry has been the use of automated trading and trading bots. Everyone seems to be doing it but only a few will admit to it.
At some point, Bitcoin exchanges realized that they would attract a lot of new clientele if they simply made it more convenient for them to execute altcoin trades within their blockchain network on a day-to-day basis. Quadency is certainly one of the most reputable among these automatic trading service engines, and for a good reason.

The platform offers web-based solutions that will pertain to both novice and experienced traders. Users are able to engage in automated trading with the use of bots, as well as keep track of their balances. The Unified Crypto API, through REST, makes it possible for users to have full access and insight into market data history. By making use of OHLCV, users are able to navigate advanced charting and test out new strategies.
About the Crypto Trading Platform
Quadency was launched back in 2018 in the US, New York, as Quadency Inc. by founders Rosh Singh, Tony Tran, and Manish Kataria. The Quadency team consists of experts in both finance and technology. In total, the company manages to provide over 3,000 trading pairs and employs sophisticated automated trading strategies that are available 24/7.
By incorporating the TradingView and Messari features into its API, Quadency allows users to access the portfolio management tools that offer a helping hand and trading solutions while sifting numerous changes within the Algorithmic Execution Framework trading terminal.
Pricing
Quadency supports both free and paid accounts. You can access the free account by choosing a Hodler account, while the Pro accounts function as a paid subscription model that will set you back $49.99 on a month-to-month basis. There is an option for an annual subscription that features a discount. Annual subscribers pay $39.99 on a per month basis.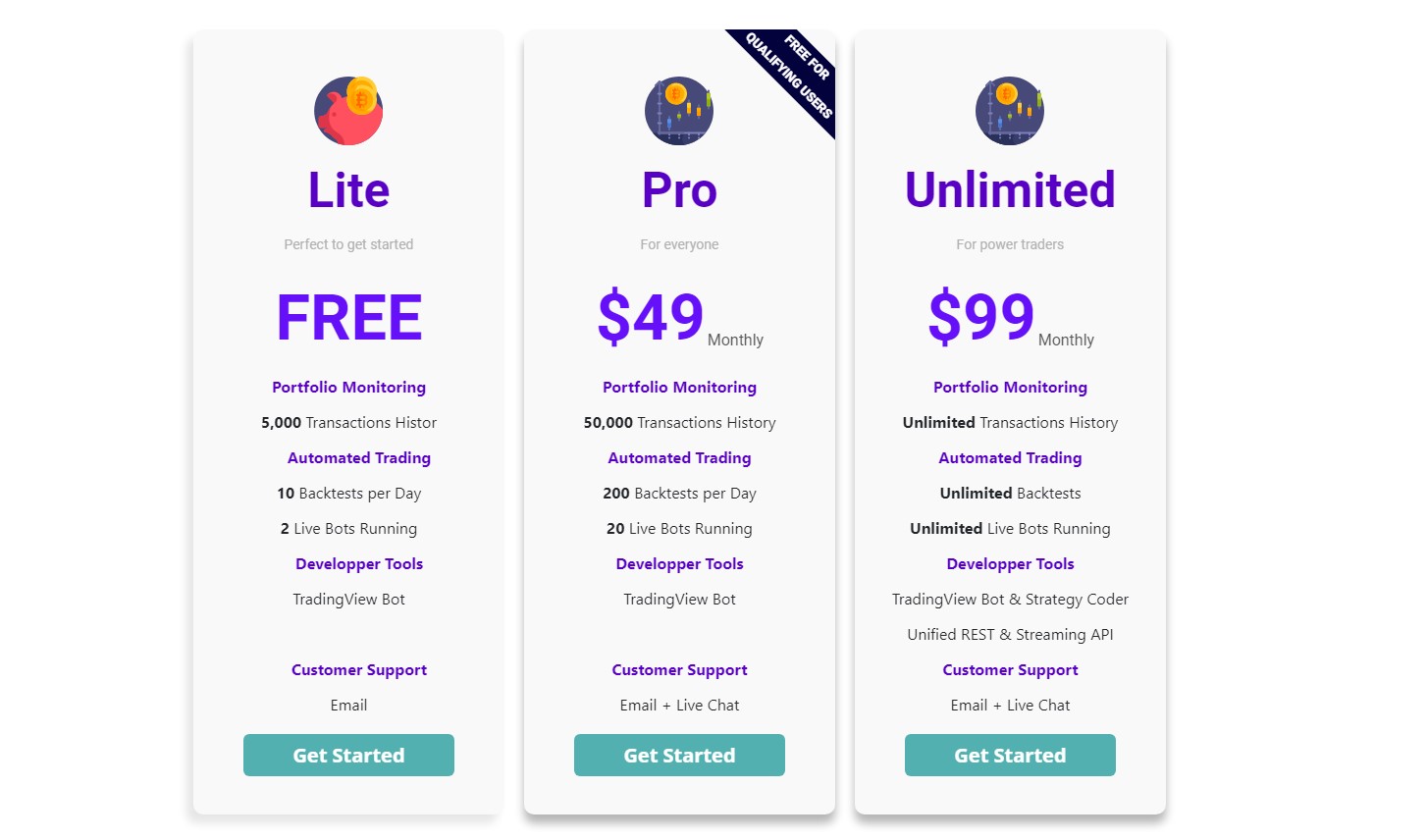 The upper limit of the Pro account is set at $100,000, along with ten live bots and 100 backtests within a span of 24 hours. These accounts come with a higher ceiling on limits, extensive bot usage, as well as backtesting. On the other hand, the free plan doesn't offer support for the Unified REST or the Streaming API.
Features
Quadency is fairly easy to set up and navigate. However, it will take some time for users to set their desired parameters in regards to the bots, their backtesting strategies, as well as the connection to their live accounts.
The Messari feature offers the latest market developments and analysis, as well as the option to monitor wallet balances. The Quadency UI offers an abundance of features that are geared towards helping and assisting traders through blogs, Telegram groups, guides, and video tutorials. The Pro accounts are privy to a live chat feature.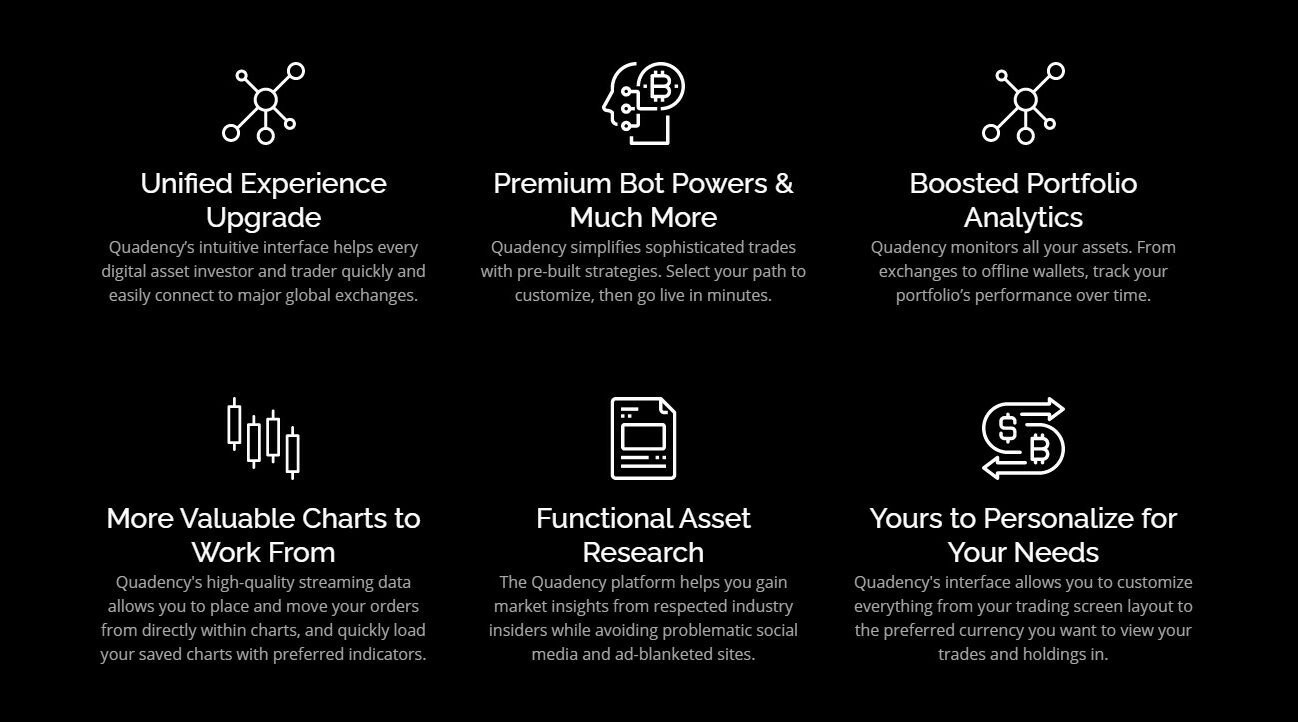 Finally, the TradingView candle charts offer granular access control, advanced and detailed analytics, and fully customizable algorithms. The trading bots allow users to employ limit trading, as well as stop order trades in the form of RSI, Bollinger Band, Smart Order, Market Making, MACD and Grid Trading bots.
Crypto Trading Bots
Users can employ Strategy Coder bots that are fully customizable through Python. The service can and will code trading bots tailored to your needs and preferences. Isn't that something?
They can also choose to employ some TradingView bots that execute or void trades in coalition with the TradingView account settings. So, whatever you set up goes. These Smart Order bots are geared towards advanced traders and track your position through algorithms. They can stop, limit and set targets without alerting the order books.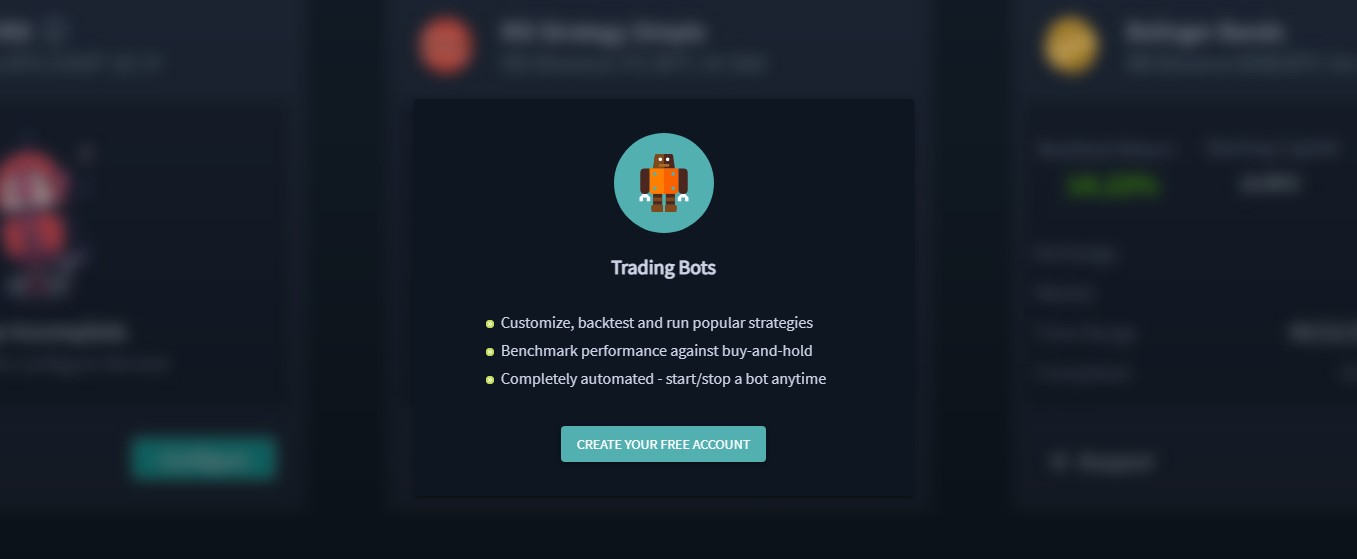 Through the Smart Suggest feature, which is basically a cloud server service that computes backtests in the thousands on a day by day basis, users can set the service to test multiple trending scenarios and outcomes and provide users with the best possible scenario in regards to every bot. This feature can be set up and tweaked through the parameter section and covers Mean Reversion v2, Multi-Level RSI v2, Bollinger Bands v2 bots, as well as MACD v2.
Users can copy the parameters of any Quadency bot they wish simply by tapping the Copy button. This way, they will have a new bot ready for deployment that follows the same strategies.
Trading Fees
The platform offers a free plan for traders that have signed up for a Hodler account. The account allows them to monitor their balance, wallets, and have all the analytics on display at all times. The ceiling on Hodler accounts is $10,000 on a monthly basis, and users aren't able to engage with multiple bots at once. The backtests are limited to ten per day.
Institutional exchange accounts do not have any imposed limits on trading, live bots, or backtests. There is no set price for these types of accounts, so users have to apply for one manually in order to get a quote.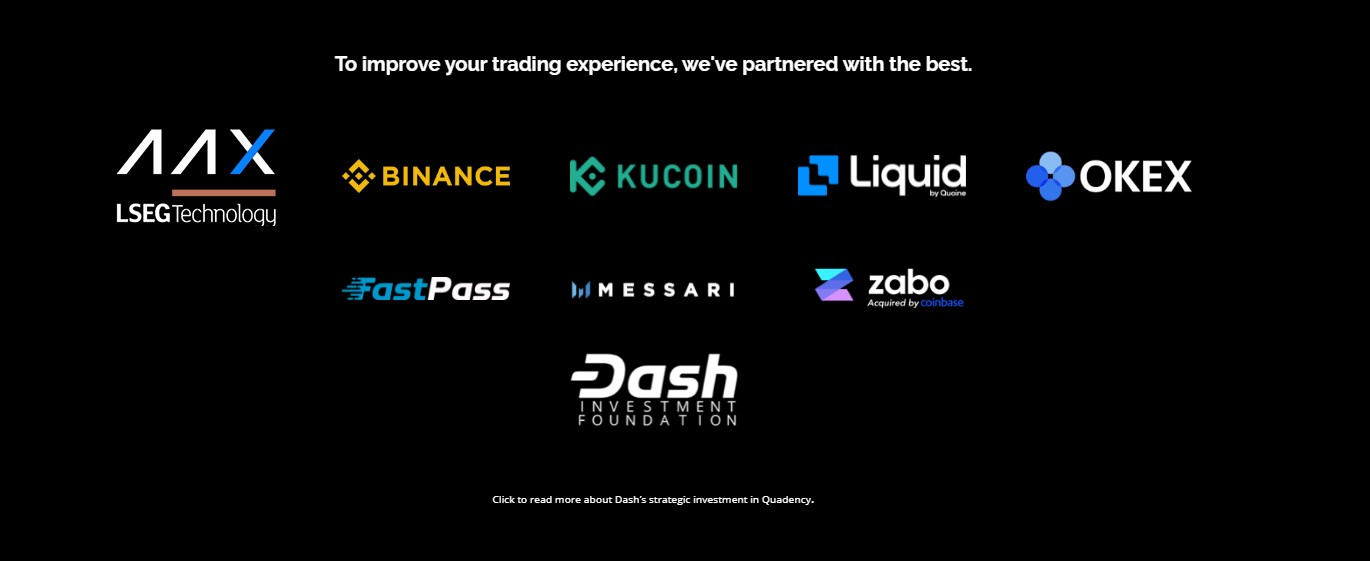 Traders with free accounts have the option to run a trial of the Quadency Pro plan for a limited time. Users that do business with an instant swap exchange such as Liquid, can access Quadency's Pro account features for up to six months. Also, when users register a new account at Kucoin, Binance, or OKEx, they can make use of the Pro account for a limited time of six months. The free trial limit on existing accounts at these crypto exchanges is three months.
You can activate the Pro account by simply connecting your existing account to the Quadency account or selecting the option for partner exchange services when registering a new account. Users are sent an email within a day to notify them about their upgrade.

The platform offers charts for over a dozen of the most sought-after cryptocurrency exchanges such as Poloniex, Coinbase Pro, Gemini, Binance, Binance US, Bittrex, HitBTC, Kraken, Bitfinex, Kucoin, Liquid, OKEx, etc.
Trading automation, a feature that allows users to set parameters on traders, such as low and high trade ceilings are fully integrated at Kucoin, Liquid, Binance, Bittrex, and OKEx.
Deposit and Withdrawal Methods
There is no need to transfer funds at Quadency as the platform does not store user funds. The API directly connects to the exchange platform's database and as such is privy to all prices, balances, trades and sell orders.
Security
Quadency features advanced security protocols such as mandatory two-factor authentication (2FA), withdrawal whitelists, and data encryption through Bcrypt. This way, the API keys are decrypted only when they are being utilized and then encrypted back again.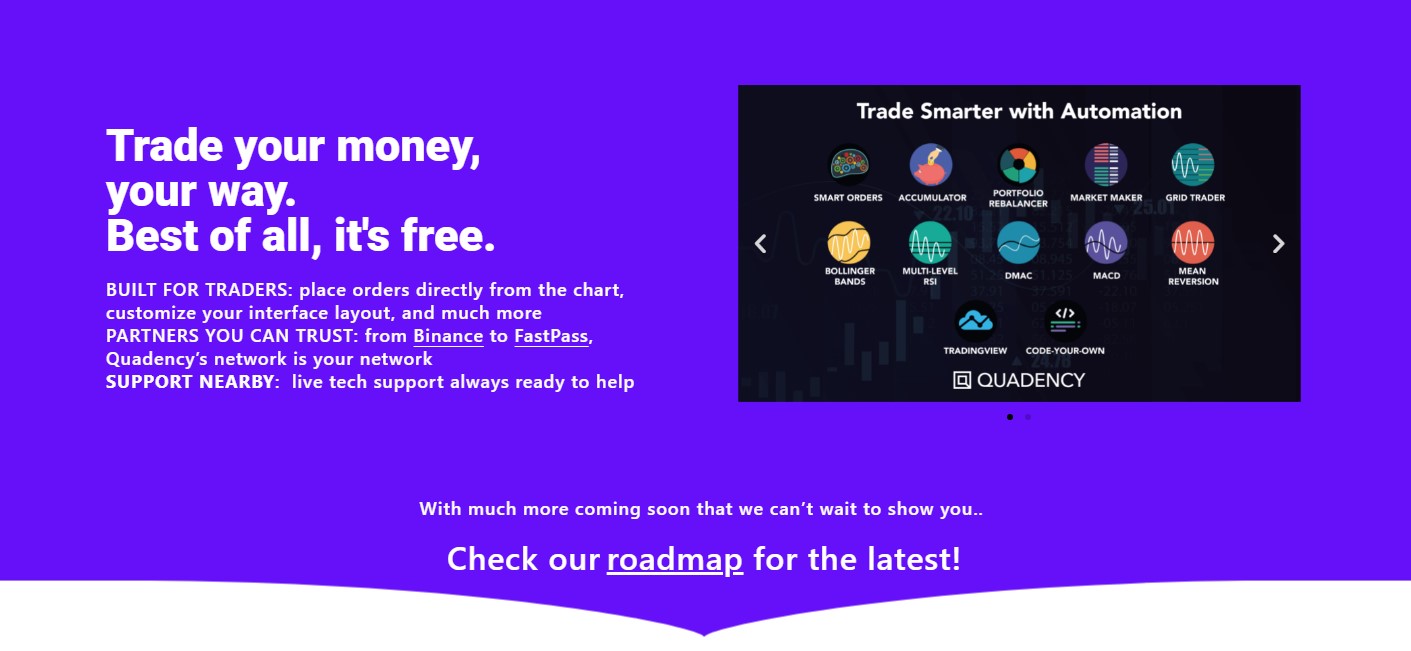 Sensitive data and information is always encrypted on multiple levels, including 256-bit encryption that transfers data through Transport Layer Security (TLS).
Amazon Web Services is another feature that users are able to utilize when mitigating distributed denial-of-service ("DDoS") breaches. The platform also features the AWS WAF Web Application Firewall to ensure that malicious attacks are kept at bay.
Support
Quadency offers fantastic customer support through their Support Center tab that features a vast FAQ section, as well as numerous articles that can be found under the platform's blog section. The platform is present on its social media channels and has a dedicated Telegram group that provides a communal resolve.
The basics, such as a live chat, as well as email support are available as well. However, the real-time live chat feature is reserved for Pro and Unlimited accounts. Regular traders are able to opt for bot support for issues regarding bot errors or configuration issues or stick to the general support features if they have questions or are interested in account updates.
Frequently Asked Questions
Does Quadency provide a mobile app?
Quadency doesn't provide a mobile app for either iOS or Android. However, the desktop version of the platform is compatible with mobile devices, as the API translates well on smaller screens and is still very easy to navigate, operate, and most importantly, get the job done.
Is Quadency available worldwide?
As the platform does not dabble in providing and sustaining liquidity pools and it is not a custodial platform, it can be accessed from almost all corners of the globe. Quadency is available and fully operational in all 50 states across the US.
Is Quadency safe?
Yes. Quadency is a very safe crypto platform because it is a non-custodial platform. This means that no crypto assets are ever stored on the platform itself, so the company doesn't have access to user funds at any point and time. The only thing that they do have is synced data that they get from the cryptocurrency exchange platforms, for which they have built a stronghold of an infrastructure to keep the wolves at bay.
Does Quadency employ trading fees?
The platform itself does not employ any transaction fees at all. The user fees come directly from their exchange platform of choice. So, you can still expect to pay fees and be commissioned on transactions, however, none of those fees goes to or through Quadency.
A Few Words Before You Go…
Quadency is not the only automated trading platform on the market, as you have probably heard of 3Commas, Cryptohopper, or Bitsgap, however, it does offer an interesting selection of features and trading tools that can hang with the best of them. The intuitive and sleek interface will draw new traders right in, and the TradingView candle charts and Messari incorporation will make sure that they stay long enough to get a sense of what the platform is capable of and the type of user experience it provides.
The customizable bot programming allows users to configure their strategies down to the last bit and make surgical cuts on every move that they make through the Technical Analysis, Market Maker, Market Maker Plus, Accumulator, and Bollinger Bands features.
It's true that $49.99 is a hefty sum, but there is no need to register for a Pro account from the get-go, as the platform is pretty versed and capable even within its free accounts. And let's not forget that users of Coinbase Pro, Gemini, Binance, and Kraken, and new users that will register at exchanges such as Kucoin, Liquid, or OKEx, are in for six months free Pro account features.
When all is said and done, Quadency is and remains a viable option for anyone and everyone that wants to make use of automated trading.