Quick Summary: Founded in 2015, the Montreal, Canada-based fintech company, Shakepay, focuses on buying and selling Bitcoin. Shakepay has served more than 1M Canadians and has been involved in more than $7B worth of cryptocurrency transactions since its establishment.
So, why is Shakepay for you? It has fast and easy signup, solid history of regulatory compliance and security measures, no commission fees, almost-instant deposits, free withdrawals and deposits, and a very responsive customer service team.
Still not convinced? Then check out their website via the button below or read on.
Ever since the dawn of crypto back in 2009, new cryptocurrencies have been consistently emerging. It's actually really interesting that offerings haven't slowed down. But it's not just new crypto coins that hit the market every day – it's also crypto trading platforms.

The difficult part, of course, is finding your own island that offers something unique to crypto traders. No, it doesn't have to be groundbreaking. Sometimes, providing a convenience that your competitors haven't thought of just might do the trick – which brings us to Shakepay. The trading platform makes it possible for users to engage in lightning-quick swaps at no extra charges. So, if quick and affordable Bitcoin or Ethereum purchases in Australia are your forte, you've come to the right place.
Shakepay at A Glance
Website: https://shakepay.com/
Country: Canada
Mobile App: Available
Shakepay Deposit Methods: credit card wire transfer, e-transfer
Fiat Currencies: CAD
Cryptocurrencies: BTC and ETH
Shakepay List of Features
ShakingSats Rewards
Limit Orders
Website and Mobile App
Shakepay Visa Card
Shakepay Recurring Buy
Price Alerts
Refer a Friend Bonus
Instant Buy/Sell
Shakepay Daily Limit for spending is $3,000
Pros
The most convenient method for Canadians to make trade
Shakepay transaction fees of $0 for withdrawals or deposits
Free Bitcoin on Referral
Fast buy and sell cryptocurrency
Pretty fast Shakepay deposit time
Good Support Team
No withdrawal fees
Cons
There is no watch list information, news, research etc.
Only CAD-based fiat currencies are accepted.
Has Shakepay wire transfer limit
There are only two cryptocurrency that can be traded
About the Trading Platform
Shakepay was launched back in 2015 and has grown to become one of the most trusted and well-established cryptocurrency exchange platforms in the whole of Canada. The trading platform is headquartered in Montreal, Quebec. Shakepay has a simple offering as it supports exclusively Bitcoin and Ethereum.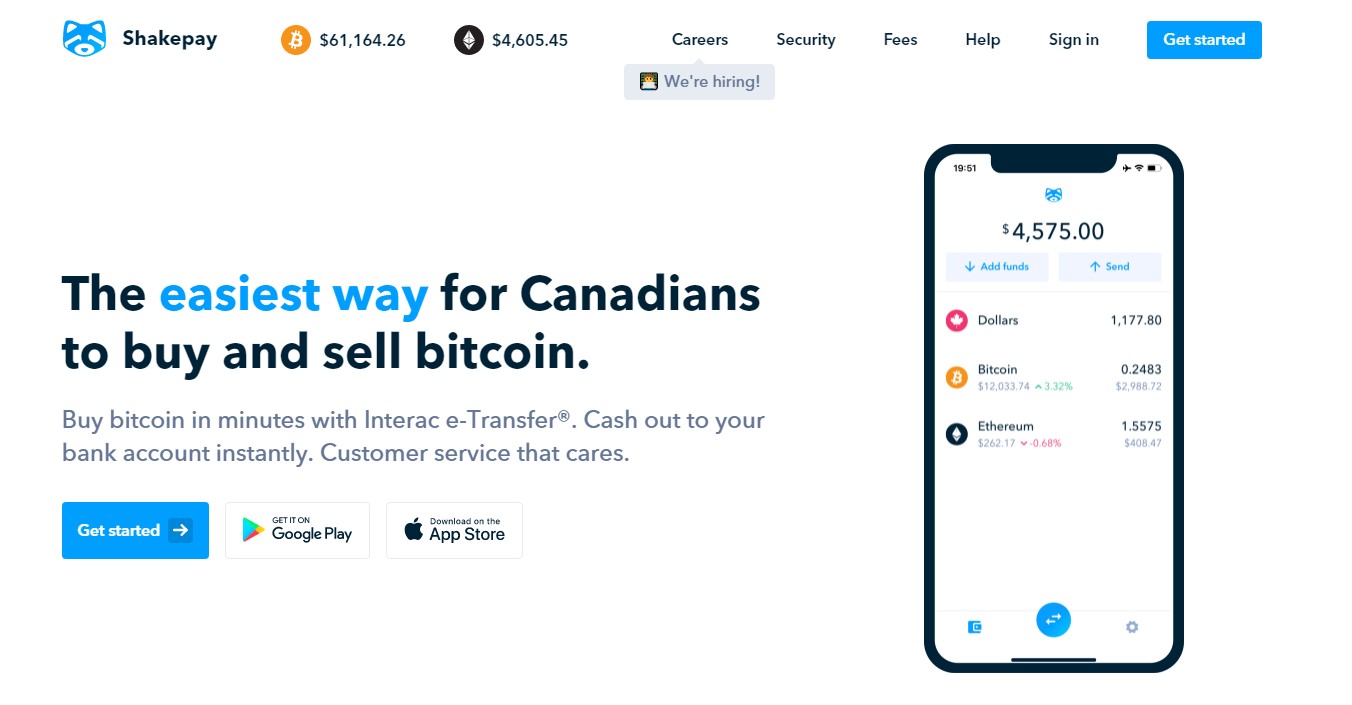 While traders are able to buy Bitcoin and sell Bitcoin on the exchange, The exchange also features a Shakepay Change tab, that makes it possible for users to get small portions of Bitcoin along with their every purchase. Besides having a website with a stellar offering and clean design, Shakespay also features a very capable app for both iOS and Android devices.
Features
In order to register for an account on Shakepay, traders have to go through a KYC process and verify their accounts. This process is known to take a bit longer and it does require users to provide documents that prove that they are residents of Canada, that they are of age, and that they're on the good side of the law. This is done by providing the platform with a valid email address, a phone number, a national ID card, a driver's license, or a passport and a selfie video that confirms that the person submitting the submitted data is who they claim to be.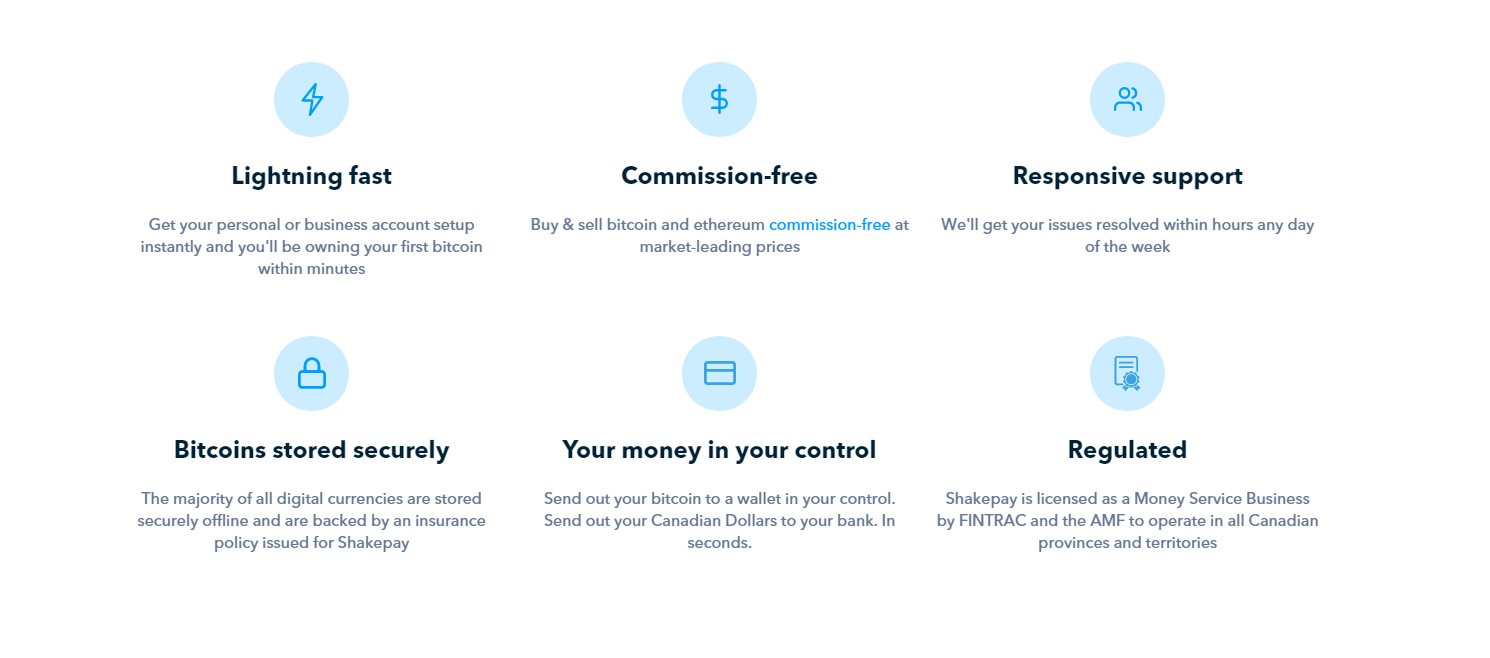 The Instant Buy/Sell crypto option is there for users that have a need for speed and want to strike while the iron's hot, without worrying that the price of a digital asset will shift by the time that a transaction is executed. Crypto traders are also able to make use of the limit orders feature that allows them to set a threshold on buys or sells at any parameters they choose.
The Price Alerts tab is where users are notified on any fluctuations what they're interested in following. So, when Bitcoin or Ethereum hit the floor or ceiling of a certain parameter margin, Shakepay rings the bell. Of course, there is the invaluable Recurring Buys feature that offers the users the option to automate their purchases at daily, weekly, or monthly intervals.
Deposits & Withdrawals
Shakepay does not administer any fees on deposits or withdrawals (including crypto withdrawals). Users can take advantage of the trading platform's Interac e-transfers that almost instantaneously send funds to the desired location. You can also opt for bank wire transfers. Both services come completely free for withdrawals that amount to more than $5,000. Although Shakepay does not employ any fees on withdrawals, users might be met with bank fees in their wire transfers.
Shakepay Trading Fees and Bonuses
Interac e-Transfer ®
Wire transfer
Bitcoin
Ethereum
Shakepay a friend

Free
Funds available in minutes
$5-$10,000

Free
1-2 working days
$10,000-No max

Free
2 confirmations (~ 20 min.)
No min-No Max

Free
60 confirmations (~ 20 min.)
No min-No Max
Shakepay tends to run a pretty tight shop when it comes to trading fees. There are no hidden transaction fees or mounting fees of any kind. The only thing that crypto users have to take into account is the spreads. The platform's Bitcoin spread is around 2.5%. Yes, this means absolutely free CAD deposits and withdrawals, as well as free BTC withdrawals and deposits.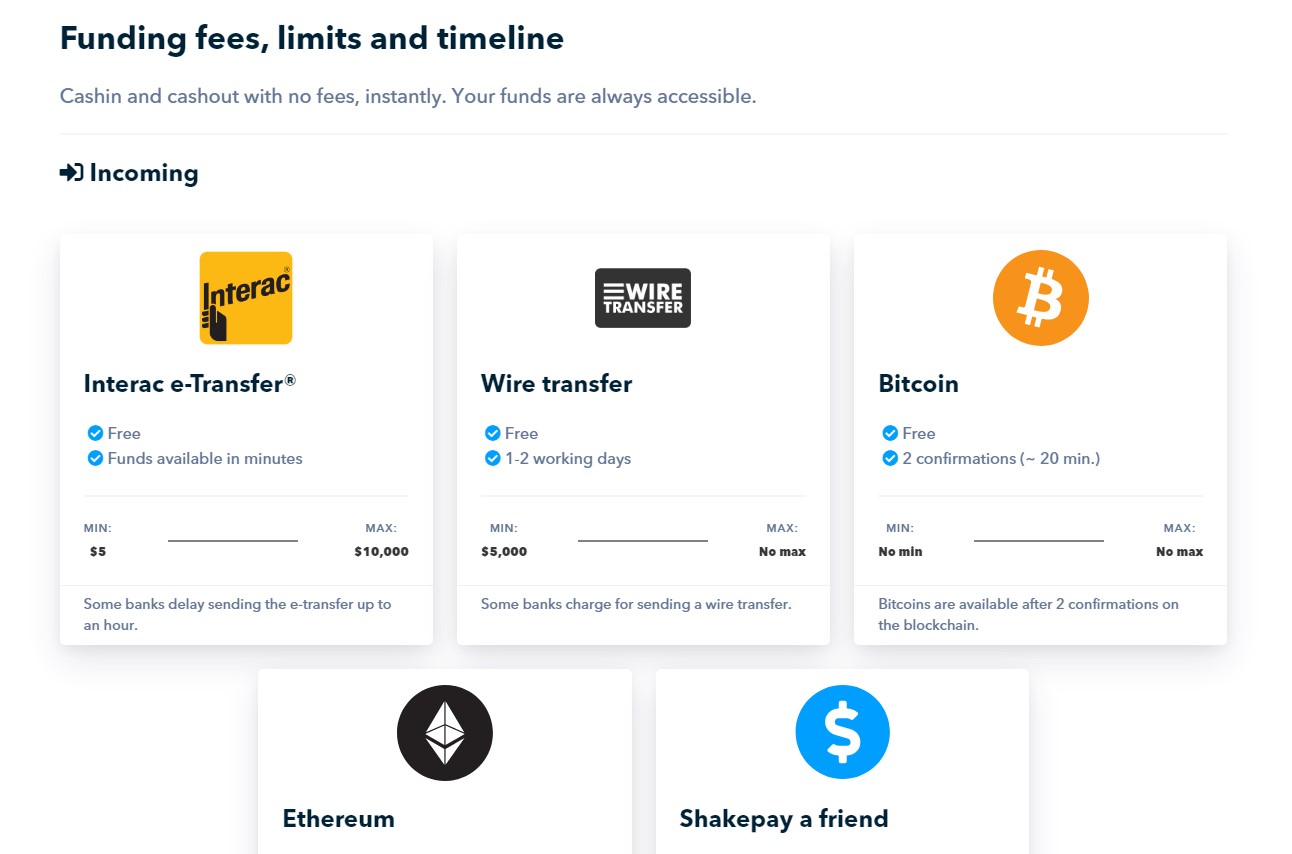 The trading platform itself is a breeze to navigate and offers a clean UI that is to-the-point in every sense of the word. There are only a couple of tabs and the rest is focused on the main course itself – the order book.
The only thing that traders need to worry about is the stashed amount of CAD that they have deposited. As long as there are funds on their balances, the platform will run their purchases for them. It's a set and forget sort of thing. The platform also provides a referral program for users that want to get a bit more invested and earn some rewards on the side. Through the Shakepay referral links, users can invite anybody to join the platform and get some Satoshis to their name on a daily basis.
Referral Bonuses & the Bug Bounty Program
Referral bonuses are set at $10 a piece for orders over $100. This means that both you and the referee get $10 on big purchases. The training platform also has its native Shakepay Visa Card that will allow users to make the most out of their Bitcoin cashbacks. Users can also choose the MogoCard as well, as MogoCard offers an unlimited 2% cash back on all purchases.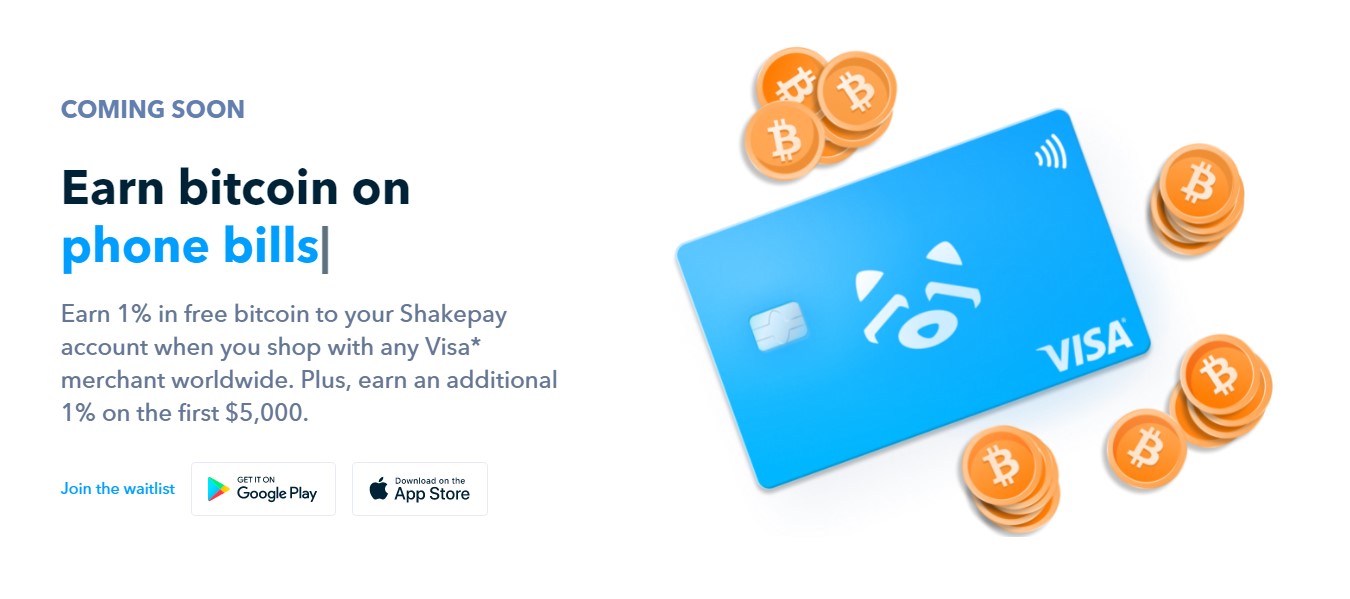 If you think that you've got what it takes to improve the platform with your knowledge of cyber infrastructure and security, look no further than the Bug Bounty Program. Here, users can get rewards raining from $5 up to a staggering $4,000, depending on the size of the bug.
Is Shakepay Secure?
Is Shakepay safe? This is probably one of the most frequently asked questions we always get.  Shakepay stores most of its digital funds offline, in Shakepay cold storage wallets. This means that they are offline and cannot be reached in case of a breach. Furthermore, the platform is regulated at FINTRAC as well as the AMF, which means that it's a legitimate Money Service Business registry that has full consent to deal in finance across the borders of Canada.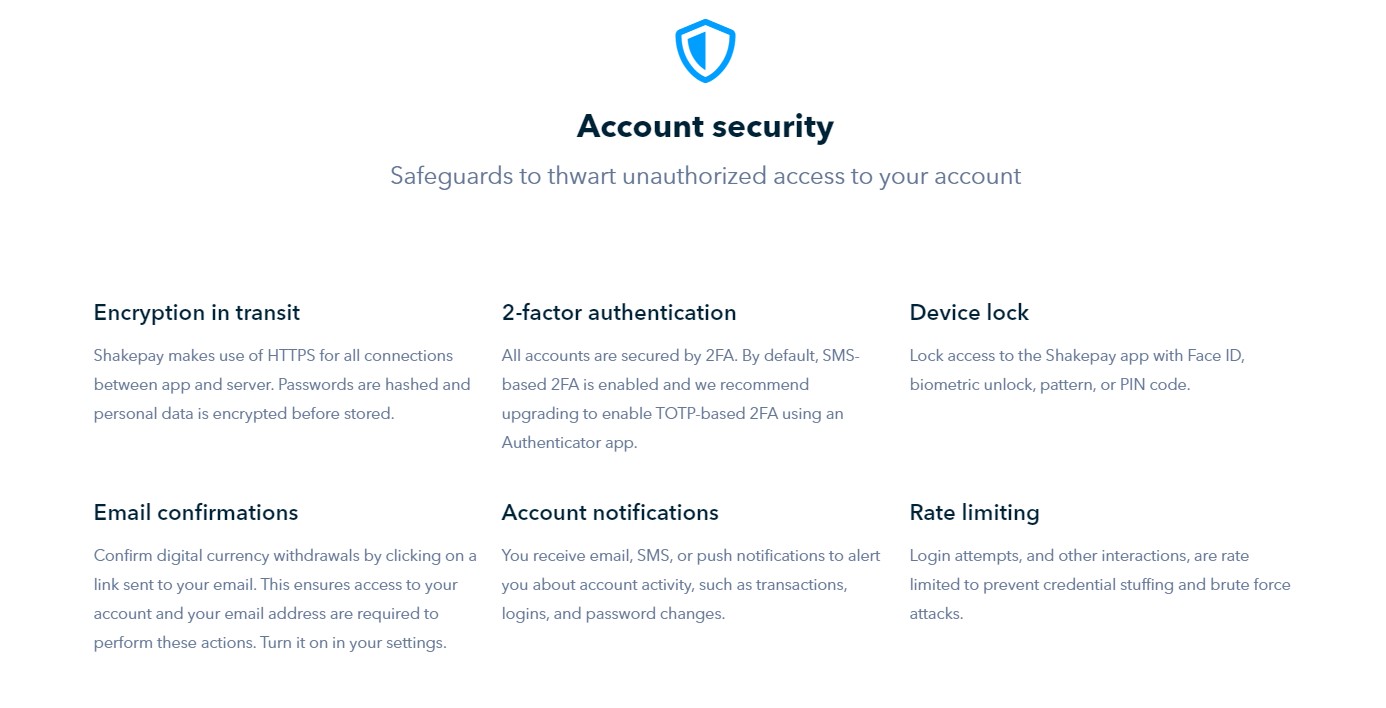 Shakepay urges all of its users to activate the two-factor authentication (2FA) security layer. With 2FA, traders are notified by SMS or via the Shakepay authenticator app upon every login and withdrawal attempt. This way, if it's not them that is logging in, they can act fast and freeze their account. However, it should be noted that the platform is not under CDIC insurance policy, which means that traders should still be careful when transferring their funds.
Shakepay also encourages users to store their assets in hardware wallets as quickly and as frequently as possible to secure their private keys.
Also, when it comes to safety, make sure you keep an eye on fake websites that use Shakepay logo. These sites could be phishing sites. It would also help checking some Shake pay reviews on Reddit for extra precautions.
Support
The platform does have a customer support team on deck that users can reach out to in case something gets stuck or tangled up. However, Shakepay Australia has been known for a bit of a lag when it comes to response times and users will have to get used to waiting up to 48 hours before being connected with someone that can assist them with their quarry.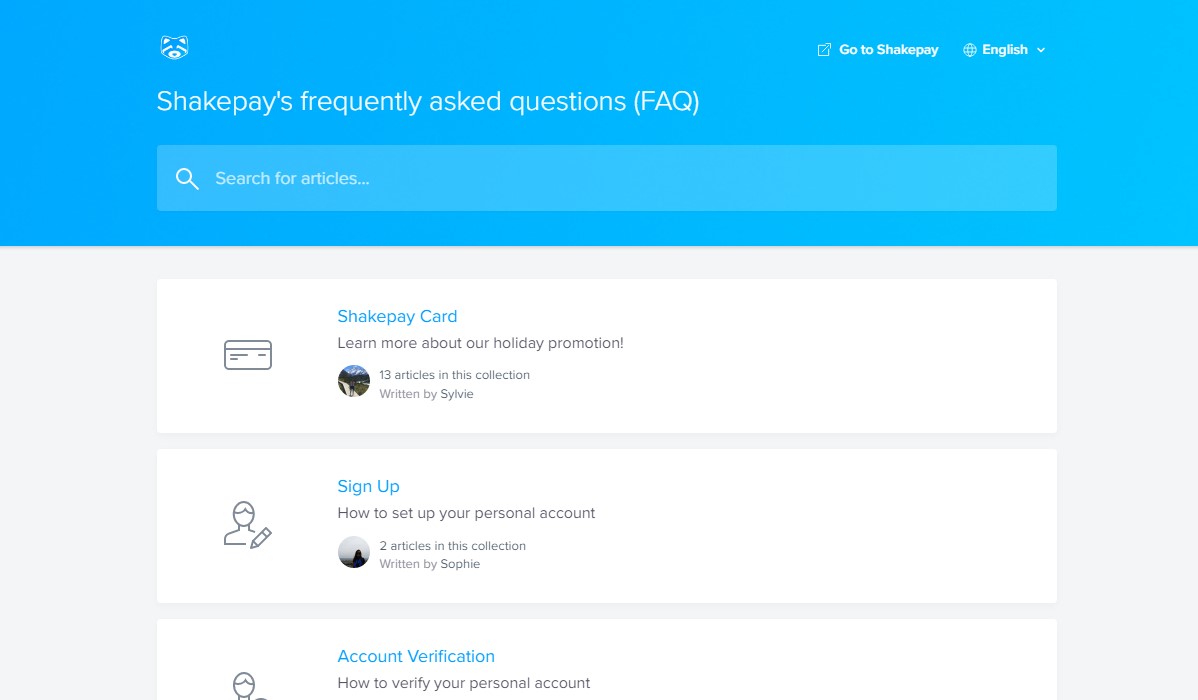 That being said, the trading exchange does have a vast knowledge library that comes in the form of an extensive Shakepay FAQ section where users should be able to find solutions to many questions regarding the platform, like how it functions and how it's built.
A Few Words Before You Go…
Maybe it shouldn't come as a surprise that Shakepay is gunning for crypto giants like Coinberry, Binance, Bitbuy, and Coinbase after all. If you happen to be a trader that likes to do business in Canadian dollars and wants to look into Canadian exchanges, registering for a Shakepay account might be the best thing you can do. The platfrom's mobile app that doubles as a crypto exchange platform has low fees, it's commission-free, it supports digital currencies and deposits via bank account, credit card, and debit card features a stellar user interface, and rewards its users with free Bitcoin.
Frequently Asked Questions
Does Margex Have a Mobile App?
Unfortunately, Margex does not offer a mobile app. However, users are still able to use the desktop trading platform on their mobile devices.
Is Shakepay CDIC Insured?
No. Unfortunately, Shakepay does not employ CDIC insurance on its funds. This means that if a coin slips into the void, it's never coming back. This is why users should always be proactive and employ their own hardware crypto wallet.
Was Shakepay Hacked Before?
Shakepay has never been breached or fallen prey to malicious attacks in the whole of its existence.
Is Shakepay a Wallet or Exchange?
Even though Shakepay acts a lot like an exchange wallet, the platform does offer more that you traditional run of the mill walet would, in that it features separate BTC and ETH storage wallets and allows for traders, deposits, and withdrawals. Essentially it functions as a wallet if you need it to but it has a whole nother level to it as well.
Does Shakeepay Have an App?
Yes. The Shakepay app is available on both iOS and Android devices. Users who feel more at home sitting in front of a computer can also get it from the Web App store. Once traders have the platform on their device, they can familiarize themselves with the trading charts that provide asset history pricing as well as the current standings. Traders have the option to have this data sent to them by email on a daily or weekly basis if they so choose.
How to Send Bitcoin From Shakepay to Binance?
Make copies of the BTC or Ethereum external address onto your phone's clipboard or ensure you have access to the QR code

In the primary screen click"Send" "Send" button, on the navigation bar.

After that, you'll be capable of scanning the QR code or choose the address you copied that you would like to transfer your crypto.

Add the amount, and then add an additional note should you wish to. Click"continue" or the "continue" button.
Is Shakepay Better Than Coinbase?
Shakepay is an excellent option for people who are seeking a user-friendly interface for buying and selling Bitcoin or Ethereum. Coinbase is great for beginners as well as experienced crypto investors looking to exchange a wide range of crypto currencies across Canada in addition to other countries.
Who Owns Shakepay Canada?
Shakepay is controlled by Shakepay Inc. which was established in the year 2000 by Jean Amiouny and Roy Breidi.
Do You Have to Pay Taxes on Shakepay?
Yes. If you earn capital gains or income earned from the Shakepay investment you are required to pay tax on them.
How Much Can You Earn on Shakepay?
It will earn 2 percent (2 percent) for the maximum amount in CAD $5,000.00 in purchases. After that, card rewards are one percent (1 percent). The rewards are paid directly into the Bitcoin balance in the Shakepay account.
Does Shakepay Give Bitcoin?
Earn between 2% and 3% bitcoin cashback on your Shakepay Visa Prepaid Card upon the first $5,000 that you pay directly into the bitcoin balance in the Shakepay account.
Can I Use Shakepay Outside of Canada?
Shakepay Card can be used in countries that are not restricted by law. Shakepay Card may be used outside of Canada in countries where it isn't restricted by law, are not listed on any list of sanctions in Canada and are not limited either by us, or any issuer in our sole discretion.
Binance vs Shakepay: Is Binance Better Than Shakepay?
Binance stands out thanks to its extensive selection of over 300 different cryptocurrencies as well as 50more fiat currencies, cryptocurrency stakes in order to collect rewards no costs, numerous trading platforms, sophisticated instruments for charting and different types of orders to meet the needs of new as well as experienced investors.
How Many Canadians Are on Shakepay?
909,000 Canadian users Shakepay provides the possibility of purchasing and selling Bitcoin. The company has expanded to accommodate more than 900,00 Canadian customers with just one million dollars in venture capital.
Is Shakepay Better Than Wealthsimple?
While the two platforms do not charge fees for withdrawals and deposits, Wealthsimple Crypto charges a greater spread, which is more than 3.3%. While, Shakepay charges between 2 between 2 and 2.5 percent and is less. Shakepay is the most cost-effective choice to purchase Bitcoin as well as Ethereum.
How Long Does Shakepay Take to Cash Out?
Typically, Interac electronic transfers shouldn't be more than one hour.
How Long Does It Take for Shakepay to Receive Money?
Cash-in and cash-out without charges, instantaneously. Your funds are always at hand.
How Long Does Shakepay Take to Bank?
Once you've converted your money to CAD, you can make an instant e-transfer to your bank account at home by clicking"Send Funds" or the "Send Funds" button, accessible on the internet as well. The e-transfer will be sent to your email within a matter of hours.
Is Shakepay a Canadian Company?
Shakepay is based in Montreal, Quebec, Canada.