StormGain Review for Australia 2022
StormGain is a popular UK-based cryptocurrency exchange operating in more than 100 countries worldwide. Established in 2019, StormGain has more than 120,000 customers.
The exchange offers leveraged trading opportunities for digital currencies and allows users to trade crypto futures contracts. The trading platform's unique features, coupled with a user-friendly interface make StormGain one of the most popular crypto exchanges in the UK.


We prepared an informative guide for Australia on the exchange's features to explain how the crypto trading platform works and discuss the benefits it offers to crypto traders, as well as its several shortcomings. If you want to learn more about StormGain, read on to find out what separates this crypto exchange from the others on the market.
Sidenote: If you're looking for an exchange that's closer to home, check out our comparison of the top Australian crypto exchanges.
About the Trading Platform
StormGain launched into the crypto market back in 2019 from Saint Vincent and the Grenadines. The exchange platform quickly made a name for itself in the media through a sponsorship deal with Newcastle United and, later on, with the SS Lazio football club. It's also a member of London's Blockchain Association.
Currently, StormGain is available in more than 100 countries, excluding the US, Canada and Japan, partially due to its breezy registration process that only requires an email and a phone number, unlike other trading platforms that require KYC verification.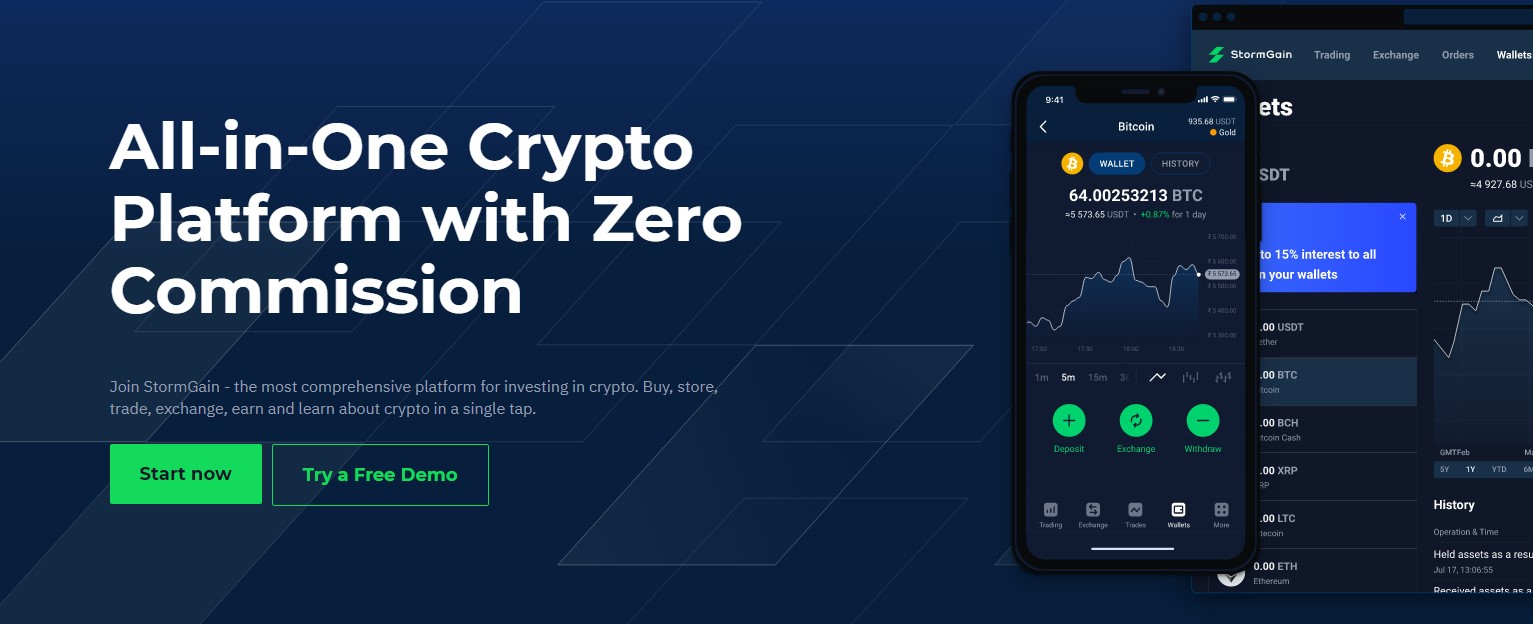 StormGain offers a built-in, multi-currency wallet for holding and trading your crypto assets. The platform offers futures contracts for Tether (USDT) and Tether-based crypto trading pairs as well.
One disadvantage of the trading platform is that it is unregulated, though it enjoys a good reputation on the market thanks to the positive press and sponsorship deals.
Bitcoin and Other Supported Cryptocurrencies
StormGain lists leading digital assets like Bitcoin (BTC), Ethereum (ETH), Litecoin (LTC), Bitcoin Cash (BCH), and Ripple (XRP). You can trade over 20 cryptocurrencies on the trading platform, including popular crypto trading pairs like BTC/ETH and altcoins like Dash and Monero. StormGain's free crypto wallet supports Bitcoin, Ethereum, Tether, Litecoin, Bitcoin Cash, and Ripple.

While the limited number of listed digital currencies may not suit all traders, listing only the most popular cryptocurrencies works as insurance against exposing users to scams and crypto pump-and-dump schemes. This is especially important for beginner traders but experienced traders could also benefit from the platform if they are satisfied with listed currencies.
Adding funds to your account is quite simple. You can use your credit card to buy crypto assets with fiat currency or use SEPA transfers if you are based in Europe.
Trading Fees and Limits
The competitive fee structure, especially when compared to other cryptocurrency exchanges in the UK, is what helped StrormGain become a popular crypto exchange relatively quickly. The crypto exchange generally has low commissions.
The fee for depositing with a credit or debit card is either 5% of your purchase or 10 USD, whichever is higher. The minimum deposit is 50 USD, and then you can start trading right away.

However, as the platform doesn't require identity verification, it doesn't support fiat currency withdrawals. There's a 0.1% withdrawal fee when making withdrawals to another crypto exchange or cold wallet. Different minimum and maximum limits apply when depositing and withdrawing specific cryptocurrencies.
StormGain has an interesting fee structure. The exchange's commissions on instant swaps between crypto pairs depend on the cryptocurrency in question but are generally lower compared to other local crypto exchanges. The real kicker is that there are no extra trading fees. Instead, StormGain charges a 10% cut from the profitable trades only. This means users only pay a trade fee for the trades they profit from. You can find more about the fee structure here. The platform has a built-in cost calculator that lets you see how much you pay for each conversion.
StormGain Trading Features
StormGain offers high-leverage trades for several cryptocurrencies, one of the most attractive features of the trading platform. You can trade many crypto pairs with up to 100x leverage on your initial investment. The BTC/USDT pair has the highest multiplier, i.e. as much as 200x leverage on your investment.
While leveraged trading can be risky, the crypto exchange offers useful tools for minimizing risks, such as automated stop-loss limit order and take-profit limit order options. Moreover, users can take advantage of crypto indices, selecting several assets from a pool of cryptocurrencies to mitigate the risk of speculating on a specific coin.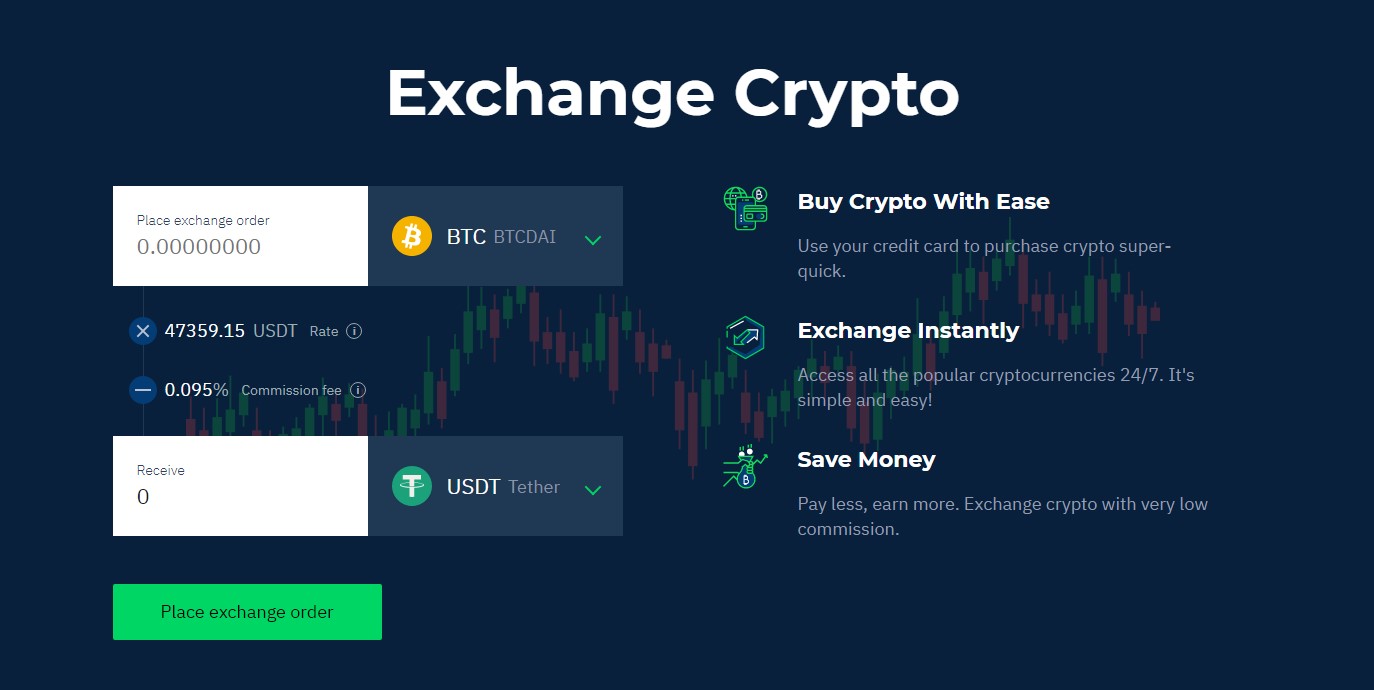 Another bonus is that StormGain offers a demo account with a 50,000 USD balance to let users figure out and test how their trade strategies work. There are also video tutorials to help newbies learn how to use the platform and its tools. The platform has its own trading signals tool that dispenses tips and forecasts.
StormGain also has a five-tier loyalty program (Standard, Gold, Platinum, Diamond, and VIP). You get different bonuses with each tier depending on your trading volume and account balance size. You can earn interest on your crypto assets and commission discounts through the program. You can also earn a referral bonus by bringing other users to the platform. You get paid 15% of referred users commission fees.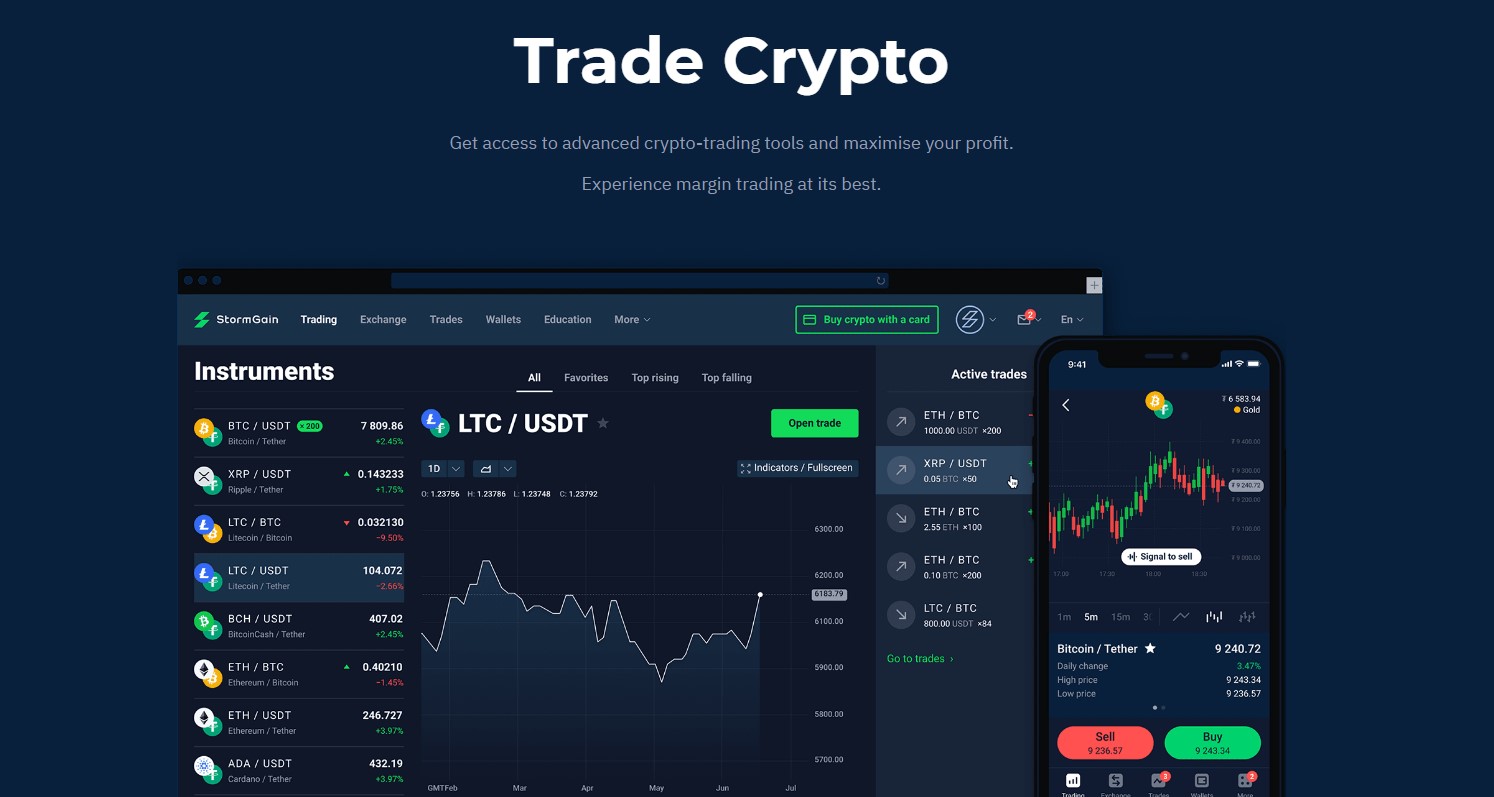 Finally, the exchange platform hosts its own cloud mining network. Users can cloud mine by being active on the platform and logging into a cloud miner. With cloud mining, you are not actually using your device for mining but simply renting mining power from others. However, StormGains offers free cloud mining with a 10 USD minimum investment. You can only use your mining rewards for trading on the platform.
Security
StormGain accounts are protected by the platform's two-factor authentication (2FA) policy. Users are required to provide a 2FA confirmation for every login and withdrawal request. The platform advises all customers to use a separate email address for their StormGain accounts and activate 2FA for their email accounts as well.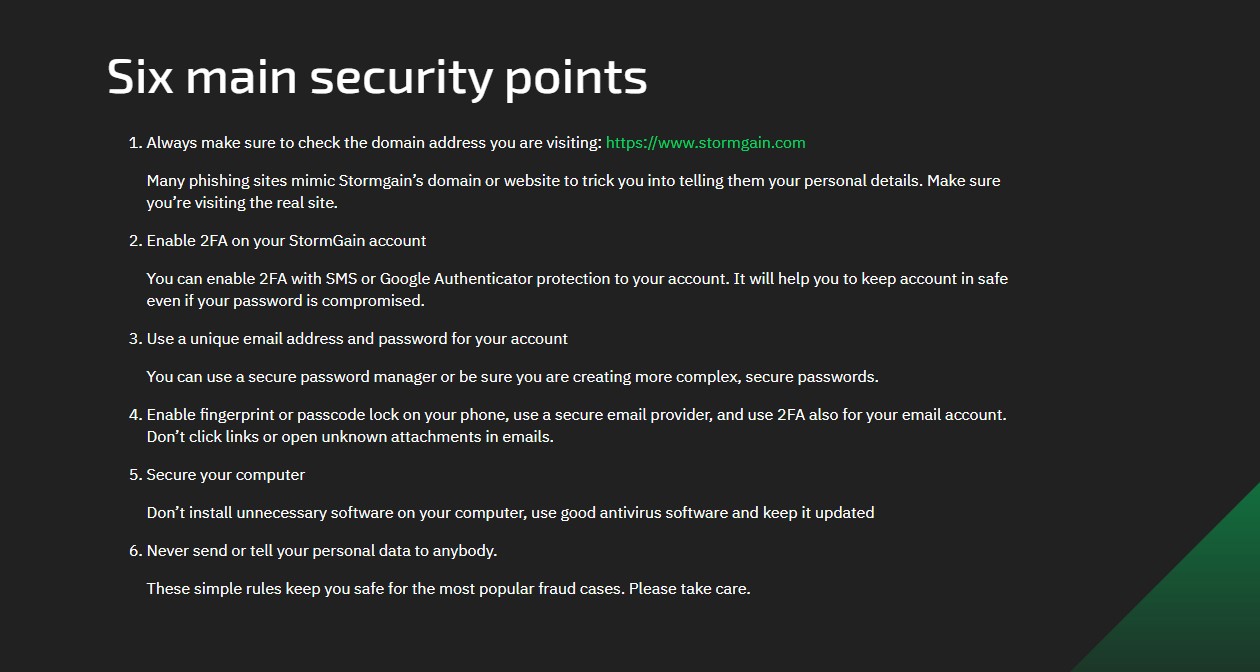 According to StormGain, the exchange's cryptocurrency funds are stored in cold wallets but as StormGain is not regulated by the authorities we have no way of proving this claim.
Customer Support
The exchange platform hosts a variety of educational videos and offers a demo account to help users learn how to execute trades on the platform.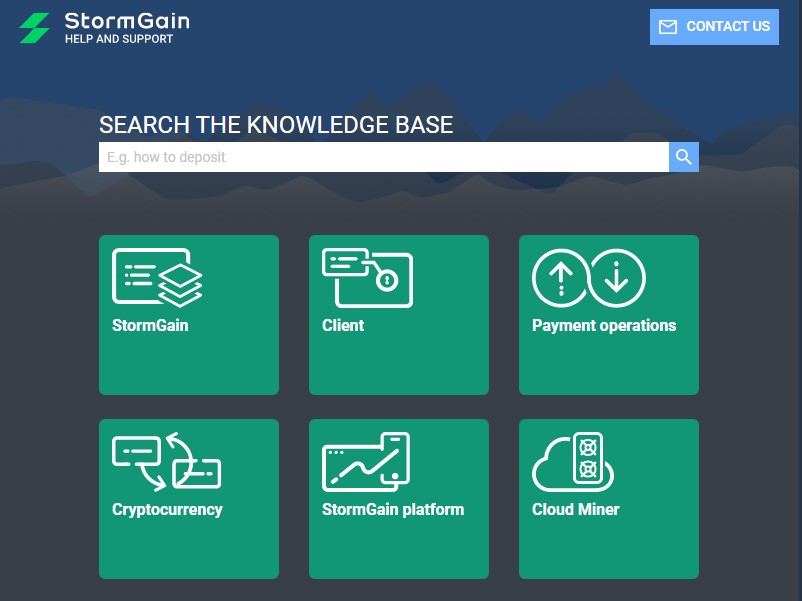 StormGain provides customer support to its users conveniently through its 24/7 live chat. You can also contact the platform by email or join its vibrant Telegram community. StormGain has generally received positive reviews and good ratings from customers. According to Trustpilot, StormGain typically replies to negative reviews in two days or less.
Pros:
Easy to use and beginner-friendly
Low trading fees
Processes withdrawals instantly
Works great as a crypto cloud mining tool
Available in mobile app
Provides deposit bonuses on multiple levels
Cons:
It has limited tools for expert traders
Platform is unregulated in most countries
No automated bots feature
Frequently Asked Questions
Does StormGain have a mobile app?
StormGain can be accessed from a browser or from its official mobile app. The mobile app is secured by two-factor authentication. You can download the official StormGain mobile app for Android and iOS from Google Play and Apple Store respectively.
A Few Words Before You Go…
StormGain offers a competitive fee structure and high-leverage trade opportunities to crypto traders. Its availability in most European countries and Australia is another bonus. Its user-friendly interface and educational materials make this exchange a good choice for crypto beginners but more advanced users may become frustrated with the limited amount of listed cryptocurrencies.