Swyftx Review for Australia 2022
Swyftx was founded in 2017 by Alex Harper and Angus Goldman in Brisbane, Australia but it was in 2019 that the platform finally started with operations.
The platform is loaded with the latest and greatest features that the market has to offer – it features a very easy-to-use and easy-to-navigate user interface, supports over 260 crypto assets, and boasts ample liquidity, favorable spreads, and competitively low fees.
As a quick summary, they're good, very good. If you landed on this review wondering if they can take care of your crypto needs, they 100% should be able to, massive thumbs up from us 🙂


Swyftx's expertise is its dedicated brokerage service. The brokerage provides some of the lowest spreads and is even easier to navigate than the full platform for both novice and experienced users, making it one of the best crypto exchanges in Australia. The platform employs an SMSF (Self-Managed Super Fund) that protects user funds and savings.
Swyftx is home to over 30,000 Aussie crypto traders. Its biggest feat is that it managed to reach that number in a very short timeframe.
How Does Swyftx Work?
Swyftx provides users with the option to fully customize their dashboards, set up their preferred settings, and have their most frequently used features at arms reach at all times. The chart presentation is courtesy of their cryptocurrency TradingView charting interface where users can follow their automated cryptocurrency trades as well as set automatic investments and deposits. The platform has both a referral and an affiliate program. It also provides user tax reports as PDF downloads.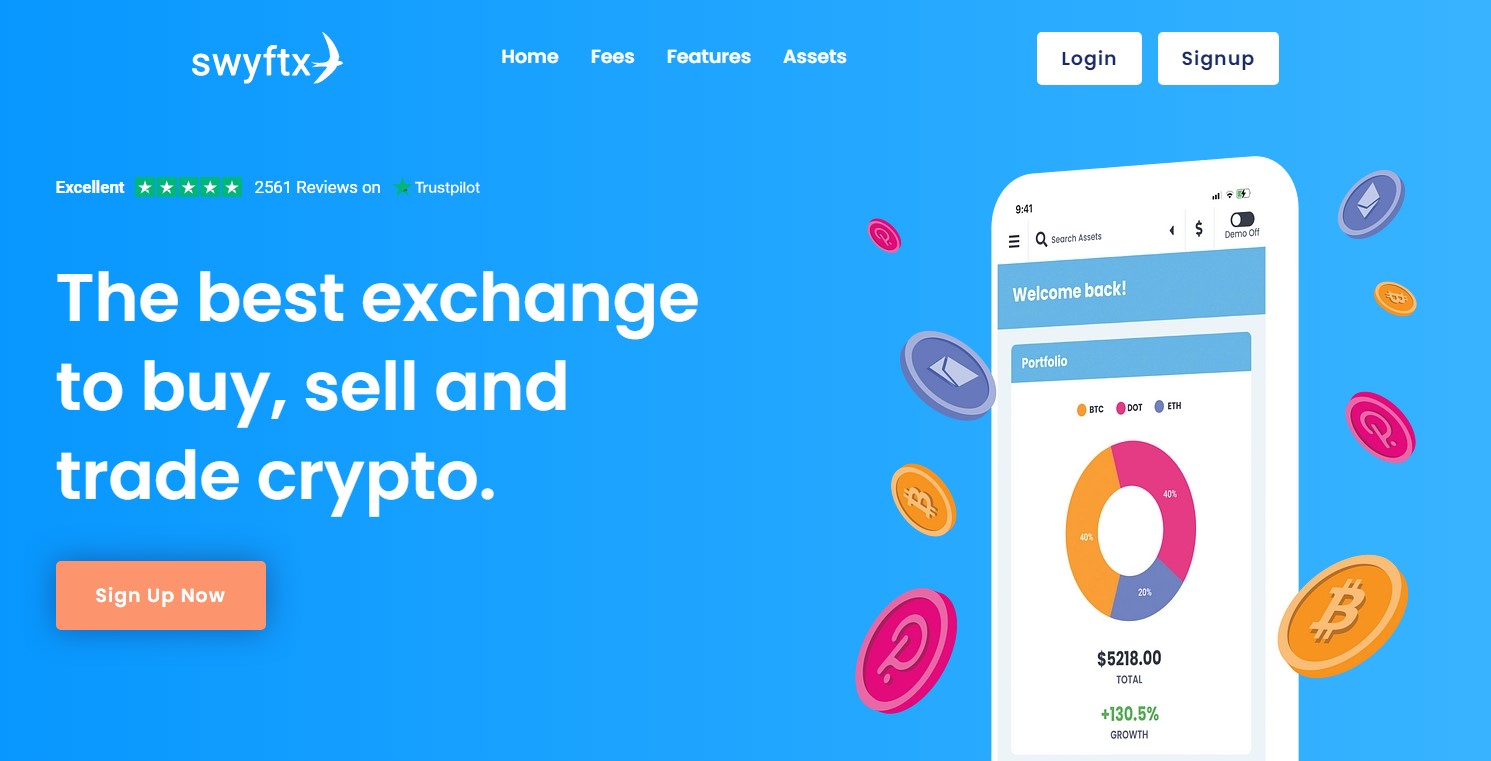 The platform is approved by the Australian Transaction Reports and Analysis Centre (AUSTRAC), so it complies with all governmental procedures and crypto laws. A KYC verification process is performed when users join the platform, allowing the platform to prevent illegal activities such as money laundering, breaches, and hacker threats.
The KYC verification is simple to go through and only requires users to provide a government-issued ID, along with a valid phone number and email address.
Swyftx Demo Mode
The demo mode feature comes particularly handy to new and inexperienced users, as it allows them to learn and participate in demo trades without losing a single altcoin in the process.
When it comes to altcoins, the Self Managed Super Fund provides users with exclusive access to their funds at just a few taps. As a native Australian platform, Swyftx is the only platform in the land down under to offer demo mode when it comes to crypto trading.

When users engage in demo mode trades, there is nothing at stake, so it makes no difference if they walk away or lose billions in the process. Even though this feature will be more utilized by inexperienced users as they hone their skills, veteran traders can also benefit from it by setting up their real trades and going through them before they commit.
Supported Cryptocurrencies And Trading Features
Swyftx provides users with over 220 active trade cryptocurrencies including Bitcoin (BTC), Ethereum (ETH), Filecoin (FIL), Mithril (MITH), Curve (CRV), Ripple (XRP), Civic (CVC), and yearn.finance (YFI).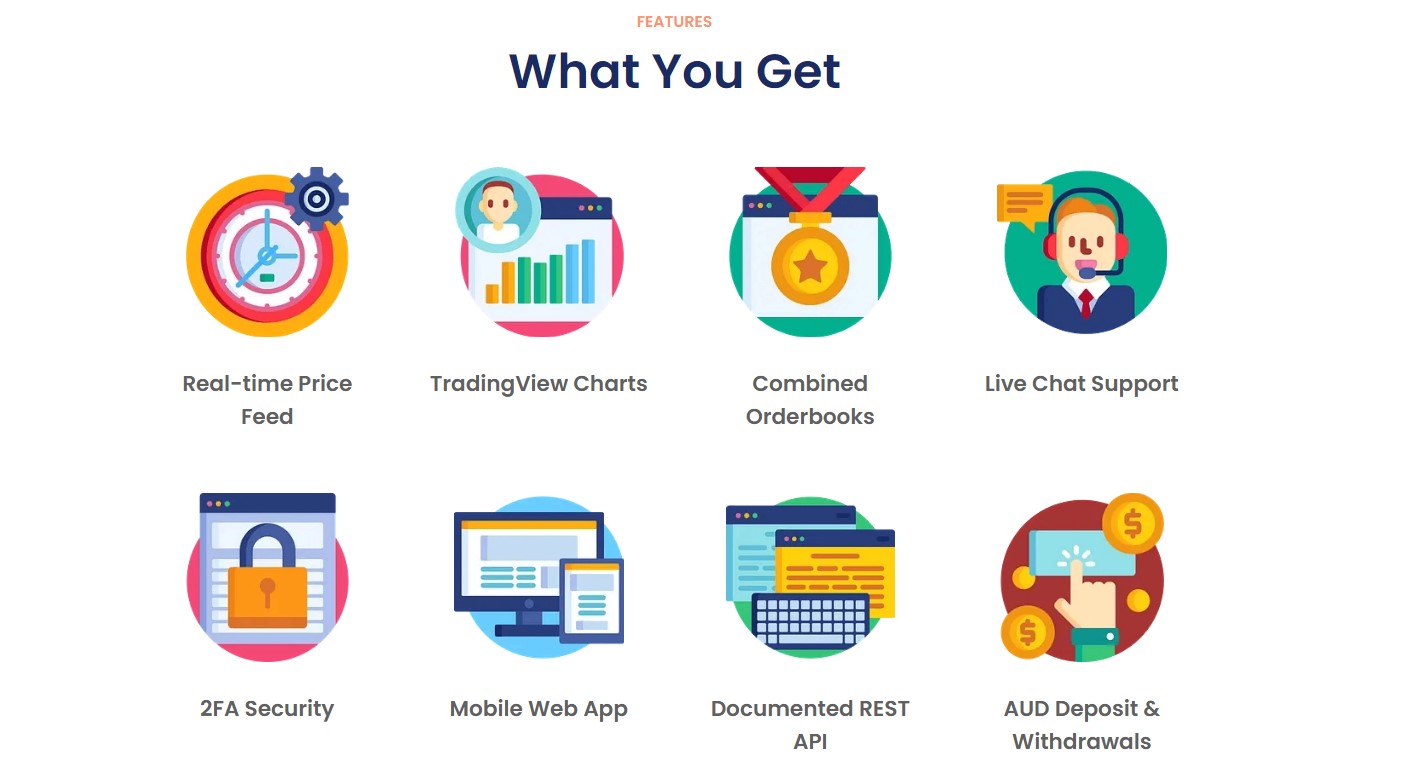 Fiat Deposits are available only in AUD and, unlike rival platform Binance, Swyftx has yet to add a feature for leveraged trading. However, there is a workaround, as Swyftx users can buy Bitcoin with AUD and convert the acquired Bitcoin by using the services of a third-party crypto exchange that supports leverage and margin trading.
The platform has recognized the desire for leverage and margin trading and is working towards providing users with the option as soon as possible.
Swyftx has mobile apps for both Android and iOS. The login is made possible by biometric security, meaning that users access the app using an ID face scan. The app comes with all the bells and whistles as the original platform itself, so it's completely up to preference which one you will choose as your main gateway to your trades.
Limits and Trading Fees
Swyftx administers a 0.6% flat fee, which is higher than what exchanges such as CoinJar, Digital Surge, and CoinSpot have to offer. Nevertheless, the platform does provide very low spreads. With spreads as low as 0.41%, Swyftx balances out its high transaction fee offering.
This is made possible by the platform's AI automation that automatically finds the lowest available spreads at any given moment.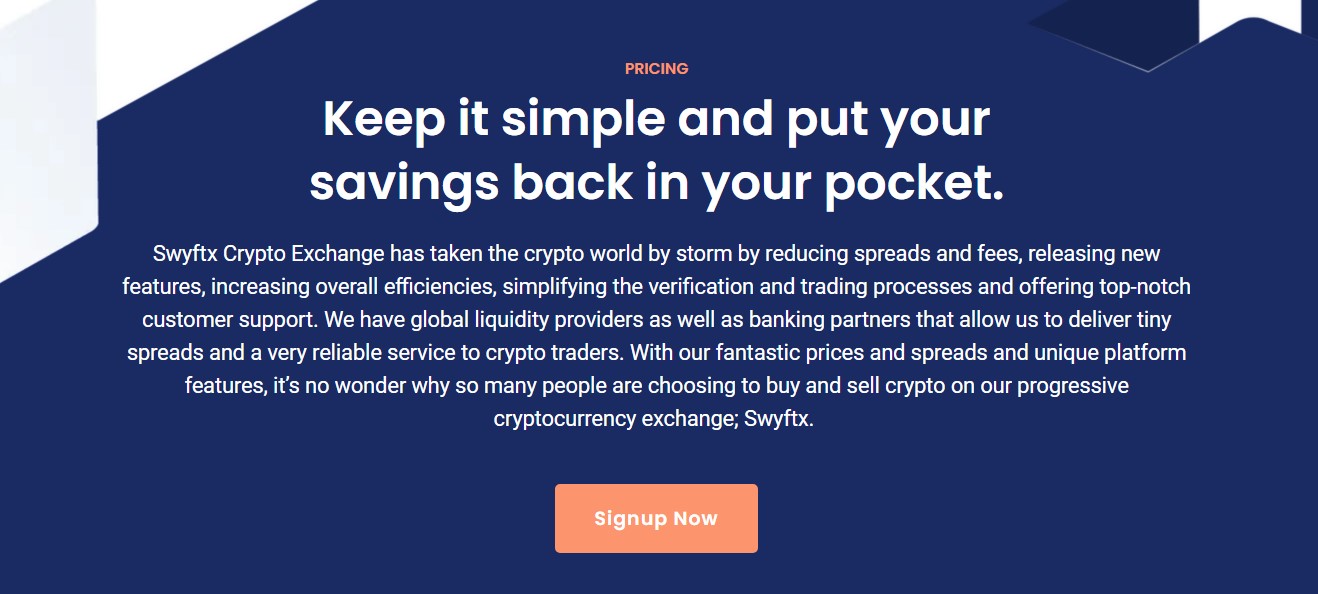 The way that Swyftx keeps its liquidity high is by converting fiat AUD deposits to USD on withdrawals. This is the main factor behind the flat fee being as high as 0.6%. There are also mining fees both when depositing and withdrawing assets. However, AUD deposits and withdrawals higher than $200 aren't subject to deposit and withdrawal fees. For deposits and withdrawals lower than $200, the trading platform commissions a $2 flat fee.
The daily limit at Swyftx kicks in at 20,000 AUD, however, this is not a hard cap as users can order up to 100,000 AUD by providing further verification on their profiles.
Is Swyftx Safe?
Swyftx takes security very seriously and requires all users to go through a KYC process as stipulated by Australian law. Users that wish to register an account at Swyftx are asked to provide a phone number, enter a unique password, verify their legal name, and provide a valid email address. The platform utilizes JWT tokens, supports 2FA verification, and administers regular self-imposed breach attempts in order to test and push their security systems.
Swyftx asks users for regular identity checks and has a partnership with blockchain analysis company Chainalysisand, which is one of the biggest security traffic monitoring providers in the world.
Deposit Options
The trading platform offers a variety of bank account deposit methods for users to choose from, such as PayID and POLi, which are instant deposit methods, and OSKO, which is a business day deposit method.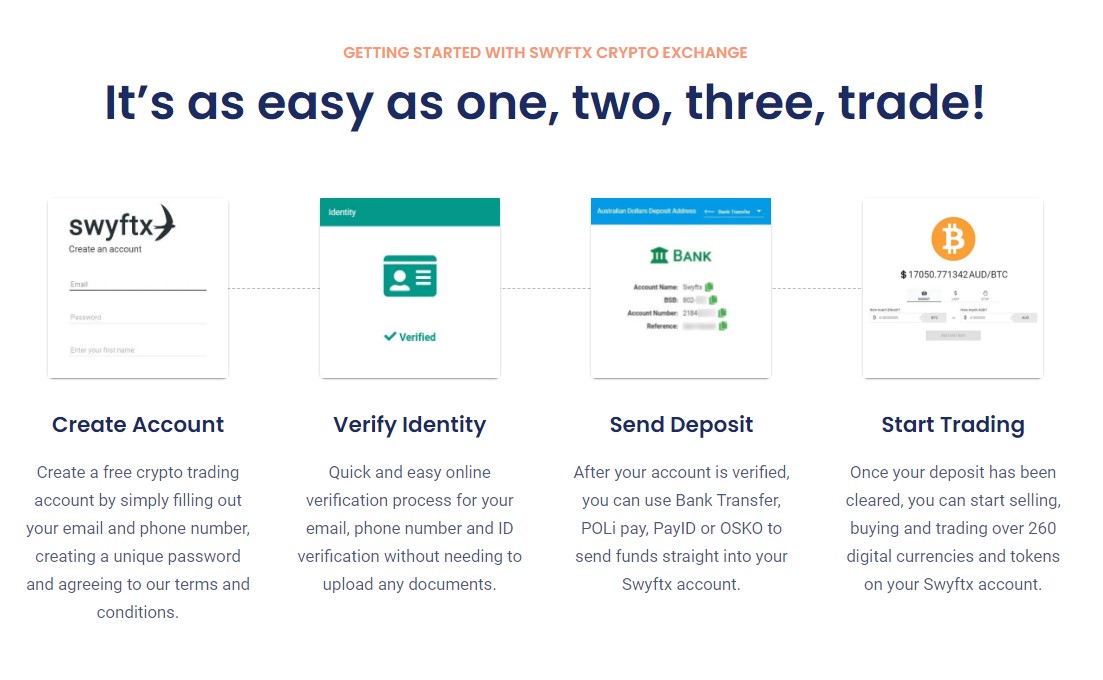 OSKO bank transfers usually take less than one workday to process. Nevertheless, large volume deposits can take up to 24 hours to get approved and show up in your balance. Credit card or debit card deposits are made possible by BANXA, which is a digital currency payment company that supports deposits from 30 to 15,000 AUD.
All sent deposits are automatically converted to USD and tied to the day-to-day Forex conversion rates. This allows for higher liquidity, lower spreads, low cryptocurrency trading costs, and more USD pair offerings.
Customer Support
Users are very satisfied with the platform's support offering. Swyftx is among the top-rated and reviewed exchange platforms on TrustPilot. The customer support team is easy to reach and will likely solve any quarry in a matter of minutes.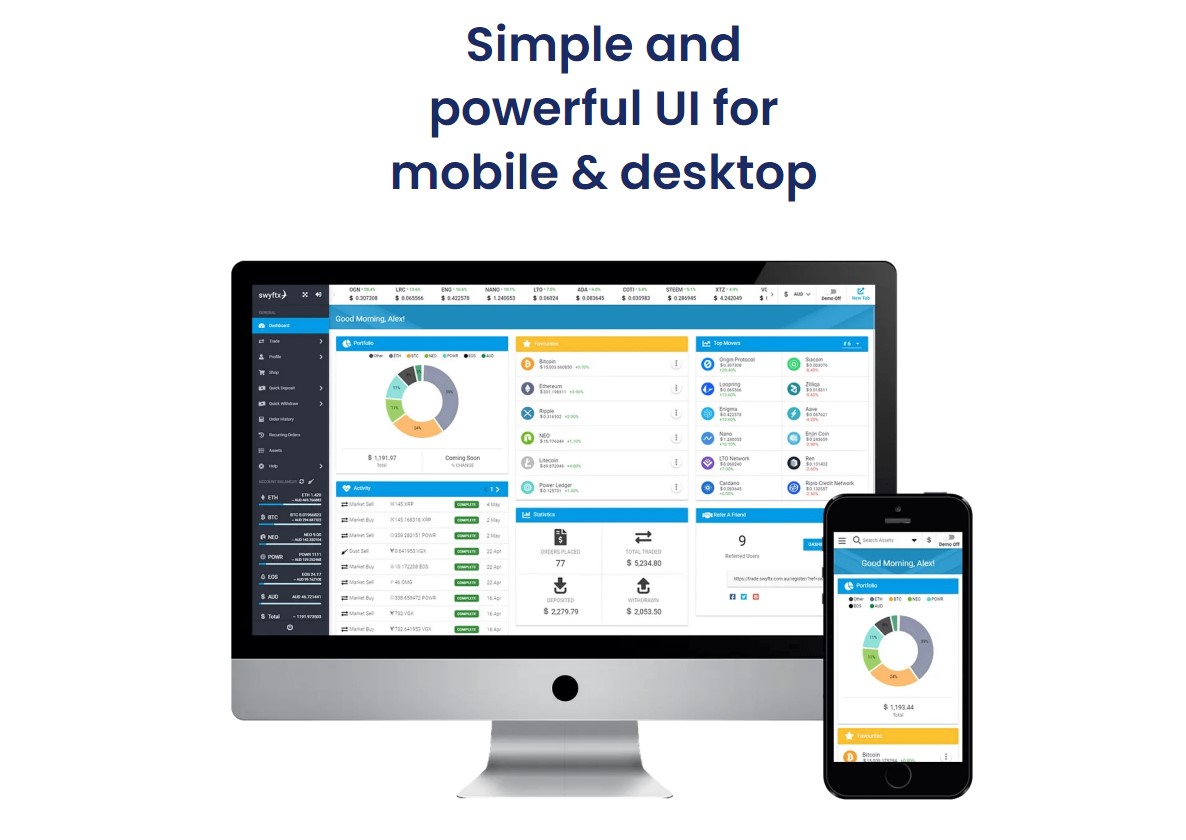 They can be contacted via email, live chat, or directly by telephone. Their operators are standing by and are available during work hours.
Pros:
Very user-friendly
Fast verification process
24/7 live chat support
Variety of cryptocurrencies
Low instant trading fees (start at 0.6%)
Buy crypto using Debit Card or Credit Card
Trusted Australian exchange (regulated under AUSTRAC)
Cons:
No order-book to trade on (only instant buying)
Does not support margin trading
Charge credit card deposit fees (at 2%)
Frequently Asked Questions
Does Swyftx Have an Affiliate Program?
Swyftx's affiliate program offers users a discount of 30% on all trade fees. It applies to trades one through the affiliate accounts. Affiliate users also have the option to get a referral code from the platform, which offers further discounts.
The payouts for affiliates are done on a month-by-month basis. The platform's tracking system will notify users when someone registers for an account on the platform through their referral link.
What Is the Self-Managed Super Fund and How Does It Work?
The SMSF or The Self-Managed Super Fund is made possible by a deal with New Brighton Capital. The fund is a savings storage fund that offers multiple tax benefits. Users that are part of the SMSF fun enjoy only a 15% tax on their digital assets. Traders that are registered with the SMSF are viewed as trustees, which means that they comply with super laws, as well as ATO tax regulations.
What Countries Does Swyftx Support?
Swyftx is only available, provides coverage, and can be accessed on Australian territory.
In Closing…
Swyftx is a platform that has a great reputation due to its innovative approach and stability in an ever-changing market. The platform is a pioneer on many fronts and is considered one of the best cryptocurrency exchanges in Australia and worldwide.
With a user-friendly interface that's easy to navigate for both rookies and veterans, the platform makes it easy for users to dive into their high liquidity pool. They provide affordable low trading fees, recurring deposit features, an excess of over 260 altcoins to choose from, and a handy demo account feature where anyone can do any possible trade they can think of.
The only thing that some may consider lacking are their lack of advanced trading feature support when it comes to leverage and margin trading, as well as their exclusivity to one country, or continent; depends on who you ask.
In short, go for it, they won't let you down!
Related: