Quick Summary: Swyftx is hands-down one of the best crypto exchanges in Australia. The combination of outstanding customer support, a fantastic app, extremely low spreads, and the sheer amount of cryptocurrencies on offer, makes them our favourite exchange.
The sign-up process has been streamlined to get you started as quickly as possible, and on top of that, they're also offering free $20 worth of BTC for new traders coming on to the platform.
They definitely get the thumbs up from us!
Swyftx Platform at a Glance

Website: https://swyftx.com/au/
Country: Australia
Mobile app: Yes
Deposit Methods: POLi, PayID, OSKO, bank transfers
Fiat Currencies: AUD, NZD
Cryptocurrencies: 300+
List of Features
100% Australian exchange
4.8/5 Trustpilot score
Regulated by AUSTRAC
Instant AUD withdrawals
OTC and SMSF options
Earn up to 80% interest on crypto
Live Chat and Phone Support
Recurring orders
Demo mode available
Real-time price feed & API
Stop, On Trigger & Market Orders
Full tax reporting
Fees
Trading Fees
Deposit & Withdrawal Fees (Fiat)
Deposit & Withdrawal Fees (Crypto)

0.6%

High volume discounts apply
AUD + USD + BTC bases x 320+ assets
Spreads as low as 0.41%
No trading limits

$0

Daily limits up to 100k AUD
No fees on AUD deposits and withdrawals

~

Standard network mining fees
No additional Swyftx charges
Pros
Wide variety of available cryptocurrencies and trading options
Staking option for those who wish to generate passive income from their crypto holdings
Deep Swyftx liquidity
Fast verification process
No Swyftx deposit fees or withdrawal fees
Easy tax reporting for each client
Industry low fees and spreads
Excellent iOS and Android-compatible mobile app
Built-in TradingView marketplace charting for advanced trading
Dedicated phone, email, and live chat support
No security breaches so far
Cons
No derivatives or margin trading
Swyftx's financial services are accessible only to residents of Australia and New Zealand
What Is Swyftx?
Somehow I feel that friendships developed in high school seldom lead to the development of commercial companies with monthly revenues of more than $120 million. But that is exactly what happened to Alex Harper and Angus Goldman, the visionaries behind Swyftx.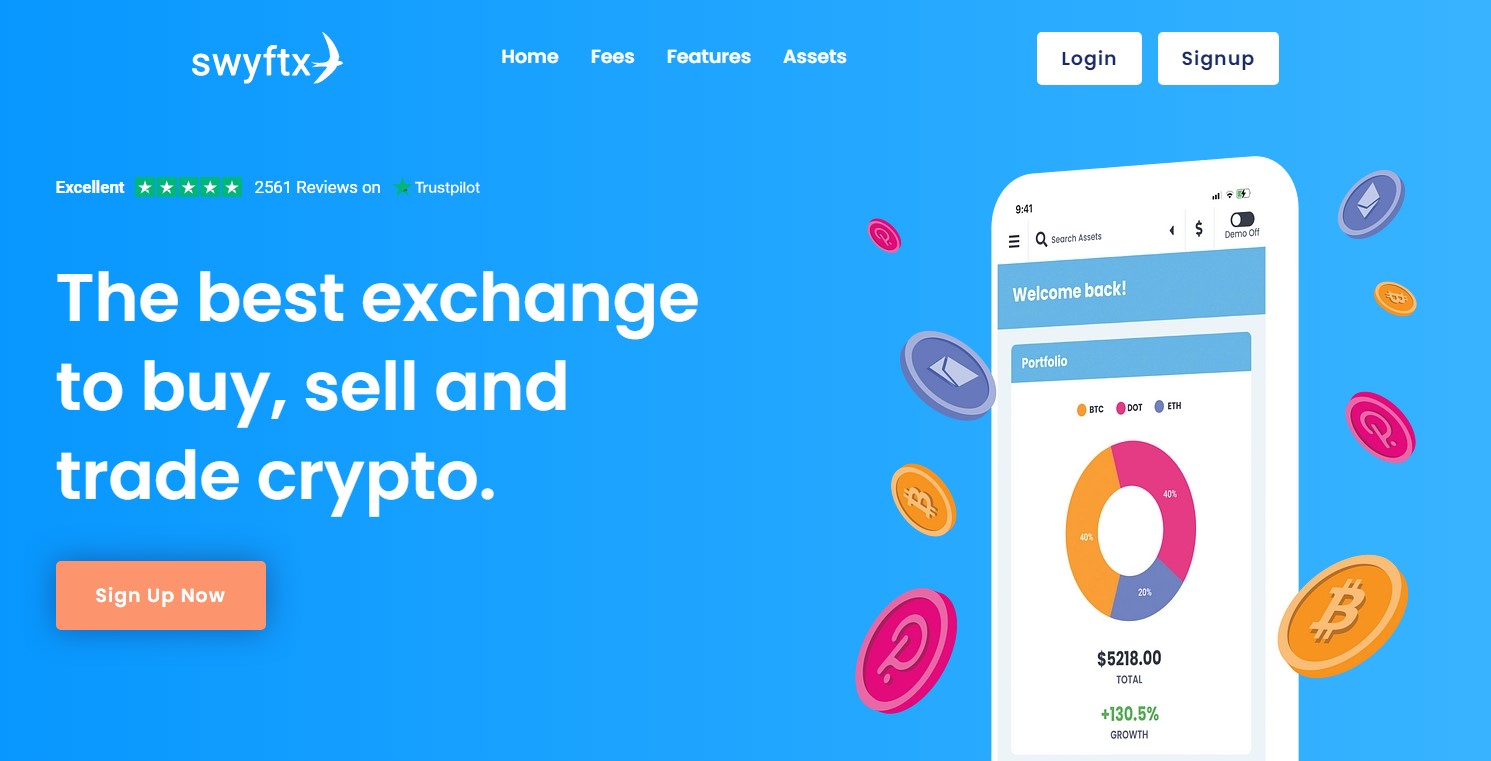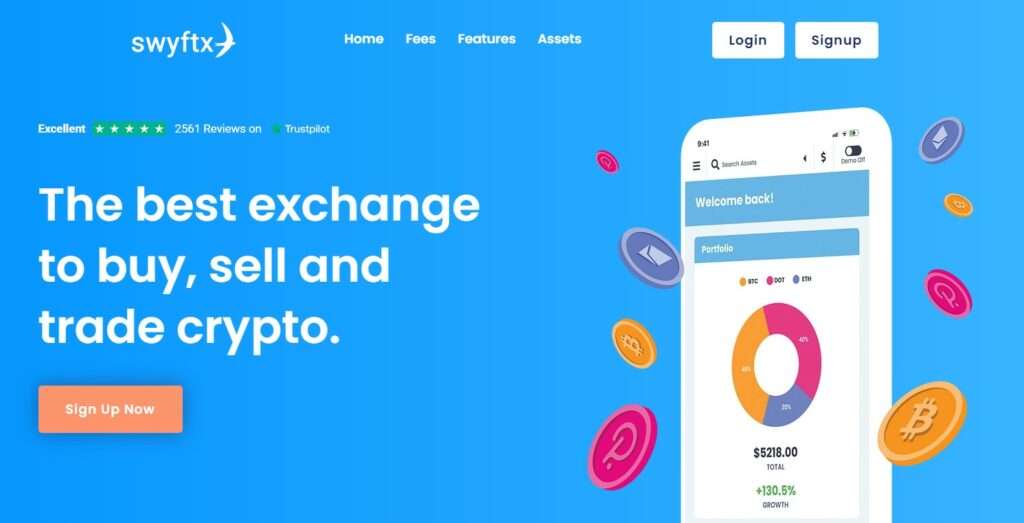 After establishing their respective careers, Harper and Goldman devoted their time and trading experience to developing the Swyftx cryptocurrency exchange, Australia's most creative and quickly rising crypto venture.
Swyftx was launched in 2019 as a culmination of the developers' year-long endeavours, offering Australians novel trading tools, stable currency prices, real spreads, and low, transparent Swyftx trading fee.
Swyftx Features: How Does Swyftx Work?
Supported Cryptocurrencies
With Swyftx, you can trade cryptocurrencies on more than 300 market segments with a wide variety of supported digital assets. In addition to supporting the most liquid currencies, such as Bitcoin (BTC), Litecoin (LTC), Ethereum (ETH), Cardano (ADA), Ripple (XRP), etc., Swyftx also offers a broad array of altcoins, tokens, and stablecoins for trading through its Swyftx trading platform.
If you ask me, this is a well-balanced coin selection because it provides trading opportunities for both experienced traders and those looking to enter the market with a modest investment.
Transferring Fiat and Cryptocurrency
If you have an Australian bank account, you can quickly fund your trading account with up to 50,000 AUD via bank transfer, credit card/debit card, POLi, PayID, or OSKO payment method.
What Are Swyftx Fees: How Much Does Swyftx Charge?
Swyftx is cutting transaction costs, shrinking spreads, and simplifying the account funding, withdrawals, and crypto trading operations to boost investors' productivity. Consequently, every financial function on Swyftx is subject to a Swyftx trading fees and spread of 0.6%, which comes as a fixed rate.
What's more, large-volume traders are qualified for even lower transaction Swyftx fees, and there are no hidden fees associated with these lower rates on this Australian cryptocurrency exchange. As a direct outcome, I find Swyftx's pricing model highly affordable and unambiguous.
By relying on a blockchain network of liquidity providers and banking partners throughout the globe, this platform is also prepared to offer tight spreads and reliable financing services to Australian market participants.
Swyftx Earn: How to Stake on Swyftx – What Is Earn On Swyftx?
Swyftx Earn is a feature that allows holders of eligible coins to receive daily interest payments for keeping them in a Swyftx crypto wallet.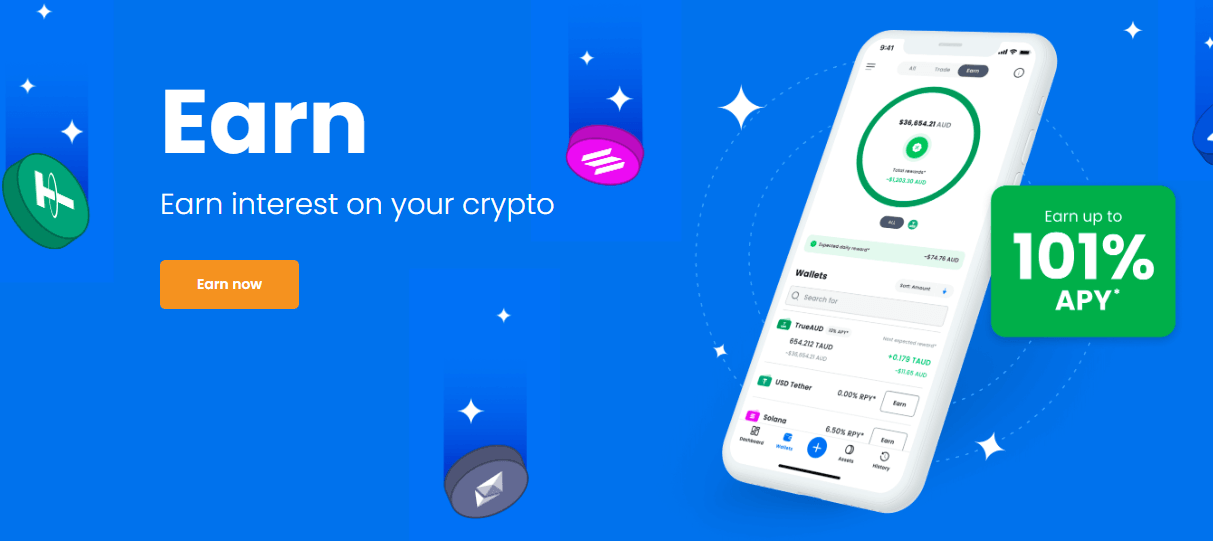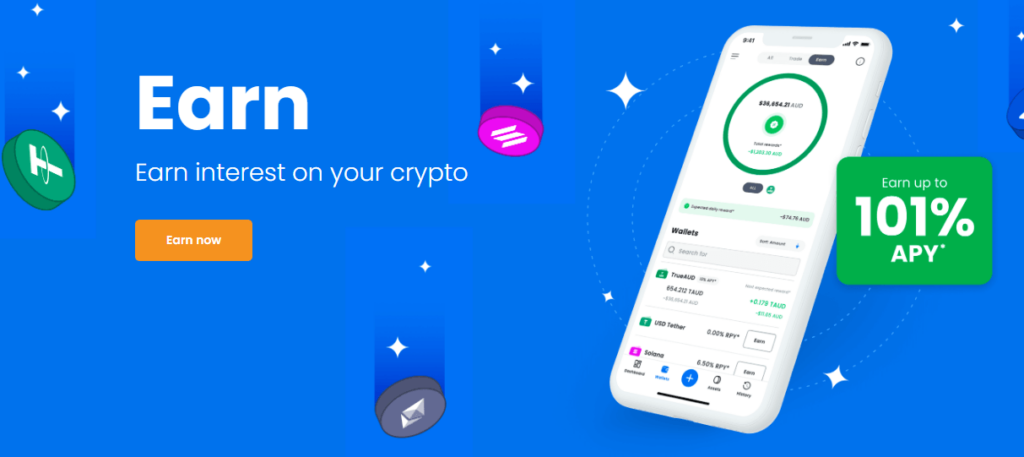 Simply put, you can generate passive income by locking the appropriate cryptocurrency on your Swyftx wallet and earning passive income on the staked coins that would otherwise just sit idle in your account.
Customer Support
Client assistance is where I feel Swyftx really shines, and my impression is that Swyftx is genuinely up to the task and prioritises its users above all. From my perspective, Swyftx is one of the exchanges that mainly shine in the area of customer support because its crypto traders have the option of calling in and having a live conversation with a support representative.
Furthermore, during Swyftx hours, you can obtain live chat assistance for any questions you may have. In addition to an email helpdesk, Swyftx users can also reach the exchange's support team through several social media platforms. Most Swyftx complaints are better submitted to live chat support or by contacting Swyftx contact number for faster solution. If the problem is not that urgent, sending a ticket to Swyftx email address is enough.
Swyftx Demo Mode
Learn the ins and outs of the cryptocurrency market and try out new trading methods with this helpful Swyftx tool. With a Swyftx demo account, you can trade cryptocurrencies using real-time market data at no risk to your capital.
When you enable the demo mode, you can practise trading BTC, ETH, XRP, and more than 300 other cryptocurrencies using the virtual currency deposited into your Swyftx demo account. The software will even replicate worldwide liquidity and market depth, thus allowing you to experience the full scope and complexity of the trading process.

I'm more than confident that beginners would love this Swyft feature, as the Demo Mode can undoubtedly help them get over the crypto growing pains in a smooth and financially painless way.
OTC Trading
Swyftx is a user-friendly platform that offers more than just simplified solutions for crypto trading newbies. Namely, an over-the-counter (OTC) desk is available for experienced and high trading volume traders to fill orders that might generate disruption in the market.
The expert consultants of this exchange will help you execute the high-volume order worth more than $100,000, settle the deal, and offer continuous assistance throughout the trading process.
SMSF Support
From what I know, Australia's tax system is quite accommodating for cryptocurrency investments compared to other countries. That's why the Self-Managed Super Fund (SMSF) is a popular option among the Aussies to invest in Bitcoin and other cryptocurrencies.
There is currently no other vehicle for Australians to invest in cryptocurrencies for their retirement other than through SMSFs, as the trustee-managed SMSFs are operated for the benefit of the trustees themselves.
You see, the Australian Tax Office (ATO) has a regulation in place for SMSFs that taxes income at a rate of only 15%, while long-term profits incur a 10% tax. When it comes to crypto investments, the profits generated from the digital assets included in the pension plan are exempt from taxation.
If you opt for this kind of investment, your SMSF can use Swyftx to purchase Bitcoin and other crypto assets to diversify your retirement savings, which I think is a great way to go toward a more robust retirement plan.
Bundles
Swyftx Bundles are collections of virtual currencies that can be purchased alone or as part of a larger deal. In my opinion, any cryptocurrency investor who's on the fence about which cryptocurrency to invest in might benefit from this financial instrument.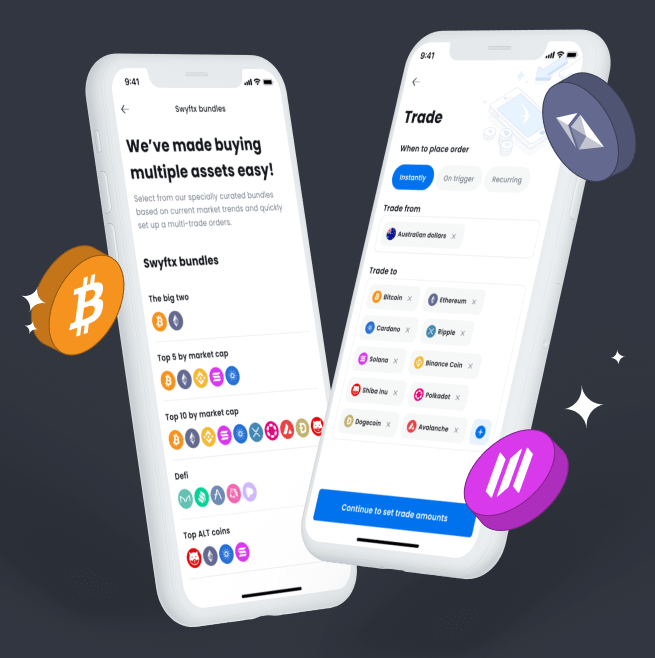 By purchasing virtual currency in bulk through the Bundle offering, crypto investors can save money on their transaction fees.
Coin Swap
Coin Swap, a popular function on Swyftx, facilitates the instantaneous exchange of one cryptocurrency for another. To be more specific, a swap order is an automated method that incorporates both selling and purchasing an asset at the same time. As an illustration, let's say you utilise the Coin Swap to sell your LTC and acquire BTC in a single, consolidated transaction instead of submitting two separate orders.
You should be aware that if you are employing Bitcoin as your primary currency, you will not be able to swap any other asset for BTC. Additionally, this tool does not enable exchanging crypto for fiat currencies. Thus, you can only trade cryptocurrencies with one another.
Tax Reporting
When it comes to simple, hassle-free, and legally compliant bookkeeping in Australian dollars, Swyftx's option to download and create detailed tax returns is invaluable, in my opinion. These tax reports are available for download and may be tailored to any time.
The crypto calculator on Swyftx is just one more way the exchange strives to make your tax preparation experience as smooth as possible. To get an idea of how much capital gains tax (CGT) you might owe if you sold or swapped some cryptocurrency, I strongly recommend using this calculator.
For the purpose of generating a precise calculation, you will be required to supply a few facts about your cryptocurrency asset. These details include the sales price of the asset, the cost basis, the taxable income, and the term of ownership, so my advice would be to keep a detailed account of all your crypto transactions.
Recurring Orders
You'll be able to save time and effort by automating your cryptocurrency investments with the recurring orders option. Just set up automated contributions to your Swyftx account regularly to invest in several cryptocurrencies. As I've learned firsthand, having the chance to automate your orders is a time and labour-saving boon.
Mobile App
Swyftx provides a mobile app that facilitates instant buying and selling of cryptos. After you've funded your Swyftx account, you'll gain access to more than 300 digital currencies. This cryptocurrency trading app also has an exchange option that allows instant crypto swaps.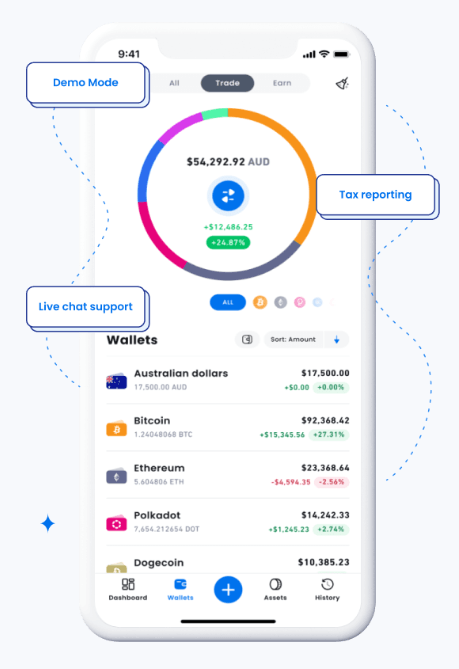 What I liked about this app is that it provides personalised customer support, including a live chat feature where you can speak with one of the exchange agents in Australia or New Zealand.
Furthermore, you can activate the price alert feature to monitor your cryptocurrency portfolio's performance and maintain a competitive edge. You'd agree that setting up price alerts to inform you when a particular coin reaches a predetermined price can sometimes be a game-changer in the ever-fluctuating crypto market.
Swyftx $20 Sign-up Bonus
Swyftx is running a fantastic incentive for all new customers. After completing the registration process and verifying your Swyftx account, you will automatically be credited with free Bitcoin worth $20 and start your Swyftx auto trader account.  
Signing up and authenticating your identity is simple and takes a couple of minutes, and once you finish it, you will immediately be awarded some free crypto. For a more detailed guide, check out our how-to on the Swyftx referral code.
How to Use Swyftx – How to Trade On Swyftx?
Signing Up
It doesn't take long at all to set up an account on Swyftx. To get started, go to the website's top right-hand corner and tap the dedicated Signup button. Did you know you can get $20 FREE Bitcoin when you sign up using a simple Swyftx referral code? Check out how here.
You can then input your email address, contact details, and password in the Swyftx registration form.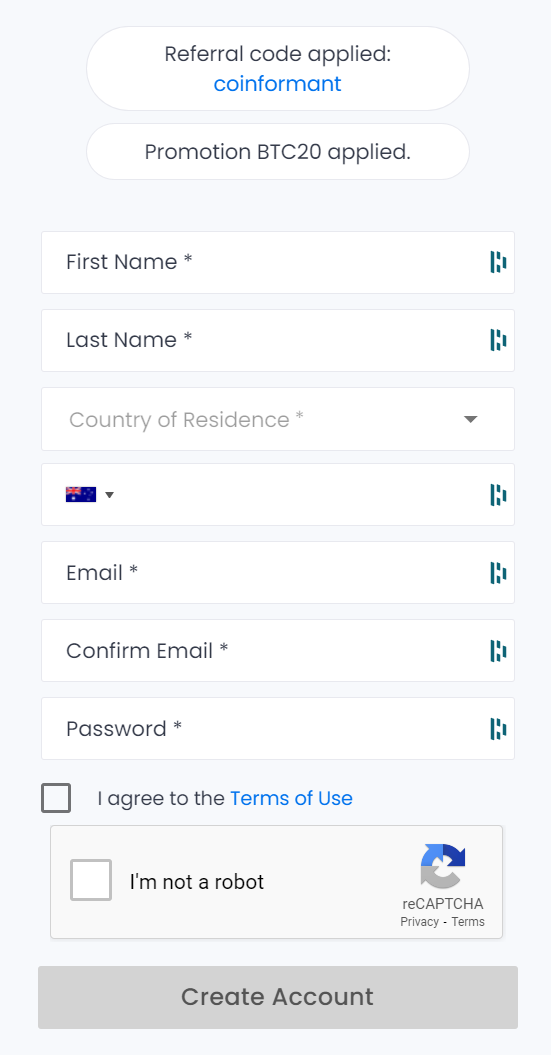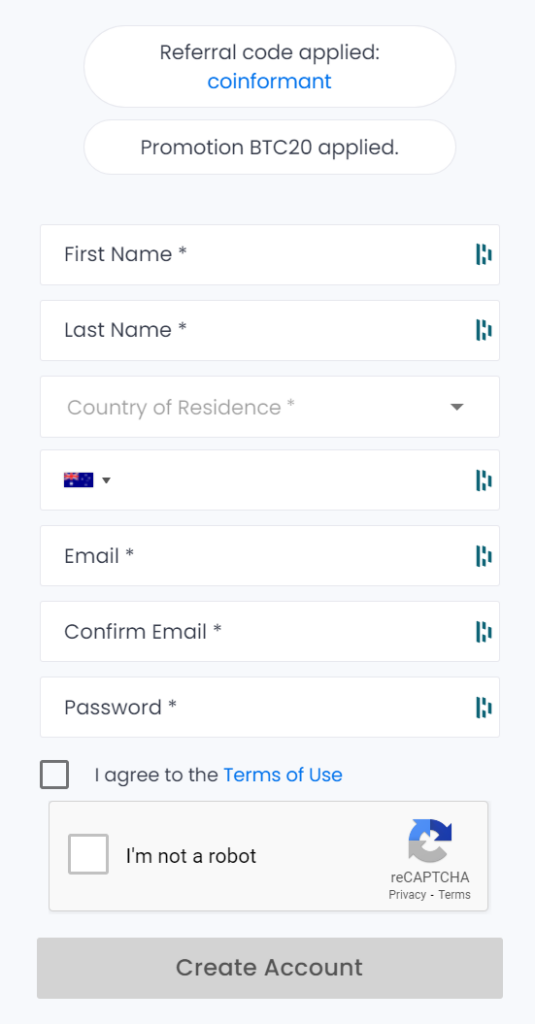 Next, tick the boxes to agree to the T's and C's of the exchange and complete the captcha. To finish the registration process, click on the button that says Create my Account, and you're done.
Verifying Your Account
Swyftx must conduct a quick identity check on every client before authorising them to deposit funds or engage in trading under the Australian Know Your Customer (KYC) requirements to prevent money laundering schemes.
To begin the KYC procedure, access your trading account and select Profile on the left navigation bar. Next, clicking the Swyftx Verification button will prompt you to submit a valid email address, your phone number, and an ID document.
These documents are checked one at a time. The process of validating your email address, on the other hand, is straightforward. To verify your account, simply follow the instructions in the email and click the link in the electronic communication.
The phone number verification doesn't take additional time or effort either. If you click the Verify Now button located beneath the phone number section, an SMS containing a 6-digit PIN will be delivered to your device. Simply type the PIN into the pop-up box and finish the phone verification procedure by clicking on the dedicated button.
Transferring Funds
After the exchange verifies your trading account, you'll need to fund it before you can venture into trading cryptos. It is possible to deposit AUD funds into your Swyftx account in a few different ways: via bank transfer, Visa/Mastercard credit/debit cards, Poli, Silvergate SEN, or PayID. While Swyftx doesn't charge for deposits, some payment providers may charge a fee for their payment processing services.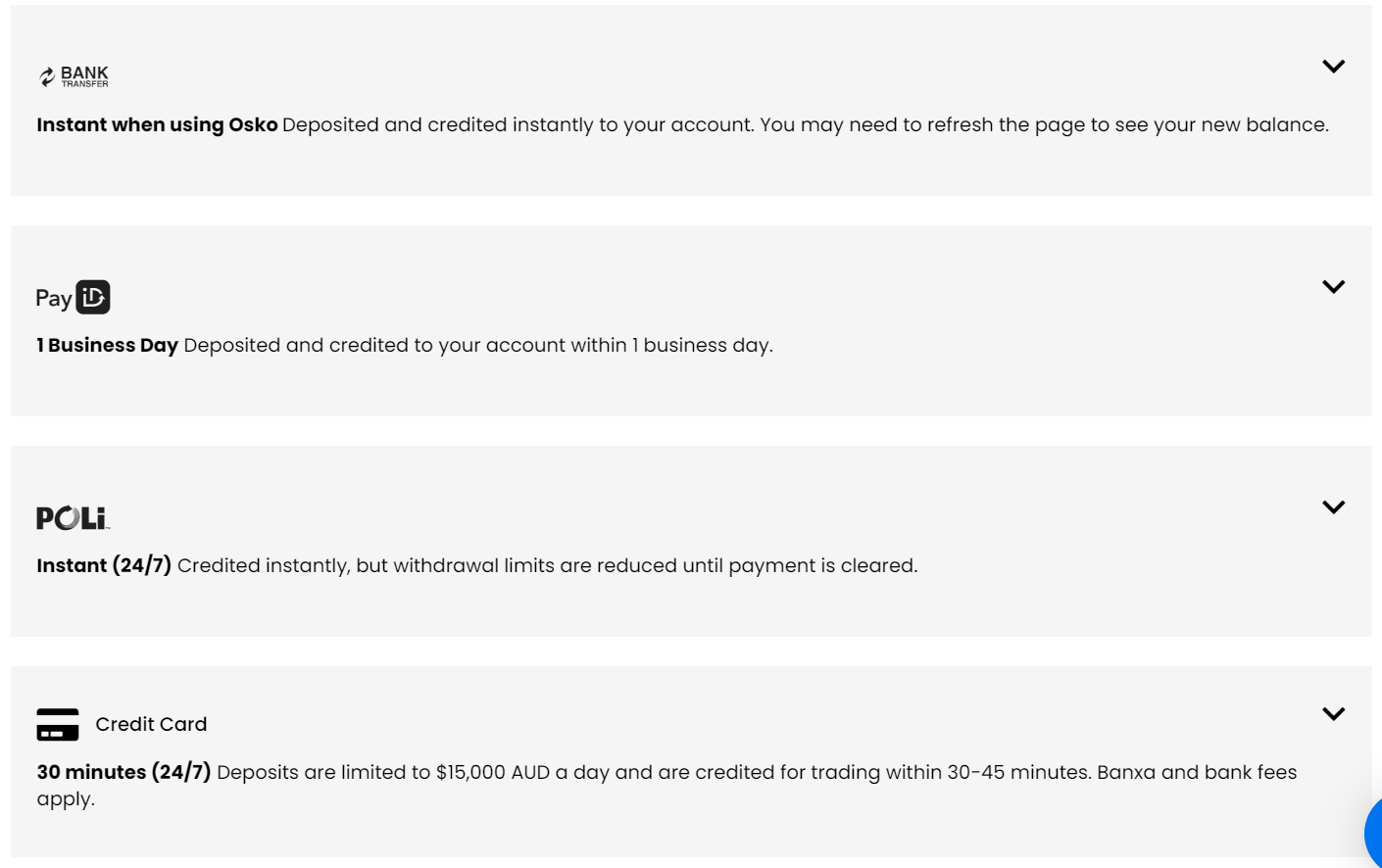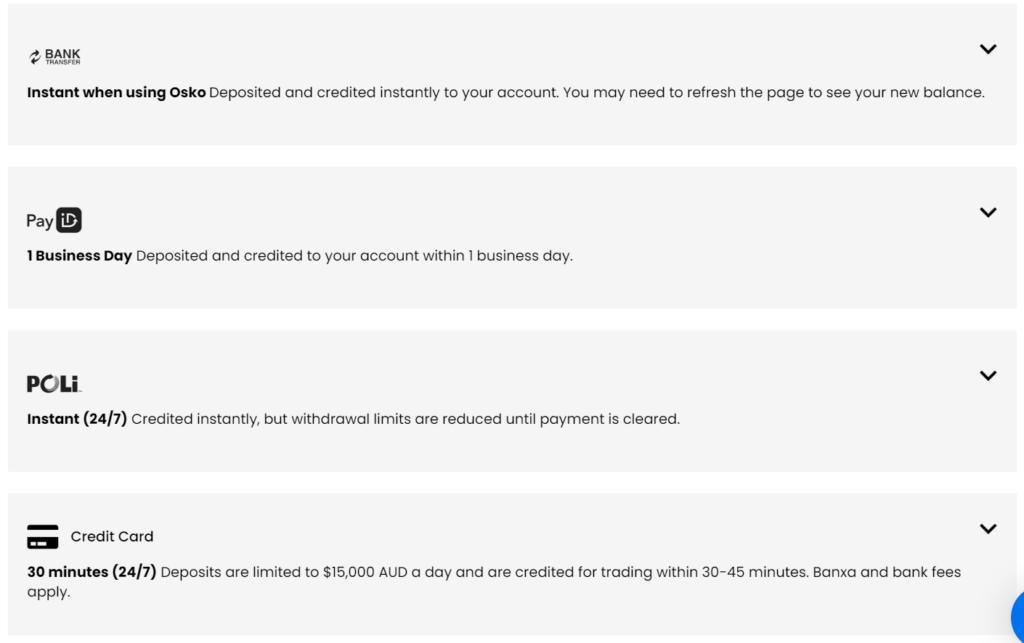 But, let me demonstrate this process using PayID as the most common payment provider. It's a walk in the park, I can assure you.
First, locate your Swyftx account's PayID address. Now, locate the Quick Actions option on the dashboard and select Deposit Funds. Go to PayID as the deposit method from here, and copy the PayID (email address) from the deposit details.
You'll need to fund your account in the second step of this procedure. For this, log into your bank and create a new payment via PayID. Then, to finalise the transfer, enter the email address from the deposit display and the sum you wish to send.
How to Buy or Send Bitcoin or Crypto on Swyftx?
When you're ready to start trading on Swyftx, you might want to explore the platform using the Demo Mode I mentioned previously in this article. However, if you are confident enough to trade with real money, you have many trading possibilities available.
You can use the swap crypto option to easily and quickly exchange tokens such as Bitcoin. If you feel more adventurous (and experienced), Swyftx gives you the ability to employ more sophisticated investment options in your trading strategies (such as market, limit, and stop-loss orders), so that you can get the most out of what the crypto market has to offer.
Conclusion
Swyftx is an Australian cryptocurrency exchange established upon the basis of the experiences of traders, for traders, and by traders. The wide selection of altcoins, tokens, and stablecoins on this platform is a big plus in my book, as it ensures that any trader can discover the currency that best suits their needs, whether they're just starting in the crypto market or want to fine-tune their trading approach.
Combine that with a handy demo mode, the great app, the fantastic support, and the competitive fees, you can't wrong with Swyftx in our opinion!
Related:
Frequently Asked Questions
Is Swyftx Safe? Is Swyftx Legit?
Swyftx is both safe and legit. Swyftx is an AUSTRAC-supervised and licenced marketplace that combines many layers of security to secure its users' digital assets. Moreover, this Australian exchange uses state-of-the-art security protocols to ensure a risk-free cryptocurrency trading and crypto storage experience for its users.
To illustrate, some of the many security measures implemented in the platform's architecture include: encrypting software, two-factor authentication (2FA) protocol against unauthorised account access, screening for system vulnerabilities and permeations, biometric user authentication systems, and password infringement monitoring systems.
Does Swyftx Have Australian-Based Customer Support?
Swyftx does have a team of more than 50 Australians dedicated to providing top-notch assistance to Swyftx clients.
Is Swyftx Good for Beginners?
Indeed, Swyftx is a very user-friendly exchange that provides streamlined trading instruments suitable for beginners. In addition, a demo trading mode is available so that novices can get comfortable with the platform and its trading instruments before investing real money in the crypto market.
Is Swyftx an Australian Company?
Swyftx is a native Aussie exchange headquartered in Brisbane, Queensland, Australia. The Australian-owned and operated business provides its financial services exclusively to Australian residents.
Is Coinbase Better than Swyftx?
Similarly to Swyftx's status in Australia, Coinbase is widely considered to be the most user-friendly platform – globally. This American exchange provides crypto investors of all expertise levels with access to a diverse selection of streamlined trading options, suitable for beginners as well as seasoned professionals.
The biggest discrepancy I detected during my research of the two exchanges is in the trading fees. It's true that the flat cost charge by Swyftx is more than the fees that other comparable exchanges like Digital Surge, CoinJar, or CoinSpot charge for their services.
However, since Australian citizens can fund their Coinbase trading accounts only with credit cards, the fees associated with trading on Coinbase are effectively doubled. As a result, Australians are returning to their native Swyftx exchange because it turns out to be a more cost-effective alternative.
Is Swyftx Better than Binance?
It doesn't seem right to compare any trading platform to the world's largest, most liquid, and most popular trading platform that's Binance, which also happens to include the broadest assortment of alternative cryptocurrencies.
Which Is Better, CoinSpot or Swyftx?
When looking for trustworthy exchanges in Australia, both Swyftx and CoinSpot come highly recommended. With over a decade in the industry, ISO 27001 certification, and more than 2.5 million active traders, CoinSpot has earned a reputation as one of Australia's safest and most trustworthy cryptocurrency exchanges.
However, Swyftx, although a relatively new platform, has quickly grown to become the second-largest Australian cryptocurrency exchange. While both of these crypto exchanges have a solid reputation for being trustworthy and user-friendly, I prefer Swyftx due to the absence of transaction fees associated with deposits and withdrawals.
Who Owns Swyftx?
Swyftx Pty Ltd is the company that owns and operates the Swyftx cryptocurrency exchange, with Alex Harper as one of the co-founders and CEO at its helm.
Does Swyftx Have a Withdrawal Limit?
Yes. But, before I outline the withdrawal limits on Swyftx, I want to emphasise that your verification level affects the maximum amount you may withdraw from this exchange. Back to our point, Swyftx's daily withdrawal cap amounts to 100,000 AUD and is much higher than that of not just the world's largest but also Australia's most popular trading platforms.
What Does Swyftx Stand For?
Swyftx's official site Swyftx did not specify the meaning of what Swyftx means. However, based on our personal view, the letter "x" usually means exchange and the word'swyft' may refer to swift. If this is the case the word could mean fast or quick exchange. Also, take note that due to Swyftx's unique name, often times it is misspelled as swfitx, syftfx, sywyftx, swytex, swyfts, swyfix, swyxt, swifyx, swifytx, swyftix, swydtx, swiyftx, swftxy, swftex, swiftx, swiftfx, swftx, swiftex, swyfyx, swftfx, swiftyx, swytx, awyftx, swystx, swfyx, seyftx, swytfx, swyftfx, swyfxt, sywftx, swyftyx, swftyx, swuftx, syftx, switftx, swtfyx, swyftx, swfytx, swyftz, swyftex, swyft x, and swyfty.
How to Withdraw Money (AUD) From Swyftx?
Select Quick actions, then choose Withdraw funds.
Input the account's name. (This allows you to identify where you're sending money).
Input the account holder's name, the account number and BSB.
Select Add. After that, you'll receive the SMS confirmation code.
Input the verification number.
Check your email , and click that link, which will confirm your address.
If the information is correct, click Verify to proceed.
If you trade in USD it is necessary to convert it to AUD prior to making withdrawals.
In Quick Actions, choose To withdraw funds.
Choose an account on your account at a bank.
Click on the Amount to withdraw and type in the amount you wish to withdraw.
Choose a reason to stop withdrawal.
Select Withdraw.
How Long Does It Take To Withdraw From Swyftx?
In less than a minute in the event that your bank uses Osko. 2 business days if your bank doesn't use Osko.
How to Withdraw Bitcoin From Swyftx?
Select Withdraw/Send from the menu in the side.
Choose the asset you wish to take out.
Choose the account that will be used to transfer the asset to.
Enter the value of the asset that you would like to transfer.
Choose a reason to send from the drop-down list.
Select Continue to transfer the asset.
Input the verification number in order to confirm the withdrawal.
What Exchange Does Swyftx Use?
If you're referring to a the term liquidity provider that is, Swyftx employs a range of liquidity providers around the world among them is Binance.
How to Make Money on Swyftx?
Buy eligible earn cryptocurrencies. Choose a cryptocurrency which are eligible to be used for Swyftx Earn.
Choose the cryptocurrency that you would like to earn interest with. Choose a suitable cryptocurrency from your trading account that you want be earning interest.
Earn. interest.
Does Swyftx Offer Leverage Trading?
Unfortunately, there's no Swyftx leverage as of the moment. But Swyftx's development team is looking to implement this feature going forward. 
Can You Short On Swyftx?
No, this feature is not yet available on Swyftx.
Does Swyftx Has Its Own Card?
Right now, the exchange doesn't offer any Swyftx credit card or debit card.
Does Swyftx Have an Affiliate Program?
Yes they do. You can apply to be a Swyftx affiliate and start earning some passive income on up to 30% paid into your account every month!
Is Swyftx Scam?
Absolutely, not! In fact, Swyftx is one of the most regulated and well-known crypto exchange in Australia! So, rest assured that Swyftx is not a scam.
How we review crypto exchanges.
We test, review and rate exchanges by looking at their ease-of-use, trading features, customer support, and fees. Analyzing user reviews helps us assess the overall sentiment and finalise our opinion and review.