Swyftx vs CoinSpot for 2023
Our quick summary: The main difference between Swyftx and Coinspot is that Swyftx has better fees and a much tighter spread.
They both roughly have the same amount of cryptocurrencies on offer & the same variety of deposit methods.
We prefer Swyftx, but Coinspot definitely not a bad choice either! Swyftx also currently offers free $20 worth of BTC for new traders!
Selecting the right Australian crypto exchange for your trading operations is just as important as your trading strategy because all the profits you've made can be jeopardised if you're using an exchange platform with poor security.
Not to mention how high platform fees can seriously impact your profits. That's why you should be extra careful when choosing a crypto exchange platform because, unfortunately, many platforms aren't worth your while.
The safest thing you can do is stick with the most popular crypto exchanges. Luckily, Australian crypto traders really have some top-quality local trading platforms at their disposal.

VS

Platforms like Swyftx and CoinSpot are examples of two of the best cryptocurrency exchanges available to brokers in Australia, and honestly, it's very difficult to decide which one is better.
That's why we've prepared a detailed, comparative review of both exchanges to find out which one of these platforms provides better services to crypto enthusiasts.
Swyftx vs Coinspot: Comparison
Features
Swyftx
CoinSpot
Supported Cryptos
300+ coins
300+ coins
Trading Fees
0.6%
Market: 0.1% Instant Buy: 1%
Deposit Fees
Free
Free for OSKO,PayID, POLi, bank transfer.
BPAY: 0.9% and Cash deposit: 2.5%
Withdrawal Fees
Free
Free
Average Market Spread
0.4%
2.2%
Regulatory Status
AUSTRAC regulated
AUSTRAC regulated
Customer Support
Email, support ticket, and live chat.
Email, support ticket, and live chat.
Payment Methods
OSKO, PayID, POLi, bank transfers, credit cards, debit cards.
OSKO, PayID, POLi, bank transfers, credit cards, debit cards, cash deposits, BPAY.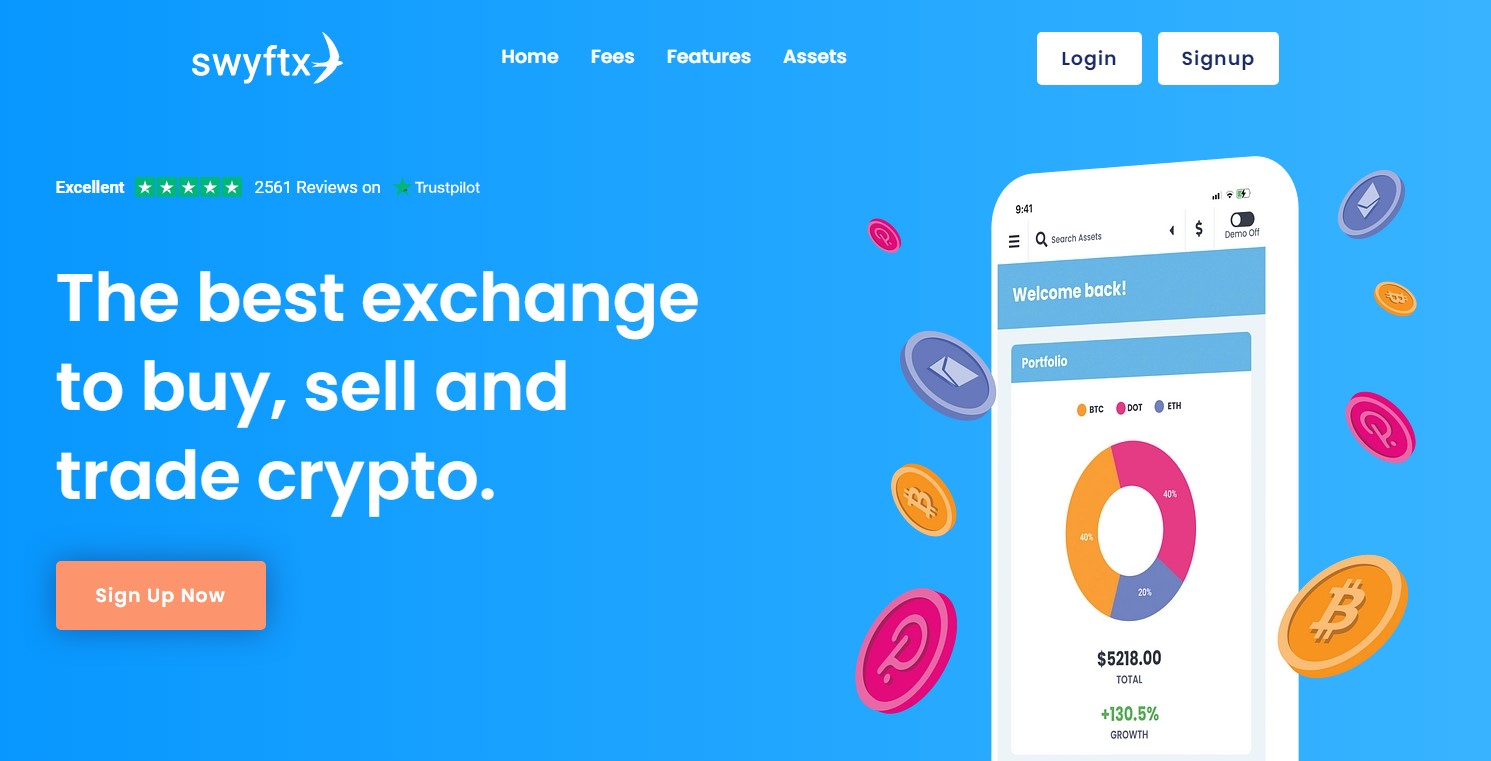 Features
100% Australian exchange
4.8/5 Trustpilot score
Regulated by AUSTRAC
Instant AUD withdrawals
OTC and SMSF options
Earn up to 80% interest on crypto
Live Chat and Phone Support
Recurring orders
Demo mode available
Real-time price feed & API
Stop, On Trigger & Market Orders
Full tax reporting
Pros
The market spreads are the lowest among Australian crypto exchanges.
Nearly 300 crypto coins and tokens available for trading, along with stable liquidity for all supported assets.
The customer support team is simply perfect, with a very short response time.
The platform offers users crypto tax software services to help them file their taxes.
Very beginner-friendly platform.
Supports crypto staking.
Has a demo mode for beginners to practice trading.
AUSTRAC regulated.
Supports two more fiat currencies besides AUD: NZD and USD.
Cons
The platform doesn't have a classic trading interface with an order book.
Users can't engage in margin trading or futures trading.
Very limited order types and no advanced technical analysis tools.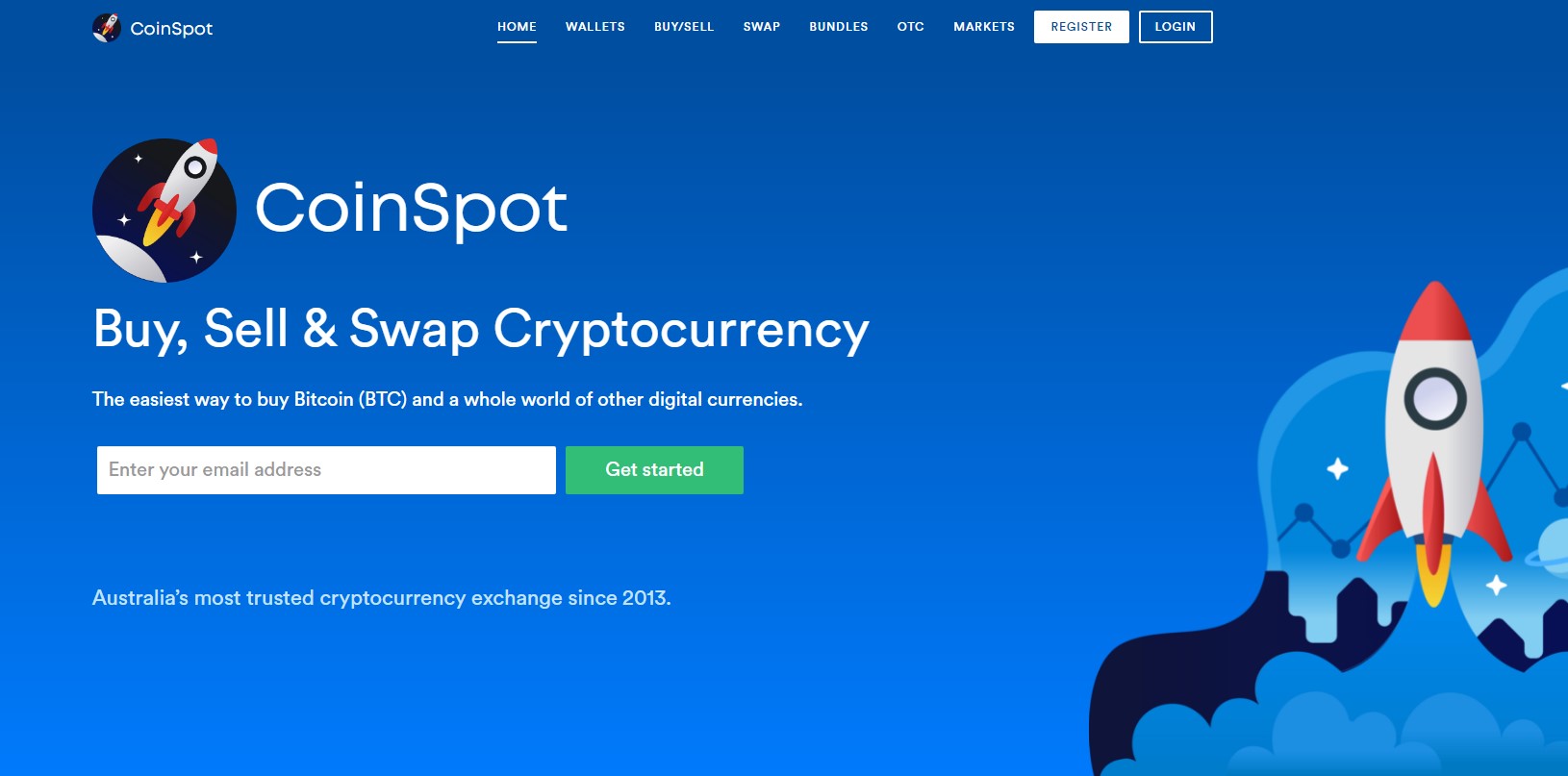 Features
AUSTRAC registered
ISO 27001 accredited security standards
OTC trading available
Includes multicurrency wallet
User-friendly trading platform
Coinspot Bundles help diversify your portfolio
Free crypto staking
Great mobile app
24/7 customer support via email or phone
Live chat support team
NFT marketplace
Pros
CoinSpot supports an excess of 350 different cryptocurrencies.
Has a classic trading platform interface with various market order types, order books and technical analysis tools.
Very responsive support team.
Low market trading fees.
AUSTRAC regulated.
Cons
Doesn't support margin trading.
A bit complex for beginners.
The fees for instant buy/sell deals are quite high.
Supported Cryptocurrencies
A strong selection of digital currencies is essential for the popularity of every crypto exchange. That's why reputable exchanges tend to offer users a mix of leading, high-cap coins, and a careful selection of mid and low-cap altcoins that are trending on the market.
Swyftx allows users to buy, sell, and exchange over 300 coins and tokens with relatively stable liquidity levels, and modest market spreads. You can choose Bitcoin (BTC), Avalanche (AVAX), Terra (LUNA), Dogecoin (DOGE), Ripple (XRP), Tether (USDT), Binance Coin (BNB), Shiba Inu (SHIB), Ethereum (ETH), or Cardano (ADA), to name just a few.
CoinSpot also supports more than 300 coins, which is several tens of crypto more than the Swyftx selection; however, CoinSpot often has crypto liquidity issues that make it quite pricey for users to invest in some low-cap coins.
Crypto Selection Winner: Swyftx
If we just look at numbers, CoinSpot probably offers a broader choice of cryptocurrencies compared to Swyftx, but numbers aren't everything.
The fact that Swyftx ensures relatively stable liquidity levels for all of their supported crypto assets means that users never have a hard time trading any of the available coins, while CoinSpot often has liquidity difficulties with less popular coins. This is why our vote goes to Swyftx.
Fees
Platform fees are one of those key factors that can make or break a crypto exchange, because everyone wants to pay as little as possible in terms of fees, while getting high-quality services in return.
Swyftx is an exchange platform made for the average crypto trader who wants to be able to conduct fast crypto trading deals without thinking about complex fee structures. That's why Swyftx has a straightforward trading fee model where absolutely all trading deals incur the same 0.6% platform fee.
When it comes to deposits, all AUD deposits and withdrawals are free. Crypto transactions to or from the platform are also free, but you'll be charged the basic blockchain transaction fee for the chain you're using to transfer crypto.
CoinSpot has a lower standard trading fee compared to Swyftx. The basic market fee starts at 0.1%, but CoinSpot has a different, ten times higher fee for instant buy and sell services. Every instant buy/sell deal is charged with a 1% trading fee which is quite expensive.
Advanced order types such as stop-loss or recurring orders are also charged 1%. Some fiat money deposit methods such as PayID and POLi are free, BPAY is charged 0.9% per deposit, while cash deposits are charged 2.5%. Fiat withdrawals are free, while crypto deposits and withdrawals only incur a blockchain transaction fee.
Fees Winner: Swyftx
Despite the generally lower 0.1% market fee on CoinSpot, our vote goes to Swyftx because their standard 0.6% trading fee is considerably lower than the 1% instant buy/sell fee on CoinSpot.
Many crypto investors dominantly use instant buy services, and CoinSpot is quite expensive for those users, while Swyftx charges the same fee for all types of market orders.
Spreads
The market spread is another key factor that users should consider right next to platform fees. The market spread is the difference between the buy and sell prices for a certain crypto or trading pair on a specific exchange platform.
It's important to choose exchanges with low market spreads because you can profit a lot faster when the buy/sell price difference is low. When the spread is high, you'll need to wait for the asset price to increase quite a lot before you're able to make some gains.
Also, having large spreads means that you'll be paying much more, even if the platform has lower fees overall.
Swyftx is known for the lowest market spreads among Australian crypto exchanges. The average Swyftx spread is 0.4%, which is much lower than some less liquid platforms with spreads that can go even above 4%. CoinSpot's market spreads are much higher compared to Swyftx, with an average 2.2% spread.
Market Spread Winner: Swyftx
Swyftx is the absolute winner in this category, thanks to their really low market spreads, which work great in combination with the stable liquidity of their supported cryptos.
Customer Support
Customer support might not seem that important to you at first, but once you have a problem with your exchange platform account, you'll quickly realise that only the support team can help you. That's why it's important to choose a crypto exchange with a solid support team, and in this aspect, Swyftx and CoinSpot are both excellent.
Unlike many popular international crypto exchanges that only offer email and support ticket options, Swyftx and CoinSpot have live chat options for contacting their support teams.
These live chat support options don't mean that you're talking to a chatbot. Instead, you'll be able to directly chat with a live person from customer support and get your problem solved as soon as possible.
Customer Support Winner
In terms of customer support, there's no winner. It's definitely a draw because both platforms have very responsive and highly professional support teams that can quickly solve any of your platform issues. The support team response time is literally just a few minutes on both platforms.
Mobile Apps
All of the best crypto exchanges provide their users with mobile app versions of their platforms because most traders want to be able to access their portfolio and trade crypto remotely, without the need to use their desktop or laptop devices.
Swyftx has a tremendously smooth working, user-friendly mobile app compatible with Android and iOS mobile devices. All of the features of the browser version of Swyftx are also available on the mobile app.
CoinSpot's app is also compatible with Android and iOS, and it's a lot easier to use than the browser version of the platform, which is a huge plus for beginners who might find the online version too complicated. Users can conduct all of their trading operations through the CoinSpot app, including advanced trading orders.
Mobile App Winner: Coinspot
The mobile app winner is CoinSpot because their app offers more features and trading functionalities than the Swyftx app. However, keep in mind that the Swyftx platform generally doesn't have advanced trading tools and a classic market interface, making the competition between the two apps a bit unfair, favouring CoinSpot.
Deposit Methods
Crypto traders prefer to have multiple deposit methods when using a crypto exchange. It's especially important for crypto enthusiasts to be able to deposit fiat money into their platform account and then spend it later as they wish.
Swyftx supports OSKO, PayID, POLi, Australian bank account transfers, credit cards, and debit cards. The best thing about all these deposit methods is that they are totally free.
CoinSpot supports all of the same deposit methods, along with cash deposits and BPAY, but BPAY deposits incur a 0.9% fee, while direct deposits of cash incur an even higher 2.5% fee.
Deposit Winner: Swyftx
CoinSpot does provide users with a few additional deposit methods, but they aren't free of charge, and the cash deposit fee of 2.5% is rather expensive compared to the totally free deposit methods on Swyftx. For this reason, Swyftx is our winner.
Security
You shouldn't ever make compromises regarding the security of your crypto portfolio. Platforms with poor safety measures or ones that have been victims of major hacks should definitely be avoided.
Swyftx is considered one of the safest platforms for Aussie traders. The platform has never been hacked, and it's subject to regular external security checks that aim to locate vulnerabilities and patch them up.
Additionally, all user accounts are protected by passwords and optional two-factor authentication (2FA), requiring users to confirm every transaction or platform login either through their mobile phone or email.
Swyftx also uses a Know Your Customer (KYC) protocol that requires users to provide personal details for informational purposes, in order to prevent scams and money laundering.
CoinSpot uses similar security measures, and although it has no record of any platform hack, there's a shady CoinSpot account credentials phishing campaign that aims to steal login information from users through fake CoinSpot impersonator emails.
Security Winner: Swyftx
Although both platforms have a clear security hack record and use strong security measures, our winner is Swyftx, due to the ongoing phishing campaign against CoinSpot users, which can pose a serious threat to new users who aren't familiar with phishing attacks.
The Final Verdict
Both Swyftx and CoinSpot are top-quality crypto exchanges, but based on our comparative review, Swyftx is a bit better, thanks to its supremacy in several key categories. Swyftx nailed it in terms of security, trading fees, market spread, and deposit method fees, which are all important categories for crypto traders.
OR
Related:
Top Crypto Exchanges Compared