Tokenize Xchange Review for 2023
Quick Summary: Tokenize Xchange provides a simple and easy-to-use user interface for users to buy cryptocurrencies such as Bitcoin and Ethereum with SGD via Xfers. Since being founded, the platform has grown rapidly with more than 100,000+ users using its products and services. 
Combined with the ability to earn interest and competitive trading fees, Tokenize Xchange is a solid pick to buy crypto assets with SGD. Aside from that, the exchange also provides powerful charting and tools through integration with TradingView. 
And if you're a 'HODLER,' it's good to know that Tokenize Xchange has insurance of up to USD $100 million.
Tokenize is not a typical run-of-the-mill exchange platform. In fact, it's anything but.
The trading platform offers users an order book that features twenty cryptocurrencies paired in 45 different ways. This might not seem like a lot of trading pairs to pick from, however, the currencies and pairs that are supported come at very low fee rates.

In order to understand the whys and hows of Tokenize, traders have to have innovation on the top of their priority list. Not to be mistaken, Tokenize still delivers on features such as customization, charting and analysis tools, education, a respectable list of deposit methods that include SGD deposits by Xfers, and bank transfers, but that isn't quite where the crux lies.
Tokenize has the trust and business cards of over 100,000 investors. The trading platform isn't unique or groundbreaking per se, but it's forward-thinking and embraces the tides. With Tokenize, you know exactly what you're in for and where you stand. Let's see just how deep the rabbit hole goes. First stop, ground zero.
Tokenize Exchange at A Glance
Website: https://tokenize.exchange/
Country: Singapore and Malaysia
Mobile App: Available
Payment Methods: Crypto Transfer and wire transfer
Fiat Currencies: SGD
Cryptocurrencies: BTC, ETH, XRP, LTC & 16 other
List of Features
Competitive Tokenize exchange fees
Token metrics and a detailed analysis
The ability to earn cryptocurrency interest
Deposit SGD by Xfers or bank transfer
Tools and charts that are powerful by integrating with TradingView
20 cryptocurrency assets to purchaseor sell
Easy and quick to establish an account
Insured up the amount of USD $100 million
Pros
The insurance company has $100 million to cover trading.
A complete price list.
Mobile trading application.
Provides referral opportunities.
Minimum Tokenize withdrawal fees charged.
High-end security platform , which includes the 2FA.
Supports up to 20 crypto currencies for transactions.
Cons
Not that high liquidity
Fiat-to-crypto exchange is available in Singapore only.
There aren't any advanced trading or instruments for managing risk.
What Is Tokenize Exchange?
Tokenize's story began in 2018. The platform resides in Singapore where it's registered as a digital currency exchange platform. Where Tokenize shines the most is in its easy-to-use interface and features.

The API is designed from the ground up to be very user-friendly and offer traders all the tools that they'll need to navigate their accounts and execute trades even if they do not have significant prior experience in crypto trading. In order to get started, users need to register for an account and connect it to a bank account. Once that's settled, they can begin trading Bitcoin, altcoins, and ICO tokens. More on the Tokenize Emblem (TKX) to follow.
How Does Tokenize Work?
Tokenize distributes users in three different TKX holding categories. Users that have less than 160 TKX on their balance sheet are part of the Basic tier. The Premium tier is reserved for those holding anywhere between 160 and 800 TKX. The Platinum tier is available to traders that have stored more than 800 TKX on their accounts.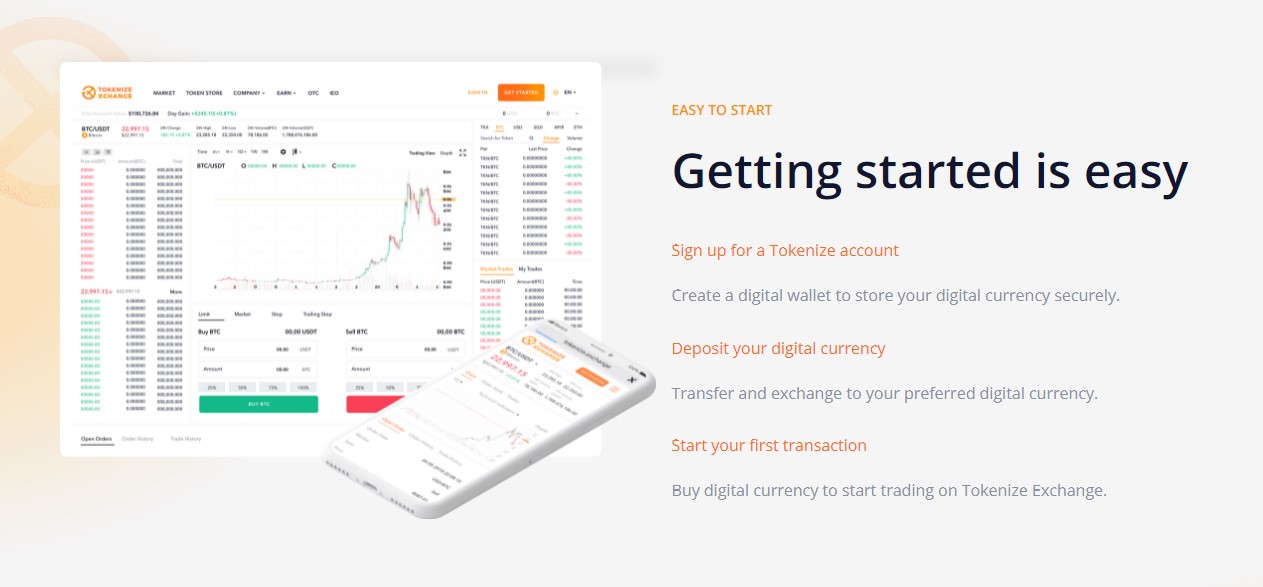 As the tiers progress, they support higher caps on withdrawals and employ better and more competitive fees. Platinum users aren't subject to any fees whatsoever when it comes to crypto deposits, while Premium traders are in for 30% off on select fees.
Bitcoin and Other Supported Cryptocurrencies
As aforementioned, the Tokenize Exchange supports 20 currencies shuffled in 45 trading pairs. Traders are able to do business and take advantage of some of the most well-known and coveted digital currencies on the market such as Bitcoin (BTC), Bitcoin Cash (BCH), Ethereum (ETH), Litecoin (LTC), SushiSwap (SUSHI), XSGD, and Ripple (XRP).

The platform accepts wire transfers for both depositing and withdrawing US dollars and Singaporean dollars. Traders can deposit funds with their debit and credit cards for quicker processing but do so at higher fees.
If, as a trader, you do your deposits through Xfers, the SGD deposit fees for the Basic tier accounts are a fixed 0.55%. The Basic tier accounts cap out at $20,000. Premium tier accounts aren't subject to bank deposit fees and the ceiling on deposits ranges from $50,000.00 up to $200,000,
Tokenize Trading Fees
| Membership | Fiat-Crypto | Crypto-Crypto |
| --- | --- | --- |
| Normal | 0.60% | 0.15% |
| Premium | 0.30% | 0.05% |
| Platinum | 0.05% | 0.01% |
Tokenize makes it easy to calculate its trading fees because it employs a fixed fee system. Both takes and makers are in for a fixed 0.25% flat trading fee.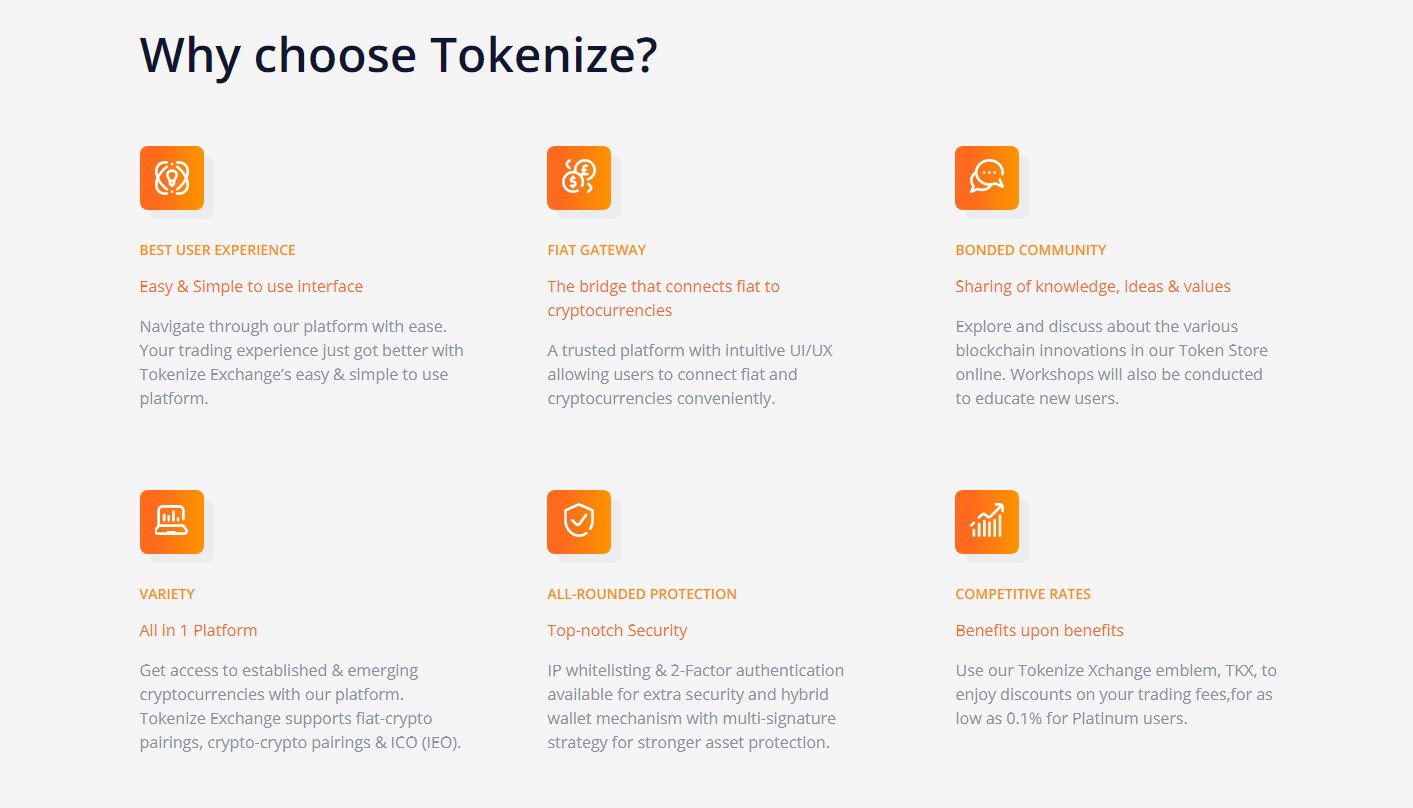 Withdrawal fees are a different story but are still easy to navigate. Crypto withdrawal fees don't depend on the blockchain. Instead, the withdrawal fees are set at 0.02%, except in cases where the 0.02% is less than 0.0005 BTC. In those instances, the exchange platform employs a 0.0005 BTC fixed fee.
Take note that each membership account comes with rewards and incentives that include discounts on withdrawal fees and trading fees.
Security: Is Tokenize Xchange Safe?
Tokenize prides itself on its security measures and infrastructure and it is very diligent in attending to every loose screw and following the latest technological advances. The platform performs tests and audits for scams, cracks, and hacks on a daily basis.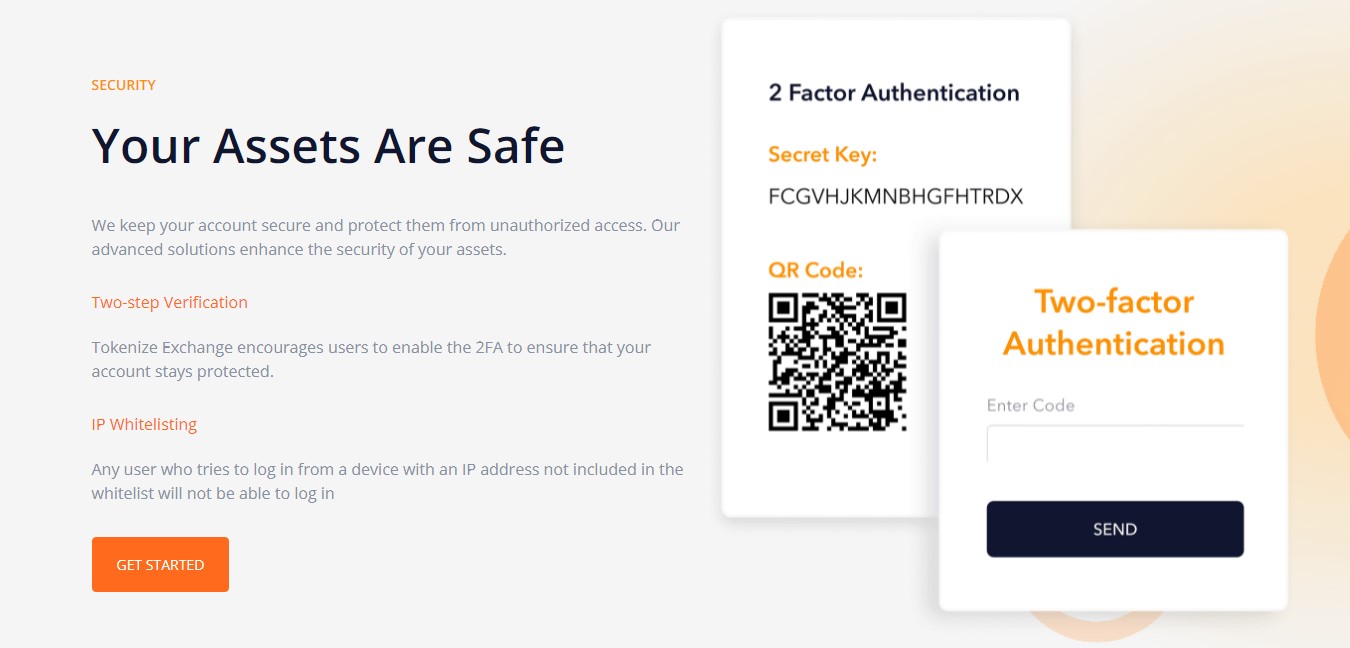 The two-factor authentication (2FA), IP whitelist, and multi-signature logins combined with withdrawal authorization protocols are just part of the safety layers that Tokenize has to offer. Traders can rest assured that all registered users on the platform have been through Anti-Money Laundering (AML), Countering Terrorism Financing (CTF) as well as Know Your Customer (KYC) tests before being shown the order book.
Customer Support
Customer support has always been sort of a weak link when it comes to cryptocurrency exchanges. Most trading platforms think that they're able to save some funds when it comes to this sector. However, this business model almost always backfires on them in the form of negative reviews from customers that have unresolved problems or quarries.
The Tokenize exchange is not one of these platforms as it offers a variety of ways through which their clientele is able to get in touch with them. The platform offers support features such as the always-active live chat bubble, an official email, and a dedicated phone number. They are also active on all of their social media platforms and will surely get back to you if you decide to reach out through any one of them.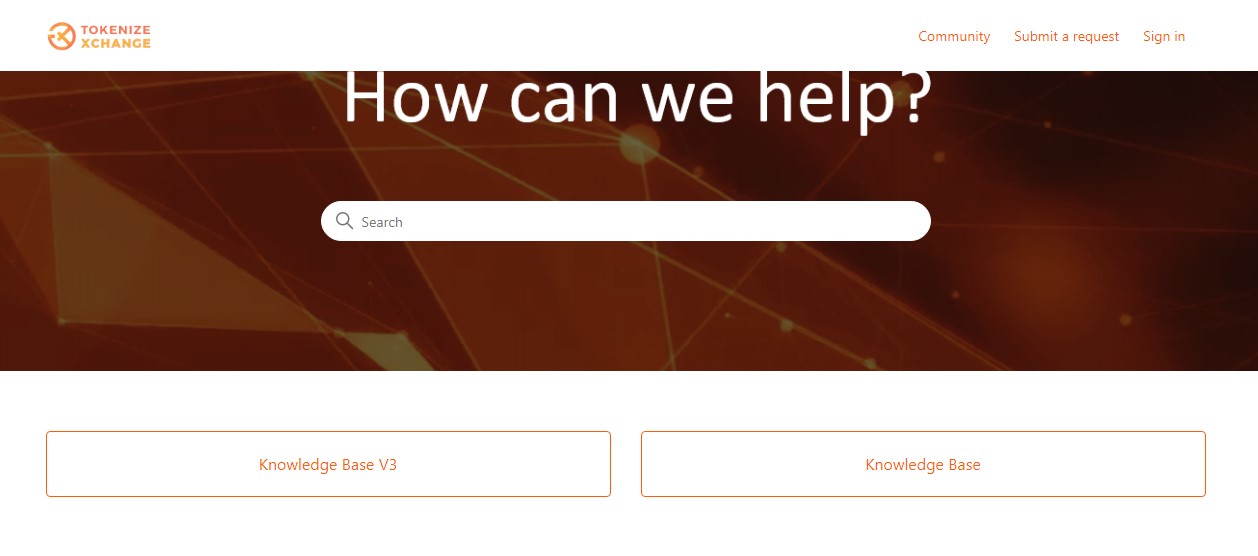 Last but not least, is the vast knowledge base under the FAQ tab. Here crypto traders can find information for everything, from basic navigation questions to detailed analysis chart reading tutorials.
A Few Words Before You Go…
Tokenize hasn't been part of the crypto scene for a long time and yet it has managed to make a mark on the crypto map and turn a few million heads along the way. But in this Tokenize review, we learned the quality of their feature offering, namely the low deposit fees, USD and fiat currency support, the educational content and investment advice, the Defi token store support, the pricing, the native Tokenize wallet, and the easy registration process have set them apart from their peers.
Experienced users can always take advantage of the referral programs as well as the opportunity for earning passive income through the crypto loans feature. Tokenize might not be the biggest name in the industry but it's certainly worth your time and is on the right path to becoming a staple on the crypto market for years to come.
Frequently Asked Questions
How Does Tokenize Earn Work?
Tokenize Earn enables users to lock up their assets for a given period of time, during which they cannot access their funds but in return, they earn interest on them. The shortest period of time that users can lock up their funds is one month.
How Can Users Purchase TKX?
Users need not look further than Uniswap and Tokenize Xchange when it comes to TKX purchases. However, these are not the only two options. Traders who would like to explore more or all the options can always turn to CoinMarketCap and preview the latest crypto exchange list that will bring them up to speed on all platforms and digital assets that they support.
How Long Is Tokenize Withdrawal?
Please allow between 1 and 2-days for the withdrawal process to be confirmed by hand.
Is Tokenize Exchange Regulated by MAS?
Tokenize Xchange is among many that operate as part of the umbrella of an "exemption" in Singapore while the application for a trading license digital assets is reviewed through the Monetary Authority of Singapore (MAS) The city-state's central bank.
What Coins Can I Buy on Tokenize?
There are seven digital assets that are available to trade on Tokenize that include Bitcoin Cash, Bitcoin, Ethereum, Litecoin, Solana, Uniswap and Ripple.