Quick Summary: VALR is one of the biggest crypto exchanges in South Africa. It has a newbie-friendly design that makes the process to buy crypto and deposit funds with Rand smoothly. The exchange offers more than 50+ cryptocurrencies available, which you can trade with very competitive fees.
VALR is partnered with Bittrex, a crypto exchange that is one of the most reputable and trusted exchanges out there. Due to this partnership, VALR offers solid stability and industry-leading security. 
If you're based in South Africa, then surely VALR is worth a try!
One of the most important things, if not the most important of them all, when it comes to choosing a crypto trading platform, is its approachability and the learning curve that one has to go through in order to settle in and feel at home. The market might be oversaturated with crypto trading platforms, however, most of them do present a challenge to navigate, especially when it comes to beginner traders looking for their first trading platform.
Luckily, you don't have to go very far because we did all the research for you. For now, let's talk about VALR.

VALR is a cryptocurrency trading platform that comes from South Africa and offers a beginner-friendly interface that will pertain even to the most novice users out there.
The platform is a space where users are able to buy Bitcoin and altcoins with South African Rand (ZAR), connect their accounts to their bank balances for bank transfers, go through crypto veteran Bittrex on many features, deal in 60 cryptocurrencies, be eligible for fee rebates and make the most out of the TradingView charting features. If this sounds good to you, let's take a deeper dive and see what all of the fuss is about in our VALR exchange review for Australia.
Valr Crypto Exchange at A Glance
Website: https://www.valr.com/
Country: Johannesburg, South Africa
Mobile App: Available
Deposit Methods: Bank wire transfers, South African debit/credit cards and the VALR Pay
Fiat Currencies: ZAR
Cryptocurrencies: 45+
List of Features
Local bank transfers are supported
59 cryptocurrencies available
A great choice for those who are just beginning
We have partnered with the world's most renowned exchange Bittrex
Fee rebates through the VALR Exchange
Advanced TradingView charting tools and charts are supported
Purchase Bitcoin & crypto with South African Rand (ZAR)
Pros
They are based on South Africa (for the locals).
Free transfer of funds.
It is available for iOS (Apple) as well as Android (Google) that you can get from App Store and Play Store, respectively.
The VALR platform is simple to use.
Free fiat and crypto deposit (up to a specific amount).
Supports a wide range of cryptocurrencies
Easy-to-learn trading terminal
Solid protection of data and user funds
Presence of an author's application (for mobile trading)
With referral program
Lots of options for depositing and withdrawing funds
With discounts and rewards
Low fixed fees (for trading operations)
Cons
Only allows the conversion of digital assets into South African currency (ZAR).
Applications for PCs as well as Macs are not available.
About the Crypto Exchange
Even though VALR is still a relatively new trading platform. The Bittrex and Montegray Capital endorsements and partnerships expedited its growth and aided in becoming one of the most relevant crypto exchanges across Africa.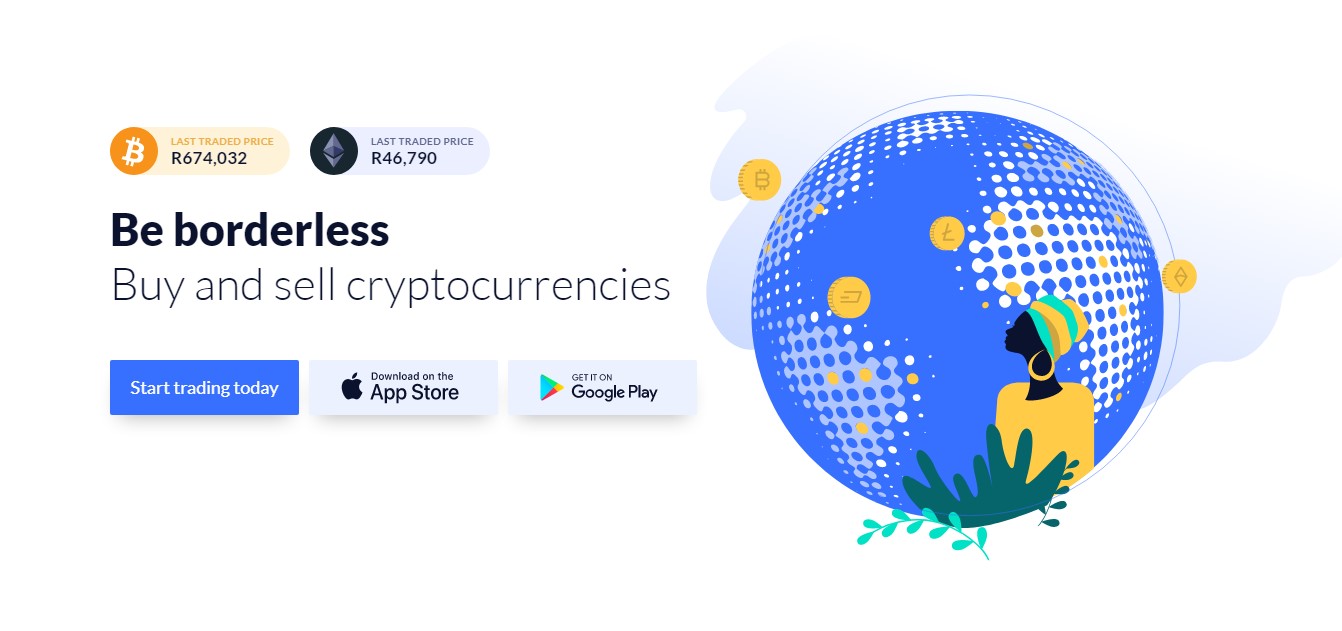 VALR runs a tight security protocol. It administers Know Your Customer (KYC) checks as part of the Anti-Money Laundering (AML) procedure on all of its users, so traders have to verify their accounts by confirming their identity before they are allowed access to the order books. The platform also employs cold storage on digital assets, multi-signature wallets, and two-factor authentication (2FA).
Even before its launch in 2019, VALR already had 1.5k users that we're already signed up for the beta version of the platform. Users tend to choose VALR over its competitors because of its stability, high liquidity, and reliability.
Features
VALR is available to all traders that are off age, be it beginners or experienced traders. The platform is completely free to use and doesn't employ any extra hidden or membership fees. All they have to do is connect their wallets to their account and provide credentials along with an email address and an active phone number. On the downside, because of the Securities Exchange Commission's regulations, US investors aren't able to log in and participate in exchanges on the platform.

Supported Cryptocurrencies
Users are able to trade and do business in around 60 cryptocurrencies and execute fiat-to-crypto traders by pairing ZAR with some of the most coveted cryptos on the market, such as Bitcoin (BTC), Ripple (XRP), Bitcoin Cash (BCH), Litecoin (LTC), USD Coin (USDC), Cardano (ADA), Ethereum (ETH), Dogecoin (DOGE), as well as VEChain and others.
VALR provides stable liquidity and has solid traffic throughout. The trading platform hovers around $20 million on a day-to-day basis. Most of that traffic comes from deals that include the Bitcoin/ZAR pair, with ETH/ZAR and XRP ZAR soon following suit. Where VALR really shines is the platform's simple and easy-to-navigate interface.

Users will have no problems settling in on both the desktop and mobile app versions of the trading platform. The API has been built from the ground up to accommodate traders that are entering a crypto exchange for the very first time, so all of the steps, including the verification and registration processes are as straightforward as they can possibly be.
Order Types
Users are welcome to make the most of the Instant Buy & Sell feature, where they can swap currencies and participate in crypto-to-crypto traders. The whole process is daily simple. As a trader, you just need to navigate the order book, find an offer that you like, and enter the amount of crypto that you wish to exchange. That's it, as simple as that.
The ETH/BTC pair is the most traded crypto-to-crypto pair on the platform. Order types at VALR cover limit orders, market orders, and stop-limit orders. The limit orders can be configured in terms of trading volume and duration. The exchange platform does not offer support for advanced order features like One Cancels the Other (OCO), through which users are able to activate and set up a stop-loss parameter.
Deposits and Valr Withdrawal Fees
South African traders are able to deposit ZAR by connecting their user account to their bank account at zero fees or commissions. VALR has 3 levels of verification: semi-verified, fully-verified, and fully-verified plus. The higher tiers offer higher Valr withdrawal limit, Valr deposit limits, and more options for traders.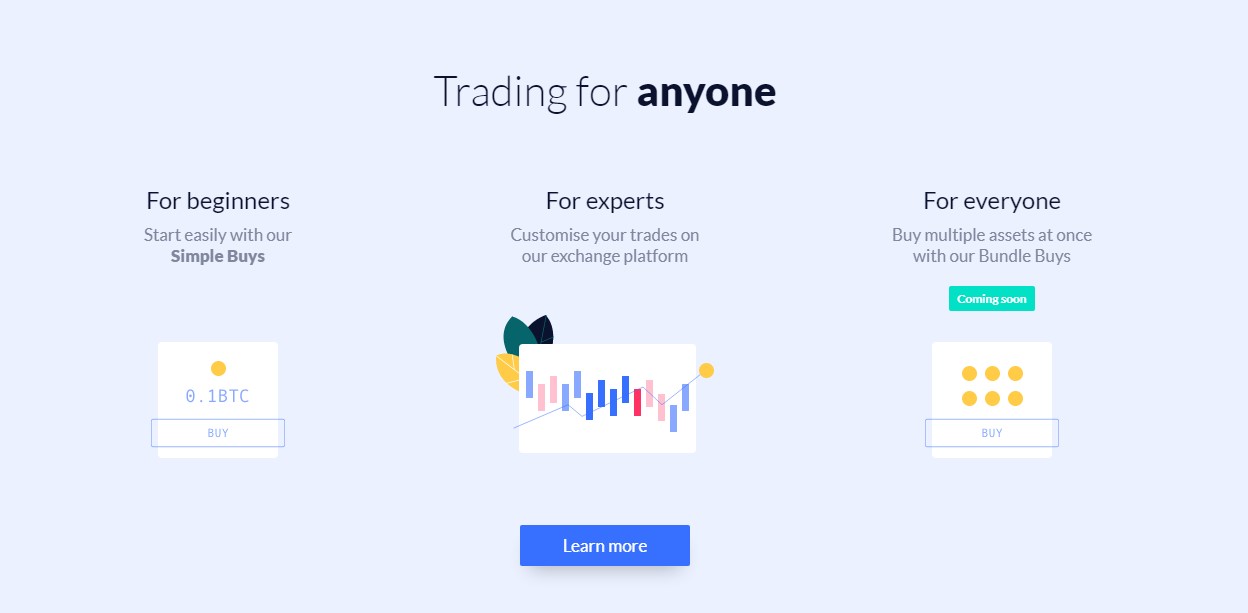 In order for users to start depositing funds on VALR, they will have to select a payment method. The trading platform supports both fiat currencies and digital assets. The most popular payment currencies are the South African rand (ZAR), Ether (ETH), Bitcoin (BTC), and XRP. The platform does not support USD and EUR deposits.
Users are able to make ZAR wallet deposits through bank transfers. Even though transferring funds via bank transfer is the safest and most convenient way to go about things, the transaction processing isn't what you would call quick and it can take up to 3 business days in order for your deposit to appear on your balance. For the time being, traders cannot make use of credit cards, debit cards, or PayPal payments when making deposits and buying Bitcoin.
TradingView
The TradingView feature is there to aid traders from all walks of life. Most traders are familiar with its presentation and what it can do, as the TradingView chart system is one of the if not the most utilized crypto charts on the market that's packed with advanced trading tools and customization options. The chart system is neatly organized and easy to navigate. Users are able to preview order histories on different assets and their ranks in popularity before they make a decision on which pair they should go for.
Valr Trading Fees
Deposit Fees
Transaction Fees
Withdrawal Fees

Maker Fee-> 0.1%
Taker Fee-> -0.01%
VALR employs Valr transaction fees on all trades. Takers are in for a 0.10% trading fee, which is quite competitive as far as taker fees go. Maker fees on the other hand are situated at -0.01%. This is referred to as a negative maker fee, by which makers get paid to place orders. This is quite rare in the crypto industry. The platform is incentivizing traders to create new orders, however, the percentage isn't so big that users will defer to making orders for profit. Or, in other words, this is well thought through from the ground up.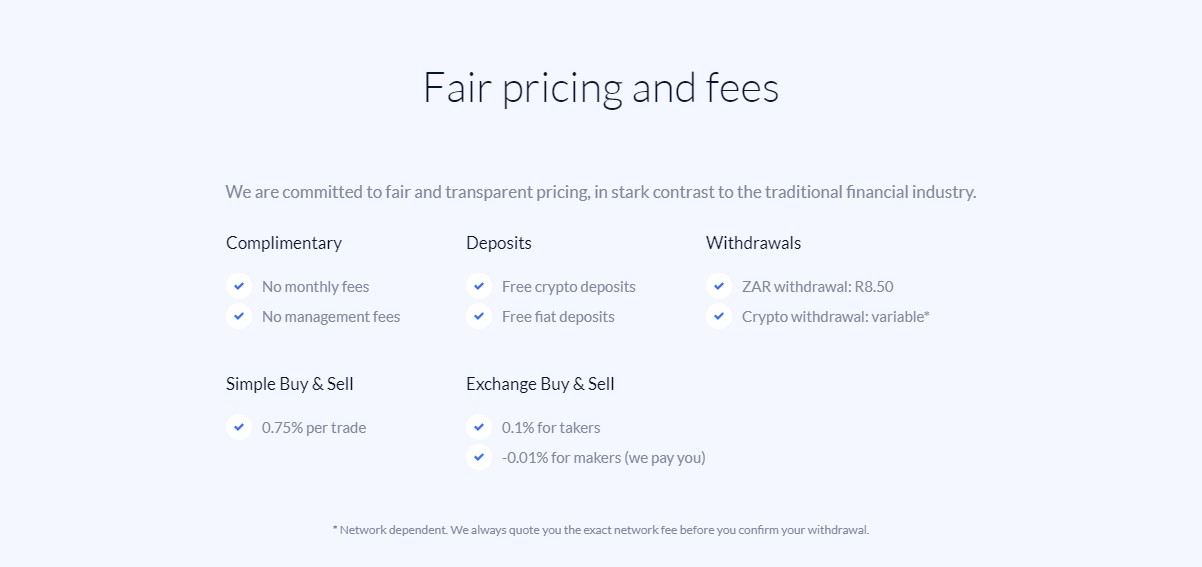 The platform doesn't employ any Valr exchange fees on withdrawals apart from the blockchain network fee. These go directly to the miners as a reward for keeping everything going, and not VALR. As for the actual number of these fees, they vary depending on the network's traffic. In any case, they aren't very significant even on the busiest of days.
On instant simple buy & sell transactions, VALR employs a flat 0.75% fee on a per transaction basis. While this is a convenient option for novice traders who are willing to pay a bit more in order to get to their desired destination and get there fast, if they're using this feature as their primary source of trading crypto, they might want to look into platforms that employ more affordable fees on instant traders such as Crypto.com, Binance, KuCoin, Luno, or Coinbase. VALR offers further discounts on fees that can reach up to 15% if you happen to be part of their referral program.
Deposit and Withdrawal Fees
Users are able to deploy fiat ZAR to VALR through their bank accounts or make crypto deposits in Bitcoin or Ethereum. Should they take the bank account route, they will be eligible for no fees when connecting external wallets or depositing funds from another exchange.
On Bank account withdrawals VALR administers a small R8.50 fee on top of the blockchain network fee that is applicable to all processes that are executed by the platform's employed blockchain.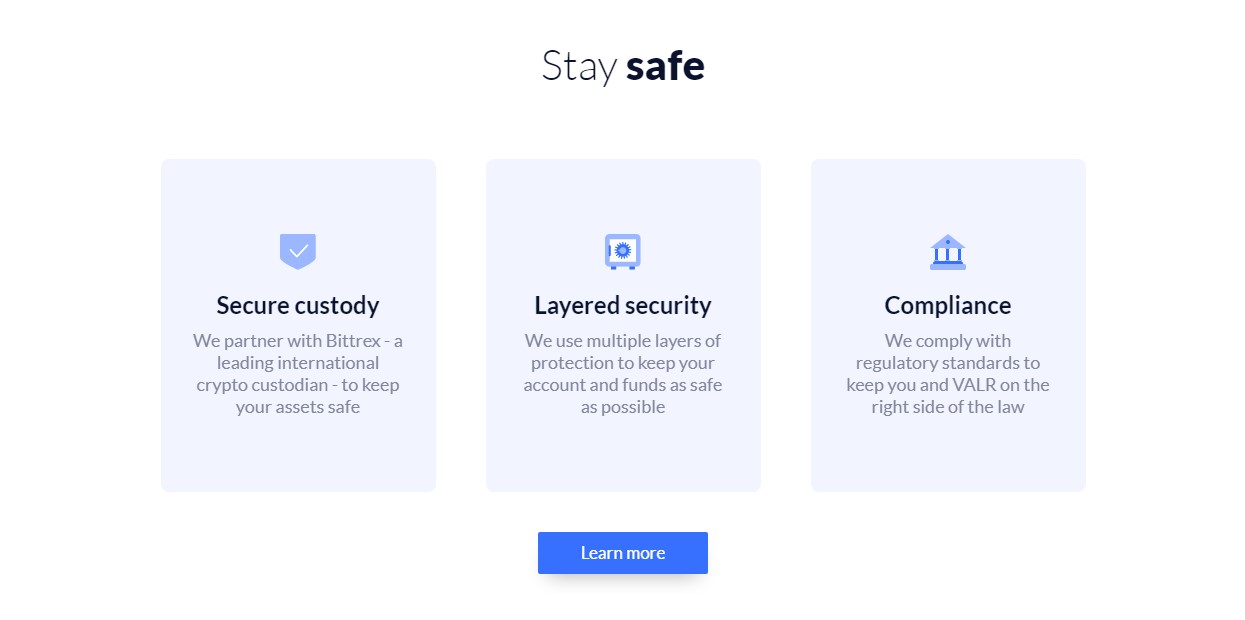 Security
VALR takes its security very seriously, as it thoroughly inspects all users and logins in order to keep user funds and sensitive personal data out of the wrong hands. The exchange features cold wallet storage, a 2FA option, and separate fiat accounts. The platform also includes a step-by-step walkthrough where users can familiarize themselves with the platform's security infrastructure, protocols, and how they can further protect themselves.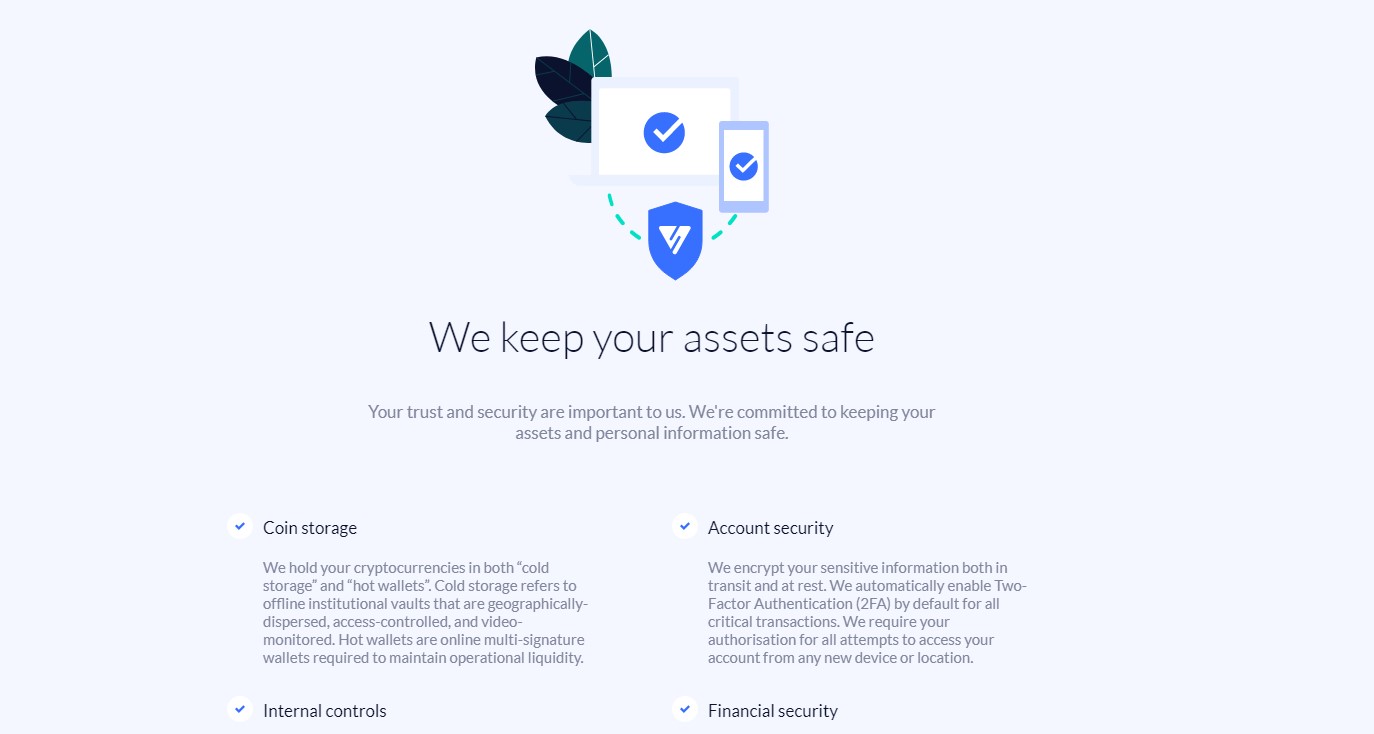 Customer Support
Users can get in touch with VALR's customer support team by reaching out to the platform through its official social media accounts on Facebook and Twitter or revert to the platform's Help Centre and browse the vast FAQ section. VALR also provides a ticket system support feature, through which users can punch in for a ticket and wait their turn.
As the trading platform is aimed at beginner and inexperienced traders, it could benefit from additional support features such as a direct customer service phone line, a Telegram, an official support email address, or live chat.
Frequently Asked Questions
Who Owns VALR?
VALR was founded by its current CEO, Farzam Ehsani. Ehsani is well versed in investment banking and has extensive knowledge of the global market. He developed his skills at McKinsey & Company Deloitte Consulting, the Baha'i World Centre, as well as the United Nations, before venturing on his own digital currency crusade.
Is VALR Legit?
Even though VALR is not under regulation by the South African Financial Services Board, the company VALR Pty Ltd. is in good standing and has the backing of crypto giant Bittrex. The Exchange Partnership Program deems it credible and allows it to partner with other exchanges on security infrastructure and liquidity.
Does VALR Have a Mobile App?
VALR's Mobile app is among the best in the industry. It is virtually indistinguishable from the desktop platform in terms of capabilities and features. Even though most traders still prefer doing business through their desktop screens, as they find it tidier and easier to navigate, it's good to know that there is mobile support for those that require it. The app is available for both iOS and Android devices alike.
Is VALR a Wallet or Exchange?
VALR is a cryptocurrency exchange platform.
How Many People Use VALR?
VALR says it has over 250,000 retail customers as well as 500 institutional customers, the majority of them located within South Africa.
How Long Do VALR Deposits Take?
Deposits may be delayed for up to 24 hours to be deposited into your VALR account. Once your money arrives in your account you'll receive an email from us. When depositing funds to the VALR account, make sure to enter your VR reference number as your reference for the recipient.
Is VALR a South African Company?
How Do I Withdraw From Crypto From VALR?
Simply type in the Valr wallet address or any exchange address of your destination on the screen for withdrawals and, if the address belongs to the VALR customer the system will recognize the address and your withdrawal cost will be reduced to zero.
What Is VALR Pay?
Valr Pay is a cost-free quick, easy, and simple option to make cash as well as Crypto payment to any mobile phone number or email address. the VALR Pay ID*.
What Is the Minimum Withdrawal on VALR?
The minimum amount you can withdraw is usually three times the amount of withdrawal fees that you are required to pay when you try to withdraw a particular coin.
How Long Does It Take To Verify VALR?
We recognize that KYC procedures can take a long time, that's the reason we utilize AI and machine-learning technology to ensure you are fully verified in just 5 minutes.