When you get into the cryptocurrency field, you expect to earn some money. Luckily, there are a handful of different ways you can try to increase your crypto stocks once you get started. The most common and legitimate ways are by buying, trading, and staking digital coins. 
However, some people might try to earn cryptocurrency by stealing or using various hacks and scams. We strongly advise you against such fraudulent activities and instead encourage you to make the most out of the growing number of safe and perfectly legal ways of making a profit on the cryptocurrency market. One such legal and popular way of earning money is by using crypto faucets. What is a crypto faucet? Crypto faucets take inspiration from real-life faucets, but in this case, a crypto faucet drip crypto and not water. They give out free cryptocurrency in exchange for doing small tasks such as watching ads, solving captchas, and watching videos.
Keep reading because we'll explain how crypto faucets work, and we'll guide you through the best crypto faucets.
Let's get started!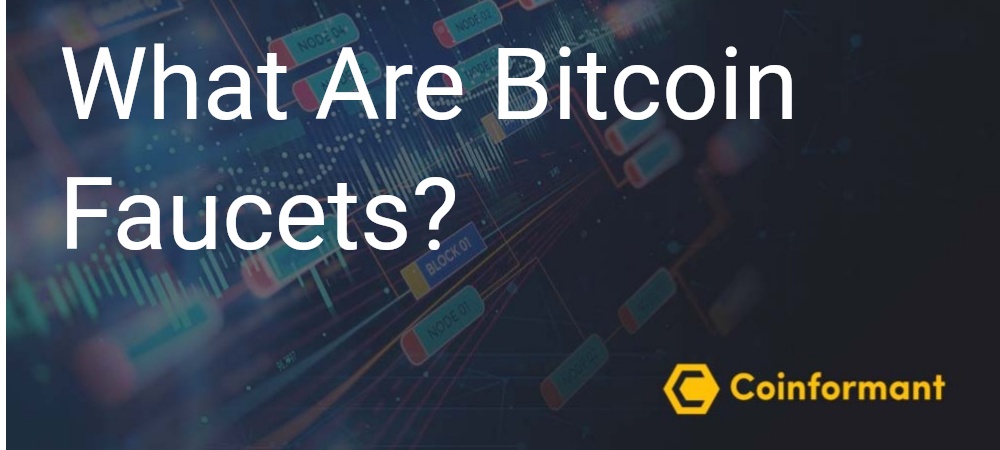 What Are Crypto Faucets?
We can define a cryptocurrency faucet as a website or an app that gives out small amounts of digital assets as a reward for fulfilling simple tasks. They're called faucets since the rewards are minor, like drops of water from a leaky faucet. But, in the case of cryptocurrency, faucets don't leak water. They leak small amounts of earned or free coins into the user's wallet. In order to get free crypto, you have to complete simple tasks such as completing quizzes, completing a captcha, watching product videos, or viewing ads.
We should get one thing clear right from the start – you can't get rich quickly by using crypto faucets. The more similar the task you perform, the smaller the reward you get. Some of the websites have a payout threshold and the rewards from the completed tasks are deposited into an online wallet belonging to the site itself. This means that you can't withdraw your reward until you reach the payout threshold. This may take a day, but often, it will take more than a week.
You might ask yourself about the purpose of these crypto faucets. The thing is, cryptocurrencies are not yet fully mainstream and many people aren't familiar with crypto faucets. So their main purpose is to get people interested in learning about and investing in digital currencies by giving them free crypto assets.
How Does A Crypto Faucet Work?
Crypto faucets usually require you to fulfill easy tasks and take part in simple actions. The rewards are fixed by the crypto faucet's websites and apps. They may also put a timelock for claiming the rewards, which means…
In order to use crypto faucets, you have to register by entering your personal data and wallet address. The crypto rewards that you earn after you solve a task goes to your micro wallet first. A micro wallet is a wallet that is much the same as a traditional wallet, but it's able to accumulate only tiny amounts of digital assets. The micro wallets are automatically generated after you sign up on these websites, but on some sites, you have to do this on your own.
What Is a Bitcoin Faucet?
The concept of a Bitcoin faucet was first introduced in 2010 by the main Bitcoin (BTC) PR representative, Gavin Andresen. They can be defined as a reward system from which small amounts of bitcoins can be obtained. These small Bitcoin units are known as satoshis. A satoshi is actually the smallest Bitcoin unit that exists (1 Satoshi = 0.00000001 BTC i.e. a hundredth of a millionth BTC).

You can receive these rewards after you complete certain actions, such as participate in games, view ads, or solve captchas. However, nobody will give you free bitcoins – you get your bitcoins only in exchange for your time.
How Does a Bitcoin Faucet Work?
All Bitcoin faucets work in virtually the same way, i.e. based on the users' participation in established activities like solving simple tasks. These activities allow for a distribution of bitcoins within certain time periods. For example, the first Bitcoin faucet allowed only 5 BTC to be acquired at a time. After a specified amount of time elapsed, users could again engage in these activities and claim another round of bitcoins.
Each faucet can decide independently how many units of a cryptocurrency they are going to give as a reward and the time that must elapse before you can claim them. The reward mostly depends on:
Frequency of action – If the same action is repeated a couple of times, the reward will be lower.
Difficulty of action – The more time-consuming and complex the task is, the higher the reward is.
The registration on one of these faucet sites is extremely easy: you only have to enter your email address and the address of the crypto wallet where you want to receive your satoshis. Some of the faucets might ask you to confirm that you're not a robot. As soon as this process is completed, you can start performing the requested tasks and accumulating satoshis.
Let's take a look at a simplified explanation of how a Bitcoin faucet works in three steps:
Firstly, the faucet owner places advertisements on various websites in the form of banners or videos. After that, they promote the faucet by publishing links on blogs, forums, and related websites.
Then, you visit the Bitcoin faucet and perform certain actions, such as solve captchas, watch videos, view ads, etc.
When the required action is completed, you get paid with a small number of satoshis. After accumulating a minimum amount of satoshis (defined by the website), you can withdraw that amount to your Bitcoin wallet.
Bitcoin faucets use two payment methods: you can withdraw them directly to your Bitcoin wallet or use a third-party micropayment wallet such as FaucetHub or CoinPot. Either way, you'll have all of your claims centralized on one or two websites, which makes it much easier to track and withdraw your money.
Best Bitcoin Faucets
There's a handful of different Bitcoin faucets, so before we look at your choices, let's review some terms that you should be familiar with. When making a decision, you should consider the following factors:
Minimum withdrawal – The minimum amount you need to earn in order to have the option to withdraw your balance.
Timer – The required waiting time between each claim.
Claim amount – The number of satoshis you'll get per claim.
Withdrawal methods – Whether they pay you directly or by using a micropayment wallet.
Referral fee – The fee that you can get if you refer a new user to the faucet.
Cointiply
Cointiply is one of the leading faucets because it gives you multiple methods to claim your bitcoins. Plus, it has a user-friendly, sleek interface. Another advantage of Cointiply is the large payouts and variety of tasks for earning satoshis. On average, this faucet permits you to claim 200 satoshis every hour. Cointiply offers numerous methods for earning bitcoins, such as:
Offer walls – Complete a survey, watch videos, download mobile apps, or install and play mobile games;
Refer your friend to join;
Play the CointiPlay Multiplier;
View ads.
The payments on Cointiply are processed once a week. Moreover, Cointiply lets you earn interest by accumulating BTC in your wallet. Cointiply payout can be taken out to a FaucetHub micro wallet when you gain at least 35K satoshis, and directly to your Bitcoin wallet when you reach the minimum threshold of 100K.
BonusBitcoin
BonusBitcoin is one of the oldest faucet websites. It's an amalgamation of several different faucets. The registration to Bonus Bitcoin is free and when you sign in to your account, you can choose from several faucet options. The main feature of BonusBitcoin is that it enables you to claim your BTC approximately every 15 minutes, and the average claim is 5,000 satoshis.
On BonusBitcoin, you can earn by solving the captcha on the homepage and you can multiply your income by completing offers and playing dice. The CoinPot micro wallet is linked to the BonusBitcoin accounts. The minimum withdrawal limit of CoinPot is 10,000 satoshis, and you have to pay a fee. However, if you withdraw 50,000 or more satoshis, the fee is waived.
Moon Bitcoin
Moon Bitcoin, like BonusBitcoin, is one of the oldest faucets around. It allows you to claim satoshis approximately every 5 minutes and the average claim is around 10 satoshis. Moreover, you can run CPU mining in the background in order to increase your claims. Like BonusBitcoin, Moon Bitcoin uses CoinPot as well.
Bitcoin Aliens
Bitcoin Aliens is a fun faucet app that allows you to play games on your smartphone and at the same time earn satoshi for every successful milestone. This faucet offers some of the highest payments with an average of 9,000 satoshis every 5 minutes. You can use it on Android or iOS systems by downloading the app from Google Play Store or Apple Store. 
Blockchain Poker
Blockchain Poker, simply put, is a No-Limit Texas Hold'em cash game and it's played with real bitcoins. You can play anonymously because you don't have to sign-up. Every new player is awarded free satoshis, enabling anyone to play. It's up to the player if they want to play with BTC or BCH (Bitcoin Cash).
The minimum withdrawal in Blockchain poker is relatively high (100K satoshis). However, there's a chance to get scammed because users can set up several accounts and use them to play at the same table.
Altcoin Faucets
Ethereum Faucets
Ethereum faucets are websites or apps that reward their users with small amounts of Ether (ETH) for completing a variety of small tasks. They're the same as Bitcoin faucets, except you're rewarded with ETH.  Some popular Ethereum faucets include:
Litecoin Faucets
Litecoin faucets reward their users with a tiny amount of LTC tokens in exchange for completing activities on their website. On Litecoin faucets, you exchange your time for a small amount of LTC, known as Litoshi. The most popular faucets that give free Litecoin tokens are:
Fire Faucets – You can earn Litecoin tokens by viewing ads.
Moon Litecoin – This faucet offers free LTC for fulfilling multiple tasks, but it has a minimum threshold for you to reach before the reward goes into your wallet.
BTC Cash Faucet
The Bitcoin Cash faucet is rewarding you with free Bitcoin Cash tokens for performing whatever the provider asks of you. If you want to use a Bitcoin Cash faucet, you have to sign up for a micro wallet that allows you to accept a tiny amount of BCH tokens. Some of the best faucets to earn BCH tokens are:
Konstantinova – Free BCH tokens you earn here will be automatically sent to your FaucetPay micro wallet. So, in order to receive your BCH tokens, you have to open an account on FaucetPay.
Faucet Crypto – This is a multi-coin faucet; you can receive your rewards with free BCH tokens along with other cryptocurrencies for using their services.
Monero Faucet
On a Monero faucet, you can make Monero (XMR) tokens by completing tasks like solving captchas and viewing ads. The faucets below allow you to get free Monero tokens:
Monerofaucet.info – You can earn XMR by solving captchas and by playing and winning at lottery.
Express faucet – Again, you can earn more XMR by playing and winning at lottery.
Frequently Asked Questions
A Few Words Before You Go…
While it's true that you can't earn a large amount of cryptocurrency with a Bitcoin faucet, it sure is a fun way of earning small amounts of crypto. Now that you have all the information about Bitcoin (and altcoin) faucets, you can give them a try – provided, of course, you have some spare time to waste. Plus, if you're a game lover, then Bitcoin faucets are certainly for you! Be careful, however, of other crypto faucets asking you to download or click a link, as they can install malware on your computers and steal your information.