In the first years of digital currencies, the early 2010s, different types of software wallets and paper wallets were the only available crypto storage.
While software wallets such as mobile wallets and desktop wallets introduced a substantial degree of security, they could still be hacked by a cyber attacker if they managed to get hold of your private keys. On the other hand, paper wallets didn't have an internet connection since they were literally pieces of paper with printed private keys and public keys, but they weren't convenient for use.
A few years later, a new type of offline crypto storage was introduced, in the form of hardware wallets, which quickly rendered paper storage almost obsolete. Ledger was among the first companies to launch these innovative USB devices capable of storing crypto out of the reach of hackers. These wallets addressed the need for convenience that paper wallets lacked while still providing users with multiple layers of security. They have become an excellent choice for investors who wish to store high amounts of crypto safely. At the same time, as they are designed to be practical and easily accessible, they are also a convenient tool for active traders who want to keep their assets as safe as possible and still be able to access them quickly.
In this guide, we'll focus on the Ledger Nano S hardware wallet and its key functionalities and show you how to recover your funds if you lose your Ledger device.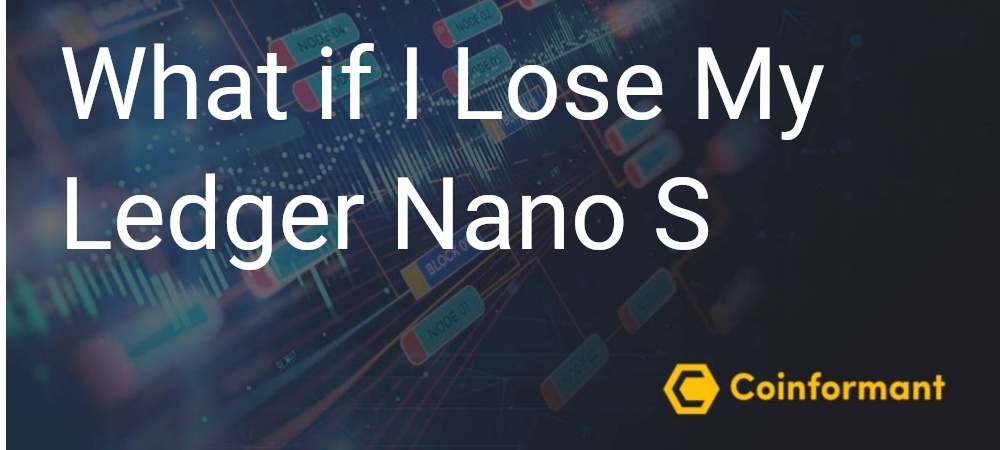 Hardware Wallets
Before diving into the details of the Ledger Nano S, it's necessary to highlight the basic characteristics of hardware crypto wallets and explain why they are far more secure than software wallets.
Cryptocurrencies are a prime target for cyber attackers because, unlike fiat money which is stored in the bank or in your wallet, cryptos just change digital addresses on their native blockchain. These addresses are public addresses, which are used to send assets to. Private keys, on the other hand, serve as passwords that prove ownership over a certain amount of specific cryptos. Without a private key, you can't manage, transfer, or spend your digital currency.
The private keys are what hackers are always after, and that's why it's essential to keep those keys safe. Software wallets usually store your private keys on the device you're using, and they use password protection to access your wallet.
Additionally, software wallets mostly use a seed phrase so you can import your wallet on another device and recover your funds. However, if a hacker manages to access the device on which you're storing the private keys, they might be able to access those keys remotely and steal your cryptocurrency.
Hardware wallets have an entirely different approach to storing cryptos. A hardware wallet doesn't have an internet connection. This is why it's called a cold wallet, as opposed to software wallets, which are called hot wallets. The lack of internet connection ensures that no cyber attacker can remotely hack your wallet. To use your hardware wallet and manage your assets, you need to use hardware wallet firmware on a PC or mobile device. The beauty of the mechanism is that even though you need an internet connection to manage the funds on your hardware wallet, the connection never reaches your private keys on the device, thanks to the wallet's encryption that prevents it.
Ledger
Ledger is one of the most prominent players in the blockchain security scene. The company was launched in 2014, but it became famous after the launch of Ledger Nano S, their first hardware crypto wallet. According to the company, they have sold more than 1.5 million hardware wallets to customers in 165 countries worldwide.
Ledger Nano S
The Ledger Nano S is the first hardware wallet manufactured by Ledger, and it's also the one with the most sales. When it was launched in 2016, crypto enthusiasts were caught off guard by the industry-leading security features of the Ledger Nano S. Although this wallet wasn't the first hardware wallet on the market – that title goes to Trezor One in 2014 – Ledger Nano S went a step further by providing new security features and functionalities.


The device itself comes in the form of a small, key-sized USB device with an elegant design. You can connect the device to your PC or laptop with a USB cable and manage the stored cryptocurrencies through the Ledger Live app, which you can install on your computer or mobile phone. Ledger Live is compatible with both Windows and macOS on computers and Android and iOS operating systems on mobile devices. There is a small screen on the Ledger Nano S wallet and two buttons for basic portfolio management such as transaction approval.
There's no battery, and you don't need to charge the device. As for crypto storage, you can install up to 5 different cryptocurrency apps on the device. Before you can store any crypto on your Ledger Nano S, you need to install the appropriate apps through the Ledger Live firmware. This is quite simple. All you need to do is search for the cryptocurrency you wish to store through the Ledger Live app. Once you find that specific cryptocurrency, just install the app on your Ledger Nano S.
Ledger Nano X
This guide is about the Ledger Nano S, but we simply can't move on without briefly mentioning the newer Ledger Nano X model. The Nano X expands the functionalities of the first model, but it's also more than twice as expensive.
Instead of 5 crypto apps, Ledger Nano X users can store up to 100 different cryptocurrencies on their device. The device is a bit bigger than the Ledger Nano S, and it comes with a Bluetooth connection option. This option is handy for facilitating a wireless connection to your wallet, but some crypto enthusiasts think it might be a potential security risk.
Supported Cryptocurrencies
The Ledger Nano S supports more than 100 various cryptocurrencies, including the most popular digital currencies on the market such as Bitcoin (BTC), Bitcoin Cash (BCH), Litecoin (LTC), Ethereum (ETH), Ethereum Classic (ETC), Ripple (XRP), Tether (USDT), Polkadot (DOT), Binance Coin (BNB), Eos (EOS), Tezos (XTZ), Cardano (ADA), Stellar Lumens (XLM), and various ERC20 tokens and other altcoins.
Security Measures
Ledger hardware wallets provide some of the best security in the industry. These devices are known to have multiple layers of security, specially designed to protect the stored private keys from all sorts of hacks. Not only are cyber attackers unable to hack your Ledger Nano S through an internet connection, but they also can't access your device even if they physically get hold of it.
Let's check out all of the Ledger Nano S security features that make this possible.
CC EAL5+
All Ledger devices have the CC EAL5+ secure element label awarded by the ANSSI, the official French cybersecurity agency. This classification means that the security chip within Ledger devices has integrated countermeasures against a wide range of popular cyber attack methods. This microchip is something that only Ledger devices have and something that makes them a few levels more secure than other hardware wallets.
Although other hardware wallets such as the Trezor One and Trezor Model T wallets don't require you to install separate apps for each cryptocurrency and they can store far more cryptos than Ledger devices, they don't have such advanced security chips like the ST31H320 chip in the Ledger Nano S.
Recovery Seed Phrase: Easily Recover Your Funds if You Lose Your Ledger Nano S
The seed phrase is the most valuable piece of protection for your private keys. When creating your Ledger Nano S wallet account through the Ledger Live app, you'll be provided with a 24-word recovery seed phrase that adheres to BIP39 password standards. This recovery phrase is the only way to recover your assets if your Ledger Nano S gets lost or stolen. Also, in case you forget your PIN code, the recovery phrase will help you restore the wallet on another Ledger device. If you don't have another Ledger device at the moment, the recovery phrase enables you to restore the contents of your wallet on a trusted software wallet app.

It's imperative to write down these 24 words and safely store them in a spot only known to yourself because if someone gets hold of your recovery phrase, they can steal your whole wallet without even touching your Ledger Nano S wallet. When you buy a Ledger device, you'll get several pieces of paper recovery sheets with designated spots for each of the 24 words.
PIN Code
When you get your new Ledger Nano S device, the first thing you'll be prompted to do when setting up the device is choose a PIN code with 4 to 8 digits. You will always need to type in this PIN code to access the device and approve transactions. Just like a bank card requires you to enter a PIN code when you want to get some cash from an ATM, the Ledger wallet requires a PIN for managing your crypto assets.
This is a very basic level of protection, but it's very useful, because if you lose your Ledger wallet or it gets stolen, your assets aren't easily accessible. After all, the person who stole your wallet can't access it without the PIN code. You should also note that even though the PIN code is vital for accessing your wallet, it's of no use if you want to restore your wallet on another Ledger device. In that case, you need the seed phrase.
Passphrase
Apart from the PIN code and seed phrase, there is an additional security measure for accessing stored private keys. You can choose to add an extra security layer by creating a passphrase, which is a 25th word added to the 24-word recovery phrase. This 25th word acts as a passphrase required to access your private keys, and it serves as a safeguard in case someone manages to get hold of your recovery phrase.
In the unfortunate event that someone steals your recovery phrase, the phrase would be useless to them without the 25th word. If you set up this additional passphrase protection, it's essential that you never share the 25th word with anyone and don't keep it stored in the same place as the 24-word recovery phrase.
Root of Trust
There are a lot of scams on the internet and a popular way to rob people of their crypto portfolio is by selling fake Ledger devices or Ledger wallets that have been tampered with to let cyber attackers steal stored funds on them. The first thing you need to do to protect yourself from this is to only order through the official website, but even in that case, you need to check if the device you received has authentic firmware and that the hardware is fully intact.
Ledger was known to ship products with special, tamper-resistant packaging to make it impossible for anyone to access a wallet without damaging the package. However, the company has shifted to another mechanism called Root of Trust. This mechanism uses the Root of Trust tool preinstalled on the Ledger Nano S to check whether the firmware is compatible with actual Ledger firmware and whether your new device has been tampered with.
Customer Support
Ledger has some of the best customer support in the hardware wallet industry. Customer support is available in several forms. There's a very detailed FAQ section on the Ledger website, which provides users with solutions to the most common issues with Ledger products and the Ledger live app. There are even multiple guides and tutorials for basic operations regarding the installment of crypto apps, connection with third-party software wallets, and facilitating transactions.
Apart from the FAQ, users can always contact Ledger support through email and expect a fast response from the support team. The Ledger firmware is also regularly updated with new improvements to ensure the wallet's security features are always in line with the latest cyber threats. It's advised to check the Ledger Live app from time to time for firmware updates.
A Few Ending Words…
Hardware wallets are usually used by crypto enthusiasts that store huge amounts of cryptocurrency. Still, there's no reason why an average crypto holder shouldn't up their crypto safety by storing digital currency on a state-of-the-art hardware device like the Ledger Nano S.
The Ledger Nano S is an affordable and easy-to-use device with a smooth user interface on the Ledger Live app. Perhaps the only drawback of the Ledger Nano S is the fact that you can install 5 crypto apps. If you need more space, you should try the next-generation Ledger Nano X, which can store up to 100 cryptocurrency apps.
However, the Nano X is considerably more expensive. Whichever model you choose, you'll get crypto safety that hasn't been compromised ever since the launch of the first Ledger device in 2016, and by the looks of it, no cyber threat has been capable of breaching Ledger security so far.