Cryptocurrencies have evolved from an alternate finance system into a dynamic trading zone with ample opportunities for making a profit. This transition happened pretty fast, and now the blockchain is a common market venue for both institutional investors and individuals.
Accordingly, Bitcoin, Ethereum, and other dominant blockchain-based products have gained mainstream status either as a store of value or trading instruments. This means that in most cases, users either make a one-off investment and store their newly-acquired cryptocurrencies for better times or use them in day-trading activities to profit from their price movements.
On the other hand, there is a significant number of users who have invested in crypto but don't have any specific plans to trade with them nor to hold them in the long run. If you belong to this category of users, there are a couple of legit spending solutions that can help you divest of your crypto in a timely manner.
However, as each crypto coin comes with its own value, scope of utility, and strictly defined purpose of use, selling choices depend on the type of coin you possess. In this article, we're going through the spending/investing prospects of the second-largest cryptocurrency by market cap, Ethereum.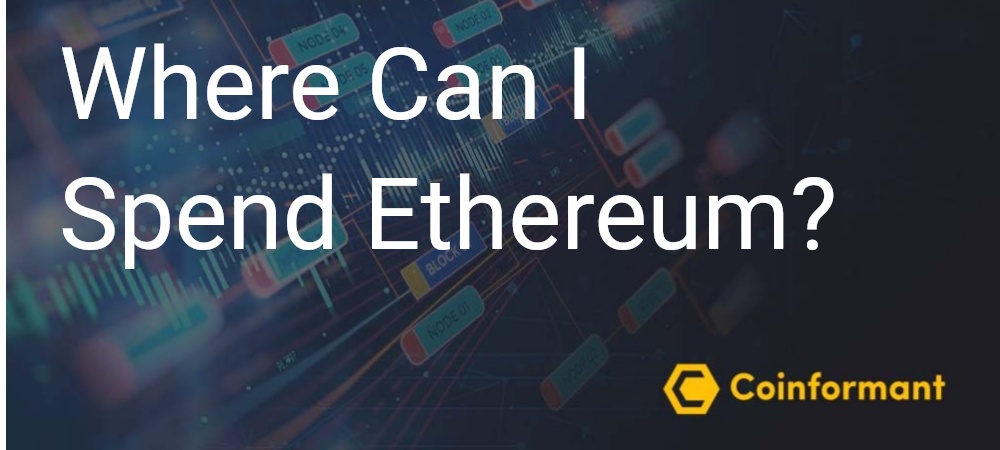 What Is Ethereum?
Ethereum itself isn't a cryptocurrency. The name stands for an entire decentralized network that runs on self-executing programs known as smart contracts. These contracts are triggered only when a specific condition is met so they don't need a third party in the process of executing transactions. This makes the Ethereum network immune to downtime and censorship, and hence, attractive for tech-savvy investors and developers.
The Ethereum blockchain has a native cryptocurrency — Ether (ETH) — which is primarily used as a utility token to give an on-chain value to Ethereum-based transactions and incentivise Ethereum nodes. The terms Ether and Ethereum are sometimes used interchangeably so don't get confused if you see "Ethereum" offered for sale on various crypto exchanges.
Regardless of whether it's called Ether or Ethereum, the token is excelling in the industry. With its $300+ billion market cap, ETH is the ultimate runner-up cryptocurrency, second only to Bitcoin.
However, the open-source Ethereum project is more than a payment method — its main area of focus is building decentralized apps (dAPPs), decentralized autonomous organizations (DAOs), and NFTs (non-fungible tokens), which has attracted a more diverse range of developers and established corporations. For instance, Microsoft has launched its own Coco platform built on Ethereum, offered together with its Azure cloud services. So, the purpose of these apps can go beyond the realm of crypto and cover multiple areas like traveling, real estate, and even the entertainment industry.
Why Should I Spend My Ethereum?
Most experts suggest that you shouldn't sell your ETH tokens at this point. The buy-and-hold strategy is better-recommended because the digital world is very likely to turn decentralized, which will add value to Ethereum and Ethereum-based products, thus raising the price of Ethereum in the near future.
However, if you insist on selling your Ethereum, you can see that it can be pretty advantageous as a payment method due to the following features:
Blockchain networks don't recognize physical and political boundaries so you won't have to worry about conversion fees that arise from using multiple types of currencies.
The Ethereum network won't ask you to submit any personal data and as a user, you'll feel much more comfortable knowing that your credentials can't be violated. Moreover, there is no technical possibility for your transaction to be susceptible to chargeback fraud since ETH transactions are irreversible.
Where Can You Spend Your Ether Tokens?
Sell ETH In Exchange for other Cryptocurrencies on a Crypto Exchange
There are around 4,000 circulating cryptocurrencies out there, some of which reach overnight success by growing in price a thousand times from their first denominal rate.
In fact, it's become common practice in the volatile crypto ecosystem for users to put all their hopes (and tokens) in a promising cryptocurrency and make great earnings from its sudden rise.
Since Ethereum is welcome on every reputable cryptocurrency exchange that supports other virtual assets apart from Bitcoin, you can invest it in a new rising crypto-star or another established coin such as Ripple (XRP), Dogecoin (DOGE), Litecoin (LTC), or Cardano (ADA).
The process is rather straightforward — sign up with your cryptocurrency exchange of choice, look for the desired ETH-containing trading pair, and confirm the transaction. Just remember not to neglect the trading fee system when choosing a suitable crypto exchange.
Spend ETH for Products or Services
In comparison to Bitcoin, the Ethereum network is more suitable for facilitating P2P transactions because of its scalability, which is the time-efficiency in executing transactions without sacrificing security or decentralization. Therefore, you can trade Ether with anyone who holds a functional Ethereum wallet regardless of your physical location.
This gives you complete freedom to look for an Ethereum-friendly retailer and pay with ETH tokens in exchange for a certain product or service. For enabling this payment method, merchants today can fully rely on easy-to-implement tools known as payment gateways. CoinPayments and Coinbase Commerce are the most commonly used ETH gateways and these are some of the most popular crypto-friendly businesses that accept ETH settlements:
Travala — a travel agency where you can spend your Ether to book hotels and arrange flights.
Snel.com — a VPS hosting company that accepts Ethereum.
Bitrefill — a platform that sells gift cards for famous online shops in exchange for ETH
Chicago Gem Shop — an online gem store that accepts crypto including Ethereum
Overstock — an online department store for different everyday products
Amagi Metals — Buy precious metals with ETH
Ujo Music — purchase music legally with Ethereum
Peddler.com — a multi-functional crypto-friendly e-commerce shop
Cryptoart — a digital currency with a physical-form representative. You'll get a unique hand-assembled Giclée print to store your cryptocurrency
Gyft — an online store where you can buy, send, and redeem gift cards from 200+ retailers like Amazon, Starbucks, and iTunes.
Take Part in an Initial Coin Offering (ICO)
ICO is an "event" where founders of a brand-new crypto project pre-sell their products — very often against ETH — to raise funds for the development of their underlying business. This practice may be familiar to you as it's similar to IPO or crowdfunding where a new enterprise sells "shares" to initial investors.
The aim of an ICO is to provide the financial support founders need to materialize their project. This can be a great opportunity for ETH owners because they'll be able to sell their ETH in exchange for a share of the newly-released crypto at a reduced cost compared to the price that the crypto may reach when released in public.
If the project turns out to be a success, you, as a new owner, can sell your tokens on a crypto exchange at a very handsome cash price. However, ICOs carry a high level of risk — if the project fails, your tokens will be worthless on the market and you will face irreversible financial loss.
Exchange Ethereum for Fiat Currencies
Cashing out Ethereum is rather a simple process nowadays. The most secure method for selling your ETH in exchange for AUD is to rely on a trustworthy crypto exchange and follow the on-screen instructions. Fortunately, all entry-level exchanges nowadays feature an exceptionally user-friendly interface for seamless navigation through the platform.
However, consider that in most cases, you'll be required to go through a full identity verification to get started with the platform and use its cash withdrawal option without limits. The process of ID verification can be time-consuming and a bit intimidating (as it involves uploads of personal photos, utility bills, and government-issued documents) but only a KYC-compliant exchange can guarantee a well-secured withdrawal process.
Nonetheless, if you insist on anonymity, it's possible to find an exchange that allows you to withdraw only small amounts of Ether as an unverified user.
For Australian residents, we recommend the national favourite Swyftx — an AUSTRAC-registered company that supports ETH and offers fair withdrawal terms. The exchange doesn't charge any additional fee for cash withdrawals above $200 while lower transactions will cost you a $2 flat fee. However, there is a daily limit of 20,000 AUD with the standard tier of verification on Swyftx.
Finally, note that ETH-to-AUD transactions are classified as a taxable event in the majority of legislations across the world, including Australia. Thereby, you'll have to report the applicable tax depending on your local regulatory systems for earning profit.
Using Ethereum to Pay With Crypto Debit Cards
Crypto cards are a growing trend among big exchange brands and work nearly identically to your regular cards. However, some of them are directly linked to your in-exchange or independent digital wallet while others require a manual "top-up" before using them.
Crypto debit cards bridge the world of cryptocurrency and traditional payment and in some ways, they prepare you for a future of decentralized finance. You can use crypto trading platforms to earn profit while still being able to spend your earnings in a mainstream manner. Blockchain technology still lacks the optimal flexibility for everyday sales and purchases so crypto cards are the most sophisticated form of cryptocurrencies as a medium of exchange.
Ultimately, crypto debut cards offer pretty lucrative deals with little or no maintenance fee and these are the top picks for Ethereum holders:
Binance Card
The main advantage of the Binance debit card is its zero-fee policy, so you don't have to spend time and energy calculating transaction and processing fees. Furthermore, this Binance feature gives up to 8% cashback on selected services and products you'll purchase by using the card. Once you activate a Binance card, your crypto funds will be linked with the Binance Funding Wallet which shows your total crypto balance from all Binance wallets and sub-accounts.
Crypto.com Card
Crypto.com features a prepaid VISA card that comes with all the benefits of plastic payment but is not directly connected to your bank account. In order to spend your Ethereum, you'll have to fill up the card with the amount of ETH you're going to use.
To qualify for a Crypto.com Visa card, you'll have to stake their native CRO tokens for a time span of 180 days. Once you get your card, you can recharge it with all supported crypto assets including Ethereum, earn lucrative rewards, and get up to 8% cashback on spending your ETH tokens.
Bitpanda Card
Bitpanda offers one of the most competitive services of this kind and apart from altcoins, it allows you to spend at over 54 million merchants around the globe.
The cashback option is also available with the Bitpanda card and the reward varies between 0.5% and 2% on every transaction.
Nuri Card
Previously known as Bitwala, Nuri is one of the earliest crypto bank services allowing users to buy and sell BTC and ETH via their bank account. You can directly convert all your purchased cryptocurrencies to Euro and access them through a Nuri Visa debit card for seamless purchases.
Nuri allows customers to buy and sell Bitcoin and Ethereum through a bank account that offers standard mobile banking features.
A Few Words Before You Go…
Because of Ethereum's utility outside the blockchain realm, experts estimate a bright future for the second-largest cryptocurrency. Therefore, it's perhaps best to listen to their advice and hold onto your ETH capital at this point. If you feel that you're lacking experience in crypto investments, take a look at our highly informative article on How to Buy Cryptocurrency in Australia.
However, it's up to you to choose how you'll handle your Ethereum holdings. It's quite legit if you find the fast-paced crypto-trading pit overwhelming and decide to look for selling options instead.
The good thing is that even though ETH hasn't grown into a regular medium of exchange yet, you'll still find be able to get a few ideas for outgoing ETH transactions from the options we listed above.
Finally, regardless of the preferred method, don't forget to set a strictly defined profit goal — the point at which you want to sell your ETH against the exchange rate at which you've purchased the tokens.