NFTs are blockchain credentials that give the holder ownership of a digital art piece., A report from Reuters showed global NFT sales volume reaching $2.5 billion in the first half of 2021.
With numbers like this, here's no doubt about it. NFTs are gaining worldwide popularity, with many investors buying and holding collectibles for the long term.
But there's no smoke without fire. And the popularity of NFTs has come with the menace that is scammers. You may believe NFTs are safe because NFT is an abbreviation for non-fungible tokens, which means a token you can't copy. But hackers can steal your blockchain information and, consequently, your NFT. 
It's vital to store NFTs correctly to escape theft and other forms of scam through your NFT data. Protecting and storing NFTs goes beyond passwords and two-factor authentication. 
You'll need the right type of NFT platform and crypto wallet to protect your asset. How to store NFTs? Generally, the safest way on where to keep NFTs is through hardware wallets. However, hot wallets like Metamask, Trust Wallet, Pillar Wallet, Coinbase Wallet, and Enjin Wallets are also great options. In this guide, we'll talk in-depth about these wallets and why they are the best places to store your NFTs safely.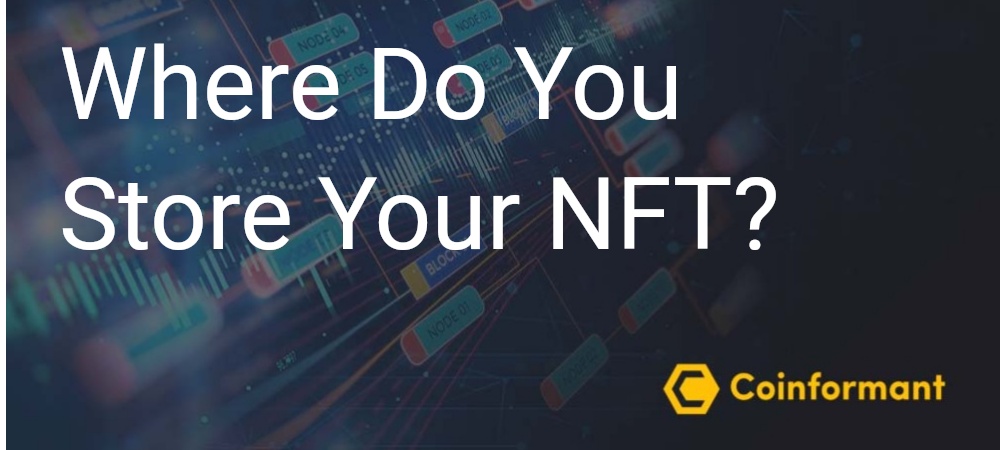 Where To Store NFTs
Since most NFTs rely on Ethereum smart contracts, the only way you can store them is in a crypto wallet. With the evolution of crypto and blockchain, there are different types of crypto wallets for storing NFTs. 
Before now, cryptocurrency wallets worked for only crypto assets. But with the evolution of NFTs, there are crypto wallets created explicitly for storing NFT data. 
While choosing your NFT wallet, you can select between a hardware or software wallet. Both the hardware and software options have their advantages and disadvantages. Here, we explore the top options. 
MetaMask Wallet
A primary challenge of MetaMask as your blockchain wallet was the lack of mobility. Before, you could only access the MetaMask crypto wallet through the desktop version of Google chrome. 
That means when you're using your phone, you won't have access to your NFT assets. 
However, the mobile version of MetaMask got released in 2020, making it extremely easy to manage NFT assets. MetaMask still stands out as one of the most secure options, if not the most secure, amongst other wallets to save your NFTs. When you store NFTs on MetaMask, you have access to a vault securing your identity. 
With the secured identity, you can authorize any blockchain transactions on different websites securely. For instance, you can transfer ERC-721 from an Ethereum address to another without any hassle. 
The good thing is whether you make a transaction on the application or the desktop version of MetaMask, your transaction remains the same over both platforms. The mobile app also offers a browser for accessing Defi applications and other NFT platforms.
Another advantage of MetaMask as a secure wallet to store NFTs is its compatibility with ETH. On MetaMask, you can store most tokens on the Ethereum blockchain, including ERC-721 and ERC-20. Likewise, you can create, manage, and change different Ethereum accounts on MetaMask. 
Trust Wallet
If you're new to cryptocurrency and NFTs, one of the best wallets to start with is Trust. Trust wallet is a simple crypto wallet that allows you to keep cryptocurrencies and digital assets, including NFTs.

When you sign up to use Trust wallet, you'll create a password and get a unique security key for account recovery. Except you're careless with this information, hackers can't steal your NFT. 
The best part about using Trust wallet to store NFTs is its simple interface. Trust wallet's interface has a section specifically designed to show your collectibles. The NFT section also describes the digital assets, as well as categorizes the different assets. 
With over 5 million users, Trust wallet is a secure NFT wallet with amazing features. From the wallet, you have access to NFT platforms where you can acquire digital arts. Likewise, on Trust Wallet, you can buy and trade cryptocurrency with relative ease. 
Pillar Wallet
Asides from providing you with a crypto wallet, the team at Pillar wants to help you with your finances. By using Pillar as your NFT storage, you have many opportunities to gain profits from cryptocurrency. You can easily earn up to 20% profit by saving assets in Pillar's Defi wallet. 
Apart from making money on Pillar, you have access to DApps, which cuts across diverse industries, including NFT platforms. One major reason for the rising popularity of Pillar as a crypto wallet is account recovery. If you forget or misplace your private key, you can always get your assets back by contacting support. 
Coinbase Wallet
Coinbase is a globally recognized cryptocurrency platform where many traders buy and sell cryptocurrency. However, Coinbase also offers a separate application to store cryptocurrency, NFTs, and other crypto assets. Surprisingly, you don't need to own a Coinbase account before you can access the features of the Coinbase crypto wallet. 
A widespread complaint users have with many bitcoin wallets is gaining access after switching mobile phones. For many NFT storage wallets, you may have a hard time accessing your account, but not with Coinbase.
Coinbase wallet helps you with storage for your private keys and performing digital transactions. Coinbase wallet is easy to navigate and is versatile enough to store NFT art, assets, and other digital information. 
Enjin Wallet
A decade ago, being a great gamer was a non-profitable skill. But these days, being a great gamer is a cool way to make money! There are games where you can earn NFT collectibles as rewards.
An amazing NFT storage option with specific designs for gamers is the Enjin wallet. With the Enjin wallet, you have no restrictions on using a particular cryptocurrency. You can operate with bitcoin, ethereum, litecoin, and more on the Enjin NFT platform. 
An amazing feature of Enjin wallet is the NFT marketplace, where you can trade digital assets with the ENJ token. From your Enjin wallet, you can also access Ethereum-supporting Defi DApps. 
The Enjin team uses a customer-first model, with an active customer support team on hand to help you navigate any issue. Finally, with features like biometrics and auto-lock boost security, Enjin will keep your NFT assets safe. 
Hardware wallet
When an online scammer wants to access your NFT data and other metadata in your wallet, they search for information online. When you don't have any NFT data online, you have security against cyber attacks. For this reason, storing your private keys, digital assets, and NFTs on a hardware wallet is the safest option. 
When you store NFT collectibles and data in a hardware wallet, all information, including private keys, is on one device. In most cases, the device will have a password and sometimes two-factor authentication. However, the security of a hardware wallet doesn't rely on the password. 
A hardware wallet is the most secure option for storing NFTs because all of your digital assets and NFT data are offline. It's unhackable.
No one can transfer the data in a hardware storage wallet out of the device. As a result, no one has access to the data except you. You can also combine your hardware wallet with other online wallets like MetaMask. 
If you're looking to store NFTs for a long time, you should invest in hardware wallets like Trezor and ledger.
Other Options On How To Store An NFT
Whether you trust online wallets or not, the truth is they can come under attack. The safest option is using a hardware wallet. Another option you can try is the Interplanetary File System, otherwise known as IPFS. 
An IPFS usually comes with a content identifier with links to your NFT data. With IPFS, you have more security from cyber-attacks because your info gets stored away from the blockchain.
Content identifiers (CIDs) are data hashes connected to your NFTs. An IPFS uses content identifiers for identity verification and security. Unlike the average http link, hackers cant modify content identifiers. 
IPFS like Pinata are a safe storage option for NFT assets. Although, your assets are at risk if you grant a hacker access to your personal computer.
5 Tips on How To Store NFT Securely
Ensure you're always using the legitimate application and website for NFT transactions.
Keep your seed phrase safe and secure offline for backup.
Don't enter your seed phrase on any website
As much as possible, store your NFTs offline
Never use a public computer to access your NFT data.
Frequently Asked Questions 
Final Words
NFTs are becoming the next big thing in the crypto and art industry. With a lot of potential in non-fungible tokens, owning and trading NFTs can make you a lot of money.
And with hardware wallets, IPFS, and the online wallet options we discussed above, you can keep your NFTs safe for an extended period. Good luck!