Where to Stake Crypto in Australia? 2022
The ultimate objective of a lot of traders is to generate passive income from their investments. Wouldn't it be amazing if you could just sit back and do nothing while your balances kept growing on their own?
Unfortunately, this is not an easy feat in the actual world primarily governed by fiat currencies. The expenses and hurdles involved with regular passive income investments are insurmountable for most traders.
Fortunately, the crypto world provides an alternate solution through which passive earning goals could easily become the new normal. Crypto staking is 'the name of the game'.
Crypto staking is a newly-spread opportunity to collect passive income from your crypto holdings. The best part? All you have to do is keep your digital coins in your wallet and pick the most suitable trading platform where you can stake your coins.
There are no complex strategies, staking fees, transfers, etc. Just (quite) a few extra coins in your account balance. Sounds appealing, doesn't it? Read on!
Best Places for Staking Crypto 
The following is a selection of trading platforms that we believe will provide the best options for you to earn interest on your cryptocurrency holdings by engaging in crypto staking.
1. Swyftx 
Are you interested in collecting passive income on your cryptos without having to move a muscle, starting with as little as $1 and a free account on top of it? Swyftx has it all.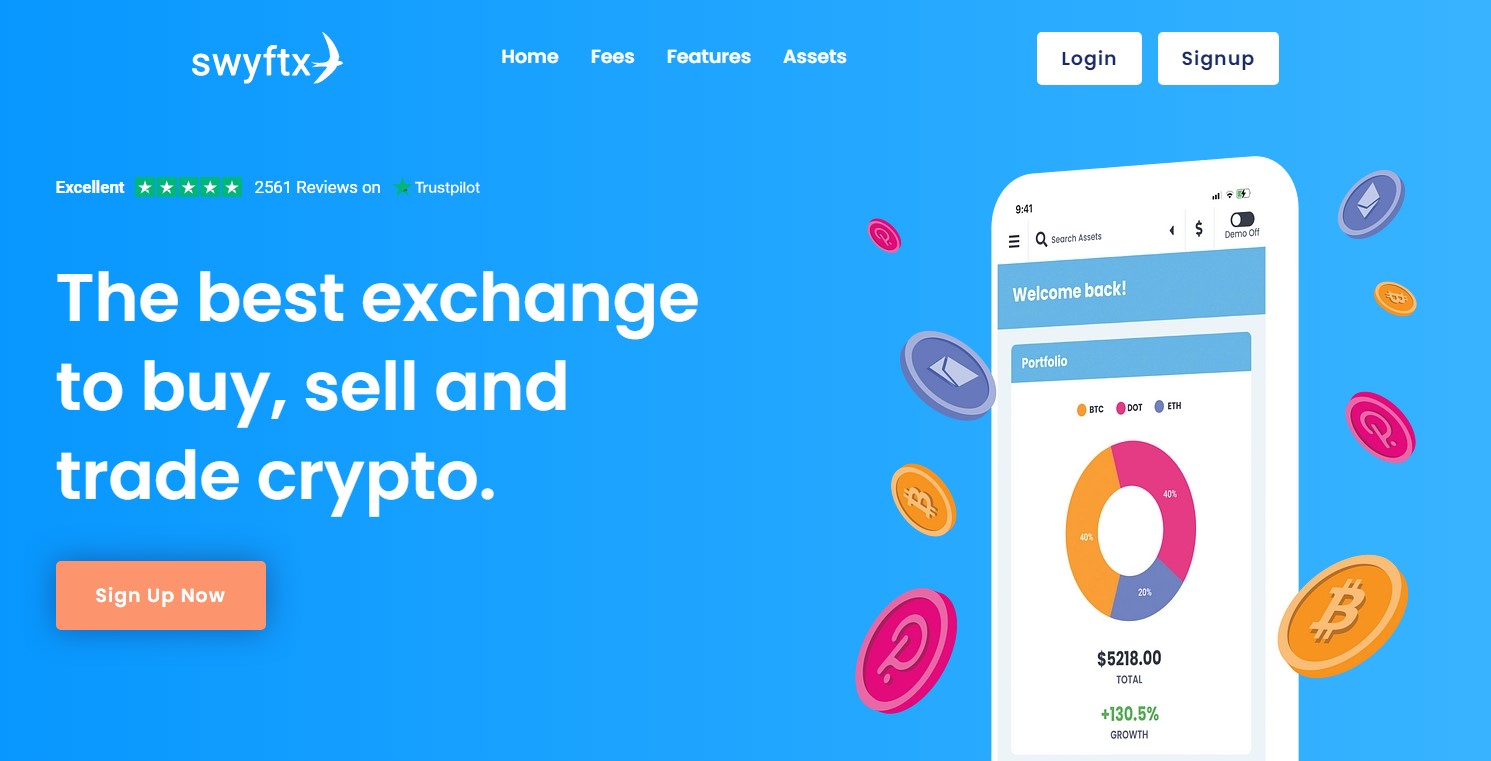 This Australian crypto exchange allows you to receive rewards on cryptocurrency stored in your Swyftx wallet in return for holding your digital assets in your wallet through its staking program.
To begin staking your cryptocurrencies on Swyftx, you must first purchase one of the digital currencies qualified for staking on this exchange. There are 14 altcoins that you can use to earn from a 3.8% to a staggering 70% on rewards per year (RPY) just by staking them. These include: 
Cardano (ADA); 
Polkadot (DOT); 
Solana (SOL); 
Polygon (MATIC); 
Cosmos (ATOM); 
KAVA (KAVA); 
Algorand (ALGO); 
Kusama (KSM); 
Tezos (XTZ); 
Terra (LUNA); 
Tron (TRX); 
Harmony (ONE); 
Flow (FLOW); 
Elrond (EGLD).
There are no commissions for using this staking feature, and the rewards are automatically deposited into your balance. You can withdraw a portion or all of your crypto from the staking program at any moment to collect your incentives. In this case, the rewards will be reimbursed from your Swyftx trading wallet. 
Pros
The minimum staking amount for cryptocurrency is $1 for Swyftx users, including residents of Australia and New Zealand;
You can unstake your assets whenever you want as there is no lock-up period on the staked cryptos. 
Cons
Provides limited staking options;
Swyftx's financial services are only available only to residents from Australia and New Zealand.
2. Binance
As the largest and most liquid exchange in the world, Binance provides the widest staking options on the market, including locked staking and DeFi staking. You can stake up to 16 coins on this trading platform with variable returns on your investment. 
Binance staking with locked assets enables you to secure your digital currencies for a particular timeframe. The locking time spans between a week and three months, but you can request a withdrawal on the staked funds at any time. However, be careful not to unstake your coins prematurely and lose the accrued interest on them.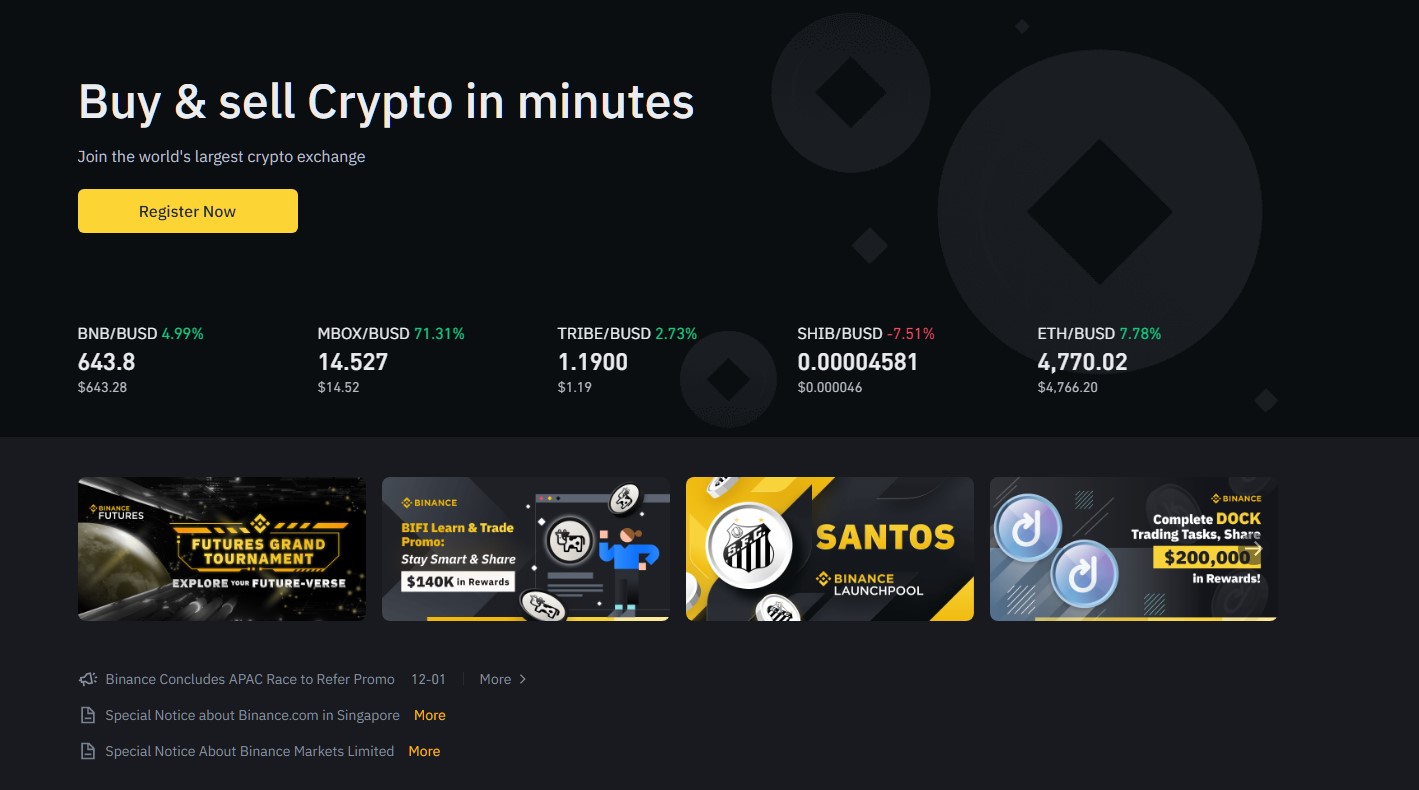 Binance staking in DeFi enables you to invest in decentralised crypto initiatives that utilise smart contracts to provide secure financial services to traders. Nonetheless, it is crucial to remember that these fintech undertakings are also fraught with risk. 
Therefore, before staking your coins, you must take into account the volatility of cryptocurrencies and refrain from staking until you feel confident enough in your strategy.
Pros
Provides deep liquidity and various types of staking;
You can choose between flexible and fixed staking options.
Cons
Advanced trading platform that's not suitable for beginners;
Has some regulatory issues in several countries. 
3. Crypto.com 
On Crypto.com, you have the option of flexible staking terms. This allows you to unstake your coins at any moment and collect your rewards. You can also lock in your coins for a period of 1 or 3 months for up to a 14.5% p.a. reward on cryptocurrencies.
The longer you plan on keeping your cryptocurrency locked on the blockchain, the better interest rate you will earn on your investment.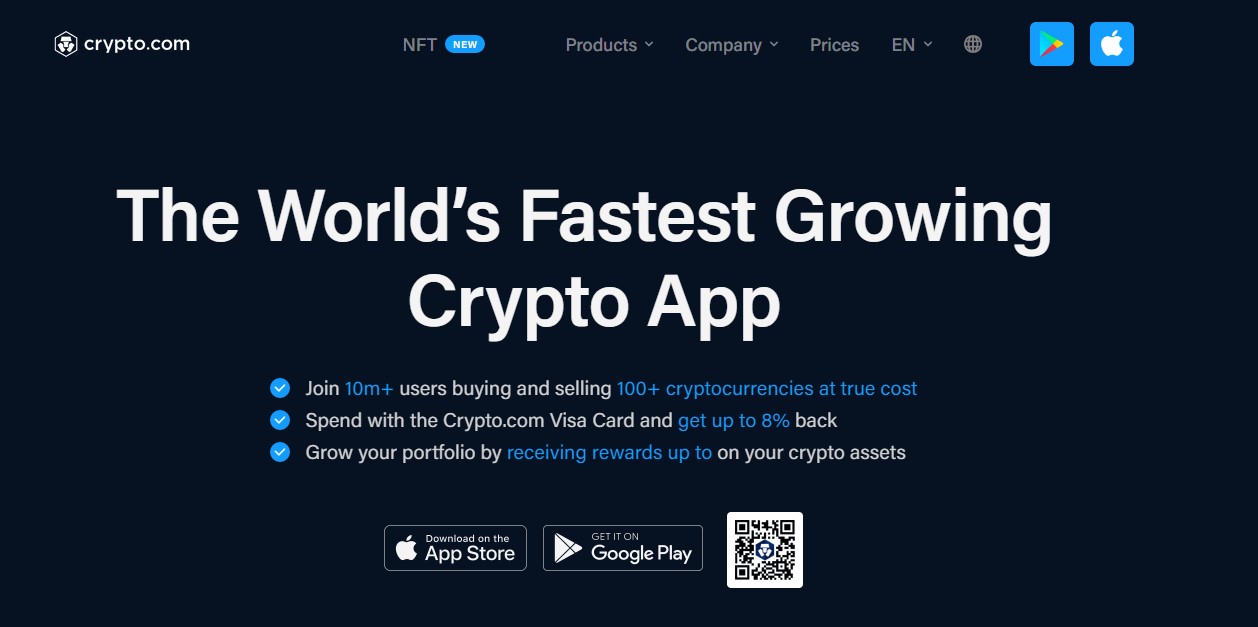 You also can stake stablecoins like TrueAUD/TAUD, USD Coin/USDC, or Tether/USDT for a 10% p.a. reward, which is a brilliant way to generate income while avoiding the risk of your portfolio's value being reduced by market swings.
While at Crypto.com, you might consider staking its native token, the CRO currency, for some extra perks. For example, if you lock in a minimum of 10,000 CRO tokens for six months using this platform, you can receive higher interest rates on all staked coins and rebates on your trading expenses or a 10% APR, among other benefits.
The sole disadvantage is that staked CRO tokens cannot be unstaked until the agreed 6-month period has expired.
On top of that, Crypto.com offers a new form of soft staking through its exclusive Soft Staking Rewards feature as an alternative to the standard type of staking. This financial tool for passive income provides higher APR, unlimited staking balance, and no minimum threshold to Crypto.com high-volume retail VIP traders.
Pros
You can stake stablecoins on this platform;
Additional benefits for staking the CRO token.
Cons
You cannot withdraw your CRO tokens before a six month period passes;
The exclusive Soft Staking Rewards feature is available only to some users. 
4. Coinbase 
You can earn up to 5.0% APR on your crypto staked on Coinbase. You'll find Ethereum (ETH) among the eligible coins too, which is not often the case with other exchanges. There's no minimum balance for staking ETH, and you can receive your rewards on a daily basis. 
If you decide to stake Algo (ALGO), you'll need a minimum balance of 0.01 ALGO with the chance to collect your rewards quarterly. If you prefer to stake Cosmos (ATOM), the minimum required amount is 0.0001 ATOM, and comes with a 7-days reward payout rate.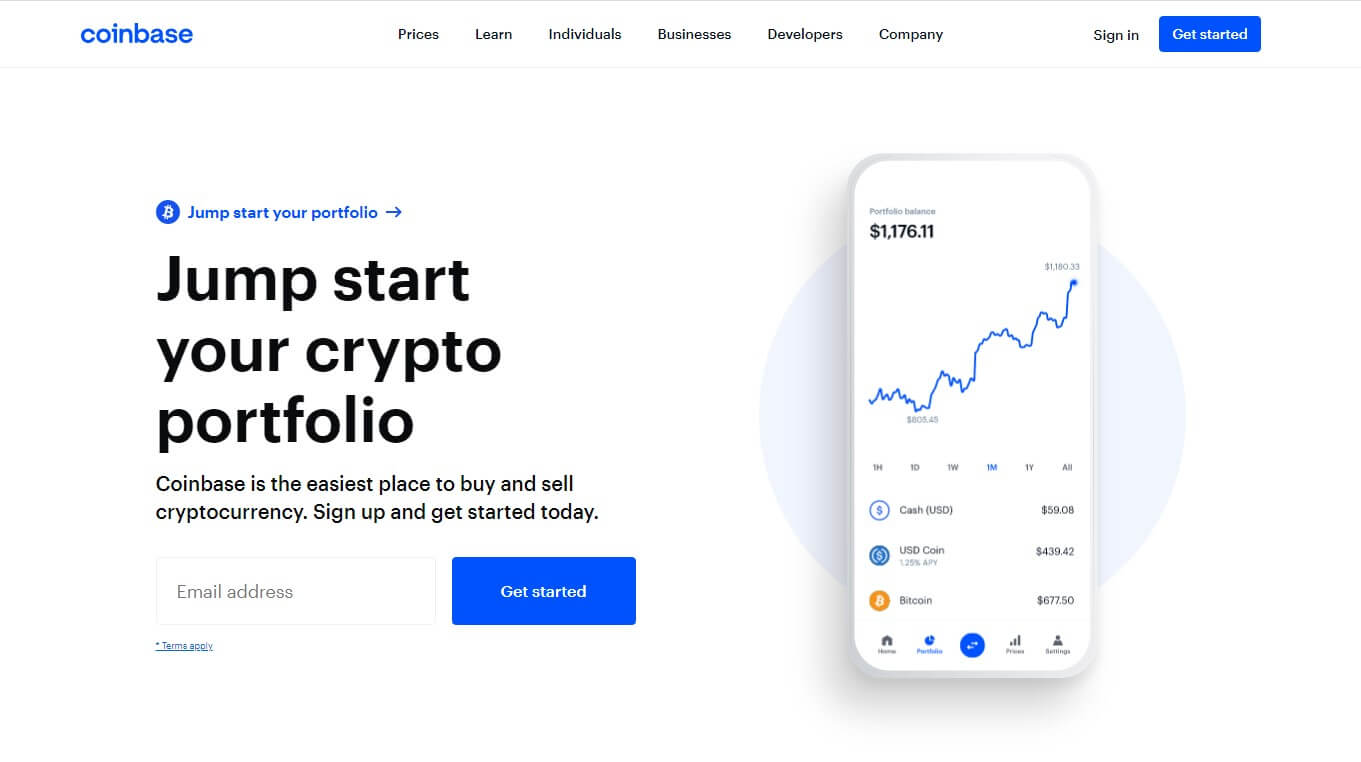 The final two PoS coins you can hold to earn passive income on Coinbase are Tezos (XTZ) and Cardano (ADA), but the exchange might widen the list of staking coins in the future.
If you choose XTZ to generate interest, you'll need to have at least 0.0001 XTZ in your account, but you'll be able to collect your rewards every three days. Finally, $1 worth of ADA is sufficient to begin accruing extra incentives on your balance, which you can collect every five days.
Pros
You can stake and earn rewards with as little as 1 USD;
You can transfer coins to your Coinbase account from an outside wallet or exchange.
Cons
Business accounts aren't eligible for staking rewards;
You must have a minimum balance of the coin you intend to use for staking.
5. Kraken 
Staking is an excellent strategy to optimise your holdings that would otherwise lay idle in your Kraken account. With Kraken, you can earn rewards on your cryptocurrencies by holding and staking them over time. 
On this American exchange, you can stake a variety of different tokens, including Tezos (XTZ), Cosmos (ATOM), Polkadot (DOT), Kusama (KSM), Flow (FLOW), and Kava (KAVA). You can purchase these currencies directly on the Kraken website with fiat currency or exchange your crypto for PoS coins.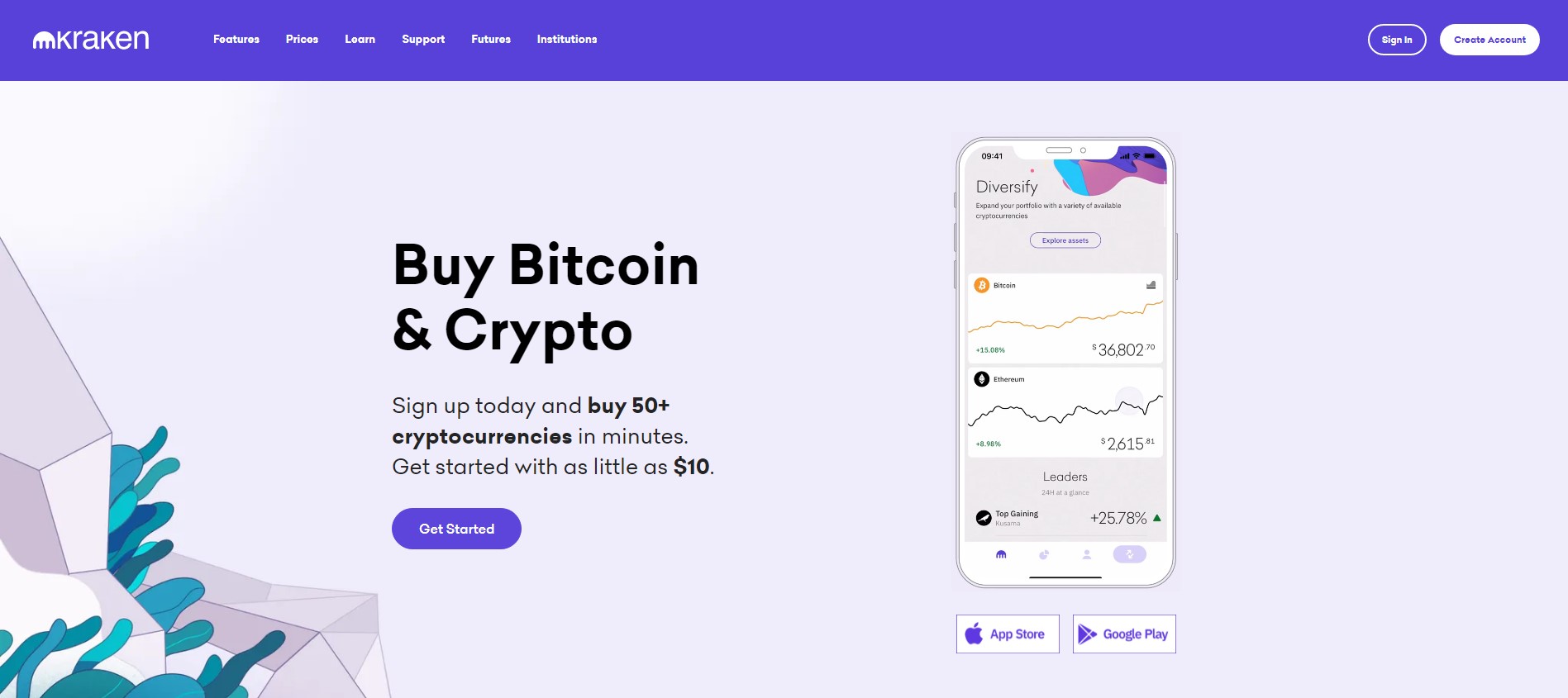 Moreover, Kraken enables you to earn interest on Bitcoin by enabling off-chain staking, despite being a PoW coin. 
To stake any of the eligible coins (on-chain or off-chain), you must first verify your account at the Starter level or higher. After successfully verifying your account, simply pick the coin you want to stake. You can collect the interest on your staked cryptos twice a week through the Proof of Stake system. 
Pros
Twice a week payout of rewards;
Enables off-chain staking of Bitcoin. 
Cons
To start earning interest on your coins, your account must be verified to a predetermined level. 
Off-chain staking is not available to all users of this exchange. 
What Is Staking? 
Staking is a fee-free method of earning interest on the coins in your digital wallet using the crypto staking financial instrument, which leverages the blockchain in this profitable equation. This unique passive earning opportunity is made feasible by the blockchain's design and its use of the Proof-of-Stake (PoS) consensus. 
When crypto traders stake their tokens on a Proof-of-Stake blockchain, they lock the tokens in a smart contract, thus securing them on the platform. As a mechanism for maintaining network security, the blockchain uses the staked tokens to build consensus among the nodes while also validating each new transaction.
The rewards you'll earn for supporting the blockchain network with your staked coins will be automatically deposited to your account balance and compounded with your staked cryptocurrency's holdings. But, how exactly does the blockchain architecture influence your rewards when you're not a crypto miner?
How Does Proof-of-Stake Work? 
When you stake your cryptos, the blockchain uses the Proof-of-Stake (PoS) consensus to put them to work.
Unlike the Proof-of-Work (PoW) mechanism, which requires crypto miners to solve complex cryptographic puzzles and verify the blocks for an incentive, block transactions using the PoS mechanism are authenticated by users who have invested in the blockchain through staking.
Thus, you become eligible for a lucrative payout as a reward because the blockchain utilises the quantity of your staked coins to give precedence to transactions that need to be validated using the PoS protocol.
Validators vs Delegation
There are two basic ways to participate in the crypto staking process from a technical aspect. First, you can support this financial mechanism as a validator.
With the help of sophisticated technical expertise and always-online hardware, you can host your own stake node. Some blockchains offer a benefit in the form of increased rewards and voting/control privileges for the validators.
However, becoming a validator is not as simple as it sounds. You need to make a significant financial investment only to be considered as a potential candidate. For instance, validators must invest 32 ETH (about $150,000) to become validators on the Ethereum 2.0 network.
Delegating is the second common alternative for less affluent crypto investors who want to participate in the staking process. There are some validators who run crypto pools that obtain cryptocurrencies from other crypto investors.
Finally, hosting the node is not your responsibility as a delegator. Instead, you pay a tiny fee in exchange for a portion of the staking earnings.
Is Staking Safe? 
As with any investment, there is some risk associated with staking cryptos, and it manifests primarily as price fluctuation.
To illustrate, if the price of your digital asset drops, you may not obtain enough capital gain from staking to compensate for the decline in the value of the cryptocurrency you're staking.
In addition, some of the newer DeFi initiatives that boast high-interest rates could unexpectedly collapse, thus leaving you empty-handed. The safest course of action is to check the development plan of the coin you intend to stake and ensure that the developers have no intentions of abandoning their crypto project anytime soon.
Is Staking Crypto Taxable In Australia? 
Staking rewards are typically subject to taxation since they are deemed as a capital gain taxation asset (CGT), i.e. property on which you can generate income, by the Australian Taxation Office (ATO).
You must determine your capital gains whenever you trade, sell, gift, or otherwise dispose of your crypto assets. Events that result in financial returns subject to taxation include capital gains and capital losses. 
A capital gain is a profit generated through selling, trading, or gifting a digital asset. On the other hand, capital losses occur when the digital asset in your possession is priced less than you paid for it. 
To illustrate, if you bought 1 Bitcoin for $5,000 and marketed it for $2.500 six months later, the capital loss on your asset is $2.500. Nonetheless, traders can use the capital losses to balance the capital gains, which is an excellent convenience in some cases. 
How to Stake Crypto 
When it comes to staking as a crypto investor, you can stake your coins for a passive income through an exchange or a hardware wallet. 
Staking Cryptocurrencies on a Crypto Exchange
Staking your cryptos through an exchange is a relatively simple task. You can start generating interest on your digital assets in 3 simple steps:
When selecting an exchange, consider its staking rates, the security mechanism used to safeguard your funds, the customer service efficiency, and the payment method it provides. Our Exchange Reviews can help you assess these aspects more easily and quickly.
Next, select your Proof-of-Stake cryptocurrency, as not all cryptocurrencies can be utilised to generate passive income. Make sure you buy the coins because you believe they are a solid long-term investment, not because everyone else has them in their portfolios.
Finally, employ the exchange's Staking Tool to indicate the amount of cryptocurrency you want to stake. After you've confirmed this action, you can sit back and enjoy watching your account balance grow. 
Staking Cryptocurrencies on a Hardware Wallet
Staking cryptocurrencies on a hardware wallet like Trezor or Ledger is also a simple operation that requires no special knowledge or skills.
When locking your coins through a hardware wallet, you'll need to download the app of the coins you intend to use for earning interest. Next, create your wallet account and allocate the number of coins you want to stake. Pretty simple, right?
FAQ
What are the best crypto staking platforms for DeFi staking coins?
When it comes to DeFi staking, Compound (COMP), Yearn Finance (YFI), and Synthetix (SNX) are just a few of the platforms that allow for secure staking while providing the highest yield.
You can also engage in DeFi staking by joining liquidity pools on some of the most prominent decentralised exchanges like Uniswap, SushiSwap, or 1inch.
Can you stake Bitcoin?
While there are numerous outstanding cryptocurrency exchanges, you cannot lock Bitcoin on a blockchain through some of them. 
The reason for this is inherent in Bitcoin's design. Bitcoin, for example, is built as a Proof-of-Work coin, which means it is created by computer systems contending to resolve complex math problems in order to generate cryptocurrencies.
The Proof-of-Stake protocol differs because it selects the validator of the blockchain transactions from a pool of traders who have staked PoS coins. 
However, you can stake BTC off-chain through some of the most popular exchanges, like Kraken, eToro, Coinbase, Binance, and Poloniex, to name a few. 
Which coins can you stake on KuCoin?
On KuCoin, you have a choice of 15 coins that you can stake. These include ATOM, LUNA, KSM, LINK, MATIC, EOS, WAN, HYDRA, ADA, and a few more.
How much can I earn from staking?
Your purchased cryptocurrency determines the proportion of rewards you receive on your locked-in coins. Typically, earning between 4% and 8% in rewards-per-year (RPY) is the most realistic outcome for staking cryptos. 
When it comes to staking, the most popular coin isn't always the most profitable one. For instance, some lesser-known cryptocurrencies, such as Kava (KAVA) with 20% RPY, have a higher yield than the most popular coins on the market that generally provide 4%-10% RPY.