On the cryptocurrency market, there are thousands of digital assets with different aims and purposes. The most popular ones like Bitcoin (BTC) and Ethereum (ETH) take a large part of the total crypto market cap, but there are thousands of other digital currencies based on different blockchains and open-source ecosystems, used for all kinds of financial transactions and businesses.
One of the cryptocurrencies you should definitely look out for is the NEO digital currency. It's a blockchain-based crypto which is much more than just a new digital currency. It's rather a whole new digital ecosystem regarded by many as the main competitor of the Ethereum network, often referred to as the Ethereum of China.
We are going to take a look at how the NEO cryptocurrency works, what it can specifically be used for, and what are the best ways for storing your NEO if you decide to include it in your financial portfolio.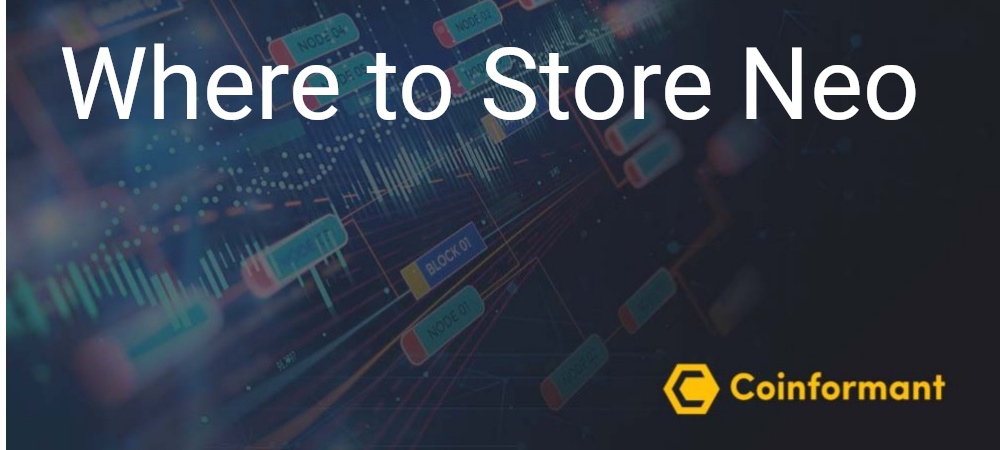 The Story Behind Neo
Neo was developed by two Chinese crypto enthusiasts named Da Hongfei and Erik Zhan in China, in 2014, under the name of AntShares. A couple of years later, in 2017, they rebranded the project giving it its current name – NEO.
Similar to many other cryptos, NEO is a web platform that works with its own blockchain, called Onchain. The network has its own native currency, NEO coins, which is used in the same manner as ETH, i.e. to conduct smart contracts and facilitate the web development of different decentralized apps, programs, and websites.
In time, the idea behind NEO evolved into a platform that defines itself as a smart economy system that enables clients to digitize assets using its decentralized network. The goal of the platform is to provide people with a method for managing their digital assets through the use of smart contracts. The advantage of these contracts is that they enable full automatization and control over one's businesses, whether they are simple apps or complex web-based business systems.
NeoContracts
Similarly to the Ethereum network, the Neo blockchain also runs on smart contracts between interested parties that want to conduct business quickly and securely without the need for any middlemen or centralized authority to approve their contract terms. Smart contracts on the Neo platform are called NeoContracts.
These smart contracts are an easy and direct way to operate entire web-based businesses by automatizing essential processes such as payments, sending invoices, operating regular supply and demand protocols in web shops, or production and sales enterprises. Users can also base decentralized apps on NeoContracts similar to the ETH Dapps.
Some of the most popular ways of utilizing NeoContracts is for timestamps. In case you are conducting business on a regular basis with a third party, such as an employee or a business partner, and you have to pay them on a monthly basis, you can use a NeoContract to create a timestamp that will automatically facilitate the payment process every 30 days.
NeoContracts are also great for data storage, since they can provide secure storage space accessible only to the parties who are implicated in the NeoContract. You can also store your data on the global Neo network, making it accessible to all network nodes. These options for private and public data storage make Neo a useful ecosystem for sharing data confidently between business partners on the one hand, and sharing it with the whole community of Neo holders on the other.
Neo Cryptocurrencies

The Neo network's basic currency is Neo, but it also has a second crypto token called Gas. Both of these currencies are limited to 100 million coins in circulation on the network. Each Neo token represents a share in the neo market and there aren't any smaller denominations of the coin, like in the case of Bitcoin which can be divided into satoshis. Everyone who owns any amount of Neo tokens has a say in the community's ecosystem and gets their share of Gas token dividends.
Neo Tokens
When Neo first appeared, half of the 100 million NEO tokens were distributed through crowdfunding, while the other half is used by the Neo Council, a group of developers that originally created the network, for the further development of the blockchain and the whole ecosystem.
In more detail, 10 million of these NEO tokens governed by the Neo Council are retained for rewarding core developers and giving them incentives to improve the network further. Another 10 million is kept for the Neo network development by independent developer teams and users who want to contribute to the platform as a reward pool.
Some 15 million NEO tokens remain untouched as a contingency measure and the rest is used for tactical investments in blockchain technologies and systems that support the Neo platform either through technological solutions or in terms of use and doing business with Neo.
Gas Tokens
The second crypto token based on the Neo network is Gas. This currency is constantly generated by the blockchain, unlike Neo, and it is produced at a rate of 8 Gas units per new blockchain block. It's estimated that around 2039 all 100 million of Gas units will be produced and the production will cease.
Essentially, Gas is the currency that moves the Neo network by paying transaction fees, or so called Gas fees. Every user of the network pays in Gas for operating smart contracts and unlike Neo, Gas can be divided in order to charge users fees proportional to the computing power and blockchain resources used for their smart contracts.
How to Store Neo
As you can see, Neo is a very useful cryptocurrency, with a multifunctional platform that offers users the opportunity to carry out transactions and operate businesses, as well as develop all sorts of applications with the help of the Neo blockchain. If you decide to use Neo as a means for payment, transferring funds or web development, you need to have safe storage space for your private address and public address. It is essential to choose a type of crypto wallet that suits your needs, whether you need to have small amounts of currency available in just a few clicks, or you need to safely store significant amounts of coins for further investments.
Web Wallets
Web wallets are very popular cryptocurrency wallets. These wallets are basically crypto wallets that are fully located online at a designated web domain, with a local server that stores all the data. Some web wallets have their own websites that are solely dedicated to storing and sending crypto assets, but many web wallets are a part of popular crypto exchange platforms like Binance, that have their own web wallet as part of the platform. When choosing a web wallet it is good to check if it is compatible with your preferred browser such as Google Chrome, because some wallets are optimized for specific browsers.
These wallets are great if you plan to store smaller amounts of Neo and frequently use your assets, since web wallets enable fast transactions of funds, especially when using a web wallet that is integrated with an exchange platform. However, you should pay attention not to store large amounts of Neo or any other crypto in a web wallet, since they offer lower security than many desktop wallets and hardware wallets. The fact that all the data is located online makes these wallets potentially vulnerable when transferring large amounts, but for everyday spending and paying of services, a web wallet is just fine.
Desktop Wallets
Desktop wallets are another type of hot wallets, just like web wallets, since they are also connected to the internet constantly, but many of them can provide a more secure storage option. This type of storage is essentially a desktop program that you install on your PC or laptop and register an account on the wallet platform in order to use it and start storing your assets. Popular desktop wallets are usually compatible with both Windows and MacOS operating systems, and some are even compatible with Linux.
A benefit of desktop wallets is that many of them, just like web wallets, have smartphone apps compatible with Android and iOS, making storing and sending your Neo tokens easy and fast. Wallet apps are known to have a user-friendly interface that is intuitive and simple to use. This type of wallet is another great option for having your funds easily accessible if you want to make a quick payment or transfer, just keep in mind not to store all of your Neo tokens in your desktop wallet in case of data breach.
Hardware Wallets
Hardware wallets are the most popular type of cold storage for cryptocurrencies. They are specialized USB devices that aren't connected to the internet, thus providing top-notch security for your assets. These wallets store your private keys and public keys securely and are themselves protected with PIN codes and passphrases which means that even if you lose your hardware wallet, the data is still protected and your funds won't get compromised.
If you plan to store large amounts of Neo in order to conduct substantial business transactions and investments, then a hardware wallet is the perfect option for keeping your tokens secure.
Paper Wallets
Paper wallets are another type of cold wallets. A paper wallet is simply a piece of paper with printed private keys and public keys, along with QR code versions of these keys, ideal for scanning with your smartphone. This type of wallet can be very secure but it has its downsides too, because it is a piece of paper and you need to take special care that it doesn't get physically damaged or that the print doesn't fade out. For example, if the printed QR codes fade out, they will become useless and you won't be able to access your Neo tokens.
The Best Neo Wallets
We are going to take a look at a careful chosen selection of the best Neo wallets available on the market. This is a mix of web, desktop and hardware wallets that offer top quality services, compatible with the Neo network.
Neon Wallet
Neon Wallet is one of the most popular and trusted desktop wallets used for storing Neo. The wallet supports both Neo and Gas tokens and it is specialized for interacting with the Neo ecosystem. One of the main benefits of holding Neo in this wallet is that you have the option to regularly claim you automatically generated Gas dividends and store them in your Neon wallet.
As far as security goes, you don't have to worry about your funds getting compromised, because this desktop wallet doesn't store your private keys on its servers, which means that even if the server gets hacked, your assets are still safe. You are the only person that has full access to your private key when using a Neon wallet.
Ledger Nano S
The Ledger Nano S wallet is a state of the art hardware wallet in the form of a specialized USB drive, which is regarded by many users as the safest crypto wallet available. The company that manufactures the Ledger Nano S prides itself in providing customers with the best available secure storage options for storing large amounts of cryptocurrencies. The wallet itself is protected by a special randomized passphrase generated on the small OLED display on the device and there is also an additional PIN code that provides another layer of security. The device isn't connected to the internet and keeps your private keys safe at all times.
Neo isn't directly supported by this hardware wallet, but it works seamlessly with popular Neo wallets like Neon or NeoTracker. Additionally, using a web wallet combined with the Ledger Nano S means that no funds can be transferred from your web walet unless confirmed with the private keys on your hardware wallet, making the hacking of your web wallet literally impossible.
Neo Tracker
Neo Tracker is an open source web wallet with a very simple user interface that you can easily learn to use and create a new wallet. The wallet is both Neo and Gas compatible and the sending process works smoothly. Neo Tracker works as a staking wallet which enables users to claim Gas rewards for their participation in the Neo network. The Gas is automatically added to your wallet when you store Neo in it.
An important security feature of this wallet is that it doesn't store any user ID on its servers and the private keys always remain on your device, which decreases the chances of any security breach.
Neo Cli
Neo Cli is an official Neo wallet developed by the Neo developer team, which means that it is perfectly optimized for storing, sending, and receiving Neo and Gas. The thing with this wallet is that it isn't so easy and simple to use, since it is a Cli (Command Line Interface) program. Neo Cli is a great Neo wallet for advanced users who are adept at using the Command language. It is only available for Windows and Linux.
Atomic Wallet
Atomic Wallet is a multi-currency web and desktop wallet that is very popular and trustworthy. It is a non-custodial wallet which means it doesn't store user data such as private keys and it has a built-in crypto exchange option that enables users to use ShapeShift, Changelly, or ChangeNOW to exchange their Neo and Gas tokens for other currencies, and you can easily exchange your cryptos for fiat money like USD or EUR.
Binance Wallet
The Binance exchange platform has its own built-in web wallet that supports a wide range of cryptocurrencies, among them Neo. The Binance wallet has huge benefits for Neo users, since it awards Gas tokens on the 2nd of each month to anyone who is storing Neo using the service.
Neo Gui
Neo Gui is another official Neo platform desktop wallet, but this one has a classic graphical user interface, fit for beginners in the Neo network. This wallet synchronizes automatically with the whole Neo blockchain and provides great security of your funds using classic password protection, along with the handy ability to backup your wallet in case it gets compromised. As time passes, you get regular Gas rewards for storing your Neo in this wallet.
Ansy
Ansy is a Neo paper wallet which functions as a standard paper wallet with public keys and private keys printed on it. You can store any amount of Neo on your paper wallet and the only risk is if you damage or lose the piece of paper itself.
A Few Words Before You Go…
The popularity of Neo is rising and some even claim that it is the main competitor of the Ethereum network. If you're looking to use a crypto asset that provides a wide range of financial and practical possibilities, then you should definitely consider Neo. In case you do start buying Neo, these are some of the best ways to store your tokens securely.