The value of Bitcoin (BTC) has skyrocketed since its appearance in 2009. When BTC was launched, no one could have predicted how popular and valuable it would become over the next decade. Cryptocurrencies have evolved from an innovative and relatively unknown method for buying goods and services to an increasingly popular way for storing money, trading assets, and developing new online ecosystems with smart contracts and decentralized apps. Thousands of altcoins such as Ethereum (ETH), Bitcoin Cash (BCH), Ripple (XRP), and others have since appeared, bringing the cryptocurrency market value over the 2 trillion USD threshold at the beginning of 2021.
In regard to other cryptocurrencies, Bitcoin is, however, the undisputed leader. It is the first and most valued crypto on the market. The popularity of BTC has exploded worldwide, which has attracted numerous large-scale investors and companies to the currency as a new store of value that can be highly profitable.
We are going to take a look at which companies have the biggest investments in Bitcoin and who are the individuals that have chosen to invest in the cryptocurrency on a massive scale.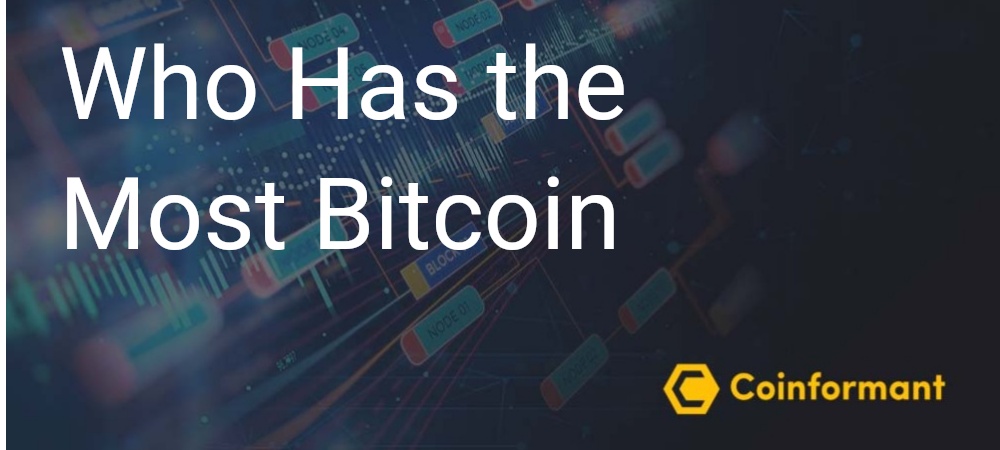 Companies That Have Invested the Most Money in Cryptocurrency
There are numerous companies that have decided to diversify their financial portfolio by investing in Bitcoin, and these investments are highly different in volume. Some companies just want to experiment with the possible benefits they could gain from investing in BTC, before committing to the cryptocurrency on a large scale. Other companies, however, have already decided to invest enormous funds in Bitcoin. Let's take a look at who exactly are the big Bitcoin owners among global companies.
Tesla Motors
In February of 2021, Elon Musk's electric vehicle company Tesla Motors bought a staggering 1.5 billion USD worth of Bitcoin to diversify their financial portfolio with cryptocurrency. Also, the company has announced that it will begin accepting BTC as a payment method in spheres accepted by the law. Since Tesla bought so much BTC, Musk's company may simply hold on to a portion of their coins as a store of value.
Tesla finished 2020 with nearly 20 billion USD in money and other assets, which means that the 1.5 billion dollar investment in BTC isn't something that can potentially endanger the company's business operations if the value of BTC drops drastically. On the other hand, every rise in BTC value will be highly profitable to Tesla.
Brokers and financial experts worldwide haven't been shocked by this enormous purchase of BTC by Tesla. Its CEO, Elon Musk, has been known for a long time as an advocate for cryptocurrency, especially Bitcoin. He has expressed his support for BTC and Dogecoin several times on his highly popular Twitter profile, which is followed by over 50 million users of the social media network.
Coinshares
Unlike Tesla Motors that primarily deals with futuristic electric vehicles, Coinshares Ltd is an investment fund whose business focus is specifically on Bitcoin and other cryptos. This UK-based fund has more than 1 billion USD worth of cryptos at its disposal. BTC makes the bulk of the fund with some 80%, while the rest is Ethereum and several other cryptos. According to Bitcoin Treasuries, the leading site for monitoring which companies and funds hold the most BTC, Coinshares has 770 million USD worth of BTC, which it manages on behalf of numerous investors from around the world.
The fund also has a subsidiary company called XBT Provider that conducts business by offering exchange-traded notes (ETNs) in BTC and ETH. These trade notes are globally traded and can be bought by retail investors as a financial instrument.
MicroStrategy
Tesla Motors might be the most famous BTC buyer when it comes to companies, but it isn't number one among companies hoarding large amounts of BTC. The number one spot actually goes to MicroStrategy, a business-intelligence software company that doesn't appear in the media often, unlike Tesla.

The company has bought 2.2 billion USD worth of BTC according to Bitcoin Treasuries. Experts predict that MicroStrategy will be holding on to its BTC for a while in case the currency becomes even more valuable.
Square
The payment facilitator company Square is another business entity that has been investing large amounts of cash in BTC. Square has bought over 220 million USD worth of BTC.
Square is famous for its point-of-sale devices used by small businesses and local retailers to facilitate payments. The company has also developed a peer-to-peer payment platform which is growing fast.
Square's Cash App has been growing exponentially with the user base increasing from 7 to 36 million since the app launch at the end of 2017. The app generates revenue for the company through multiple fees such as investment fees, trader fees, and transaction fees, but BTC exchange services on the platform have been especially popular. This is surely one of the key reasons for the 220 million dollar investment in BTC.
Grayscale Investments
Grayscale Investments is a large-scale investment fund, which has its subsidiary, called Grayscale Bitcoin Trust Fund, which holds 654,000 bitcoins amounting to 3.1% of the total Bitcoins supply of 21 million coins.
This trust fund holds and manages BTC on behalf of corporate investors, which means that companies are investing in BTC which is then being managed by Grayscale. Apart from BTC, the fund also stores ETH, BCH, XRP, and several other cryptocurrencies.
Individuals That Have the Most Bitcoins
Apart from corporations and investment funds that are buying large amounts of BTC, some private individuals also possess enormous amounts of BTC. Some of them are using it to conduct business and further investments, and some of them are just storing it and using it to live luxuriously. Let's look at a few of these individuals.
Satoshi Nakamoto
Satoshi Nakamoto is the founder of Bitcoin. He became famous as the person who published the Bitcoin white paper and launched the Bitcoin blockchain in 2009. His aim was to create a new type of digital asset – cryptocurrency – that would be a far safer means of storing funds than fiat money. Bitcoin was to become the first currency in the world that couldn't be affected by economic crises and political turmoil. Nakamoto developed an innovative way for storing money, transferring funds, and paying for all sorts of products and services.
The thing is no one is really sure if Satoshi Nakamoto is the real name of the person behind the initial Bitcoin project. Nakamoto used anonymous email accounts and communicated with people using anonymous web hosting services to protect their identity. The only thing sure about Nakamoto is that they do possess an enormous amount of BTC since they are one of the first Bitcoin miners from the early days of BTC, and it is estimated that they have around 1 million Bitcoins.
Cameron and Tyler Winklevoss
Tyler and Cameron Winklevoss are two crypto entrepreneurs that are known as the founders of Gemini, one of the most popular cryptocurrency exchange platforms right after Coinbase and Binance, famous for its fast and reliable services. The Winklevoss twins are also famous for suing Mark Zuckerberg's Facebook and winning a multimillion-dollar lawsuit. They have invested an undisclosed amount of money in buying Bitcoin before the price of the coin started dramatically rising in 2017. Today, they say that they own approximately 1% of all BTC in circulation.
The Winklevoss brothers aim to build a reliable investment ecosystem around their Gemini platform in order to attract corporate and institutional investors, along with large crypto brokers and traders.
Barry Silbert
Barry Silbert is the Chief executive officer of one of the biggest crypto-related conglomerates, known as the Digital Currency Group. The group has invested considerable funds in more than 100 cryptocurrency-related companies, with a special focus on Bitcoin. For example, CoinDesk, one of the most popular crypto news platforms, has been bought by the group, along with Grayscale Investments and the Grayscale Bitcoin Trust Fund.
Apart from this, Barry Silbert is also the owner of Genesis, which is a company focused on trading crypto assets, as well as Bitcoin Investment Trust, which is a fund that tracks the price of BTC based on the analysis of global trade volumes and market cap fluctuations. Silbert is also regarded by many as the King of Crypto.
Charlie Shrem
Charlie Shrem is a famous crypto enthusiast whose company BitInstant helped people worldwide to transfer money into BTC fast and securely. The company had huge success amounting to around 30% of all BTC transfers at one point during its active period from 2011 to 2013.
Shrem became very wealthy at this point, but then got mixed up in a scandal regarding the transfer of 1 million USD worth of BTC onto the Silk Road black market. Because of his indirect involvement to which he pleaded guilty, he got a two-year prison sentence. After he got out of prison in 2016 he continued to participate in the crypto community and launch numerous crypto-related projects and companies, staying a faithful Bitcoin enthusiast. Today he is regarded as the first felon in the crypto world. He is also often present at conferences, lectures, and seminars related to cryptocurrencies and the legal implications of crypto assets.
Tim Draper
Tim Draper is a Bitcoin billionaire that owns around 30.000 BTC he bought at an auction in 2014 for 400 U.S. dollars a coin. The coins he bought were seized from the Silk Road deep web black market by the FBI and then sold to the highest bidder at an auction held by the U.S. Marshals Service.
This was one of Tim Draper's most successful investments. Draper's investment was a strategic decision since he was already an experienced venture capitalist and founder of the investment fund Draper Fisher Jurvetson.
Dan Morehead
Dan Morehead is a crypto investor known for being the founder of Pantera Capital, an investment company that deals with cryptos. Pantera is one of the first firms that started focusing on crypto investments in 2013. In just five years, by 2018, Pantera became one of the top institutional crypto owners.
Before venturing into the world of cryptocurrencies, Dan Morehead was a Goldman Sachs Trader. He used his extensive experience from Wall Street to make huge profits and strategic investments with cryptocurrencies, above all with Bitcoin.
A Few Words Before You Go…
As you can see, there are many public companies and businessmen who have managed to buy, accumulate or otherwise obtain through business deals, enormous amounts of Bitcoin. Some of these individuals and companies use BTC as a store of value in case the coin continues to further increase in value, while others use the currency for further investments into different business ventures.