Wirex Review for Australia 2022
Ever since launching the first cryptocurrency in 2009, there have been several roadblocks to using these assets as a regular payment method. To begin with, there's the volatility problem and the lack of regulation, which has made merchants hesitant to support crypto payments.

However, things have started to change in the last couple of years with the advent of the DeFi industry. One such solution that bridges the gap between cryptocurrencies and goods and services available for purchase is Wirex – a crypto app, digital payment platform, and multi-currency debit card all at once.
Related:
About the Platform
Wirex was co-founded back in 2014 by Pavel Matveev and Dmitry Lazarichev. Their main office is in the UK but they've expanded since then in several other locations around the world.
The Wirex platform is very similar to a regular bank account but what makes it different is that you can store both cryptocurrencies and fiat currencies in one single Wirex account. Not only can you store currencies in the Wirex wallet, but you can also buy, sell, and exchange crypto for crypto, crypto for fiat, or fiat for crypto within minutes, at real-time OTC and interbank rates.

Users of this mobile platform get the chance to make cheaper and quicker cross-border payments. The app is especially convenient for businesses or individuals who have invested in cryptocurrency but earn their salary in fiat currency, as they won't have to switch back and forth between traditional bank accounts and crypto ones.
To get started, simply download the Wirex app on your iOS or Android device and complete the registration and verification processes. You'll need to confirm your email address and verify your identity with a camera selfie and a legitimate ID.
The Multi-Currency Wirex Card
Apart from the mobile app, Wirex's main selling point is its crypto debit card. This multi-currency Visa card allows you to make in-store purchases at more than 50 million locations around the world – basically everywhere they accept Visa payments – by automatically converting your cryptocurrencies into traditional currencies.

The Wirex card is quite user-friendly but our only remark is the fact that it's not contactless, something that came out as rather limiting during the COVID-19 pandemic.
Supported Currencies
Wirex provides the option to link 9 fiat currency accounts and 8 cryptocurrency ones. The list of supported fiat currencies includes USD, GBP, EUR, CAD, CZK, HUF, PLN, RON, and HRK.

As for cryptocurrencies, you get to choose from Bitcoin (BTC) and some of the most popular altcoins: Ethereum (ETH), Litecoin (LTC), Ripple (XRP), Stellar (XLM), WAVES, NANO, and DAI. However, you can also exchange the supported fiat and crypto coins for other crypto assets, including a number of DeFi tokens like LINK, UNI, FTT, 1INCH, COMP, BAT, and more.
DeFi tokens aren't available for purchase in the United Kingdom and Singapore.
Payment Methods
There are several ways in which you can top up your Wirex account. You can link your bank account to make bank transfers via SEPA, SWIFT, or Faster Payments, deposit funds via your credit or debit card (provided it's a Visa or Mastercard), or make a crypto deposit. As usual, card payments are almost instantaneous, bank transfers typically take a day or two, and crypto deposits depend on the current network congestion.
Fees and Limits
Before we proceed with a detailed overview of Wirex's fees and limits, it's important to note that fees may vary based on your location and target currency, which is why we always recommend double-checking the platform's website.
Wirex charges no fees for card issuance, maintenance, and delivery, nor for creating and managing your Wirex account. There used to be a 1 EUR monthly maintenance fee but now even card replacements are free.

Deposit fees are based on the payment method you've chosen. For instance, topping up your account with cryptocurrency via a debit or credit card will cost you 1% per deposit, while fiat top-ups incur no extra charges.
While you can make crypto deposits free of charge, trading one cryptocurrency for another incurs a 1% fee on top of existing market rates. This is quite expensive compared to what you would pay if you use a popular cryptocurrency exchange like Binance or Kraken (0.1%-0.5%).
One of Wirex's major downsides is the high ATM fees. Although ATM withdrawals under 400 EUR per month or 250 EUR per day are free, there's a 2% fee on anything above that amount. Wirex is aware of this shortcoming and has already addressed it with the new Mastercard debit card (more on that below!).

As for limits, they only apply to crypto exchanges (based on the asset in question), and fiat exchanges are unlimited. Additionally, there's a maximum limit of 2,000 EUR per transaction for outbound crypto transfers, a daily limit of 2,500 EUR on card top-ups for verified accounts, and a 50 EUR limit for unverified accounts. There's no limit on the maximum account balance.
The fees are represented in Euros but calculated upon execution in the local currency.
Wirex Features
Wirex Token (WXT)
The Wirex Token (WXT) is a Stellar-based utility token and the platform's native cryptocurrency. WXT tokens enjoy several benefits on Wirex such as up to 2% Cryptoback™ in-store and online and up to a 6% savings bonus on their WXT balance.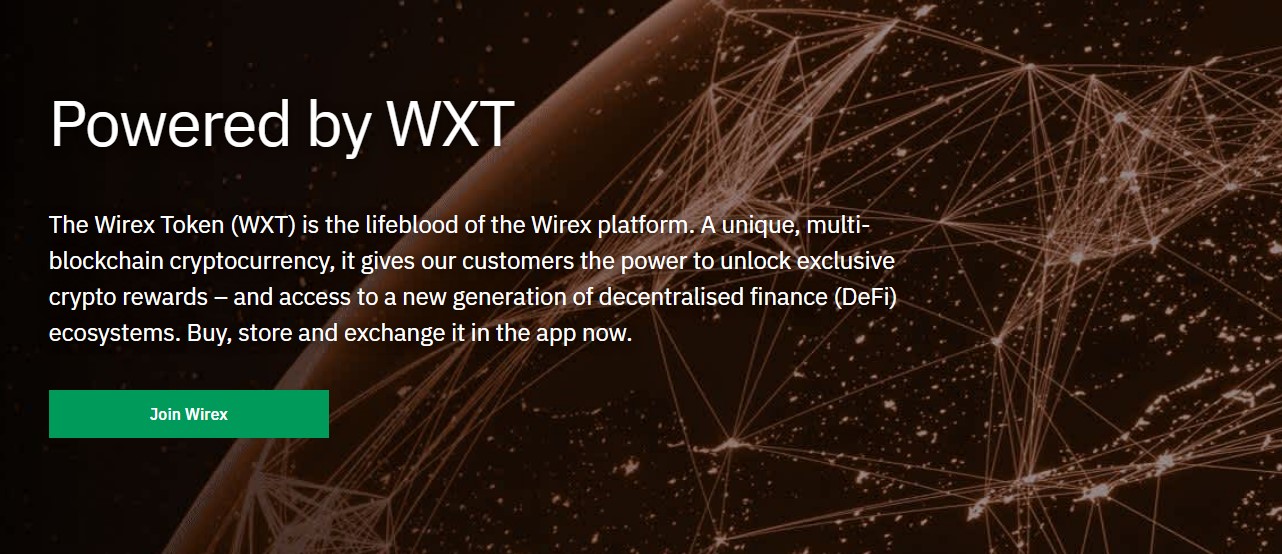 On the app, you can purchase the asset by clicking on the Exchange tab in your Wirex account. You need to select one of your currency accounts (crypto or fiat) and enter the sum you want to trade. Another option is to purchase the token with your linked card. You can also find WXT on international crypto platforms like OKEx and KuCoin.
X-Account
The Wirex X-Account is an interest account for both fiat and digital currency deposits that allow you to make the most of your funds and earn passive income. The interest is compounded daily but you receive weekly payments.
The X-Account has an amazing interest rate that starts at 6% for crypto deposits and can get as high as 10% if you agree to be paid in WXT instead of the currency you're actually lending. For fiat deposits, the rate starts at 12% and climbs up to 16% with WXT payouts.

Wirex users lend these funds to institutional investors and reliable DeFi platforms like 1inch and Uniswap. The platform has also partnered with Firedblocks, earning $30 million insurance on crypto assets.
To create an X-Account, simply find the separate tab on your dashboard and transfer funds from your regular Wirex currency accounts to your newly-created X-Account. You can withdraw assets from your interest account whenever you want.

Mastercard Debit Card
Wirex has recently launched a Mastercard debit card available only in the UK and EEA. This card will facilitate even faster borderless payments, charge zero monthly fees, and make free international ATM withdrawals with high limits a possibility. Plus, this time, it's contactless!
Security
Wirex has a PCI Level 1 certificate and it has been licensed by the Financial Conduct Authority (FCA). Currently, the company is applying for a license in Japan, Singapore, the EEA, and Ireland. They have a money license in the UK and one from the Bank of Lithuania, which proves they take great care to cooperate with local regulators and comply with their frameworks.

The mobile app requires users to activate two-factor authentication (2FA) as an additional layer of security for their accounts. Plus, they need to choose a PIN and receive a recovery phrase that would help them get their account back in case it's been hacked or they've lost/forgotten their PIN.
Customer Support
If you want to know more about Wirex's features or double-check their fees, you should head to their help centre where you'll find useful articles and explanations.
In case you run into a problem with your account or payments, the best way to contact the Wirex support team is via email or live chat, but you can also try the Wirex community first where you can get in touch with other users who might have the solution for your problem. This method has proven to be not only effective, but faster too.
Pros:
Available worldwide (more than 130 countries)
Supports fiat and cryptocurrency
Competitive fee structure
Available on mobile app
Registration is simple
Debit cards come with attractive rewards
Referral program is available
Strong security features
Carries educational resources (Help Center, Blog, and Wirex Community)
Regulated by the FCA, MAS, and Bank of Lithuania
No monthly account maintenance fees
Great customer support
Cons:
No demo account feature
Does not offer charts and other indicators for further technical analysis
Limited daily and per transaction spending limits
Frequently Asked Questions
What countries does Wirex support?
The founding team has plans to turn Wirex into a global powerhouse and they're "already halfway there!" This international platform is currently available in over 130 countries around the world.